Pushing Reset: SCADA Overhaul Improves Water Agency's Reliability, Performance
Westchester Joint Water Works in Westchester County, N.Y., adopted a new SCADA system to encompass its two supply sources, 250 miles of pipe, five pressure zones, seven water tanks, four pump stations, several dozen pressure-reducing valves, and a dozen interconnections with adjacent systems.
Sep 27th, 2013
By Anthony Catalano and Steven Robbins
Any system with tangles of wiring inside control panels, a radio communications system plagued with periodic failures and proprietary hardware difficult to upgrade would certainly be a challenge to trust, particularly when it is as critical as a supervisory controls and data acquisition (SCADA) system. That is the situation in which Westchester Joint Water Works (WJWW) found itself.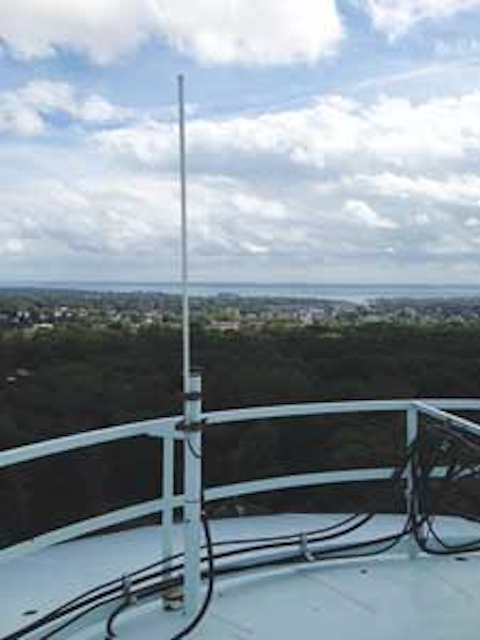 An important part of the project was improving the SCADA system's communication capabilities by installing new radio antennas like the one shown here atop a water tank. These provide reliable service and redundancy, offering operators confidence that the system will not go down at a crucial moment.
WJWW is an inter-municipal water supply agency that provides water to roughly 60,000 homes in the Long Island Sound shore communities in Westchester County, N.Y. Its old control system was not well documented and relied on proprietary hardware for operation. This required a single vendor for system servicing. The system operations had changed since the system was installed, and updates and modifications had left the control panels as a confusing nest of wiring and add-ons. Further, the unlicensed radio communications system had periodic communication failures that provided a decreasing level of confidence in system status.
"While the old SCADA system might have met the needs of WJWW when it was installed a number of years ago," explained Anthony Conetta, manager of the Westchester agency, "system upgrades and changes as we have enhanced our operations and technology since it was designed and installed meant that it was lagging behind in terms of capabilities and maintainability."
Back to Square One
It was clear that WJWW needed a better SCADA system, but it was hard to determine how to get there. WJWW hired Woodard & Curran to perform a condition and capabilities assessment using the firm's SCADACheck process, which looked holistically at not only the physical infrastructure but also the current instrumentation and control needs at the facility and how WJWW operators were using the control system. The assessment also sought opportunities to improve the accuracy, controllability and efficiency of operations.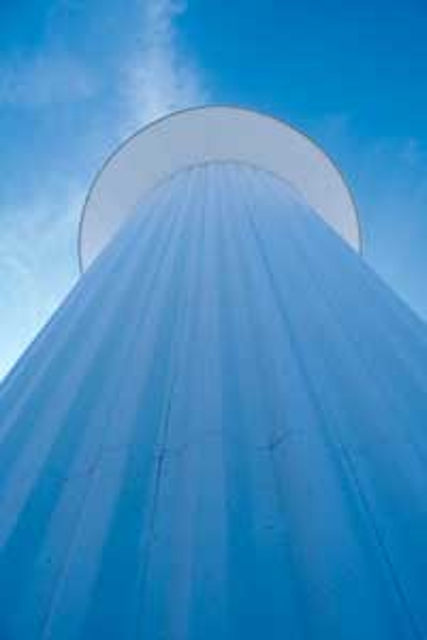 This water tower is one of 29 sites covered by the expanded SCADA system.
The firm inspected 29 sites, including treatment plants, storage tanks, water pump stations, pressure-reducing valves, and meter vaults. The effort also looked at existing computer systems and communication networks and conducted a radio propagation study. The inspections cataloged the system's major control points and developed a summary of existing system conditions, capacity and desired functionality. From the comprehensive evaluation, it was clear that a full overhaul of the system would be required with a phased approach and ability to incorporate future expansions in its capabilities.
Building a Trustworthy System
WJWW's infrastructure encompasses two sources of supply, 250 miles of pipe, five pressure zones, seven water tanks, four pump stations, several dozen pressure-reducing valves, and a dozen interconnections with adjacent systems. Designing controls for a system of this size and complexity requires careful planning. At the start, core functionalities and desired performance criteria were identified. The design objectives included redundant data storage, the ability to access the SCADA system remotely from field vehicles or by on-call staff, flexibility in selecting system maintenance vendors, standardized equipment and panel designs, and a design based around widely-available industry-standard control equipment.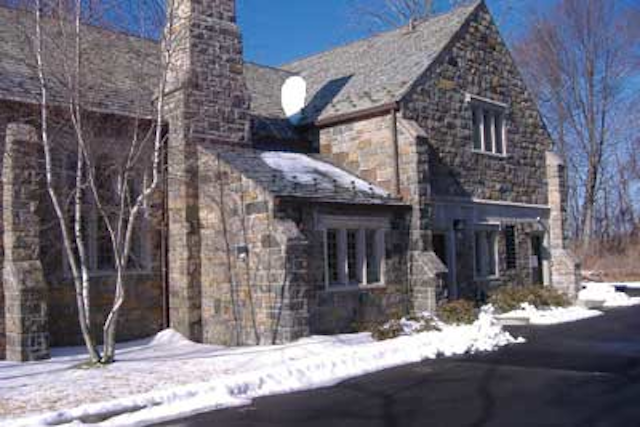 WWJW's new SCADA system gives operators remote access to data and controls at all its facilities, including the Rye Lake Treatment Plant.
Using a radio propagation study, a network diagram was developed that described where the major radio repeaters would need to be placed to allow for coverage at all desired system monitoring and control points. While it was clear that the existing control systems needed replacement, WJWW did not have the budget or ability to upgrade or add all desired sites at one time. The project team mapped out a three-phase, $900,000 overhaul plan that allowed WJWW to invest in the system over time, building on the growing capabilities and efficiencies of the new technology.
The key to a successful project of this scope was a detailed and well-considered phasing plan, tracking all of the system functionalities that would be modified and understanding the impacts on system operations that would result. This first phase of improvements started with the main SCADA software and computers. The new software and computers were set up to operate in parallel with the old system to allow operators to adjust to the new graphical layout and gain confidence in the accuracy of the information being displayed. Once the system control was fully transitioned to the new computers, the controls systems (PLCs) were replaced at main system facilities, including the two treatment plants, three pump stations, five tank sites, and one main pressure reducing valve station, with the goal of transitioning the existing system functionality to the new equipment.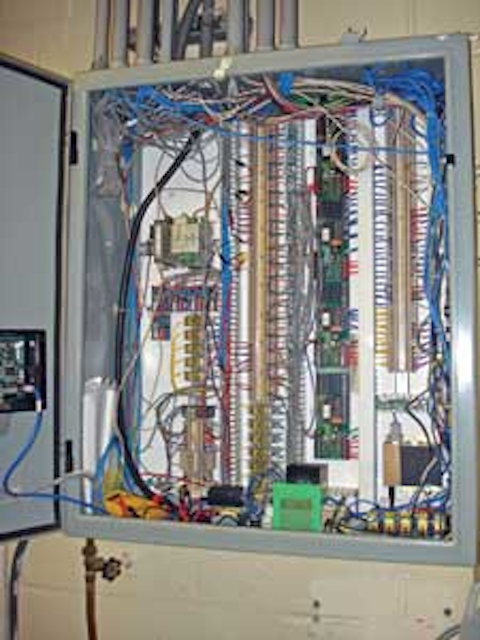 Changes in WWJW's operations, updates and modifications to its old SCADA system had left the control panels a confusing nest of wiring and add-ons.
As the system operators became comfortable with the first phase of improvements and saw the results from the new equipment, excitement and momentum built for the second phase. Operators became more involved with the details of system optimization and control and further developed suggestions for the next phase of modifications and capability improvements.
A key turning point in how the system operators viewed the usefulness of the SCADA system came when a break occurred in one of the larger distribution mains in the system. Using the information coming through the SCADA system and the knowledge of the distribution system layout, WJWW operators and distribution staff were able to identify, locate and stop a 10-MGD break in 20 minutes, minimizing damage and disruption as well as costs. Prior to this event, WJWW staff viewed the SCADA system as relating primarily to the treatment facilities, but the break clearly demonstrated the impact of increased accuracy and monitoring on managing and optimizing the distribution system as well.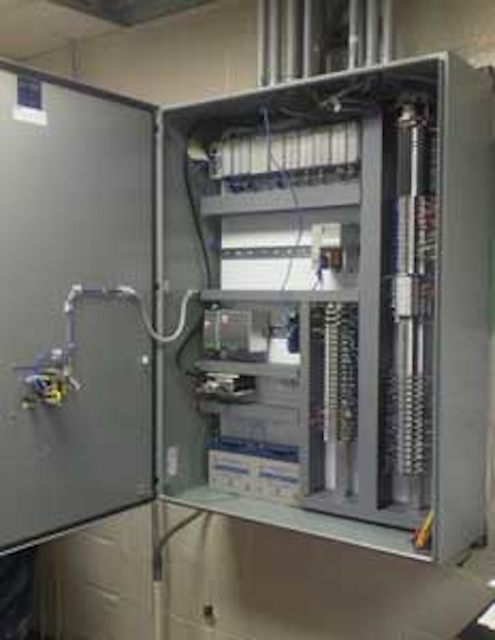 The upgraded control panels are dramatically simplified and are designed for ease of maintenance and expansion.
The second phase built on the success of the first and expanded functionality beyond what existed previously. Capabilities were added at the main sites, including additional analyzers, new chemical feed systems and increased monitoring and control of the emergency power system. Controls were also added at the second tier of system facilities, including backup supply sources.
The third phase focused on pressure and flow control valves within the distribution system and major interconnections with other utilities, in addition to further increases in functionality at the main sites.
The entire system is designed with ease of upgrades and expansion in mind so that WJWW can easily maintain and refine the system as technology continues to improve. Better and more efficient system controls allow WJWW to deliver high quality water more easily, which will help control the long-term costs of service.
"We've seen a number of concrete benefits from the upgrades," said Conetta. "A comprehensive, reliable controls system helps control labor costs and makes it much easier and faster to troubleshoot when issues do come up. We have much better access to the system to check the status of remote sites. We also have redundancies in the system now, which are becoming more important with the increase in severe weather we have experienced."
By using industry standard equipment, WJWW will be able to maintain the system through multiple vendors, while also positioning for ongoing and future upgrades to both the hardware and software, keeping the system at peak performance and efficiency as technology and regulations evolve.
But perhaps the biggest improvement has been the increased level of confidence in the system controls and expanded ability to make adjustments in operations. This has allowed WJWW staff to focus on proactive maintenance, system planning, equipment upgrades, new operator training, and other tasks that are assisting with the modernization of system operations. As a result, WJWW is able to continue to provide a safe, reliable and cost-effective source of public water to the residents and businesses in the town of Harrison, village of Mamaroneck and town of Mamaroneck, as well as its wholesale customers - all in the face of increasing supply costs and tightening water quality regulations.
About the Authors: Anthony Catalano is a Senior Vice President at Woodard & Curran. He has more than 23 years of experience with strategic planning, permitting, design and construction of civil/geo-environmental projects. He can be reached at acatalano@woodardcurran.com.
Steven Robbins a Project Manager at Woodard & Curran, specializing in the planning, evaluation, design, and operation of community utility infrastructure systems, with a focus on water-related infrastructure. He can be reached at srobbins@woodardcurran.com.