WEFTEC EXHIBITOR PRODUCTS
The new Orion 2-Star pH Benchtop meter offers simple three-button operation and is value priced for general purpose pH measurements in the laboratory.
Sep 1st, 2006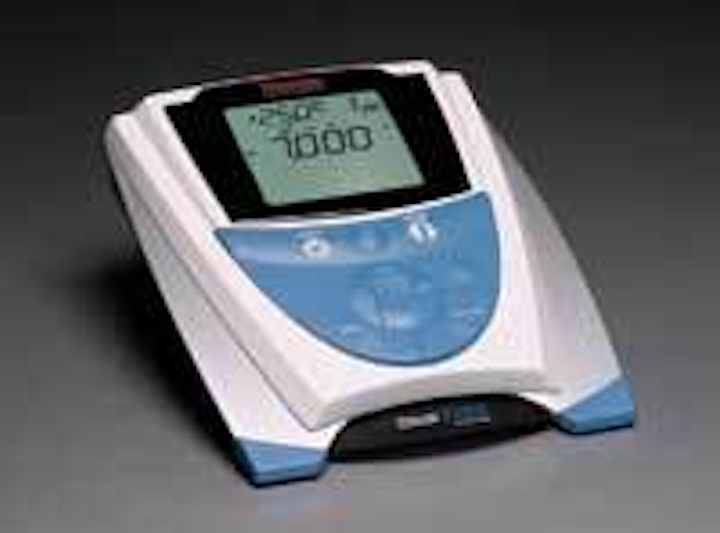 Benchtop pH meter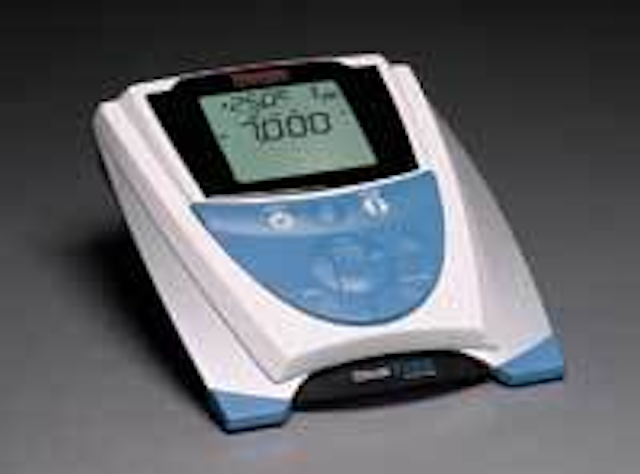 Click here to enlarge image
The new Orion 2-Star pH Benchtop meter offers simple three-button operation and is value priced for general purpose pH measurements in the laboratory. Specifically designed for environmental, industrial and educational applications, the meter is a significant upgrade from Thermo Electron's Orion 410A+/420A+ meters.
Thermo Electron Corp.
Beverly, MA
Tel: 978-232-6000
Web: www.thermo.com
Root removal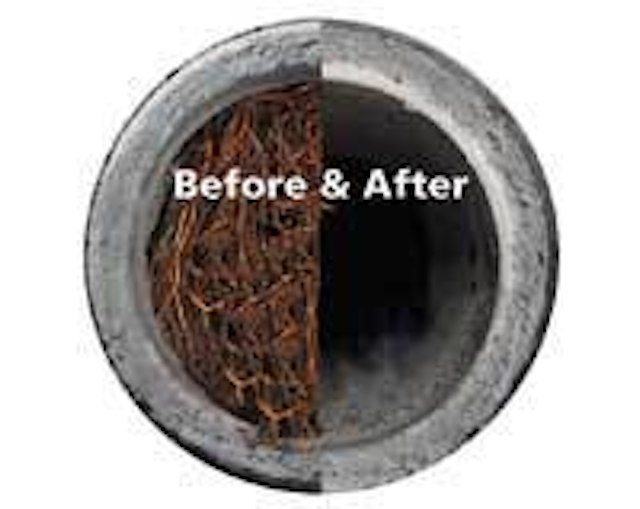 Click here to enlarge image
RootX® can be used by a utility's own maintenance crews and equipment to kill pipeline roots. Crews can treat a 400-foot mainline in 30 minutes or less. The patented foam reaches the top of the pipe where 90% of the roots are. It is non-caustic, non-fumigating and non-systemic and contains no diquat dibromide, copper sulfate or metam sodium.
RootX
Salem, OR
Tel: 800-844-4974
Web: www.rootx.com
System computing platform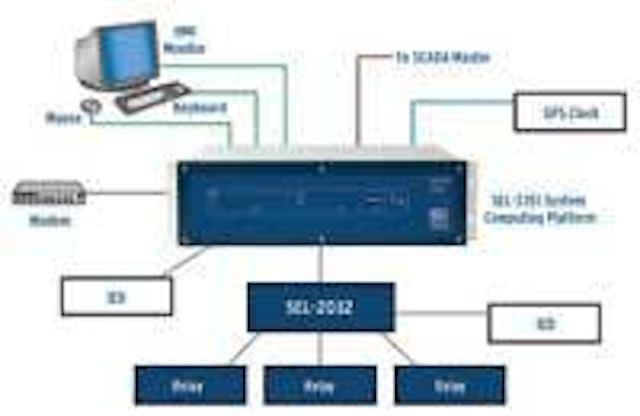 Click here to enlarge image
The SEL-3351, available from Schweitzer Engineering Laboratories, is a 1.1 GHz Pentium® M processor system with a Window XP Professional Operating System. The system is used as a SCADA interface and rugged human-machine interface (HMI) for plant/remote locations. It features built-in optical or copper Ethernet links with Modbus® TCP/IP, Telnet, and FTP. Users may connect a video monitor, keyboard, and mouse to provide an HMI for alarm annunciation, local indication, control, and configuration.
Schweitzer Engineering Laboratories
Franklin, TN Tel: 615-507-2184
Web: www.selindustrial.com Booth 5790
Coating systems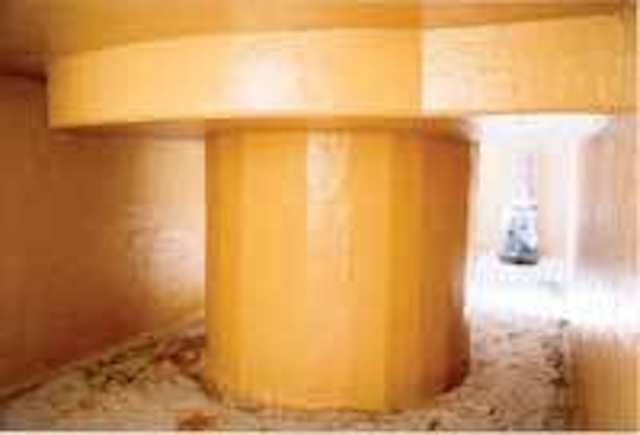 Click here to enlarge image
Sauereisen recently introduced the latest variation of its SewerGard family. SewerGard Glaze No. 210G is a polymer coating that complements the rest of a line that originated in the 1980s. It provides longevity where either a topcoat or economical, stand-alone lining is required to protect wastewater infrastructure. The glaze is composed of 100% solids epoxy and shares the same chemical resistance as the company's proven No. 210. When used as a topcoat, the glaze adds an extra layer of protection against microbiologically induced corrosion (MIC). Some specifications include it as a glossy topping to other filled systems by Sauereisen. For less extreme applications, the glaze works well on its own.
Sauereisen Inc.
Pittsburgh, PA
Tel: 412-963-0303
Web: www.sauereisen.com
Sludge level monitor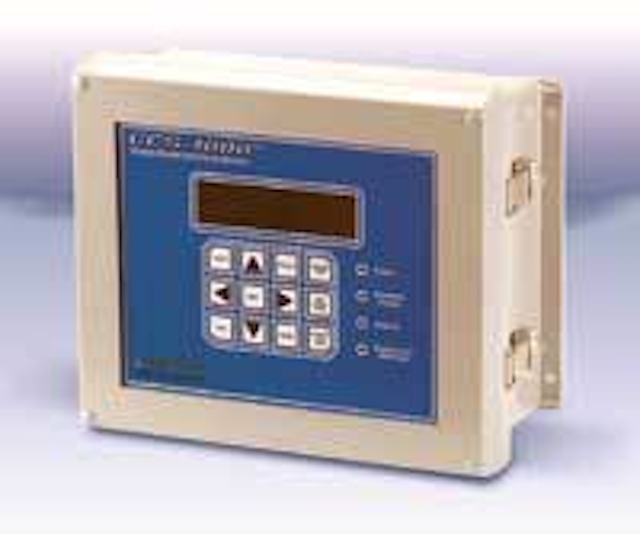 Click here to enlarge image
Ametek Drexelbrook's CCS4000TM Multi-Channel Sludge Blanket Level Monitor uses a field proven algorithm to keep track of effluent quality in up to four separate water and wastewater treatment clarifiers and thickeners. The monitoring system uses ultrasonic technology to measure the compacted sludge level, the lighter rag material above the interface, and clarity loss in the water above the blanket and rag levels.
Ametek Drexelbrook
Horsham, PA Tel: 215-674-1234 Web: www.drexelbrook.com Booth 2016
Wet H2S monitor
Click here to enlarge image
The Q45S odor monitoring system from ATI uses a special "Wet" H2S gas sensor in conjunction with a monitor that displays H2S on a large LCD display. The sensor is specifically designed to measure gas in a high to 100% moisture saturated atmosphere. The monitor also provides 2-alarm relays along with an analog 4-20 mA signal for remote data transmission. An optional sensor air purge system can be provided to remove accumulated water droplets form the sensor membrane, if needed.
Analytical Technology Inc.
Collegeville, PA Tel: 800-959-0299 Web: www.analyticaltechnology.com Booth 4987
Pressure transducer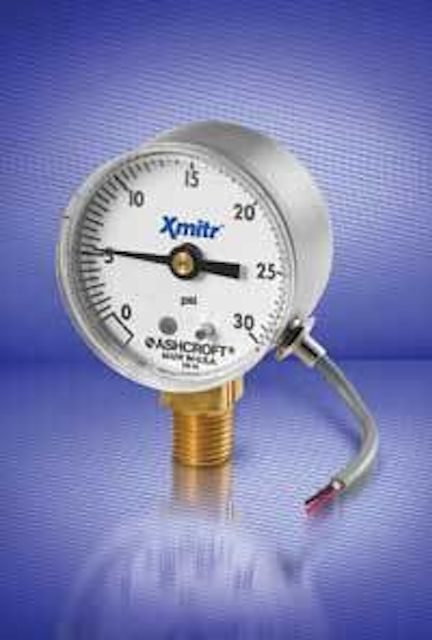 Click here to enlarge image
The new Ashcroft® XmitrTM combines the advantages of the company's PowerFlexTM pressure gauge with patented transducer technology to create a single, dual-function instrument. With only half the number of instruments to install, the device saves instrumentation and installation costs, time, and space. Serving as "2 instruments in 1", the device provides traditional transducer features including 4-20 mA and voltage outputs, CE ratings, and 1% BFSL accuracy with electronic temperature compensation from -20C to 85C.
Ashcroft Inc.
Stratford, CT
Tel: 800-328-8258
Web: www.ashcroft.com
Modeling systems
The WaterGEMS and SewerGEMS programs available from Bentley are multi-platform (stand-alone, AutoCAD, ArcGIS and MicroStation) solutions for water distribution and sanitary and combined sewer modeling. They leverage ESRI's Geodatabase architecture to guarantee a single dataset for modeling and GIS. WaterGEMS uses Bentley's WaterCAD to offer geospatial users a platform for master planning, water quality, fire flow analysis, calibration, automated design, variable speed pumping and much more. SewerGEMS' can be used to develop system master plans, optimize Best Management Practice (BMP) designs, develop Sanitary Sewer Overflow (SSO) and Combined Sewer Overflow (CSO) remediation programs, optimize system storage capacities, and implement real-time control strategies with variable-speed pumping and logical controls.
Bentley Systems Inc.
Watertown, CT
Tel: 203-805-0432
Web: www.bentley.com
Gas monitor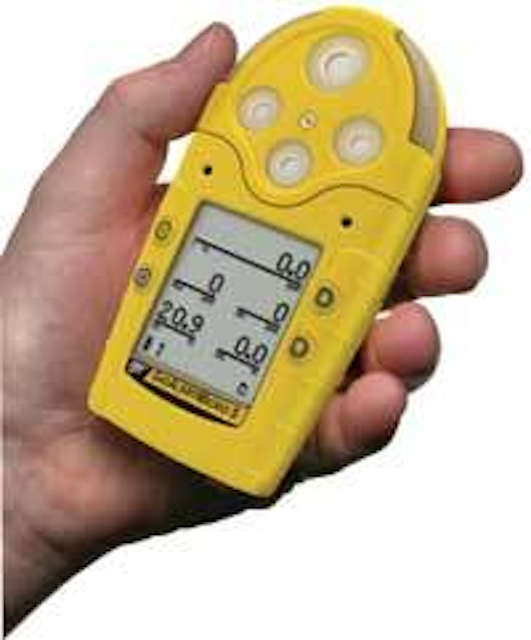 Click here to enlarge image
BW Technologies by Honeywell presents the GasAlertMicro 5, a rugged, water-resistant instrument capable of simultaneously monitoring up to five gases including combustible gases, H2S, CO, O2 and other toxic gases including ammonia, chlorine and phosphine. Users can choose from optional datalogging, motorized pump, multi-language support, and a variety of power options.
BW Technologies by Honeywell
Arlington, TX
Tel: 888-749-8878
Web: www.gasmonitors.com
SCADA equipment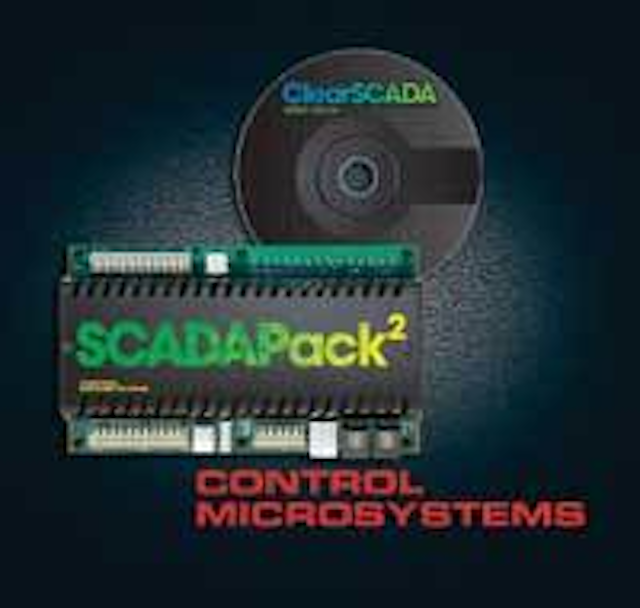 Click here to enlarge image
Control Microsystems has worked with thousands of small and large utilities around the world to ensure the continuous supply of safe drinking water. On display at WEFTEC will be the new generation SCADAPack2 controllers, intelligent RTUs with PLC functionality featuring Modbus and DNP3 protocols, Relay Ladder Logic programming and flexible I/O. Also on display, ClearSCADA - the new SCADA software management platform that collects, archives and makes SCADA system data available to a wide range of information management systems.
Control Microsystems
Kanata, Ontario
Tel: 888-267-2232
Web: www.controlmicrosystems.com
Variable frequency drive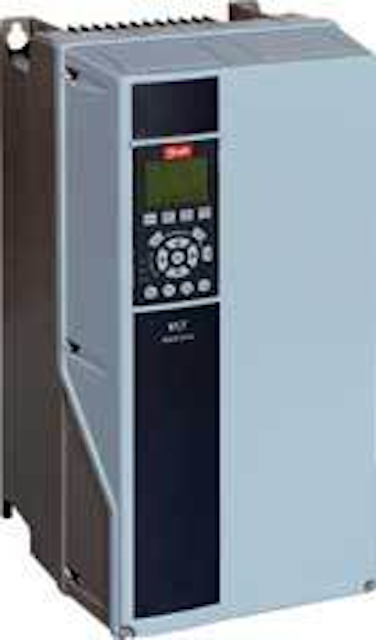 Click here to enlarge image
Danfoss Water & Wastewater introduces the new VLT® AQUA Drive. Engineered with specially designed software for water and wastewater applications, this new variable frequency drive provides seamless installation, commissioning, operation and system maintenance. The drive significantly improves system efficiency in applications such as water supply, treatment, distribution, pressure and level control, irrigation, and wastewater applications such as pumps and blowers where speed, pressure and/or level control are critical.
Danfoss Water & Wastewater
Milwaukee, WI
Tel: 800-621-8806
Web: www.namc.danfoss.com
Water level meter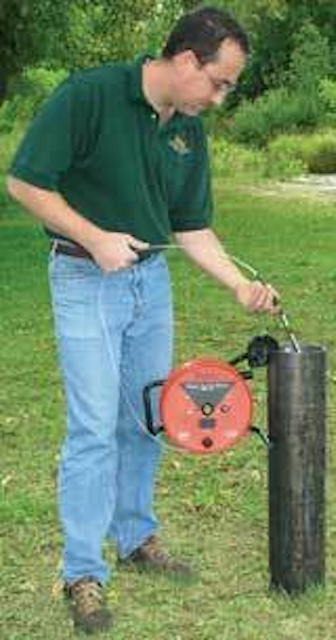 Click here to enlarge image
Designed with non-stretch tape, the Solinst Model 101 Water Level Meter has heat embossed markings every 1/100 ft. or millimeter. The dog-bone design of the tape avoids adherence to wet surfaces. The stranded stainless steel conductors provide extra strength and protection against corrosion. Designed for water level measurements in wells and boreholes, the rugged design is ideal for use in the field.
Solinst Canada Ltd.
Georgetown, ON Tel: 905-873-2255 Web: www.solinst.com
SCADA software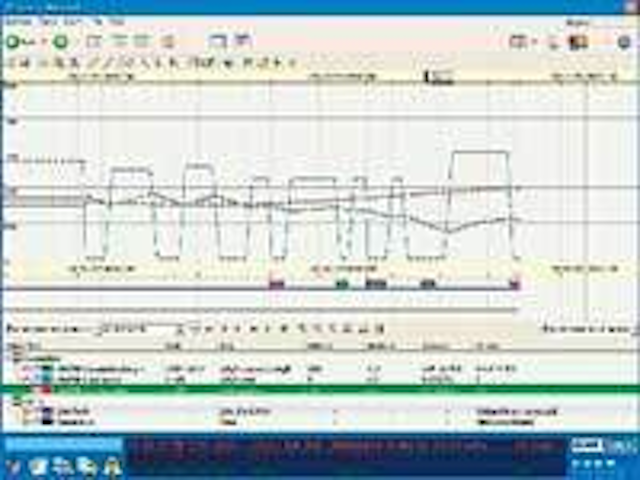 Click here to enlarge image
Citect, recently acquired by Schneider Electric, is one of the pioneers in systems for remote monitoring and control of water and wastewater treatment. CitectSCADA is fully integrated HMI/SCADA software that provides a scalable, reliable control and monitoring system. Easy-to-use configuration tools enable quick development and deployment. A system can be scaled to fit any size water treatment facility or combination of utilities.
Schneider Electric
Tel: 888-778-2733
Web: www.squared-water.com
Flow sensor
GF Piping Systems has added the Signet 2537 Paddlewheel Flow Sensor Series to its line of flow monitoring and process control instrumentation. These blind flow sensors combine Signet's paddlewheel sensing technology with a variety of output options in a single unit that reduces overall system costs by eliminating the need for unnecessary components. Output options include 4-20 mA, pulse divided, Signet S3L data link and several other output configurations for control versatility.
George Fischer Inc.
Tustin, CA Tel: 800-854-4090
Web: www.us.piping.georgefischer.com
GIS software
ArcGIS is an integrated collection of software products for building a complete geographic information system (GIS). It is used for the creation, management, integration, analysis, display, and dissemination of spatial data. The ArcGIS family of software products enables users to deploy GIS functionality and business logic wherever needed - in desktops, servers, custom applications, Web services, or mobile devices. The system's scalable framework of ArcGIS means that it is equally suited for a single desktop user or an organization that requires a collaborative environment for multiuser editing and updating.
ESRI
Redlands, CA
Tel: 909-793-2853
Web: www.esri.com
Sewer, water modeling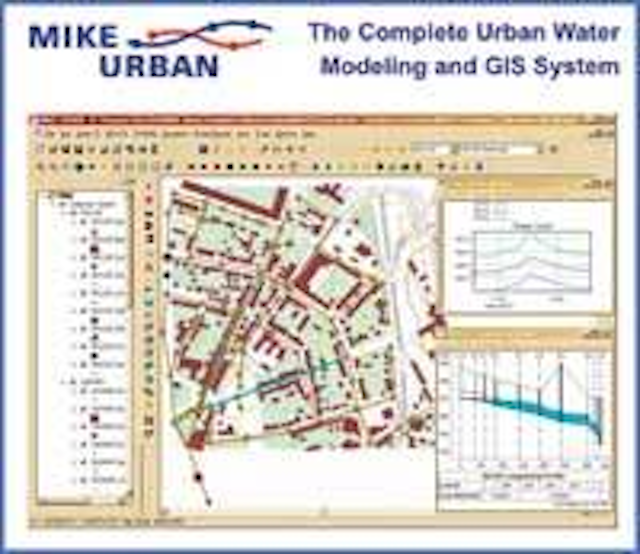 Click here to enlarge image
Mike Urban combines DHI's 20 years experience in water modeling with ESRI's GIS technology. The result is a complete urban water modeling and GIS system. The software allows users to consolidate all of their urban water modeling activities in one integrated system for wastewater collection systems, stormwater drainage systems, and water distribution systems.
DHI Water & Environment
Newtown, PA Tel: 519-650-4545 Web: www.dhigroup.com/Software/Urban/MIKEURBAN.aspx
Pressure, flow transmitter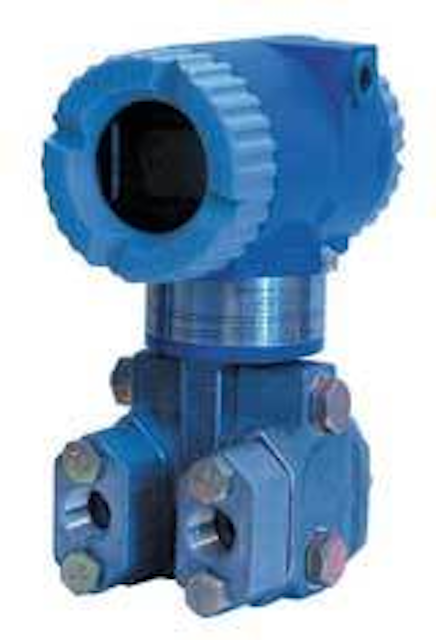 Click here to enlarge image
GP:50 offers an Intelligent Differential Pressure / Flow transmitter, Model GPIDP. Ranges from 0-0.5" WCD thru 0-3000 PSID with 4-20 mA and/or HART protocol output are available. Square root extraction comes standard and provides flow indication when used across a venturi or orifice plate. The local LCD display and pushbutton adjust comes standard on the 4-20 mA version and allows for ease of field rangeability with 30:1 turn down.
GP:50
Grand Island, NY Tel: 877-774-4751 Web: www.gp50.com
Cast iron slide gates
Click here to enlarge image
Hydro Gate offers a line of cast iron slide gates commonly used in sewage treatment, flood control and municipal applications. They are designed to control the flow of fluid through openings under a face or seating head as well as under back or unseating head. Offered in square, rectangular or round flanges, the cast iron slide gates use vertical and horizontal ribs to provide sufficient strength to meet the required design heads.
Hydro Gate
Denver, CO Tel: 800-678-8228 Web: www.hydrogate.com
Photometer system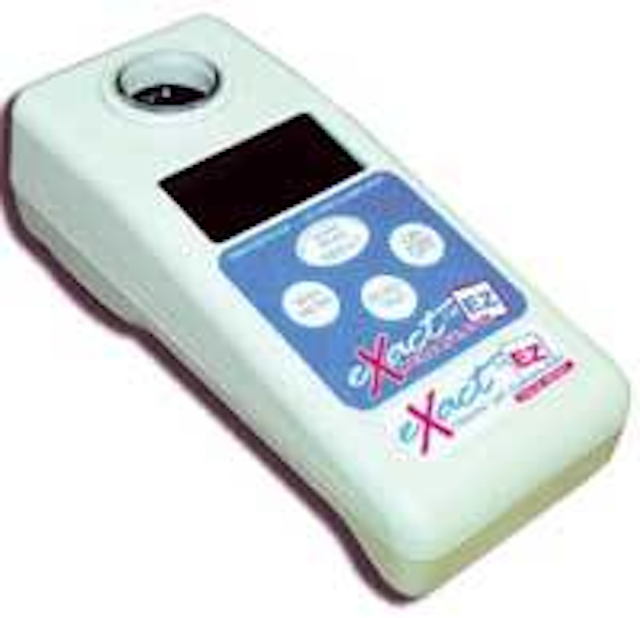 Click here to enlarge image
Industrial Test Systems offers the eXact EZ System for spectrophotometric measurement. The waterproof photometer has the sampling cell sealed/built into the meter, eliminating the task of handling cells or cuvettes. It is EPA-compliant for both Free and Total Chlorine testing, features 0.01 ppm resolution, measures 18 different parameters, and is ideal for all regulatory testing purposes.
Industrial Test Systems Inc.
Rock Hill, SC
Tel: 800-861-9712
Web: www.sensafe.com
MBR system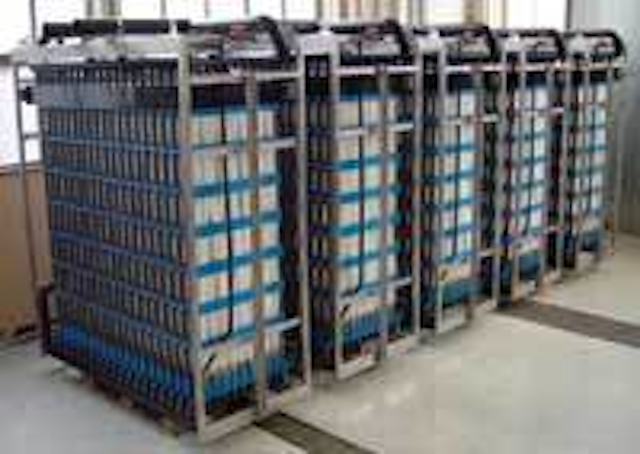 Click here to enlarge image
Koch Membrane Systems (KMS) will showcase its PuronTM submerged membrane modules for membrane bioreactor (MBR) treatment of municipal and industrial wastewater at WEFTEC 2006. These technologically advanced membrane modules remove solids and meet stringent effluent requirements, while using less space than conventional alternatives. The Puron aeration system from KMS ensures optimal solids management, high flow rate and reliable operation, while using up to 50 percent less energy than other MBR systems. A proprietary feature of the membrane module is the air nozzle, which discharges air from the center of each fiber bundle at the base.
Koch Membrane Systems Inc.
Wilmington, MA
Tel: 888-677-5624
Web: www.kochmembrane.com
Chlorine, turbidity meter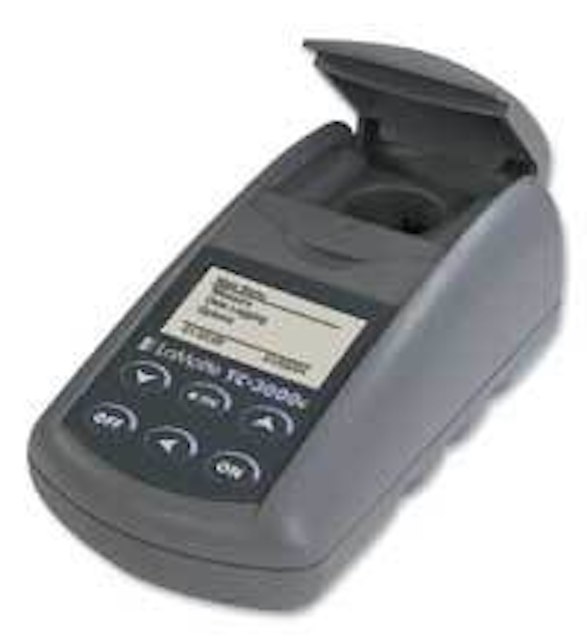 Click here to enlarge image
The TC-3000 meter, available from LaMotte, combines a microprocessor with a patent pending optical chamber resulting in higher accuracy for low chlorine and turbidity readings. Detection limit for chlorine is 0.02 ppm (range 0-10 ppm). Detection limit for turbidity is 0.05 NTU (range 0-4,000 NTU). The unit also does color to 0.2 cu.
LaMotte Co.
Chestertown, MD Tel: 800-344-3100 Web: www.lamotte.com
Shaft alignment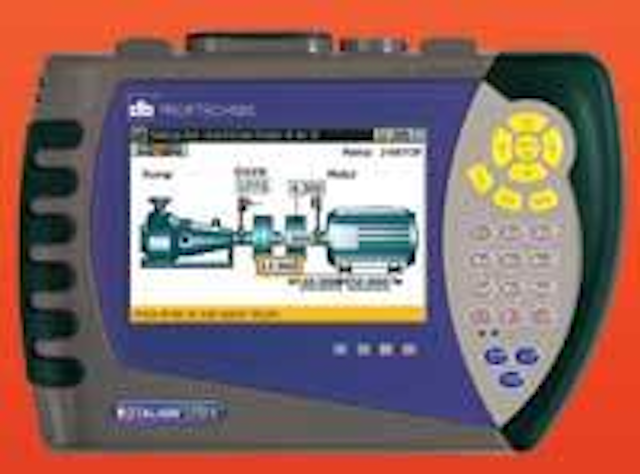 Click here to enlarge image
Ludeca has introduced wireless transmission of data via Bluetooth® on its Rotalign® Ultra Laser Alignment System for rotating machinery. Solid data transmission is assured and neither indoor lighting fixtures, 2-way radios, cellular phones or other external signals interfere with the accurate transmission of data.
Ludeca Inc.
Doral, FL Tel: 305-591-8935 Web: www.ludeca.com
Magnetic flowmeter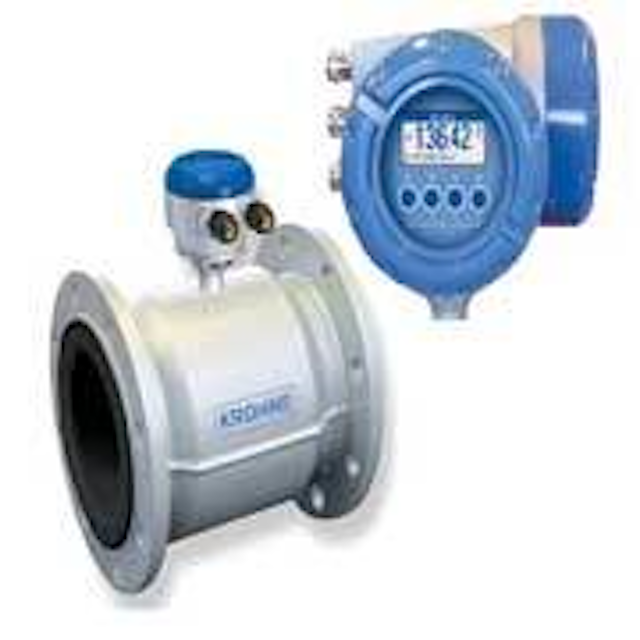 Click here to enlarge image
Krohne will showcase its Enviromag 2300 magnetic flowmeter for municipal water and wastewater treatment applications at WEFTEC 2006. The meter offers simplified installation and commissioning. With no mechanically moving parts, the flow-sensor tube is maintenance free. The design incorporates a polyurethane liner with field-replaceable HC4 Hastelloy electrodes. It offers a 2000:1 turndown with specified measuring accuracy and a rapid response time with no obstructions.
Krohne Inc.
Peabody, MA
Tel: 978-535-6060
Web: www.krohne.com/northamerica
Energy recovery system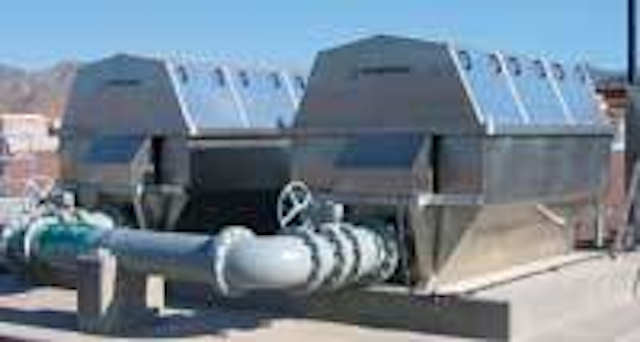 Click here to enlarge image
I. Kruger Inc. specializes in providing high-efficiency, small footprint processes for water and wastewater treatment including the BioCon® Energy Recovery System (ERS) which allows wastewater treatment plants to capture the energy value from dried biosolids. Its Hydrotech Discfilter system is Title 22 Approved, compact, and features simplified controls and O&M. With its space-saving design, it is a solution for tertiary treatment, water reuse and process water filtration.
I. Kruger Inc.
Cary, NC
Tel: 919-677-8310
Web: www.krugerusa.com
Rainfall data logging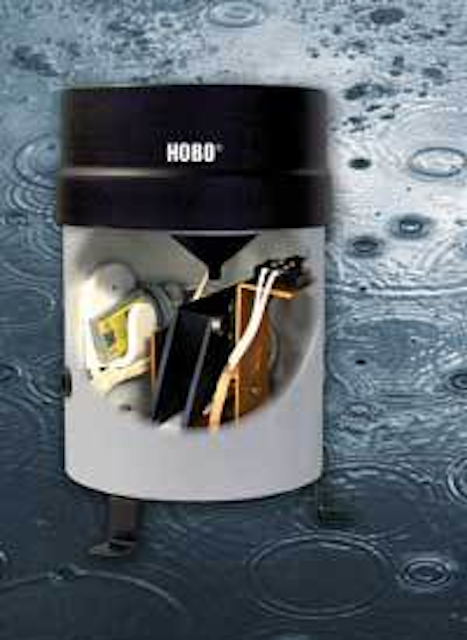 Click here to enlarge image
Onset Computer Corp. has introduced the Hobo® RG3, a new rainfall data logging system that combines a data logging rain gauge with a built-in data logger. The system enables stormwater managers and others to record rainfall data right out of the box without having to purchase and integrate multiple components. It records data with each tip of the rain gauge bucket - ideal in situations where peak rainfall rates need to be determined - and an internal temperature sensor enables the logger to be used in a solar radiation shield to measure temperature.
Onset Computer Corp.
Bourne, MA
Tel: 800-564-4377
Web: www.onsetcomp.com/hobo
Flow controls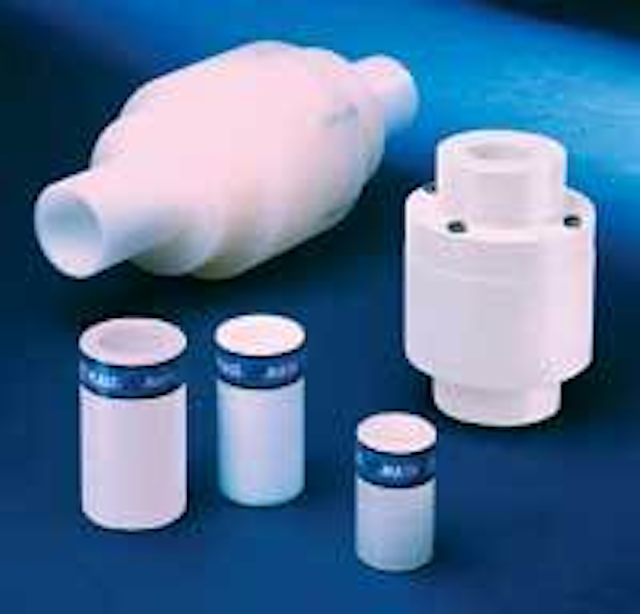 Click here to enlarge image
Plast-O-Matic Valves offers a low-cost Flow Control Valve in natural polypropylene, PVC and other thermoplastics to maintain a constant, pre-determined flow in a piping system. Flow rates from ¼ gallon per minute to 120 gpm can be maintained to within 10% accuracy with varying inlet pressures from 15 to 120 psi. Ideal for highly corrosive or ultra-pure liquids, the valve is pre-set and tamper-proof, and requires no electrical connection or electronic control.
Plast-O-Matic Valves Inc.
Cedar Grove, NJ
Tel: 973-256-3000
Web: www.plastomatic.com
Manhole liner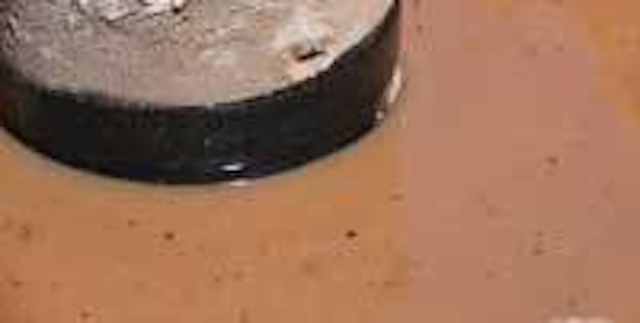 Click here to enlarge image
The Riser-WrapTM seal is a two-layer system designed for corrosion and sealing protection on encapsulating manholes and pipelines. It seals joints against ground water infiltration and is tolerant to soil stress, UV and freeze-thaw conditions. The first layer is a sealant encapsulated by a heat shrink sleeve - a 2.5 mm cross-linked, high density polyethylene membrane. Applications are for manholes (pre-cast base, cone, risers, cast iron frame), concrete vaults boxes, septic tank joints, repair and step-down joints.
Pipeline Seal & Insulator, Inc.
Houston, TX
Tel: 800-423-2410
Web: www.pipelineseal.com
Plug valve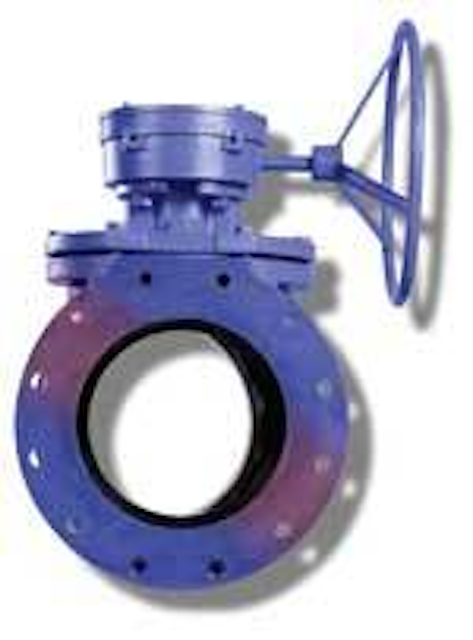 Click here to enlarge image
The Pratt Ballcentric Plug Valve, available is sizes ranging from ½" - 36", is designed specifically for wastewater applications. The round port design is available on sizes ½" - 20." It offers less resistance to slurry, sludge and fluid flow resulting in better flow characteristics and less pressure drop across the valve than other types of eccentric plug valves. The Henry Pratt Co. designs, develops, manufactures and markets butterfly, rectangular, ball, nuclear, industrial, cone, sleeve and energy dissipating valves as well as valve actuators, control systems and couplings. Its products are used in potable water, wastewater, power, industrial and nuclear markets.
Henry Pratt Co.
Aurora, IL
Tel: 877-436-7977
Web: www.henrypratt.com
Rubber check valves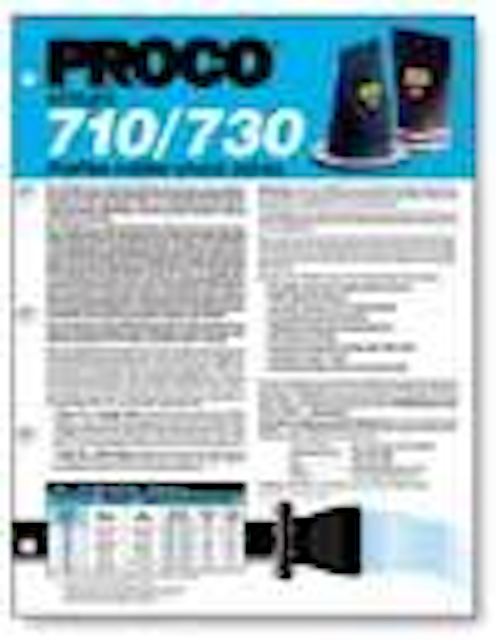 Click here to enlarge image
Proco Products recently introduced the ProFlex series 700 Rubber Check Valve. The valve is manufactured completely from fungicide- and barnacle-resistant rubber. It is impervious to the daily operational vulnerability affiliated with the water and sewage industry such as rust, freezing, corrosion and seizing.
Proco Products Inc.
Tel: 800-344-3246
Web: www.procoproducts.com
Valve actuator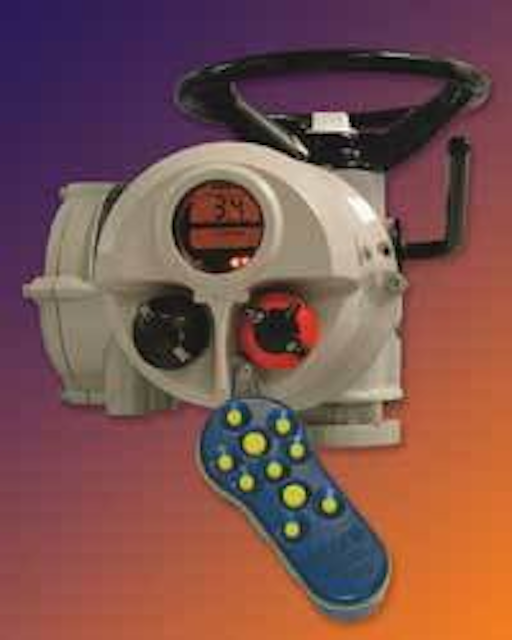 Click here to enlarge image
Rotork Controls will demonstrate a new line of IQ PRO intelligent electric valve actuators as well as a compatible IQ PRO setting tool with advanced downloading capabilities at WEFTEC 2006. The intrinsically safe setting tool enables the downloading of valve performance data from the IQ Pro's data logger without the need to carry a laptop or PDA into the field. The actuators also provide enhanced text displays, performance monitoring information, and data logging with valve torque signature profiles. Standard features include a new large display with traditional Rotork indication icons and text displays for status and monitoring diagnostics. All IQ actuators have double-sealing protection to prevent water, moisture and dirt ingress.
Rotork Controls Inc.
Rochester, NY
Tel: 585-247-2304
Web: www.rotork.com
Sludge pump

Click here to enlarge image
seepex has developed a new open hopper pump to transport extremely viscous products and dewatered sludge cake. This pump, which will be featured and operational at WEFTEC 2006, can transport materials up to three million cPs and municipal wastewater sludge with over 50% solids. The new BTHE design uses a feed auger that operates separately from the pump rotor shaft, allowing the auger to operate concentrically. The design reduces bridging inside the pump because the auger completely cleans the casing walls.
seepex Inc.
Enon, OH
Tel: 937-864-7150
Web: www.seepex.com
High pressure jet pump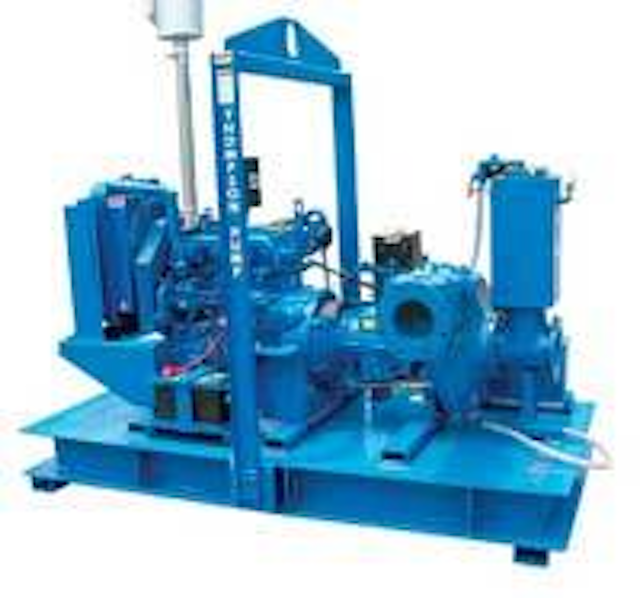 Click here to enlarge image
Thompson's JSC Series Solids Handling EnviroPrime® pump features heavy-duty cast-iron construction and the ability to dry-prime and re-prime automatically. The pumps are ideal for sewage bypass and general construction dewatering applications. The 6-inch pump is designed for flows to 2,500 gpm, maximum heads to 195 feet, and can handle solids up to 3". The pump also features a compressor-assisted dry priming system which prevents blow-by, such as sewage and waste, from discharging onto the ground, making it environmentally safe.
Thompson Pump & Manufacturing, Inc.
Port Orange, FL
Tel: 386-944-4145
Web: www.thompsonpump.com
UV disinfection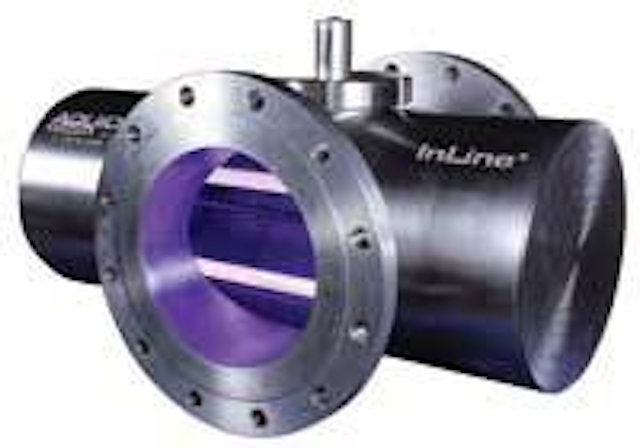 Click here to enlarge image
Aquionics will be showing its InLine+ medium pressure UV system at this year's WEFTEC exhibition. The UV system, which is specially optimized to treat wastewater, is the first medium pressure UV system in the world to be approved in accordance with the National Water Research Institute standard for the re-use of effluent. A selection of the company's other UV systems will also be on display, including a transparent model showing the internal workings of a UV system, including the lamp wiper mechanism.
Aquionics Inc
Erlanger, KY Tel: 859-341-0710 Web: www.aquionics.com
Coating systems
With its comprehensive ControlTechTM coatings line, Sherwin-Williams Industrial and Marine Coatings group offers municipal and industrial water/wastewater treatment facilities a comprehensive line of low-VOC, high performance coating systems for tank linings, secondary containment, and corrosion control. The ControlTech line includes 26 low-VOC, high solids coatings engineered for use on concrete or steel tanks, floors, drains, clarifiers, sumps and slabs, manholes, lift stations and wet wells. The line includes numerous thin film and medium film systems; a number of laminates including single, double and flexible basecoat systems; several mortar and mortar laminate systems ranging from 1/8" to 1/4" in thickness; and the Sherwin-Williams EnviroLastic® Polyurea coating systems for potable water, concrete, steel, geotextile and repair applications.
Sherwin-Williams Ind. and Marine Coatings
Berea, OH
Tel: 800-524-5979
Web: www.sherwin-williams.com/im
Belt press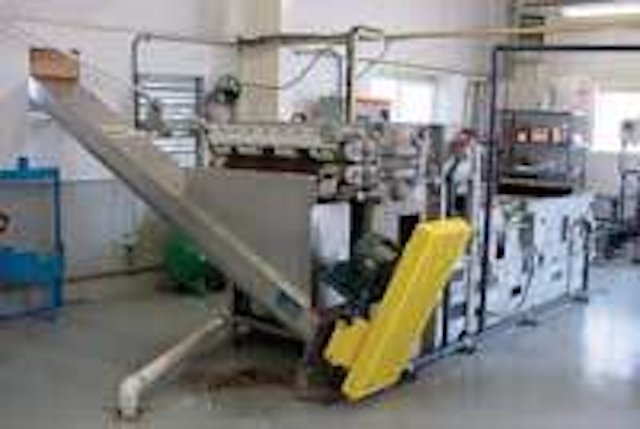 Click here to enlarge image
BDP Industries has developed a full scale belt press, 0.9 meters belt width, in a package system that includes all the required accessories: feed pump, polymer make up, polymer/sludge inline mixer, wash booster pump, conveyor and controls all skid mounted with central control panel. The press incorporates the new 3 belt technology; an independent gravity zone and two belt independent pressure zone, curved wedge and foil plow. The pressure zone incorporates a large perforated first roll and four decreasing diameter rolls.
BDP Industries Inc.
Greenwich, NY
Tel: 518-527-5417
Web: www.bdpindustries.com
Root control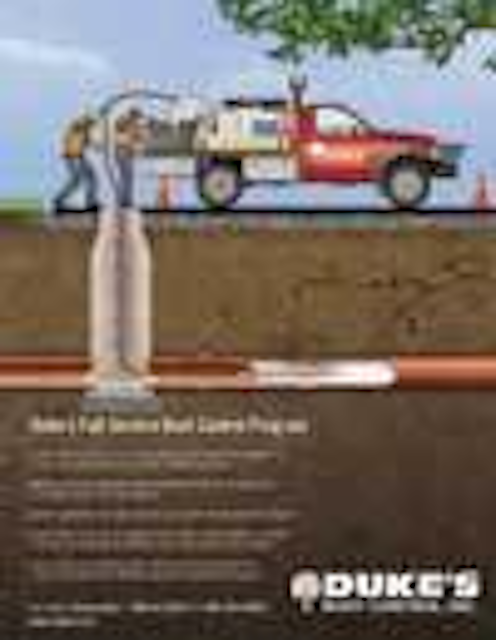 Click here to enlarge image
Duke's Root Control Service is designed to control sewer line root problems. Over 2,000 municipalities have used the company's services in more than 70 million feet of sewer pipe. The company applies EPA registered products that kill tree roots without harming above-ground vegetation. The material is injected as a foam, from manhole-to-manhole, killing all roots on contact and also inhibiting re-growth for 3 to 5 years. The company guarantees against stoppages for two years and for three years on repeat applications or your money back.
Duke's Root Control Inc.
Syracuse, NY
Tel: 800-447-6687
Web: www.dukes.com
Phosphorus removal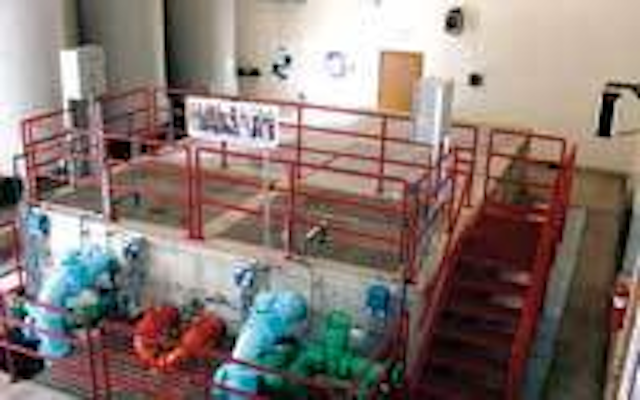 Click here to enlarge image
The Blue PROTM process removes phosphorus from wastewater streams to meet the most stringent permit limits. Typical applications are municipal wastewater plants as tertiary treatment for phosphorus removal and wastewater facilities that desire Class A Reuse water. The process works on both high and low influent concentrations of phosphorus. Blue Water Technologies operates a wastewater research facility with access to 1 mgd daily of domestic effluent for continual product optimization.
Blue Water Technologies
Hayden, ID
Tel: 888-710-2583
Web: www.blueh2o.net
Rotating equipment monitoring
Click here to enlarge image
ITT'S ProSmart wireless monitoring system monitors all types of rotating equipment used in treatment plants. This new technology brings affordable real-time monitoring to equipment that was previously monitored by manual hand-held type data collection equipment. The system continuously monitors and automatically predicts machine health and alerts plant operators and maintenance personnel of existing and impending problems. The "plug and play" ProSmart can be implemented within hours, with no wiring required, and provides 24/365 monitoring for less than $2 per day.
ITT Industrial & BioPharm Group
Seneca Falls, NY
Tel: 315-568-2811
Web: www.ittprosmart.com
Nutrient removal system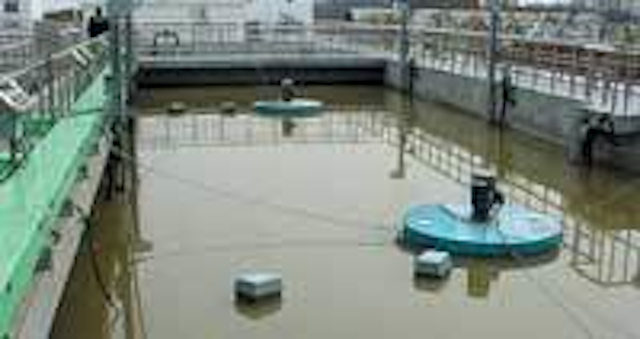 Click here to enlarge image
Aqua Aerobic Systems has introduced the AquaPASSTM Phased Activated Sludge System. This new product will compliment the company's line of biological processes with a continuous flow system specifically engineered to target the increasing demand for high-performance nutrient removal systems. The Phased Activated Sludge System is the product of integrating the key performance benefits of advanced wastewater treatment into a compact solution with specific attention called to minimizing O&M costs.
Aqua-Aerobic Systems Inc.
Tel: 815-639-4456 Web: www.aqua-aerobic.com
Wet wells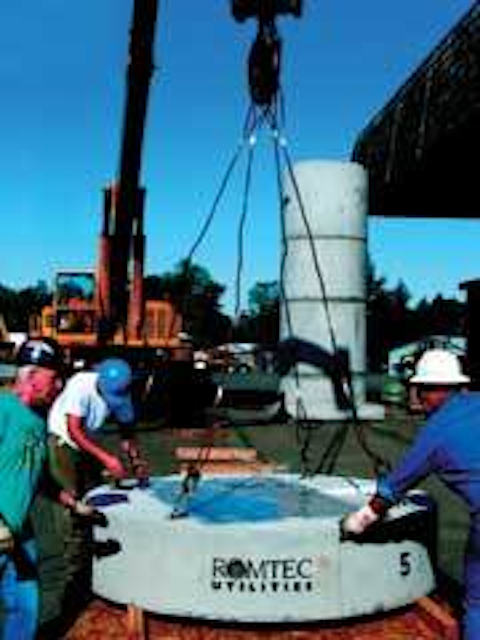 Click here to enlarge image
Romtec Utilities has expanded the wastewater and stormwater capacity of its pre-engineered, package submersible lift stations. The new 8-foot-diameter pre-cast concrete wet wells offer greater capacity for stormwater or wastewater. The new well size also accommodates both duplex and triplex pump systems for design flexibility. The larger well size and three-pump configuration offer wastewater and stormwater managers a cost-efficient way to handle their current needs.
Romtec Utilities
Roseburg, OR Tel: 541-496-9678 Web: www.romtecutilities.com
Peristaltic pumps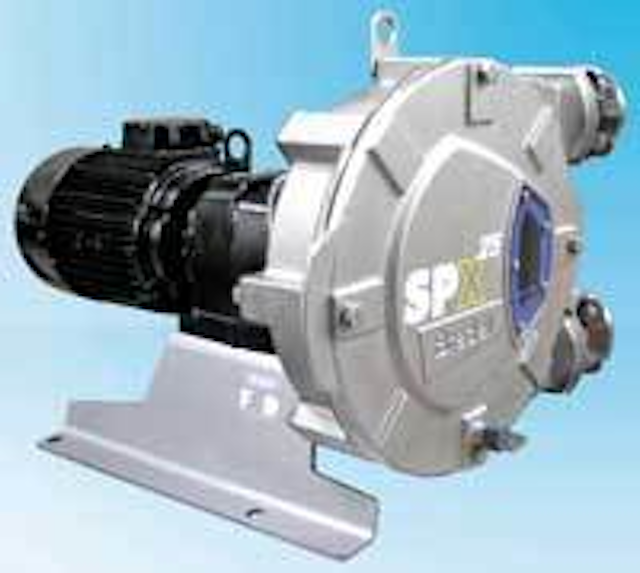 Click here to enlarge image
Watson-Marlow Bredel will showcase its SPX DuCoNite® peristaltic pump and other environmental processing solutions at WEFTEC 2006. The DuCoNite uses a high-tech surface-protection method, making it ultra-resistant to chemical attack. It is able to handle a variety of harsh materials, such as sodium hypochlorite, sulfuric acid, sodium bisulfite, alum, fluoride, ferric chloride and caustic. The company's hose pumps are virtually maintenance-free with no seals to replace, no check valves to clog and no rotors and stators to wear out. Unlike other pump types, pump life is unaffected by the highly corrosive nature of water and wastewater treatment chemicals.
Watson-Marlow Bredel Pumps
Tel: 800-282-8823
Web: www.watson-marlow.com
Grinder pump station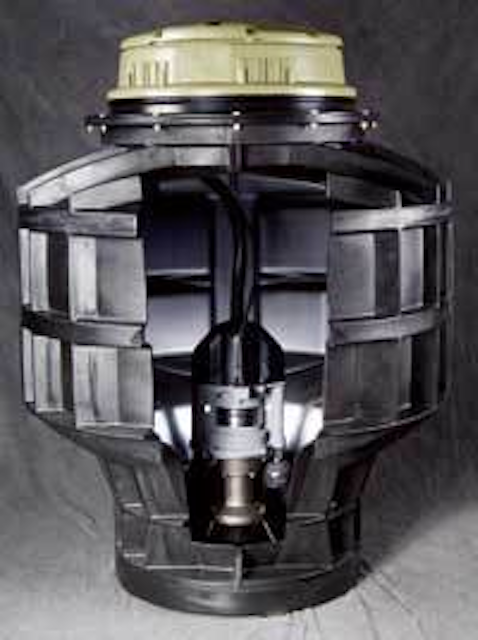 Click here to enlarge image
The new E/One Squat grinder pump station is designed for residential sewage collection. Featuring a corrosion resistant low-profile polyethylene tank and gusseted for maximum strength in a reduced weight design, the station even fits inside failing septic tanks, minimizing disruption to homeowners during the transition to pressure sewer from septic. The series also provides for minimal retained sewage after pumpdown while providing maximum peak flow storage capacities.
Environment One Corp.
Niskayuna, NY
Tel: 518-346-6161
Web: www.eone.com
Pumping systems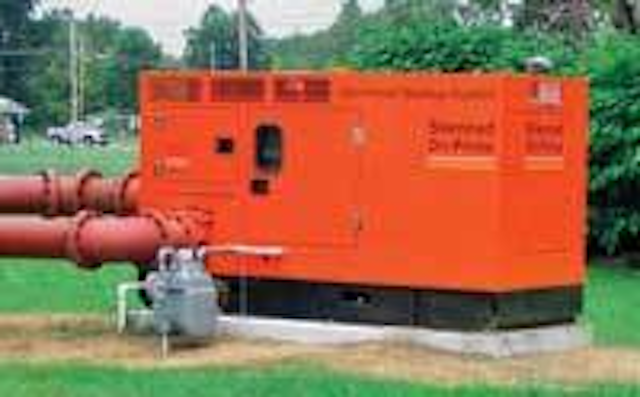 Click here to enlarge image
Godwin will be exhibiting a new option for its Dri-Prime® range of automatic self-priming pumps: natural gas engines. More and more municipalities select natural gas engines now for their backup systems in lift stations. The company also will exhibit the Dri-Prime CD series of high volume pumps with elevated head capabilities, more specialized water/wastewater applications for the Dri-Prime HL series of high head pumps, and a new line of small Godwin Wet-Prime gas pumps to round out solutions for any contractor or wastewater operator need.
Godwin Pumps
Bridgeport, NJ
Tel: 856-467-3636
Web: www.godwinpumps.com
Membrane filtration

Click here to enlarge image
Hydranautics will be showcasing its Low Fouling Composite LFC3-LD (Low Differential pressure) membrane. The membrane is designed with a thicker brine spacer, lowering the Delta P, meeting the increased demand for lower fouling membranes that require less frequent cleaning - while maintaining a high permeate flow. It can provide 11,000 gallons per day of flow at 99.7% nominal salt rejection. The membrane is well suited for the treatment of difficult feed waters for numerous municipal and industrial applications, which up to now required significant feed water pretreatment upstream of any composite reverse osmosis membrane.
Hydranautics Inc.
Oceanside, CA
Tel: 800-272-7873
Web: www.membranes.com
Band screen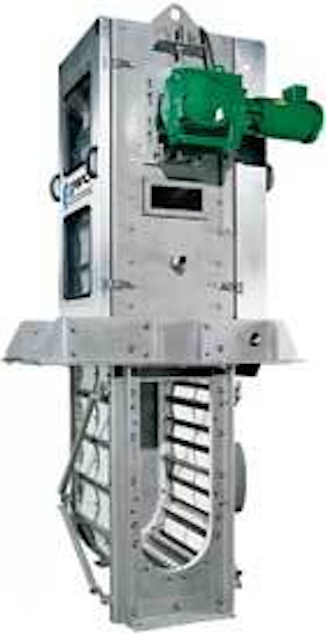 Click here to enlarge image
JWC Environmental's Bandscreen MonsterTM, part of the Monster Separation SystemTM, screens wastewater to remove problem solids and provide protection for membrane bioreactors (MBRs). The unique inside-out flow pattern captures solids on the inside loop of the screen to prevent solids from bypassing, and the rotating perforated panels with 2mm openings lift unwanted solids out of the channel to prevent them from clogging MBRs. The stainless steel and UHMW plastic construction extends equipment life. The integrated Screenings Washer Monster® (SWM) compacts discharged screenings to help keep disposal costs low.
JWC Environmental
Costa Mesa, CA
Tel: 800-331-2277
Web: www.JWCE.com
Video surveillance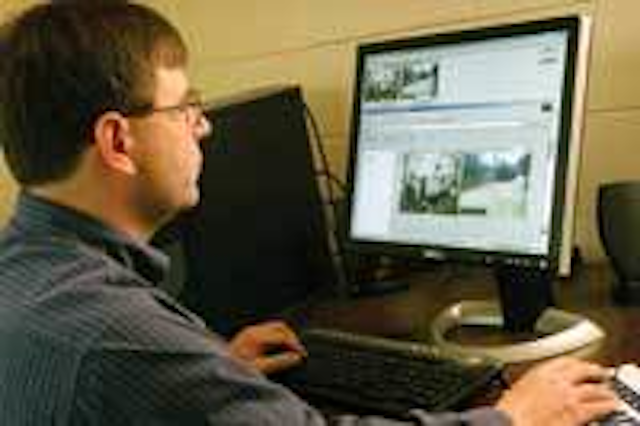 Click here to enlarge image
The Longwatch Video Surveillance System operates over standard low-bandwidth SCADA communication networks. The system provides operators with the visual information they need to monitor and manage remote facilities, like well fields, pumping stations, and water towers. Operators receive immediate notification upon alarm. Video clips are transmitted to the SCADA operators screen or forwarded to a cell phone for viewing. Video provides the best method to verify if an intrusion warrants immediate action, no response, or is a false alarm.
Longwatch
Norwood, MA
Tel: 781-255-7400
Web: www.longwatch.com
Polymer mortar pipe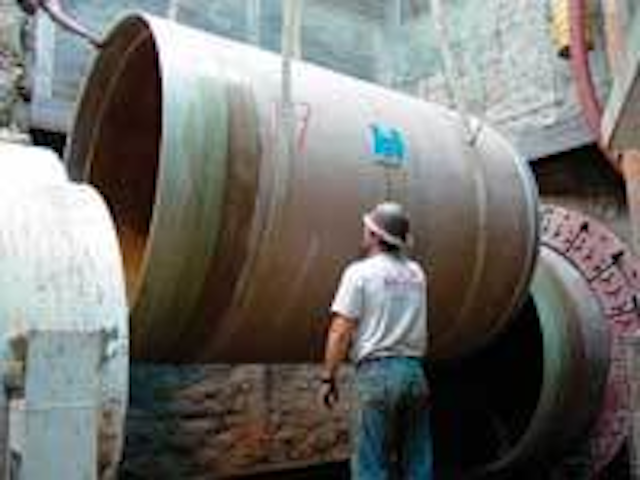 Click here to enlarge image
Centrifugally cast, fiberglass-reinforced, polymer mortar Hobas pipe is inherently corrosion resistant and lasts 100 years or more. It is suitable for virtually every installation method of new construction and rehab including open cut, sliplining, jacking, microtunneling and above ground. Leak-free, push-together joints reduce installation time and costs.
Hobas Pipe USA
Houston, TX Tel: 800-856-7473 Web: www.hobaspipe.com
Pipeline inspection
RS Technical Services has introduced the TranSTAR Transporter, which is designed for transporting video cameras through pipe networks. The six-wheeled, all gear driven transporter can be used to inspect lines 6" to 24". A high-torque 1/8 hp rare earth PM motor lets the tractor achieve speeds up to 70 feet per minute. Soon to be available as a steerable unit with true differential wheel control and freewheel. There is no need to coordinate the transporters' reverse speed and reel; a freewheel clutch allows rapid retrieval once inspection is complete. Innovative technology guides the microprocessor that controls all of the unit's functions. Alternate gear sets, wheel sizes and axle extensions optimize speed and torque and equip the tractor for changing loads and adapting to various pipe sizes.
RS Technical Services Inc.
Petaluma, CA
Web: www.rstechserv.com
Portable clamp-on meter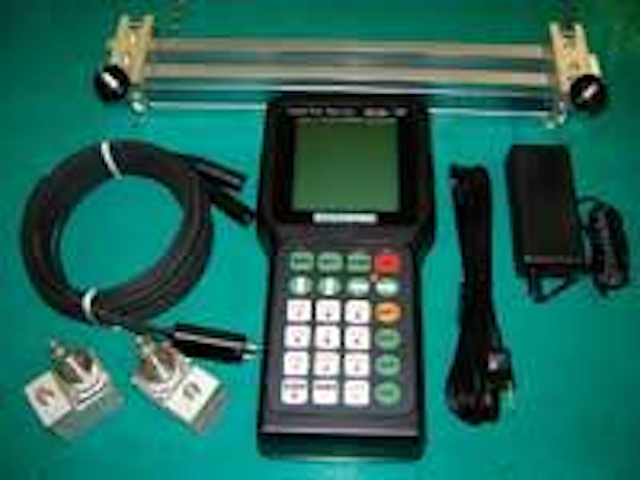 Click here to enlarge image
Accusonic® Technologies, a Division of ADS® LLC, has introduced the Accusonic Model 787 Portable Clamp-on Transit-Time Flowmeter. Typical applications include system/plant studies, pump performance testing, existing flowmeter verification, temporary flow measurement, conservation & water loss studies, collection system I&I studies, and leak detection studies. Achievable accuracy is ±1 to 2% of actual flowrate for pipe sizes from 0.5 to 200".
Accusonic Technologies
West Wareham, MA
Tel: 508-273-9600
Web: www.accusonic.com
Pump station control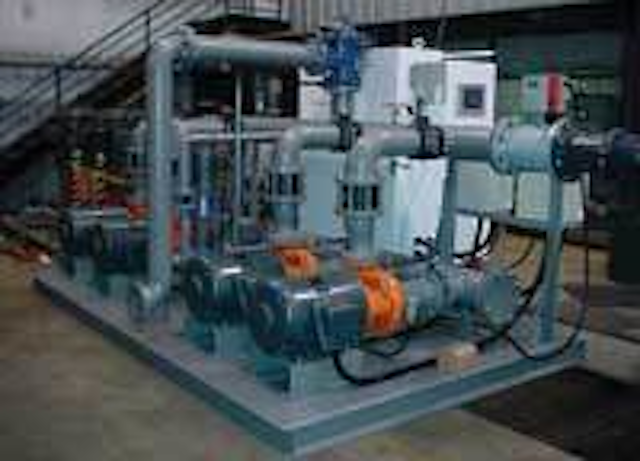 Click here to enlarge image
National Pump Co. offers a state-of-the-art multi pump booster system using the latest Control Logix from Allen Bradley with complete Ethernet communication, allowing for integration with existing software and control protocols. The control system is ideally suited for booster pump applications where volume demands can vary from small to large in short time periods. The accurate pressure control system allows for one or more variable frequency drives to start and ramp up to set point depending on the volume demand, therefore maintaining accurate pressure control.
National Pump Co.
Olive Branch, MS
Tel: 866-668-4914
Portable davit cranes
Thern offers a complete line of portable davit cranes to help wastewater treatment plants make economical use of their space, while helping to reduce costs by performing a variety of lifting and pulling tasks. Portable davits are used submersible pump and mixer handling, along with other tasks ranging from positioning diffusers to lifting UV panels. Rather than securing davits at each lift point, one or two portable davits can be moved throughout the plant to meet any lifting or hoisting requirement.
Thern Inc.
Winona, MN Tel: 800-843-7648 Web: www.thern.com
Valve exercising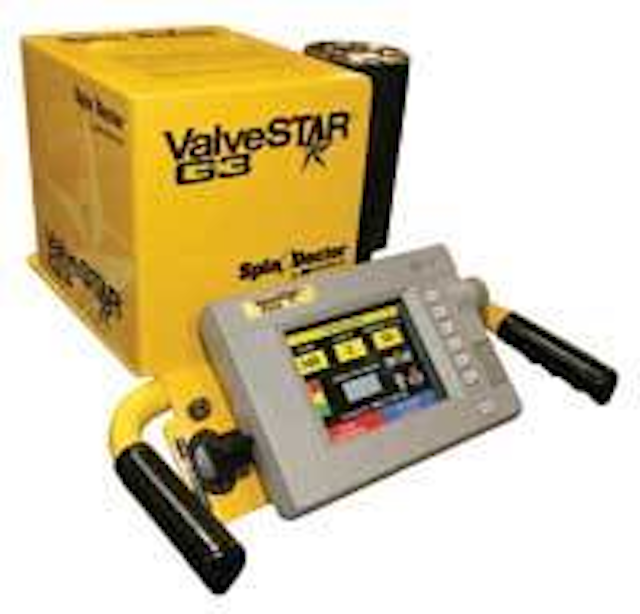 Click here to enlarge image
Hurco Technologies' new Valve Star G3 valve exercising equipment is designed for a complete valve and hydrant maintenance program. The new line features GPS capabilities, full color large screen format and much more. Users are able to data log critical data such as the amount of torque applied to the valve or hydrant and revolution count. The system also collects data for other important items that are required by the AWWA and the EPA's Water Security division. The data is compatible with any Access data base program and is GIS compatible.
Hurco Technologies
Tel: 800-888-1436
Web: www.gethurco.com
Multi-parameter meter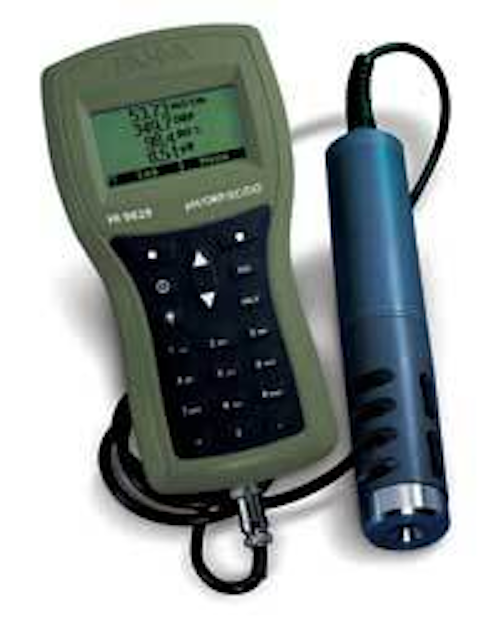 Click here to enlarge image
Hanna's new HI 9828 multi-parameter meter simplifies portable multiple location monitoring of up to 12 critical parameters including pH, DO, ORP, EC and temperature. The unit is versatile enough to go from monitoring pipes and wells that are as small as 2" in diameter to water reservoirs. The multi-sensor probe measures up to seven parameter simultaneously and the interchangeable sensors allow the user to quickly reconfigure measured parameters. The standard probe lengths are 4, 10 and 20 meters, but longer custom lengths are available.
Hanna Instruments USA
Woonsocket, RI
Tel: 888-815-6422
Web: www.hannainst.com
Water, wastewater pumps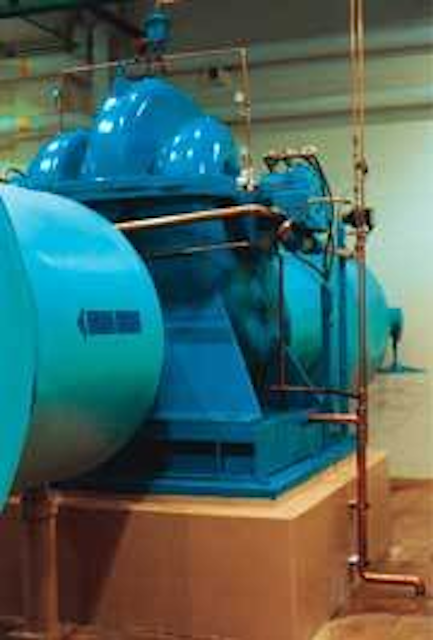 Click here to enlarge image
Patterson Pump will be exhibiting its full line of modern, high-performance pumps for water and wastewater duties. Featured will be the Type "A" Horizontal Split Case Pumps, engineered, built and tested to move clear water or low viscosity clear liquids at moderate heads. Their rugged design contributes to extended service life, reduced maintenance costs and minimum power consumption.
Patterson Pump Co.
Toccoa, GA
Tel: 706-886-2101
Web: www.pattersonpumps.com
Odor control
Click here to enlarge image
Calgon Carbon's Centaur®HSV is a vapor phase virgin granular activated carbon that has been developed specifically for odor removal from sewage treatment operations. This agglomerated bituminous coal-based product has a high adsorption capacity for H2S - without chemical impregnants - and adsorbs volatile organic compounds (VOCs) in an effective manner. The product, by its catalytic functionality, oxidizes H2S and converts it to water soluble sulfur compounds.
Calgon Carbon Corp.
Pittsburgh, PA
Tel: 800-422-7266
Web: www.calgoncarbon.com
Vortex separator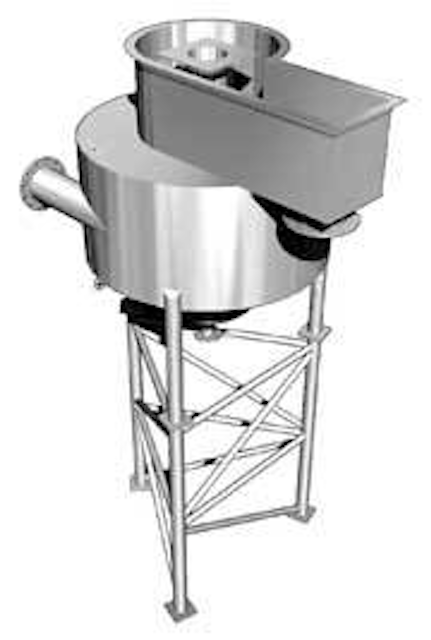 Click here to enlarge image
The Grit King energy-free vortex separator from Hydro International operates on the principle of dynamic separation. Flow is introduced tangentially, generating rotary flow. Flow spirals around and down the perimeter, then inward and upward in a continuing spiraling motion. A single centrally located discharge at the top of the vessel forces fluid to follow a long path before it is released, providing sufficient time for even finer grit to settle.
Hydro International
Portland, ME
Tel: 207-756-6200
Web: www.hydro-international.biz
Pipeline basket strainer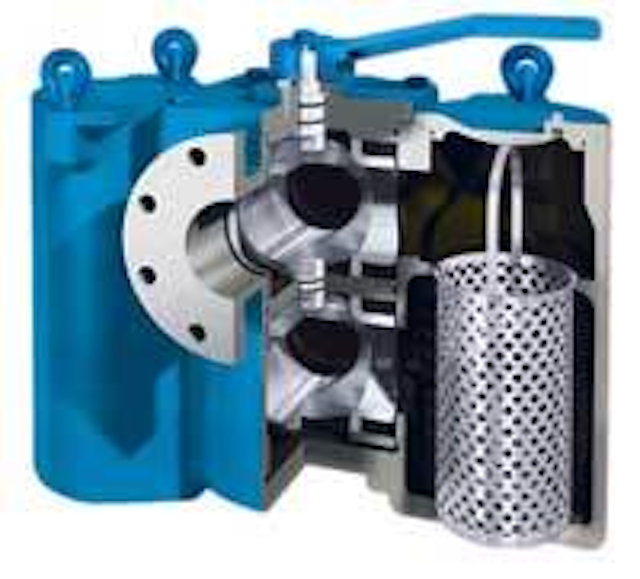 Click here to enlarge image
Eaton's Model 53BTX pipeline basket strainer features a patented diverter cartridge that isolates and seals the out-of-service basket chamber leak tight, simplifying strainer basket cleaning and changing for system operators. Installed into a water or wastewater piping system, the strainer protects expensive pipeline system components from particulate matter damage. The Model 53BTX is especially suited for piping systems that must run continuously. The pipeline flow never has to be shut off for strainer basket cleaning.
Eaton Filtration
Elizabeth, NJ
Tel: 800-859-9212
Web: www.filtration.eaton.com
Flow meter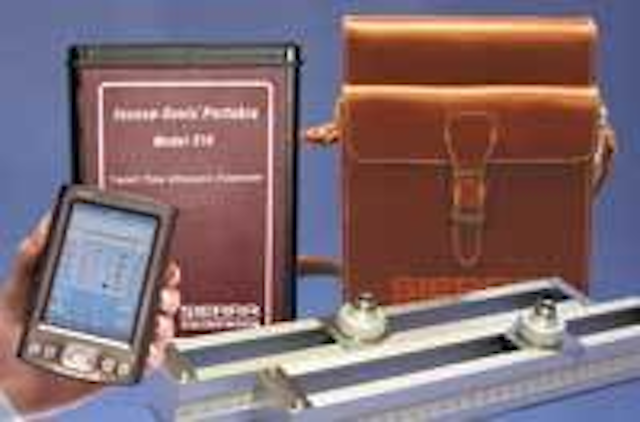 Click here to enlarge image
Sierra Instruments steps into the Ultrasonic Flowmeter market with the release of its new Innova-SonicTM Ultrasonic Flowmeter product line. The flow meters are universal transit-time instruments incorporating the latest advances in digital signal processing. The portable version features a Bluetooth® wireless PDA interface. The meter is also available with fixed display readout in a choice of either clamp-on or insertion transducers. While principally designed for clean liquid applications, the meter is tolerant of liquids with small amounts of air bubbles or suspended solids.
Sierra Instruments Inc.
Monterey, CA
Tel: 800-866-0200
Web: www.sierrainstruments.com
Floating cover systems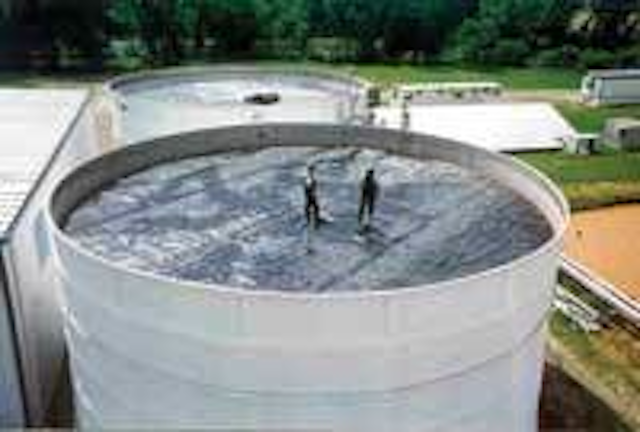 Click here to enlarge image
GTI offers durable, UV protected covers that float on the water in a tank or lagoon and block sunlight, thus controlling algae growth. The covers can also be used to provide insulation and reduce odors. The covers are custom-fabricated to fit a specific application and can be removed and reinstalled. Covers can be sized in small, lightweight panels for easy manual handling, or large panels for efficient mechanized handling. The covers can be installed quickly without disrupting plant operations and are easy to maintain while in service.
GTI Tank and Lagoon Covers
Tel: 506-452-7304
Web: www.gticovers.com
Electronic valve actuator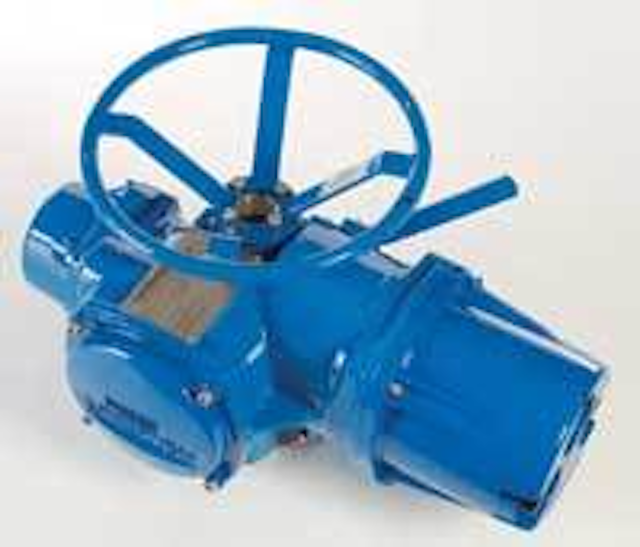 Click here to enlarge image
Flowserve Corp. offers new enhancements to its Limitorque MX smart electronic valve actuator. The MX is designed to operate in rigorous and extreme applications. Enhancements to the MX include a patented absolute encoder with increased span, improved diagnostics capability, and built-in self-test (BIST). The BIST feature is designed into a state-of-the-art controls platform that verifies and validates the integrity of its components, a design that aids companies in meeting the Safety Integrity Level (SIL) requirements of IEC 61508.
Flowserve Flow Cntrl., Limitorque Actuation Sys
Dallas, TX
Tel: 434-522-4107
Web: www.flowserve.com
Flow meters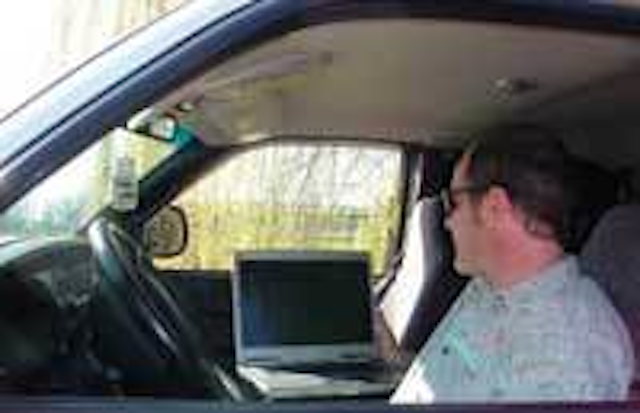 Click here to enlarge image
Marsh-McBirney has released new Mobile RF capability for the Flo-Dar Radar Velocity/Area Flowmeter. The product is the latest in a line of flow measurement devices designed to keep flow monitoring personnel out of the manhole and out of danger. The Mobile RF Wireless Communication capability reduces routine data collection costs for labor and confined space entry through the use of the 'drive-up' RF option. There is no need to remove the manhole cover and data uploads and flowmeter communications can be performed in the safety of a vehicle.
Marsh-McBirney Inc.
Frederick, MD
Tel: 800-368-2723
Web: www.marsh-mcbirney.com
Flow monitoring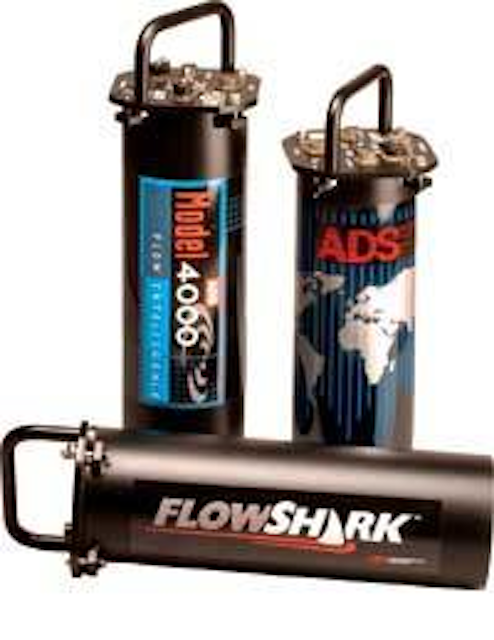 Click here to enlarge image
ADS® Environmental Services manufactures single and dual channel area velocity flow monitors, including FlowSharkTM, for use in sanitary, combined, and storm sewers. Flow analysis from the company is delivered through Web accessible or desktop software. IntelliServeTM and Sliicer.comTM are web-based tools that provide real-time, historical, and trending information as well as dynamic alarming that distinguish between wet and dry weather overflows.
ADS Environmental Services
Huntsville, AL
Tel: 256-430-3366
Web: www.adsenv.com
Sodium hypochlorite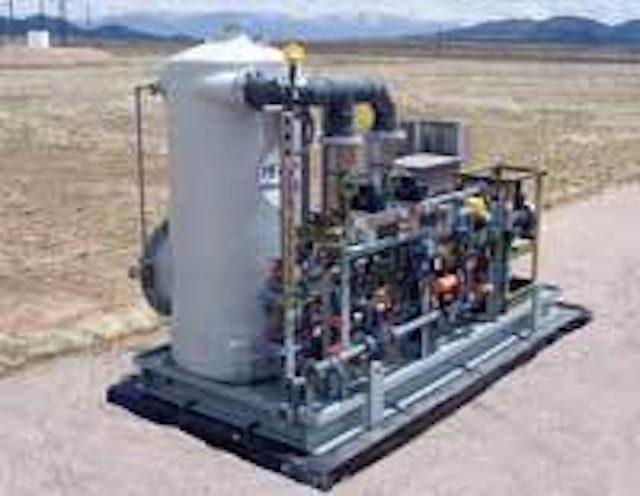 Click here to enlarge image
Pepcon Systems' ChlorMaster® line provides on-site sodium hypochlorite generation for water applications and odor control. Water and wastewater disinfection, potable water chlorination, marine organism control and odor control systems are available. The company's electrolytic cells are installed worldwide for use with sewage treatment plants, sewage collection systems, desalination plants, onshore and offshore oil production facilities, power plants, and chemical plants.
Pepcon Systems
Cedar City, UT
Tel: 435-865-5045
Web: www.pepconsystems.com
Dataloggers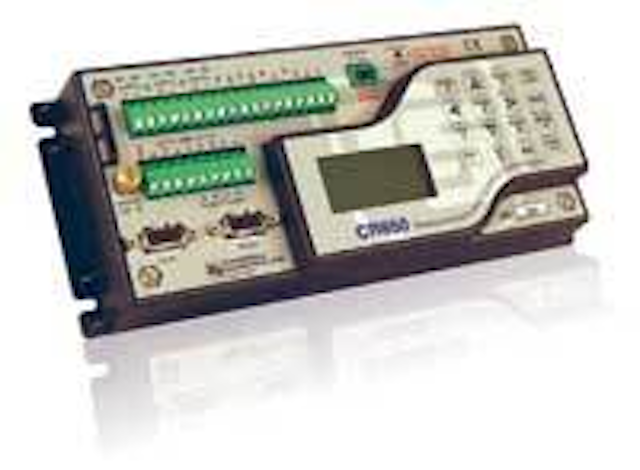 Click here to enlarge image
Campbell Scientific has released the CR850 (part of the CR800 series of dataloggers) that has an integrated keyboard display. It follows the innovation of low power usage, precision excitation voltages, dependable operation in harsh environments, and versatile use for either research and/or industry. The device features 2 Mbytes of battery-backed SRAM and a battery-backed clock that ensure data, programs, and accurate time is maintained while it is disconnected from main power source. It also includes CS I/O and RS-232 serial ports, 16-bit microcontroller with 32-bit internal CPU architecture, three differential (six single-ended) analog inputs, five pulse counting channels which include two low-level pulse channels, background system calibration for accurate measurements over time and temperature changes, and communication protocols such as PakBus® and Modbus RTU that allow for multiple telemetry options.
Campbell Scientific Inc.
Logan, UT Tel: 435-753-2342 Web: www.campbellsci.com
Sludge pumps, grinders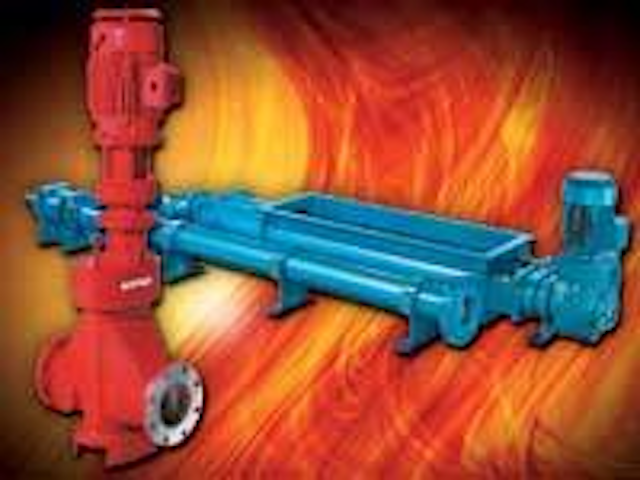 Click here to enlarge image
Moyno will exhibit its complete line of water and wastewater products, featuring its 2000 HS System and the latest innovations to the AnnihilatorTM grinders, at the WEFTEC show. The grinders are twin shaft solids reduction units designed to ensure that harsh solids in the primary sludge stream are ground uniformly and efficiently. They offer optimized cutter combinations, one-piece flange housing and a quick change cutter cartridge. The 2000 HS System features an integral hopper with a twin-screw auger feeder and specially designed progressing cavity pump that handles high solids, dewatered municipal sludge to over 50 percent solids.
Moyno Inc.
Springfield, OH Tel: 877-486-6966 Web: www.moyno.com
Polymer control system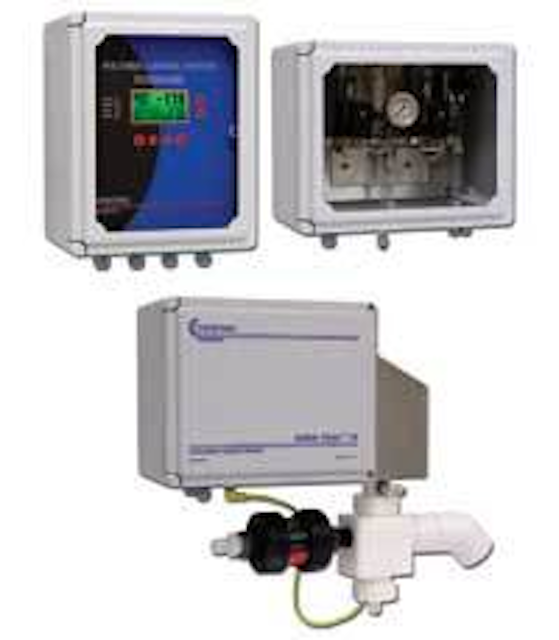 Click here to enlarge image
Chemtrac Systems' Polymer Control System model PCS5500 can help optimize polymer addition for liquid solids separation such as clarifiers, centrifuges, belt filter presses, rotary drum thickeners, dissolved air flotation, and gravity belt thickeners. The on-line instrument measures the net charge after the addition of polymer, i.e. sample stream of centrate/filtrate.
Chemtrac Systems Inc.
Norcross, GA
Tel: 800-442-8722
Web: www.chemtrac.com
Pipe strainer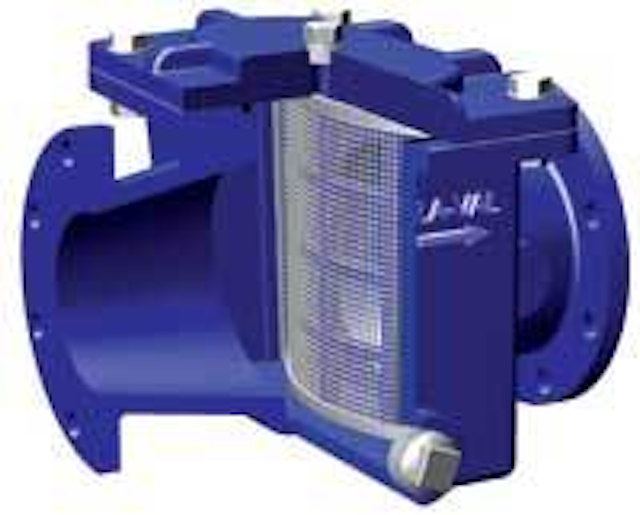 Click here to enlarge image
The Cla-Val H Strainer is designed to protect valves in applications where there is a high incidence of debris in the line and is particularly beneficial when used in combination with Cla-Val KO Anti-Cavitation or Roll Seal valves. The strainer is available in sizes 1 ½" through 12" and features a flanged end configuration. The body and cover are constructed of ductile iron and a fusion bonded epoxy coating is standard. The strainer mesh is 316 stainless steel, standard size: 10 Mesh/2000 Micron/.078 openings.
Cla Val Inc.
Newport Beach, CA
Tel: 949-722-4866
Web: www.cla-val.com
Ultrasonic flowmeters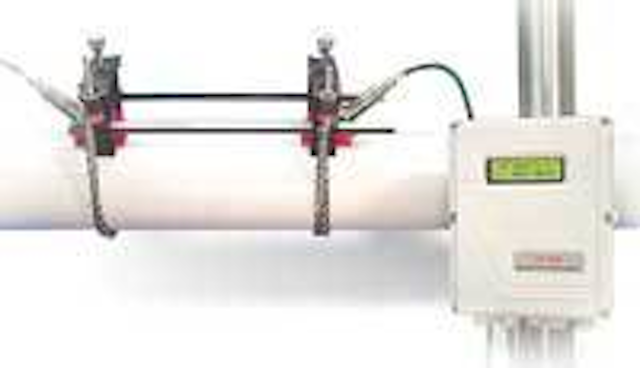 Click here to enlarge image
GE's Panametrics ultrasonic liquid flowmeters are suited for municipal water and wastewater applications. The AquaTransTM AT868, DigitalFlowTM UTX878 and TransPort® PT878 provide flow measurement capability in rugged packages. They can be installed right at the process measurement point and share the advantages of accuracy, reliability, ease of installation, no pressure drop and no calibration. The AT868 is a low-cost transmitter with non-invasive clamp-on or wetted transducers capable of a flow measurement range of 0.1 to 40 feet per second and a turndown ratio of 400 to 1.
GE Sensing
Billerica, MA
Tel: 800-833-9438
Web: www.gesensing.com
Flow monitoring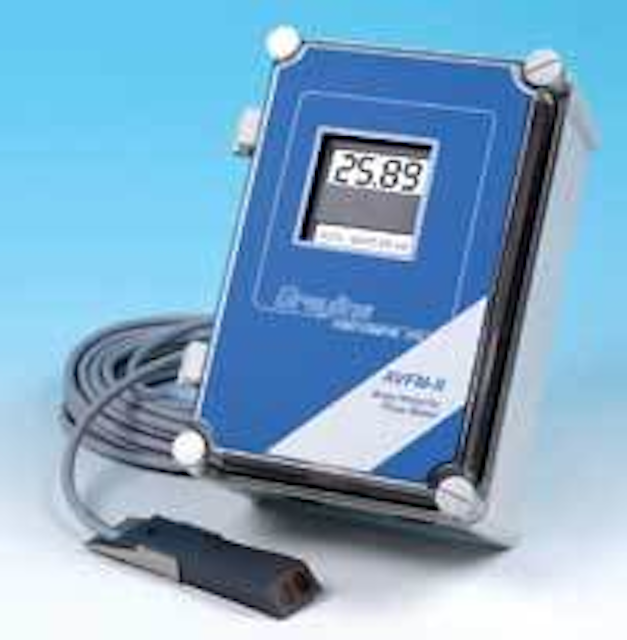 Click here to enlarge image
Greyline will exhibit new flowmeters designed for municipal stormwater, combined effluent, raw sewage and irrigation water. The company's new AVFM-II uses a submerged ultrasonic sensor to continuously measure both velocity and level in a channel. The sensor is resistant to fouling and corrosion. It can be configured with the standard submerged velocity/level sensor, or with submerged velocity and a separate non-contacting ultrasonic level sensor. It includes flow rate display, totalizer, three 4-20 mA outputs and two control relays.
Greyline Instruments Inc.
Massena, NY
Tel: 888-473-9546
Web: www.greyline.com
Coating system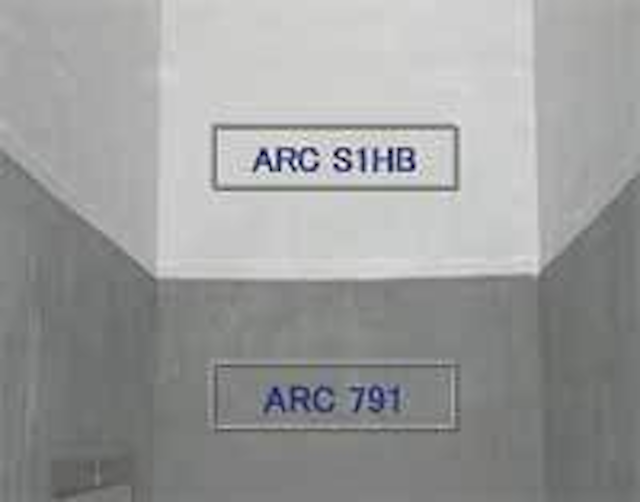 Click here to enlarge image
A.W. Chesterton has developed a coating system using two advanced composite technologies: ARC 791 Polymer Quartz Composite and ARC S1HB Reinforced Composite. ARC 791 is an all purpose quartz-reinforced composite for most concrete repairs and chemical containment. It is generally used to repair and upgrade concrete surfaces or used as a replacement for acid resistant tiles, epoxy mortars, fiberglass, and other overlayments. ARC S1HB is a composite lining formulated to protect concrete surfaces from corrosion and chemical attack. It allows for uniform coverage over rough surfaces and yields excellent barrier properties for long-term corrosion and chemical resistance in immersion exposures.
A.W. Chesterton Co.
Groveland, MA Tel: 978-469-6448 Web: www.chesterton.com
Algae control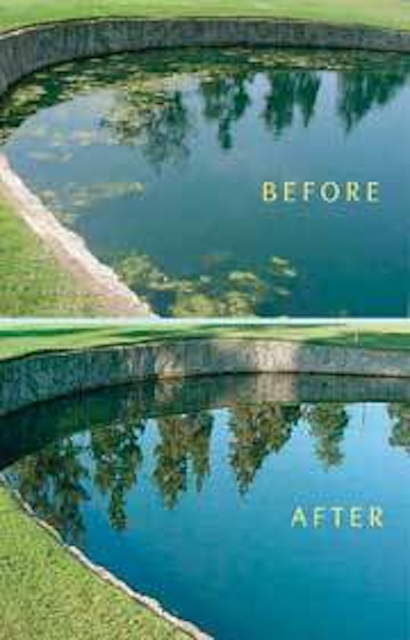 Click here to enlarge image
SonicSolutions® controls algae without harming the environment. It is a specially designed ultrasonic device that emits a wavelength precisely calculated to shock and kill algae. It uses no chemicals and is safe for fish, plants, and other aquatic life. Floating just below the water surface, the device operates 24-hours a day, using just 20-45 watts of power and providing coverage for up to 3 acres, depending on conditions. It has proven to be effective in ponds, lakes, tanks, reservoirs and more. In larger installations, units are used in combination for complete coverage.
SonicSolutions®
West Hatfield, MA Tel: 888-562-5423 Web: www.sonicsolutionsllc.com
Emergency shutoff system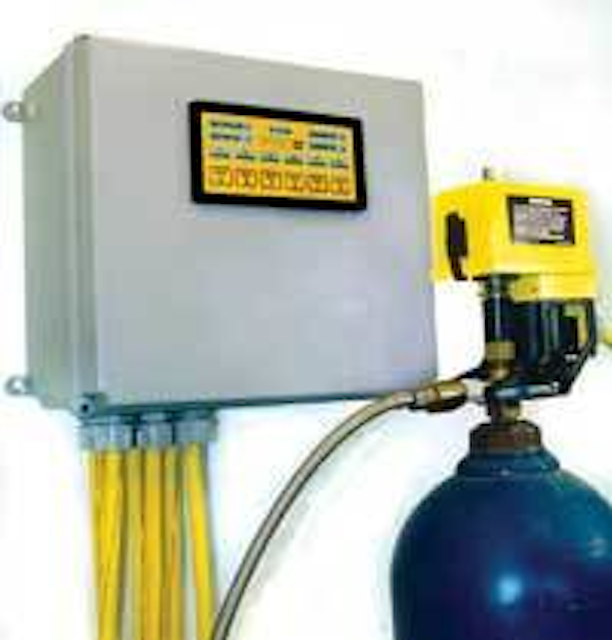 Click here to enlarge image
Halogen Valve's HexaconTM Model II control system quickly closes up to six EclipseTM actuators on toxic gas cylinder and ton container valves when activated by panic buttons or remote gas sensors. The newly designed Model II computer system applies 30 foot-pounds of torque for test closures and 50 foot-pounds of torque for emergency closures of the cylinder valve.
Halogen Valve Systems
Irvine, CA Tel: 877-476-4222 Web: www.halogenvalve.com
WWTP simulator
Hydromantis specializes in the development and application of software products for environmental engineers in the water and wastewater industry. Its flagship program, GPS-X, is a dynamic WWTP simulator and is used to improve plant performance. The company provides custom operator interfaces to allow access to WWTP models.
Hydromantis Inc.
Hamilton, Ontario
Tel: 905-522-0012 Web: www.hydromantis.com
Polymers
Hybo Inc. a manufacturer of polymers for the wastewater treatment and Enhanced Oil Recovery markets based in Shanghai, China, has opened an international sales and marketing office in California. The company manufactures a variety of polymers for industrial applications and will be exhibiting at WEFTEC.
Hybo Inc.
City of Industry, CA Tel: 800-968-8365 Web: www.hybo.com
DO analyzers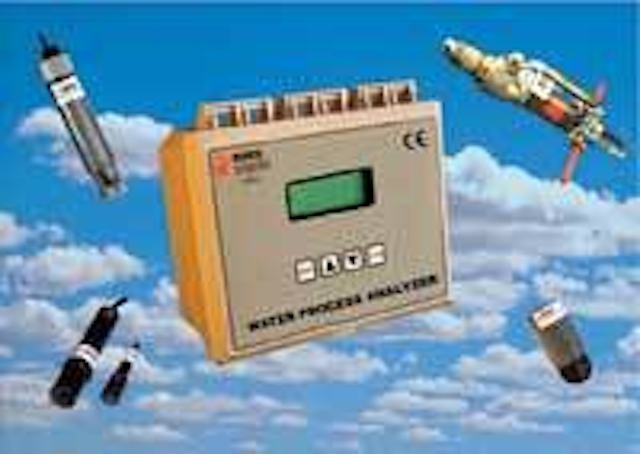 Click here to enlarge image
The Royce Series 8000 continuous Dissolved Oxygen/Suspended Solids Analyzers combine Royce technologies in a family of multi-channel and multi-parameter instruments. These analyzers and their appropriate sensors reduce per-point monitoring costs while providing reliability. They are available in both multi parameter single channel and multi-parameter dual channel versions for both DO & TSS monitors and controllers. The analyzers can be used to monitor and/or control aeration basins. The DO channels can use any Royce DO sensor including the Model 96 Electro-Chemical Self-Cleaning sensor. The Series 8000 analyzers use optical technologies in the Suspended Solids channels. The sensor ranges go from in-situ mounted units measuring 0 - 1500 mg/l up to Pipe Insertion units rated at 0 - 80,000 mg/l.
Royce Technologies/ITT Industries
Charlotte, NC
Tel: 800-347-3505
Blower package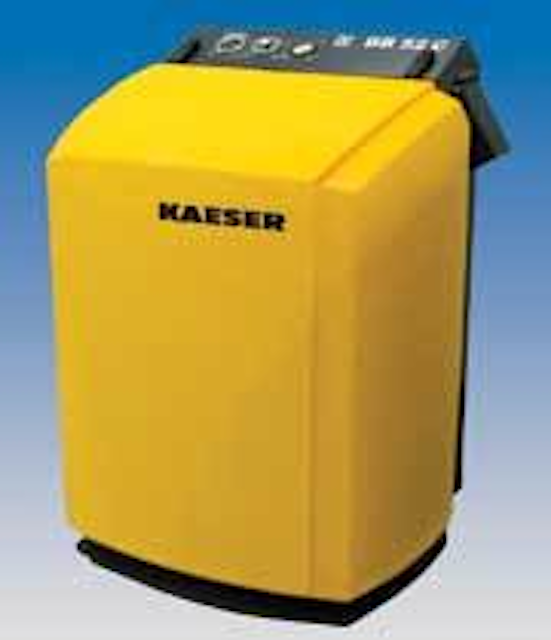 Click here to enlarge image
Kaeser Compressors' new BB52C blower package features its Omega Plus tri-lobe blower in a unique molded polymer shell. The blower package is one of the smallest, quietest process-quality blowers on the market. Like all Com-paK Plus units, the BB52C comes completely assembled with blower, motor, silencers and accessories to minimize installation costs.
Kaeser Compressors Inc.
Tel: 800-777-7873 Web: www.kaeser.com
Aeration system
Click here to enlarge image
Mazzei's AirJection® Aeration System uses patented technology to provide the efficient transfer of oxygen into wastewater basins. The system features a low speed pump with corrosion resistant 316 stainless steel air injectors at the basin surface, and subsurface, non-fouling, basin mixing nozzles. The process aspirates air and provides small bubble mixing at the same time without the use of a blower.
Mazzei Injector Corp.
Bakersfield, CA Tel: 661-363-6500 Web: www.mazzei.net
On-site disinfection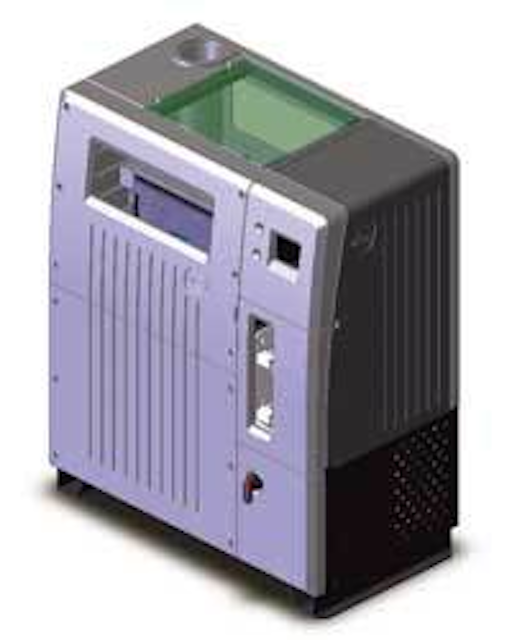 Click here to enlarge image
Miox's display at WEFTEC will focus on mid-size generators, ranging in capacity from 25 pounds FAC per day up to 200 pounds per day. These systems are modular and can be coupled together for even more capacity and redundancy. With the new cell design, a customer will be able to expand capacity within the same enclosure. Redundancy can be achieved with multiple cells, so that any single unit can be taken off line for maintenance without impacting performance of the other units.
Miox Corp.
Albuquerque, NM
Tel: 888-646-9426
Web: www.miox.com
Solids-handling pump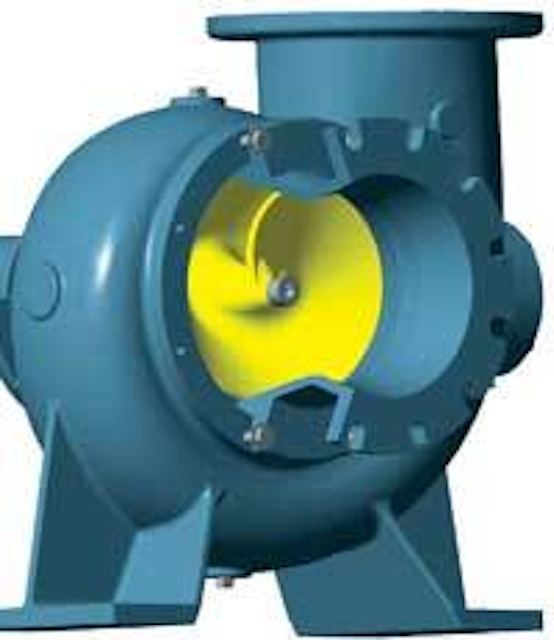 Click here to enlarge image
At WEFTEC.06 Fairbanks Morse Pump will be introducing its new HydroScrewTM Solids-Handling Pumps, which combine the efficiencies and solids-handling characteristics of the single screw impeller with the existing volute and bearing frame of the company's standard solids-handling pump designs. The new pump consists of a ductile iron (optional A-532 III high chrome cast iron 450 Brinell) screw impeller, running in an all cast iron (optional chrome cast iron 450 Brinell) cone. Applications include raw sewage, return activated sludge, waste activated sludge, mixed liquids, digester recirculation and primary sludge.
Fairbanks Morse Pump
Kansas City, KS
Tel: 913-371-5000
Web: www.fmpump.com
Satellite monitoring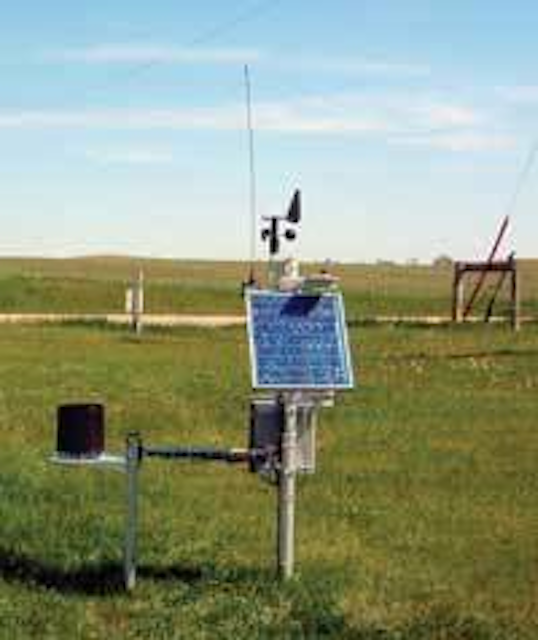 Click here to enlarge image
Automata has introduced the Mini-SatTM Field Station, providing remote monitoring and control from anywhere in the world. Satellite direct transmission produces communication between the remote field station and the Internet for unlimited networking capability. It can be centrally located in the field, at a pump station, or at a water level monitoring site. The station is particularly competitive at remote, isolated sites with a reasonable amount of data flow. The user can be notified of any changes through email or via pager, or can view any changes on the Internet. The units can be used in a network with single user software such as Automata's Field Vision or in a web server application providing a turn key system.
Automata Inc.
Nevada City, CA
Tel: 530-478-5882
Web: www.automata-inc.com
Solids handling pump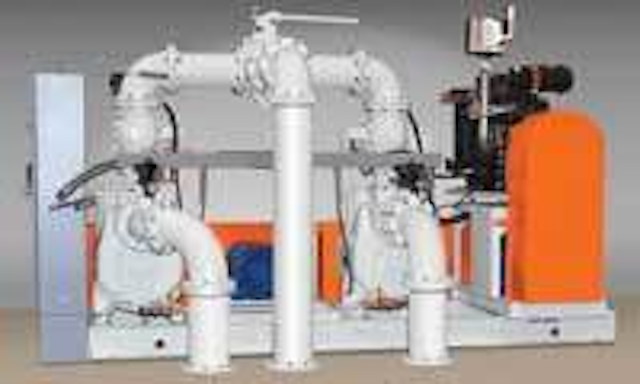 Click here to enlarge image
Gorman-Rupp now offers its Auto-Start pumping stations with its new solids handling pump line - the Ultra V. The new pump offers higher pressure, higher flow, greater efficiency and time saving maintenance features. The base mounted Auto-Start incorporates a 12 vDC stand-by controller that energizes the pump with an integrated standby natural gas or LPG engine providing full functioning stand-by pumping during power failures. When power resumes, AC operation is automatically restored. All stations are pre-engineered units with an extensive selection of pumps, motors, controls, piping and accessories.
Gorman-Rupp Co.
Mansfield, OH
Tel: 419-755-1011
Web: www.grpumps.com
Pump controller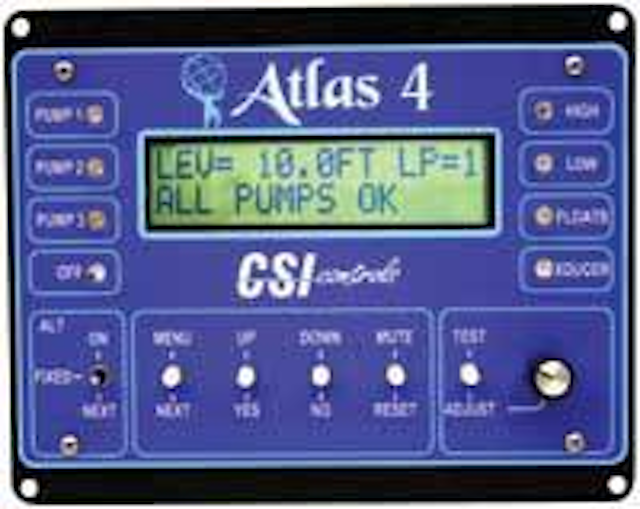 Click here to enlarge image
The Atlas 4 is the latest in a series of pump controllers from CSI Controls. It is designed for 1-3 pumps in pump up or down applications and accepts 4-20 mA signals from level transducers to measure liquid level. Features include selectable alternation with a lead selector switch, adjustable time delays for pump starts & stops, seal fail and over temperature inputs with built in indicators, relay outputs for both high and low level alarms, built in elapsed time meters for all pumps, and much more. In addition, CSI integrates the Atlas 4 as well as other controllers into complete custom control panels to meet any specification.
CSI Controls
Ashland, OH
Tel: 800-363-5842
Web: www.chandlersystemsinc.com
Level transmitter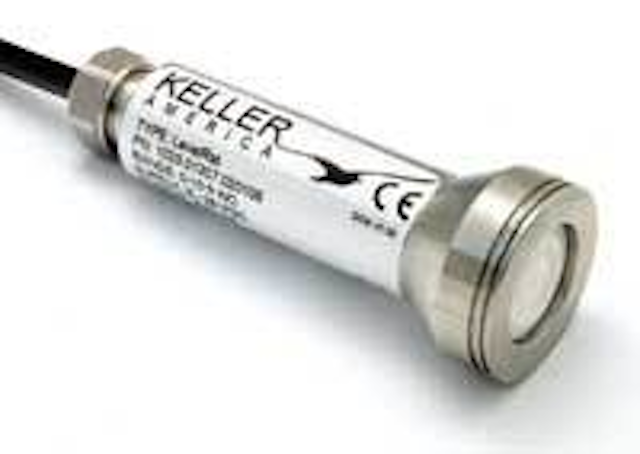 Click here to enlarge image
Keller America has introduced the LevelRatTM, a lift station level transmitter with a non-fouling, flush KynarTM diaphragm. Specifically designed for applications that would clog or foul a conventional level transmitter, the device thrives in nasty environments common in sewage lift stations and other greasy/slurry installations. The Kynar diaphragm provides durability and abrasion resistance as compared to competing models. The transmitter is available with an optional lightning protection package. Transmitters so equipped carry a lifetime guarantee against damage from voltage surges, including those induced by nearby lightning strikes.
Keller America Inc.
Newport News, VA
Tel: 877-253-5537
Web: www.kelleramerica.com
Valve actuators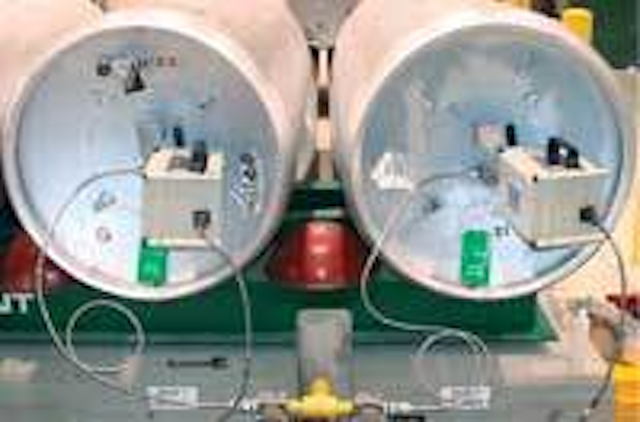 Click here to enlarge image
When higher chlorine feedrates require liquid withdrawal from containers for use with evaporators, it becomes extremely important to monitor and control the status of each valve on the container. Robo-Control® provides actuators to open and close the container valve. Digital indication of valve position and outputs for valve position are available. The actuator will communicate with an RTU or PLC for SCADA or in-plant control. Integral leak detectors provide immediate closure when a leak is detected.
Robo-Control
Bridge City, TX
Tel: 409-697-2666
Web: www.robo-control.com
Blower package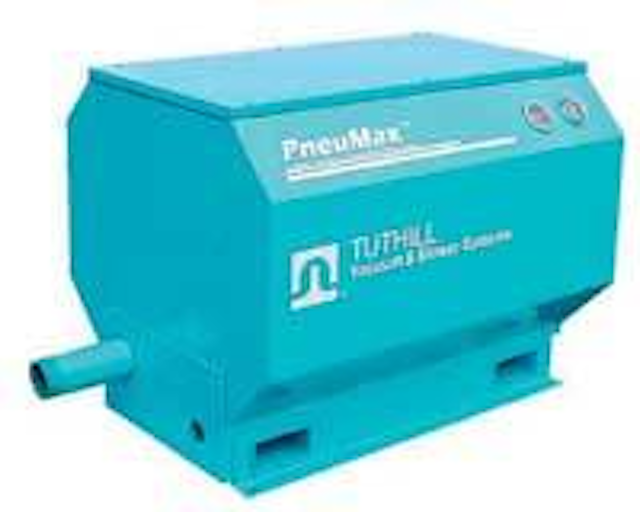 Click here to enlarge image
Tuthill Vacuum & Blower Systems' PneuMax line of low-noise rotary blower packages, including the new model 6008 Competitor® blower, are perfect for wastewater aeration. The new model increases the flow capacity of the company's PneuMax line of low-noise blower packages to the 800 CFM range, with operating pressures to 15 PSIG or vacuum levels to 16" Hg. In addition to flow increase, the motor offering has increased from to 60 hp to accommodate maximum pressures available with the blowers in PneuMax packages. Also, BlowerXpertTM 7.3 includes the updated PneuMax offering.
Tuthill Vacuum & Blower Systems
Tel: 800-825-6937
Web: vacuum.tuthill.com
Stormwater storage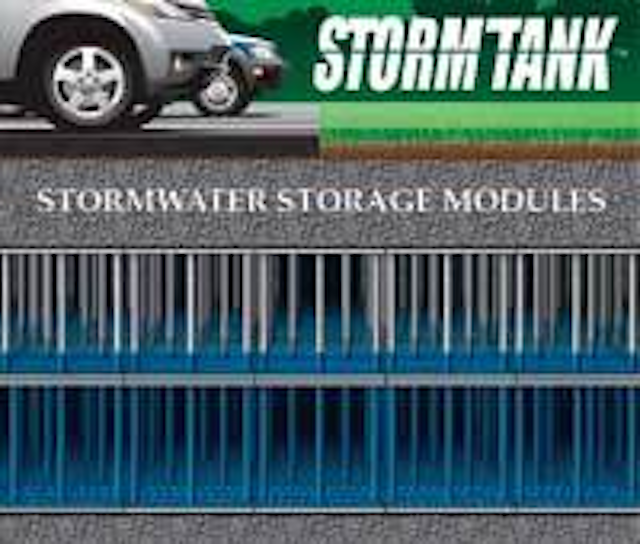 Click here to enlarge image
Brentwood's new StormTankTM Stormwater Storage Modules are an alternative to crushed stone, concrete structures, or pipe chambers for sub-surface stormwater detention or infiltration basins. They offer the largest void space of any underground stormwater storage units currently on the market (97%), and are load rated for use under parking lots, athletic fields, parks, etc. The entire system is built on-site from 18" wide x 36" long Top/Bottom Panels and Side Panels made of lightweight polypropylene and 2 3/8" diameter PVC columns (18-36" lengths).
Brentwood Industries
Reading, PA
Tel: 610-236-1113
Web: www.brentwoodprocess.com
Septage receiving station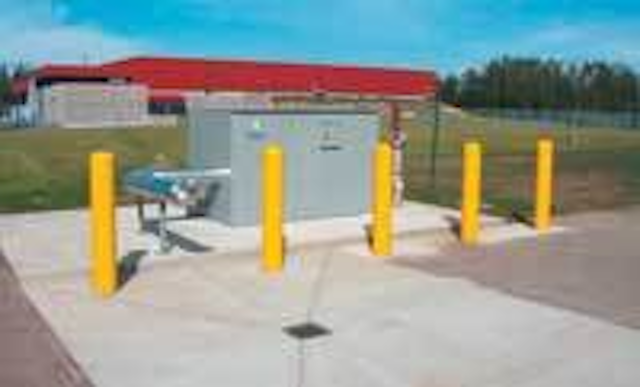 Click here to enlarge image
Municipal Solutions' Septage Receiving Stations provide security by controlling problems before they happen. The system software can reduce administration costs by providing detailed account management and station management. Flexible payment options include prepaid and credit accounts, credit card, smart card, coin or bill acceptor. The system allows municipalities to control where wastewater is dumped, the hours of operation for each station, know who generated the wastewater and the quality and volume of the waste being dumped.
Municipal Solutions
Denver, CO
Tel: 877-655-5585
Web: www.municipal-solutions.com
Bypass pump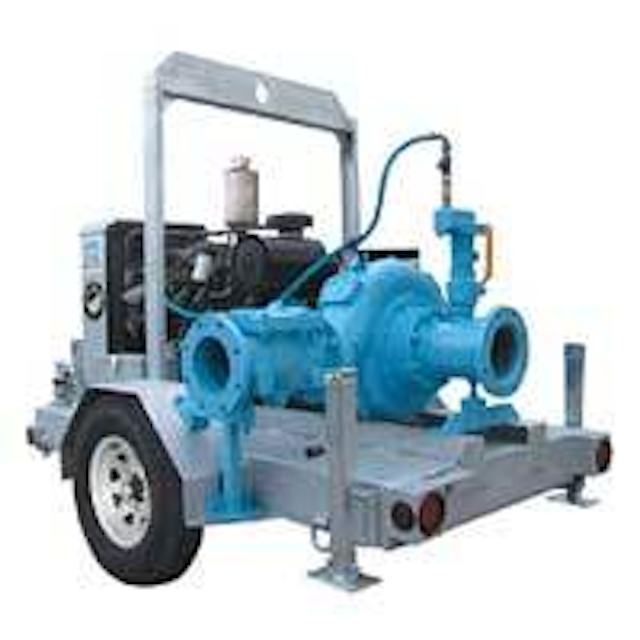 Click here to enlarge image
Rain for Rent's new 8" DV-200c pump is designed for bypass pumping and dewatering operations. It offers improved fuel efficiency, increased hydraulic efficiencies up to 81% and solids handling to 3.375". The galvanized trailer resists corrosion, eliminating repainting costs. The pump can handle flows up to 4,500 gpm and heads up to 260 feet.
Rain for Rent
Bakersfield, CA
Tel: 800-742-7246
Web: www.rainforrent.com
Flowmeters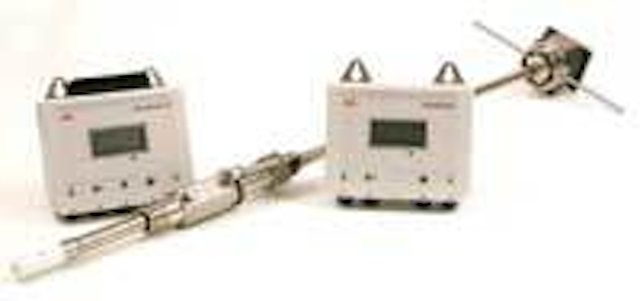 Click here to enlarge image
ABB Instrumentation has introduced the AquaProbe 1 and 2 insertion electromagnetic flowmeters into the U.S. market for clean water applications. They provide an alternative to full-bore meters as well as a convenient way to perform surveys on existing lines and meters. AquaProbe 1, intended for permanent installations where power is available, connects with the ABB MagMaster transmitter. It offers 4-20 mA analog output and HART Communication options.
ABB Instrumentation
Warminster, PA
Tel: 800-922-2475
Web: www.abb.us/instrumentation
Water storage tanks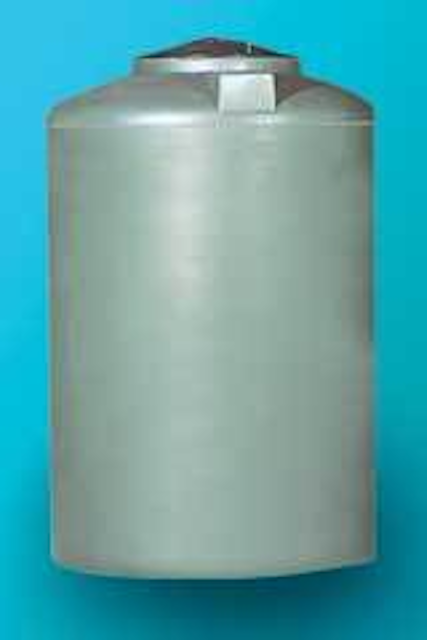 Click here to enlarge image
Chem-Tainer offers vertical water storage tanks ranging in size from 45 to 1,500 gallons. The tanks' green resin color helps reduce algae growth and blends with the environment. The company's polyethylene resin complies with U.S Food and Drug Administration regulation 21CFR 177.1520 (1) 3.1 and 3.2 for storage of potable water. The tanks are designed for water use only. Tanks for other types of applications also are available. The tanks come complete with threaded inlet/outlet and a vented twist entry.
Chem-Tainer
W. Babylon, NY
Tel: 800-275-2436
Web: www.chemtainer.com
Stormwater trash removal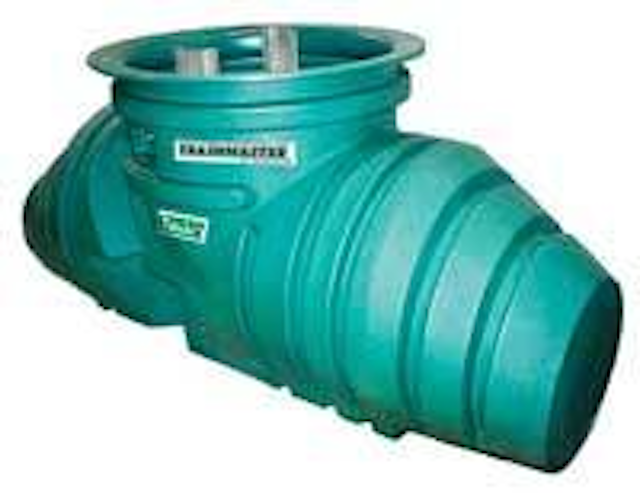 Click here to enlarge image
The ChannelGuardTM System from Fresh Creek Technologies is an extension of the company's Netting TrashTrap® product line. It is an engineered solution to capture trash and debris in large concrete drainage and discharge channels. The system spans the channel and collects water-borne trash in disposable nets. Also on display will be the TrashMasterTM Net Capture System for low-flow applications. Delivered to the site complete and ready to install, the poly/fiberglass roto-molded unit weighs 750 pounds and can be moved by on-site equipment.
Fresh Creek Technologies
Cedar Grove, NJ
Tel: 800-741-9486
Web: www.freshcreek.com
Control pinch valve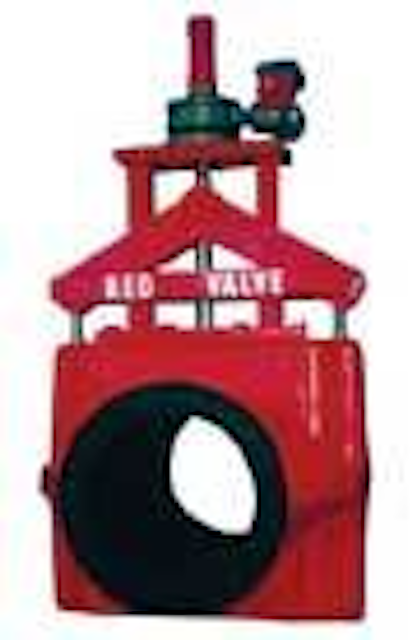 Click here to enlarge image
RedValve's Series 5400 Control Valve features centerline closure, true feedback positioning and repeatable variable venturi flow control. The elastomer sleeve isolates the valve body from the process, is abrasion-resistant, and provides a full-port opening with no cavities to trap solids or debris. The sleeve is simple to replace. It closes in a smooth, venturi pattern that allows for excellent throttling control over time.
Red Valve Co.
Carnegie, PA
Tel: 412-279-0044
Web: www.redvalve.com
Nutrient removal
The SymBio® Process from Enviroquip, a division of Eimco Water Technologies, is designed to provide nutrient removal. The process can create simultaneous aerobic (nitrification) and anoxic (denitrification) conditions in the same basin by keeping dissolved oxygen at less than 1 mg/L and monitoring NADH fluorescence. NADH is a co-enzyme present in all bacteria in wastewater. It can be measured through its fluorescence properties by a special sensor developed by Enviroquip. NADH is indirectly related to the DO concentration and biological oxygen demand of wastewater.
Enviroquip, a Div of Eimco Water Technologies
Austin, TX
Tel: 512-834-6000
Web: www.enviroquip.com
Asset tracking, management
Accela Asset ManagementTM tracks and manages assets and resources, providing an automated solution for costing, inventory, maintenance, and inspections. The Web-based system is flexible enough to manage an agency's entire assets - fleet, street, water, wastewater, plant and facilities, sewer, parks and recreation, railway, and roadway. It can be used to track past work orders by history, parts, location, or any other criteria, which can be used to schedule preventative maintenance and keep assets performing at peak condition. Departments that currently use this solution include Public Works, Facilities, Parks and Recreation, Sanitary Districts, Transportation, and Water Utilities.
Accela Inc.
San Ramon, CA Web: www.accela.com Tel: 925-560-6577
Portable flowmeter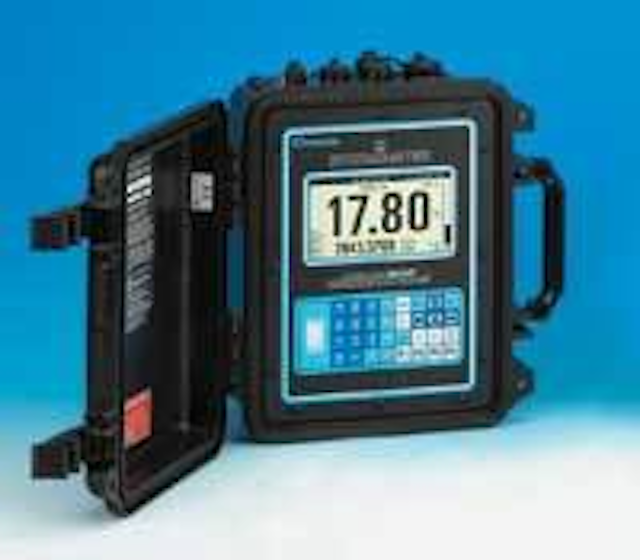 Click here to enlarge image
The System 1010WP Portable Clamp-On Hybrid Flowmeter, available from Siemens, is housed in a watertight enclosure. It uses either Transit-Time or ReflexorTM operation mode to allow operation on virtually all full pipe liquid applications. Pipe sizes range from ¼" to 360". Options include a pipe wall thickness gauge and single or dual channel or path operation. A large datalogger provides long term storage of measured variables.
Siemens Energy & Automation Inc.
Hauppauge, NY
Tel: 800-275-8479
Web: www.siemens.com
DO kit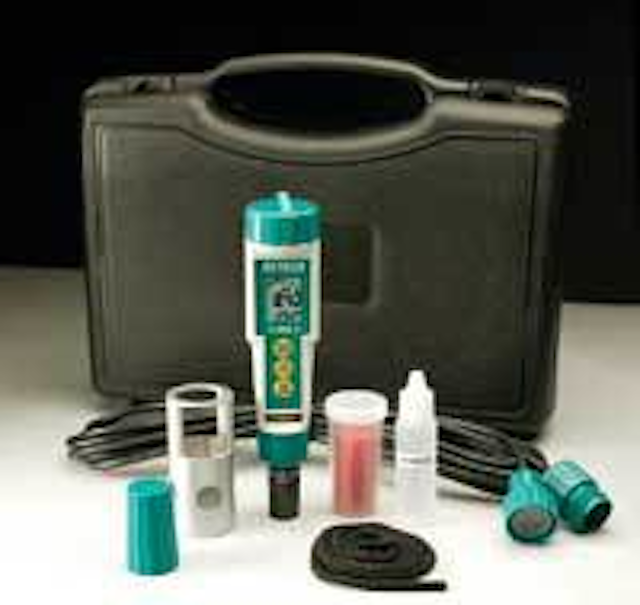 Click here to enlarge image
Extech Instruments offers the ExStik® II Waterproof Dissolved Oxygen Kit. This complete kit, Model DO600-K, adds versatility for measuring dissolved oxygen in laboratories or in the field. It has a 16 ft extension cable and weighted probe guard for taking measurements in tanks, streams or bodies of water. The DO600 meter self-calibrates on start-up and simultaneously displays dissolved oxygen, temperature and an analog bar graph to observe trends in sample testing.
Extech Instruments
Waltham, MA
Tel: 781-890-7440
Web: www.extech.com
Wastewater treatment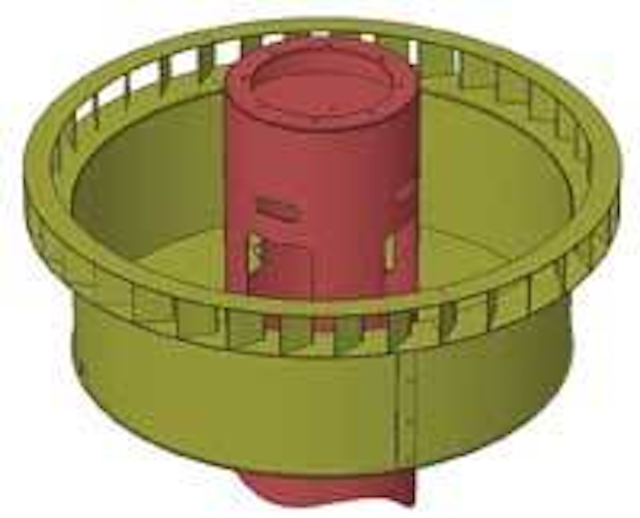 Click here to enlarge image
Eimco Water Technologies has signed a licensing agreement to market a new energy dissipating inlet (EDI) for clarifiers. The unit differs substantially from conventional practice by using the entire circumference of the EDI to discharge flow, rather than only a few gates or scoops. The design will eliminate the disturbing effects of discrete flow streams jetting into the feedwell, produce uniform flow into the feedwell around the full 360 degree circumference of the unit and achieve a controlled tangential flow velocity promoting flocculation in the feedwell.
Eimco Water Technologies
Tel: 801-526-2400
Web: www.eimcowater.com
Thermoplastic pumps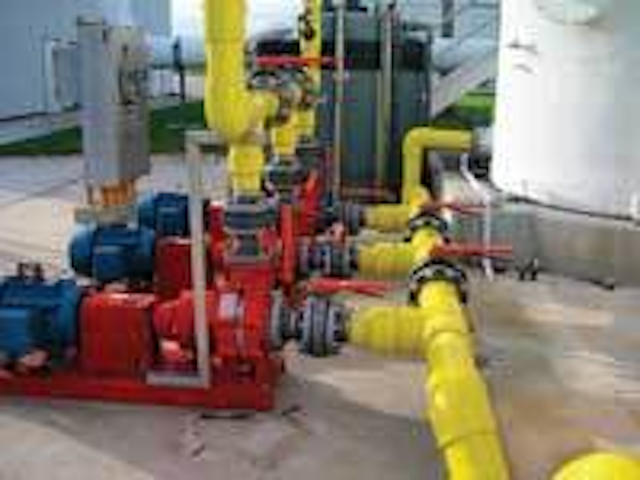 Click here to enlarge image
Vanton will display typical examples of its line of thermoplastic pumps. Its Flex-i-Liner® Pumps offer a flexible liner. They are sealless, self-priming peristaltic rotary pumps for transfer and dosing with flows to 40 gpm at temperatures to 250°F. Its Chem-Gard® horizontal thermoplastic centrifugal pumps offer flows to 3000 gpm, heads to 400 feet at temperatures to 275°F and include ANSI, DIN, Mag-drive, close-coupled and self-priming models.
Vanton Pump & Equipment Corp.
Hillside, NJ
Tel: 908-688-4216
Web: www.vanton.com
Metering pumps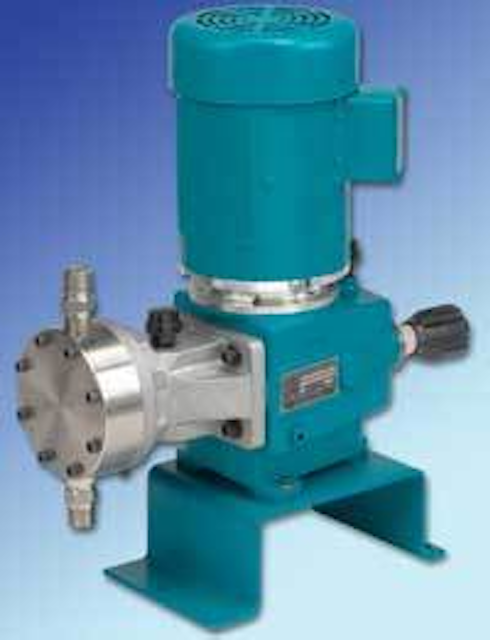 Click here to enlarge image
Neptune Chemical Pump Co. has expanded its line to include the new Series 7000 mechanically actuated diaphragm metering pumps. The pumps are able to handle viscosities in excess of 5,000 cps and can pump chemicals that off-gas (sodium hypochlorite) without binding. All models in the line are self-priming and provide suction lift to 20 feet. Maximum capacities range from 15 gph to 300 gph at 150 psi, depending on model.
Neptune Chemical Pump Co.
Lansdale, PA
Tel: 215-699-8700
Web: www.neptune1.com
Polymer blending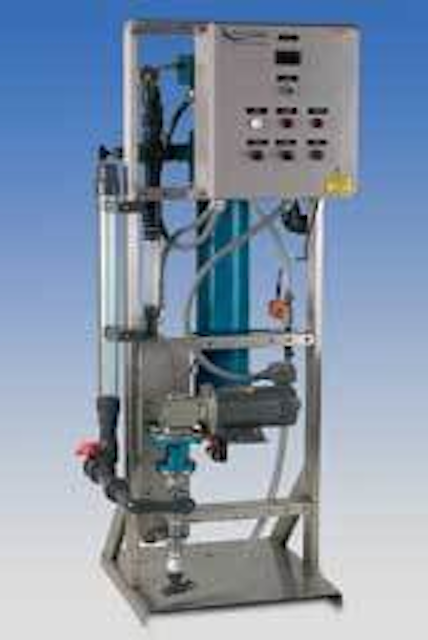 Click here to enlarge image
Fluid Dynamics has introduced the L Series dynaBLENDTM polymer blending and activation system. The units feature diaphragm metering or progressing cavity pumps, plus a non-mechanical, high-energy polymer mixing chamber. Control options range from simple manual systems to fully instrumented PLC-based units with an unlimited variety of inputs and outputs.
Fluid Dynamics Inc.
Lansdale, PA
Tel: 888-530-7300
Web: www.dynablend.com
Vacuum sewer components

Click here to enlarge image
Airvac is a manufacturer of specialty components used in vacuum sewer systems. These components include vacuum valves, valve pits and vacuum station equipment. The company offers complete start-to-finish project services, including preliminary system layout and design, cost estimating, detailed design assistance and construction supervision.
Airvac
Rochester, IN Tel: 574-223-3980 Web: www.airvac.com
Data management tools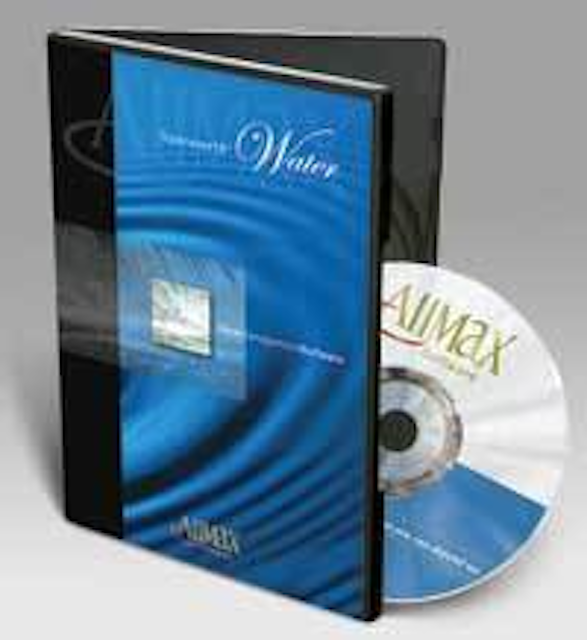 Click here to enlarge image
The new Operator10® v8.15 water, wastewater and pretreatment data management software is easier to use and can be set up for single, multi-user or client server, for any plant or facility. The software was designed to standardize company data and streamline processes. The applications are network ready using an SQL database.
AllMax Software Inc.
Tel: 800-670-1867 Web: www.allmaxsoftware.com
Fiberglass enclosures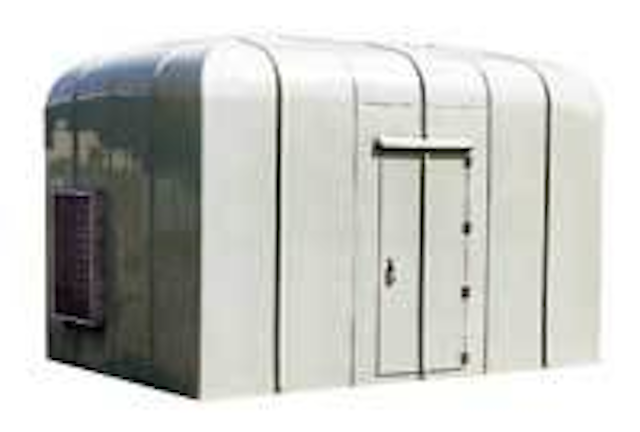 Click here to enlarge image
The AegisTM fiberglass enclosure line is lightweight and corrosion-resistant. The weather tight enclosures are designed to house mechanical equipment and/or supplies such as chlorination equipment, chemicals, power and generation equipment, pumps, monitoring equipment and a multitude of other systems and inventory. Standard features include non-corrosive fiberglass construction, UV resistant gel coat finish, lockable walk-in access and weather resistant hardware. Optional features include colors, insulation, heat, light(s), fans, mounting channel and electrical accessories.
Aegis Shelters Division of CDR Systems
Ormond Beach, FL
Tel: 386-615-9510
Web: www.aegisshelters.com
Specialty chemicals
Ciba Specialty Chemicals offers high efficiency polymers specifically designed to facilitate the separation of solids and liquids in the municipal water and wastewater treatment processes. Its range of products, equipment and services can provide solutions tailored to meet a utility's specific needs. The Ciba® Magnafloc®LT is a series of low toxicity flocculants and coagulants engineered for the treatment of potable water. They are ideal for processes which require ANSI/NSF® 60 certification. Magnasol® and Zetag® are two additional series of flocculants and coagulants. They each offer an enhanced biomechanical process for separating solids and liquids.
Ciba Specialty Chemicals Corp.
Suffolk, VA
Tel: 757-538-5034
Distribution system software
Derceto provides water utilities with a software solution that operates in conjunction with existing control systems to schedule pumping to minimize operational costs. Operating in real time, the software responds to changing conditions (e.g. fire flow demand or real-time electricity prices) to derive the most energy-efficient schedule of operations, automatically controlling all pumps. Each utility is unique with specific production requirements and operational constraints such as minimum storage levels and water turnover requirements. The company's programmers and engineers custom program the software to meet specific requirements.
Derceto Inc.
San Francisco, CA Tel: 415-646-8960 Web: www.derceto.com
Solar-powered circulators

Click here to enlarge image
SolarBeeTM floating solar-powered circulators are designed to provide long-distance laminar flow for mixing oxygen in wastewater ponds. The approach conserves dissolved oxygen by distributing super-saturated surface water throughout the pond, thus reducing aerators' run time by as much as 50%. The circulators can reduce effluent BOD, TSS and ammonia. In addition, they can help solve problems involving overloading, odors and sludge build up.
SolarBee, Division of Pump Systems Inc.
Dickinson, ND
Tel: 866-437-8076
Web: www.solarbee.com
Metering pumps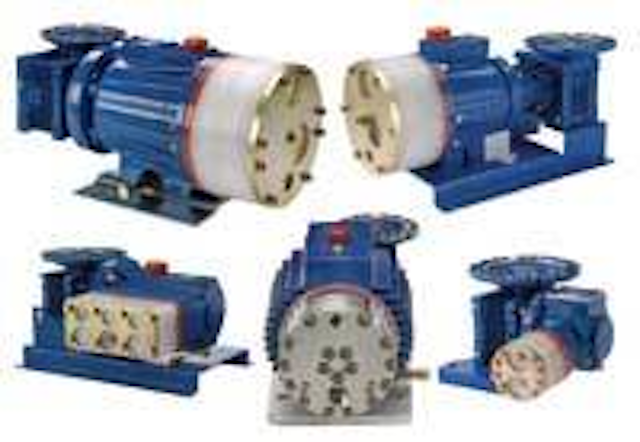 Click here to enlarge image
A new line of six metering pumps featuring precision electronic flow control will be introduced by Wanner Engineering at the WEFTEC exhibition. Designed for a wide range of metering and dosing applications in the processing industries, the new line of Hydra-Cell® "Metering Solutions" is comprised of six metering pumps ranging in capacity from 0 to 894.6 gph at pressure ratings of 50 to 2500 PSI. Employing Variable Frequency Drive (VFD) electronic flow adjustment to maintain greater accuracy throughout the turndown range, Hydra-Cell P Series metering pumps meet or exceed API 675 performance standards by providing steady-state accuracy of +1% or better, linearity of +3% or better, and repeatability of +3% or better. Five of the six new models feature a multiple diaphragm design that virtually eliminates pulsations to provide accurate metering with linear flow.
Wanner Engineering
Minneapolis, MN
Tel: 800-332-6812
Web: www.hydra-cell.com/metering
Jet aeration system
MTS/Mass Transfer Systems designs and manufactures the MTS jet aeration and the Multi-AspiratorTM submersible aspirator products for industrial and municipal water and wastewater treatment. The company specializes in design, manufacture, installation and start-up of aeration systems for biological wastewater treatment processes for both new and existing basins, including a variety of industrial mixing applications as well as submersible self-aspirating aerators.
Mass Transfer Systems
Walpole, MA Tel: 508-660-9150 Web: www.mtsjets.com
Scrubber system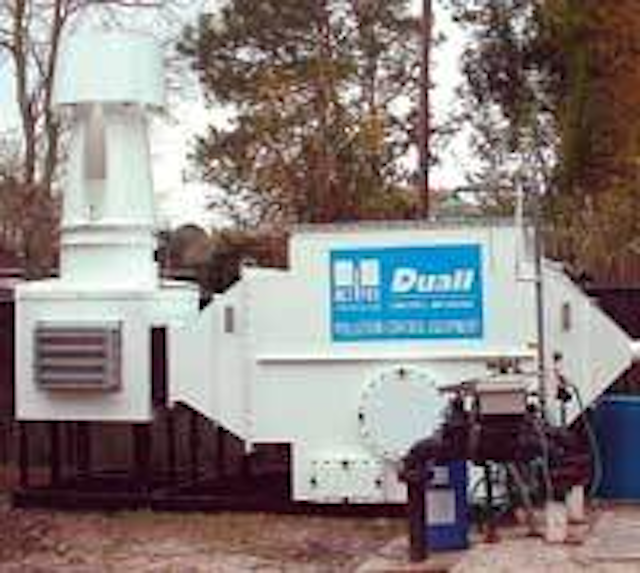 Click here to enlarge image
Duall's display will feature the AroBIOSTM Bioscrubber System, a biological air pollution control technology which removes odors and gaseous contaminants without the use of chemicals or incineration. Duall also offers a selection of corrosion-resistant DuallastTM FRP and thermoplastic chemical scrubbers, carbon adsorbers, fans, and ventilation products for industrial and municipal wastewater treatment odor control applications.
Duall Division, Met-Pro Corp.
Owosso, MI Tel: 989-725-8184 Web: www.dualldiv.com
Denitrification system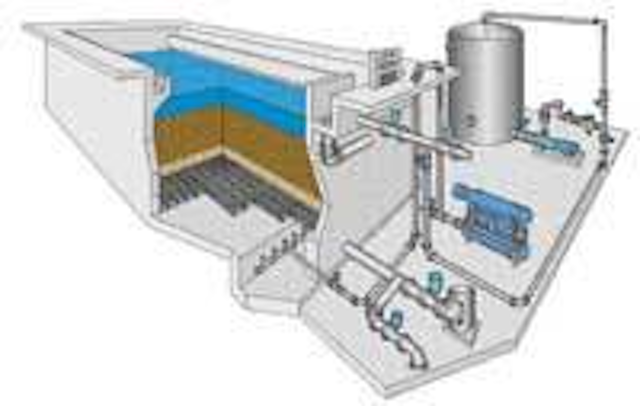 Click here to enlarge image
The Leopold elimi-NITETM Denitrification System uses the advantages of deep bed, mono-media filters to remove nitrogen and suspended solids in wastewater effluent. The gravity, downflow, packed-bed denitrification system is an attached growth, microbiological process which removes nitrate-nitrogen, achieving levels below 1 mg/liter. Physically, it is identical to a deep-bed downflow sand filter with Leopold® Type S® Dual Parallel Lateral Underdrain and silica media. The packed-bed system eliminates the need for downstream filtration or clarification required of other denitrification systems.
F.B. Leopold Co., ITT Water Treatment
Zelienople, PA Tel: 724-452-6300 Web: www.fbleopold.com
Storage tanks
Columbian TecTank designs and manufactures premium performance water and wastewater storage tanks to meet specific needs. Its Trico-Bond EPTM coating uses state-of-the-art technology to provide exceptional corrosion and abrasion resistance. The coatings are factory applied and thermally cured in controlled environmental conditions at the company's ISO Certified facilities. Columbian TecTanks are used for sludge storage and as clarifiers, equalization tanks, trickling filters, and anaerobic and aerobic digesters, just to mention a few.
Columbian Tec Tank
Kansas City, KS
Tel: 913-621-3700
Web: www.columbiantectank.com
Storage tanks
Aquastore® glass-fused-to-steel storage tanks are used in a wide variety of municipal water and wastewater treatment and storage applications, including potable water, stormwater run-off, equalization tanks and trickling filters, sludge digestion, sludge mixing and storing, sequential batch reactor and anaerobic/aerobic digesters.
Engineered Storage Products (Aquastore)
DeKalb, IL Tel: 815-756-1551 Web: www.aquastore.com
Tank roofing systems
Geodome offers clear span aluminum geodesic domes that can serve as roofing systems for water and wastewater applications. The company's clear span tank cover systems are suitable for all forms of cylindrical tanks (both new and retrofit). The company uses the latest engineering technology with ALGOR finite analysis, and manufactures the tank covers from corrosion resistant materials. No support columns are needed.
Geodome
Birmingham, AL Tel: 205-980-3454 Web: www.geodomeroof.com
Hypochlorite generating systems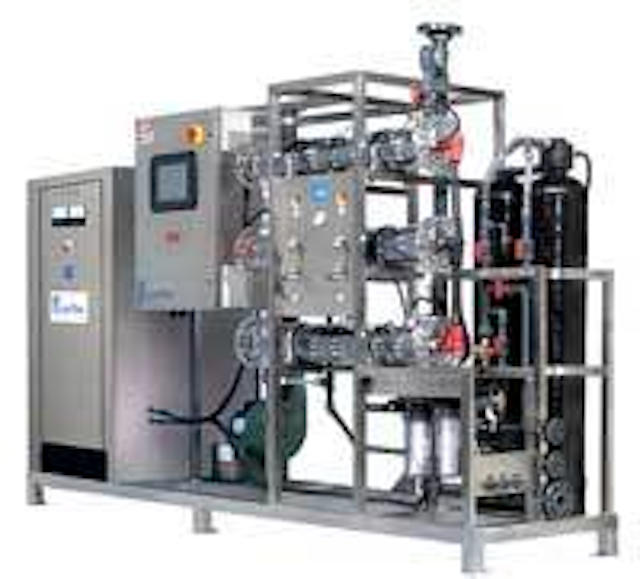 Click here to enlarge image
Severn Trent Services has been designing, manufacturing, installing, operating and servicing ClorTecTM On-site Sodium Hypochlorite Generating Systems since 1988. The company recently introduced a new skid-mounted system. The new system integrates the company's on-site generation technology into a pre-packaged design that can be installed and producing hypochlorite in less than one day. The on-site hypochlorite generating systems range in capacity from 6 to 3000 pounds per day, generating an 0.8% sodium hypochlorite solution by combining three common consumables: salt, water, and electricity, to produce a chlorine equivalent. Portable generation units for disinfection of water in isolated rural areas are also available.
Severn Trent Services
Torrance, CA
Tel: 800-524-6542
Web: www.severntrentservices.com
Vertical pump

Click here to enlarge image
Fybroc's display will feature the Fybroc 5530 Series vertical pump, which is a corrosion resistant pump suitable for handling the dry pit applications including acids, bleaches and caustics. Critical design details make the series an excellent choice for use on odor control scrubber systems. The pump's design features include: lower cost than in-tank vertical pumps; mounting outside tank; FRP construction and FRP wrapped shaft (1/8"); heavy duty column, shaft and bearings; and optional high pressure shaft seal.
Fybroc Division, Met-Pro Corp.
Telford, PA
Tel: 215-723-8155
Web: www.fybroc.com
Solids reduction process
Click here to enlarge image
The CannibalTM solids reduction process from Siemens can reduce the amount of biosolids produced by current wastewater treatment systems and reduce capital and operating costs at both municipal and industrial wastewater treatment facilities. Biosolids destruction is accomplished through an interchange between the activated sludge process and the Cannibal side stream bioreactor, which continuously selects for low yield bacteria and breaks down the biosolids until they are completely destroyed.
Siemens Water Technologies
Container filter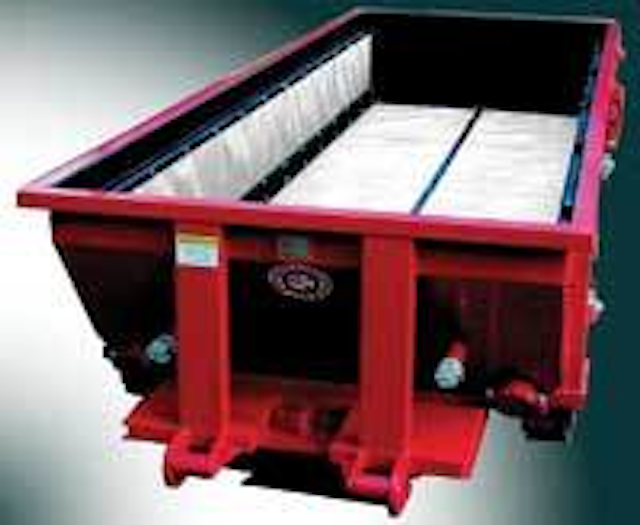 Click here to enlarge image
The Flo Trend® Container Filter is a patented, economical, one-step method for separating and dewatering waste streams. The filter's simple design features filter media on the walls and floor. The compartments behind the filters allow the built-in drains to dewater by gravity or vacuum assisted pump drainage. Filter media is supplied as reusable panels in a variety of materials. Mesh sizes for filter media range from 4 to 325 mesh (micron ratings from 4,750 to 45). The standard container filter is available in a variety of sizes and styles, including a self-dumping hopper, front/rear/side loaders, crane dumpers, and roll-off boxes.
Flo Trend Systems Inc.
Tel: 800-762-9893 Web: www.flotrend.com
Biosolids dryers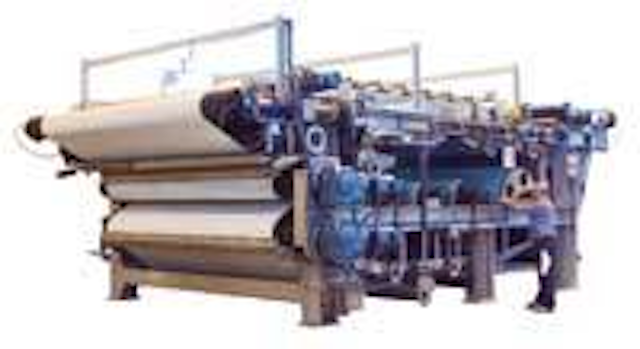 Click here to enlarge image
Siemens Water Technologies offers direct and indirect drying technologies designed to provide the right residuals management solution for all municipalities whether large or small. With the recent acquisition of Sernagiotto, the company now offers the Sernagiotto Ecoflash thin film dryer, which has an evaporation capacity of 551 to 6,613 pounds of water per hour.
Siemens Water Technologies
Electrolytic chlorination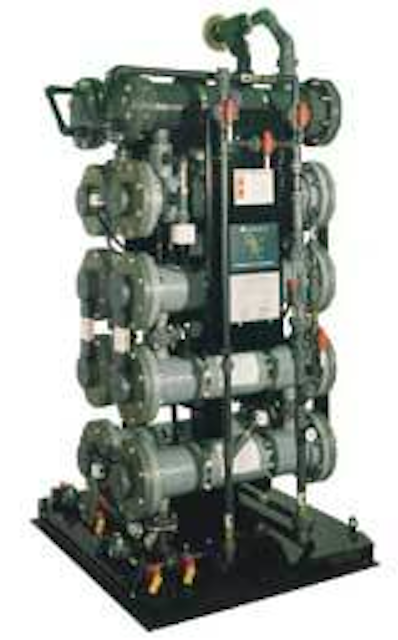 Click here to enlarge image
The OSEC® On-Site Electrolytic Chlorination system from Siemens Water Technologies is widely used in drinking and wastewater disinfection applications. The system produces sodium hypochlorite on-site and on-demand from salt, water and electricity. This eliminates the transport, handling and storage difficulties associated with commercial sodium hypochlorite or chlorine gas. The system can also significantly lower operating costs. Operation is completely automatic, making the system ideally suited for remote or unmanned locations.
Siemens Water Technologies
Tel: 800-525-0658
Floor, grating fasteners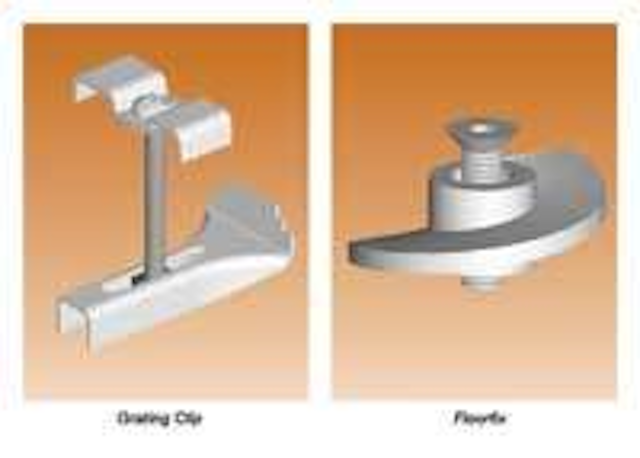 Click here to enlarge image
The BeamClamp Division of Kee Industrial Products has introduced its new FloorfixTM fastener to secure steel floor plates from one side, and the Grating Clip to secure steel grating to existing structural steel members. The new Floorfix enables one person, working from above, to position raised pattern floor plates, eliminating the need for access to the underside of the floor plate. The Grating Clip also only requires access from above to install. Both new products eliminate the need for costly and time-consumer welding and drilling for installation. Using only simple hand tools, Floorfix allows the floor plate to be secured, removed, or repositioned. The Grating Clip installs using a screwdriver and can be removed easily, allowing the grating to be re-positioned or removed for maintenance.
Kee Industrial Products Inc.
Buffalo, NY
Tel: 800-851-5181
Web: www.keeklamp.com
Pipe products
Click here to enlarge image
American Cast Iron Pipe Co. is one of the largest manufacturers of ductile iron pipe, fire hydrants and valves for the waterworks industry. Its subsidiaries include American Castings, and American Valve & Hydrant Manufacturing Co. It's American Ductile Iron Pipe Co. promotes the use of ductile iron pipe for several trenchless technology installation methods, including pipe bursting and horizontal directional drilling (HDD). The company is responsible for the development of "bell-less" MT Push Pipe and GS Push Pipe used for pipe bursting, micro-tunneling, or slip-lining. It also offers the Fastite Push-Bar joint pipe for pipe bursting, in sizes through 64". For HDD, the company offers pipe in sizes from 4" through 42". Its Flex-Ring joint ductile iron pipe - with its positive, flexible joint restraint - is ideal for HDD and pipe bursting.
American Ductile Iron Pipe Co.
Birmingham, AL
Web: www.acipco.com/adip
Onsite chlorination
The Constant Chlor Plus Briquette Chlorinator from Arch Chemicals is designed to prepare and automatically deliver a consistently accurate dose of available chlorine for disinfecting applications. The unique shape of the dry briquettes assures a well-packed bed for consistent performance, without the occasional peaks that occur under the best of circumstances. The briquettes have a longer shelf life and serve as an alternative to liquid bleach or chlorine gas. The systems are well-suited for remote ground-water sites and other water disinfection applications.
Arch Chemicals Inc.
Smyrna, GA
Tel: 800-478-5727
Web: www.archwaterworks.com/municipal
Water quality monitoring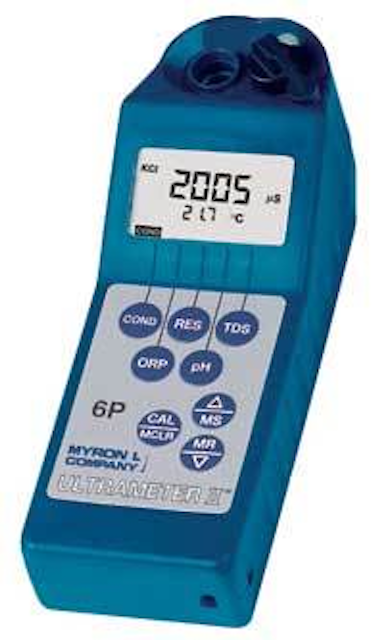 Click here to enlarge image
The Ultrameter II is Myron L's latest in an increasing line of instruments using microprocessor-based circuitry. The circuitry makes the instrument extremely accurate, reliable and easy to use. When operating the multi-parameter hand-held instrument, users simply rinse and fill the cell cup, push the desired parameter key and observe and store the reading. Temperature compensation and range selection are rapid and automatic. Two Ultrameter II models are currently available: the model 4P (Conductivity/TDS/Resistivity and Temperature) and the model 6P (Conductivity/TDS/Resistivity/pH/ORP and Temperature).
Myron L Co.
Carlsbad, CA
Web: www.myronl.com
Pumps, filters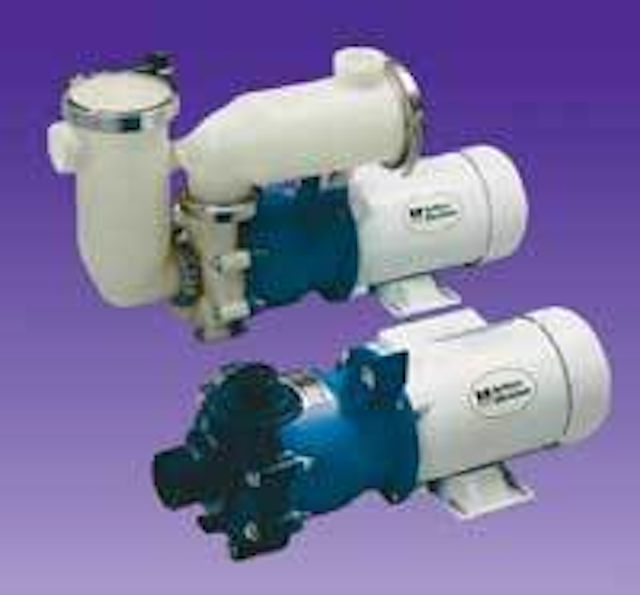 Click here to enlarge image
Sethco's display will feature corrosion resistant pumps and filter systems for chemical transfer, wastewater treatment and other corrosive applications. Key products include magnetic-drive pumps, drum pumps and sealless vertical pumps.
Sethco Division, Met-Pro Corp.
Telford, PA Tel: 215-799-2577 Web: www.sethco.com
Piping couplings, fittings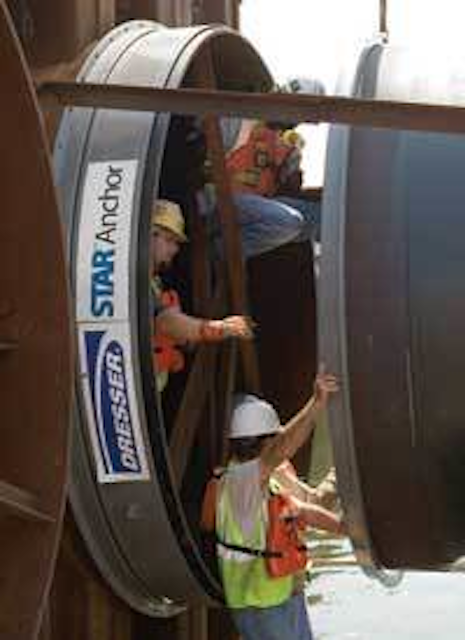 Click here to enlarge image
Dresser has pioneered numerous advances in piping technology. The current Dresser Piping Specialties product line includes a complete line of pipe joining couplings and repair products, expansion joints, flange adapters, dismantling joints, service connectors, compression fittings, and much more for plant and buried service piping installations.
Dresser Piping Specialties
Bradford, PA
Tel: 814-362-9200
Web: www.dressercouplings.com
Level transducer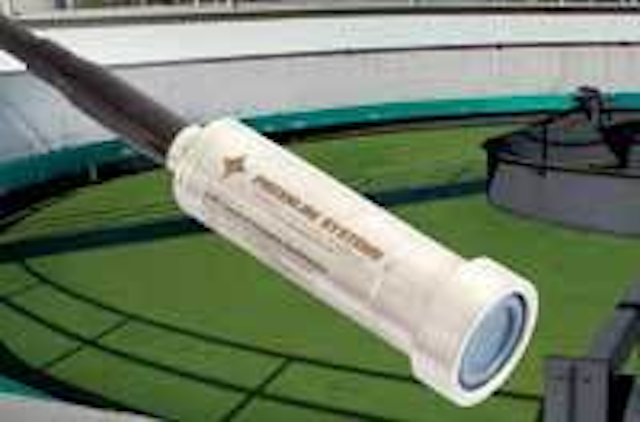 Click here to enlarge image
Pressure Systems, manufacturer of KPSITM Level and Pressure Transducers, offers a non-fouling level transducer featuring a wide Teflon®-coated sensing area. The new submersible Series 705 level transducer provides reliable depth measurement under adverse conditions, making it ideal for highly viscous applications including lift stations, slurry and pump control. The transducer incorporates a flush elastomeric diaphragm with a surface area of 0.90" to prevent clogging.
Pressure Systems
Hampton, VA
Tel: 800-678-7226
Web: www.pressuresystems.com
Membrane bioreactor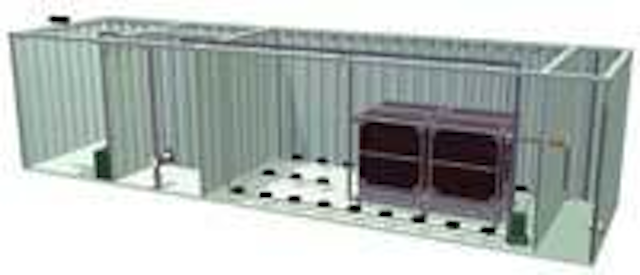 Click here to enlarge image
Titan MBRTM marries the wastewater treatment engineering expertise of Smith & Loveless with Flat-Plate Membranes. Submerged in the aeration section of the MBR tank, the S&L Flat-Plate Membrane - rated at the microfiltration level - maintains high permeability and flux rates even at peak-day rates. Because the system employs air scouring to prevent fouling, it does not require back-pulsing or the associated equipment and chemical costs typical of other systems.
Smith & Loveless
Lenexa, KS
Tel: 913-888-5201
Web: www.smithandloveless.com
Automatic filter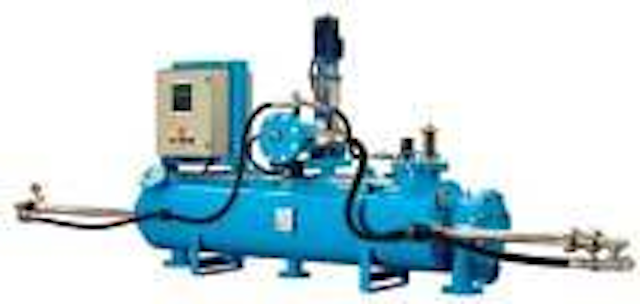 Click here to enlarge image
Amiad Filtration Systems has introduced the AMF2 (Automatic Microfiber Filter) filter series, for filtration as fine as three microns. The series offers a fully automatic, self-cleaning filtration technology. The filter media consists of sets of thread cartridges, constructed of fine threads wound in layers around a plastic spool.
Amiad Filtration Systems
Oxnard, CA
Tel: 805-988-3323
Web: www.amiad.com
Valve assemblies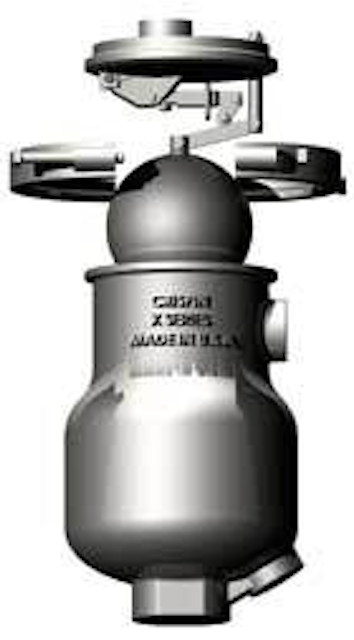 Click here to enlarge image
Available in Air & Vacuum, Pressure Air Release and Combination assemblies, the new X Series valve from Crispin features its exclusive Head Exchange System, with its head-fixed stainless steel valve internals. To clean, simply loosen the head assembly, which is sealed in place by a sanitary stainless clamp fitting. Pull out the original head, which weighs less than 10 lbs, and pop in a spare.
Crispin-Multiplex Mfg. Co.
Berwick, PA
Tel: 570-752-4524
Web: www.crispinvalve.com
Membrane water treatment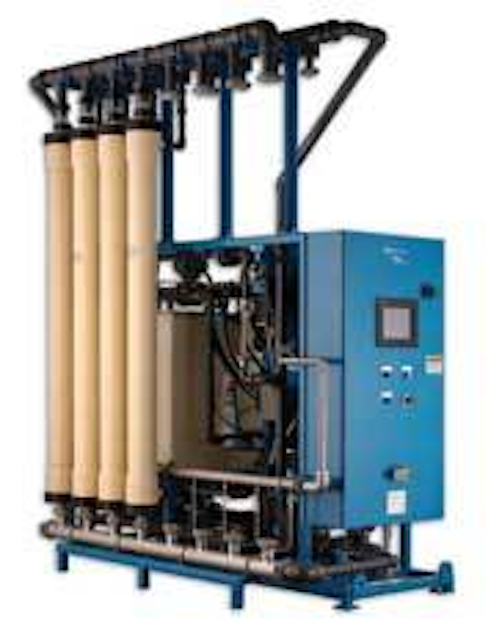 Click here to enlarge image
Pall's membrane MF and UF water treatment systems remove particulate, microbiological pathogens, inorganics, and organics from groundwater, surface water, seawater, and wastewater. Pall AriaTM systems produce pure water for drinking, irrigation, industrial reuse and many other applications. The packaged and pre-engineered Pall Aria AP system is easy to install and operate. Integrated into a system, it can reduce maintenance, power, chemical and waste disposal costs.
Pall Corp.
Port Washington, NY
Tel: 888-428-5597
Web: www.pall.com/water
Scales, accessories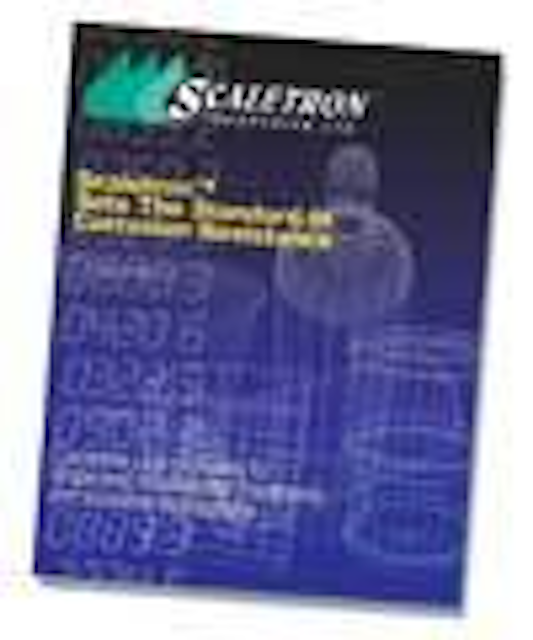 Click here to enlarge image
Scaletron Industries will display its complete line of scales and accessories for the water and wastewater treatment industry plus industrial applications at WEFTEC. Included will be the firm's new Single Cylinder Hydraulic and IBC/Tote bin scales; Mechanical and Digital Dual Cylinder, Tank and Ton scales; standard and ultra low profile Drum and Platform scales as well as the various indicators available for each scale.
Scaletron Industries Ltd.
Plumsteadville, PA
Tel: 800-257-5911
Web: www.scaletronscales.com
Motor control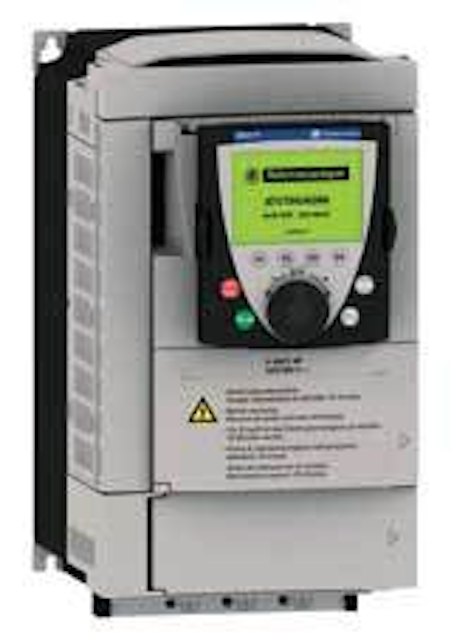 Click here to enlarge image
Motor control for up to 700 HP motors is possible with the new Telemecanique® brand Altivar® 71 variable speed AC drive from Schneider Electric. Dual microprocessors and motor control algorithms provide improved torque performance and speed regulation. Advanced materials reduce the drive's size by 15 percent compared to previous generations. The drive is available with an option card for water and wastewater applications.
Schneider Electric
Palatine, IL
Tel: 888-778-2733
Web: www.squared-water.com
Membrane disc diffusers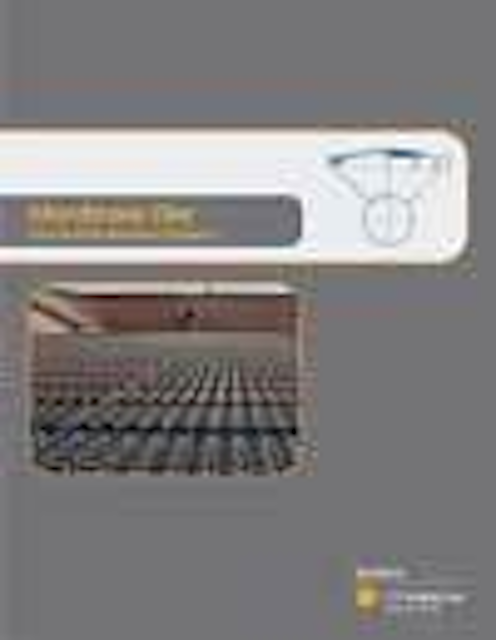 Click here to enlarge image
A new brochure on the Sanitaire Disc Membrane Diffusers is now available. The brochure detailing the company's Silver Series Membrane Disc diffusers can be seen at www.sanitaire.itt.com. Hard copies can be obtained by contacting Kari Waldenmeyer at kari.waldenmeyer@itt,com. The diffusers provide high oxygen transfer efficiency and an extended service life. Sanitaire provides complete biological wastewater treatment solutions for municipal and industrial applications.
Sanitaire, a div. of ITT Industries
Brown Deer, WI
Tel: 414-365-2200
Plastic, aluminum enclosures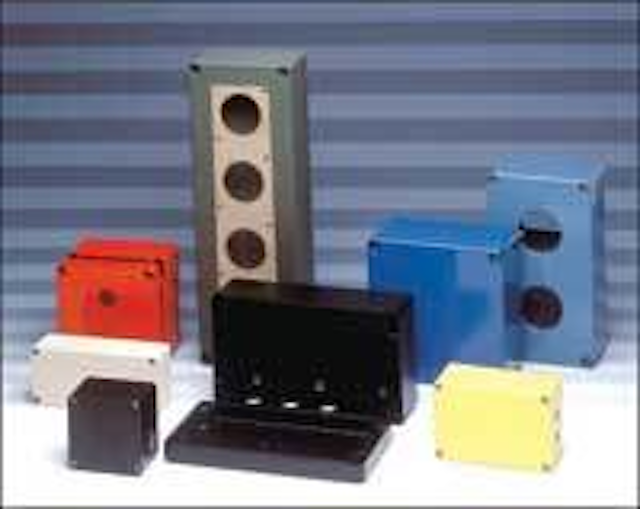 Click here to enlarge image
Fibox Enclosures has significantly expanded its in-house capabilities to supply customized plastic and aluminum enclosures. New assets include a state-of-the-art, Computer Aided Manufacturing (CAM) machining system for milling, engraving, cutting, and embossing. Customers can receive fast turnaround on popular enclosure modifications including threaded and unthreaded holes, and panel, door, side, and window cutouts. This new machining system can customize any one of the more than 525 standard enclosures.
Fibox Enclosures
Glen Burnie, MD
Tel: 888-342-6987
Web: www.fiboxusa.com
Double-walled tanks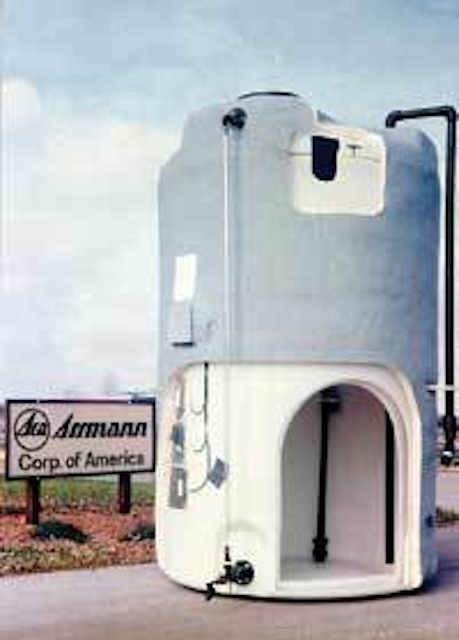 Click here to enlarge image
Cylindrical double-wall tanks from Assmann eliminate chemical spills and prevent dome collapse without the expense of lined concrete containment. The company's molding process provides a heavier-top sidewall and dome to prevent dome collapse, while the primary inner tank and a secondary locked-on outer tank ensures against chemical spills. Constructed of molded high-density cross linked polyethylene or FDA compliant linear polyethylene, the double-wall tanks provide an outer shell containment that equals 120% of primary tank capacities, which exceeds EPA standards.
Assmann Corp. of America
Garrett, IN Tel: 888-357-3181 Web: www.assmann-usa.com
Abrasion resistant pipe

Click here to enlarge image
Abresist piping is tougher than the grit, sludge, limestone, incinerator ash, sand, Perlite, grain or biosolids fertilizer being conveyed in wastewater plants. The basalt-lined piping lasts five times longer than ½" cast iron. Pipes, elbows and fittings are custom engineered for each application and can be provided in a variety of end connection arrangements to retro-fit into existing systems or install in new ones using flanges, grooved couplings, compression couplings or welded attachments.
Abresist Corp.
Urbana, IN
Tel: 800-348-0717
Web: www.abresist.com
Low-flow chemical feed
Hydro Instruments' V-RAD is a new invention designed to meter low feed rates of liquid chemicals (such as sodium hypochlorite) accurately and reliably. It was designed in 2005 and brought into full production in early 2006. Specifically, the V-RAD was invented for the application of feed rate control of liquid chemical solutions being injected into a water stream using a venturi nozzle. The chemical is fed under vacuum, which eliminates all pressurized chemical lines. It is fed through a fixed-diameter orifice in shortly spaced intermittent pulses (allowing a larger orifice to be used).
Hydro Instruments
Perkasie, PA
Tel: 888-384-9376
Generators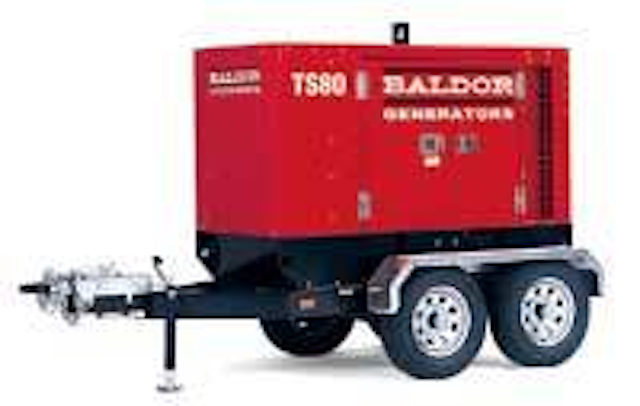 Click here to enlarge image
Baldor Electric manufactures a line of gasoline, LP and diesel-powered generators for all types of commercial and industrial applications. The generators ranges in size from 1.1kW to 2000kW. Industrial mobile generators, both standard and custom-built trailer mounted generators, have been in the company product line for several years. Standard stock trailer mounted gensets are the Towable series offered in seven models from 25kVA to 400kVA. The units can be removed from the trailers/chassis, if necessary, for permanent pad installation. The Towable series offers a three-position voltage connection switch. This enables the operator to select at the job site one of three main output voltage combinations while allowing the 120 /240 Volt convenience receptacles to remain active. Large integral base mounted fuel tanks are supplied with every unit. Heavy gauge enclosures and sound insulation keeps sound levels to a minimum, while powder coat paint protects the unit from harsh outdoors. Access doors are lockable and have heavy-duty hinges.
Baldor Electric
Fort Smith, AR
Tel: 479-646-4711
Web: www.baldor.com
Drying systems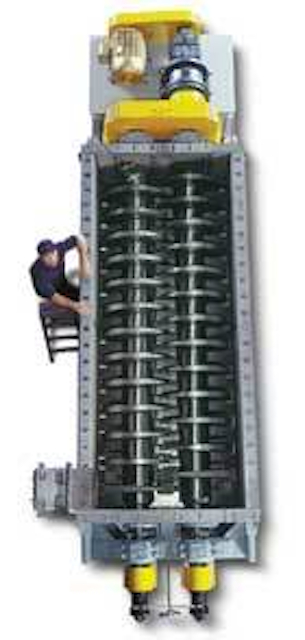 Click here to enlarge image
Komline-Sanderson offers complete biosolids drying systems capable of handling up to 1000 wet tons of wet cake solids per day. The dryers can be designed to use either steam or thermal fluid with heat supplied from the combustion of natural gas, digester gas, landfill gas, or fuel oil. Excess heat from combustion engines or turbines can also be used to heat thermal fluid or produce steam. The company has successfully commissioned a 3000 square foot biosolids drying system that can dry 150 wet tons per day of secondary sludge for the Springfield, MA, wastewater treatment plant.
Komline-Sanderson
Peapack, NJ Tel: 800-225-5457 Web: www.komline.com
Laboratory information system
Accelerated Technology Laboratories (ATL) offers Windows-based LIMS with Microsoft SQL Server and Oracle data management solutions. The company's Sample Master® LIMS product line is used in many industries, including water and wastewater. ATL also offers ScreenITTM MQPS for manufacturing environments and NeoMateTM for clinical data management.
Accelerated Technology Laboratories Inc.
West End, NC Tel: 910-673-8165 Web: www.atlab.com
Ultrasonic level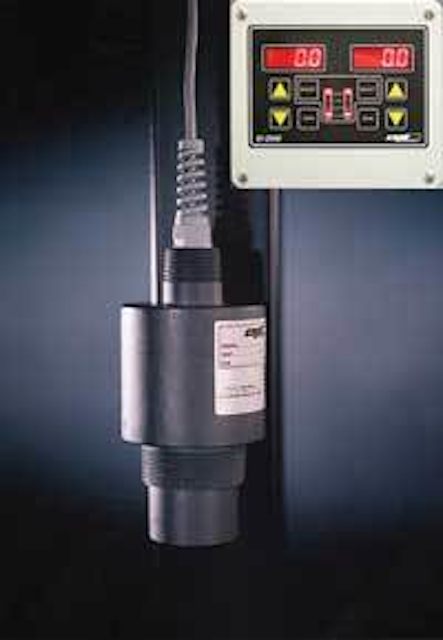 Click here to enlarge image
The new Eagle Microsystems USL-1000 Ultrasonic Level System consists of an ultrasonic transducer and an EI-2000 dual channel digital display instrument. The instrument permits simultaneous measurement and display of bulk storage tank level or volume, and accurate weighment and display of the weight of a day tank or batch tank through the use of a precision electronic scale.
Eagle Microsystems Inc.
Pottstown, PA Tel: 800-780-8636 Web: www.eaglemicrosystems.com
Environmental monitoring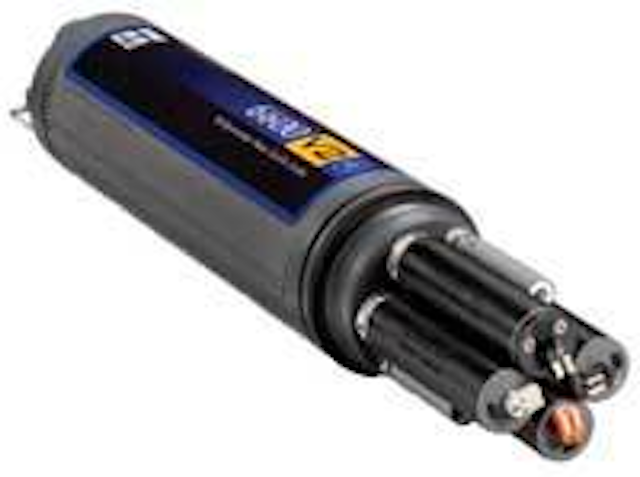 Click here to enlarge image
To meet the growing need for improved environmental monitoring, YSI has introduced its upgraded 6600 V2 sonde. Users can gather water quality data in near real-time with this "workhorse" instrument, which measures up to 15 parameters and has a long battery life and anti-biofouling wipers for extended deployments. Users can choose between two and four optical ports on the new sonde. In addition to turbidity, chlorophyll, and rhodamine, YSI now offers Optical Dissolved Oxygen measurement, with less membrane maintenance, and Fluorescence-based Blue-Green Algae, for early warning of harmful algal blooms and other applications.
YSI Inc.
Yellow Springs, OH
Web: www.ysi.com
Chart recorder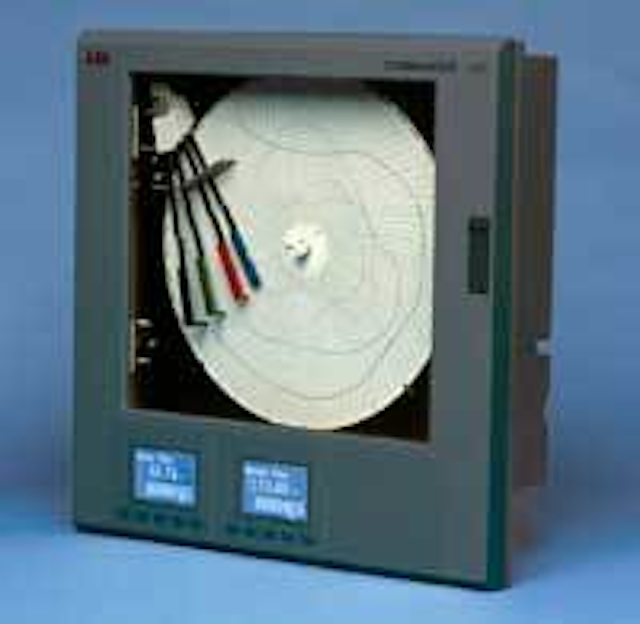 Click here to enlarge image
ABB's C1300 Circular Chart Recorder is specifically designed for water and wastewater applications. It has a high visibility LCD display for simultaneously viewing customized displays of all channel, alarm, and totalized data in all light conditions. Optional compact flash memory offers data storage, backing up the traditional paper circular chart records. The C1300 boasts Smart Totalizer technology, automatically calculating flow. Totalizers operate in real time, making resetting easy and automatic.
ABB Inc.
Warminster, PA
Tel: 800-829-6001
Web: www.abb.com/recorders
Blower package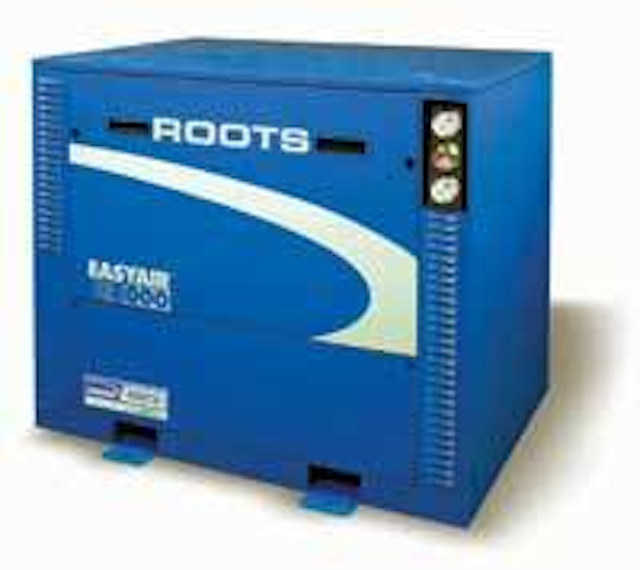 Click here to enlarge image
A new factory-engineered blower package, designed to operate 8,000 hours or more between scheduled maintenance, has been introduced by Dresser ROOTS. The EasyAirTM8000 is a compact, pre-assembled, skid-mounted blower unit with all piping, valves, and instrumentation in place. Produced for both vacuum and pressure applications, the new package features a powder-coated noise enclosure for durability and quiet operation plus easy access for service/maintenance. ROOTS-designed, the package is available with a wide range of optional equipment and can be specifically designed to meet exact customer requirements.
Dresser ROOTS
Houston, Texas Tel: 877-363-7668 Web: www.rootsblower.com
Gas flow measurement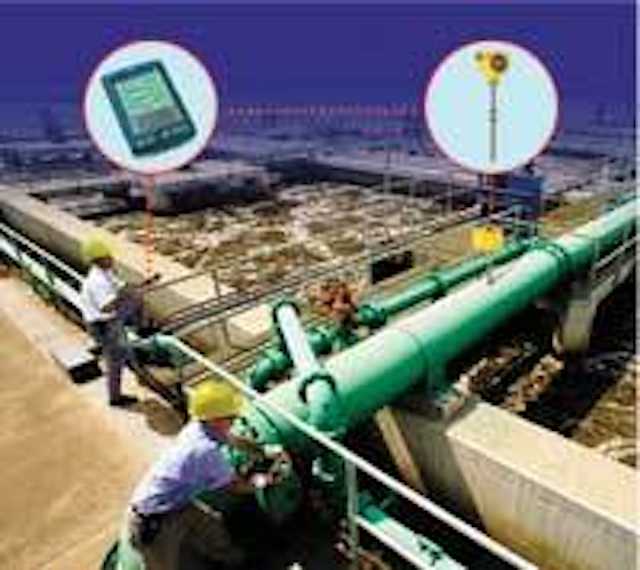 Click here to enlarge image
The new ST50 Flow Meter from Fluid Components International (FCI) is now available with a wireless communication option. Using wireless IR technology built-in to the ST50 flow meter and a standard, low cost PDA, field technicians can obtain measurements, make setting changes and read trouble-shooting codes without ever having to open the instrument. The meters are used in aeration and compressed air flow applications.
Fluid Components International
San Marcos, CA
Tel: 800-854-1993
Web: www.fluidcomponents.com
Water monitoring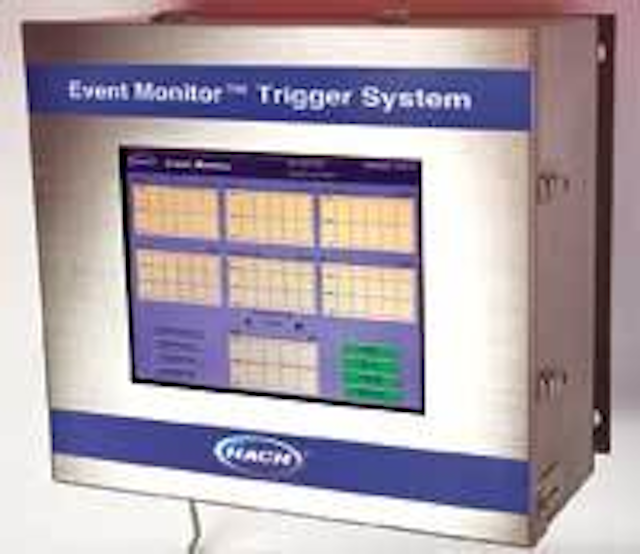 Click here to enlarge image
The new Event MonitorTM Trigger System from Hach Company maximizes the value of continuous, remote water quality surveillance. The system receives measurements from the multiple sensors of the company's Water Distribution Monitoring Panel or PipeSondeTM In-Pipe Probe and the astroTOC UV On-Line TOC Analyzer and relates all measurements as a single, real-time trigger signal indicating water quality changes in the distribution system.
Hach Co.
Loveland, CO
Tel: 800-604-3493
Web: www.hach.com
Process monitor, control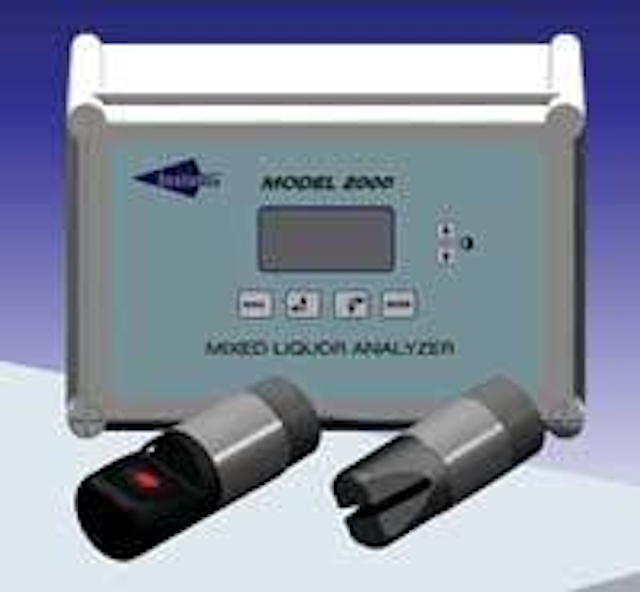 Click here to enlarge image
Dissolved oxygen and suspended solids are two of the most important controllable parameters in any biological reactor. Stabilizing these two parameters will reduce operation costs and enhance process performance. Insite Instrumentation Group's Model 2000 will make both of these crucial measurements. The dissolved oxygen sensor is an optical design that eliminates the need for replaceable membranes, sensor caps, cartridges, and fill solutions.
Insite IG
Slidell, LA
Tel: 985-639-0006
Web: www.insiteig.com
GIS services
Nobel Systems offers GIS services and is expert at water/wastewater data conversion, application development, and GIS hosting. The company can take old as-builts and atlas maps and produce high quality GIS data. It scans existing drawings and creates a system that allows users to get any as-built by simply clicking on the pipe on the screen. The company can integrate CMMS, billing or other data into the GIS. It also has the technology to bring live data such as SCADA and vehicle locations into the GIS.
Nobel Systems
San Bernardino, CA
Tel: 866-662-3579
Web: www.nobel-systems.com
Grinder pump
With its reversing feature the 6840 Shark grinder pump from Zoeller can tackle the most adverse applications. The system automatically alternates direction, enhancing cutter efficiency, reducing hang-ups which in turn reduces service calls. Standard features include 1 ¼" discharge, corrosion resistant powder coat finish, heat dispersing fins, hardened stainless steel cutter and dual mechanical seals with leak detection.
Zoeller Engineered Products
Louisville, KY
Tel: 800-928-7867
Web: www.zoeller.com
Axial, mixed flow pump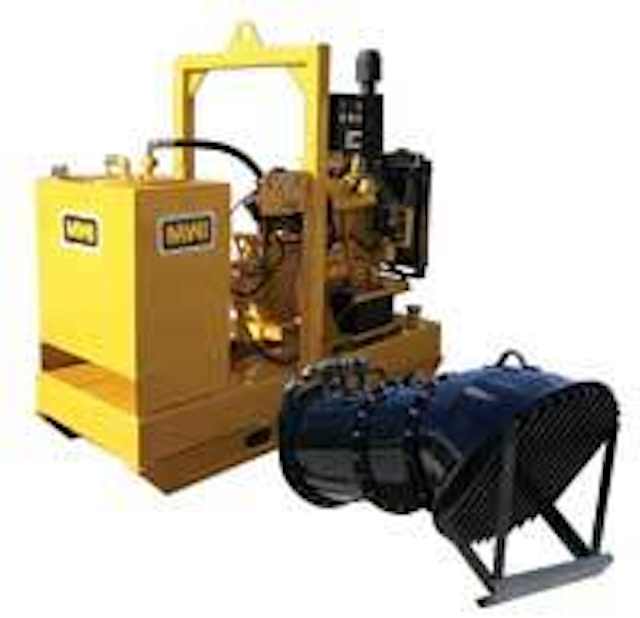 Click here to enlarge image
MWI's HydraFlo, a hydraulically driven axial or mixed flow pump, has been updated and re-engineered. The pumps range in size from 8" to 60", pumping over 100,000 GPM at low to medium heads. The redesign dramatically decreased the size of the hydraulic tank, installed radiator-mounted hydraulic coolers, and moved to cast iron pump heads for smaller pumps. The smaller tank reduces the size of the drive unit and the costs of replacing the hydraulic fluid.
MWI Corp.
Deerfield Beach, FL
Tel: 954-426-1500
Web: www.mwicorp.com
Belt press
Click here to enlarge image
The Static Radial Wedge (SRW) belt press from Siemens Water Technologies combines world-class dewatering technologies in a high performance machine. The press delivers maximum throughput in minimum space and is offered in a wide variety of configurations. The radial design of the wedge zone allows the press to provide more throughput per meter than conventional wedge designs. The modular frame offers the flexibility to add additional pressure rolls without altering the footprint of the belt press. This provides a cost-effective answer to changes in sludge conditions or new disposal requirements.
USFilter Dewatering Systems
Holland, MI
Tel: 616-748-5588
Web: www.beltpress.usfilter.com
Access doors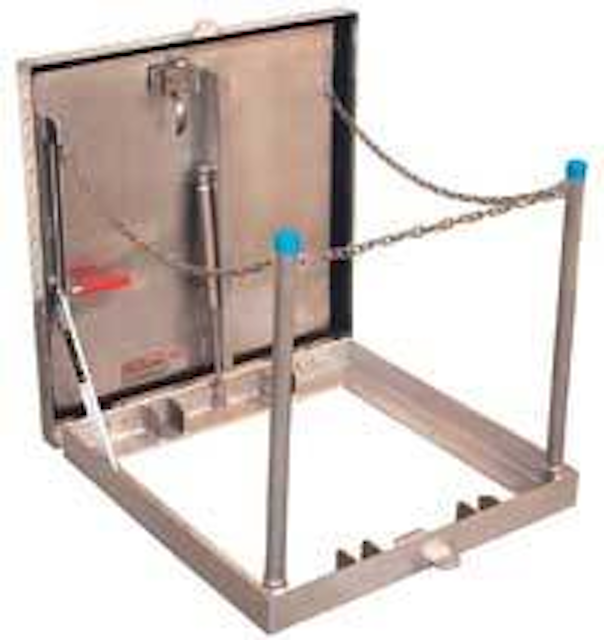 Click here to enlarge image
Bilco's Type SM Surface Mount Access Door provides a solution for access to underground vaults that do not require the use of a flush-mounted door. Constructed of aluminum and equipped with heavy-duty stainless steel hardware, the door features a concealed internal mounting flange. The doors' overlapping cover design is fully gasketed to shed water and prevent debris from entering the areaway, making it ideally suited for water treatment, reservoir and other industrial and municipal applications where the infiltration of contaminants is a concern.
Bilco Co.
New Haven, CT Tel: 203-934-6363 Web: www.bilco.com
Optical DO sensor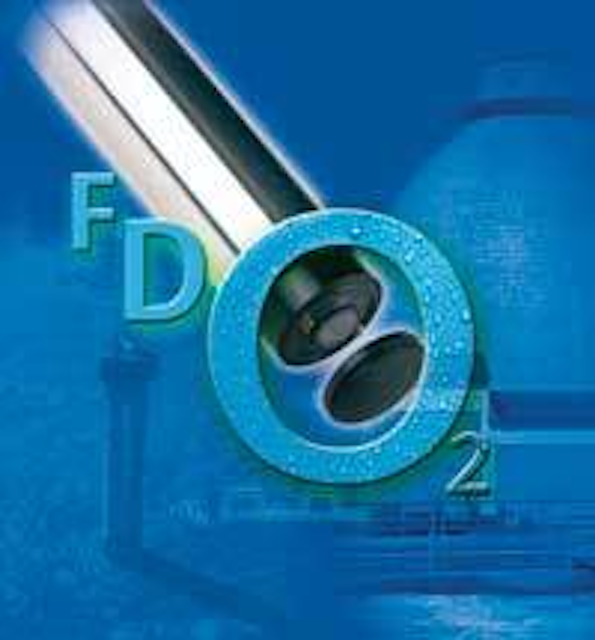 Click here to enlarge image
WTW has introduced the new FDO 700 IQ Dissolved Oxygen Sensor, the next generation of optical D.O. sensing technology. The sensor eliminates constraints and inherent weakness associated with first generation optical sensors and requires less maintenance. The sensor features Intelligent Membrane Technology (IQMC) - each membrane is individually calibrated, all data is stored within a memory chip permanently affixed to the membrane and transmitted when connected to the sensor.
WTW
Woburn, MA Tel: 800-645-5999 Web: www.wtw.com
Thickening system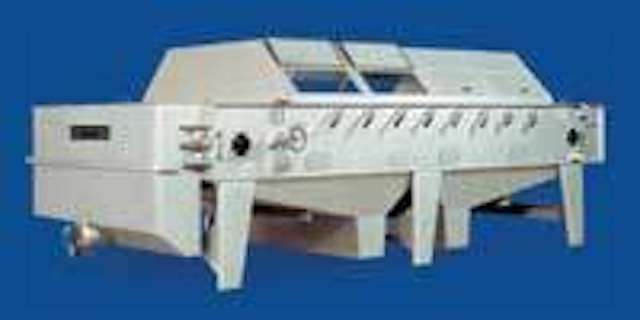 Click here to enlarge image
The Aquabelt gravity belt thickener, offered by Ashbrook Simon-Harley, is now available as a totally enclosed unit. This is in addition to the more traditional open design. The enclosed version retains all of the performance process features and also helps with odor control. The thickener features a sumpless design, high flows, and advanced zone approach (and no requirement for hydraulics or pneumatics). It has a patented adjustable ramp and proprietary polymer mixer technology, plus individually adjustable chicanes, optimized wiper blade design, and an extra large retention tank. The thickeners are available in sizes from 0.5 meter to 4.0 meter with capacities from 100 gpm to 1,200 gpm.
Ashbrook Simon-Hartley
Houston, TX
Tel: 800-362-9041
Web: www.as-h.com
Screening equipment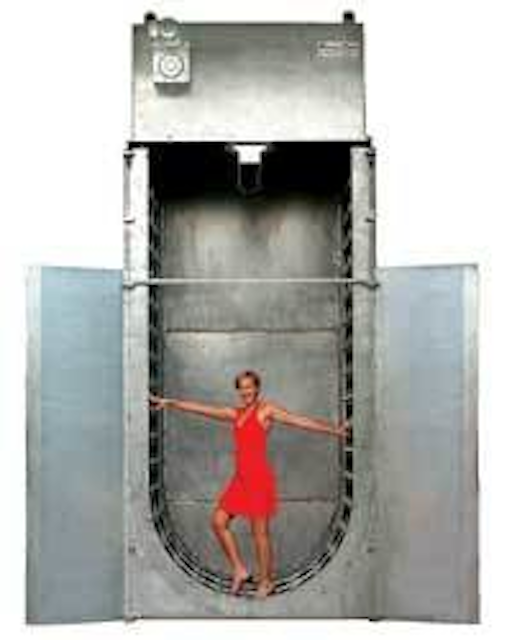 Click here to enlarge image
Hydro-Dyne Engineering will be exhibiting its full line of screening equipment ranging from 1 mm to 3" openings and 100 gpm to 100 mgd flows. New products like the Hydro-Flo (pictured) and Triden Screens will be on display. The Hydro-Flo Screen is specifically designed to protect sensitive equipment such as membranes while the versatile Triden Screens are installed in a number of municipal and industrial processes. The company also offers the Filter Stepper Screen, Washing Compactor, and Screw Conveyors.
Hydro-Dyne Engineering
Clearwater, FL
Tel: 727-532-0777
Web: www.hydro-dyne.com
Valve sizing software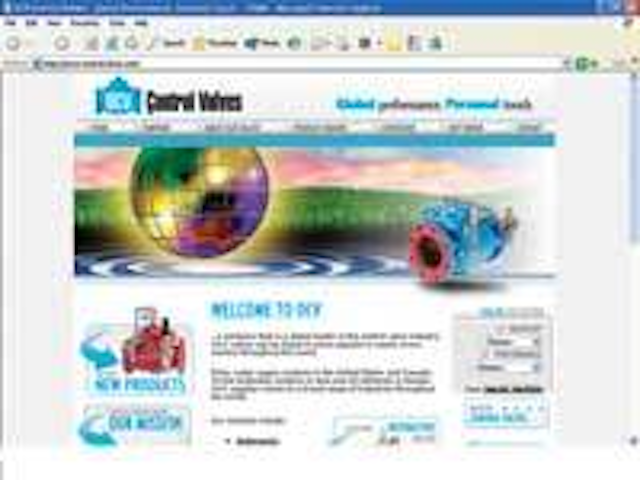 Click here to enlarge image
OCV Control Valves recently released an updated version of its valve sizing software, entitled ValveMaster Premier. The company created the program to empower customers to generate their own tailored specifications by simply imputing usage requirements through a series of questions. When compared to the first version, released in 1996, ValveMaster Premier uses a new interface to run on OCV's website, offers helpful suggestions and includes updated sizes, materials and models.
OCV Control Valves
Tulsa, OK
Tel: 888-628-8258
Web: www.controlvalves.com