NEW LITERATURE
American Highway Products offers a flier on its Manhole Protector Rings. The rings are made of 100% recycled rubber and are available in 10", 26" and 31" inner diameters.
Dec 1st, 2006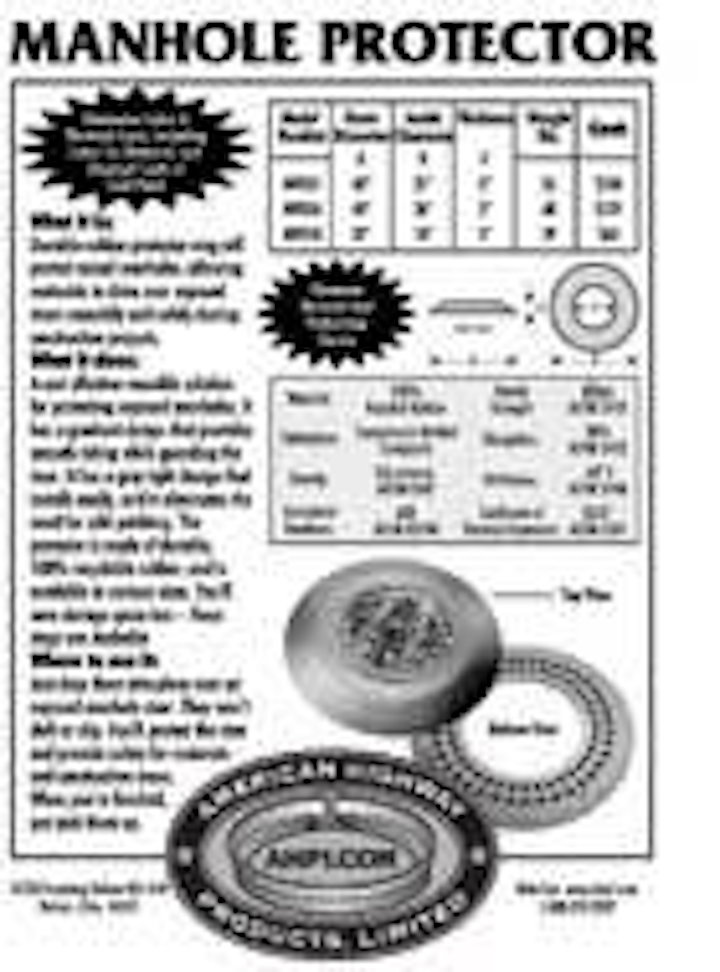 Manhole protector rings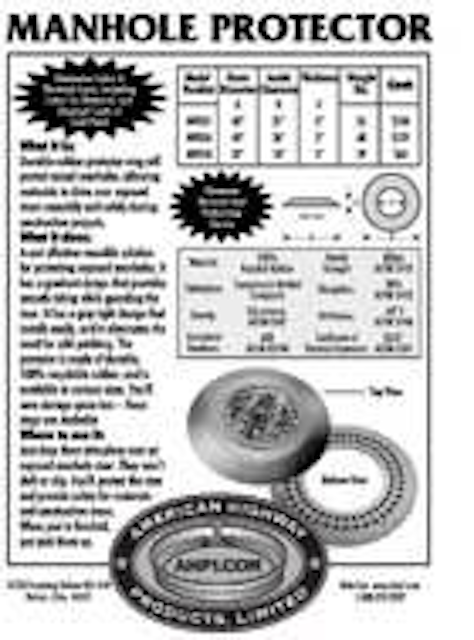 Click here to enlarge image
American Highway Products offers a flier on its Manhole Protector Rings. The rings are made of 100% recycled rubber and are available in 10", 26" and 31" inner diameters. They eliminate the need for cold patch and putting down and removing ramped asphalt around utilities. They can smooth over manhole risers during road construction projects in a matter of seconds.
American Highway Products Inc.
Bolivar, OH
Tel: 888-272-2397
Web: www.ahp1.com
Backflow preventer maintenance
Danfoss Flomatic has introduced the 2nd edition of its Operations & Maintenance manual for Unleaded Backflow Preventers. The manual gives an overview of the company's backflow preventers along with detailed training pictures that illustrate how to repair the units.
Danfoss Flomatic Corp.
Glens Falls, NY
Tel: 800-833-2040
Web: www.flomatic.com
Bioassay technology
Strategic Diagnostics has launched a web site dedicated to its Microtox® and Deltatox® bioassay technology. The Microtox® technology is sensitive to thousands of toxins and chemical contaminants, and has been used to characterize more than 2,700 chemical toxins. Microtox® and Deltatox® technology is the only technology of its kind designated as an anti-terrorism technology and given Safety Act Certification by the U.S. Department of Homeland Security.
Automation, control products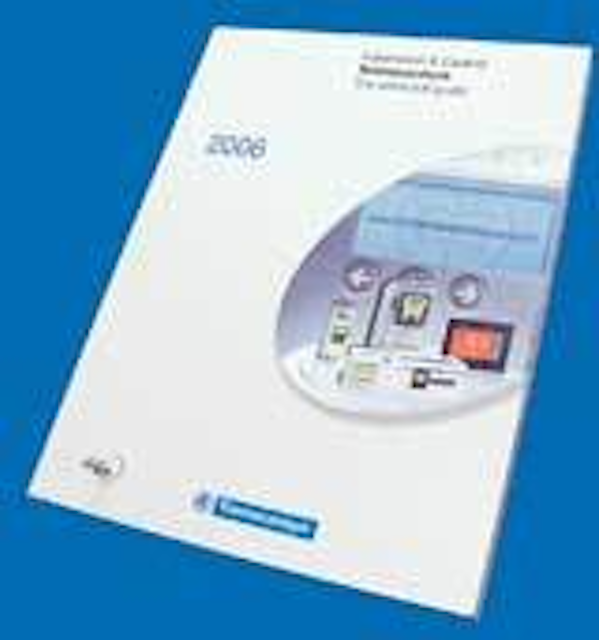 Click here to enlarge image
Information on specifying and ordering Telemecanique® brand automation and control products is included in the new Essentials catalog from Schneider Electric North America. This catalog is a comprehensive resource to more than 4,000 items - everything from AC drives to stack lights. The 328-page catalog is available to view online at www.us.telemecanique.com/EssentialCatalog. Online visitors have a choice to download all or a portion of the catalog. Visitors also can register on the site and order a printed copy of the catalog or the CD-ROM version. The catalog is divided into nine key component categories: detection; operator dialog; automation; motion and drives; motor control; power supplies; interfaces and I/O; ASI interface and cabling systems; and machine safety.
Schneider Electric North America
Palatine, IL
Tel: 800-392-8781
Gear couplings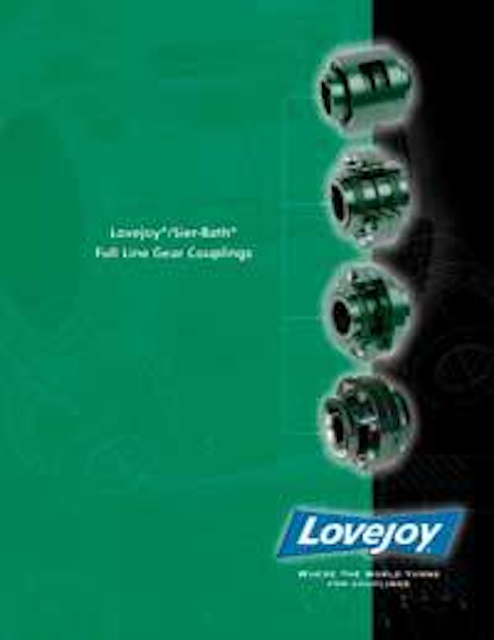 Click here to enlarge image
The Lovejoy® Sier-Bath® line of gear couplings is detailed in a new four-color brochure. Another new brochure highlights specifications and installation procedures for the Lovejoy® Jaw In-Shear 6-Pin coupling. The Jaw In-Shear is found in almost every type of industrial machinery with moving parts, including pumps and engines.
Lovejoy Inc.
Downers Grove, IL
Tel: 630-852-0500
Web: www.lovejoy-inc.com
Signs, tags, labels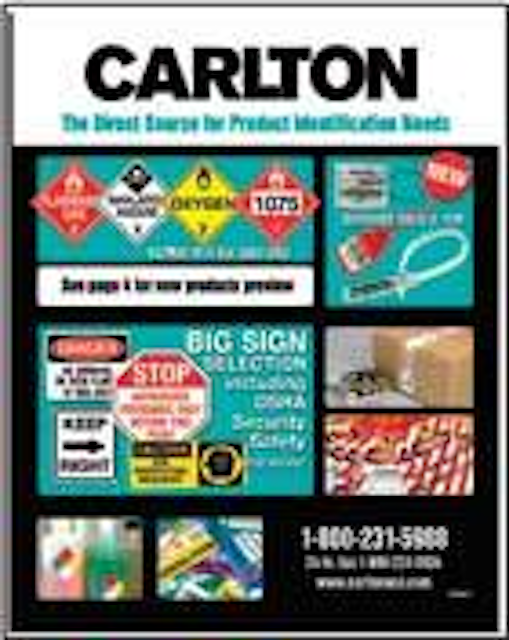 Click here to enlarge image
Carlton Industries offers thousands of safety and identification products. The new Fall 2006 catalog features over 190 pages of products, including signs, tags, labels, decals, Hazmat identification, traffic control, electrical safety, facility maintenance, OSHA compliance, Right-to-Know, NFPA, workzone safety, and more. Its in-house graphics department can help customize products to meet specific needs. Most products ship the same day.
Carlton Industries L.P.
La Grange, TX
Tel: 800-231-5988
Web: www.carltonusa.com
Controls, gauges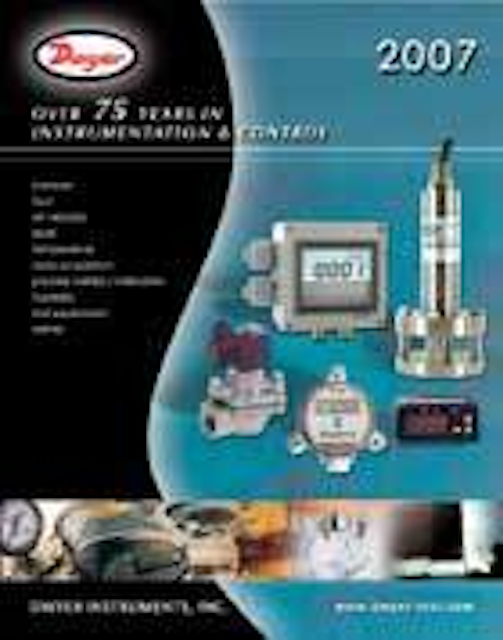 Click here to enlarge image
Dwyer Instruments has released its 2007 Catalog. Product ordering information is complete and includes schedules for discounts. Customers have the option to order from the company's website. Customers can check their order quantity, model number, schedule/shipment and "Check Order Status".
Dwyer Instruments Inc.
Michigan City, IN
Tel: 800-872-9141
Web: www.dwyer-inst.com