PRODUCT SHOWCASE
Reed's™ 1100 tapping machine is used to drill and tap water mains while under pressure, then to install ¾" or 1" corporation stops in a 2-step operation.
Dec 1st, 2006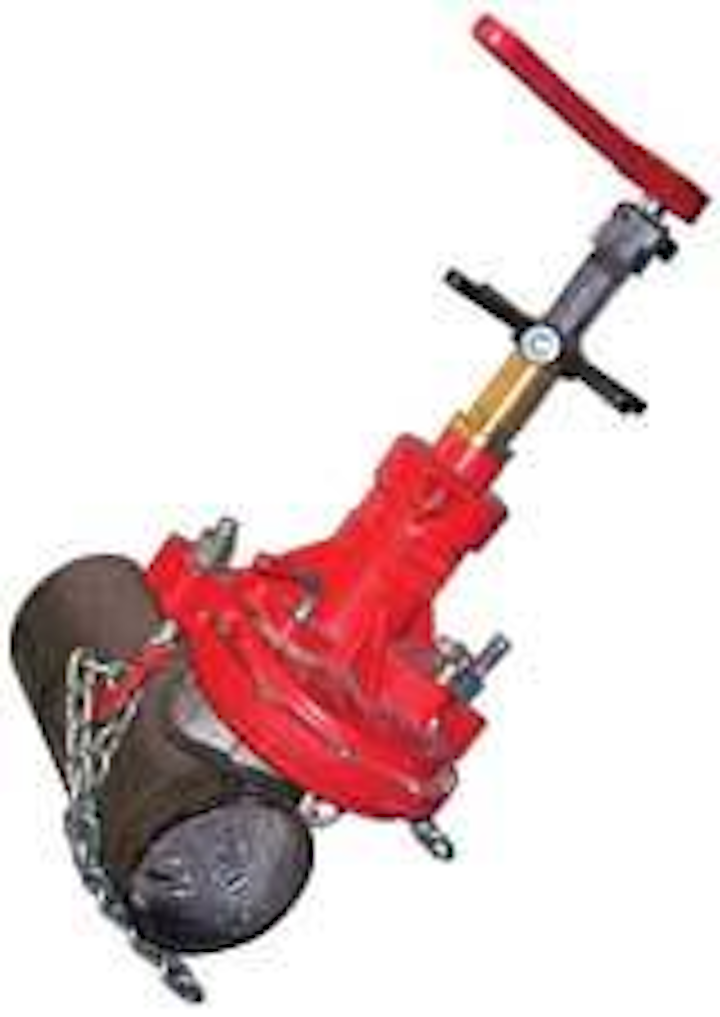 Tapping machine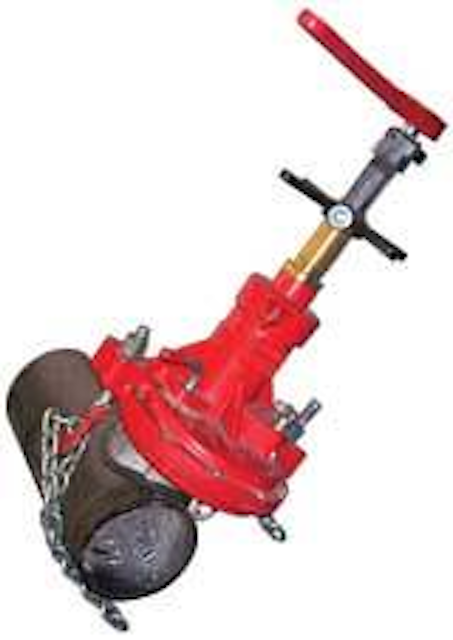 Click here to enlarge image
Reed's™ 1100 tapping machine is used to drill and tap water mains while under pressure, then to install ¾" or 1" corporation stops in a 2-step operation. The machine covers 4" - 48" cast or ductile iron and C-900 PVC with the use of saddles and chain extensions. It is user-friendly with a low profile and new "flip clamp" feed system. The tool is light-weight with an anodized and epoxy-painted aluminum frame.
Reed Manufacturing Co.
Erie, PA
Tel: 800-666-3691
Web: www.reedmfgco.com
Chemical dilution system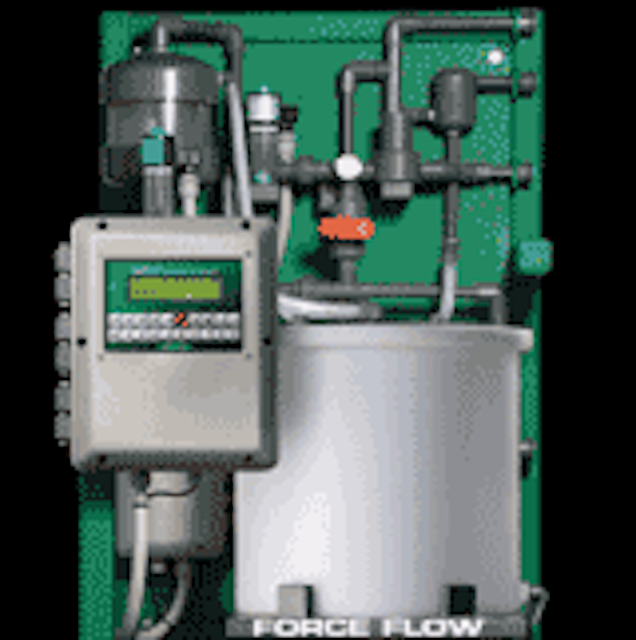 Click here to enlarge image
Force Flow's patented Merlin Dilution System gives users flexibility in final dilution strength, optimizes metering pump accuracy and allows chemical usage to be remotely monitored. The system combines a microprocessor based controller with an instrument grade load cell to automatically create small weight-based batches on demand to achieve dilution ratios of up to 1000:1. The system's "Mass Based + Micro Batch" technology provides users with an accurate way of diluting high strength water treatment chemicals onsite. By tracking nine different variables such as chemical usage, feed rates and remaining quantities, the system gives users an accounting of the chemical feed and dilution process.
Force Flow
Concord, CA
Tel: 925-686-6700
Web: www.forceflow.com
Water analysis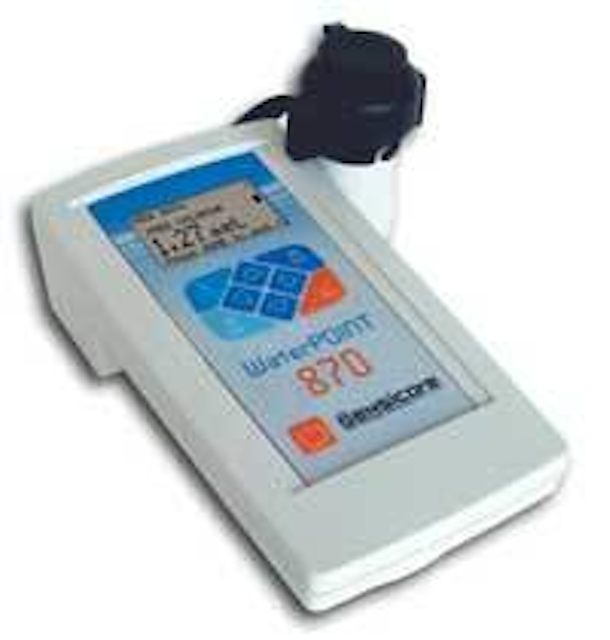 Click here to enlarge image
Sensicore has added new turbidity/color and colorimetric testing functionalities to its WaterPOINT 870 handheld water analysis system. With these new capabilities, the device can chemically profile a water sample with more than 25 different measurements. The system is designed to provide users with actionable information in just minutes, eliminating the need for sending samples back to a lab for later analysis. The new module adds the capability for EPA-approved free and total chlorine, turbidity and intrinsic color plus colorimetric tests for nitrate, nitrite, fluoride, phosphate, iron and copper, and an EPA Environmental Technology Verification (ETV) verified cyanide test. This adds to the device's panel of 18 electrochemical tests that are performed using the company's proprietary lab-on-chip technology.
Sensicore
Ann Arbor, MI
Tel: 877-528-6333
Web: www.sensicore.com
Water level logger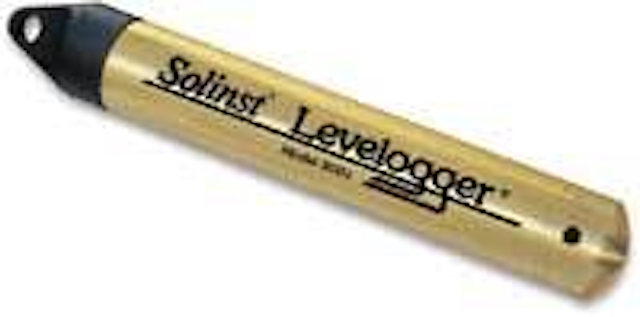 Click here to enlarge image
The new Levelogger Gold is the next generation of Solinst Levelogger®. Offering higher resolution and accuracy of 0.05%, the device has improved transducer, temperature, and clock accuracies. Battery life is 10 years, even with recordings every minute. Memory is 40,000 readings of pressure and temperature, displayed as temperature compensated level. The stainless steel housing protects against lightning and power surges and the golden Zirconium Nitride coating gives extra corrosion resistance.
Solinst Canada Ltd.
Georgetown, ON
Tel: 905-873-2255
Web: www.solinst.com
Jet pump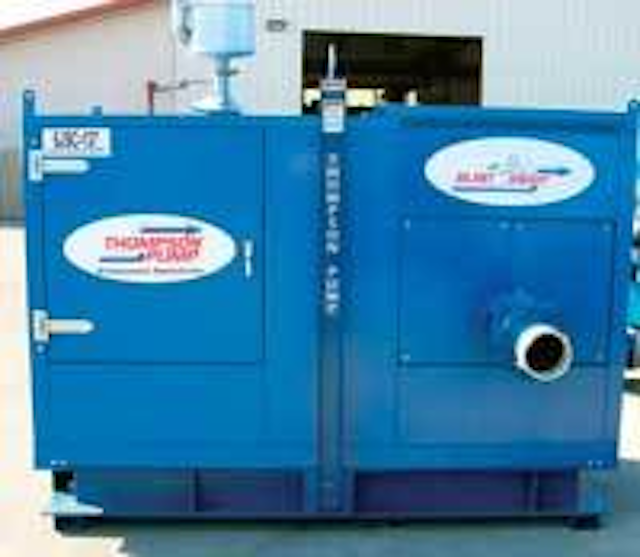 Click here to enlarge image
Thompson's JSC Series Solids Handling EnviroPrime® pump has heavy-duty cast-iron construction and the ability to dry-prime and re-prime automatically. It is ideal for stormwater management, sewage bypass and general construction dewatering applications. The 6" pump is designed for flows to 2,500 gpm, maximum heads to 195 feet, and can handle solids up to 3". The pump also features the EnviroPrime® compressor-assisted dry priming system which prevents blow-by, such as sewage and waste, from discharging onto the ground, making it environmentally safe.
Thompson Pump & Manufacturing Inc.
Port Orange, FL
Tel: 800-767-7310
Web: www.thompsonpump.com
Photometer
Palintest has introduced a fully featured, portable photometer for water analysis. The 7100 replaces the company's successful Photometer 5000 and enables advanced instrumental analysis of an extensive range of water tests. It is fully waterproof, floats and has a rugged design. It is easy to use, provides quick test results and is ideal for on-site testing. The photometer is fully integrated with the whole range of Palintest water tests and uses light to measure color changes in water samples treated with a reagent. It is accurate to ±0.005 at 0.3 absorbency units (au) and resolution is 0.001au, removing the inaccurate results that using a comparator color chart can give due to variations in operator eyesight or lighting conditions. The sample is simply placed in the adaptive cell holder and a button pressed. The cell holder automatically adjusts to any round tube size. The 7100 features automatic light wavelength selection for each of the pre-programmed test methods. The software remembers the most recent tests, making it even quicker to use next time.
Palintest USA
Erlanger, KY
Tel: 800-835-9629
Web: www.palintestusa.com
Flow meter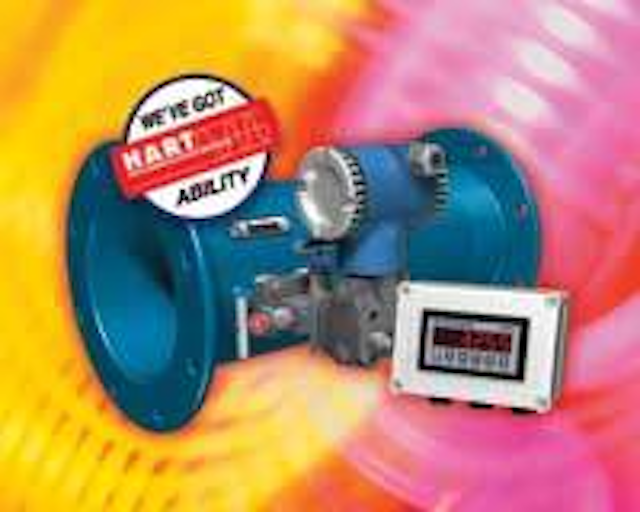 Click here to enlarge image
McCrometer has added HART Protocol to the V2 System Flow Meter's transmitter, which can simplify the task of integrating flow measurement communications with control systems and other process equipment. HART provides two-way digital communication simultaneously with 4-20 mA analog signaling. Applications include remote process variable interrogation, cyclical access to process data, parameter setting and diagnostics. Unlike other technologies, HART provides a unique communication solution that is backward compatible with the installed base of instrumentation in use today.
McCrometer
Hemet, CA
Tel: 800-220-2279
Web: www.mccrometer.com
Winches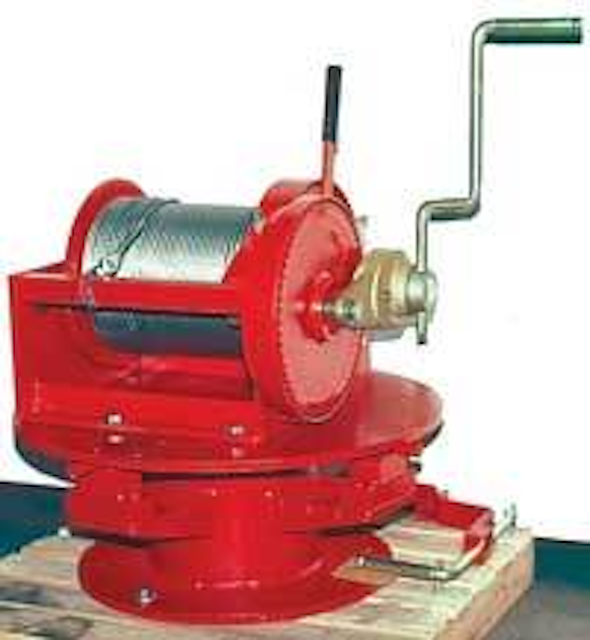 Click here to enlarge image
Thern has developed heavy duty hand winches and power winches to help position aerators and pontoons more efficiently at water treatment facilities. Often used as a multi-winch system, the winches are positioned on separate sides of the lagoon and used to pull the aerator or pontoon back and forth or side to side. The winches can be operated individually, or in tandem to move the pontoon to any location in the lagoon, while brakes maintain tension. The company also offers special swivel bases that rotate 360-degrees and lock at any point of rotation. This is especially helpful for treatment facilities with irregular-shaped lagoons or basins.
Thern Inc.
Winona, MN
Tel: 800-843-7648
Web: www.thern.com