PRODUCT SHOWCASE
Val-Matic's new FloodSafe® Inflow Preventer is designed to prevent contaminated floodwater or water...
Jun 1st, 2006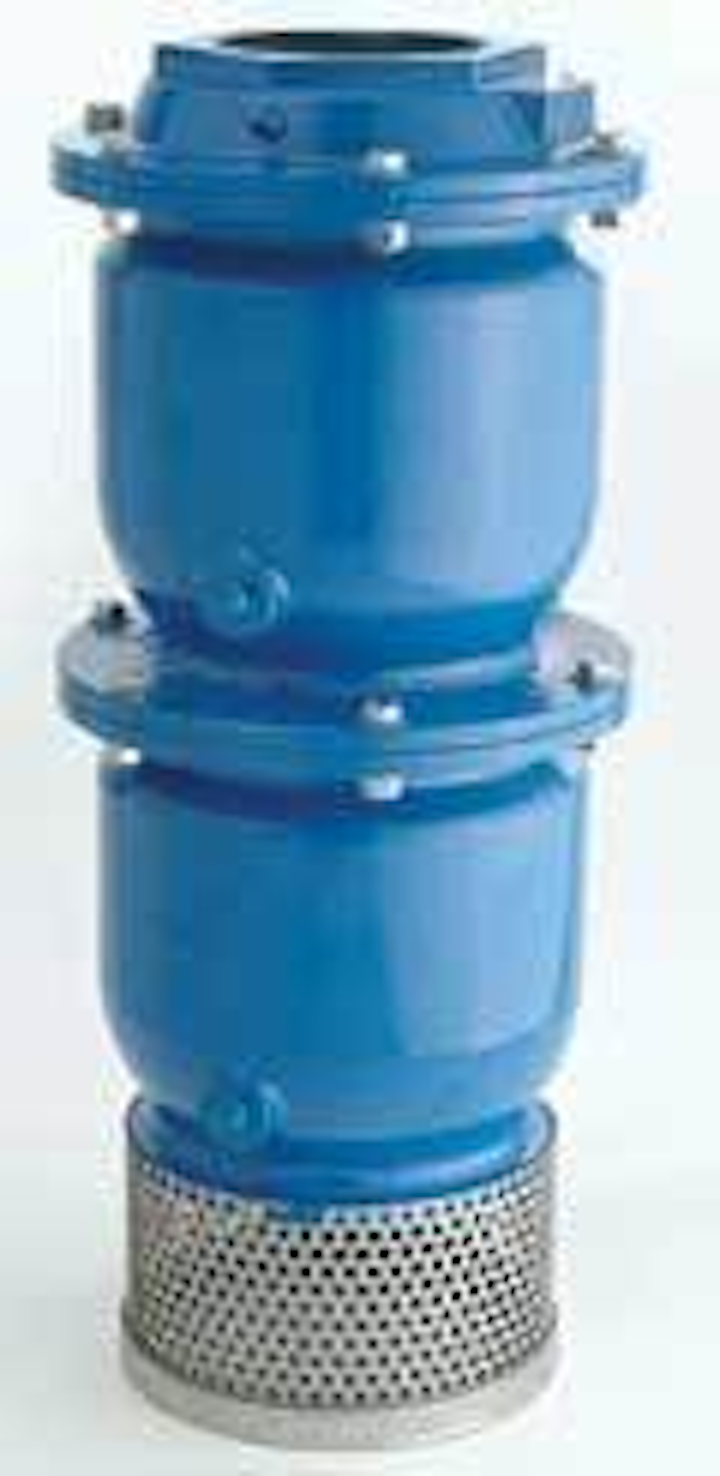 Inflow preventer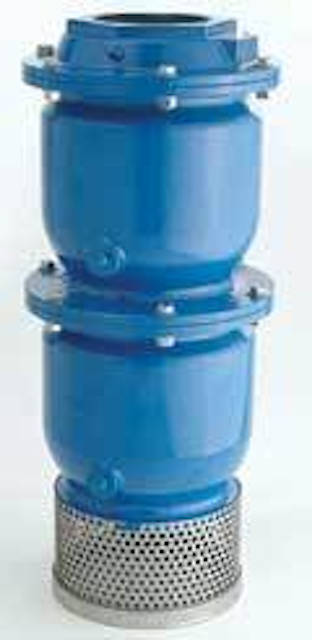 Click here to enlarge image
Val-Matic's new FloodSafe® Inflow Preventer is designed to prevent contaminated floodwater or water that has been compromised by intentional tampering from entering an air valve outlet and subsequently entering a drinking water system. The FloodSafe assembly is piped to the outlet of an air release valve, air/vacuum valve or vent. As water in a vault rises, the float check in the lower chamber of the device rises, preventing contaminated water from continuing past the chamber. A redundant upper chamber provides backup in much the same way a backflow preventer works.
Val-Matic Valve
Elmhurst, IL Tel: 630-993-4023 Web: www.valmatic.com
Filter bags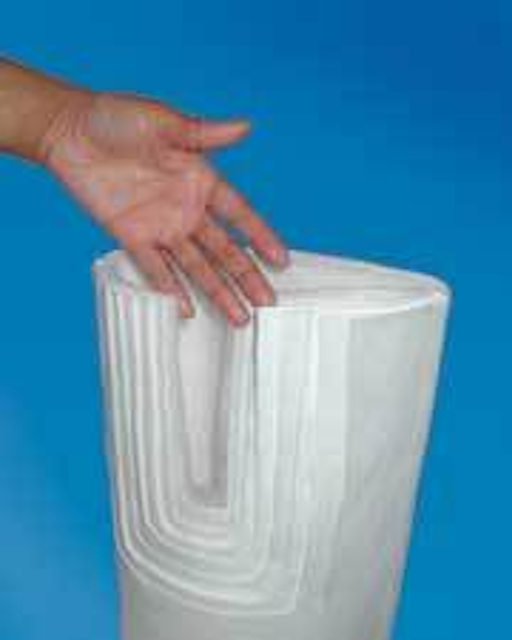 Click here to enlarge image
ProgafTM Filter Bags from Eaton can be used to replace cartridge filters. They have a lower initial cost and it is less expensive to dispose of used filtration media. The filter bags have filtration efficiency ratings of up to 99.98%. The bags feature a multi-layer construction that provides a progressive filtration mechanism that traps unwanted particles throughout the depth of the media, giving the bags high particle retention capabilities. The 100% polypropylene construction provides the benefits of a clean, chemically resistant and silicone free material. The bags also feature all welded construction. There are no sewn seams to permit bypass of the process media.
Eaton Filtration LLC
Elizabeth, NJ
Tel: 908-787-1000
Web: www.eaton.com
Water quality monitoring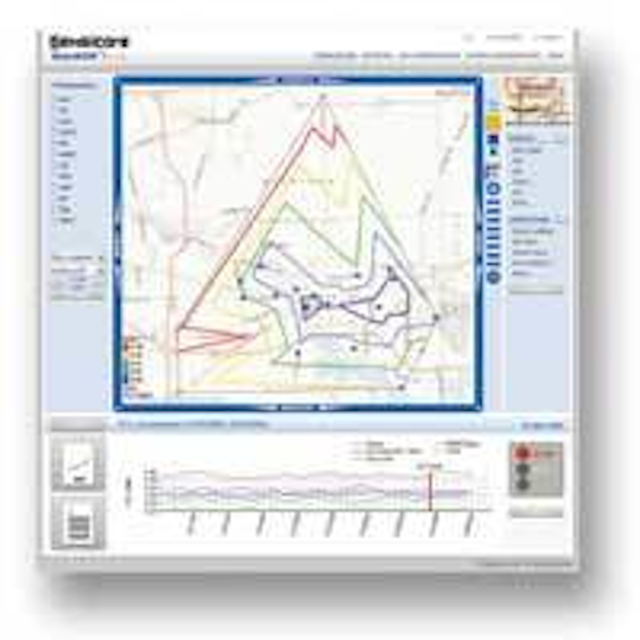 Click here to enlarge image
Sensicore, which manufactures smart sensors systems and software for monitoring water quality, has announced its WaterNOW service, an online monitoring system that enables real-time monitoring of water and wastewater for municipal and industrial applications. WaterNOW enables dynamic contouring of water chemistry on a map, much like Doppler weather conditions are presented on television, which will help users better understand contamination problems using sophisticated plume analysis algorithms. The company's software also ties together water quality information from any source, including field and lab tests, on-line continuous monitoring systems (SCADA) and third party lab testing, providing a total picture of water quality information.
Sensicore
Ann Arbor, MI
Tel: 734-528-6344
Web: www.sensicore.com
Wireless modem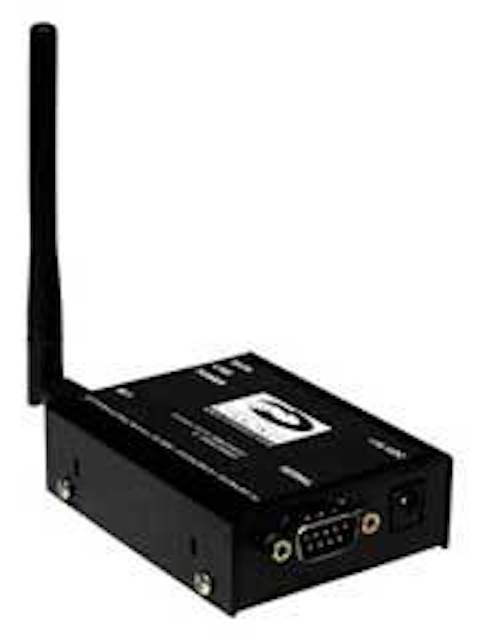 Click here to enlarge image
Cirronet has announced the availability of its ZN-241G wireless modem, which is built on 802.15.4 technology. The device can provide an auto-configured, wireless replacement for RS-232 cable in office environments, and can also serve as a platform for multi-drop RS-485 networks in industrial settings. For point-to-point communications, modems configure the link automatically; all that's required is plugging the devices into two serial interfaces and turning on power. Point-to-multipoint links are set up by simple configuration using an included, intuitive configuration utility, and a repeater function allows a remote node to relay data through another remote node when the direct path is blocked. The ZN-241G offers RS-232, USB, and RS-485 interface options, and operates license-free worldwide at 2.4 GHz with over-the-air data rates of up to 250 Kbps.
Cirronet
Atlanta, GA
Web: www.cirronet.com
Wastewater screen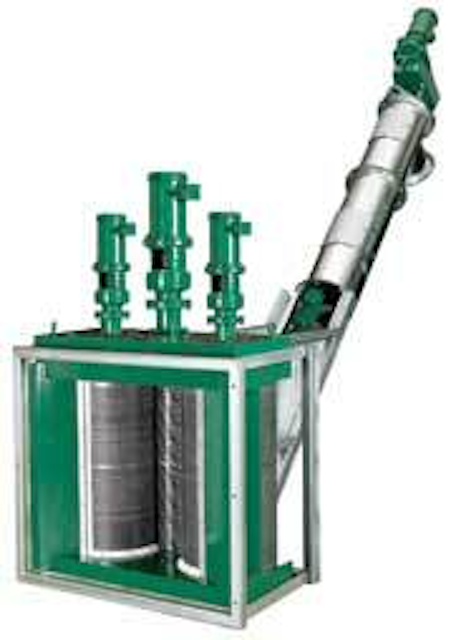 Click here to enlarge image
To handle larger flows and solids loading levels, the Auger Monster® wastewater screen is now offered with substantial design improvements, thanks to the incorporation of new technology from the recently released Channel Monster® XD. The Auger Monster XD systems now feature a larger, more powerful drive system. Systems using cutter stacks that are 40" tall or greater now include the power of JWC Environmental's Macho Monster technology. These systems use a 10 hp motor on the cutting chamber's two shafts of 7 ½" cutters to handle large and difficult solids. Single and double drum models of the Auger Monster XD feature improved mechanical seals with a hex driven design - providing longer life and stronger seal cartridges.
JWC Environmental
Costa Mesa, CA
Tel: 800-331-2277
Web: www.jwce.com
Rake mechanism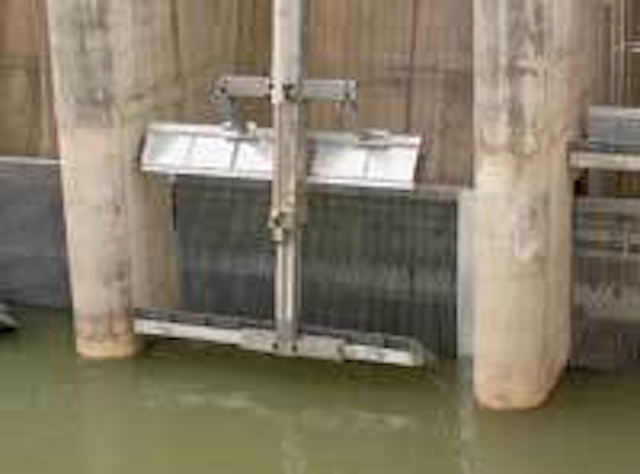 Click here to enlarge image
The Lakeside/Muhr Hydronic T is a hydraulically operated telescoping boom and rake mechanism for stormwater, water intake and wastewater applications. With cleaning widths up to 33 feet and depths of 50 feet, the fully automated mechanism requires no guides, sprockets or chains, resulting in low-wear operation.
Lakeside Equipment Corp.
Bartlett, IL
Tel: 630-837-5640
Web: www.lakeside-equipment.com
Laser nephelometer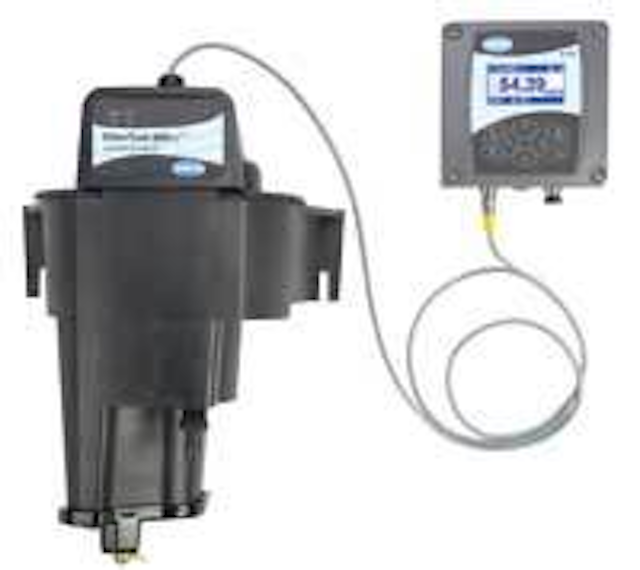 Click here to enlarge image
Hach's FilterTrakTM 660sc Laser Nephelometer - which applies the EPA-approved Hach FilterTrak 10133 Method - now is compatible with the company's sc100 and sc1000 controllers. Treatment plants can use the device for optimizing and reporting on conventional or membrane filtration performance. The optical system of the nephelometer measures turbidity from 0 to 5 NTU with resolution of 0.0003 NTU - applying technology recommended in the USEPA LT2 guidance manual for compliance monitoring of membrane filters. With it, utilities gain early filter deterioration detection capability rivaling that of particle counters typically used in drinking water treatment - all with the day-to-day convenience of turbidimetric instrumentation. Operators can save time using StablCal® Stabilized Formazin Standards, USEPA-approved and ready for low-level calibration without mixing and dilution.
Hach Co.
Loveland, CO Tel: 800-227-4224 Web: www.hach.com
Biogas-fueled generators
Click here to enlarge image
Capstone Turbine has announced that its 30- and 65-kilowatt MicroTurbine generators are the first generators to be classified by Underwriters Laboratories to the UL2200 standards for Stationary Engine Generators, under the new category of Engine Generators Fueled by Biogas or Raw Natural Gas. The products also are listed to UL1741, the standard for Inverters, Converters, Controllers and Interconnection System Equipment for Use With Distributed Energy Resources. UL1741, which references IEEE 1547 and IEEE 1547.1, is being accepted as the US national utility grid interconnection standard.
Capstone Turbine Corp.
Chatsworth, CA
Tel: 866-422-7786
Web: www.microturbine.com