PRODUCTS & SERVICES: MEMBRANE TREATMENT
The Titan MBRTM system marries the wastewater treatment engineering expertise of Smith & Loveless with Flat-Plate Membranes.
Jun 1st, 2006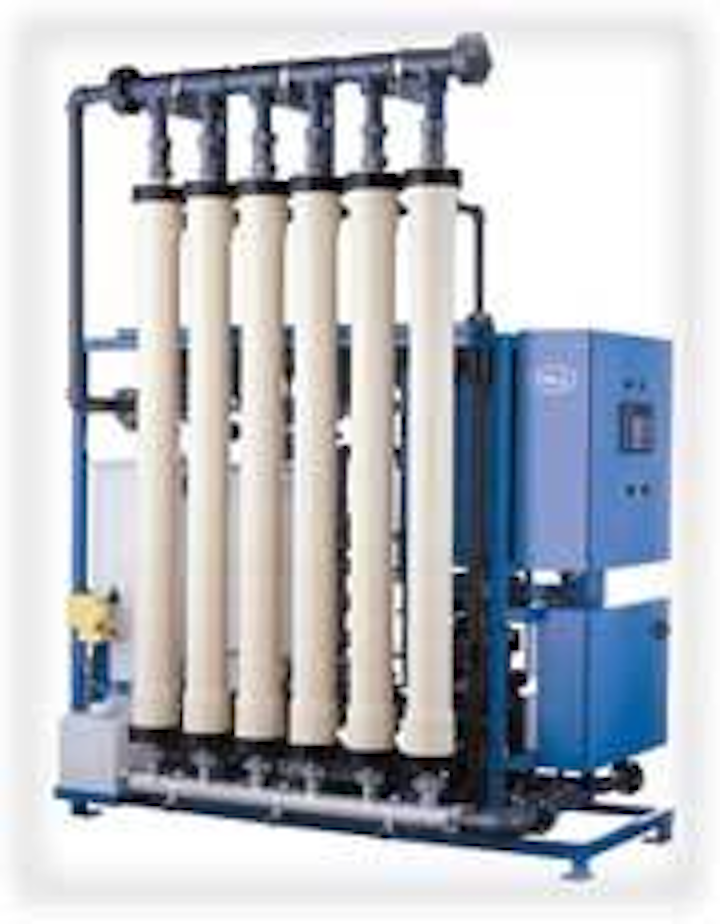 MBR system
The Titan MBRTM system marries the wastewater treatment engineering expertise of Smith & Loveless with Flat-Plate Membranes. Submerged in the aeration section of the MBR tank, the Flat-Plate Membrane - rated at the microfiltration level - maintains high permeability and flux rates even at peak-day rates. Because the system employs air scouring to prevent fouling, it does not require back-pulsing or the associated equipment and chemical costs typical of other systems. Because of its robust support, flat-plate units also experience less wear and tear than hollow-fiber types and can be cleaned in place. The MBR systems come in standard and custom designs, and result in smaller footprints than conventional systems. The submerged membrane eliminates clarifiers and sand filters while still producing significantly better effluent quality.
Smith & Loveless
Lenexa, KS
Web: www.smithandloveless.com
NF, RO membranes
Koch Membrane Systems has received certification of compliance with NSF/ANSI Standard 61 for nanofiltration (NF) and reverse osmosis (RO) elements. These elements include the Fluid Systems® TFC®SR®2, TFC-S, TFC-HR, TFC-XR and TFC-ULP® spirals, in sizes from 8" to the industry-leading 18" diameter MegaMagnum® RO elements. Certification was provided by NSF International. The newly certified MegaMagnum elements provide significant economies of scale and reduced space requirements for water treatment facilities. A single 18" x 61" MegaMagnum spiral element contains 2,800 square feet of membrane surface area, compared to 400 square feet in commonly deployed 8" x 40" products.
Koch Membrane Systems Inc.
Wilmington, MA
Tel: 888-677-5624
Web: www.kochmembrane.com
Turbidity monitoring
The Clarity II, available from Emerson Process Management, offers low level accuracy ensuring precise measurements of turbidity levels for filter bed monitoring. This measurement ensures compliance with either EPA or ISO approved reporting requirements. Operators can choose from single- or dual-channel sensor input. The dual channel design enables two sensor channels to be monitored simultaneously with independent ranges and analog outputs.
Emerson Process Management
Rosemount Analytical
Liquid Division
Irvine, CA
Tel: 800-854-8257
Web: www.emersonprocess.com/RAIHome/liquid
Packaged membrane system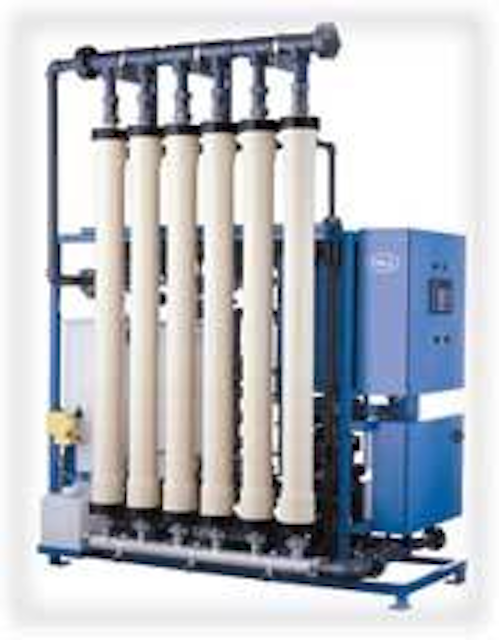 Click here to enlarge image
The Pall AriaTM AP-Series packaged membrane water treatment system is easy to install, operate and integrate into an existing system. It provides all the benefits of a membrane system in a small footprint. The pre-engineered design saves money on initial purchase, installation, maintenance, power, chemicals and waste disposal. The Aria system has been used to reduce or remove turbidity, viruses, bacteria, cysts, oocysts, iron, manganese, arsenic and organics from surface and ground water sources.
Pall Corp.
East Hills, NY
Tel: 888-428-5597
Web: www.pall.com/water
Streaming current monitors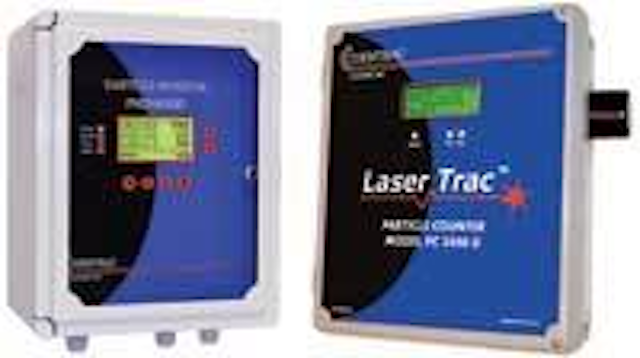 Click here to enlarge image
Optimizing pretreatment systems (clarifiers, filters, etc.) is the key to maintaining performance of downstream equipment such as Reverse Osmosis. Chemtrac's streaming current monitors help optimize the addition of coagulants prior to filtration. The particle counter, Model PC2400D, and particle monitor, Model PM2500, provide a level of on-line, continuous, monitoring not achievable with SDI (silt density index) or turbidity measurement.
Chemtrac Systems Inc.
Norcross, GA
Tel: 800-442-8722
Web: www.chemtrac.com
Cartridge filter housings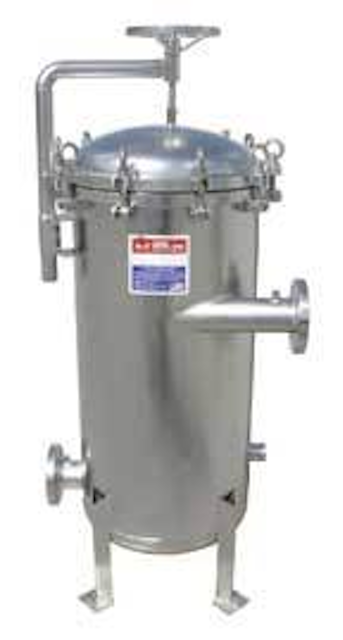 Click here to enlarge image
Harmsco's high flow Hurricane cartridge filter housings combine cyclone separation and cartridge filtration in a single compact design. They feature a swing-bolt closure for simplified maintenance. The units use the company's patented up-flow design and are available in four sizes: 170, 510, 850 and 1,360 sq. ft. The filters are offered with an extensive choice of micron ratings and media, including carbon block.
Harmsco Filtration Products
West Palm Beach, FL
Tel: 800-327-3248
Web: www.harmsco.com
Screening system
Click here to enlarge image
JWC Environmental's Bandscreen MonsterTM, part of the Monster Separation SystemTM, screens wastewater to remove problem solids and provide protection for membrane bioreactor treatment plants (MBRs). The inside-out flow pattern captures solids on the inside loop of the screen to prevent the bypass of solids, and the rotating perforated panels with 2 mm openings lift the unwanted solids out of the channel to prevent them from clogging MBRs.
JWC Environmental
Costa Mesa, CA
Tel: 800-331-2277
Web: www.jwce.com
Membrane filtration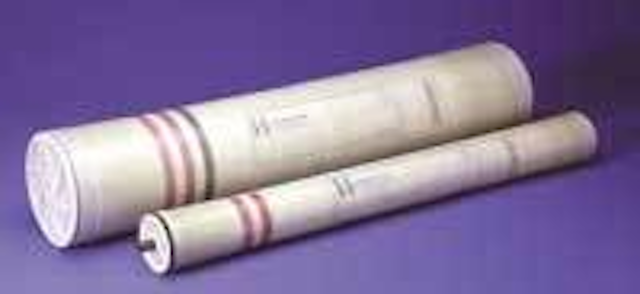 Click here to enlarge image
Hydranautics' newest membrane developments include: ESNA1-LF2, ESPA2+, LFC3-LD, ESPA-B, and SWC5. The new ESNA1-LF2 is designed to provide high rejection of natural organic materials and moderate rejection of total hardness, while running below 100 psi. The new ESPA2+ features exceptional salt rejection allowing for use in a variety of applications, at lower pressures and higher rejection rates than industry competition.
Hydranautics
Oceanside, CA
Tel: 760-901-2500
Web: www.hydranautics.com
Membrane package plant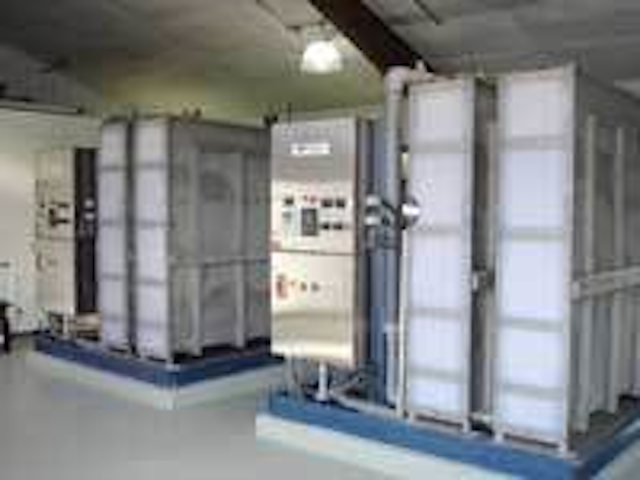 Click here to enlarge image
Memcor Axia®, available from USFilter, is a submerged membrane system in a packaged configuration ideal for capacities ranging from 100 gpm to 400 gpm. Fully pre-engineered and skid mounted, the system is easy to install since it has a minimum of connections. Its design includes a side door to simplify installation and servicing of membrane modules.
USFilter, a Siemens Business
Sturbridge, MA
Tel: 508-347-4583
Web: www.usfilter.com
Resins, membranes
Dow Liquid Separations offers its DowexTM ion exchange resins and FilmtecTM reverse osmosis (RO) and nanofiltration (NF) elements. Dowex ion exchange resins offer solutions for trace contaminant removal, including nitrate, perchlorate, uranium, radium, organics, chrome and emerging contaminants. In 2005, Dow Liquid Separations launched AdsorbsiaTM GTOTM titanium-based arsenic removal media, offering improved performance and cost advantages in arsenic removal.
Dow Chemical Co., Liquid Separations
Midland, MI
Tel: 800-447-4369
Web: www.dowex.com
Cartridge filters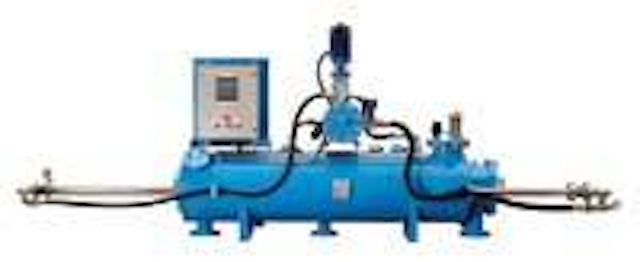 Click here to enlarge image
Amiad offers the new MT-44, a 200 gpm, 3 micron, automatic, self-cleaning, string-wound cartridge filter. The filter was developed using the same thread, plastic material and overall dimensions of the previous cassette. However, this release is made of a stronger construction and a denser thread stacking, which has reduced the diameter of the pores and improved its filtration capabilities.
Amiad Filtration Systems
Oxnard, CA
Tel: 805-988-3323
Web: www.amiad.com
MBR package plant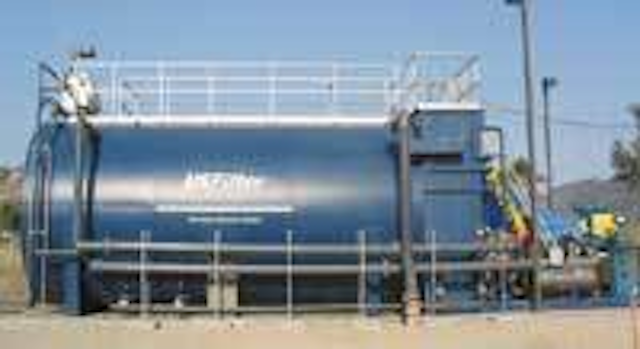 Click here to enlarge image
MEMCOR® Xpress provides membrane bioreactor (MBR) technology in a compact design. This fully pre-engineered, skid mounted system allows small communities to gain the benefits of MBR technology. The system can produce effluent quality with TSS <1 and turbidity <0.2 NTU, making it suitable for most reuse applications. Examples include land development, golf course and park irrigation, salt intrusion barriers in coastal communities, aquifer storage and recovery and indirect potable reuse.
USFilter, a Siemens Business
Tel: 206-937-1444
Web: www.usfilter.com
Ultrafiltration membranes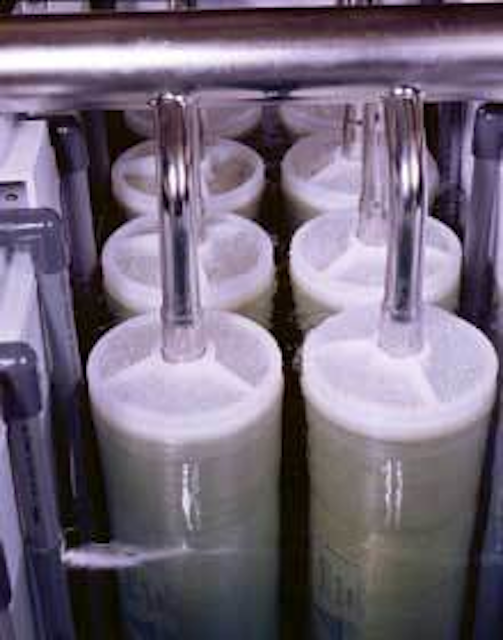 Click here to enlarge image
SpiraSep ultrafiltration technology from Ashbrook Simon-Hartley employs a unique hydrophilic membrane. The sheet membrane is configured in a spiral orientation. The spiral approach creates a structure that is durable, yet provides discrete, open feed channels. The open feed channels virtually eliminate plugging and make the membrane efficiently backflushable.
Ashbrook Simon-Hartley
Houston, TX
Tel: 800-362-9041
Web: www.as-h.com
Membrane package plants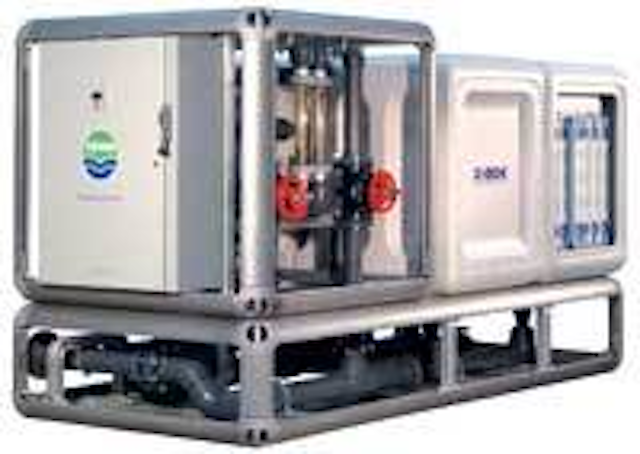 Click here to enlarge image
Z-BoxTM Package Plants from Zenon are pre-engineered, skid-mounted potable water treatment systems that enable small communities to benefit from large-plant performance in a compact, plug-and-play system. A single-train system can treat up to 380,000 gallons of water per day and multiple units can be linked together to treat over 1 MGD.
Zenon Environmental Inc.
Oakville, Ontario
Tel: 905-465-3030
Web: www.zenon.com
Membrane filtration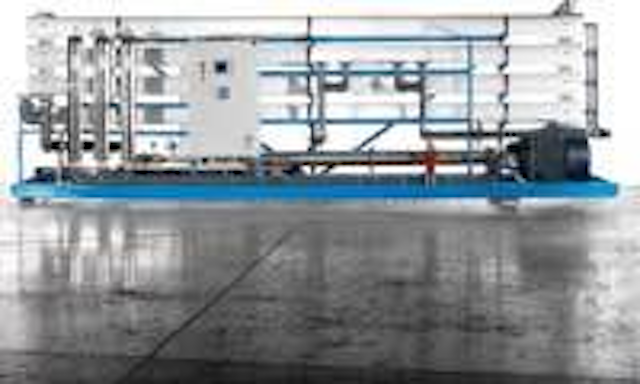 Click here to enlarge image
GE Water & Process Technologies will showcase its desalination systems, including seawater reverse osmosis (SWRO) and brackish water reverse osmosis (BWRO). The SWRO systems are designed to recover 25-35% of the feed as purified water, which keeps the concentration factors low. SWRO systems produce a feedwater quality up to 45,000 ppm TDS.
GE Water & Process Technologies
Trevose, PA
Web: www.gewater.com
RO, NF systems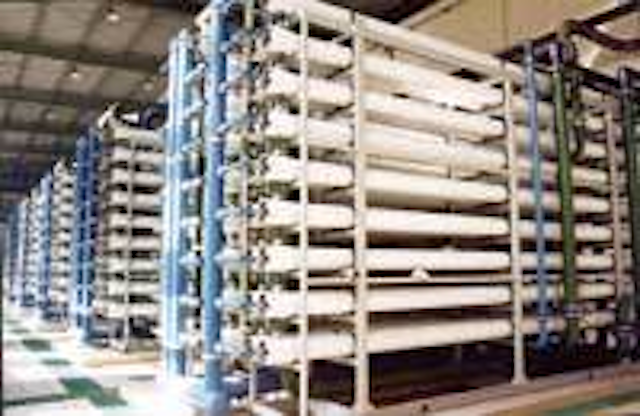 Click here to enlarge image
ITT-Aquious designs, manufactures, installs and commissions seawater and brackish water reverse osmosis (RO) and nanofiltration (NF) systems for municipal drinking water supplies. Reference plant capacities range from 9,000 gpd to 30 mgd, with scopes of supply extending to include intake, pre-treatment, desalination and post disinfection. The company's systems can be offered as standard package plants through to custom engineered, turn-key solutions, with process guarantees being offered across the range as required.
ITT-Aquious/WET
Boynton Beach, FL
Tel: 561-684-6300
Web: www.aquious.itt.com
Biological treatment process

Click here to enlarge image
The AquaMB ProcessTM is the latest addition to Aqua-Aerobics' line of biological treatment processes. This multiple barrier treatment system combines activated sludge treatment, in combination with cloth media filtration and membrane technology. The system can be used for municipal or industrial wastewater treatment and discharged to impaired waterways or where critical NPDES limits, including crypto and giardia, need to be met.
Aqua-Aerobic Systems Inc.
Rockford, IL
Tel: 815-654-2501
Web: www.aqua-aerobic.com