Video Surveillance System Uses Existing SCADA Networks
Until recently, adding video surveillance to remote water supply facilities like wells, tanks, reservoirs and pumping stations required a separate and expensive communications network.
Jun 1st, 2006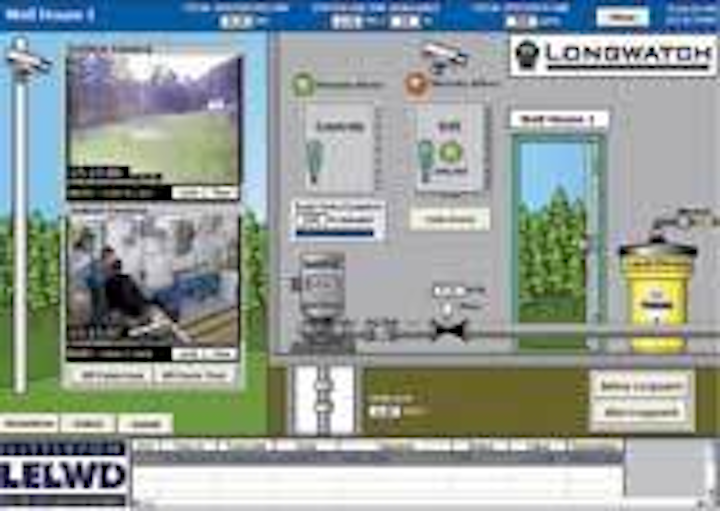 Until recently, adding video surveillance to remote water supply facilities like wells, tanks, reservoirs and pumping stations required a separate and expensive communications network. Most video systems on the market were developed for high bandwidth communications not typically available in water monitoring systems.
Longwatch has developed a video monitoring system designed specifically to meet the remote monitoring requirements of water supply systems. Unlike traditional stand-alone security systems that use closed-circuit or broadband networks for video transmission, the company's system can use the installed base of low-bandwidth communication systems to transmit video that integrates with existing supervisory control and data acquisition systems (SCADA).
Most water supply facilities are remotely monitored and controlled by programmable logic controllers located at the remote facility. These PLCs are tied back to a central control room using low-speed communications such as licensed wireless radios or leased telephone lines. The data retrieved from the PLCs is then managed, displayed and stored on the SCADA system.
Security systems at remote facilities typically consist of simple switches that can detect motion or the opening of a door, window or gate. Video surveillance adds the ability to determine whether an intrusion is harmless or warrants additional response action.
A Longwatch system consists of a Remote Video Engine (RVE) and Video Control Center (VCC) software.
The Remote Video Engine is a pre-packaged general purpose computer with a built-in video interface. The RVE can accept up to four camera inputs in either black and white or color and is equipped with four digital contact inputs that can be connected to items such as proximity switches, glass break detectors, motion detectors, etc. The proprietary Longwatch software is pre-loaded on the hard drive in the RVE and operates under a pre-configured, Microsoft Windows XP Embedded (XPe) operating system.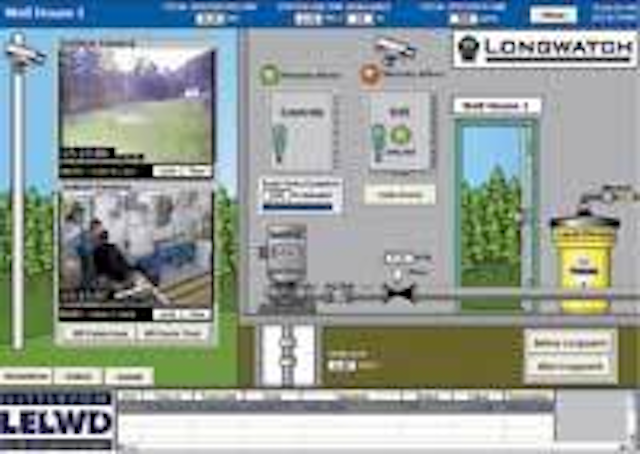 System alarms and security alarms can be displayed on the same screen
Click here to enlarge image
The Video Control Center (VCC) is a software application that can be installed on an existing Windows XP computer. The VCC enables centralized and remote viewing of video created by the RVE. The VCC provides an alarm history display application that presents video in customary monitoring system formats. It also provides an integrated industry standard database to maintain all alarms and video files, tools for overall system management, and an application software bridge that enables alarm, configuration and video integration with the SCADA system.
There are several modes by which the Remote Video Engine operates:
Alarm Video Clip mode − The system collects a short segment of motion video whenever an alarm event occurs and transmits the video to the control center.
Live-Video mode - The system records low frame rate, low resolution video either continuously or "on-demand" from specific cameras.
Continuous Local Recording − The system continuously records high resolution video images from each of the attached cameras. The recorded videos are stored locally and retrieved by transfer to a laptop computer or a commercially available memory stick in the event that high resolution video is needed for investigation and prosecution of vandals.
Matrix mode or "Guard-Tour" monitoring - The system sends video from all cameras at a user-defined frequency. The system operator can view all cameras on one scrolling System Overview screen.
The full motion video is delivered through the same communication channel and displayed on the same monitor as the SCADA alarm system. This integration provides a single reference point for viewing numerous remote locations.
The Longwatch System video can be viewed through any standard internet browser as long as personnel have access to the water department's secure intranet. This provides water department personnel, police, or fire departments accurate and timely information that allows for fast response to events at any time of day or night.