Video Surveillance Monitors Remote Facilities Using SCADA Systems
Recently completed Vulnerability Assessments put into sharp focus the areas of a water supply's infrastructure that are at risk.
Oct 1st, 2006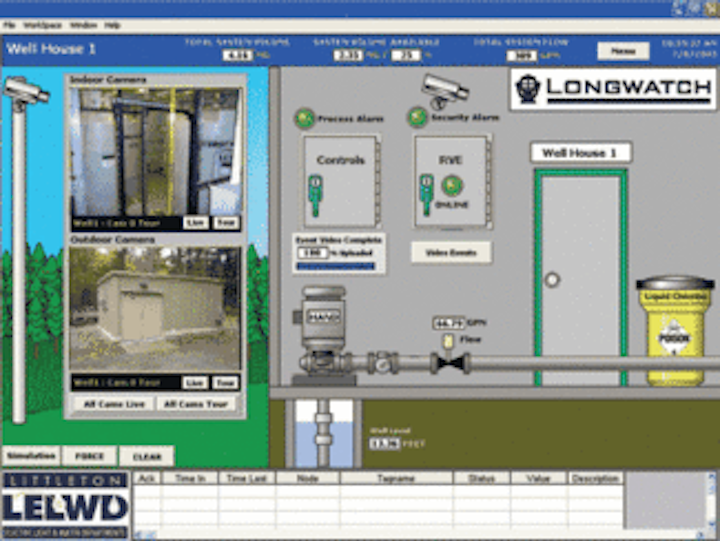 Recently completed Vulnerability Assessments put into sharp focus the areas of a water supply's infrastructure that are at risk. An additional sense of urgency has been created by recent regulations that have toughened accountability measures for unauthorized intrusions that cannot be qualified or verified. While no hard deadlines have been set for closing the risk gaps or addressing vulnerabilities, they remain a constant worry and a potential liability.
The most vulnerable areas are remote facilities. Municipal water systems often have dozens or even hundreds of remote sites, like wells, pumping stations, and water towers. Many security industry experts agree that video surveillance is the best method for verifying alarms from these exposed locations.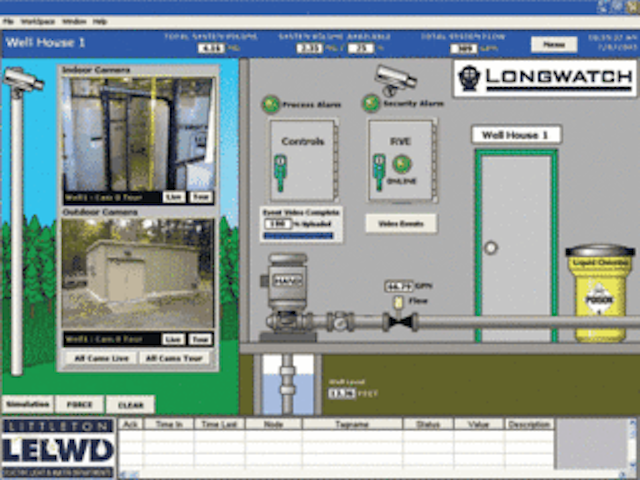 Video clips are sent to the SCADA operators when an alarm is triggered.
Click here to enlarge image
Two problems typically surface when water suppliers research the scope of work required for installing video cameras at remote sites. They usually don't have access to a high speed communications network required to transmit video. They also lack the manpower to actually observe and classify video transmissions around the clock. The cost to solve either of these problems is usually prohibitive. Water suppliers in Littleton, MA, and the Region of Niagara, Ontario, found a solution that resolved both of these problems.
Littleton, Massachusetts
The Littleton Water Department is typical of many small municipal water suppliers. It serves approximately 15,000 residential and commercial users and has facilities spread across the community, including a treatment plant, four wells, and three storage tanks.
"Our first step was to install intrusion alarms linked into our SCADA system, but this created a problem with false alarms. That's when we decided we really needed to see what was going on at our remote sites because it was a waste of time and money to physically check the site each time," said Savas Danos, General Manager of the Littleton Water Department.
Littleton addressed both their vulnerability and manpower issues with the installation of the Longwatch Surveillance System. The system provides video clips from remote locations, as alarms occur, over the utility's existing SCADA communications network. Full motion video is delivered over wireless communications channels, a 9600-baud radio frequency (RF) network, and displayed on SCADA system equipment. Staff are able to see video on demand directly on their SCADA HMI and receive video clips on a cell phone, which is especially useful for after hour situations.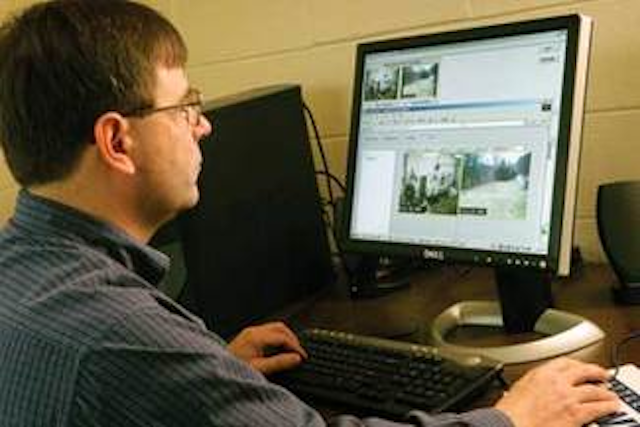 Both security alarms and system alarms are managed on the SCADA HMI.
Click here to enlarge image
"It is critically important to quickly recognize whether we are receiving a first- or second-level alarm. The use of the Longwatch system, coupled with our existing SCADA alarm system, has had a profound impact on our ability to accurately assess our alarms. Now we are smarter and faster in our response to an alarm," Danos said.
Region of Niagara
The Niagara Region is located in southern Ontario between two of North America's Great Lakes (Ontario and Erie). Spread over 715 square miles, serving 12 municipalities, with over 400,000 customers, the task of securing its water facilities is a major challenge. With over 160 remote locations to protect and monitor, Niagara was faced with a daunting task.
Of particular concern were 40 remote water sites. With no visual information available, management didn't have the data they needed in a timely fashion. With a large staff of field personnel they were also concerned with personal safety issues that could develop as technicians moved from one location to another throughout the day unobserved.
Like most utilities inquiring about video surveillance options, Niagara staffers were presented with solutions that required a high speed network to transmit video. After researching a new communications network to remote sites, Niagara Region officials realized the cost would be prohibitive.
"We have many remote locations in our system. We are not in a position to install new communications links to these sites," said Mark Presti, SCADA Engineer.
After some further investigation the Longwatch Video Surveillance system was brought to their attention. It provided the video surveillance they desired, integrated into their existing SCADA system, and supplied video over their existing wireless communications network.
One of their main concerns is a remote reservoir. Authorities in both Canada and the United States have identified water sources, like rivers and reservoirs, as high visibility targets for terrorists. The installation of fencing and motion detectors provide a first line of defense but can generate a high level of false alarms often triggered by wild life looking for a water source.
With video the Region of Niagara is confident they have significantly upgraded the level of security at their remotes sites.
"The events of 9/11 made us all aware of the need to take precautions. With the installation of Longwatch we addressed both our security concern and any future vandalism problems," Presti said.
About the Author:
Joe Siderowicz is President of the AfterMarket Consulting Group, Acton, MA. He has been involved in the commercial security industry for over 25 years. In recent years he has focused on the security needs of the water supply industry. AMCG provides consulting services to both product manufacturers and security providers.