NEW PRODUCTS
Autodesk has released Topobase 2007 infrastructure design and management software.
Oct 1st, 2006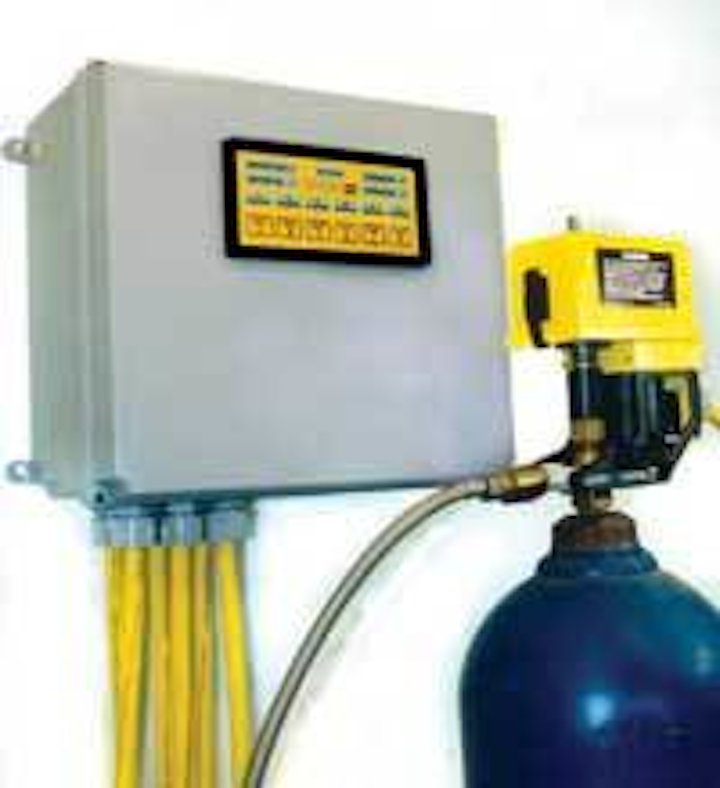 Design, management software
Autodesk has released Topobase 2007 infrastructure design and management software. Built on Autodesk Map 3D and MapGuide Enterprise software, Topobase addresses the challenges faced by organizations that collaborate on infrastructure projects, such as water or wastewater networks, by enabling teams to share spatial information across departments. With the system, customers can see the big picture with a more integrated view of all of their enterprise data. The software integrates islands of computer-aided design (CAD), asset, geographical information system (GIS) and customer information from both paper and electronic sources into a centralized infrastructure spatial information database. It is an open and flexible system designed to integrate with existing business systems without the need for expensive proprietary tools or middleware.
Autodesk Inc.
San Rafael, CA
Web: www.autodesk.com/topobase
Membrane elements
FilmTec, a subsidiary of Dow Chemical, offers membranes elements guaranteed to withstand a pH range of 1-13 for membrane cleaning solutions, leading to increased efficiency in the cleaning process. The extended pH range increases the efficacy of foulant removal from the membranes and leads to longer operating time between cleanings and longer membrane lifespan. The higher pH limit of 13 improves the removal of biofouling and organic fouling from the membranes, while the lower pH limit of 1 increases the efficiency of calcium carbonate removal.
FilmTec Corp.
Midland, MI
Web: www.dow.com/liquidseps
Valve controller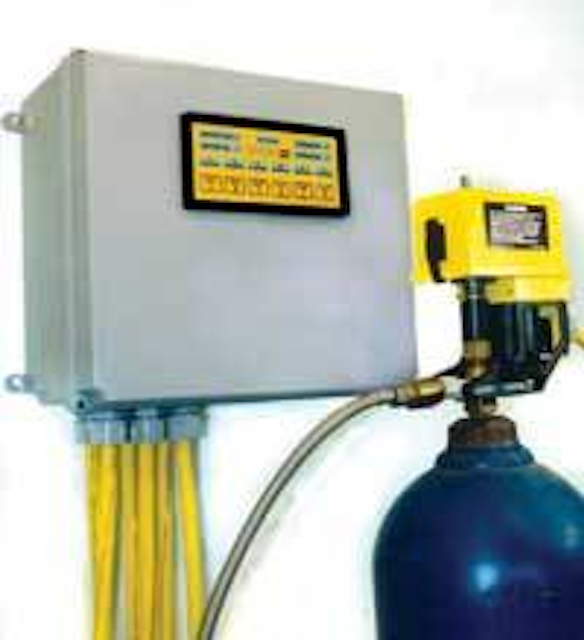 Click here to enlarge image
The HexaconTM Model II control system closes up to six EclipseTM actuators on toxic gas cylinder and ton container valves when activated by panic buttons or remote gas sensors. The newly designed Model II computer system applies 30 foot pounds of torque for test closures and 50 foot pounds for emergency closures of the cylinder valve. The system can provide a SCADA network with actuator closure status and error codes to quickly analyze any problems and take the appropriate corrective action.
Halogen Valve Systems
Irvine, CA
Tel: 877-476-4222
Web: www.halogenvalve.com
Surge suppressors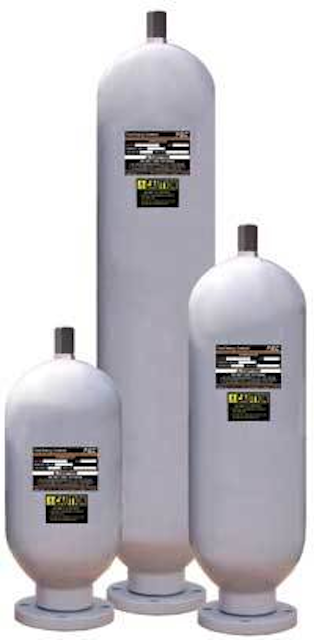 Click here to enlarge image
A new line of Surge Suppressors is now available from Fluid Energy Controls. Designed to control pressure surges in any liquid-handling system, they are suitable for water pipelines. The surge suppressors are available in sizes from 2.5 to 10 gallons and are rated at 275 PSI. The shells are fabricated of carbon steel and Buna-N bladders are standard (other sizes and bladder materials available upon request).
Fluid Energy Controls Inc.
Los Angeles, CA
Tel: 323-721-0588
Web: www.fecintl.com
Screenings conditioner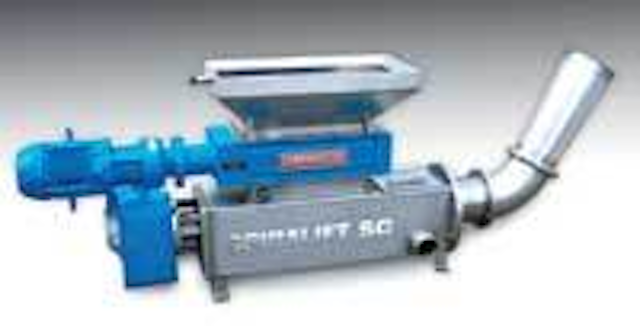 Click here to enlarge image
The Spiralift SC8500 Screenings Conditioner is the newest addition to Franklin Miller's line of screw screening devices. The SC offers the same washing performance as the larger SC1600 but with a lower headroom profile for smaller applications and installation in tight plant locations. The unit takes screenings discharged from a bar screen and washes, grinds, compacts, de-waters, and discharges them into a container for disposal.
Franklin Miller Inc.
Livingston, NJ
Tel: 973-535-9200
Web: www.franklinmiller.com
Grease recovery system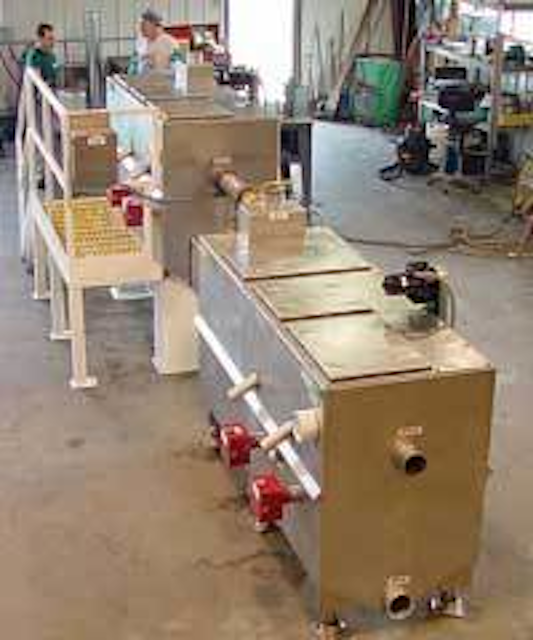 Click here to enlarge image
Highland Tank's Automatic Grease Interceptor, available through Lowe Engineering, is an electrical/mechanical unit designed to keep large amounts of pipe-clogging fats, oils, and grease (FOG) from entering a city's sanitary sewer system. The interceptors help large commercial kitchens found in shopping malls, resort hotels and gambling casinos comply with a city's sewer pretreatment regulations. The removable screen basket collects food scraps and solids.
Lowe Engineering
Friedens, PA
Tel: 814-443-6800
Web: www.lowe-engineering.com
Fall protection grating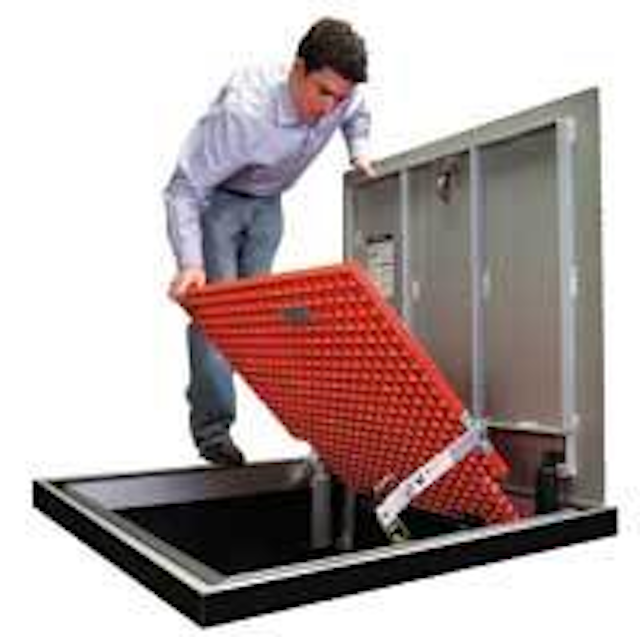 Click here to enlarge image
Bilco now offers a fall protection grating option for its line of floor, vault and sidewalk doors. The grating is constructed of corrosion-resistant fiberglass and includes lift assistance and an automatic hold-open arm for ease of operation and user safety. It is equipped with stainless steel hardware and is rated for a 300 PSF live load. The company offers the grating option on both standard and special size doors. Kits are available for field installation.
Bilco Co.
New Haven, CT
Tel: 203-934-6363
Web: www.bilco.com
Portable signs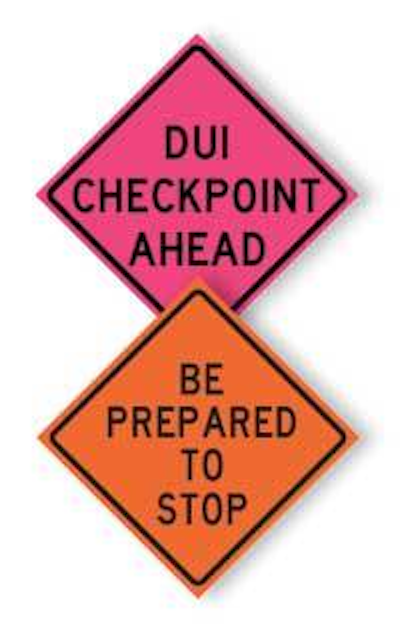 Click here to enlarge image
Work Area Protection offers its Work Zone Series Signs and Stands, a line of roll-up signs used for temporary traffic solutions. The signs are orange and have the following messages: "Be Prepared to Stop," Flagger Symbol, "Right Lane Closed Ahead," "Utility Work Ahead," "Road Work Ahead" and Worker Symbol. Work Zone Series Signs are available in either mesh or reflective material.
Work Area Protection Corp.
St. Charles, IL
Tel: 800-233-7064
Web: www.workareaprotection.com
Grease liquefier
Duke's Sales & Service offers a Grease Liquefier, Jet Power II, which dissolves grease on contact and homogenizes it so it cannot re-coagulate. The product is non-petroleum based. It is biodegradable, non-caustic, non-acidic, and non-corrosive. It is applied quickly and easily with a utility's own jetting equipment.
Duke's Sales & Service Inc.
Syracuse, NY
Tel: 800-447-6687
Web: www.dukes.com
Signal conditioners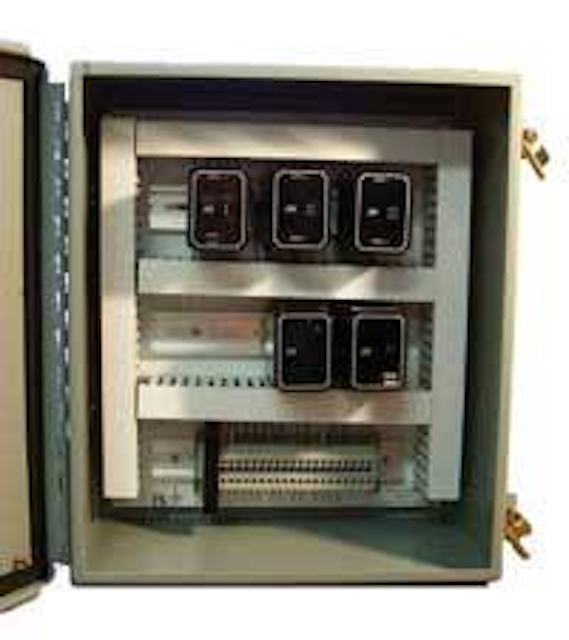 Click here to enlarge image
JH Technology manufactures signal conditioners - industrial process transmitters, isolators and alarms, plus an ultrasonic leak detector/vibration monitor. The company recently released a new custom-solutions concept for unique application requirements. Minisystem is the company's name for small-system designs using instruments and controls - their own or others - to meet needs a single instrument can't handle.
JH Technology Inc.
Sarasota, FL
Tel: 800-808-0300
Wastewater system design
Process System Solutions (PSS) is a new business group of Continental Disc Corp. PSS collaborates with client design and engineering staff on process system projects from concept through commissioning, qualification, and validation. The company offers single-source engineered systems along with pre and post-sale services to the wastewater industry.
Process System Solutions
Liberty, MO
Tel: 877-777-9701
Web: www.prosyssol.com
LIMS reporting
Accelerated Technology Laboratories has announced integration of the Sample Master® Pro Laboratory Information Management System (LIMS) with a Discharge Monitoring Report (DMR) Creator. DMR forms are for reporting monitoring results required by the National Pollutant Discharge Elimination System (NPDES)/State Disposal System (SDS) permit for a wastewater treatment system.
Accelerated Technology Laboratories, Inc.
West End, NC
Tel: 800-565-5467
Web: www.atlab.com
Grease removal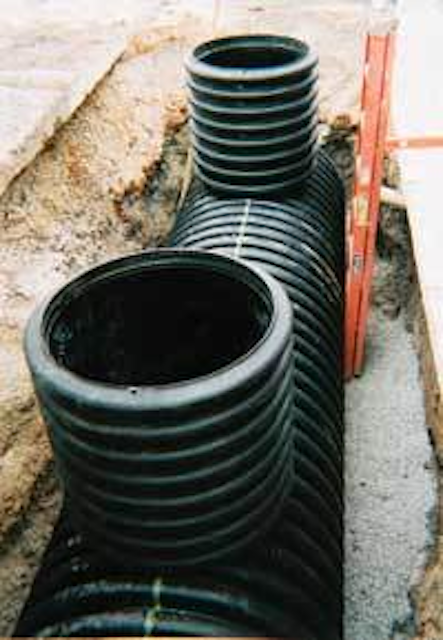 Click here to enlarge image
The ADS Grease Interceptor is designed to separate grease from waste systems. Constructed of high density polyethylene, it is resistant to corrosion from food waste and is unaffected by strong acids and alkalis. It has an operating pH range of 1.5 to 14. Watertight sanitary joints are achieved through bell-and-spigot couplers.
Advanced Drainage Systems Inc.
Findlay, OH
Stormwater detention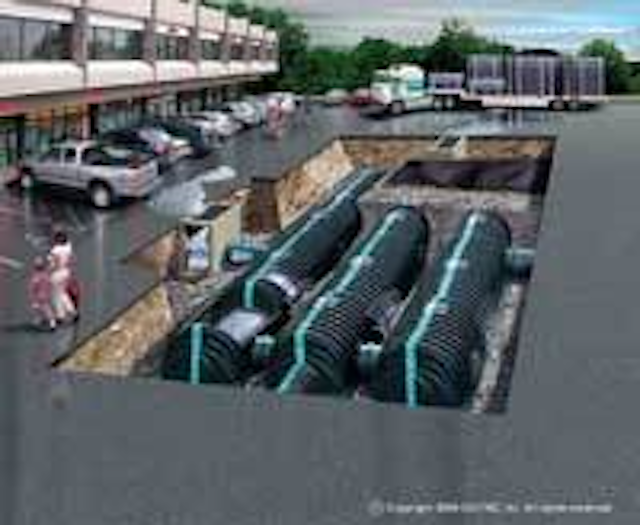 Click here to enlarge image
Cultec's new Recharger® V8TM stormwater detention/retention chambers are designed to increase the water storage capabilities of underground stormwater systems. With an increased capacity of 25% when compared to other models, the chambers can be used for retention, detention, recharging, or controlling the flow of on-site stormwater run-off. The chambers feature built-in endwalls for strength throughout the system and an overlapping rib connection, which allows for a stronger connection between chambers.
Cultec Inc.
Brookfield, CT
Tel: 800-428-5832
Web: www.cultec.com
Rental generators
New rental generator sets from Cummins Power Generation offer cleaner operation to meet EPA emissions standards. Intended for temporary power applications, the 60 kW, 100 kW, 150 kW, 230 kW and 500 kW trailer-mounted diesel generator sets feature enhanced performance and increased running time. The 150 kW and 230 kW models are certified to EPA Tier 3 standards. Once on the job, these units have a minimum of 24 hours of fuel capacity, 110% fluid containment to prevent jobsite contamination, and are designed to operate reliably in ambient temperatures of up to 105 degrees F.
Cummins Power Generation
Minneapolis, MN
Tel: 763-574-5395
Web: www.cumminspower.com/rental
Brushless motor controls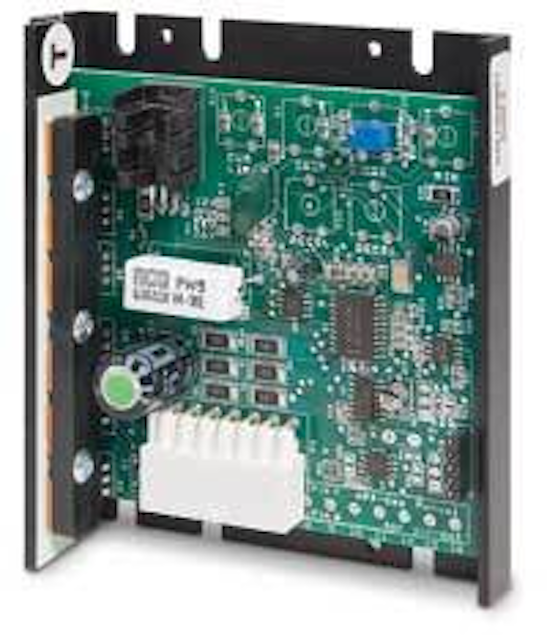 Click here to enlarge image
The 700BDC, 701BDC, and 703BDC Brushless DC Motor Controls from Dart Controls are now RoHS compliant. This Series is available in open or closed loop models operating at 11-40 vDC input and 5 amps continuous load current. The 703BDC has additional features that include adjustable accel/decel and a bi-directional speed pot control capability (wig-wag).
Dart Controls Inc.
Tel: 317-873-5211
Web: www.dartcontrols.com
Multi-purpose controller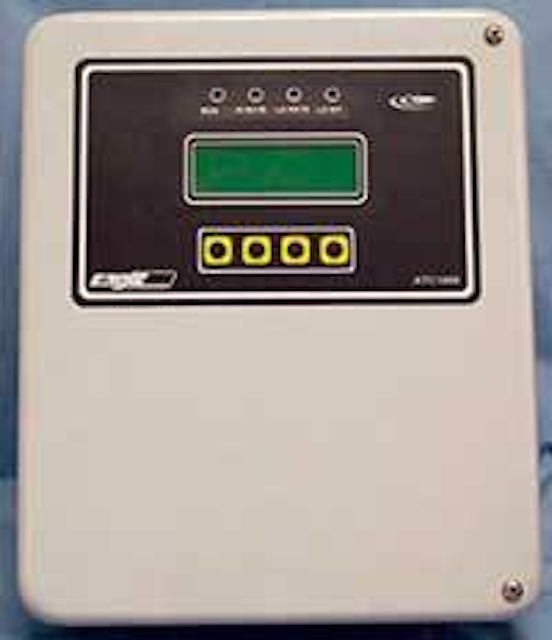 Click here to enlarge image
The new Eagle Microsystems ATC-1000 Multi-purpose Controller combines the ability to address a wide variety of process inputs with the ability to perform process control. The instrument is user configurable and provides up to four local LED status indicators. Process information is displayed on a 4-line x 20 character, backlit LCD display. Control is through a four-pushbutton, menu-driven keypad. With its broad complement of I/O the capabilities of this unit are only limited by the user's imagination.
Eagle Microsystems, Inc.
Pottstown, PA
Tel: 800-780-8636
Web: www.eaglemicrosystems.com
Mass flow meter
With its self-cleaning purge ports, the insertion-style Model GF90 Flow Meter from Fluid Components International maintains optimum flow measurement performance while reducing maintenance costs in dirty fluid and gas applications. By connecting the meter's purge ports to compressed air, inert gas or solvent purge lines, process contaminants can be removed regularly and without un-installing the flow sensor element from the pipe.
Fluid Components International
Ultrasonic flow meter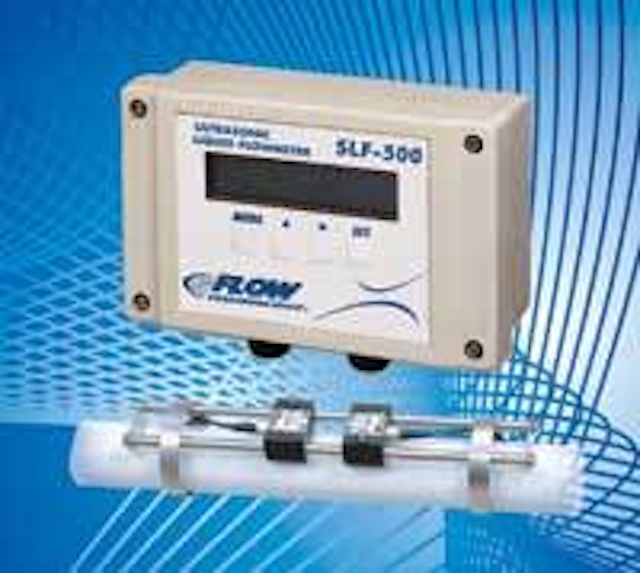 Click here to enlarge image
Flow Technology has released its Model SLF-500 Ultrasonic Liquid Flow Meter. The first in a new series of flow measurement instruments, the clamp-on ultrasonic meter can measure bi-directional flow through metal, plastic and even lined pipes without altering the piping. The meter was designed with solid-state technology, has no moving parts and does not intrude into the process line.
Flow Technology Inc.
Tempe, AZ
Tel: 800-528-4225
Web: www.ftimeters.com
Thermal imager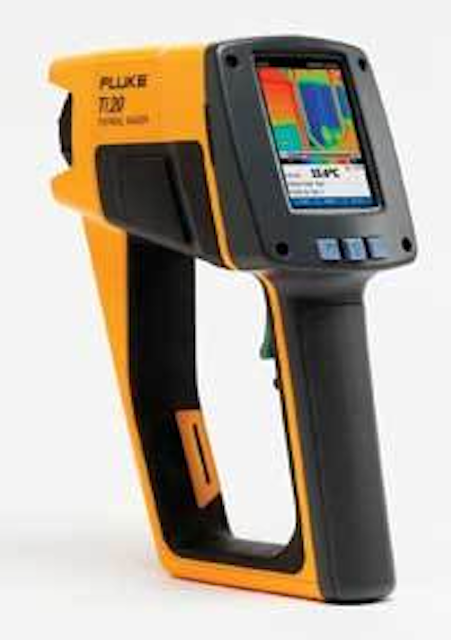 Click here to enlarge image
The Fluke Ti20 Thermal Imager includes a portable non-contact fully radiometric camera that measures temperature from -10 to 350 degrees C (14 to 662 degrees F). It also comes with InsideIRTM professional analysis and reporting software with full PdM routing support, training materials and accessories. The software enables the creation of an inspection route designed to improve the accuracy of subsequent readings.
Fluke Corp.
Everett, WA
Tel: 425-446-5236
Web: www.fluke.com
Laser nephelometer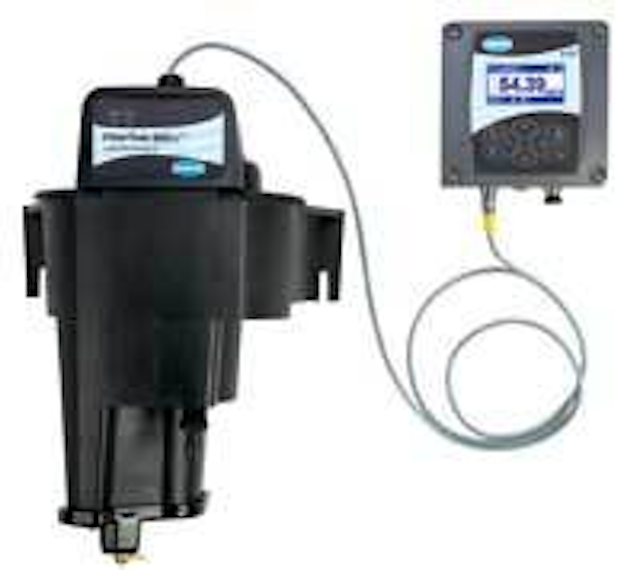 Click here to enlarge image
The new Hach FilterTrakTM 660sc Laser Nephelometer measures turbidity from 0 to 5 NTU with resolution of 0.0003 NTU - using USEPA-approved methodology. The device uses prepared StablCal® Stabilized Formazin Standards. Connecting with the multiple-sensor sc100 and sc1000 controllers, the device provides direct digital communication, six-month data logging, and plug-and-play compatibility with other Hach digital sensors.
Hach Co.
Loveland, CO
Tel: 800-227-4224
Web: www.hach.com
Temperature, pH recorder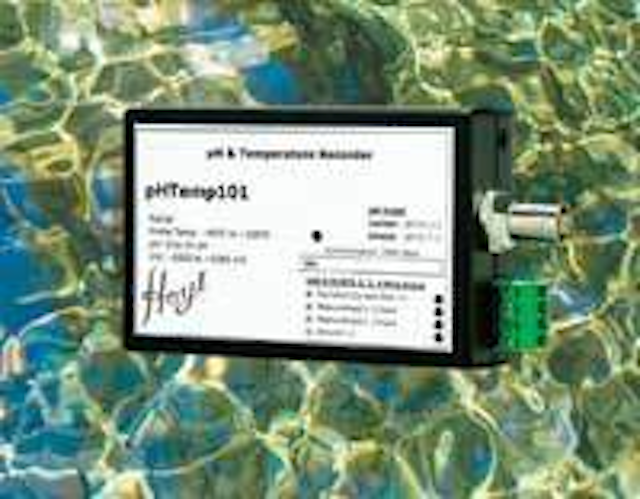 Click here to enlarge image
Hoyt offers the PHTemp101 data logger, a miniature, battery powered, stand alone pH and temperature recorder. The compact, portable device will measure and record up to 13,107 measurements per channel. It will directly connect to many commonly used pH and ORP electrodes. The storage medium is non-volatile solid-state memory, providing maximum data security even if the battery becomes discharged.
Hoyt Electrical Instrument Works
Flowmeter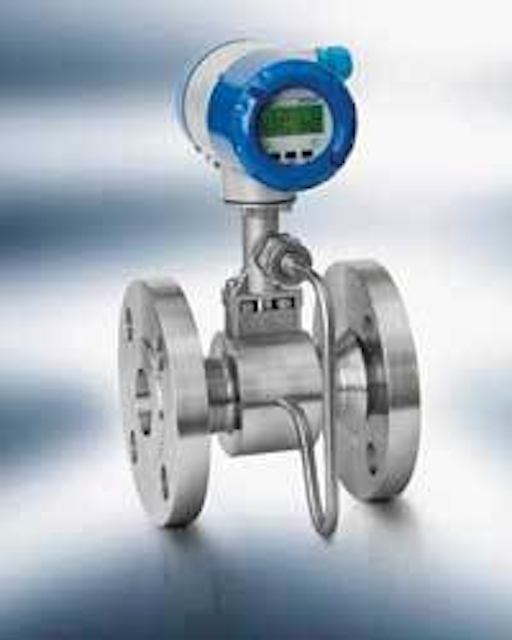 Click here to enlarge image
Krohne offers its new Optiswirl 4070 C flowmeter, a multivariable instrument that combines a vortex flow sensor with built-in temperature compensation and optionally available integrated pressure in a two-wire configuration. The all-in-one meter delivers measurement of standard volumetric and mass flow of conductive and non-conductive liquids, gases and vapors, even in applications that are prone to pressure and temperature fluctuations.
Krohne Inc.
Tel: 978-535-6060
Web: www.krohne.com/northamerica
TOC analyzers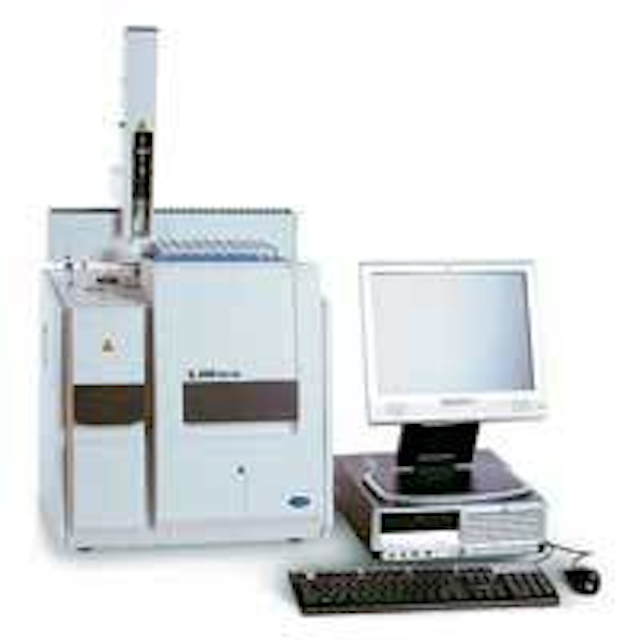 Click here to enlarge image
Lachat Instruments, a Hach Company brand, offers a new series of TOC Analyzers, each using USEPA-accepted methodology. The series include the IL500 TOC UV/Persulfate Analyzer, the IL530 TOC-TN Combustion Analyzer, and the IL550 TOC-TN Combustion Analyzer. They apply patented VITA technology resulting in lower achievable MDLs and exceptional recovery. All three models incorporate an x-y-z auto-sampler, saving operator time and increasing throughput.
Lachat Instruments
Loveland, CO
Tel: 800-247-7613
Web: www.lachatinstruments.com