PRODUCTS & SERVICES: SCADA
American Sensor Technologies has introduced a new media isolated digital pressure gauge designed for use with any gas...
Apr 1st, 2006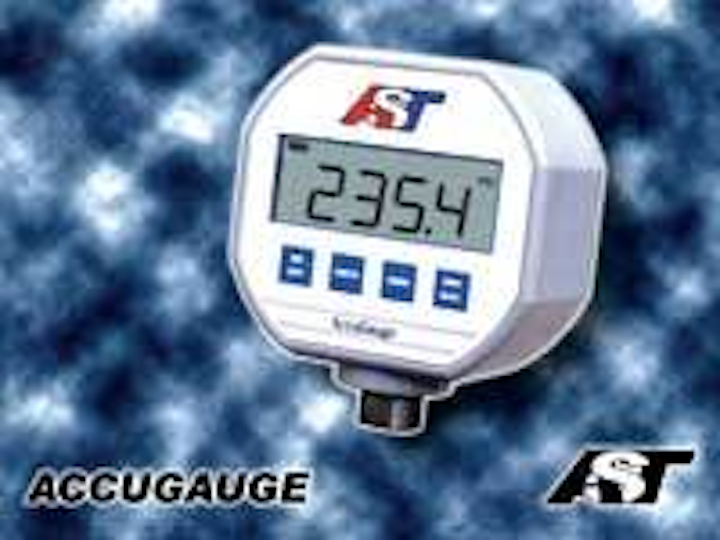 Pressure gauge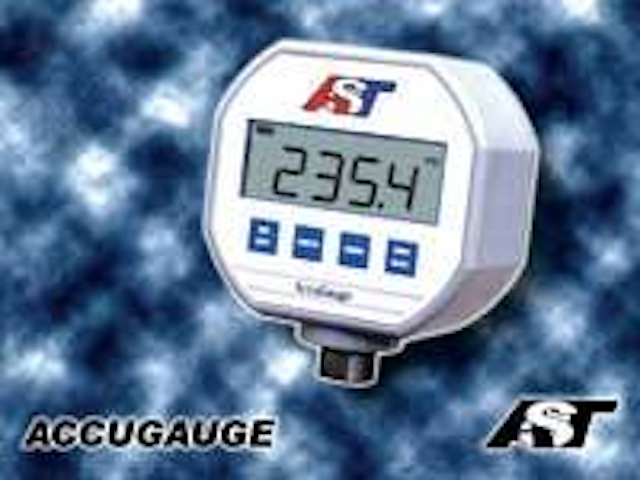 Click here to enlarge image
American Sensor Technologies has introduced a new media isolated digital pressure gauge designed for use with any gas, liquid or solid media that is compatible with 17-4 PH stainless steel. Incorporating a solid one-piece, stainless steel sensing element that is free of welds, internal O-rings and fluid-filled cavities, the AccuGauge Media Isolated Digital Pressure Gauge is ideal for applications that require high proof and burst pressures.
American Sensor Technologies
Mount Olive, NJ
Tel: 973-448-1901
Web: www.astsensors.com
Motor control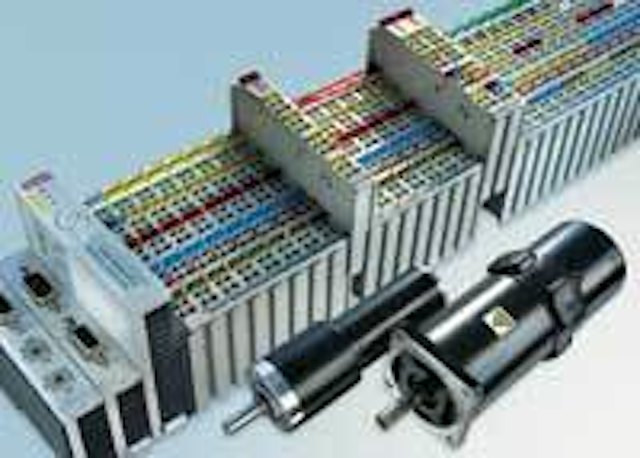 Click here to enlarge image
Beckhoff Automation's hybrid I/O and motor control technology, the new KL2532 and KL2542 I/O terminals, are an alternative to traditional drive systems for DC motors. In addition to these new DC motor controllers, the company's I/O solutions are available for control of stepper motors, hydraulic valves, lifting magnets and other devices. Two 24w DC motors can be supplied with up to 1 Amp from a KL2532 Bus Terminal, which have a width of only 12 mm.
Beckhoff Automation LLC
Burnsville, MN
Tel: 952-890-0000
Web: www.beckhoffautomation.com
Automation controller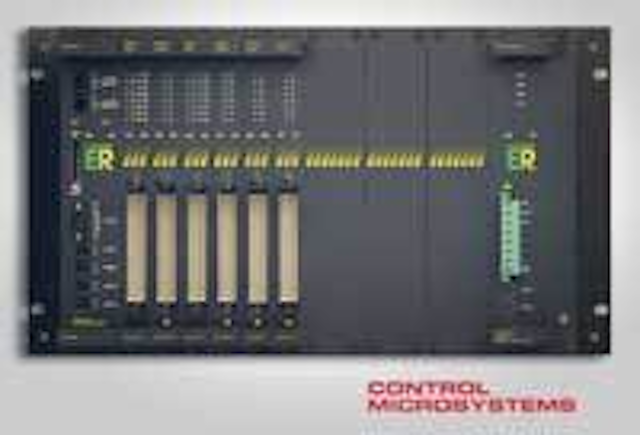 Click here to enlarge image
Control Microsystems has introduced the SCADAPackER automation controller, the first rack-mounted system in the SCADAPack family. The controller is designed to meet a wide range of I/O requirements in applications requiring high-speed control and monitoring.
Control Microsystems
Kanata, Ontario
Tel: 613-591-1943
Web: www.controlmicrosystems.com
Automation controllers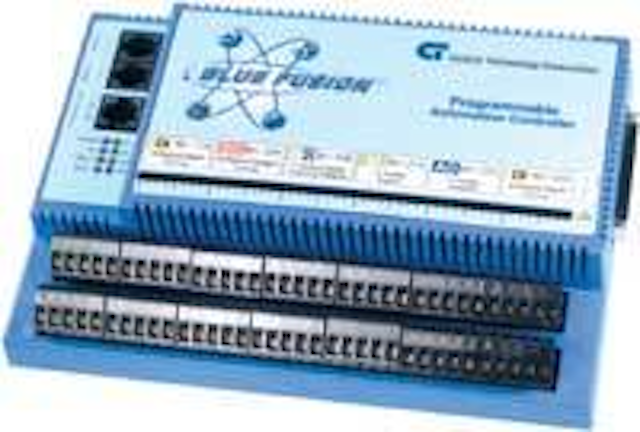 Click here to enlarge image
Control Technology Corp. has added the Model 5222 to its Blue Fusion™ line of web enabled automation controllers. The programmable automation controller is designed for industrial, discrete and process control applications and also has an embedded web server.
Control Technology Corp.
Hopkinton, MA
Tel: 508-435-9595
Web: www.ctc-control.com
SCADA security
Microwave Data Systems, a company involved with wireless networking, has introduced the latest addition to its MDS Security Suite. MDS SCADAcrypt™ adds encryption to wireless SCADA networks. It can be used for point-to-point or point-to-multipoint links, and it provides security to the device and/or to the host in MDS wireless serial systems.
Microwave Data Systems Inc.
Rochester, NY Tel: 585-242-9600 Web: www.microwavedata.com
Paperless recorder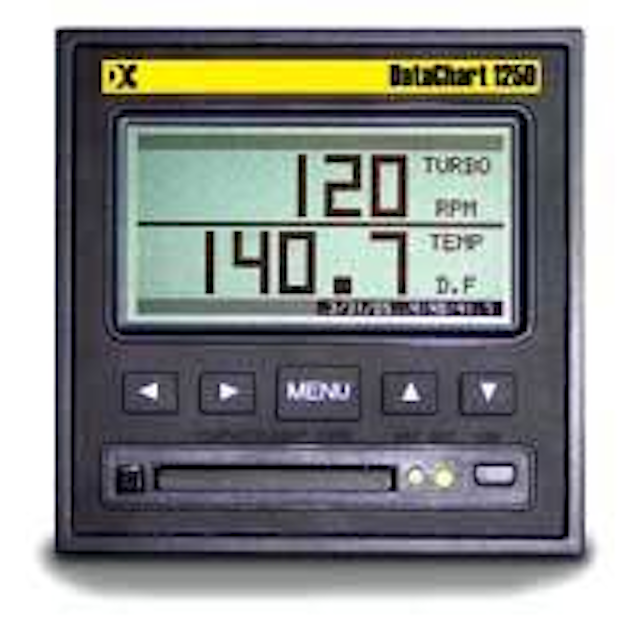 Click here to enlarge image
The new DataChart 1250 paperless recorder from Monarch Instrument features two user configurable inputs for measuring DC voltage, current, thermocouples, RTDs and frequency/RPM inputs. Four internal alarm set points can be programmed to activate the two SPDT relay outputs. Data is displayed in real time graphic or digital format on a bright LCD display with LED backlight.
Monarch Instrument
Amherst, NH Tel: 603-883-3390 Web: www.monarchinstrument.com
Motor control
Users of the Allen-Bradley IntelliCenter motor control center (MCC) can now more quickly and easily add components and make other hardware configuration changes, thanks to new features available in IntelliCenter 2.0 software from Rockwell Automation. The new drag-and-drop function used to add or remove devices saves time and simplifies hardware changes on an existing MCC.
Rockwell Automation
Milwaukee, WI
Tel: 800-223-5354 Web: www.rockwellautomation.com
Emergency valve shutoff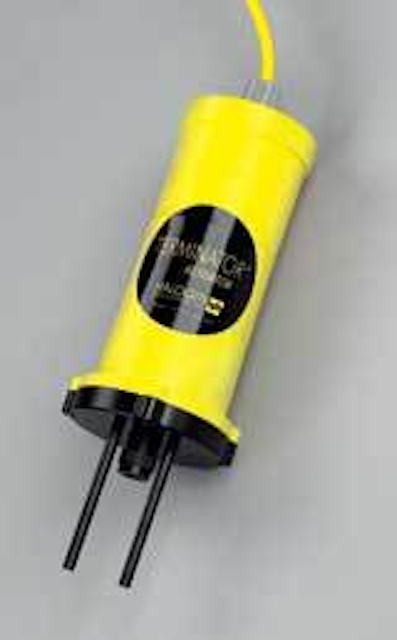 Click here to enlarge image
The Terminator emergency shutoff system, available from Halogen Valve, sequentially closes 150 lb. cylinder valves containing toxic gas in less than three seconds when activated from remote sensors and switches. The company's Gemini controller has a self-contained battery system that guarantees the operation of the motorized closing mechanism even during a power failure. The latest Fire Codes recognize and approve the "automatic-closing fail-safe shutoff valve" system in lieu of scrubber treatment systems.
Halogen Valve Systems
Irvine, CA
Tel: 877-476-4222
Web: www.halogenvalve.com
Control valves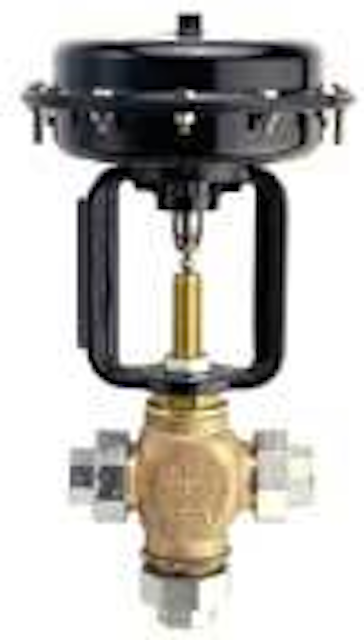 Click here to enlarge image
Spence Engineering's K3 and K7 3-way, pneumatic and electronically actuated control valves are suitable for light industrial applications. The K3 pneumatic control valve accepts a 3-15 air signal and features a 36 square inch or 60 square inch actuator with a spring-loaded packing assembly to minimize deadband.
Spence Engineering Co.
Walden, NY
Tel: 800-398-2493
Web: www.spenceengineering
Water quality monitoring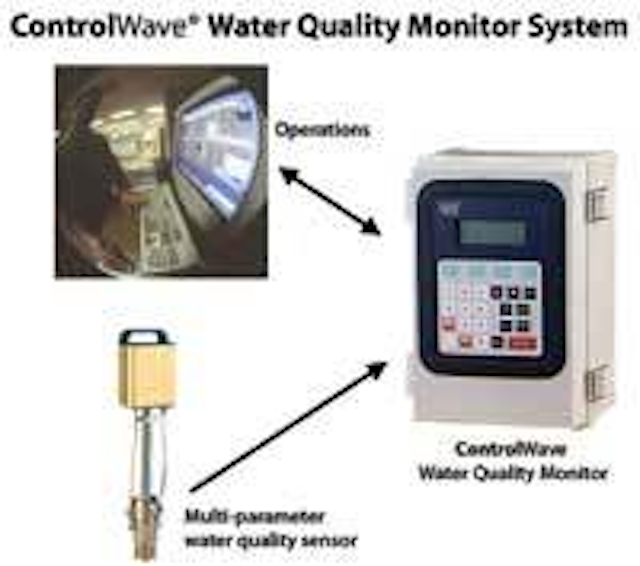 Click here to enlarge image
Bristol Babcock has introduced an integrated water quality and security system. The ControlWave Water Quality monitor system has been developed to ensure water supply integrity for public and private water treatment and distribution facilities. It provides a solution for continuous water quality monitoring, early warning detection, and reporting of potential or actual contamination events.
Bristol Babcock Inc.
Watertown, CT
Tel: 860-945-2200
Web: www.controlwave.com
Pressure recorder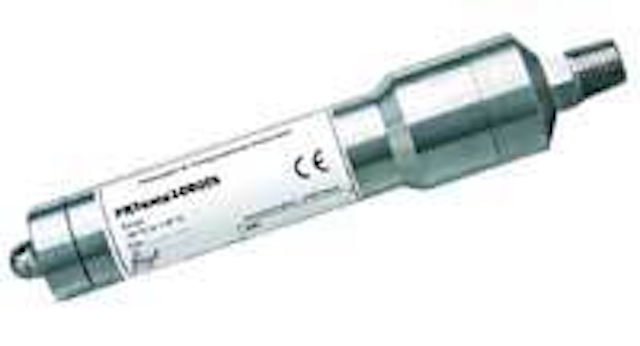 Click here to enlarge image
Hoyt Electrical Instrument Works' PRTemp1000IS is a rugged pressure recorder that monitors and records pressure and temperature at user programmable reading intervals. It has been Factory Mutual certified as intrinsically safe for Class I, Division 1, groups A, B, C and D and non-incentive for Class I, Division 2, groups A, B, C, and D. This certification makes the device ideal for use in hostile environment applications.
Hoyt Electrical Instrument Works
Penacook, NH
Tel: 800-258-3652
Web: www.hoytmeter.com
Motion controller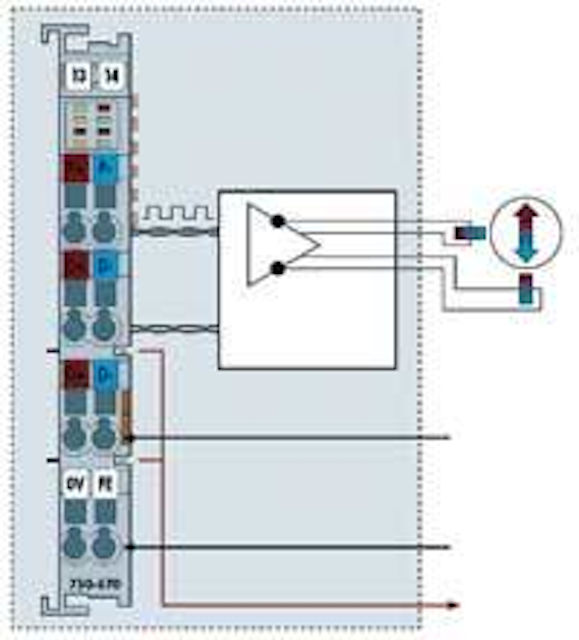 Click here to enlarge image
Motion control capability has been added to the Wago I/O System family of products. Designated the 750-670, the new module provides stepper motor and servo drive control in a compact 12mm wide package. The module supports two pulse output patterns, step/direction or incremental encoder, which are configured via a function block in the company's IEC 61131-3 programming tool - Wago-I/O-Pro CAA.
Wago Corp.
Germantown, WI
Tel: 800-346-7245
Web: www.wago.us
Data retrieval device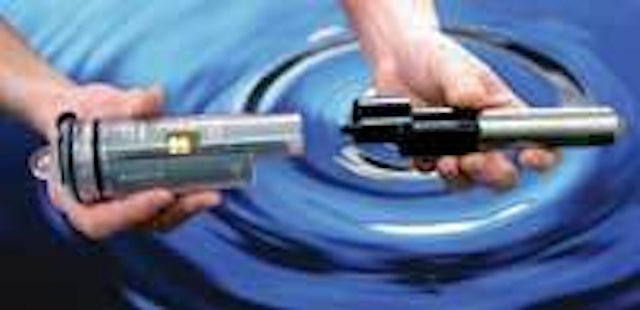 Click here to enlarge image
Onset has introduced the Hobo® Waterproof Shuttle, a new data retrieval device for use with Hobo water level, water temperature, and rainfall data loggers. The shuttle allows users to offload data loggers in the field and safely transport the data back to a PC or MAC for analysis.
Onset Computer Corp.
Bourne, MA
Tel: 800-564-4377
Web: www.onsetcomp.com
Multi-gas monitor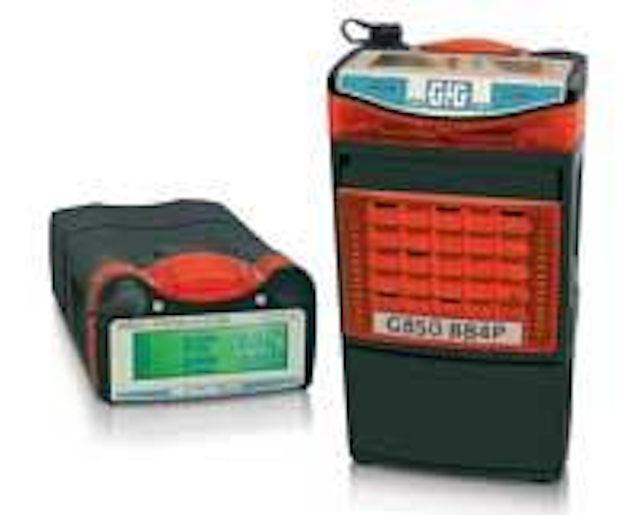 Click here to enlarge image
The G850 multi-gas monitor, available from GfG Instrumentation, is designed to be easy to operate, read and carry. The unit has a six-gas monitor plus ToxAlert/broadrange sensor. It offers AutoCal® automatic calibration and has a user selectable internal pump for diffusion sampling. It has three alarm modes.
GfG Instrumentation
Ann Arbor, MI
Tel: 800-959-0329 Web: www.gfg-inc.com
Variable speed drives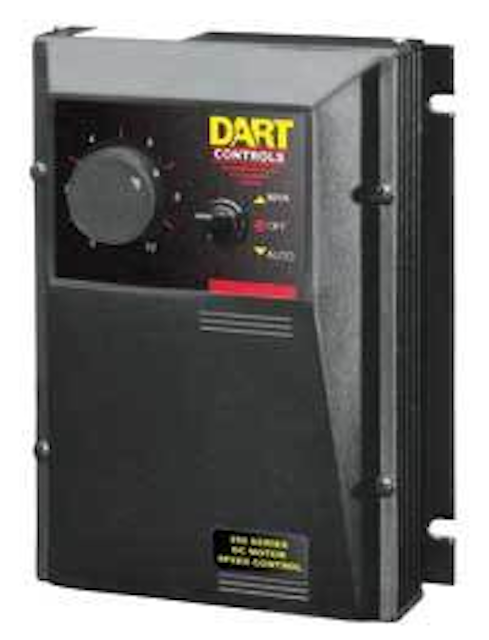 Click here to enlarge image
The Dart Controls 250 Series variable speed DC drive is rated to 2.0 hp. The drive is available with a -5 or -7 option board allowing it to accept a 4-20 mA current loop reference signal as a command for speed control. The -7 option offers the user an additional Auto/Off/Manual selection capability. The series is fully rated with no auxiliary heat sink required and is available in an open chassis version, or a NEMA 4/12, 4X enclosed cUL listed package.
Dart Controls Inc.
Zionsville, IN Tel: 317-873-5211 Web: www.dartcontrols.com
Suspended solids analyzer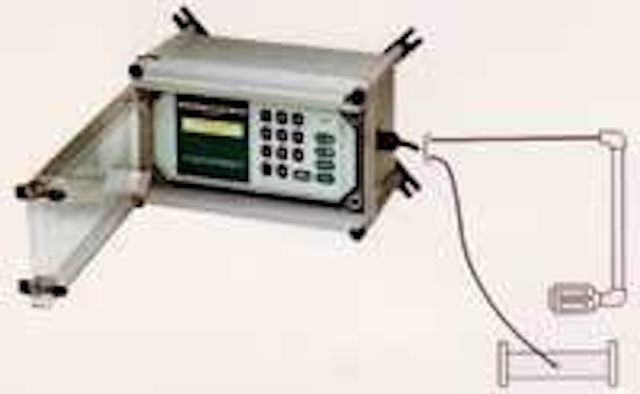 Click here to enlarge image
An important part of process control is knowing the concentration of sludges and slurries. Operators can measure the concentration without the reading being affected by color using the Markland Model 502 Suspended Solids Meter.
Markland Specialty Engineering Ltd.
Toronto, Ontario
Tel: 416-244-4980
Web: www.sludgecontrols.com
Variable frequency drives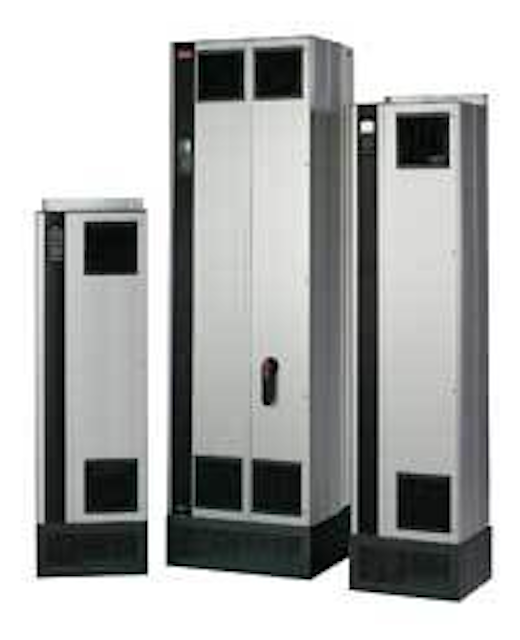 Click here to enlarge image
Danfoss North America Motion Controls has introduced a new high-power platform for VLT® 5000 Series, VLT® 4000 Series, VLT® 6000 HVAC Series and VLT® 8000 AQUA Series variable frequency drives. The product replaces the three largest high power units in the 380-500 vAC range in each series, and adds an additional higher horsepower unit to the program.
Danfoss Water & Wastewater
Milwaukee, WI
Tel: 800-621-8806
Web: www.namc.danfoss.com
SCADA System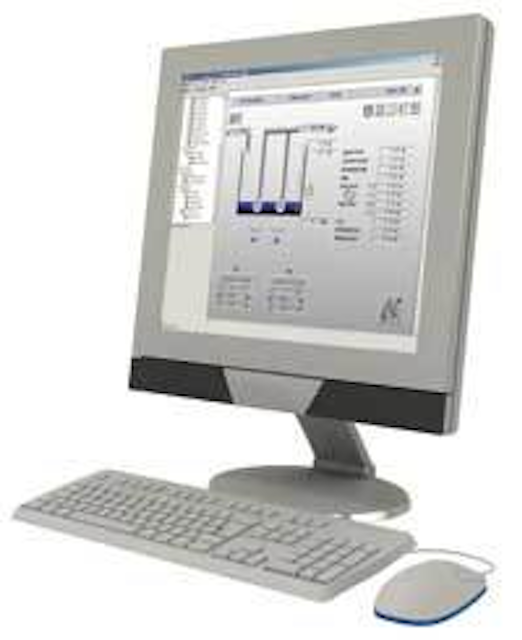 Click here to enlarge image
ITT Flygt has announced the introduction of a SCADA system engineered specifically for wastewater applications. The system is comprised of Flygt's FMC 200 Pump Controllers and AquaView software for monitoring and control of lift stations and wells in wastewater treatment plants. FMC Pump Controllers were designed specifically for use in pump stations and are designed to communicate with supervisory systems or pagers.
ITT Flygt Corp.
Trumbull, CT
Tel: 203-380-4700
Web: www.flygtus.com
Process automation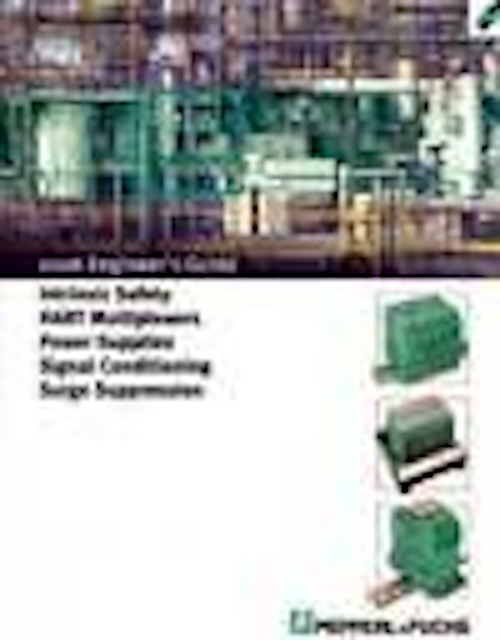 Click here to enlarge image
Pepperl+Fuchs has introduced its 2006 Engineering Guide to Process Automation. The 450+ page guide features the company's family of hazardous location isolators and barriers, as well as general-purpose area products including HART solutions, lightning/surge protection barriers, power supplies and signal conditioners.
Pepperl+Fuchs
Twinsburg, OH Tel: 330-486-0002 Web: www.am.pepperl-fuchs.com
Data monitor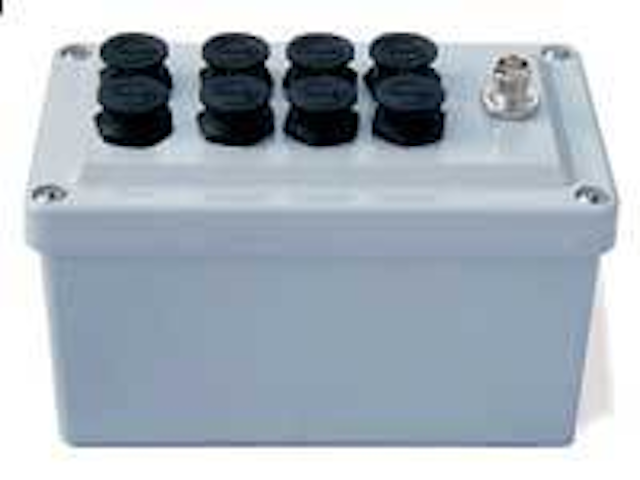 Click here to enlarge image
Scientific Technologies has introduced the Data Dolphin 320 Data Monitor. The DD-320 offers NEMA 6P/IP68 protection for laboratory-grade accuracy in the field. It provides data monitoring and recording in temperatures ranging from -40o to over 60oC. The monitors are ideal for applications such as interconnecting weir monitoring, tidal studies, stream and river monitoring, and remote environmental studies.
Scientific Technologies Inc., Automation Products Group
Logan UT Tel: 888-349-7098 Web: www.stiapg.com
Magnetic flowmeter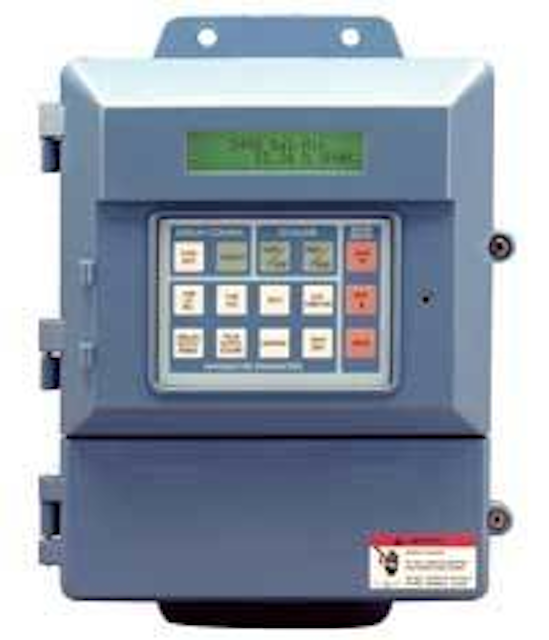 Click here to enlarge image
The Advanced Diagnostics feature available with the Rosemount 8712 Magnetic Flowmeter Transmitter can help reduce commissioning time and improve long-term reliability of flow measurements. The diagnostics suite includes calibration verification capability, grounding and wiring verification and high process noise detection.
Emerson Process Management
Rosemount Division
Chanhassen, MN
Tel: 800-999-9307
Web: www.rosemount.com
Flow meter
The Process Instrument business of Siemens Energy & Automation has introduced a newly designed, ultrasonic, transit-time flowmeter for closed pipe flow measurements, particularly where the pipe is buried or submerged. Measurements can be made in concrete, PVC, or steel pipes from 8" to 48" in diameter.
Siemens Energy & Automation Inc.
Alpharetta, GA
Tel: 215-646-7400
Web: www.sea.siemens.com
Valve control module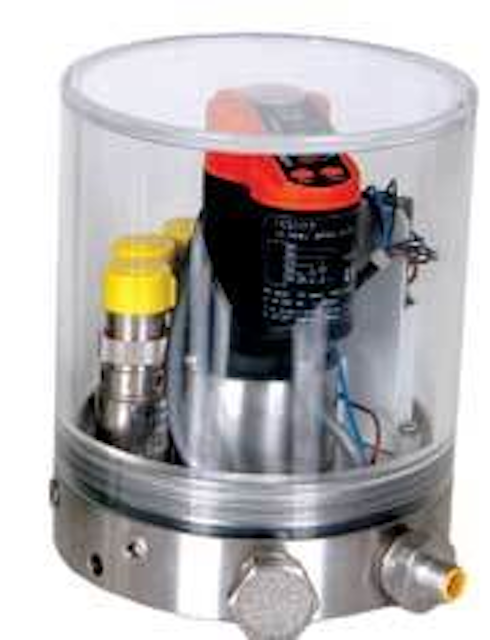 Click here to enlarge image
Waukesha Cherry-Burrell has released a new 2-piece valve control module. The modules are included with all of the company's W-Series Single and Double Seat Valves. Compared to the previous 3-piece module with stainless steel cap, acrylic lens and stainless steel base, the new two-piece module has a screw-on acrylic top, stainless steel base and upgraded features.
Waukesha Cherry-Burrell,
An SPX Process Equipment Operation
Delavan, WI
Tel: 262-740-4132
Web: www.spxprocessequipment.com
Remote monitoring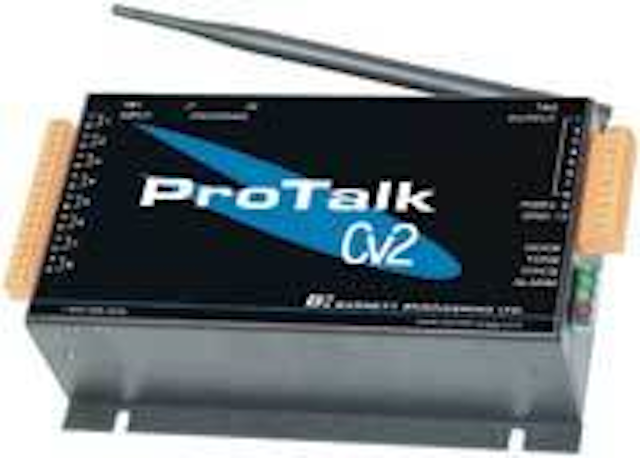 Click here to enlarge image
Barnett Engineering, a manufacturer of remote site monitoring devices, has announced the approval of the ProTalk Cv2, Model B1272D, for use on Verizon Wireless CDMA networks. The device integrates the Kyocera 200 module and combines real-time, CDMA wireless communication ability, auto dialing and alarm reporting with unmanned, remote industrial site monitoring.
Barnett Engineering Ltd.
Calgary, Alberta Tel: 800-268-2646 Web: www.barnett-engg.com
Control panels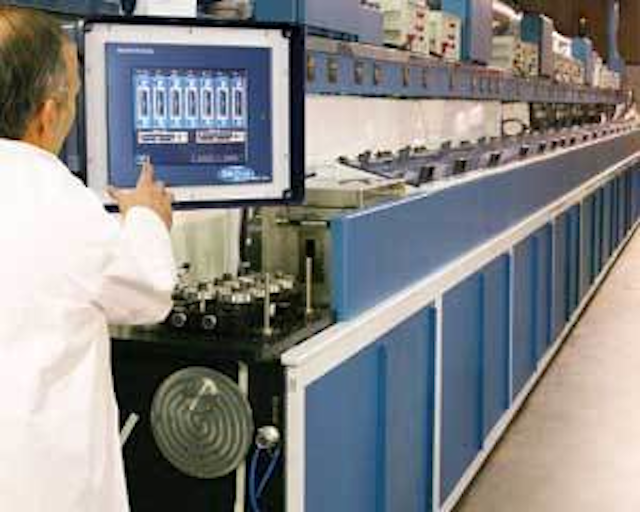 Click here to enlarge image
Custom engineered control panels that can be fully integrated and manufactured to match OEM or contractor project requirements are being introduced by Metfab Technologies. The control panels include human machine interfaces (HMI), the appropriate displays, enclosures, and mounting arms or devices, and all electrical and pneumatic fittings to match customer requirements.
Metfab Technologies Inc.
Warwick, RI Tel: 401-732-6677 Web: www.metfabtech.com
Remote monitoring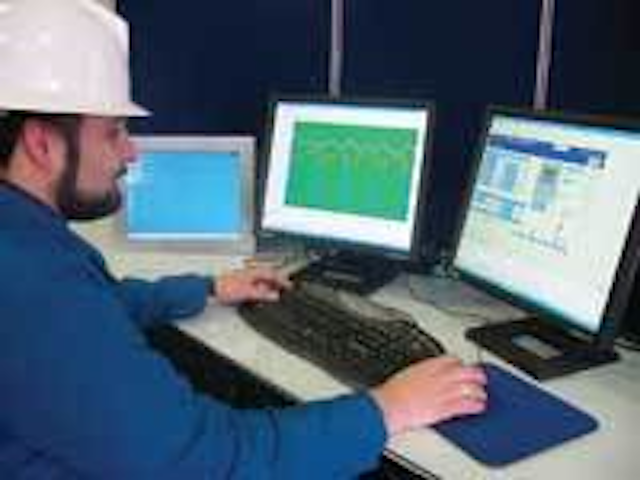 Click here to enlarge image
Bentek Systems' Hosted Remote Monitoring Internet SCADA Services (RMISS) allow its clients to monitor their remote sites over the Internet using a web browser or Internet client application. RMISS features full SCADA functionality including graphics, historical trending, reporting, alarm management, and multilevel security access.
Bentek Systems
Calgary, Alberta
Tel: 403-243-5135
Web: www.scadalink.com
Multi-purpose controller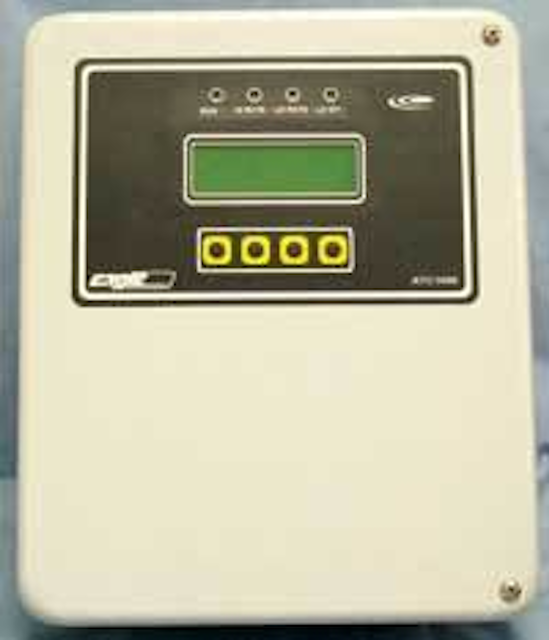 Click here to enlarge image
The new Eagle Microsystems ATC-1000 Multi-purpose Controller combines the ability to address a wide variety of process inputs with the ability to perform process control. The instrument is user configurable and provides up to four local LED status indicators. Process information is displayed on a 4-line x 20 character, backlit LCD display.
Eagle Microsystems Inc.
Pottstown, PA
Tel: 800-780-8636
Web: www.eaglemicrosystems.com
Turbidity monitoring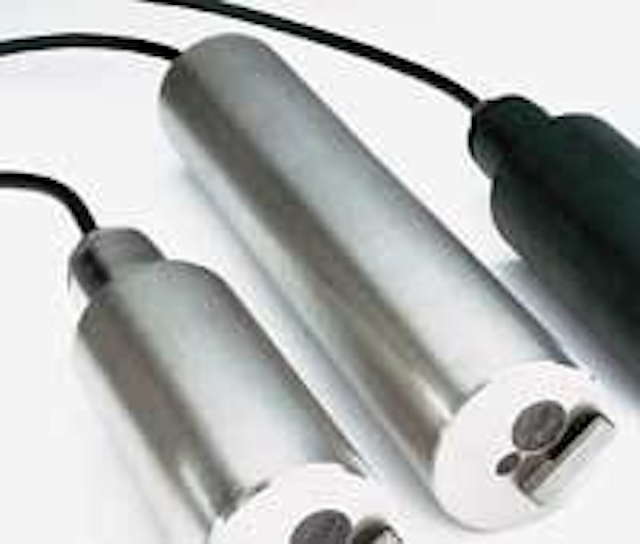 Click here to enlarge image
Hach Company has introduced its comprehensive selection of Solitax™ sc Turbidity and Suspended Solids Sensors and universal sc100 Controller. Together they provide on-line particulate and solids measurement. The sensors apply an industry-unique, color-independent measurement technique that eliminates repetitive calibration. Their performance and full data communication capability help improve process control and reduce treatment costs associated with polymer use, digester volume, and sludge handling.
Hach Co.
Loveland, CO
Tel: 800-227-4224
Web: www.hach.com
SCADA systems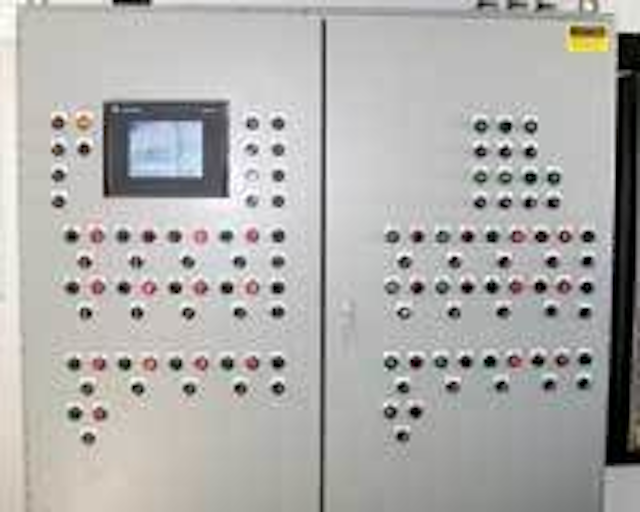 Click here to enlarge image
Aqua-Aerobic Systems offers design and development of electrical control panels and SCADA systems for wastewater treatment equipment and processes. Aqua SCADA systems offer features to optimize plant operations: a single point of control for plant-wide monitoring; detailed, dynamic graphics depicting equipment status and PLC command status; historical trending and logging of data; consolidated alarming for all SCADA accessed areas; remote access, upgrade capabilities for existing controls; and an optional electronic O&M manual.
Aqua-Aerobic Systems Inc.
Rockford, II Tel: 815-654-2501 Web: www.aqua-aerobic.com
Energy monitor
Click here to enlarge image
Schneider Electric has introduced the Square D® PowerLogic® CM4250 circuit monitor. Designed for energy-intensive businesses and power-sensitive processes, the monitor provides the tools to help maximize power quality and control energy-related costs. The monitor has advanced problem-solving features such as anti-aliasing filters that help eliminate false signals.
Schneider Electric
Palatine, IL Tel: 847-397-2600 Web: www.powerlogic.com
Modeling software
With Bentley SCADAConnect engineers and water modelers can link the company's WaterGEMS or WaterCAD with SCADA systems, creating real-time system simulators that boost confidence in hydraulic models as reliable decision-support tools. The system allows users to integrate operational and engineering modeling workflows, experience a tangible information systems ROI, make informed decisions with real-time modeling, create awareness of both information systems across their organizations, automate data entry workflows, troubleshoot past system problems, perform forensic performance analyses, and create continuously calibrated models.
Bentley Systems Inc.
Exton, PA
Tel: 800-727-6555
Web: www.bentley.com/SCADAConnect
Combustible gas sensor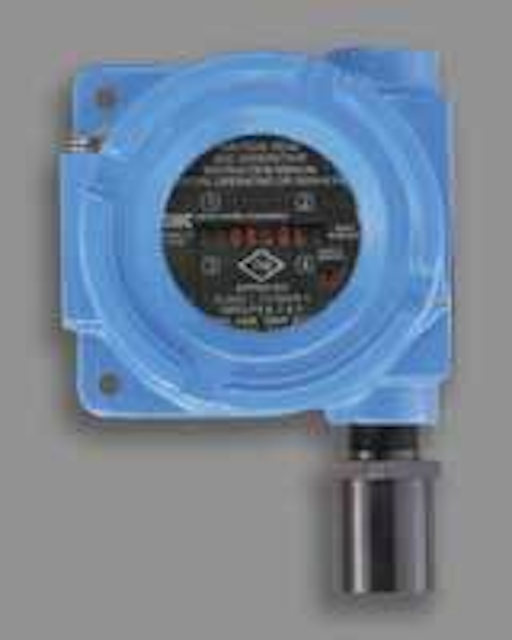 Click here to enlarge image
Sierra Monitor has introduced the Model 5100-02-IT, a catalytic bead Combustible Gas Sensor Module. The sensor module provides interface via 4-20 mA, Modbus RS-485 or the company's proprietary Sentry bus. This is the first catalytic bead module to provide the user with FM approved 180 day calibration interval to minimize maintenance requirements.
Sierra Monitor Corp.
Milpitas, CA
Tel: 800-727-4377
Web: www.sierramonitor.com
Telemetry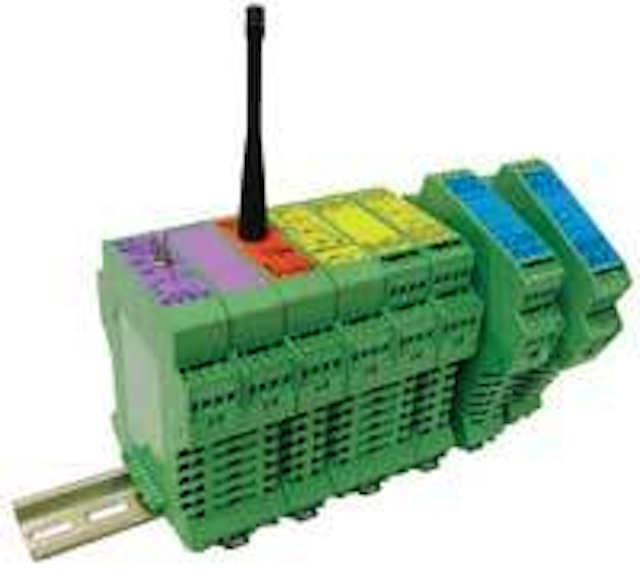 Click here to enlarge image
The Pribusin MTS series is a modular wireless telemetry system that is flexible and field expandable without any programming requirements. All modules feature an integrated power and data bus that makes assembly a 'snap'.
Pribusin Inc.
Ann Arbor, MI
Tel: 734-677-0459
Web: www.pribusin.com