City Selects Pressure-Driven Membrane System
Azusa, CA, will soon benefit from a recently launched pressure-driven membrane system.
May 1st, 2006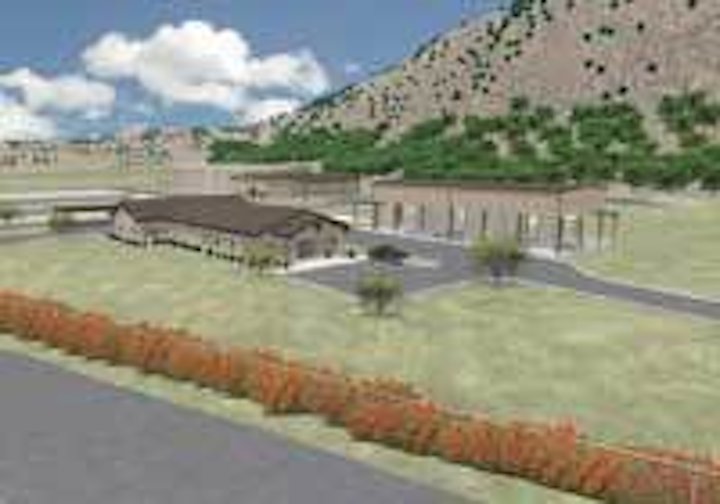 Azusa, CA, will soon benefit from a recently launched pressure-driven membrane system. The system optimizes footprint, energy use and system recovery, resulting in a lower cost per gallon of drinking water produced. The compact footprint and modular design permitted a turnkey approach, with final design completed by Black & Veatch in less than four months.
Azusa Light and Water owns and operates the Canyon Filtration Plant, a 7.5 mgd conventional treatment facility. The plant provides potable drinking water to the City of Azusa and several surrounding communities. The raw feed water quality to the plant varies depending on which of three source waters is used. Typically, turbidity ranges from 2.1 NTU to 16 NTU, with spikes up to 32 NTU. Color can vary from 3 CU to 10 CU, while organics are between 2 and 3 mg/L.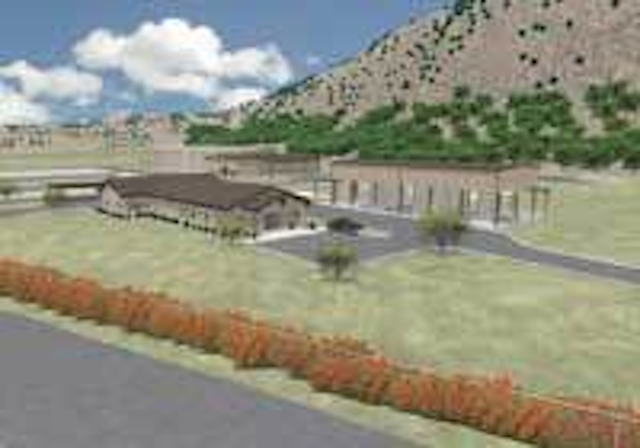 Aerial view from south end of the Azusa site.
Click here to enlarge image
Management determined that the facility's capacity would soon need to be increased to 12 mgd. To meet water quality and capacity requirements, the utility decided to build a new plant to replace the existing conventional plant. The new plant would need to be operational quickly to reduce overall system downtime and would need to be expandable to meet the future capacity goal.
The selected system from USFilter, part of Siemens Water Technologies, incorporates Memcor® membranes, which are able to achieve greater than 4-log removal of Cryptosporidium and Giardia and over 1.5-log virus rejection. The membrane system produces turbidity levels of less than 0.1 NTU more than 95 percent of the time, regardless of changing feed water conditions. Organic and color reduction of 10 percent is possible with no chemical addition; 50 percent is possible with chemical addition.
The high log removal values offered by the membranes have the added benefit of reducing required disinfection dosages and allowing the system to meet regulatory limits for disinfection by-products (TTHM and HAA5).
Membrane System
The system selected by Azusa Light and Water is a pressure-driven membrane system able to withstand pressure differentials up to 5 bar. This feature makes it an ideal technology for multiple uses, including gravity fed systems, treatment requiring coagulants, and pretreatment to reverse osmosis applications, such as desalination and reuse.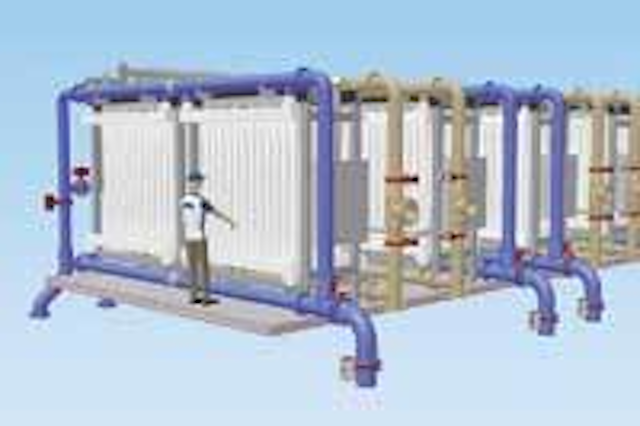 The new Memcor system uses 30 percent higher capacity membranes to maximize footprint.
Click here to enlarge image
The skid-mounted system features membrane modules that are 1.8 meters in length, resulting in 30 percent more surface area per module and thus reducing the plant's overall footprint.
The basic building block for this pressure-driven system is the membrane array. Each array contains up to 120 modules, each of which can be isolated. The system is designed to be flexible, allowing for alternate configurations of the arrays. Skids are built up around multiple arrays, allowing for up to 10 mgd in a single 40-foot skid, reducing capital and on-site installation costs.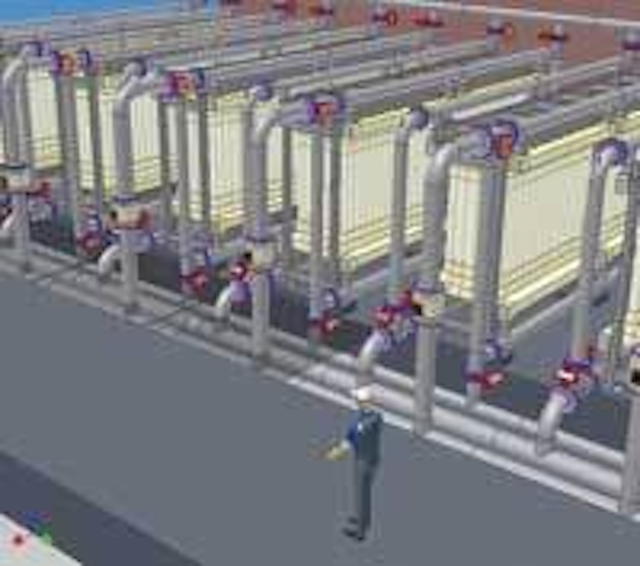 The modularity of the skid enabled the entire plant design to be completed in less than four months.
Click here to enlarge image
For Azusa, each of six skids will contain 132 modules, arranged in two 66-module arrays. Interchangeable steel frames that meet seismic 4 building code are supplied for each array and then bolted together to form a skid. Manifolds are then assembled on each end of the skid with interconnecting piping held on the skid frame. The end manifolds contain all required valves and instrumentation.
In the future, expansion can be accomplished in one of two ways. First, an array of modules can be added onto each skid. To do so, an end manifold would be removed, additional pipe headers installed and the same manifold reinstalled. In this expansion option, each new array need not mirror the initial array containing 66 modules, but can house the number of modules needed to reach the capacity goals (60 to 108 modules). Alternatively, an additional full skid can be installed to mirror the original skids. Since Azusa plans for expansion to 16 mgd, this was a key element in its design concept.
Operation
The system operates with a pressurized feed distributed among the 132 modules in each of the six skids. Water flows in an outside-in pattern across the membrane fibers from the shell side to the internal area, called the lumen. Any particle larger than 0.04 microns is retained on the fiber surface.
Compared to conventional systems, the footprint is greatly reduced. The total plant area of the current Canyon Filtration Plant is 45 percent larger than the new 12 mgd membrane plant footprint. The overall membrane area for the new facility is approximately 55 feet by 18 feet.
In comparison to other pressure membrane technologies, energy use will be reduced. The new system operates to a trans-membrane pressure of 22 psi, versus 30 to 40 psi for some pressure systems, yet achieves similar recovery and chemical cleaning intervals.
The backwash is fully automated and initiated at pre-set intervals, with the ability for operators to make modifications if required. An optimized backwash process using minimal air and water scours the membranes, removing solids that have built up on the fibers. Compared to other pressure membrane systems, the amount of air required for this operation is reduced by nearly 70 percent. Combined with lower trans-membrane pressures, the resulting overall energy savings is nearly 30 percent.
In comparison to submerged systems, waste generation is decreased by approximately 5 percent, resulting in an overall plant recovery of 98 percent. This increased recovery reduces disposal costs and/or the cost of second-stage recovery systems.
About the Authors
Steve Seffer is the water treatment plant operator for the Canyon Filtration Plant in Azusa, Calif. Ron Henderson is a vice president with Black & Veatch in Walnut Creek, Calif. Roger Kohne is a project engineer with Black & Veatch, also located in Walnut Creek. Lisa Sorgini is the global brand manager for the Memcor product line of USFilter, a part of Siemens Water Technologies, and is based out of Sturbridge, Mass.