PRODUCTS & SERVICES — WASTEWATER TREATMENT
The Envirex Diamond edition fine bubble membrane diffuser is custom formulated from an EPDM wastewater specific compound.
Jan 1st, 2006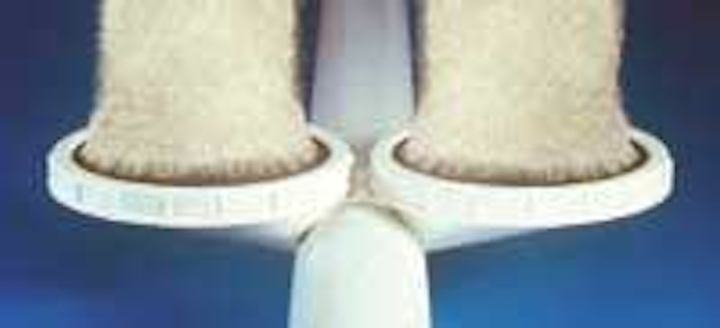 Membrane diffusers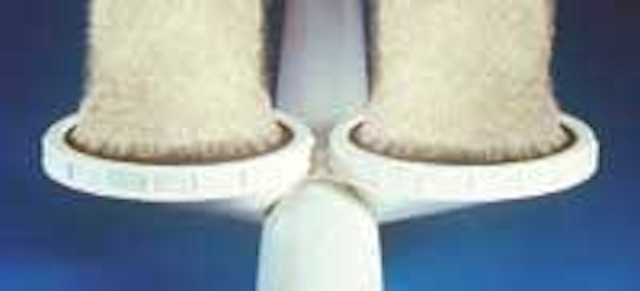 Click here to enlarge image
The Envirex Diamond edition fine bubble membrane diffuser is custom formulated from an EPDM wastewater specific compound. The tensile strength of this material is 50% greater than any current competitive alternative. Lower soluble oil content in the raw material means an extended life for the membrane, and lower operating costs. A new "Diamond Aperture Configuration" results in much higher oxygen transfer efficiency, as well as a wider operating airflow (up to 5 SCFM).
USFilter Envirex Products
Waukesha, WI
Tel: 262-547-0141
Web: www.usfilter.com
Process Control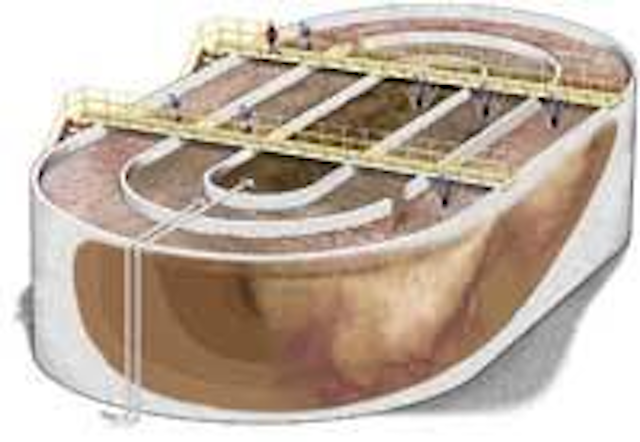 Click here to enlarge image
With designs up to 33 feet deep, the footprint of the Tri-Oval® oxidation system, available from Aeration Industries, is 30-50% smaller than a conventional ditch - a huge savings in land cost. Independently adjustable dual-function AIRE-O2 Triton® aerator/mixers provide improved process control allowing for Biological Nutrient Removal (BNR) of nitrogen and phosphorus within the Tri-Oval System.
Aeration Industries International Inc.
Chaska, MN
Tel: 800-328-8287
Web: www.aireo2.com
UV disinfection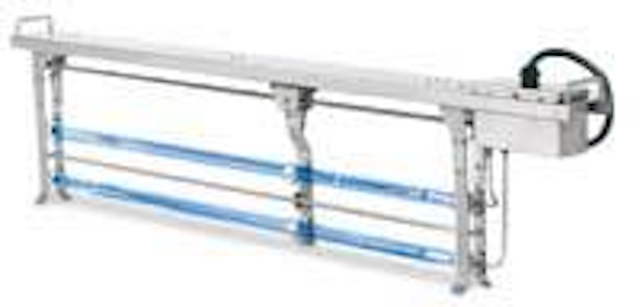 Click here to enlarge image
Calgon Carbon has launched the new C3500™ UV wastewater disinfection system. The system is the latest addition to the C3Series™ UV wastewater disinfection product line. Using powerful yet energy-efficient 500 watt lamps, the C3500 is designed for high-flow municipal wastewater applications as well as challenging combined sewer overflow (CSO), sanitary sewer overflow (SSO), and reuse applications.
Calgon Carbon Corp.
Pittsburgh, Pa
Tel: 412-787-6795
Web: www.calgoncarbon-us.com
Polymer control system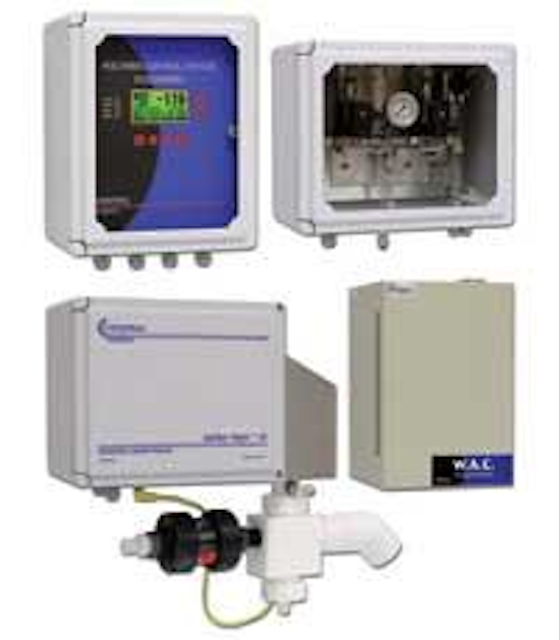 Click here to enlarge image
Chemtrac Systems' Polymer Control System model PCS5500 can help optimize polymer addition for liquid solids separation such as clarifiers, centrifuges, belt filter presses, rotary drum thickeners, dissolved air flotation, and gravity belt thickeners. The on-line instrument measures the net charge after the addition of polymer, i.e. sample stream of centrate/filtrate.
Chemtrac Systems, Inc.
Norcross, GA
Tel: 800-442-8722
Web: www.chemtrac.com
Chlorine control valve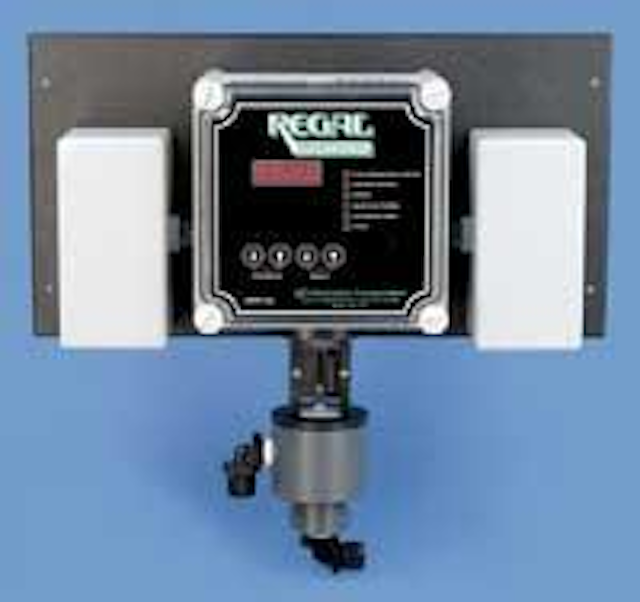 Click here to enlarge image
Chlorinators Inc. has introduced a new SmartValve™ to the Regal series 7000 product line. The Model 7009/7010 is designed for feedback (closed loop) control schemes. It can be configured for flow proportional control, residual only control, compound loop control, or feed forward dechlorination control. And it can be operated in four ways: Fully automatic, electric/manual, and two methods of manual.
Chlorinators Inc.
Stuart, FL
Tel: 800-327-9761
Web: www.regalchlorinators.com
Polymer blending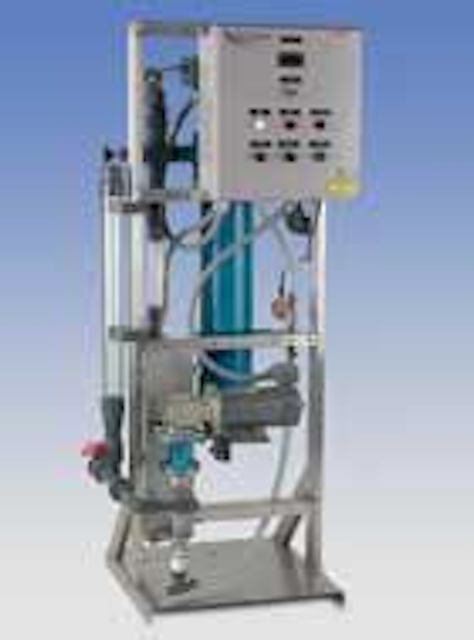 Click here to enlarge image
Fluid Dynamics offers the L Series dynaBlend™ polymer blending and activation system. The units feature diaphragm metering or progressing cavity pumps, plus a non-mechanical, high-energy polymer mixing chamber. Control options range from simple manual systems to fully instrumented PLC-based units with an unlimited variety of inputs and outputs. Standard units are available to provide activated polymer solution from 30 gph through 21,000 gph.
Fluid Dynamics Inc.,
a subsidiary of Neptune Chemical Pump Co.
Boulder, CO
Tel: 888-530-7300
Web: www.dynablend.com
pH testers
Designed for use in dirty water, heavy sulfides and organics, the double junction pHTestrs, available from Forestry Suppliers, provide reliable results. The pH electrode is easy to replace, and the increased reference gel volume assures long electrode life. The large LCD display shows mode, automatic temperature compensation, and battery level. The pHTestr 30 also displays temperature in °C or °F in addition to pH.
Forestry Suppliers Inc.
Jackson, MS
Tel: 601-354-3565
Web: www.forestry-suppliers.com
Double suction pumps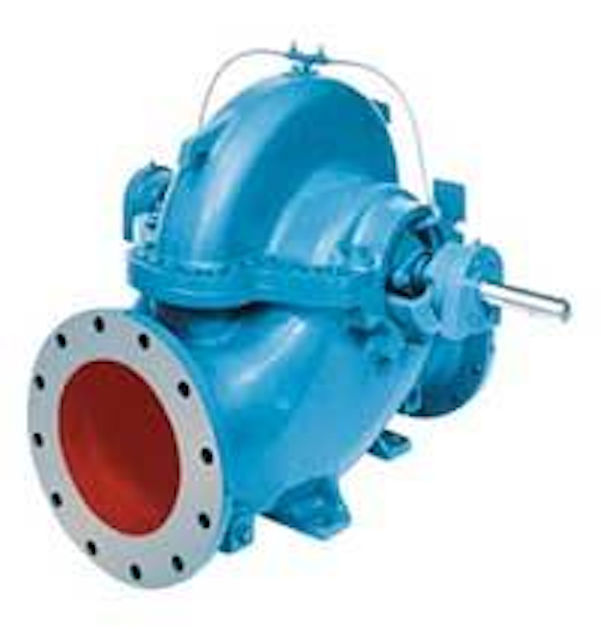 Click here to enlarge image
Goulds Pumps offers a line of single stage, double suction pumps for a wide range of municipal wastewater applications, including: high flow, low lift, raw water and wastewater. The 3400 Series features double suction impellers to assure hydraulic axial balance in low thrust bearing loads. The in-line suction and discharge flanges in the lower half casing simplifies piping.
ITT Goulds Pumps
Seneca Falls, NY
Tel: 315-568-2811
Web: www.gouldspumps.com
MBR modules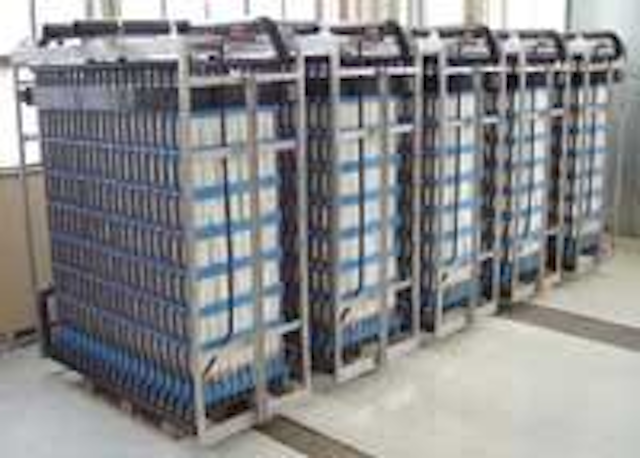 Click here to enlarge image
Koch Membrane Systems offers Puron® submerged membrane modules for membrane bioreactor (MBR) treatment of municipal wastewater. These advanced membrane modules significantly improve water quality while using less space than conventional alternatives. The Puron aeration system from KMS ensures optimal solids management, high flow rate and reliable operation, while using up to 50 percent less energy than other MBR systems.
Koch Membrane Systems Inc.
Wilmington, MA
Tel: 888-677-5624
Web: www.kochmembrane.com
Level transducer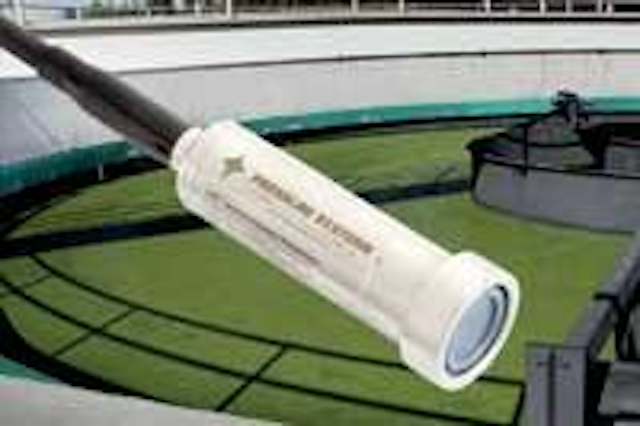 Click here to enlarge image
Pressure Systems Inc. has released a non-fouling level transducer featuring a wide Teflon®-coated sensing area. The new submersible Series 705 transducer provides reliable depth measurement under adverse conditions, making it ideal for highly viscous applications including lift stations, slurry, and pump control. The Series 705 incorporates a flush elastomeric diaphragm with a surface area of 0.90" to prevent clogging.
Pressure Systems Inc.
Hampton, VA
Tel: 800-678-7226
Web: www.pressuresystems.com/705.html
Blower packages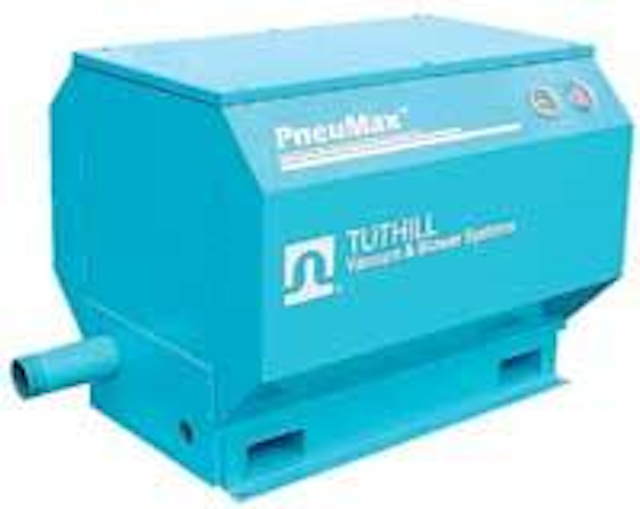 Click here to enlarge image
Tuthill Vacuum & Blower Systems has expanded its PneuMax™ line of low-noise rotary blower packages to include the model 6008 Competitor® Blowers. This expansion increases the flow capacity of the PneuMax line to the 800 cfm range, with operating pressures to 15 psig or vacuum levels to 16" Hg. In addition to the increase in flow, the motor offering has also increased to 60 hp to accommodate maximum pressures available with the blowers offered in packages.
Tuthill Vacuum & Blower Systems
Burr Ridge, IL
Tel: 800-825-6937
Web: http://vacuum.tuthill.com
Aeration system
Click here to enlarge image
Bio-Microbics recently introduced the LIXOR™ submerged aeration system, a device designed to provide aeration and mixing in a variety of wastewater applications. Low-cost pre-aeration, aeration, sweetening and mixing are just a few of its potential uses. Using a Venturi-type diffuser, individual or multiple units may be used as part of an overall wastewater plant design to help achieve desired treatment goals. Systems can be installed into new or existing basins and are equipped with a regenerative blower, the system's only moving part.
Bio-Microbics Inc.
Shawnee, KS
Tel: 913-422-0707
Web: www.biomicrobics.com
Chlorine residual analyzer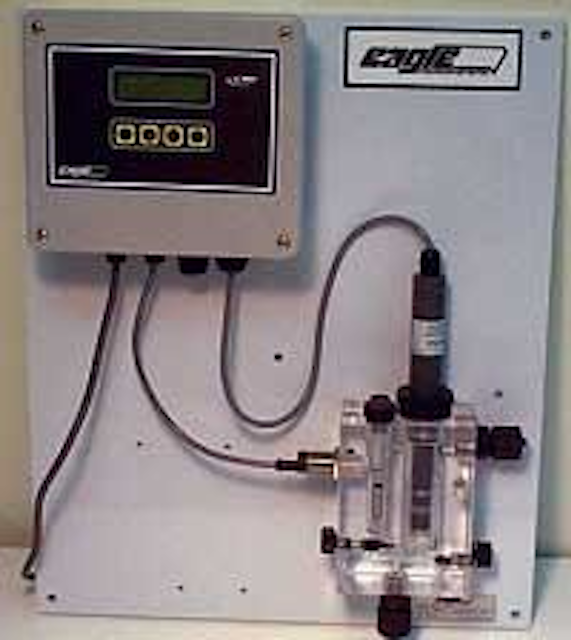 Click here to enlarge image
The new Eagle Model RP-1000 Chlorine Residual Analyzer provides the accuracy of amperometric measurement with the convenience and reduced maintenance of a probe-type device for reduced installation and maintenance costs and simplified system startup. The measuring element is an amperometric membrane probe which can be provided for measurement of either free or total chlorine residual.
Eagle Microsystems Inc.
Pottstown, PA
Tel: 800-780-8636
Metering pumps
Metering pumps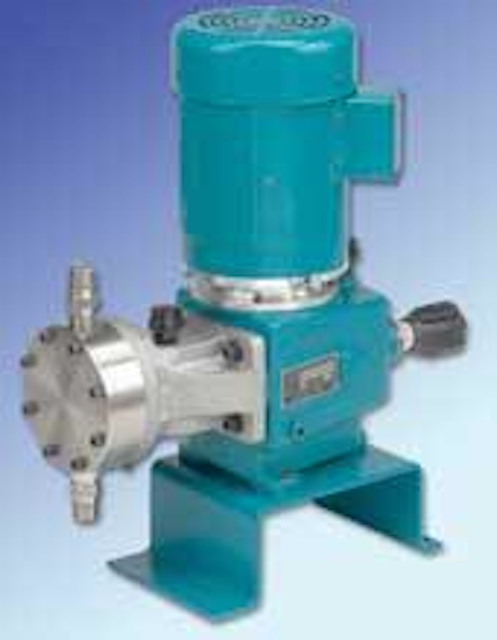 Click here to enlarge image
Neptune Chemical Pump Co. has broadened its line to include the new Series 7000 mechanically actuated diaphragm metering pumps. The pumps are able to handle viscosities in excess of 5,000 cps and can pump chemicals that off-gas (sodium hypochlorite) without binding. All models in the line are self-priming and provide suction lift to 20 feet.
Neptune Chemical Pump Co.
Lansdale, PA Tel: 888-363-7886 Web: www.neptune1.com
Wastewater grinders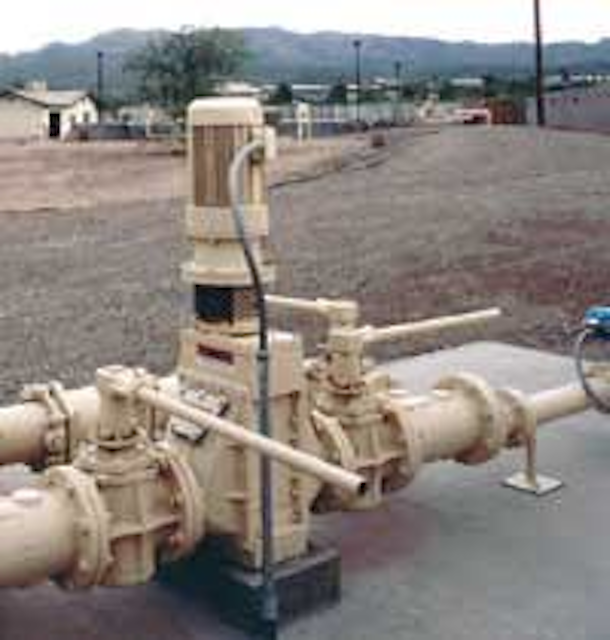 Click here to enlarge image
Sewer Chewer® Severe-Duty Grinders from Yeomans Chicago are designed for solids size reduction and conditioning in wastewater treatment and sludge handling processes. The grinder's twin shaft arrangement and patented cutter design have low head-loss characteristics. Tungsten carbide mechanical seals are standard. TEFC gearmotors are standard; Explosion-Proof and Submersible (IP-68, FM Listed) are also offered as standard options.
Yeomans Chicago Corp.
Aurora, IL
Tel: 630-236-5500
Web: www.yccpump.com
Granular algaecide
GreenCleanPro Granular Algaecide®, a BioSafe Systems product, is an environmentally safe approach for treating retention, setting, polishing, and aeration ponds or lagoons found in industrial and municipal wastewater facilities. The sodium carbonate peroxyhydrate formulation of this granular algaecide offers algae control and suppression capabilities for a wide range of applications. The product assists in reducing algae-related suspended solids levels, while improving operations in wastewater plants. It can be applied as a granule or dissolved into solution.
BioSafe Systems LLC
Glastonbury, CT
Tel: 888-273-3088
Web: www.biosafesystems.com
Wastewater tablets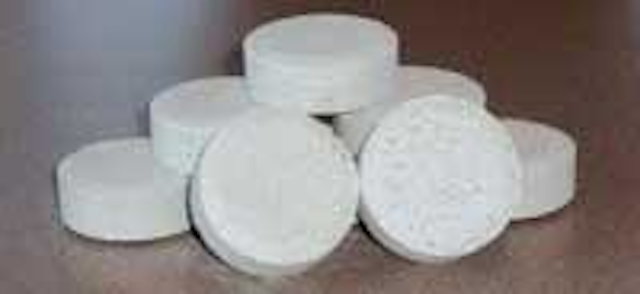 Click here to enlarge image
Cellinite Technologies offers the patented Cellinite BioTabs™ Wastewater tablets. The tablets can be used to directly address odor issues and other problems at a wastewater facility. The tablets help supersaturate the wastewater with oxygen, nutrients, and buffers to create an environment for aerobic bacteria.
Cellinite Technologies
Needham, MA Tel: 781-453-2233 Web: www.biotabs.net
Anaerobic gas storage
Click here to enlarge image
The Dystor® gas holder is an anaerobic digester cover suitable for use on primary and secondary digesters. This manufacturer installed, dual membrane system is able to use the entire water depth for solids storage, as well as operate at variable operating pressures.
USFilter Envirex Products
Waukesha, WI Tel: 262-547-0141 Web: www.usfilter.com
Belt filter presses
Phoenix Process Equipment has announced an expanded line of Model WX Belt Filter Presses. The basic Model WX configuration includes a fully welded mainframe, oversized bearings, and unique corrosion protection features. The number of pressure rollers required depends on the sludge or slurry characteristics. Belt width is available in several increments up to three meters.
Phoenix Process Equipment Co.
Louisville, KY
Tel: 502-499-6198
Web: www.dewater.com
Vortex pumps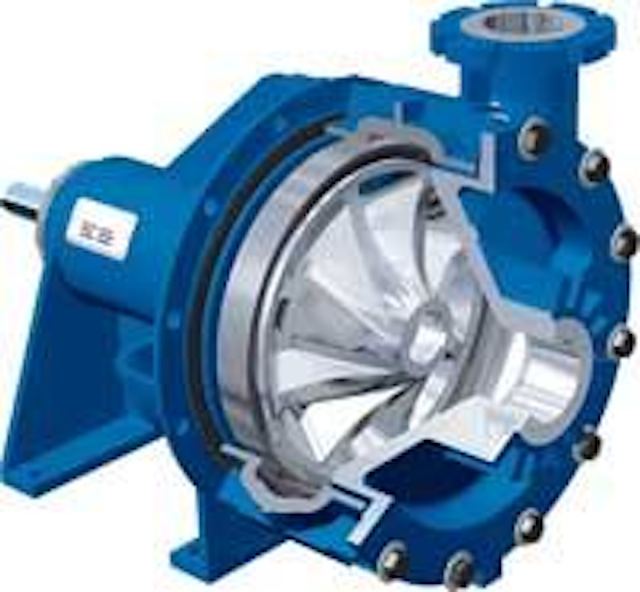 Click here to enlarge image
Suited for grit applications with higher concentrations of solids and sludge, the Fairbanks Morse line of hard metal vortex pumps handles flows from 50-3000 gpm, and heads to 200 feet using a fully recessed impeller. Standard shaft sleeves are stainless steel, with options in Ni-Hard and ceramic to promote extended service life in highly erosive applications.
Fairbanks Morse Pump
Kansas City, KS
Tel: 913-371-5000 Web: www.fmpump.com
Progressing cavity pump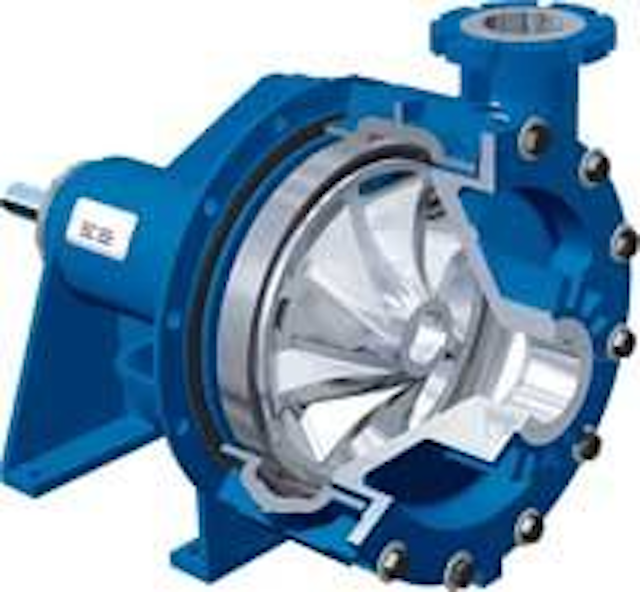 Click here to enlarge image
The Moyno® 600 Series Progressing Cavity Pump is a positive displacement, general utility pump that can handle an extensive range of applications from clean, clear liquids to viscous, abrasive fluids. The pumps include an elastomeric tube stator that delivers high volumetric efficiency in low as well as high pressure applications. The tube-type stator design permits additional length to be added, increasing pressure capabilities.
Moyno Inc.
Springfield, OH
Tel: 877-486-6966
Web: www.moyno.com
Drying systems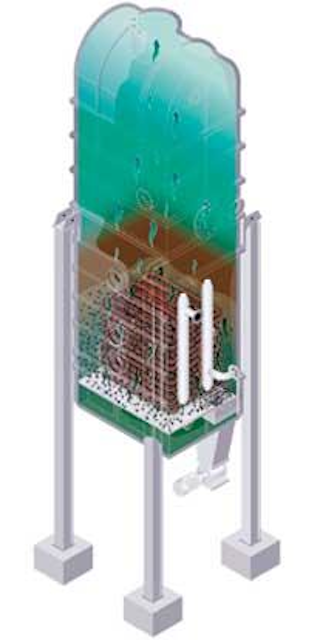 Click here to enlarge image
Schwing America's Material Handling Division recently introduced Fluid Bed Drying Systems for municipal applications. This indirect-heated, closed-loop system for granulation, drying and cooling of municipal biosolids produces a Class 'A' reusable product. As wet material is fed directly into the dryer, the system automatically accommodates fluctuations in incoming dry solids content without blending or pre-conditioning the material.
Schwing America Inc.
White Bear, MN Tel: 651-429-0999 Web: www.schwing.com
Online turbidimeter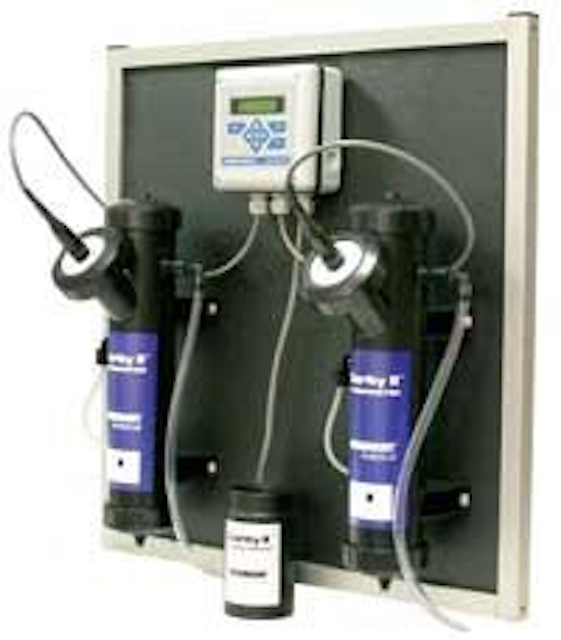 Click here to enlarge image
The Rosemount Analytical Clarity II Online turbidity system from Emerson Process Management allows drinking water and wastewater treatment facilities to comply with both EPA and ISO regulations for measurement of water clarity. The system includes a single or dual input analyzer, an optical sensor, a measuring/debubbling chamber and all accessories needed for 'plumb and play'™ installation.
Emerson Process Management
Rosemount Analytical Liquid Division
Irvine, CA
Tel: 800-854-8257
Web: www.rauniloc.com/new/clarity