PRODUCT SHOWCASE
Municipal Filtration Co. has introduced the Muni-DiskTM cloth media filter.
Aug 1st, 2006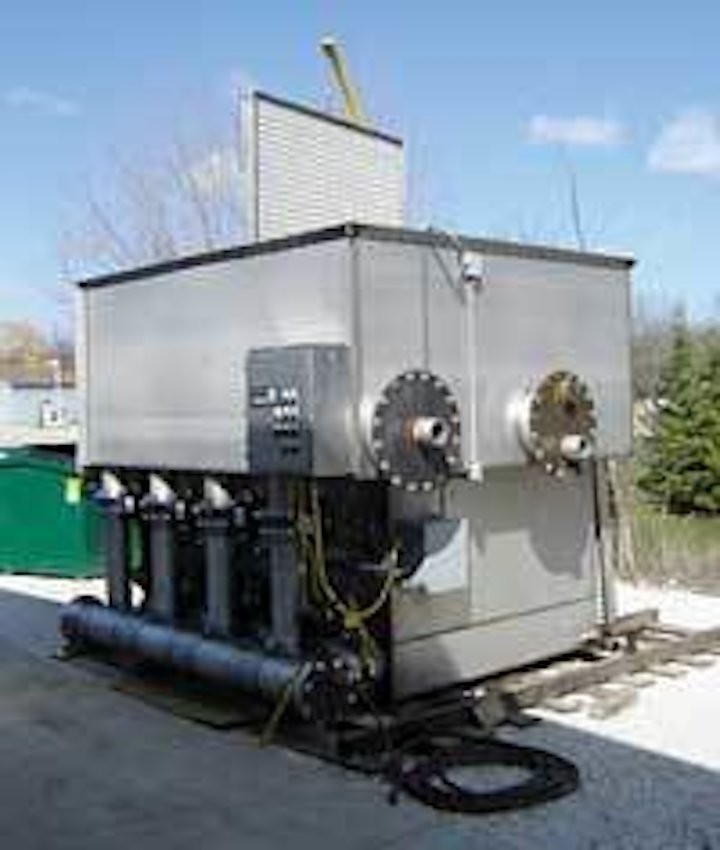 Cloth media filter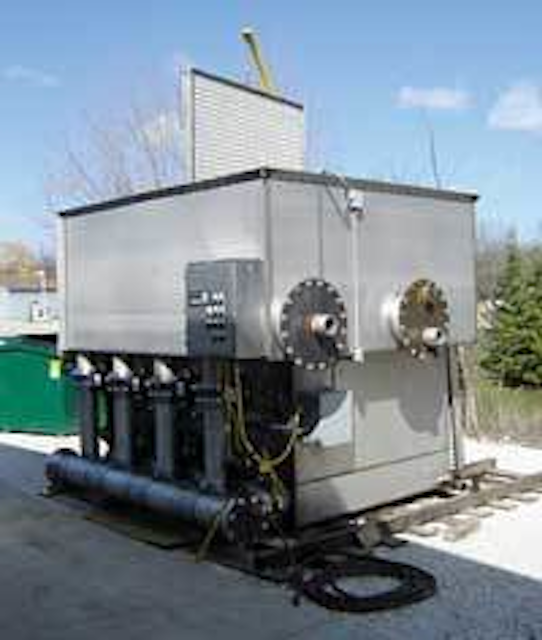 Click here to enlarge image
Municipal Filtration Co. has introduced the Muni-DiskTM cloth media filter. The filter is designed to follow municipal activated sludge and SBR facilities, providing tertiary wastewater treatment in a compact, efficient package. The systems use a combination of differential head and a series of simple open-close valves to provide wastewater filtration and backwash flow control. Vertically placed cloth media panels reduce equipment footprint. Pumps, drive motors, chain gears, high-pressure spray bars, backwash and sludge manifolds, and mechanical wear items are all eliminated.
Municipal Filtration Co.
Madison, WI Tel: 608-240-8987 Web: www.municipalfiltration.com
Ultrasonic flow meters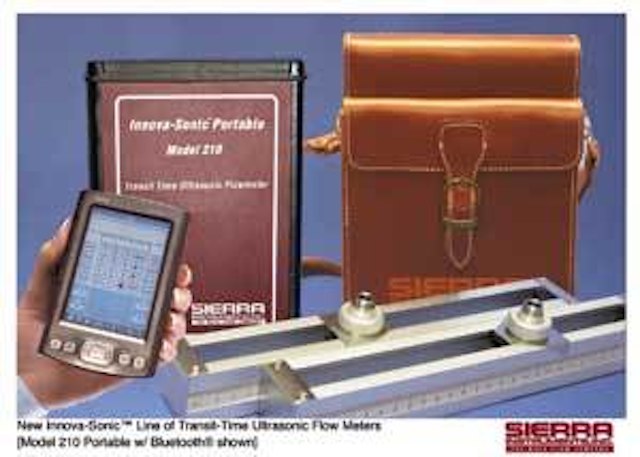 Click here to enlarge image
Sierra Instruments steps into the Ultrasonic Flowmeter market with the release of its new Innova-SonicTM Ultrasonic Flowmeter product line. The meters are universal transit-time instruments incorporating the latest advances in digital signal processing. The portable version features a Bluetooth® wireless PDA interface. The flow meter is also available with fixed display readout in a choice of either clamp-on or insertion transducers. While principally designed for clean liquid applications, the device is tolerant of liquids with small amounts of air bubbles or suspended solids. The instrument can be configured via keypad without any additional programming devices and is packaged in a die cast NEMA 4X (IP65) housing.
Sierra Instruments Inc.
Monterey, CA
Tel: 800-866-0200
Web: www.sierrainstruments.com
Progressive cavity pumps

Click here to enlarge image
seepex progressive cavity pump universal joints are now available with ratings to 360 psig. This allows the pumps to be used on applications with high suction heads, low NPSHA applications with reverse rotation (common in vacuum condensation or suction lift applications) or in vertical pumps where the joints are exposed to the rated discharge pressure of the pumps. A new proprietary technology allows the joints to be hydraulically balanced and reinforced against implosion from high pressures. The joints are long lasting because they are positively sealed with an elastomer cover and two holding bands and lubricated with high temperature grease especially formulated for this service.
seepex Inc.
Enon, OH
Tel: 937-864-7150
Web: www.seepex.com
Water quality monitoring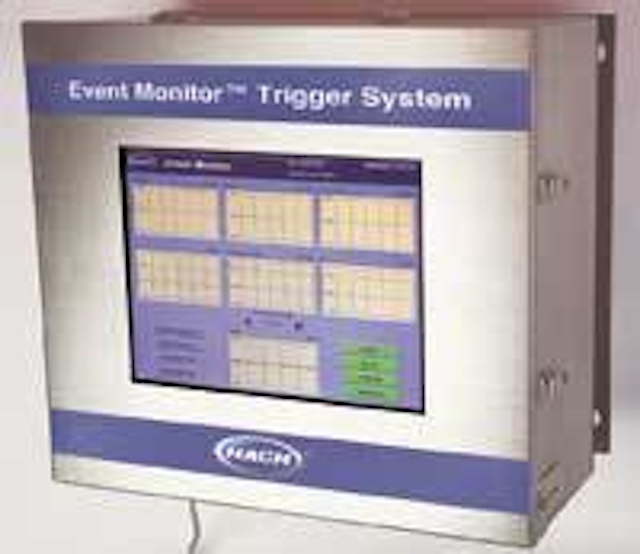 Click here to enlarge image
The Hach Homeland Security Technologies division has been issued a patent for the proprietary analytic technology in its Event MonitorTM Trigger System - the diagnostic software for Hach's water distribution monitoring system. The patented technology - which analyzes deviation vectors in water parameters - is the first of its kind to be applied to water quality monitoring. The EPA-funded ETV testing program has verified the technology is able to detect, alert and classify a wide variety of contaminants as well as detect, alert, classify and learn real-world events in water distribution systems.
Hach Homeland Security Technologies
Loveland, CO
Tel: 800-604-3493
Web: www.hach.com
Electromagnetic meter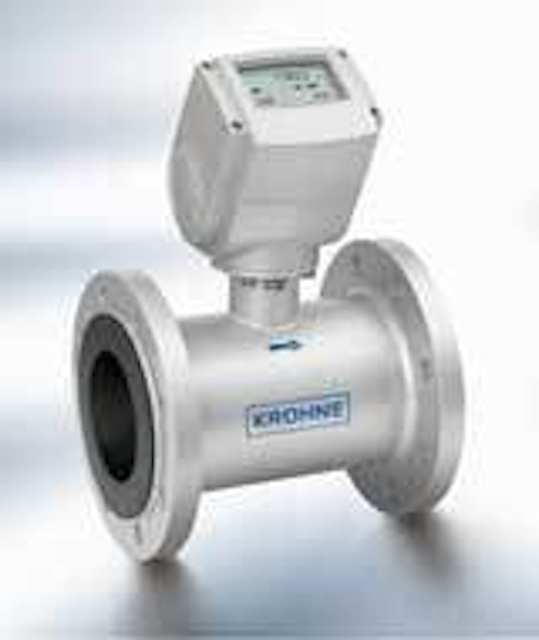 Click here to enlarge image
Krohne's new Waterflux electromagnetic water meter has a high sampling rate and long battery life. This GSM-capable water meter can remotely transmit flow rate readings using the Internet or cellular telephone. It is designed for use in traditionally problematic applications, such as water with suspended particles, bi-directional metering, or flow metering for pipe sizes larger than DN50. Its unencumbered measuring path offers reduced pressure drop and long-term stability. The meter features a built-in module that includes a data logger and a GSM transmitter designed especially for use in remote pipes or shafts. The data logger stores all flow data, including peak values and low flow rates during nighttime operation.
Krohne Inc.
Tel: 800-356-9464
Web: www.krohne.com/northamerica
Remote automation
Remote automation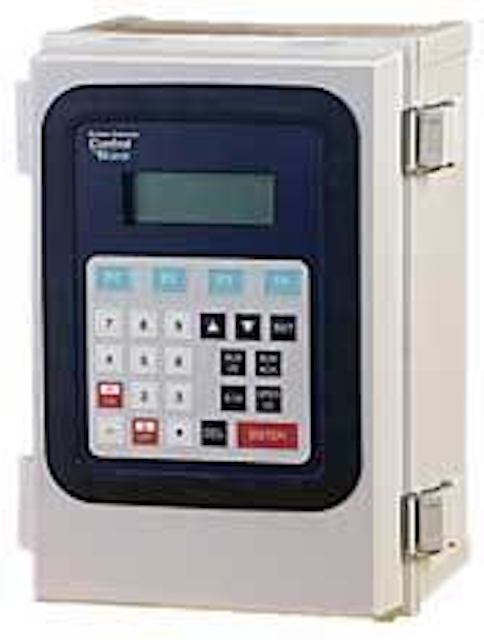 Click here to enlarge image
Expanding its recently acquired Bristol® ControlWave® remote automation technology, Emerson Process Management has introduced the ControlWave ExpressPAC, an integrated pre-engineered package solution that combines the new ControlWave Express RTU with a variety of options commonly required in SCADA applications. ControlWave is a flexible remote automation system based on worldwide industry standards for programming and communications. It combines technologies provided by PLC, RTU and automation architectures into a Hybrid system well suited to remote applications.
Emerson Process Management
St. Louis, MO
Tel: 512-832-3089
Web: www.emersonprocess.com
Peristaltic tubing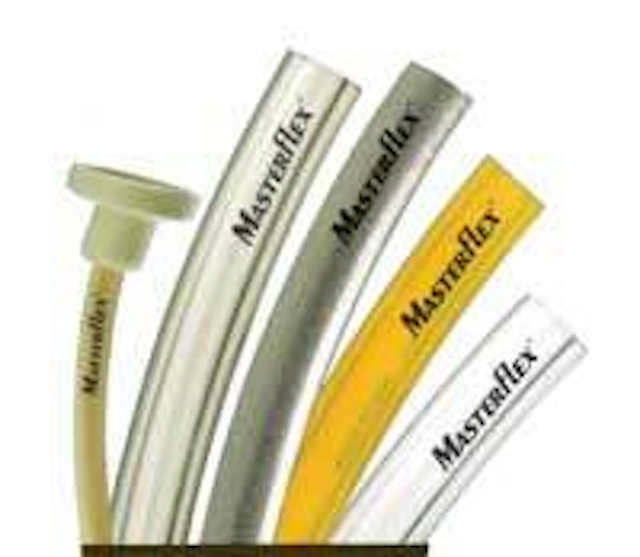 Click here to enlarge image
Barnant Norprene® Potable Water Tubing has received NSF 61 certification for contact with potable water and/or potable water treatment chemicals. The peristaltic tubing is available in both standard and high pressure formulations and a large selection of sizes to meet the service requirements of the specific pump and application. Precision extruded to meet exacting tolerances, the tubing exhibits characteristics ideal for both chemical dispensing and continuous water sample delivery in potable water treatment, including superior shape memory throughout its life in the pump, little cross-sectional distortion over time, and minimal variation in flow over time.
Barnant Co.
Barrington, IL
Tel: 800-637-3739 Web: www.barnant.com
Micro-fiber filter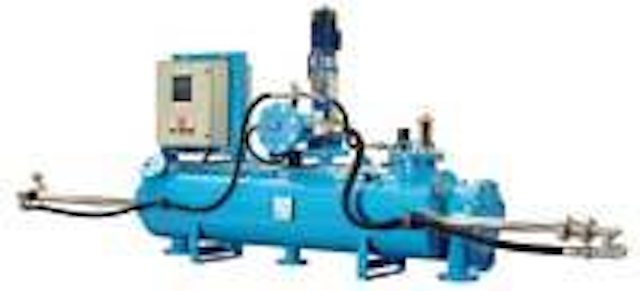 Click here to enlarge image
Amiad Filtration Systems has released its next generation thread technology filter, the AMF2-93K. It is an automatic, self-cleaning, string-wound, Micro-fiber filter. This model is added to the established larger unit, the AMF2-370K (formerly known as the MTG). With its new cassette design and thread windings the new filter offers removal efficiency of suspended matter down to 3 microns. It is capable of handling up to 220 gpm and its operating pressure is up to 150 psi. The permanent cassettes, located inside the filter, are tightly wound with multiple layers of high strength polyester thread serving as both a surface strainer and in-depth filter. The filter is designed for smaller flow rate applications in desalination, drinking water treatment plants, tertiary wastewater treatment, and pre-filtration.
Amiad Filtration Systems Ltd
Oxnard, CA
Tel: 800-969-4055
Web: www.amiad.com