WEFTEC.16 Show Preview
The 2016 Water Environment Federation Annual Technical Exhibition and Conference (WEFTEC.16) - considered the largest annual water quality event in the world - will take place Sept. 24-28 at the Morial Convention Center in New Orleans, La.
Sep 1st, 2016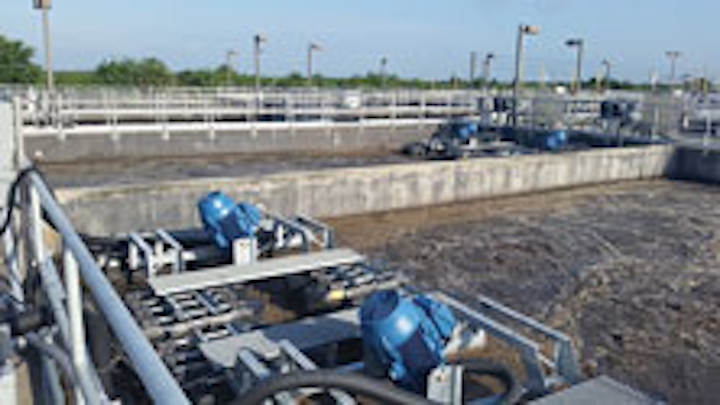 The 2016 Water Environment Federation Annual Technical Exhibition and Conference (WEFTEC.16) - considered the largest annual water quality event in the world - will take place Sept. 24-28 at the Morial Convention Center in New Orleans, La.
The 89th annual conference is expected to draw more than 20,000 attendees and will feature 29 workshops, 16 mobile sessions on the exhibit floor, nine local facility tours, and 130 technical sessions. More than 1,000 companies will showcase the latest in water technology solutions during the 5-day event. A Stormwater Congress and Pavilion, along with an Innovation Showcase Pavilion, will round out the program.
On Monday, Sept. 26, the Opening General Session, titled "Creating the Future of Water," will feature a keynote address from Joe Whitworth, president of The Freshwater Trust, a non-profit organization that protects and restores freshwater ecosystems through science, technology, and incentive-based solutions. The conference kicks into high gear after that, with workshops and technical sessions.
Workshops are presented in an in-depth, hands-on format and will cover topics such as industrial water issues and treatment technologies; municipal wastewater treatment process and design; facility operations and maintenance; energy/residuals and biosolids management; collection systems; watershed resources management and sustainability; and utility management and leadership; among others.
Technical sessions will focus on research and innovation; industrial issues and treatment technologies; facility operations and maintenance; municipal wastewater treatment process and design; residuals and biosolids management; collection systems and distribution; water reclamation and reuse; and utility management and leadership; to name a few. Other topics include anaerobic treatment and resources recovery, innovations in regulations, and urban resiliency planning.
Facility tours, which require additional registration and admission fees, are an opportunity to observe active projects, construction, and/or operations at sites around New Orleans. Licensed professionals may also earn contact hours for attendance at one of these off-site events. (For information on earning up to 1.2 continuing education units or 16.5 professional development hours at the show, visit www.weftec.org/program.) Participating local facilities include St. Bernard Parish Munster Wastewater Treatment Plant, Sewerage and Water Board of New Orleans, St. Tammany Parish Timber Branch II & Del Sol Stormwater Pond, Ascension Parish Marvin Braud Pump Station, and a sustainable design tour with Make it Right's Lower 9th Ward Neighborhood.
The Innovation Showcase will include exhibits, educational sessions, and networking events covering innovation trends in the market, financial innovation and investment prospects, opportunities for piloting and partnering with new technology companies, and innovation in regulations. The Pavilion features a selection of early- and growth-stage companies recognized by BlueTech Research, Imagine H2O and the WEF Innovative Technology Awards. Winners of several innovative product awards will display their products with brief presentations on innovative technologies and problem solving in this area of the exhibit hall.
Likewise, the Stormwater Pavilion and Theater will showcase the latest in stormwater management products and services. Educational programming, including award-winning solutions to stormwater challenges, new ideas and tools will be on display as part of the Stormwater Congress program, which brings stormwater professionals from around the world together. The Stormwater Congress encompasses all pressing aspects of stormwater management in three concurrent sessions covering such topics as stormwater regulations and policies, flood impacts and mitigation, stormwater and transportation systems, green infrastructure benefits, funding and financing challenges in stormwater, and more.
WEFTEC Exhibition
The exhibit floor will showcase a variety of water and wastewater services and technologies related to biosolids and sludge; contract operations; engineering and consulting; instrumentation, controls and automation; pipe and collection systems; pumps, valves and motors; drinking water treatment equipment; and more. The following pages contain a sneak peek at some of the products and services that will be on display in New Orleans this month. For more information on WEFTEC, visit www.weftec.org.
Exhibit Floor Hours
Monday, Sept. 26 8:30 a.m. - 5 p.m.
Tuesday, Sept. 27 8:30 a.m. - 5 p.m.
Wednesday, Sept. 28 8:30 a.m. - 5 p.m.
Aeration solutions
Aeration Industries International combines engineering expertise with patented technologies to develop reliable, customized wastewater treatment solutions worldwide. The product line features the Aire-O2 Triton® TR Series aerator/mixer and the Aire-O2® Antifouling Aspirator, which help to solve the most challenging industrial and municipal wastewater treatment needs.
Aeration Industries
Booth 1719
Polyethylene tanks and containers
Assmann Corporation has a full line of corrosion- and chemical-resistant tanks and containers in capacities up to 12,000 gallons. Constructed from virgin high-density crosslink or FDA-compliant linear polyethylene, the tanks and containers are used to store and transport corrosive and hazardous materials. They provide low temperature impact resistance, are UV-stabilized and come in wide range of capacities and colors. Custom rotational molding, accessory fittings and custom colors are available. Tanks that are NSF certified include vertical storage, cylindrical horizontal, free-standing horizontal leg, double wall, open top, industrial mini-bulk and industrial mini-drum tanks and models ICB and OTCB conical bottom storage tanks.
Assmann Corporation of America
Booth 2657
Advanced metering
BEACON® Advanced Metering Analytics (AMA) from Badger Meter combines the intuitive BEACON AMA software suite with proven ORION® AMI technology giving water utilities greater visibility and control over utility management. BEACON AMA uses a managed solution approach - plus fixed and cellular networks - to deliver a simple yet powerful end-to-end solution. Built-in infrastructure management services and a flexible system design eliminate maintenance and technology concerns.
Badger Meter
Booth 4528
Ammonia system
The Q46N Free Ammonia Monitor from ATI is designed for the continuous measurement of free ammonia, total ammonia, and monochloramine in potable water. It is intended for monitoring chloraminated water to minimize the amount of excess ammonia in the system. The Q46N provides continuous, real-time updates for better process control, and utilizes a simple chemical system with inexpensive reagents.
Analytical Technology Inc.
Booth 7239
Cloth filtration
The AquaPrime cloth media filtration system from Aqua-Aerobic is an economical and efficient solution for primary wastewater treatment and wet weather applications. It utilizes a disk configuration and exclusive OptiFiber® cloth media to filter screened, de-gritted, raw municipal sewage. Features allow the system to handle high solids applications and sustaining low effluent TSS, making it ideal for both wet weather treatment and primary treatment in lieu of conventional sedimentation systems. It operates in less than 10% of the footprint of conventional primary settling basins and offers the added advantage of improving gas production in the anaerobic digestion system.
Aqua-Aerobic Systems
Booth 829
Compact, modular online analysis system
The Type 8905 Online Analysis System from Bürkert is a modular system for monitoring all important water parameters on one platform. It is a multichannel, multifunction unit for the Bürkert sensor cubes and electronic modules from the efficient device integration platform (EDIP), which allows high flexibility by using modularity in the hardware as well as in the software of the system. The device offers continuous measurement of high-priority water parameters such as: pH; chlorine; conductivity; ORP; turbidity; and temperature.
Bürkert
Booth 541
Biogas blower
Aerzen Biogas Blowers are specially designed for digester gas applications. These blowers ensure process safety and reliability. Choose from a variety of sizes with intake volume flows of 50 to 1,500 icfm and positive pressure up to 15 psig.
Aerzen
Booth 7339
Check valve
The ProFlex™ Style 790 Check Valve from Proco Products allows for passive flow operation that requires zero energy and relies on differential pressure only. The Style 790 valve features a flexible cuff on the inlet and discharge of the valve body, which allows for quick and easy installation. This valve is ideal for municipalities, farmers, railway washouts and highway flood damage prevention.
Proco Products
Booth 3019
Smartphone accessibility
Every day you use mobile technology, but how often do you use your smartphone or tablet to monitor your process and ensure operations are running smoothly? If you can't currently use your smartphone or tablet to quickly view your process, Canary's Axiom solution can help. Axiom is a multi-platform visualization tool that transforms time-series process data into usable information through trending and dynamic KPI displays. Canary's Axiom puts your process at your fingertips, anytime, anywhere.
Canary Labs
Booth 8046
Coating solutions
With decades of experience and a commitment to innovation, PPG Protective & Marine Coatings has developed a complete range of proven coating solutions to protect assets in the world's most challenging conditions.
PPG Protective & Marine Coatings
Booth 4755
Water conservation
OCV's control valves are designed to get the most out of resources without wasting a drop. Standard design advantages create drip-tight Class VI closure, and flow and pressure stability, preventing water loss and system-damaging surges. The Series 22 Electronic Control Valves offer more advanced control and water savings by allowing supply facilities to vary pressures and/or flow based on external factors such as time of day.
OCV Control Valves
Booth 6246
Tanks and covers
CST Industries has installed over 350,000 tanks and 18,000 covers in over 125 countries. CST is a dynamic combination of the world's leading factory-coated steel tank and aluminum cover companies and is home to world-class brands including Aquastore®, HydroTec® (formerly Columbian TecTank®) and OptiDome® (formerly Temcor and Conservatek). CST tanks, domes and flat panel covers are manufactured in the United States in ISO-certified manufacturing facilities and are supported around the world by dedicated service and support teams.
CST Industries Inc.
Booth 3616
Insertion magmeter
The new ISM 5.0 Insertion Magmeter from Greyline accurately measures flow of conductive liquids in full pipes. It installs through a tap in the pipe wall and works on a wide range of pipe sizes. The dual-electrode sensor and continuous auto-zero function provides high accuracy even at low flow rates. The ISM 5.0 sensor can be easily installed in new pipe systems or by hot tap in pressurized pipes with flowing liquids. There are no moving parts so obstruction to flow and pressure drop is minimal. Installation through a full port ball valve allows easy retraction and reinsertion without shutting down flow.
Greyline Instruments Inc.
Booth 1301
Pipe remediation
The Cretex/Hydratite Internal Pipe Joint Sealing System is a mechanical, trenchless remediation solution for leaking pipe joints consisting of a rubber seal that spans the joint and is held in place by stainless steel bands on either side of the joint. The retaining bands are hydraulically expanded and locked in place, eliminating all possibilities of infiltration, exfiltration or soil migration. These seals can be fitted into irregular shaped conduits and may be used as end seals on CIPP projects.
Cretex Seals
Booth 1319
Non-contact radar
Endress+Hauser's Micropilot FMR10 and FMR20 non-contact radar devices measure the level and open channel flow of liquids by emitting continuous microwave signals. The Endress+Hauser-invented, direct-emitting radar chip allows for a compact design, giving the devices the ability to fit in applications with limited space. Additional features include a full hermetically sealed PVDF body, ingress protection class IP66/68/NEMA4x/6P, and large variation for process connections. The FMR10 and FMR20 allow for remote commissioning and operation from a safe and convenient location via HART (FMR20 only) or wirelessly via the SmartBlue Bluetooth app.
Endress+Hauser
Booth 3745
Flow control solutions
VAG will showcase flow control solutions like the ECO-Centric® Plug Valve with field-adjustable packing, the RIKO® Plunger Valve, the DUOJET® Combination Air Valve, and Series 800 and EKN® AWWA Butterfly Valves at WEFTEC 2016. The company will also introduce the ACV-Valve and Klamflex® Dismantling Joint.
VAG
Booth 7825
Prestressed concrete tanks
Wastewater facilities have their own particular set of storage management needs and requirements. DN Tanks has designed and constructed all types of wastewater storage and process systems with a proven record for building digesters, primary and secondary clarifiers, sludge storage tanks, equalization tanks and more. Some are buried or partially buried to support the facility's operation systems or simply for aesthetic reasons.
DN Tanks
Booth 7229
Disinfection safety
Maximize the safety of your chlorine disinfection system by using a ton container scale and an emergency valve shutoff system. The Chlor-Scale® ton container scale from Force Flow safely cradles a chlorine ton container while providing critical feed and chemical inventory information. The Halogen Eclipse® emergency valve shutoff system instantly closes the container valve when a signal is received from a leak detector, panic button or from SCADA.
Force Flow Halogen Valve
www.forceflow.comwww.halogenvalve.com
Booth 2218 Booth 2216
Metering pump
For small and mid-size treatment facilities, Fluid Metering Inc.'s (FMI) valveless QDX metering pump is the answer for low volume addition of methanol for nitrate removal in wastewater effluent. The release of high nitrogen concentrations of wastewater effluent into bays and watersheds is of great environmental concern as it can have a devastating effect on water ecosystems. Through a process known as "denitrification," water treatment facilities convert the excess nitrate into nitrogen gas, which is then vented into the atmosphere.
Fluid Metering Inc.
Booth 7416
Wedge wire
Newark Wire Cloth provides engineered filtration products, including vessel internals, filter leaves, and strainers. Within the water and process industries product line, Newark offers engineered vessel internals for ion exchange, activated carbon and sand filtration systems. Products include hub and header lateral systems, filter nozzles, flat beds, collectors, distributors, and "SaniWedge" wedge wire or screen-wrapped lateral systems. The company also rebuilds and rescreens existing laterals. SaniClean 3A Strainers are engineered to suit each client's process requirements and are manufactured in single and duplex configurations. Newark offers perforated, wire mesh, synthetic and "SaniWedge" wedge wire filter elements.
Newark Wire Cloth Company
Booth 7944
Corrosion-resistant scales
Scaletron manufactures corrosion-resistant scales designed for weighing and monitoring the usage of corrosive chemicals and/or materials in water treatment, wastewater treatment and industrial applications. The company offers a complete line of scales including 150 lb. cylinder and ton cylinder scales; drum scales; tank and platform scales; IBC tote scales; and spill containment scales. Scales feature a low-profile platform design, have capacities from 30 lbs. to 30,000 lbs., and a five-year warranty.
Scaletron Industries
Booth 4510
Flow meter
The TIDALFLUX 2300 is KROHNE's unique flow meter for partially filled pipes. The meter can measure flows in pipes between 10 and 100 percent full and its non-contact sensor is not affected by oils and fats floating on the surface. In addition, TIDALFLUX has a broad diameter range to fit pipes up to DN1600 or 64 inches, and has high chemical and abrasion resistance to provide exceptional durability.
KROHNE
Booth 3807
Air-powered mixer
The GridBee® AP500 air-powered mixer helps keep solids - such as wipes - in suspension as sheets instead of clumps and prevents lift station pumps from clogging. The mixer also helps reduce H2S odors, corrosion and grease build-up. Portable and lightweight, the mixer is constructed of 316L stainless steel and polymer materials. It fits through a 12-inch hatch and mixes depths from 2 to 100 feet. Easily installed by plant personnel, the GridBee AP500 mixer is shipped as a complete system including the mixer, a quiet, long-life compressor and air hose.
Medora Corporation
Booth 1145
Aeration system
The StreamLine Aeration System from Environmental Dynamics International uses integral diffusers, tubular membranes and inline support components to deliver a new level of simplicity and service life. StreamLine's proven design elevates the industry's standard practice by minimizing in-basin aeration piping and attached diffuser components. The self-contained membrane panels and the inline support system reduce stress points and potential material fatigue.
Environmental Dynamics International
Booth 5839
Remote process and control data
EAGLEi remote monitoring from Phoenix Contact is a simple, flexible, and secure combination of hardware and services. With EAGLEi, you can leverage cellular infrastructure and the internet to gain access to data, trends, alarms, and status information of remotely located sensors and instrumentation from any HTML5 device with an internet connection. EAGLEi enables you to collect data quickly with no prior knowledge of how to set up VPN networks, web clients, or device programming that requires special software.
Phoenix Contact
Booth 851
Valve actuators
Rotork's 3rd generation of IQ electric valve actuators provide technologically advanced functionality and asset management capabilities for part- and multi-turn valves. Advancements include a greatly enhanced ability to display and deliver valve and process control operational data as well as an array of features that provide for simplified commissioning and operation. Multi-turn torque outputs range from 34-3,000 Nm (25-2,200 lbf-ft) and part-turn torque outputs range from 50-2,000 Nm (37-1,475 Lbf-ft). All IQ3 actuators are suitable for use with three-phase, single-phase, or DC power supplies and are ideal for many applications in water and wastewater treatment facilities, even for the most demanding situations.
Rotork Controls Inc.
Booth 4001
Water level datalogger
The AquaVent™ Water level datalogger uses a vented pressure transducer for reliable, accurate datalogging of water levels. The AquaVent features a robust, low maintenance design. Hydrophobic filters and permanent desiccants provide moisture protection for the lifetime of the instrument. Batteries are user-replaceable and are conveniently located in the wellhead at surface. Use with Solinst Levelogger Software or an SDI-12 or MODBUS network. Vented cable lengths to 500 feet.
Solinst Canada Ltd.
Booth 907
Process instrumentation
YSI lab and process instrumentation can help you make the switch to an optical sensor for BOD testing that can save you time and improve your results. The company's process controllers and probes can help improve the efficiency of your treatment facility and lower operating cost. The new line of automated samplers, the ProSample P, will be on display at WEFTEC.
YSI, a Xylem Brand
www. ysi.com/wastewater
Booth 2529
Vortex-shedding flowmeters
P420 vortex-shedding flowmeters from Universal Flow Monitors are PVC or CPVC flowmeters that are cost-effective for use in flow monitoring for desalination, and water and wastewater systems in both municipal and industrial applications. The P420 Series meets requirements for an inexpensive flow rate transmitter without moving parts that can stick, bind or coat.
Universal Flow Monitors
Booth 7012
Corrosion protection for pipes
AA Thread Seal supplies polyethylene encasements for ductile iron pipe, detectable tapes, pipe wrapping tapes, and PTFE thread seal tapes and sealants. Since1979, the company has been supplying distributors/wholesalers with these products. All products meet or exceed all regulatory standards in the industry.
AA Thread Seal Tape Inc.
Booth 5254
Electric actuators
Hayward Flow Control announces the introduction of its new HRS Series Quarter Turn Electric Actuator family. The HRS Series provides highly efficient multiplication of motor power to produce uniquely compact torque ranges compared to other technologies. Larger models feature an epicyclic transmission system. A clutch-free manual override system provides full-time override capabilities during powered or unpowered events. Key features include: extended product range from 300 in-lb. to 177,000 in-lb., powder-coated aluminum alloy housing, ISO 5211 compliant mounting with double square drive socket, multiple AC and DC voltages, integrated local control stations, and visual position indicators, among others.
Hayward Flow Control
Booth 5349
Plug valve
Val-Matic's Cam-Centric® Plug Valve is the solution for systems when slurries, grit or solids are present. Its eccentric action allows the plug to rotate and lift out of its seated position, minimizing rubbing or scraping and thus preventing high torque and wear to the valve seat and plug. Features such as a heavy-duty fully rubber encapsulated plug, welded nickel seat, Grit Guard™ Seals and V-Type packing provide reliable operation and are in compliance with AWWA C517.
Val-Matic
Booth 5327
Heavy duty sludge pump
The Bredel line of heavy duty sludge pumps from on Watson-Marlow Fluid Technology Group are ideal for centrifuge and belt press feed. They feature only one wearing part - the hose - so there are no rotors, stators, or lobes to replace and no mechanical seals or packing to leak. Providing superior abrasive handling, Bredel pumps can handle flows to 475 gallons per minute and offer suction lift to 20 feet, dry running and reversible.
Watson-Marlow Fluid Technology Group
Booth 4847
Emergency preparedness
A Contingency Plan from Xylem ensures that with just one phone call - day or night - you'll be mitigating your catastrophe in hours instead of days. The company's rental experts will work with you to tailor a quick-response plan that will put the right pumping equipment at the ready, 24/7. A Xylem Contingency Plan is like insurance: You hope you never need it, but when you do, it's invaluable.
Xylem
Booth 2529
Repair clamp
The Quick Cam Repair Clamp by Total Piping Solutions is a wide-range, high-performance clamp that utilizes a smart gasketing system to provide working pressures to 200 psi in diameters ranging from 2 to 42 inches. The Quick Cam Repair Clamp is available in widths of 9, 12, 15, and 24 inches, and is constructed of either 100% stainless steel materials or with an optional ductile iron lug system.
Total Piping Solutions Inc.
Booth 955
Filtration technology
The Spiral Water automatic self-cleaning filter provides 10- to 100-micron filtration and offers industrial and municipal customers a unique solution for their primary, pre-filtration or post-filtration applications. Each filter contains a motor-driven, spiral-shaped brush that continuously cleans collected debris from inside the filter element. Solids collected at the end of the filter housing may be expelled through an automatic purge valve. The system does not require high pressures to operate, and it performs at very low differential pressure (<1 psi). No backwash, crossflow or booster pumps are required. The filter can achieve continuous, fine filtration even in ultra-high and variable total suspended solids up to 25,000 ppm.
Spiral Water Technologies
Booth 3129
Digital pressure gauges
Keller digital pressure gauges are cost-effective solutions in any pressure monitoring applications where a local display is required. Several versions are available to ensure that your needs are met. Available features include min/max display, selectable units, 5 kHz scan rate for transient capture, and data recording.
Keller America
Booth 6446
Grinder pump series
The Shark® grinder pump series from Zoeller Engineered Products will now include 1.0 and 1.5 HP models 818 and 819, joining the popular 2.0 HP model 820 pump family. Zoeller's dual-bladed, angled cutter uses scissor-like action to shred difficult wastewater materials to a 1/8" particle size. This improved cutter system delivers more torque per blade, lowering amp spikes and extending pump service life. All pumps are available in either automatic or non-automatic models. All Zoeller pumps are 100% factory tested.
Zoeller Engineered Products
Booth 7029
Single process controller
The LCP-TP Level Controller from Singer Valve is a single process controller designed to complement Singer's Single Solenoid Operated/Override Control Valves and sensor. It's programmed with customized level control algorithms and offers both local control via interactive display or remote control via 4-20 mA or Serial Modbus SCADA communication. It has AC or DC external power options and contains 24 VDC internal power supply for PLC and field sensor power. The LCP-TP has an IP 67 enclosure rating and is UL certified, built with surge protection as well as over circuit protection. It is equipped with data logging and trending features.
Singer Valve
Booth 7129
Remote monitoring for grinder pumps
The iota OneBox telemetry system from E/One Sewer Systems gives you complete command of your fleet of pressure sewer grinder pumps from your office desktop or a smartphone. Improve customer service and take corrective actions as problems arise while improving your response time and system efficiency. OneBox delivers remote control and monitoring of individual grinder pumps; trend analysis, report generation, peak flow demand determinations; smooth flow, and maximized efficiency of downstream infrastructure. Developed for utilities by South East Water Corporation, an Australian water utility, the iota OneBox is available exclusively through E/One Sewer Systems.
E/One Sewer Systems
Booth 3516
Wastewater solutions
Sauereisen has developed a series of materials and systems for the protection and restoration of concrete, brick and other substrates. Designed for municipal wastewater, these solutions to microbiologically induced corrosion (MIC) and inflow and infiltration (I&I) have a successful, well-established reputation among contractors, municipalities and engineering firms worldwide.
Sauereisen
Booth 1418
Stainless steel coupling
Krausz USA's HYMAX VERSA products provide a highly versatile stainless steel coupling solution for connecting and repairing a wide range of water and wastewater pipes. Durable and flexible, it is an ideal fit for hot soil conditions. HYMAX VERSA can join pipes with the same or different diameters and repair holes and cracks. This multi-functionality, together with unique, extra-wide tolerance, enables smaller inventories, saving cost and shelf space.
Krausz USA
Booth 457
Dewatering equipment
Known for innovative and unique designs of composting, thickening and dewatering equipment, BDP continues to push the level of performance, adaptability and reliability of its equipment. With over 35 years' experience specializing in handling difficult slurries, sludges, and all types of compost feedstock, BDP is showcasing a 1-meter 3DP Belt Press and the 3618 DSP Screw Press at WEFTEC this year.
BDP Industries
Booth 5738
Centrifugal pumps
Gorman-Rupp's 6500 Series® line of horizontal end suction centrifugal pumps comes in both solids- and clean liquid-handling models. Sizes range from 3" to 16", flows to 15,000 GPM, total dynamic head to 530' and solids handling capabilities up to 4", for applications in wastewater treatment plants. Standard features include: oversized bearings, atmospheric vent, side access inspection port (on solids-handling models), and indexable Smart Scroll® discharge locator.
Gorman-Rupp Company
Booth 3429
Corrosion protection
Dura-Plate® 6100 is a 100% solids, high build, high physical performance, amine-cured epoxy from Sherwin-Williams Protective & Marine Coatings. It is capable of film builds in excess of 125 mils in a single application. Providing corrosion protection for concrete and steel, the epoxy is ideally suited for the lining and rehabilitation of sewer collection and wastewater treatment structures in municipal and industrial markets.
Sherwin-Williams Protective & Marine Coatings
http://protective.sherwin-williams.com
Booth 2139
Rubber-lined pinch valves
Onyx Valve's Rubber-lined Pinch Valves are ideal for slurry, wastewater, sludge, dry bulk materials or any hard-to-handle fluid. They close drop-tight in on/off applications and provide accurate, stable flow control in modulating service. Available with hand wheel, pneumatic and electric actuators in a range of sizes from 1/2" to 30".
Onyx Valve Co.
Booth 1901
Chlorination system
Lonza Water Treatment products are sold worldwide for the sanitation and treatment of drinking water, along with many other applications. The company's Constant Chlor® Systems prepare and automatically deliver a consistently accurate dose of liquid available chlorine for disinfection applications through a patented spray process that dissolves material from the bottom.
Lonza
Booth 2037
Integrated solutions
To save time and money, processes need to be simplified and run efficiently. Siemens' full portfolio of factory automation, power generation, motors, drives, and process instrumentation and analytics allow users to get more out of their water processes. Integrated solutions from Seimens are uncomplicated and available now.
Siemens
Booth 7039
Treatment skids
SEEPEX's innovative progressive cavity pump process solutions, including ALPHA systems, which are plug-and-play packaged skids used in a variety of water and wastewater treatment chemical metering applications, will be on display at WEFTEC. They eliminate much of the time and costs associated with engineering, procuring, assembling, and installing flow control systems. They are delivered complete in simplex, duplex, or triplex pump configurations for floor or wall mounting with user-customized color display touchscreen controls. All wetted components are corrosion resistant including the self-priming NSF/ANSI 61 certified progressive cavity pumps, which provide precise, accurate repeatable dosing with minimal pulsation and no vapor lock, resulting in chemical consumption reduction and byproduct minimization.
SEEPEX Inc.
Booth 1351
Compressible filter
Schreiber Water's Fuzzy Filter is an innovative and cost-effective compressible media filter for water and wastewater treatment systems. Operating in an upflow or downflow design, the Fuzzy Filter achieves a high rate of solids removal through the use of synthetic fiber spheres. With loading rates of 40+ gpm/ft2, the filter requires 20% of the space for sand filters. Applications include tertiary wastewater, pre-filtration to RO systems, water reuse (Title 22), CSO, and many industrial process applications.
Schreiber Water
Booth 5939
Dewatering container
The AquaCat SludgeKing dewatering container from Park Process is specially designed with two center filter walls to provide 33% more filter area than standard dewatering containers. More filter area equates to faster drying times and drier cakes. The SludgeKing's filter panels are rounded where they meet the floor of the container to eliminate sharp corners that may trap the filter cake when dumping. The unit also incorporates abrasion-resistant plastic floor panels that enhance cake release and eliminate water pooling in the bottom of the container.
Park Process
Booth 3452
Metal-seated solid wedge gate valve
Designed and manufactured for use in wastewater and sewage applications, the Pratt® Metal Seated Solid Wedge Gate Valve is available in both non-rising stem and OS&Y designs. Available in sizes 3"-96", the valve meets AWWA C500, ANSI and ASTM standards. All valves 16" and larger are designed with bronze body and wedge guides and are available with a wide variety of options.
Henry Pratt, a subsidiary of Mueller Water Products
Booth 2417
Baffle system
The new OPTIFLOW 270™ Baffle System from Smith & Loveless retrofits into 270-degree PISTA® grit chambers in order to augment removal efficiency and manage wider flow variations. The upgrade yields 95% removal efficiencies down to 150 microns (100 mesh). This baffle can be applied for non-S&L cone-shaped 270-degree chambers and also new systems.
Smith & Loveless Inc.
Booth 5539
Membranes
LG Water Solutions, part of LG Chem Ltd., manufactures the full line of NanoH2O™ seawater, brackish water and residential reverse osmosis (RO) membranes that lower the cost of water treatment. Based on breakthrough nanostructured materials and industry-proven polymer technology, these patented membranes dramatically improve desalination energy efficiency and productivity for flux and salt rejection.
LG Water Solutions, part of LG Chem Ltd.
Booth 7147
Pump technology
NETZSCH Pumps & Systems will display the FSIP® (full service-in-place) version of the industry-leading NEMO® progressing cavity pump, the revolutionary TORNADO® T2 rotary lobe pump, the asynchronous bridge preventing module (aBP-Module®), and the iFD-Stator® 2.0 at WEFTEC. The maintenance-friendly FSIP NEMO progressing cavity pump allows users to conveniently open the pump cavity on-site and dismantle all rotating parts and simply install them again without having to remove the pump from the pipe assembly. This significantly reduces installation and maintenance time. NEMO progressing cavity pumps are known for their continuous, pressure-stable, gentle and low-pulsation conveyance of almost any substance, including sludge.
NETZSCH
Booth 1619
Smoke fluid for leak detection
Superior® Smoke Fluid Systems are used to find faults and sources of surface water inflow in collection systems. Superior Smoke Fluid Systems use a proprietary double-insulated heating chamber with stainless steel injector to maximize dry smoke output and produce the best quality liquid-based smoke. Superior Smoke Blowers can also be configured to work with Superior Smoke Candles. The Superior Smoke Testing Technique has been the industry standard in smoke testing for over 60 years and remains one of the most cost-effective ways to find leaks in collection systems. Superior Smoke and Blowers are all made in the USA.
Superior Signal Company
Booth 3120
Dry chemical feeder
The Eagle Microsystems VF-100 Dry Chemical Feeder is constructed of stainless steel and utilizes a rugged direct-drive to ensure optimum performance and durability in harsh chemical feed environments. The VF-100 can be optimized for any dry feed application with options like dust collectors, wetting cones, solution tanks, flow pacing control, extension hoppers, and multiple screw and motor ranges to accommodate any required feed rate. With no external gears, pulleys, chains, belts, or lubrications required, the VF-100 is user-friendly and low maintenance.
Eagle Microsystems
Booth 3611
Pumps, flowmeters and accessories
Flomotion Systems Inc. designs and manufactures innovative positive displacement peristaltic pumps & accessories and magnetic flow meters. Products are used in a wide variety of demanding liquid dispensing and measurement applications. Industries served include municipal water and wastewater, food and beverage, concrete, CPI, power and HVAC. New products featured at WEFTEC 2016 will include ISOMAG Electromagnetic Flow meters, Sigmamotor Chemical Feed Pump Accessories and Flomotion Chemical Feed Pumps & Systems.
Flomotion Systems
Booth 7828
Odor control
OMI Industries, provider of natural solutions to safely control wastewater treatment odors, is introducing Ecosorb® 5000S, which is a new water-based solution for reducing emissions from hydrogen sulfide, mercaptans, amines and thioethers. The new solution also offers strong odor control across a broad spectrum of odorous compounds including acids and bases, is biodegradable, and meets OSHA standards. Much like other solutions in the OMI Ecosorb® family, Ecosorb® 5000S is safe to spray or atomize in the open air around employees.
OMI Industries
Booth 2009
Linear actuators
LINAK LA36 electric linear actuators with Integrated Controller™ are ideal for knife and sluice gate valve applications in wastewater facilities. Available with stroke lengths of up to one meter and the ability to safely move up to 2,245 pounds, LINAK LA36 actuators are dependable, easy to install and operate, and feature built-in feedback systems.
LINAK
Booth 7055
Mud valves
Trumbull's Mud Valves are used in treatment plants to drain tanks for maintenance or cleaning. Trumbull's heavy-duty Mud Valves provide a lifetime of trouble-free, low maintenance operation. Each one receives a unique serial number stamp after passing a Quality Assurance inspection. In addition, all Trumbull Mud Valves are certified for compliance with both NSF-61 and NSF-372, providing assurance that they are safe for use in a public water system. Adaptable to specific needs with options including sliding stems and optional materials for seats, which are mechanically retained for ease of replacement.
Trumbull Industries Inc.
Booth 5321
Sewer modeling
SewerGEMS from Bentley Systems streamlines the modeling process so that you have more time for solving wastewater engineering problems, such as improving capacity and limiting sewer overflows, which ultimately enable utilities to comply with sewer regulations set by regulatory agencies. The program provides utilities and wastewater professionals with advanced engineering tools to plan, design, maintain, and operate sanitary and combined sewer systems. Simulate the generation, inflow, and transportation and treatment of any number of user-defined pollutants such as total suspended solids or heavy metals.
Bentley Systems
Booth 4008
More WaterWorld Current Issue Articles
More WaterWorld Archives Issue Articles