Products & Services: Pumps & Systems
Collection of pumps & systems equipment products and services.
Oct 1st, 2016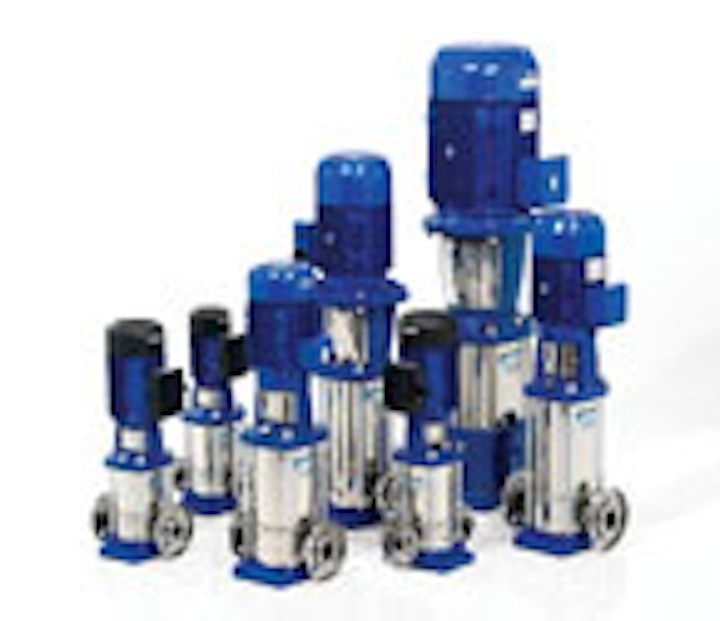 Vertical pumps
Goulds' e-SV range of stainless steel vertical multistage pumps comes with newly designed hydraulics and EISA-compliant motor. The design allows removal of the mechanical seal without having to detach the motor, reducing repair time by up to 50%. A reduced impeller axial thrust ensures longer standard motor bearing life, and hard material intermediate bush bearing increases the pump's ability to withstand heavy-duty applications.
Goulds Water Technology, a Xylem brand
Pump product selectors
Graco has introduced a complete suite of pump product selectors on its website to simplify configuration of sanitary electric-operated double diaphragm, air-operated double diaphragm, piston, pressure washer and peristaltic hose pumps. New additions to the product selectors include references to common repair kits and available accessories, access to technical specifications and the ability to download configured product documentation. Customers can locate accurate part numbers faster and more reliably than with a paper catalog.
Graco Inc.
Progressive cavity pump
SEEPEX Smart Conveying Technology (SCT) progressive cavity (PC) pumps with easy access split stator and rotor have quicker maintenance, shorter downtimes, more energy efficiency and overall lower life-cycle costs compared to conventional PC pumps. Repairs can easily be done by one person without special tools and without the need to remove the pump from either suction or discharge piping. SCT PC pumps handle conveying capacities up to 500 gpm and pressures up to 120 psi. SEEPEX now offers an industry-leading three-year performance guarantee that covers wear parts if a conventional PC pump is replaced with a SEEPEX SCT pump.
SEEPEX
Dewatering pump
Xylem's improved Flygt 2000 drainage pump range includes the new 25 kW (30 hp) Flygt 2190 mid-sized submersible dewatering pump that is built to handle tough, abrasives-laden liquids. Available with two impeller options, the signature 'Dura-Spin' safeguards against wear by sweeping abrasive particles away from the impeller neck while the semi-open impeller increases uptime by preventing fibrous solids from obstructing the pump. The pump's conical trim sleeve restores clearances to near-original condition boosting pump performance while robust cable entry ensures safe, continuous operation.
Xylem Inc.
Pump system
The Grundfos Hydro MPC BoosterpaQ® is a fully-integrated and compact pressure-boosting system that offers multiple configurations - with up to six pumps in parallel. Using actual pump-curve data, the CU 352 controller helps optimize energy consumption by controlling/staging the number of pumps in operation, as well as the speed of the individual pumps, in order to continually adjust performance to variations in demand. Controller communicates via the most common fieldbus protocols and features a built-in Ethernet connection, enabling remote access via a web browser.
Grundfos
http://us.grundfos.com
Vortex pump design
Vertiflo Pump Company's Series 900 Industrial Vertical Immersion Vortex Sump Pump provides an unrestricted flow since the impeller is not normally in contact with the solids being pumped. Applications include chemical slurries, fragile food processing solids, paper and pulpy solids, petroleum and oils, sewage, wastewater treatment, and textiles. Solids handling up to 4" diameter spheres. Designed for long life in severe services with heads to 170 feet, temperatures to 350°F, pit depths up to 26 feet deep with flows to 1,600 GPM. Construction options include cast iron, 316 stainless steel fitted, all 316 stainless steel, Alloy 20 and CD4MC.
Vertiflo Pump Company
Valveless pump
The Börger BLUEline Rotary Lobe Pump is a self-priming, valveless, positive displacement pump used for the conveyance of viscous and abrasive materials. There are 21 pump models in six series with pulsation-free operation, fully reversible rotation, dry run capabilities and flow rates up to 7,500 gpm. The pumps are stable and wear-resistant with a maintenance-in-place design that allows for all wetted parts to be easily replaced through the front cover without the removal of pipe or drive systems.
Börger