Low-Speed Submersible Mixer with Adjustable Thrust Adds Flexibility, Boosts Efficiency
Xylem's mixer allows operators to adjust thrust and mixing effect to meet varying application demands, enhancing operational capabilities while reducing mixing energy costs by as much as 50 percent.
Oct 1st, 2016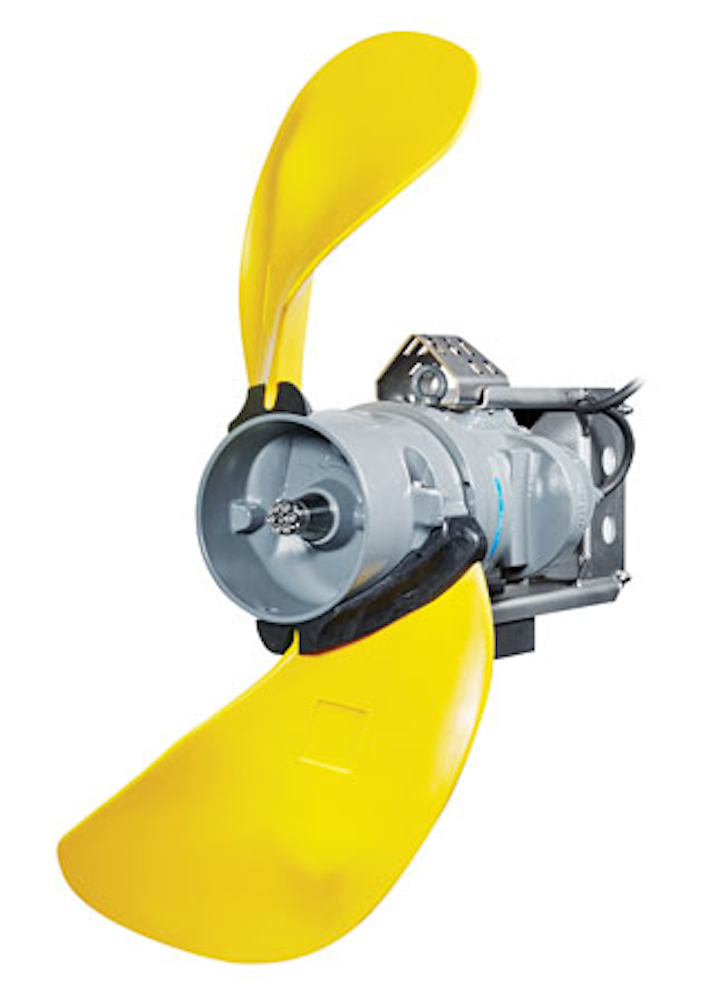 By Adam Forsberg
Although the use of variable frequency drives (VFDs) in certain wastewater treatment plant applications has steadily increased, particularly for controlling pump-driven flow, the development of equally effective systems for controlling mixer-driven flow has lagged.
Many wastewater plants use single speed mixers in switch-on/switch-off mode. Some plants install tank-side VFDs to achieve some operational flexibility in a single speed mixer. Xylem, however, has recently engineered a significantly more effective approach - a VFD integrated with the mixer's submerged motor. The Flygt 4320 low-speed submersible mixer is the first submersible mixer that provides variable speed mixing without using an external, tank-side VFD.
With the Flygt 4320 submersible mixer, operators have complete control over the mixer's thrust, thereby enabling continuous process results and reducing energy consumption. By typically eliminating electromagnetic compatibility (EMC) issues and other installation and commissioning issues often associated with using external, tank-side variable frequency drives, Flygt integrated drive technology allows continuous thrust variation to be operated as a simple switch-on/switch-off functionality.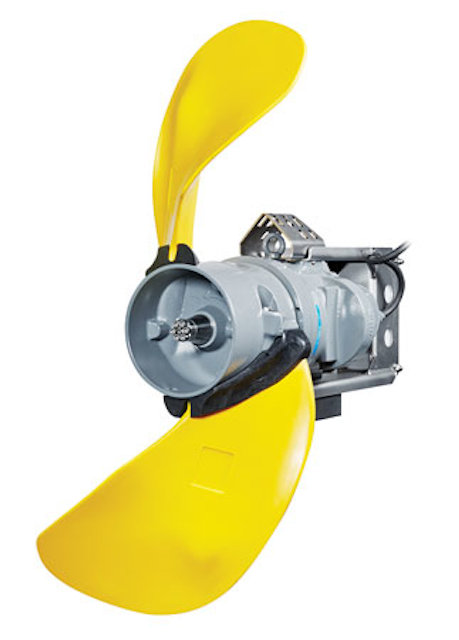 Xylem's Flygt 4320 mixer allows operators to adjust thrust and mixing effect to meet varying application demands..
The propeller design of the Flygt 4320 mixer provides high hydraulic efficiency to maximize the level of thrust delivered while minimizing energy consumption. The large-diameter propeller (ranging from 1.4 to 2.5 meters and available in two- or three-bladed models with maximum thrust up to 6,000 newtons) is engineered with high-strength materials and a backswept self-cleaning design for non-clogging performance.
The mixer's drive package consists of a synchronous permanent magnet motor close-coupled to a VFD, with both components enclosed in the mixer's sealed motor compartment. The Flygt 4320's motor efficiency is equivalent to Super Premium Efficiency IE4 levels. Unlike the majority of today's mixers, which are driven by asynchronous squirrel cage inductive motors, permanent magnet motors such as that used in the Flygt 4320 exhibit virtually no induction-associated losses, thereby making attainable efficiency substantially higher.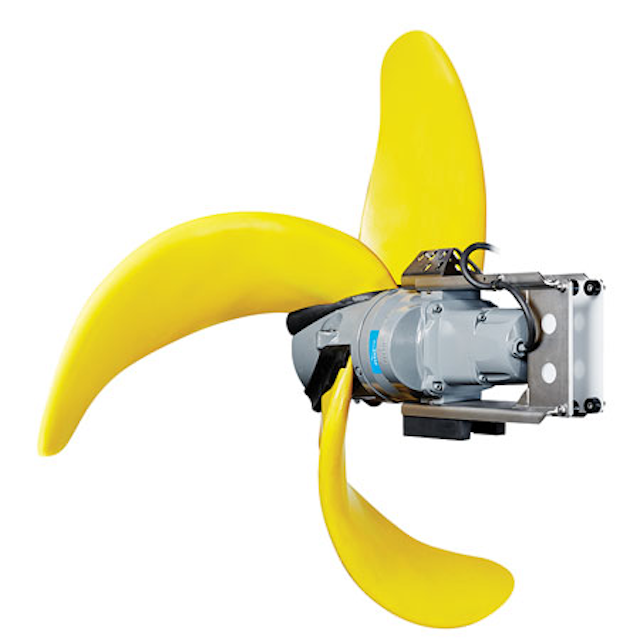 The Flygt 4320 reduces mixing energy costs by as much as 50 percent.
The Flygt 4320 mixer's gearbox is the same field-proven unit as in the Flygt 4400 low speed mixer series, with several thousand installations spanning more than 30 years of service. The VFD of the 4320 mixer is designed to not require service during the mixer's lifetime. The VFD protects the mixer from overload/over currents. The drive disallows for higher currents than what is dictated by the preprogrammed current limitation.
The Flygt 4320 mixer is also preprogrammed with soft start/stop algorithms, reducing wear and fatigue on mechanical and electrical components to extend equipment life and reduce maintenance. It also provides sustained high starting torque without excessive current as well as sustained drive-motor efficiency at part loads. Unlike asynchronous induction motor-driven mixers, the Flygt 4320 mixer motor provides high efficiency at all loads.
Adam Forsberg is an application engineer for mixers with Xylem. For more information, visit www.xylem.com.