Collecting Consumption Data Through a Fixed Network
Richmond pilot project aims to identify leaks, backflow, and tamper events on a daily basis
Apr 1st, 2016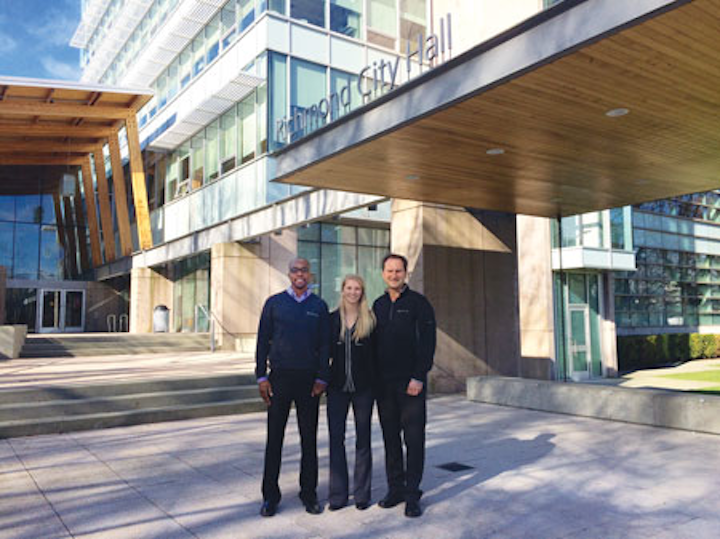 By Niki Peterson
In 2003, the city of Richmond, British Columbia, began to meter the water consumption for those single-family dwellings that wished to pay for the water they actually used. The popularity of this volunteer program, coupled with mandatory water meters being installed under new housing and capital works, led to a participation rate of more than 70 percent of single-family dwellings by early 2014. Today, over 24,000 single-family residences are metered. The system also includes over 300 metered multi-family complexes representing 18,000 dwelling units and over 3,500 commercial and industrial (ICI) accounts. Richmond is currently implementing a universal single-family water metering program, adding approximately 1,500 single-family metered accounts per year, which will be completed by the end of 2018.
The city currently uses a combination of drive-by, handhelds, and probes to read its meters for billing purposes. Since 2009, Richmond has installed Neptune Technology Group's E-Coder®R900i™ combination solid state absolute encoder/radio frequency interface units.
Evolving technology influenced the city of Richmond to provide a higher level of service for consumer leak detection. According to Lloyd Bie, manager of engineering planning for the city, there is a serious lag time between when a leak starts and the customer is notified. "The time it takes to read meters and process and distribute water bills means a leak can potentially go on for 15 weeks before a customer is made aware. If leaks can be identified sooner it will save on water costs, save customer aggravation, and help us provide a higher level of service to our residents," Bie said.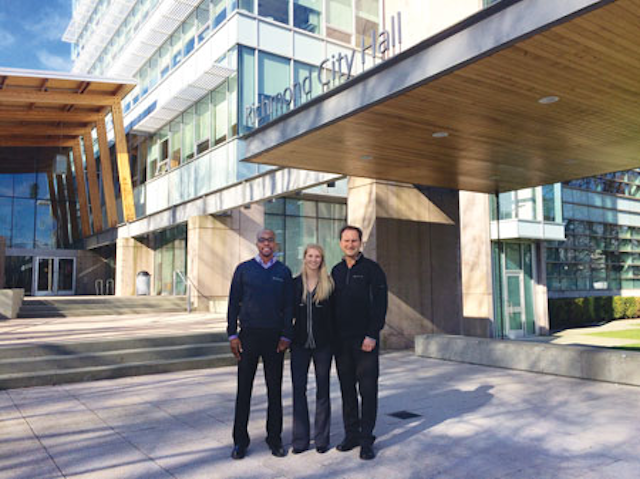 (L-R): Andre Knights, Field Operations Manager, Neptune; Corrine Haer, Project Engineer, City of Richmond; and Mike Middlemass, Territory Manager, Neptune.
Piloting Toward Higher Goals
The city of Richmond launched a fixed network meter reading pilot program with a goal to identify leaks, backflow, and tamper/no flow events on a daily basis. The pilot program tests fixed network data collectors by exploring the system's ability to identify leaks in a timely manner, testing system performance and integration, determining actual implementation costs to the city, and ensuring the fixed network can be used for billing.
The fixed collectors gather information from the same endpoints already installed in the field, without a need to reprogram or change reading modes from mobile to fixed network. Richmond's team was also able to piggyback the fixed network data collectors onto Richmond's existing infrastructure. After determining five sites that would give the most bang for the buck with regard to the maximum number of radio transceiver units in range and number of ICI accounts (for a total of 3,000 accounts on the system), Richmond installed five fixed network collectors on existing city sewer pump stations.
Installing the collectors on existing infrastructure made deployment extremely simple and cost-effective. And with the software-defined radio technology incorporated into the fixed network data collector, enhancements to the automatic meter reading (AMR) system are enabled with a quick over-the-air firmware update. The most recent enhancement allows consumption information on 3,000 accounts to be collected multiple times a day.
Since implementing the pilot fixed network collectors, the city has made progress toward its goals. According to Project Engineer Corrine Haer, EIT, it can pull months of historical information to sub-hourly levels. If a customer calls and they happen to be one of the 3,000 accounts being piloted, "we can check through the host software to see if the homeowner has a leak and how much it is leaking," she said. "It's a significant advantage," agreed Bie. "We can identify intermittent or continuous leaks and help the customer."
Richmond's fixed collectors gather information from endpoints already installed in the field.
Doing More with Fixed Network Technology
One of the key goals in the pilot program is to integrate meter reading with the city's billing software. Broader implementation of the migratable AMR system is contingent on this success. Under the condition that there is billing integration success, Bie is looking forward to doing more with the city's AMR system in the future. And he's not the only one. "When we were doing rate reviews, senior management showed an interest in getting real-time data on usage so that we could have a better look at the financial picture going into the next year," he said.
As the universal metering program continues apace, Bie indicated that eventually moving toward a 100 percent fixed network system would be ideal for a completely metered system. "We'd be able to read all our meters at once and achieve better estimates of water loss," he said.
Because of the way the AMR system was designed, the city of Richmond - and water utilities and municipalities alike - have the ability to expand the functional capabilities of existing assets and do so at their own pace.
---
About the Author: Niki Peterson is a marketing communications specialist with Neptune Technology Group.
Challenges
❱ Ongoing, costly leaks
❱ Customer complaints about high water bills
❱ Required real-time data for revenue forecasting
❱ Validation of fixed network propagation study
❱ Meter population is a mix of touchpad and radio water meters
Solutions
❱ Daily leak, backflow, tamper detection for targeted accounts
❱ Historical information helps identify intermittent, continuous leaks
❱ Multiple meter readings a day for pilot accounts
❱ Fixed network collectors gather data from existing endpoints with no reprogramming
❱ Pilot "piggybacks" onto existing city infrastructure
❱ Modular approach enables migration at city's own pace
More WaterWorld Current Issue Articles
More WaterWorld Archives Issue Articles