Products & Services: SCADA, Process Control
Collection of SCADA and process control products and services.
Jan 1st, 2016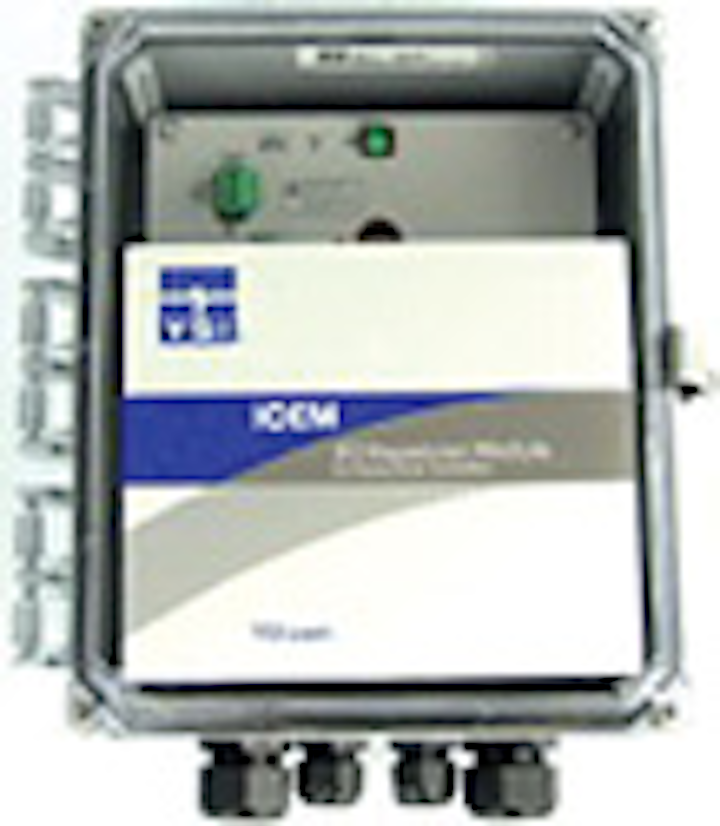 Expansion modules
YSI has introduced three new expansion modules for its Aquaculture & Aquatic Life Support Monitoring & Control product line. The expansion modules - IOEM-8, IOEM-4 and REM-4 - allow YSI customers to interface with more devices and increase their control capability when connected to a YSI 5200A, 5400 and/or 5500D monitor. Benefits of the IOEM and REM include: plug-and-play modules that are easy to install, set up and maintain; NEMA 4X (IP-66 rated); AC and DC power (battery back-up if used with AC power); and a 2-year warranty.
YSI, a Xylem brand
Pump solutions
Environmental Pump Solutions offers complete pump systems, including in-stock control panels featuring unique smart controls designed for ease of use. Their side-slope riser pumps for landfills feature robust HDPE housings for ease of installation and removal, without the breakdowns and problems of wheeled pump carriers. All pumps include environmental-grade motors for longer life. All control panels include circuit breakers for pump and motor protection and have options for flow meter displays, alarm beacons, computer/telemetry operation, and auto dialer with cellular service.
Environmental Pump Solutions
www.environmentalpumpsolutions.com
Programmable logic controller
Crouzet Automation has introduced the new em4 nano-PLC with remote capabilities and proven Millenium 3 Smart Logic Controller, both designed to control, measure, monitor, and log data for a variety of water and waste treatment applications. Developed for customers specializing in machine-to-machine technology, the em4 nano-PLC provides a totally integrated solution that allows device connectivity via the Internet, without adding additional modules. This complete solution includes the nano-PLC, SIM card and data exchanges, as well as remote access web (em4web) and mobile platforms (em4 app).
Crouzet Automation, a brand of Custom Sensors & Technologies
Groundwater monitoring system
The SCADALink SAT100 Groundwater Monitoring System from Bentek is designed for real-time reporting of groundwater levels. With satellite communications, solar-powered operation and well casing mounting, the system is easily deployed. It can interface to industry standard 4-20 mA or RS485 Modbus Based level sensors. Further, SCADALink's SatSCADA Server provides options for both web browser and smartphone data access or interface to the company's existing SCADA Systems.
Bentek Systems LTD
Software platform
Schneider Electric has announced the release of StruxureWare™ SCADA Expert ClearSCADA™, an open software platform enabling efficient management and optimization of remote assets. These functionalities are part of a software platform that is designed to lower the overall operating costs of remote assets while providing a complete, comprehensive overview of site operations. Other features include an enhanced WebX User interface, extended integration of telemetry hardware, and increased system security. Schneider's ClearSCADA software helps reduce costs while providing crucial, business-relevant data across all operational levels.
Schneider Electric
SCADA software
PcVue has announced the release of PcVue 11.1, the latest SCADA by its affiliate, ARC Informatique, which features the monitoring of geographically distributed assets and IP network devices. The unique design improves operator effectiveness with powerful data analysis tools and developer efficiency with the latest efficiency and automation of configuration. GEO Map Control, a built-in component for GIS decision-making, provides live interactive maps from popular mapping services such as Google and Microsoft.
PcVue Inc.
Control, SCADA technology
Emerson's Ovation™ control and SCADA technology provides municipalities access to real-time data, translating into better management of distributed systems and remote sites, streamlined environmental reporting, reduced environmental hazards, improved process reliability, and reduced operations and maintenance costs. Integrated, wide-area monitoring and control of all operations from a single, centralized location enables operators to more quickly detect and isolate system leaks and react rapidly to changing conditions.
Emerson Process Management
Automation controller
The SEL-3505-3 Real-Time Automation Controller (RTAC) from Schweitzer Engineering Laboratories (SEL) adds connections for three digital outputs and eight digital inputs. The compact and economical SEL-3505-3 provides a fully programmable IEC 61131-3 logic engine with several built-in function blocks, including recently released PID functionality. The controller's dimensions, 6.96 x 5.54 x 2.25 inches, make it ideal for cabinet or DIN rail mounting. It is designed for data concentration, protocol conversion and control applications.
Schweitzer Engineering Laboratories Inc.
More WaterWorld Current Issue Articles
More WaterWorld Archives Issue Articles