WSSC Achieves Over 60% Reduction in Hydraulic Plan Review Cycle Times
Washington Suburban Sanitary Commission (WSSC) Development Services Group reviews hydraulic plans for approximately 160 proposed development plans per year.
Sep 1st, 2017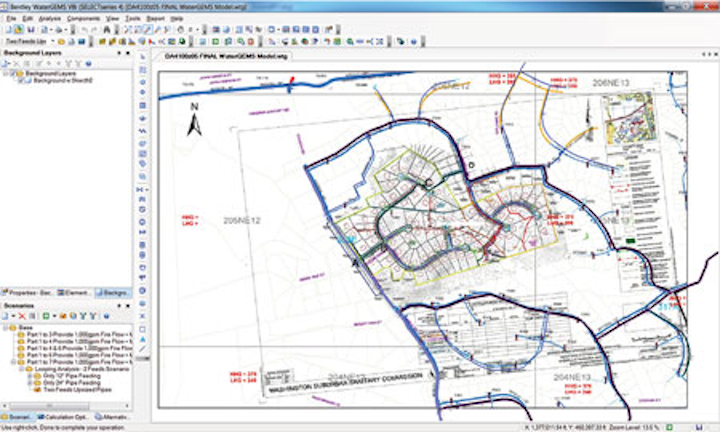 Washington Suburban Sanitary Commission (WSSC) Development Services Group reviews hydraulic plans for approximately 160 proposed development plans per year. Each system extension is hydraulically reviewed and mains are properly sized by WSSC hydraulic engineers during the hydraulic plan analysis (HPA) process. The WSSC hydraulic engineers determine the appropriate sizes for the proposed mains while considering various scenarios that focus on the system integrity and future needs to provide adequate fire flow and pressure to new developments. When the creation of a new pressure zone is sometimes required to serve a new development, the hydraulic reviewer interacts with the planning group that models the systemwide network to help with zone creations.
The project's overall goal was to increase customer service levels by implementing a workflow process improvement. To meet this goal the Development Services Group implemented Bentley's WaterGEMS® and SewerGEMS® to increase the turnaround time on reviews and keep pace with one of the most rapidly developing areas in the United States.
Increased Review Efficiency
Using WaterGEMS and SewerGEMS, as well as group restructuring, the Development Services Group increased review efficiency through a standardized model between projects, improved quality assurance of reviews, and reduced review cycle times from an average of 73 days to 27 days for moderately complex projects over eight years, despite a two-fold increase in reviews.
On a larger scale, the increased review efficiency is improving customer service and the overall delivery speed of an estimated 160 annual development projects from planning and design phases to construction-ready status. And because construction began sooner, revenues (through permit fees or new billing accounts) were collected sooner.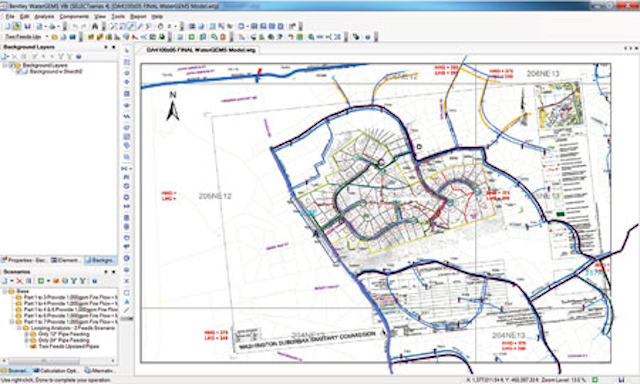 WaterGEMS model with various fire flow scenarios.
Reduced Project Delivery and Operation Costs
WaterGEMS reduced the time needed to accurately size pipes to meet WSSC's system constraints and standards. Because WSSC can process development reviews more quickly, the organization can expedite its revenue collection by allowing more customers to connect to the system sooner.
The use of WaterGEMS and SewerGEMS has also enabled the Development Services Group to spend less time modeling and analyzing a larger network of the system, identify problem areas and potential outages, and address them earlier during the review process.
Safer Water and Sewer Infrastructure
The fire flow capability in WaterGEMS enabled reviewers to perform fire flow analysis for numerous locations throughout a large or small network used for a project in a single run. Reviewers could model multiple scenarios under various system outage conditions, including routine inspections of large-diameter prestressed concrete cylinder pipe (PCCP) mains, to optioneer the best solution that allows adequate fire protection.
Using SewerGEMS also enabled WSSC to analyze system issues in wastewater infrastructure during the development process. This resulted in a better quality hydraulic design and ultimately protected the environment from future sanitary sewer overflows in new development areas.
Increased Collaboration With Information Mobility
Workflows have been developed to help streamline collaboration between engineering, GIS, and consultants. WSSC improved workflow efficiency with more than an estimated 60 percent reduction in review cycle times for hydraulic analyses of development and system extensions.
---
Presented by Bentley Systems