Products & Services: Membranes
Collection of membrane related equipment products and services.
Mar 1st, 2017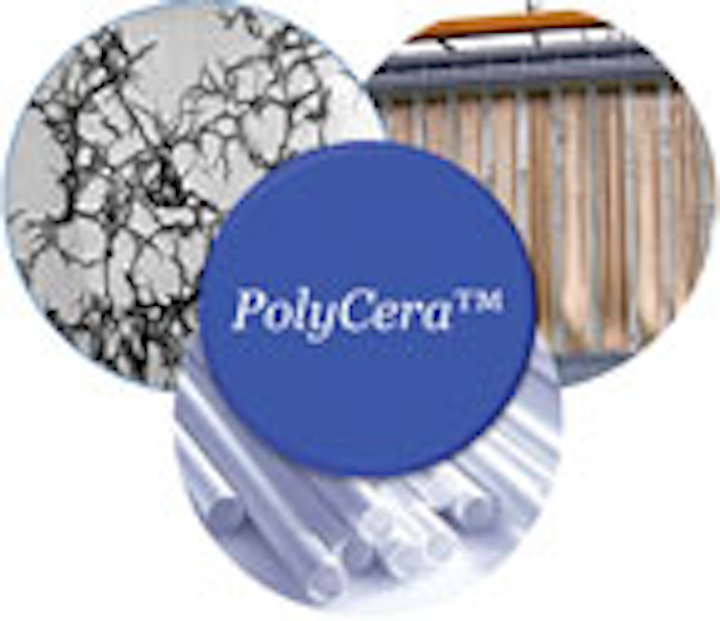 Membrane filtration technology
Water Planet's PolyCera® membranes extend the range of polymeric membrane filtration to the most challenging applications. Water Planet's spiral monolith elements leverage PolyCera's benefits in a ceramic-like cross-flow, back-washable filtration module. Testing to date shows OpEx savings up to 40% relative to commodity polymer membranes and 80% relative to ceramic membranes. The result is the first commercial membrane product with ceramic-like performance and polymer-like economics. Available as flat sheets or in Water Planet's proprietary spiral monolith elements.
Water Planet
http://waterplanet.com
Anti-fouling membrane
LG Water Solutions, part of LG Chem, offers its anti-fouling (AF) brackish water RO membrane, the LG BW 400 AFR, which boasts a proprietary chemistry that reduces performance deterioration due to organic and biological fouling, a common problem in various water treatment applications. The AF formulation obtains anti-fouling performance without losing the highly permeable nature of the membrane's surface. This makes the LG BW 400 AFR ideally suited for applications with high fouling potential such as wastewater reuse and reclamation, industrial wastewater treatment, and RO brine recovery.
LG Chem
Cloth filtration
The AquaPrime cloth media filtration system from Aqua-Aerobic Systems utilizes a disk configuration and the OptiFiber® cloth filtration media to effectively filter screened, de-gritted, raw municipal sewage. The system easily handles significantly higher solids loading rates compared to secondary clarified effluent (by a factor of 3 to 5 times) with the added ability to sustain a low TSS concentration, making it an ideal solution for both wet weather treatment and primary treatment in lieu of conventional sedimentation systems.
Aqua-Aerobic Systems
Reverse osmosis elements
Both the Lewabrane B400 LE ASD and Lewabrane B400 FR ASD from LANXESS provide for optimized flow in the RO element and thus lower energy consumption. They have standard geometries (length: 40 inches; diameter: 8 inches) and are characterized by very low energy consumption and high fouling resistance. The feed spacers incorporated in the membrane elements are multifunctional, creating space between the membrane surfaces for fast-flowing water, supporting the membrane in the process and causing turbulent water flow.
LANXESS
Hollow fiber membrane
DIC Corporation's proprietary SEPAREL® hollow fiber membrane modules for wastewater and drinking water degasification are hollow fiber membrane modules that remove dissolved gases, such as oxygen and carbon dioxide, in water to prevent the formation of rust and bacteria in water treatment systems. SEPAREL modules can be installed in series within the same water treatment system to ensure sufficient degasification and achieve the desired parts-per-billion level for various water treatment applications. The size of the SEPAREL module is directly related to the flow rate and vacuum pressure of the water treatment system.
DIC Corporation
SiC flat-sheet membrane
RODI Systems Corp. is now the exclusive North American distributor for the Cembrane SiC (silicon carbide) ceramic flat sheet membrane. The Cembrane technology provides high flux, low fouling, oil resistance, long life and tolerance to pH and temperature extremes. The Cembrane SiC membrane is chemically inert, oleophobic and has a low pH isoelectric point. These characteristics make it an ideal choice for applications such as high TSS and temperature/pH extremes. With features like outside-in filtration, compact design, high flux rate, and superior fouling resistance, the Cembrane product greatly reduces OPEX and required footprint versus other MF/UF filtration systems.
RODI Systems Corp.