Products & Services: SCADA & Process Control
Collection of SCADA & process control related equipment products and services.
Jan 1st, 2017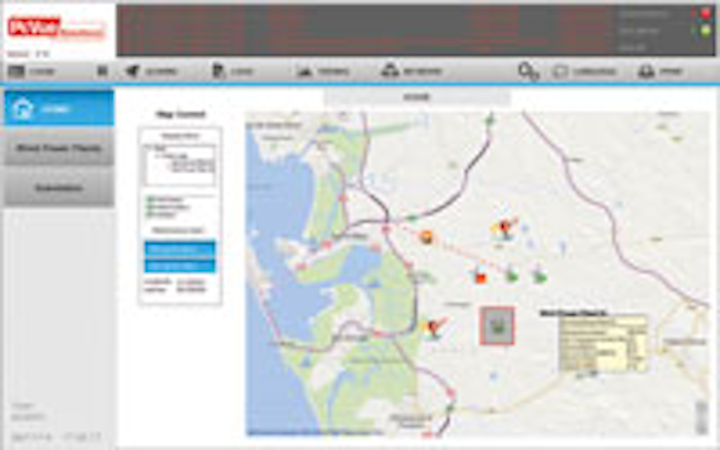 SCADA solution

PcVue 11.1, by affiliate ARC Informatique, features the monitoring of geographically distributed assets and IP network devices. The unique design improves operator effectiveness with powerful data analysis tools and developer efficiency with the latest efficiency and automation of configuration. GEO Map Control, a built-in component for GIS decision-making, provides live interactive maps as well.
PcVue Inc.
Cloud-based monitoring
Itron is consolidating its software solutions around the globe into a single platform built on Microsoft Azure, the largest enterprise-grade cloud infrastructure available today. Azure will be the backbone for Itron Total Outcomes, which provides business outcomes that address utility and smart city challenges in an Outcomes as a Service model to lower costs and improve performance. Itron plans to enable a new range of services around its products, including solar integration, leak detection and analytics. Utilities and cities will benefit from different types of data coming together into one place, generating new intelligence and insights.
Itron Inc.
System-wide monitoring
The Sentinel™ PRO remote monitoring system can interface with any water/wastewater processing equipment that uses a programmable logic controller (PLC) with Modbus sensors. The system monitors, delivers alarms and logs data input/output points from third-party Modbus sensors, transducers and PLCs. It supports Modbus RTU/485 and Modbus TCP. The system interacts with all existing sensors within a facility and provides operators with on-demand, real-time status and data acquisition from any Internet-connected device. Only one Sentinel PRO unit is required to monitor up to 64 Modbus registers or 12 different digital or analog status conditions at remote pump stations and tank farms.
Sensaphone
Inspection, permitting software
With Inspect2GO, field inspection data is entered into the system on a native mobile app, without the need for a data connection. Inspection checklists and workflows are customized to meet each agency's specific needs. Corrective actions are noted and re-inspection dates are automatically logged in the scheduling software. Customers work directly with Inspect2GO to tailor the system to their unique requirements. Applications include: stormwater, wastewater, sewer, and septic systems. GPS and geotagging capabilities, as well as custom checklists, inspection forms and data collection worksheets are available.
Inspect2GO Inc.
Asset management network
InfoNet is a purpose built, out-of-the-box asset management and business intelligence system for water distribution, wastewater collection and stormwater networks. It leverages advanced analysis and data validation tools to ensure informed, swift and cost-effective decision making, for both day-to-day management and long-term network planning. Generation V17 significantly extends key features and provides customer-requested functionalities that improve the software's business analytics and data management tools. Advances also include enhanced capital and operational planning; expanded data support for NASSCO PACP, MACP and LACP V7.0; and support for ArcGIS 10.4.
Innovyze
Web-enabled automation
The GENESIS64™ HMI/SCADA and building automation suite from ICONICS includes analytical tools, data historian and data mobility suites. These solutions enable customers to visualize, analyze, mobilize and cloud-enable their valuable data. More than 500 new features are included in V10.9, which is Windows 10 compliant. New features and benefits include enhanced search and bulk configuration; recipe control, navigation and commanding; and a new component within GENESIS64 that allows users to trigger one or more notification methods (email or SMS) by command, based on real-time or alarm data.
ICONICS