PRODUCT SHOWCASE
Chemline has announced the immediate availability of its latest spray-applied coatings specifically engineered for lining potable water tank and pipe applications.
Nov 1st, 2004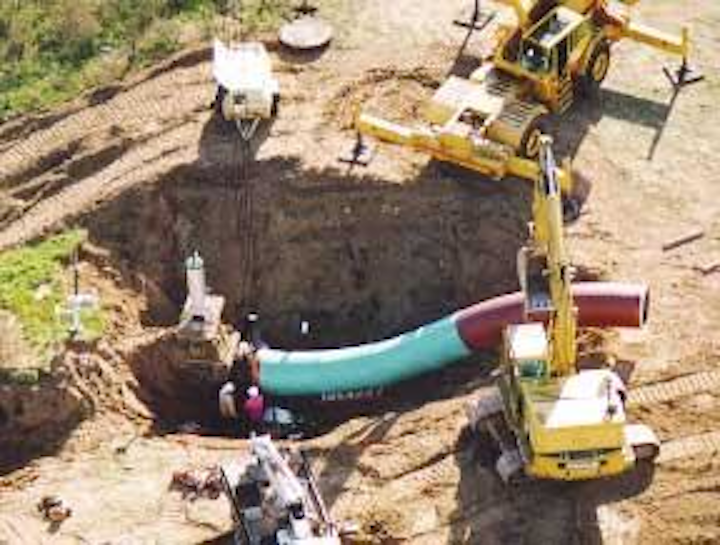 Spray-applied coatings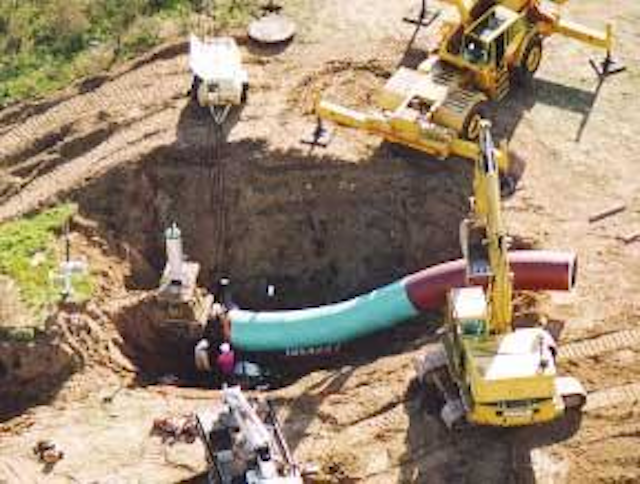 Click here to enlarge image
Chemline has announced the immediate availability of its latest spray-applied coatings specifically engineered for lining potable water tank and pipe applications. The new 100% solids, zero VOC, fast cure coating, Chemthane 2240PW, can be applied in a single coat directly to a prepared steel, iron or concrete substrate. No primers are necessary. The new coating contains no solvents. This means there will be no taste or odor from solvents transferred into the water. Application has been made easy with a 1:1 plural component mix ratio.
Chemline Inc.
St. Louis, MO
Tel: 314-664-2230
Web: www.chemline.net
Sludge collection samplers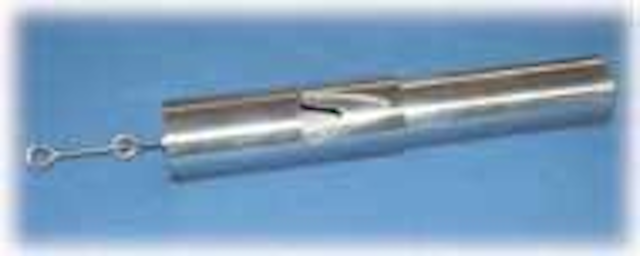 Click here to enlarge image
Liquid Dynamics is the exclusive distributor for a new line of sludge collection samplers that are made and assembled in the USA. Two models are currently available: the Model 4S standard sampler and the Model 4D deluxe sampler. The 4S standard sampler is plated for durability and good corrosion resistance. It has 50 foot depth capability and features a removable fiberglass depth gauge and stainless steel tether. It can take samples at any depth from 0 feet to maximum depth. The 4D deluxe sampler has all the same features as the 4S, but is nickel plated for durability and superior corrosion resistance. It also has a higher depth capability of 100 feet.
Liquid Dynamics Corp.
St. Charles, IL
Tel: 630-513-8366
Dosing control, monitoring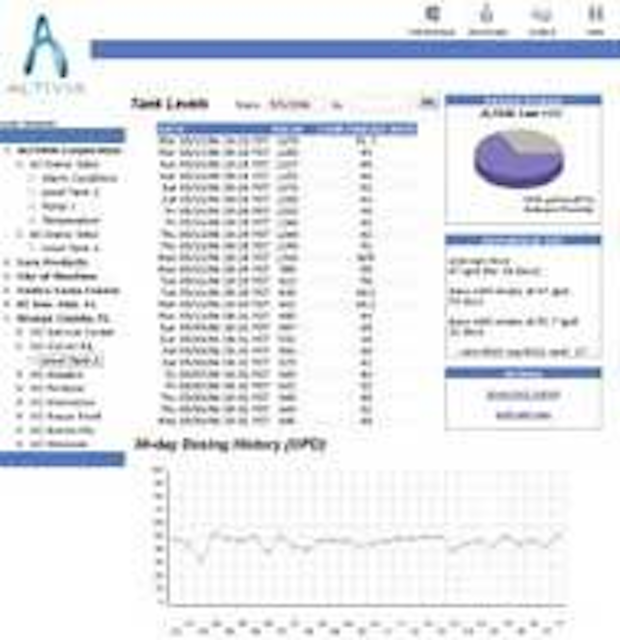 Click here to enlarge image
Altivia's A-Tracks™ Telemetry Solution is a monitoring and control system designed to remotely manage chemical dosing programs. Each remote unit allows level measurement of up to 16 tanks, provides high/low level alarms, leak detection, and is capable of controlling multiple pumps both locally and remotely for flow pacing. Dosing can be adjusted automatically based on time-of-day/season, or in calculated response to another input such as temperature or gas concentration.
Altivia Corp.
Houston, TX
Tel: 866-258-4842
Web: www.altivia.com
Confined space entry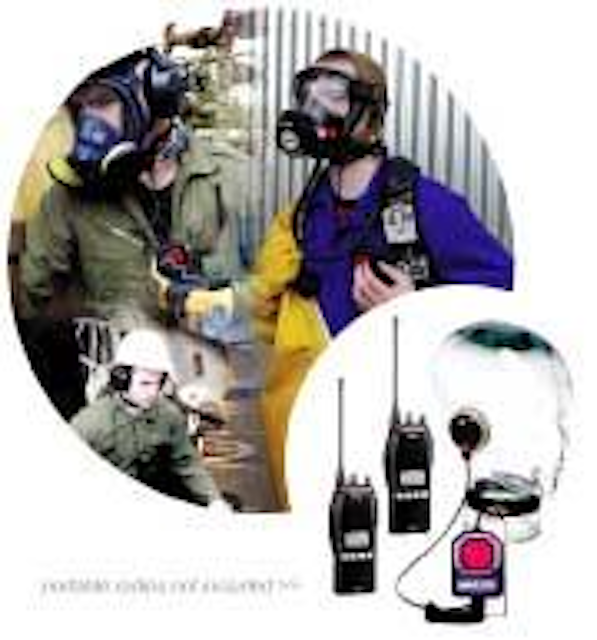 Click here to enlarge image
The Con-space Intrinsically Safe Approved SR65i high-noise, in-suit, facemask communication system makes the use of handheld radios easy in both normal and extreme work conditions. With the SR65i, moving from a low noise into a high noise area or into an explosive environment while communicating is not a problem. Also, users need not change accessories when having to wear any type of facemask with breathing apparatus, encapsulated suits, or respirators. The system is rugged and comes equipped with a PTT switch that can be activated through bunker gear or Hazmat suits and other types of heavy protective clothing. There are optional remote PTT switches to allow virtual hands free radio communication and also a selection of speakers to cover a wide range of user applications. A Throat Mic allows users to talk normally or whisper and still be heard. There is a choice of listening devices available to meet all user requirements.
Con-Space Communications
Richmond, BC Canada
Tel: 800-546-3405
Web: www.con-space.com
Nanofiltration
Click here to enlarge image
Koch Membrane Systems is now offering a variety of sizes of the Fluid Systems® TFC® SR2 nanofiltration membranes for softening and organics removal. This is an ideal technology for complying with the D/DBPR rule for the removal of organics and to minimize the formation of trihalomethanes in drinking water. The spiral-wound SR2 membranes provide high-flow at very low pressure to minimize operating costs. The membranes achieve >95% hardness rejection and >90% rejection of sucrose (Molecular Weight = 342) and similar low molecular weight organics at standard test conditions
Koch Membrane Systems Inc.
Wilmington, MA
Tel: 800-343-0499
Web: www.kochmembrane.com
pH/ORP meter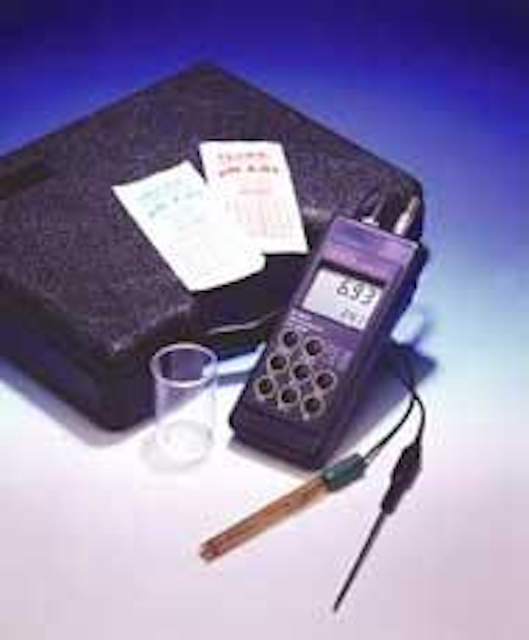 Click here to enlarge image
Hanna's HI 9025 is a rugged, heavy-duty meter designed to provide laboratory grade results. The portable, waterproof pH meter can measure and display pH or ORP and temperature simultaneously. It measures pH in a range from 0.00 to 14.00 pH, ORP from ± 399.9 to ± 1999 mV and temperature from 0 to 100ºC. Temperature compensation can be automatic or manual across the entire range. The meter can be calibrated at the NIST buffers 6.86 and 9.18, as well as at the standard pH 4, 7 and 10.
Hanna Instruments,
Laboratory & Industrial Division
Woonsocket, RI
Tel: 800-504-2662
Web: www.hannainst.com
Dewatering container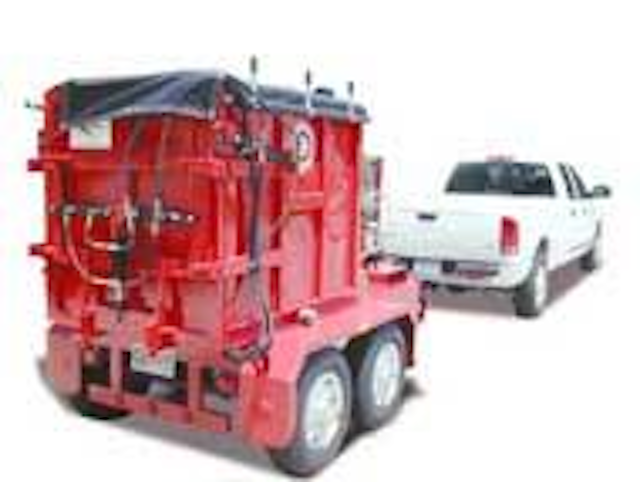 Click here to enlarge image
Flo Trend Systems' Mini-Mate is a smaller version of its Sludge Mate dewatering container used in a variety of industries for separating solids from liquids in waste streams, ponds, lagoons, basins, etc. The Mini Mate is fully functional, but its primary purpose is to demonstrate how the larger Sludge Mates will perform on a given waste. The unit is capable of dewatering up to 3,000 gallons daily of a 2% sludge. Hydraulic cylinders open, close, and lock the rear door, a feature also available on standard size Sludge Mates.
Flo Trend Systems Inc.
Houston, TX
Tel: 713-699-0152
Web: www.flotrend.com
Gas detection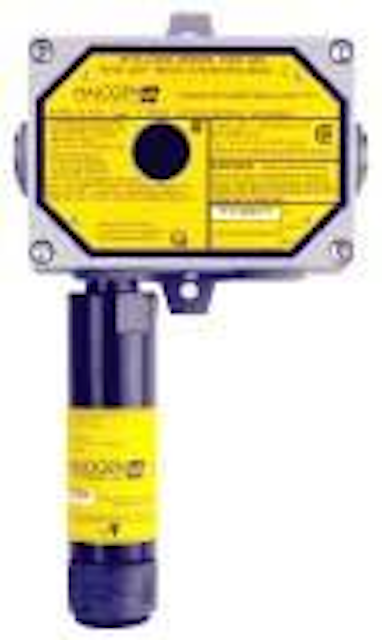 Click here to enlarge image
The Jupiter gas detection system (Model HVS4000) is the newest product from Halogen Valve. The system monitors and reports a variety of information about hazardous and toxic gases to a SCADA system or other electronic monitoring equipment. Features include indication of sensor life, 250 vAC - 8 amp settable relays, three-digit visual display, dual redundant MODBUS communications and 4-20mA proportional gas level output. This system can be connected directly to the company's emergency gas shutoff systems to immediately remedy the situation.
Halogen Valve Systems
Irvine, CA
Tel: 877-476-4222
Web: www.halogenvalve.com