NEW PRODUCTS
WAGO has introduced the new 750-655 AS-Interface Master module as part of the WAGO-I/O System.
Nov 1st, 2004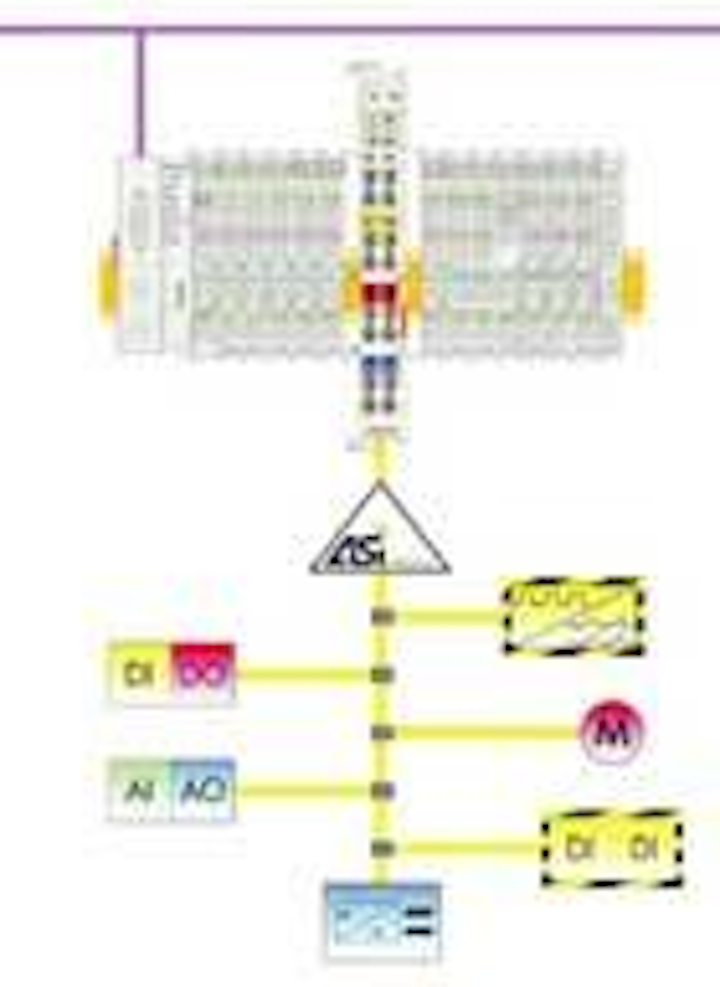 Interface module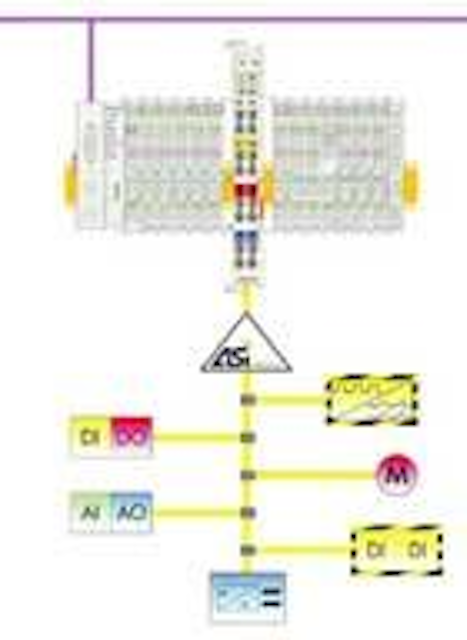 Click here to enlarge image
WAGO has introduced the new 750-655 AS-Interface Master module as part of the WAGO-I/O System. This module allows seamless integration of the AS-Interface bus protocol as a sub-network to other popular bus protocols such as Ethernet, PROFIBUS, DeviceNet, MODBUS, etc. The module is housed in a 12mm-wide package and is integrated into the I/O node the same way as other 750 series I/O modules.
WAGO Corp.
Germantown, WI
Tel: 262-255-6333
Web: www.wago.com
Welding heads
The Model 8 Series Weld Heads, available from Arch Machines, are orbital weld heads for fusion TIG (GTAW) welding of fittings, tubing and thin wall pipe. The narrow width of these heads makes them ideal for limited clearance applications, such as welding fitting-to-fitting or fitting-to-valve body assemblies and welding materials such as stainless steel, titanium, Hastelloy and other autogenously weldable alloys. This orbital tube weld head series is able to weld tube or pipe sizes 0.25'' O.D. to 6.625'' O.D.
Arc Machines, Inc.
Pacoima, CA
Tel: 818-896-9556
Web: www.arcmachines.com
Odor control
Bioway offers the Eliminodor™, an odor control system specifically developed as a technology upgrade to traditional carbon systems. The two stage design pairs the company's patented biological process with a swappable carbon filter integrated into a single unit. The design reduces the frequency of media changes and lowers maintenance for low airflow applications.
Bioway America, Inc.
Marlton, NJ
Tel: 856-988-9414
Web: www.bioway.net
Data acquisition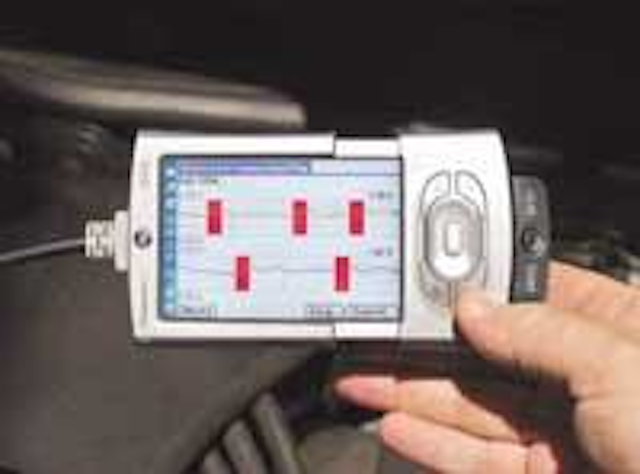 Click here to enlarge image
Datastick Systems has released the Datastick® DAS-1254 and DAS-1294 data acquisition systems: including two new hardware modules that attach to Palm™ PDAs, three new members of the Datastick Connection™ suite of software applications that run on Palm handhelds, and an easy way to get information from a handheld instrument to the desktop PC. New Datastick® Report System™ software eliminates one of the most frustrating problems of portable datalogging and handheld instruments: the ability to quickly view the measurement data on the desktop PC, to integrate with standard databases and other software applications in the enterprise, and to publish the data in reports and on the Web.
Datastick Systems, Inc.
Campbell, CA
Tel: 408-871-3300
Web: www.datastick.com
Level transducers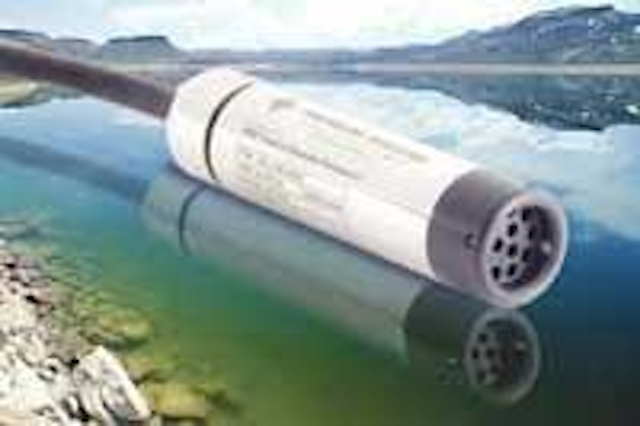 Click here to enlarge image
Pressure Systems now offers two new submersible hydrostatic level transducers designed specifically for compatibility with Campbell Scientific® dataloggers. The Models 116 and 126 transducers provide a ratiometric mV analog output to achieve a Total Error Band (TEB) accuracy of ±0.3%, making them ideal for surface and groundwater level measurement and control applications, including well and surface water monitoring, soil remediation, and dewatering.
Pressure Systems, Inc.
Hampton, VA
Tel: 800-678-7226
Web: www.PressureSystems.com
Electromagnetic flowmeters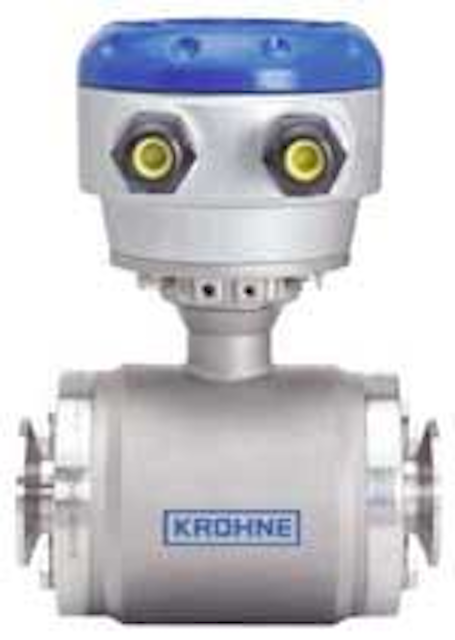 Click here to enlarge image
Krohne has introduced its new Optiflux family of electromagnetic flowmeters. The family consists of nine flowmeter models covering a wide range of applications. All models feature unique 3 x 100% diagnostics: 100% Application Diagnostics, 100% Accuracy Diagnostics, and 100% Instrument Diagnostics. Consequently, maintenance engineers not only have information on the state of the flowmeter and the quality of the measurement, they will also obtain notification of unnoticed application faults.
Krohne Inc.
Peabody, MA
Tel: 800-356-9464
Web: www.krohne.com
Drying system
Kruger has released the BioCon thermal drying system, which can also be supplied with an optional incineration system. The system is a low temperature, indirect convection, closed loop belt dryer system for biosolids stabilization and volume reduction. The dryer has a two-stage design with distinct drying areas. The residence time is approximately 15 minutes for the first stage and 45 minutes for the second stage. The biosolids are extruded in thin strings on the first drying belt, thus ensuring a large evaporation surface. The wet biosolids are dried at a temperature of less than 350°F in the first stage; then the drying temperature is lowered to approximately 175°F in the second stage (concurrent with an increase in the total solids concentration).
I. Kruger Inc.
Cary, NC
Tel: 919-677-8310
Odor control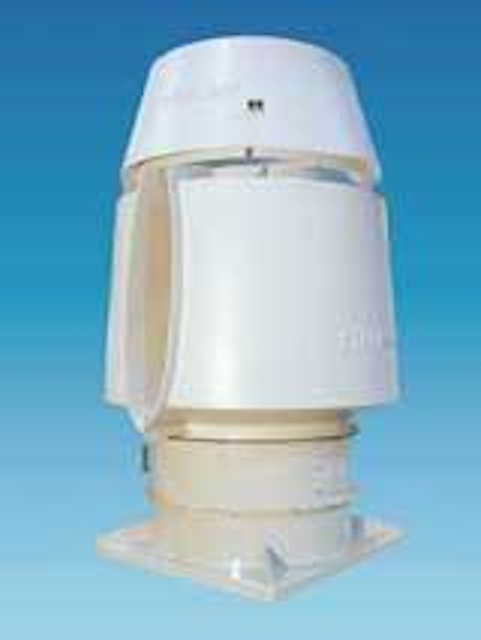 Click here to enlarge image
Strobic Air's Tri-Stack™ roof exhaust systems – with their mixed flow technology operation – can provide an efficient method of odor control at wastewater treatment facilities. Odor is eliminated by dilution – mixing fresh air with the wastewater process exhaust gases until a suitable concentration is reached and the odor is no longer perceptible or objectionable. Mixed flow impeller fans are effective because they draw nearly twice the amount of fresh air as exhaust air into the fan's exhaust and send it upward in a "jet plume" at a high exit velocity (up to 7000 ft./min).
Strobic Air Corp., Met-Pro Corp.
Harleysville, PA
Tel: 215-723-4700
Sewer fittings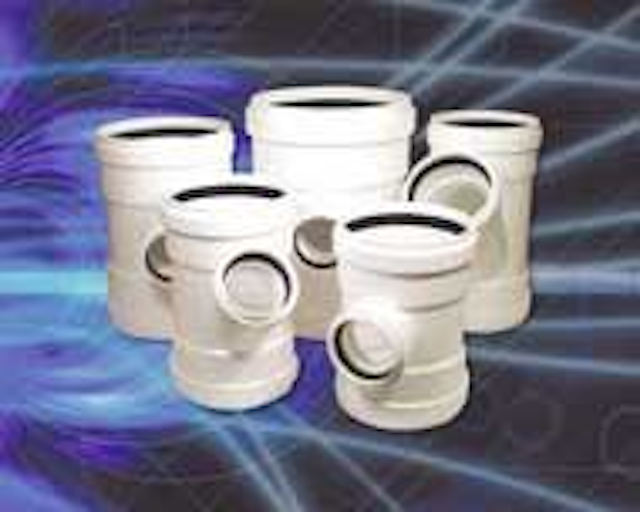 Click here to enlarge image
Gasketed sewer fittings from Plastic Trends are now fortified against stress and breakage to a degree never before available in a PVC sewer fitting. The company strengthened the branch intersections of its Tees, Wyes and Sanitary Tees in the SDR 35 line of STI™ Gasketed Sewer Fittings. Wall thickness of the 4'' branch is now 192% thicker than SDR 35 and 115% thicker than SDR 26. Wall thickness of the 6'' branch is now 94% thicker than SDR 35 and 46% thicker than SDR 26. The gasket is set deep in the hub for greater protection from angular deflection. Socket depths are designed for increased pipe support.
Plastic Trends Inc.
Shelby Township, MI
Tel: 586-781-2700
Web: www.plastictrends.com
Expansion joints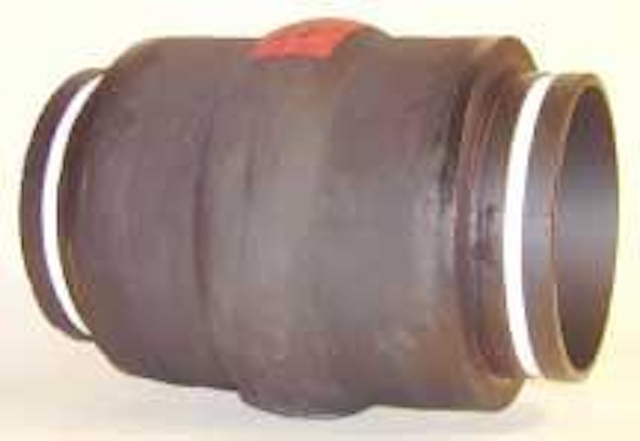 Click here to enlarge image
Red Valve Company has added an expansion joint with Victaulic® ends to its Redflex® product line. The J-1W-G wide arch expansion joint can be used to alleviate more extreme expansion and compression stresses without the need for double or triple arches. It is available in size 1'' through 12'' with working pressures ranging from 165 psi to 140 psi, depending on size. Control rods to prevent over expansion are available if required. Materials of construction include pure gum rubber, Neoprene, Hypalon®, chlorobutyl, Buna-N, EPDM and Viton®.
Red Valve Co. Inc.
Carnegie, PA
Tel: 412-279-0044
Web: www.redvalve.com
Ratchet wrenches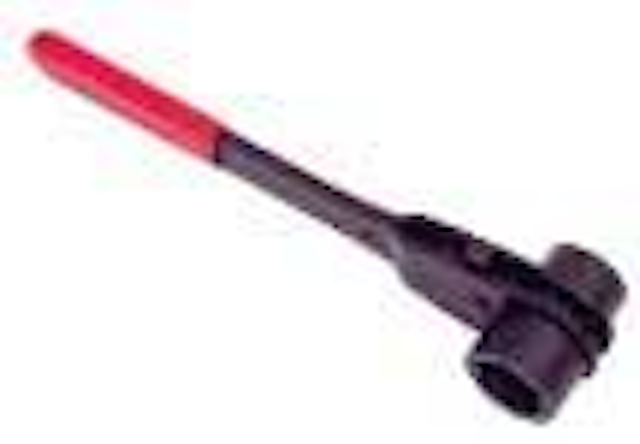 Click here to enlarge image
Reed offers three different dual socket ratchet wrench combinations. The newest size is L1817 which incorporates the popular 1 1/8'' and 1 1/16'' sockets into one handy tool. The sockets are bonded back to back with the handle in the center. The wrenches can be used for bolted couplings and most full circle repair clamps, in addition to water services couplings, flange bolts, and service saddles. Reed's other dual socket ratchet wrenches are the L2017 which combines 1 1/4'' and 1 1/16'' sockets and the L1815 which has 1 1/8'' and 15/16'' sockets.
Reed Manufacturing Company
Erie, PA
Tel: 800-666-3691
Web: www.reedmfgco.com
Datalogger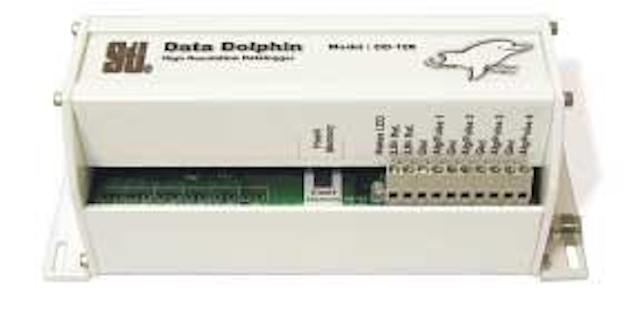 Click here to enlarge image
Scientific Technologies, Inc., Automation Products Group, has introduced the Data Dolphin 128 (DD-128) Datalogger. The logger has a high resolution, 24-bit, analog-to-digital section that provides eight differential bipolar inputs with resolution down to 90 nanovolts. This allows most sensors to be directly connected without any signal conditioning. An additional four inputs allow the user to select pulse, status or analog capability. All inputs have static protection.
Scientific Technologies Inc.
Logan, UT
Tel: 888-349-7098
Web: www.stiapg.com
Level transmitter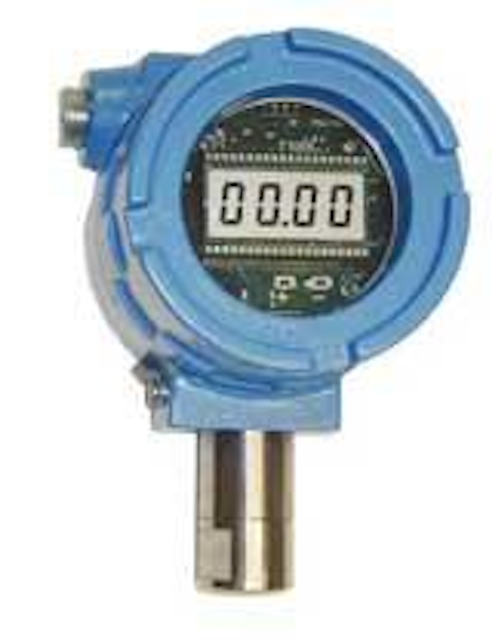 Click here to enlarge image
Sigma Controls has introduced its new 9000PT Tank Level Transmitter with both analog and digital outputs for remote level monitoring and pump control. The new unit can transmit via modem or spread spectrum radios to a Sigma Myriad Pump Controller. The pump controller will operate and manage up to four constant speed or variable speed pumps to maintain an accurate tank water level, and the controllers graphical LCD display and five-key operator interface to permit full user configuration of pump functionality and alarm monitoring.
Sigma Controls, Inc.
Perkasie, PA
Tel: 215-257-3412
Web: www.sigmacontrols.com
Chemical treatment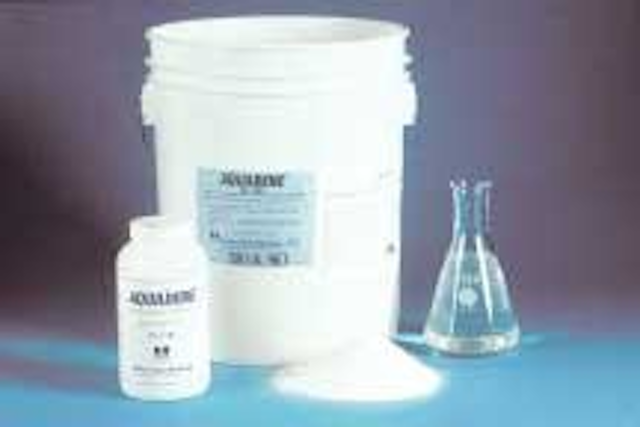 Click here to enlarge image
Stiles-Kem and Pristine Hydrochemical offer chemical treatment programs which provide a variety of solutions for municipal water treatment. Stiles-Kem's Aquadene™ series of blended phosphate products are used for corrosion control and sequestration. These NSF Standard 60 approved products are formulated to eliminate problems associated with high iron and manganese levels. Pristine Hydrochemical's PHI blended polymer product line compliments Stiles-Kem's products. These products provide improved water clarity while reducing sludge volume.
Stiles-Kem Division/
Pristine Hydrochemical Inc.
Waukegan, IL
Tel: 800-562-1537
Web: www.met-pro.com/stiles.html
Screw pump lining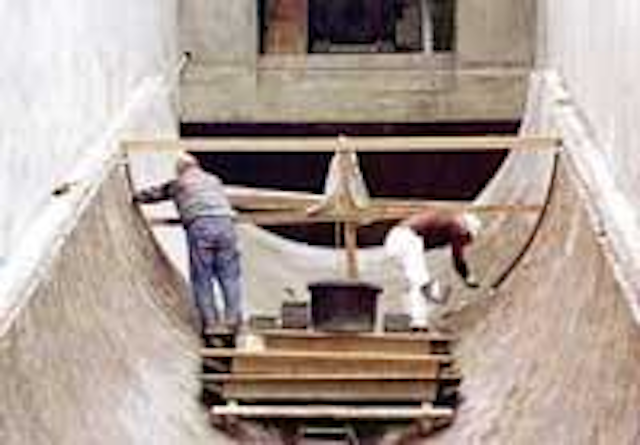 Click here to enlarge image
Abresist custom-engineered tile linings extend the life of screw pump troughs handling wastewater, especially from combined systems. Tile harder than the sand and other solids entrained in sewage and storm water resists the wear they cause, maintaining the proper gap between the screw and trough, keeping the lifting capacity constant. They can be installed on steel or concrete, and even can be designed to account for the bend in the screw.
Abresist Corp.
Urbana IN
Tel: 800-348-0717
Web: www.abresist.com
Brine service valves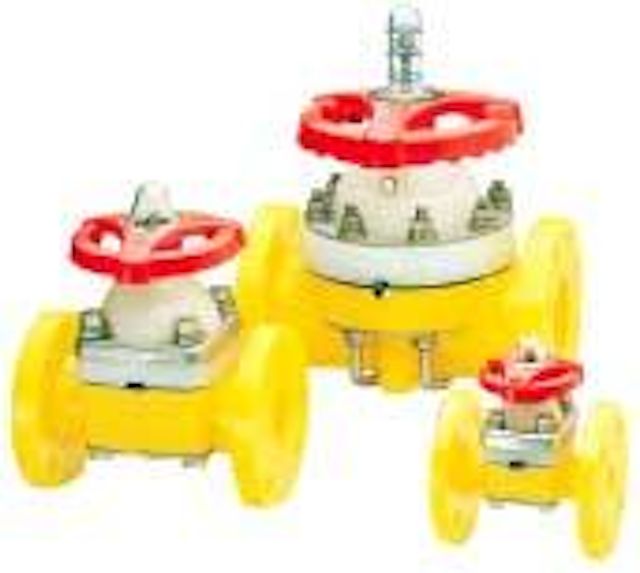 Click here to enlarge image
Asahi/America has developed a new thermoplastic corrosion resistant diaphragm valve for aggressive brine service applications. Constructed of EL-PVDF and EL-PTFE for the purpose of preventing the generation of blisters and stress cracks, the new EL-Diaphragm valves performed excellent in laboratory and long-term field tests. The body and diaphragm are made from specially developed materials.
Asahi/America, Inc.
Malden, MA
Tel: 781-321-5409
Web: www.asahi-america.com
Reporting software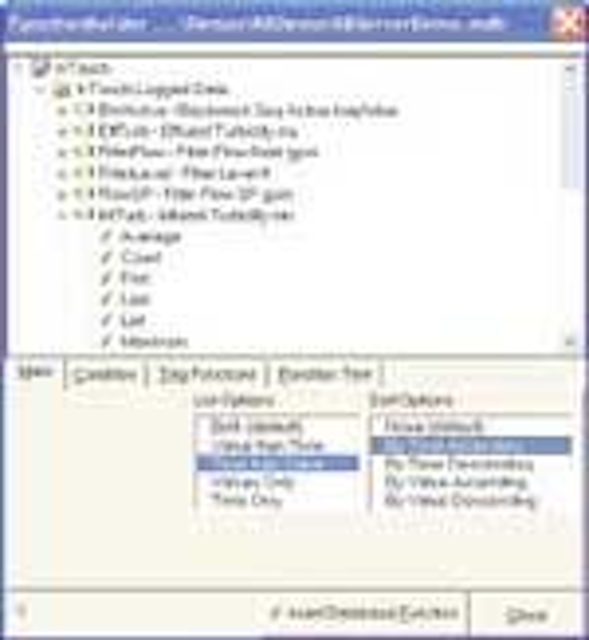 Click here to enlarge image
WorkSmart Automation has released the newest version of its popular reporting tool ReportBuilder™. The system connects and reports on data logged by all of the major SCADA systems and also allows for reporting of custom manual entry data tables commonly used to track laboratory grab samples and other manual readings. It brings SCADA reporting functionality to Microsoft Excel with new menus, toolbars and forms, allowing plant personnel to create time and event based reports that can be automatically output to the printer, e-mail, web page, and static Excel workbooks.
WorkSmart Automation, Inc.
Sacramento, CA
Tel: 916-454-1718
Web: www.worksmartautomation.com
Pumps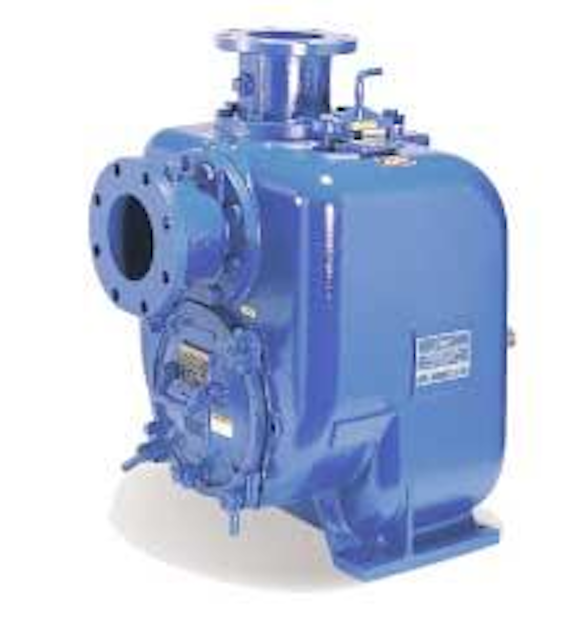 Click here to enlarge image
Gorman-Rupp now offers a new line of Super U Series® products. Highlights of the new line include six high-performance models to choose from with two distinct discharge configurations, depending on performance and installation requirements. Other features include an easy grip coverplate handle, shimless adjustment to keep a pump in peak operating performance, patented cartridge mechanical seals, and dual sight gauges for monitoring both seal and bearing oil condition.
Gorman-Rupp Co.
Mansfield, OH
Tel: 419-755-1011
Web: www.gormanrupp.com
Radiation monitor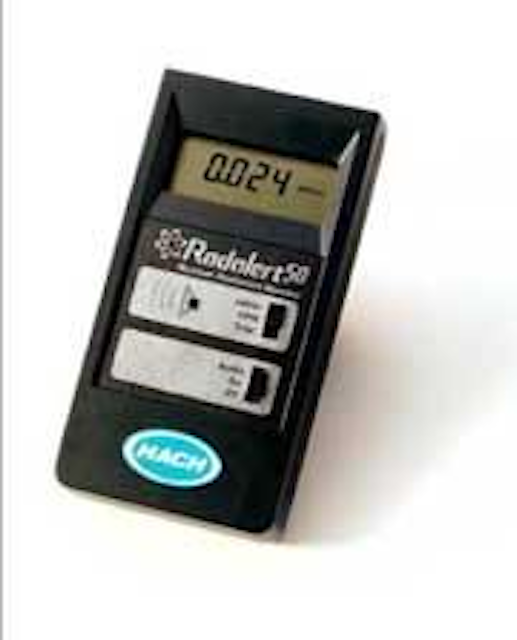 Click here to enlarge image
The Radalert™50 Nuclear Radiation Monitor from Hach Homeland Security Technologies provides on-the-spot measurement of alpha, beta, gamma, and x-radiation and real-time data and signal transmission. Water system attendants and first responders use it for personal or area exposure checks, radiation leak and contamination detection, and identifying background radiation changes, anytime, anywhere.
Hach Homeland Security Technologies
Loveland, CO
Tel: 800-604-3493
Web: www.hach.com