NEW PRODUCTS
AbTech Industries has announced its U.S. patent on the Smart Sponge Plus, a non-toxic, fully recyclable stormwater filtration system that destroys bacteria at the street level.
Sep 1st, 2004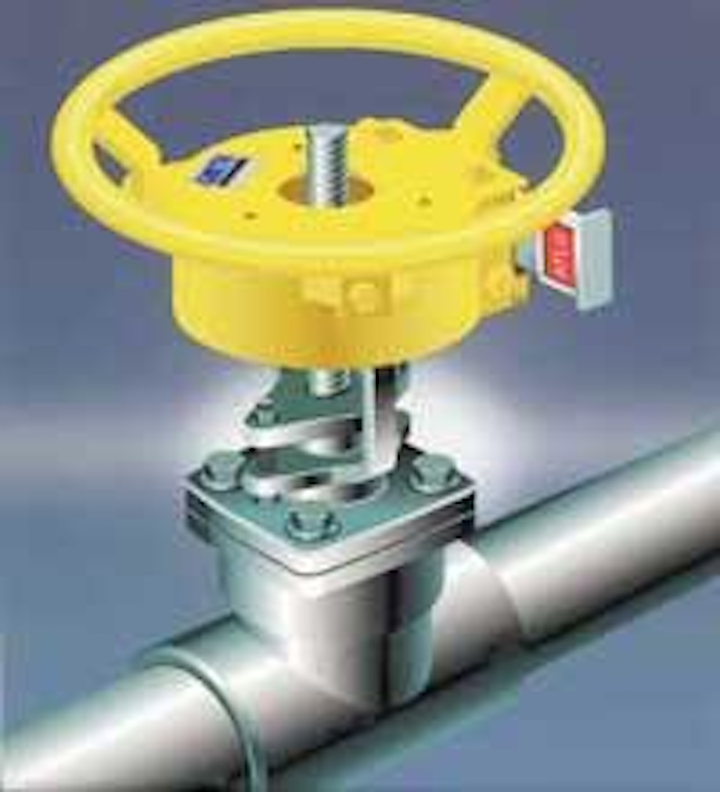 Stormwater filtration
AbTech Industries has announced its U.S. patent on the Smart Sponge Plus, a non-toxic, fully recyclable stormwater filtration system that destroys bacteria at the street level. The company's filtration systems, such as the Ultra-Urban® Filter with Smart Sponge technology, encapsulate and remove harmful substances, including hydrocarbons, oil, grease, and other toxins. The new product employs an antimicrobial agent, chemically bound to the Smart Sponge polymer filtration material, which deactivates health-threatening microorganisms without releasing chemicals or leaching.
AbTech Industries
Scottsdale, AZ
Tel: 800-545-8999
Web: www.abtechindustries.com
Anti-tamper locks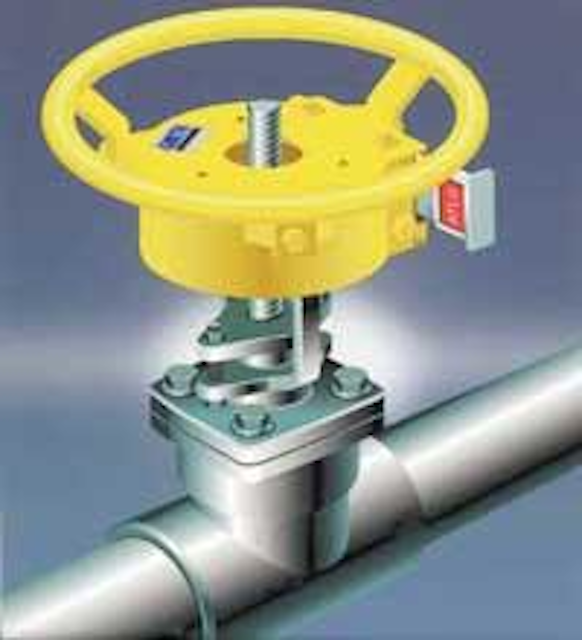 Click here to enlarge image
The new Anti-Tamper Lock from Smith Flow Control secures a utility's valves and actuators. The standard condition of the device in service is locked (key-free), with the handwheel free-rotating. The standard unit is available in two sizes to suit all lever and handwheel operated valves. Operation involves three steps: a coded key is used to unlock the device, the valve is moved to the desired location, and the key is removed, locking the valve into its new position. The lock base adapter is machined to suit host equipment; machining can be done on-site or the lock can be supplied already machined to specification.
Smith Flow Control Ltd.
Erlanger, KY
Tel: 859-578-2395
Web: www.smithflowcontrol.com
SCADA interface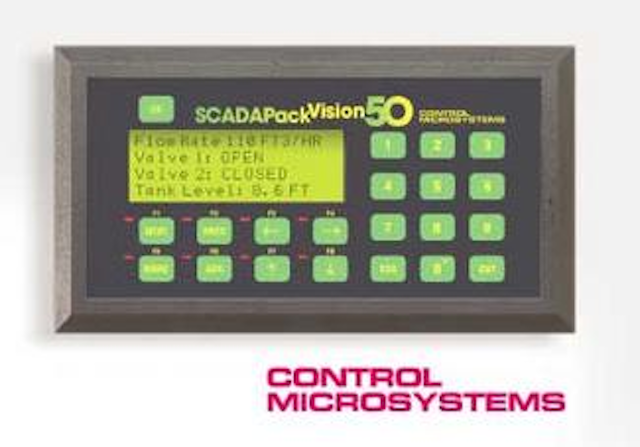 Click here to enlarge image
Control Microsystems has introduced a new Operator Interface Terminal (OIT), the SCADAPack Vision50. With increased functionality and the same format as the company's original SCADAPack Vision10, the terminal offers end users a simple system to configure presets and alarms and to monitor process parameters in the field. This compact terminal has a high-visibility LED backlit LCD display with four lines x 40 characters. The unit offers 20 programmable function keys and eight programmable LED indicators.
Control Microsystems
Kanata, ON
Tel: 888-267-2232
Web: www.controlmicrosystems.com
Fieldbus controller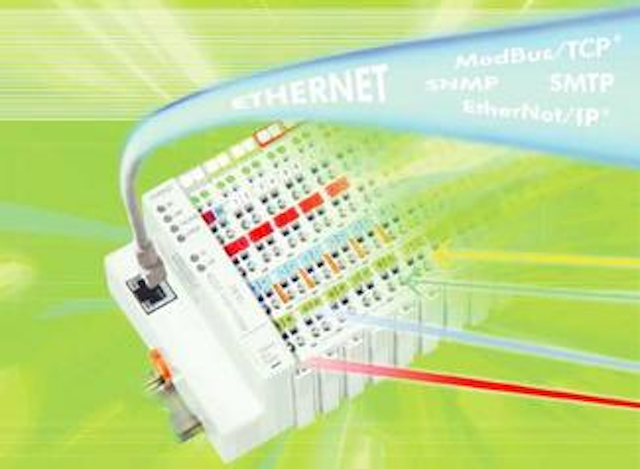 Click here to enlarge image
WAGO has introduced an upgraded Ethernet TCP/IP Programmable Fieldbus Controller (PFC) to the WAGO-I/O-System product offering. Designated the 750-841 Series, this upgraded Ethernet Controller provides a solution to the growing demand for a PFC by the manufacturing and process control industry with new functions such as double the data memory to 256kb, the addition of a multi-tasking operating system, and the ability to complete on-line programming changes. Key features include a 32 bit RISC processor; 512 kb program memory, 24 kb retentive memory, 100 Mbits/s Ethernet, IEC-61131-3 programming and the latest open architecture software interfaces and protocols including the industrial Ethernet protocols ModbusTCP and EtherNet/IP. The controller is 100% compatible with all 750 series I/O modules allowing the flexibility to interface with over 100 modular (2,4, or 8 channel) digital, analog, and special function I/O modules.
WAGO Corp.
Germantown, WI
Tel: 800-346-7245
Web: www.wago.com
Lab-scale degasifier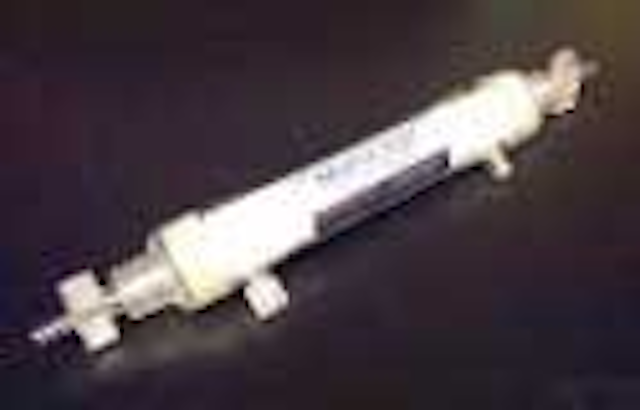 Click here to enlarge image
Membrana has commercialized a new laboratory-scale degasifier designed to debubble a variety of solutions. The new 1 x 5.5'' MiniModule contactor is smaller than the typical Liqui-Cel® Extra-Flow contactor designs. This MiniModule was developed to process liquid flows from a few ml/min to 500 ml/min. These small contactors are rated to 60 psi at ambient temperatures. The contactor uses John Guest® quick connect fittings. It replaces an older style MiniModule that had a lower capacity.
Membrana
Charlotte, NC
Tel: 704-587-8596
Web: www.celgard.net
GIS software
Itron has announced the release of the "Overhead Asset Modeler" tool set for Origin GIS software, adding embedded engineering technology, true structure and conductor engineering calculations, and advanced modeling capabilities. Origin GIS is a geographic information system (GIS) tool built on ESRI's ArcGIS mapping software platform, providing utilities with enterprise-wide distribution and integration of geospatial and asset data.
Itron Inc.
Spokane, WA
Tel: 509-924-9900
Web: www.itron.com
Steel security fence
Smith-Midland's steel security fence panels can be used at utility sites. The 10-foot-tall by 12-foot-wide panels can be installed on-site in either a stand-alone configuration or attached to concrete barriers using "saddle-type" bracket systems. The fence features a heavy-duty, 9-gauge expanded steel mesh with 3/4'' spacing along with a two-foot angled panel at the top.
Smith-Midland Corp.
Midland, VA
Tel: 540-439-3266
Web: www.smithmidland.com
Wastewater treatment
Apex Mills Corp. has selected Entex Technologies Inc. as the exclusive licensee of the patented BioWeb fixed-film technology for advanced wastewater treatment. The BioWeb technology uses Apex's dynamic fabric media to provide sites for biomass growth. Use of the technology in an activated sludge system combines the flexibility of activated sludge systems with the process stability of fixed-film processes. The combination of the two, termed Integrated Fixed-film Activated Sludge or IFAS, can be a solution for plant upgrades and overloaded clarifiers.
Entex Technologies Inc.
Chapel Hill, NC
Tel: 484-678-4317
Web: www.entexinc.com
Differential pressure controller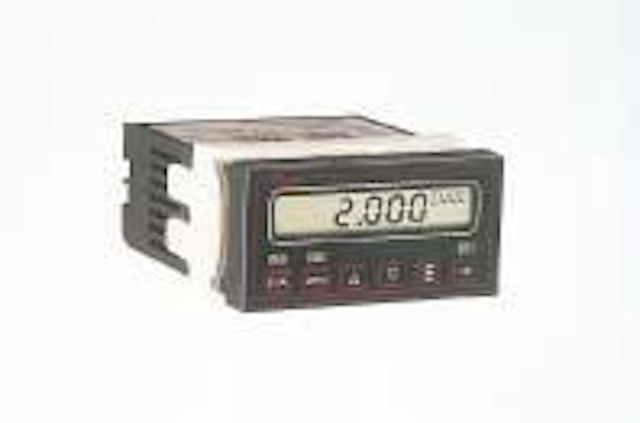 Click here to enlarge image
Dwyer Instruments has released a new series DH DigiHelic® Differential Pressure Controller. The controller is designed for pressure, velocity and flow applications, achieving a 0.5% full scale accuracy on ranges from 5'' w.c to 100'' w.c. It provides a 4-20 mA process output, two SPDT relays with adjustable dead bands, and selection of pressure, velocity or flow operation. Simplified programming is via a menu key. Users can select from a variety of options, including security level; set point or set point and alarm operation; auto or manual alarm reset; and K-factor adjustment for use with various Pitot tubes and flow sensors.
Dwyer Instruments Inc.
Michigan City, IN
Tel: 800-872-9141
Web: www.dwyer-inst.com
Filter belt bonding
An abrasion-resistant polyurea elastomer for the assembly of filter press belts is now available from Huntsman Advanced Materials. The transparent system sets fast, cures at room temperature and produces durable bondlines that can withstand exposure to abrasive materials and fluids.
Huntsman Advanced Materials America Inc.
Los Angeles, CA
Tel: 818-247-6210
Web: www.araldite.com
Portable gas monitor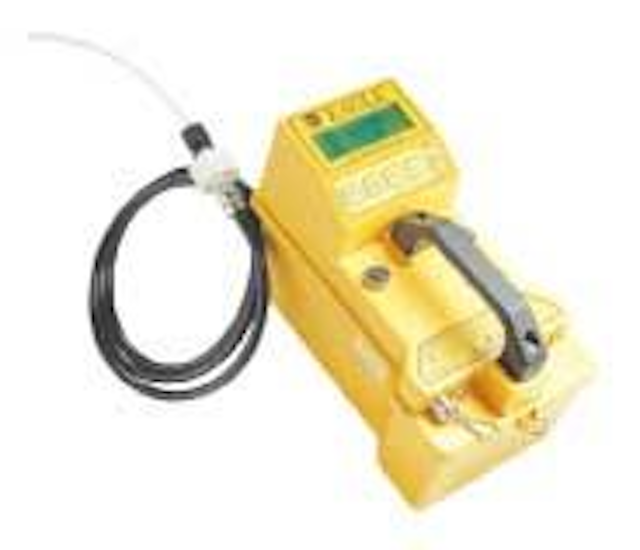 Click here to enlarge image
With over 250 versions available, the Eagle is a versatile, rugged, and reliable portable gas monitor. It is available from RKI Instruments. The portable instrument has a simultaneous readout of up to six combinations of gases never before offered in a portable gas detector.
RKI Instruments Inc.
Hayward, CA
Tel: 800-754-5165
Web: www.rkiinstruments.com
Data management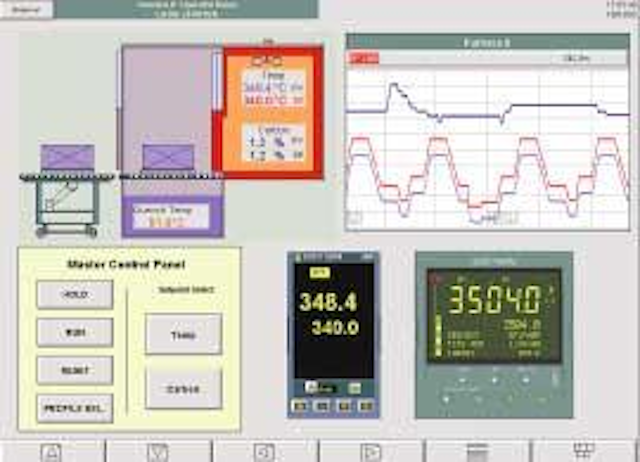 Click here to enlarge image
Eurotherm, a unit of Invensys plc, has announced the release of a new Advanced Screen Builder feature in the 5000 Series Data Management System. The screen builder feature enables 24 custom user screens to be created and viewed at the instrument's touch screen. Additionally up to 100 screens can be configured to run on a PC using Bridge 5000 remote viewing software. The software's new tools and components for creating user screens include; drag & drop, cut & paste, resize as well as a preview mode that enhances component properties and screen management.
Eurotherm
Leesburg, VA
Tel: 215-369-3998
Web: www.eurotherm.com
AMR fixed network
Itron has launched Water Fixed Network 2.5, (WFN) a new generation fixed network automatic meter reading system designed specifically for water utilities and municipalities. The radio-based network provides water utilities with a tool to increase efficiency, reduce costs, deliver consistently accurate billing, manage customer growth without adding staff and facilitate water conservation efforts.
Itron Inc.
Spokane, WA
Tel: 509-924-9900
Web: www.itron.com
Odor control system
A new odor control system, designed to remove hydrogen sulfide from exhaust air, has been introduced by Jacobs Air Water Systems. The Bio-Sponge™ system is designed for lift stations and headworks. It removes 99+% of sulfide-based odors, treating H2S-laden air through contact with chemically treated organic media. The system can also be designed to remove mercaptan odors. The system offers extended media life; the spent media is typically removed by vac-truck and disposed in ordinary landfills.
Jacobs Air Water Systems
Tampa, FL
Tel: 813-901-8825
Web: www.jacobsairwater.com
Disc coupling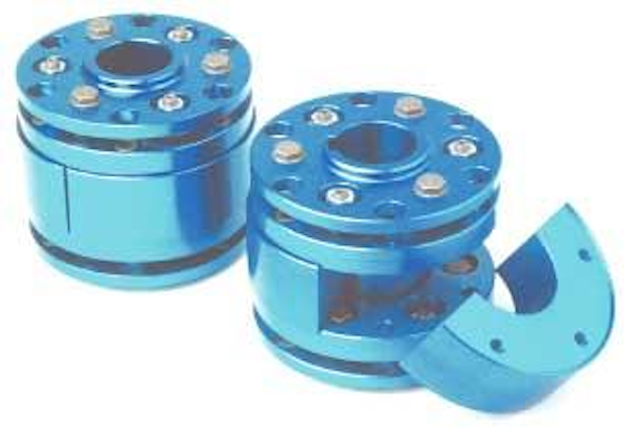 Click here to enlarge image
The Lovejoy®/Jaure Split-Spacer Disc coupling, or SXCS, features a closed-coupling design and is suitable for use in any application currently using a gear type coupling. The new coupling requires no lubrication. The design is torsionally stiffer due to its spacer-wall thickness and features zero backlash. Bore capacities range from 90-6 through 302-6 and larger sizes are available upon request. A two-piece radial removable spacer allows the end user to replace the disc pack without moving equipment, eliminating any alignment issues.
Lovejoy Inc.
Downers Grove, IL
Tel: 630-852-0500
Web: www.lovejoy-inc.com
Chemical feed flowmeter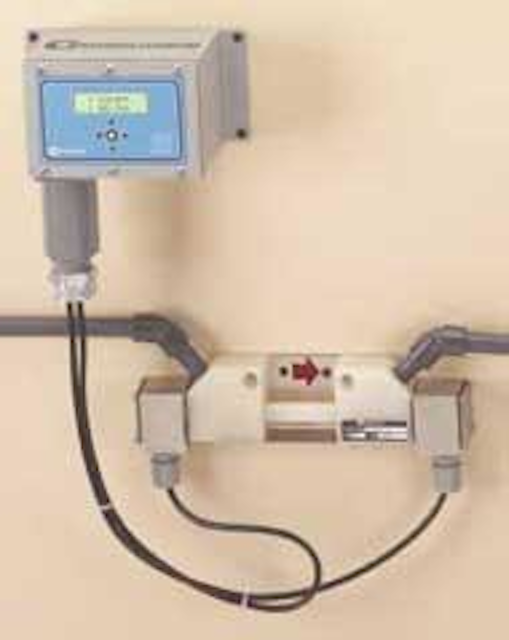 Click here to enlarge image
Controlotron System 1020FT Flow Tube Transit-Time Flowmeter is designed for very low flow chemical feed applications. The non-wetted transducer flow tube design, constructed of CPVC or PVDF Kynar tube material in 3/8'' and 3/4'' sizes, and 1/2'' in 316 stainless steel and PFA Teflon, allows the flowmeter to be used on the most aggressive chemical applications. Accuracy and repeatability is maintained over a very wide flow range. A 3/8''CPVC or Kynar flow tube will maintain its ±1.0% accuracy over a flow range from 1 gph to 300 gph. The meter can measure a diverse range of chemicals such as: fluoride, polymers, acids, sodium hypochlorite, sodium hydroxide, alum, potassium permanganate, etc.
Controlotron
Hauppauge, NY
Tel: 631-231-3600
Web: www.controlotron.com
Pump monitoring, control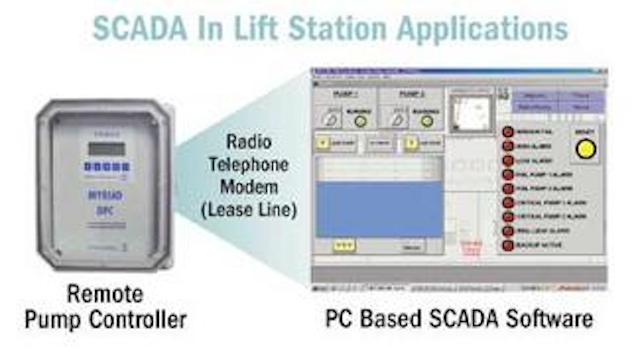 Click here to enlarge image
To address the increasing need for remote monitoring and control of sewage lift stations, Sigma Controls' Myriad series of microprocessor based pump controllers are fully SCADA ready, out of the box. The company's Infilink remote monitoring software package provides full remote monitoring and control of pump stations. It permits remote users to view pump status, alarms, run times, etc., and to acknowledge alarms, alternate pumps, remove a pump from control and change all system setpoints.
Sigma Controls Inc.
Perkasie, PA
Tel: 215-257-3412
Web: www.sigmacontrols.com
Sulfide control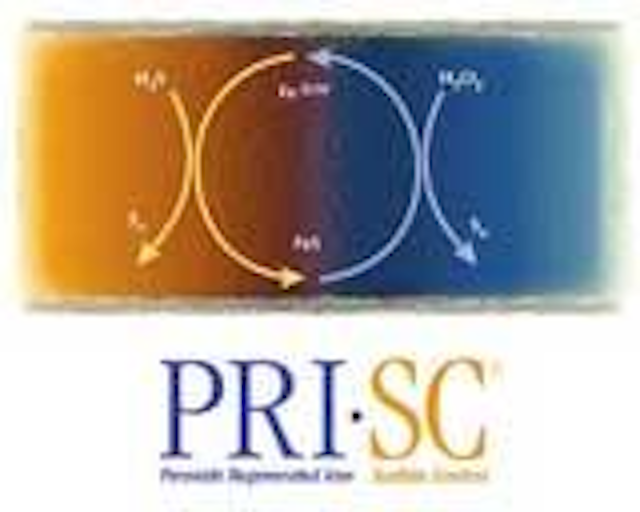 Click here to enlarge image
The use of hydrogen peroxide and iron salts are both proven methods for treating sulfide for odor and corrosion control in collection systems. US Peroxide has integrated these two methods in a synergistic fashion that results in improved performance, lower iron consumption and significant economic benefits. This new proprietary technology is known as Peroxide Regenerated Iron - Sulfide Control™ or PRI-SC™.
US Peroxide, LLC
Atlanta, GA
Tel: 404-589-9381
Web: www.h2o2.com
Submersible level transducer
Ametek U.S. Gauge has added to its level measurement product line with the release of the Model SDT low-cost submersible level transducer. The solid-state transducer is specifically designed for direct submergence in many types of liquid. It indicates the level of liquid by continuously measuring hydrostatic pressure via its sensing element, an ion implanted silicon semiconductor sensor with integral Wheatstone Bridge circuit.
Ametek U.S. Gauge/PMT Products
Feasterville, PA
Tel: 215-355-6900
Web: www.ametekusg.com
Energy monitoring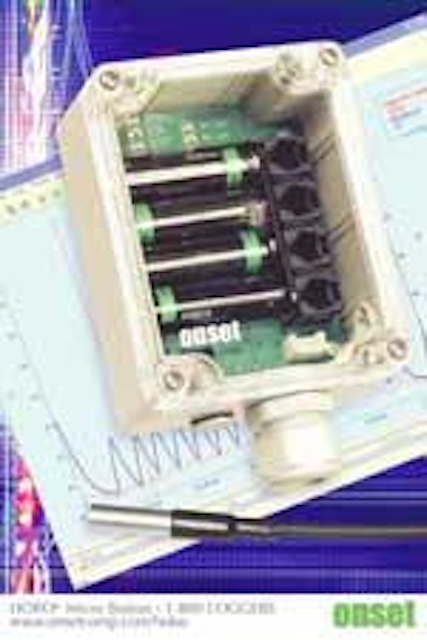 Click here to enlarge image
Onset Computer Corp. has introduced the HOBO® Micro Station, multi-channel data logger for indoor energy monitoring applications. Designed with a flexible system architecture, the logger can accept pulse or analog inputs from a wide range of specialized third-party sensors – such as power meters and flow meters – as well as the company's full suite of plug-in Smart Sensors.
Onset Computer Corp.
Bourne, MA
Tel: 800-564-4377
Web: www.onsetcomp.com/hobo
Pump replacement parts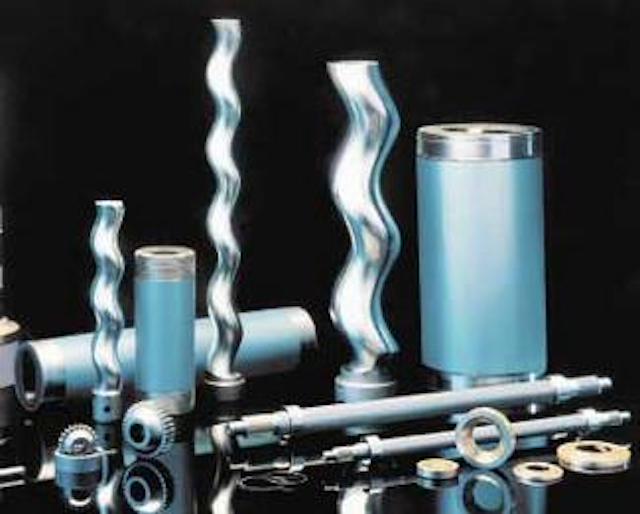 Click here to enlarge image
Genuine Moyno® replacement parts ensure that the company's pumps continue to provide the original performance and service life. The company's replacement parts consistently meet all product design parameters, quality standards, manufacturing tolerances and ISO 9001 certified control processes. They install correctly the first time, ensure accurate form and fit to meet original product specifications and protect product warranties. The company maintains a large in-field inventory of progressing cavity replacement parts to ensure availability and reduce process delays. The Moyno Netlink™ System electronically links the company's North American distributors via an intranet, giving the customer instant access to this multimillion dollar, in-field replacement parts inventory.
Moyno Inc.
Springfield, OH
Tel: 877-486-6966
Web: www.moyno.com
Colorimeters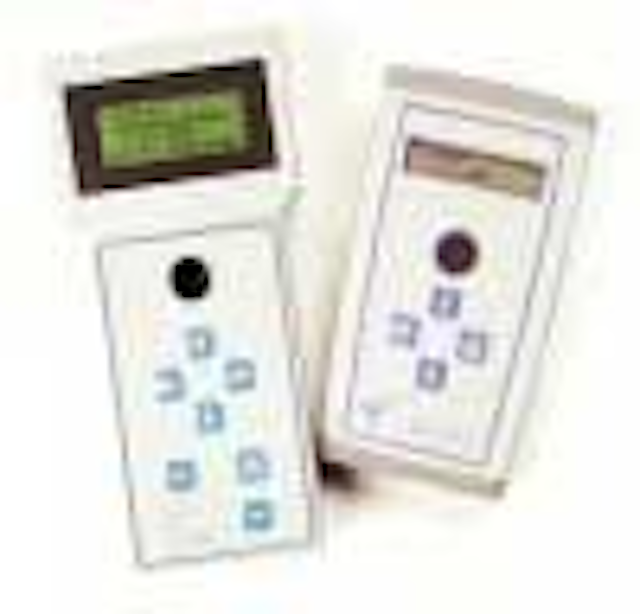 Click here to enlarge image
Hydrodyne Systems has been manufacturing water testing instruments for over 25 years. Features for the company's colorimeters include data logging and downloading capabilities and use of the company's patented Curve Fit Technology, eliminating the need for factory re-calibration. The instruments are available in single test parameter models up to multi-parameter models factory programmed with over 60 tests including; arsenic, chlorine, fluoride, iron, turbidity, and many more. Reagents are packaged in pre-filled vials so all operators need to do is add water.
Hydrodyne Systems
Milford, OH
Tel: 800-543-9283
Web: www.hydrodynesystems.com
Pipe locator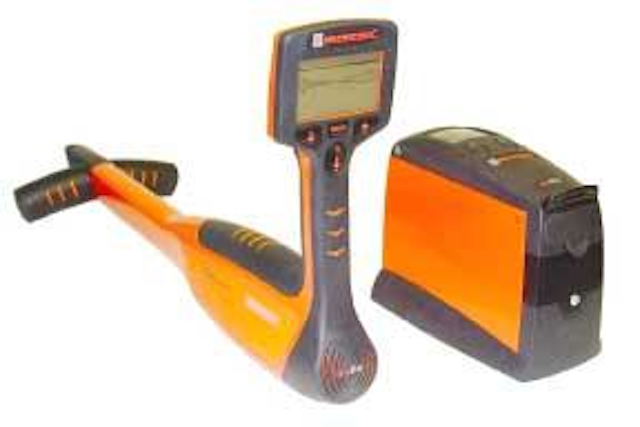 Click here to enlarge image
Metrotech has introduced the 810 Dx Pipe and Cable Locator, a single frequency instrument designed for locating all types of buried utilities. The locator features a constant current transmitter and a newly designed ergonomic receiver. Together, the "system" is more resistant to all types of weather conditions and maximizes the electromagnetic signal applied to the pipe. Using unique transmitter technology, the locater is capable of the maximum power allowed using three levels of output. Transmitter power levels are selected using oversized buttons for a better tactile feel even when using gloves. Bright LEDs illuminate the selected power level. For power, select from standard "D" cell alkaline or rechargeable NiMH batteries.
Metrotech Corp.
Sunnyvale, CA
Tel: 408-734-1400
Measurement, control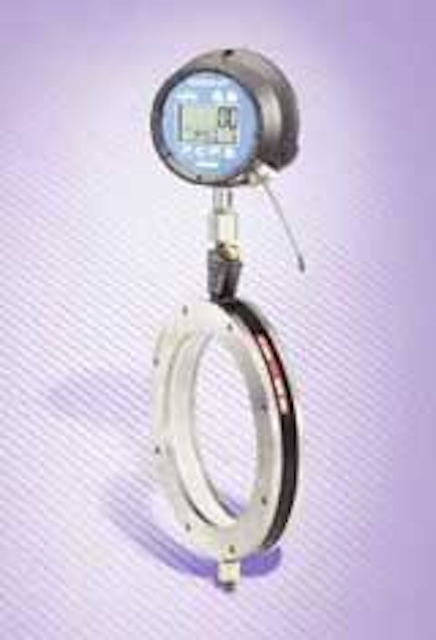 Click here to enlarge image
Dresser Instruments manufactures gauges, thermometers, switches, transducers, transmitters, data loggers, calibration equipment and isolators for pressure measurement and control. Product brands include Ashcroft®, Heise®, Willy™, ebro™ and Weksler®.
Dresser Instruments, a Div. of Dresser Inc.
Stratford, CT
Tel: 203-378-8281
Web: www.dresser.com
Enclosures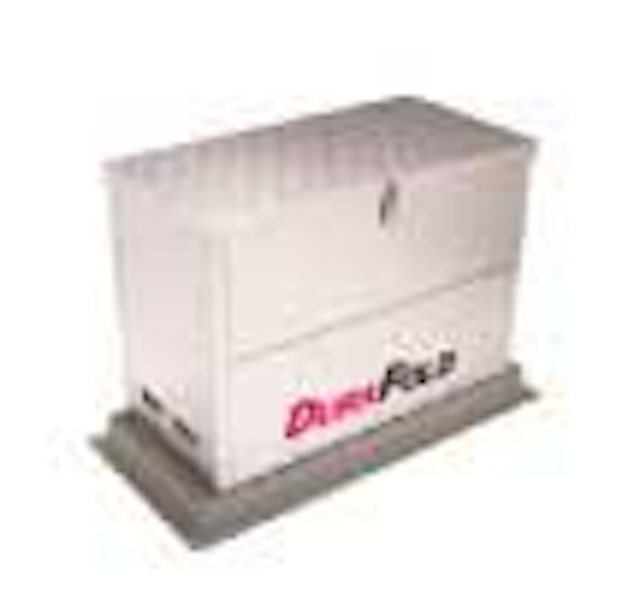 Click here to enlarge image
Hot Box has introduced DuraFold™, a new enclosure that ships and stores flat and can be erected more quickly than the company's modular enclosures. The enclosures are designed to protect above-ground valves, meters and pumps.
Hot Box
Jacksonville, FL
Tel: 800-736-0238
Web: www.hot-box.com
Bag filters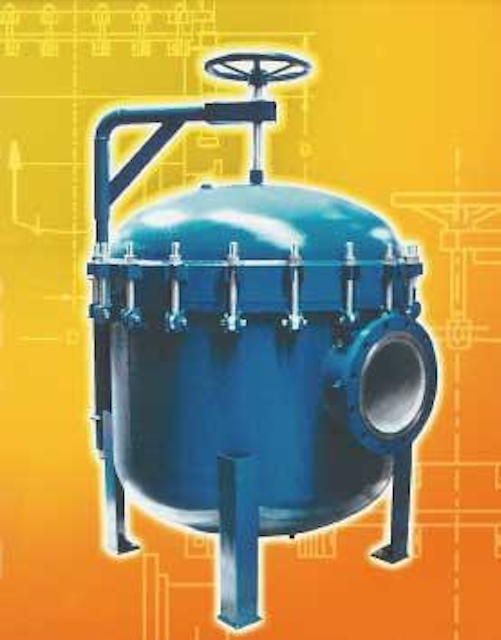 Click here to enlarge image
The Maxiline™ MBF HD multi-bag filter housing from Hayward is available in a 24-filter bag model that will handle flow rates of up to 4500 gpm. The housing is available in either carbon steel or stainless steel. Replacing filter bags on large housing has traditionally been difficult because of the large, heavy cover. The Maxiline solves this problem by incorporating a hand-wheel-operated davit cover. As an option, a hydraulic assisted davit cover is available.
Hayward Industrial Products Inc.
Elizabeth, NJ
Tel: 908-351-5400
Web: www.haywardindustrial.com