Small Wastewater Treatment System Makes the Most of Time, Technology
Staff at the Loganville, GA, Big Flat Creek Water Quality Control Facility are rightly proud of their small wastewater treatment system, on line for less than three years...
Sep 1st, 2004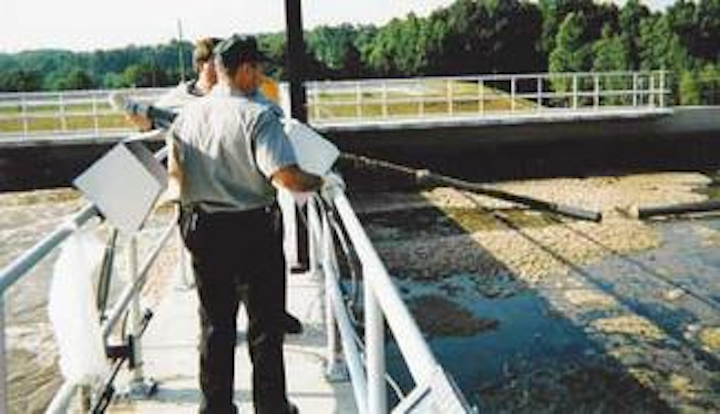 Staff at the Loganville, GA, Big Flat Creek Water Quality Control Facility are rightly proud of their small wastewater treatment system, on line for less than three years yet acknowledged by the Georgia Water and Pollution Control Association (GW&PCA) as the 2003 Best Operated Plant among municipal wastewater plants with 1.0 to 10.0-mgd capacity. Applying an efficient treatment system and taking advantage of new instrumentation opened the door to time and cost savings that consequently led to proactive management.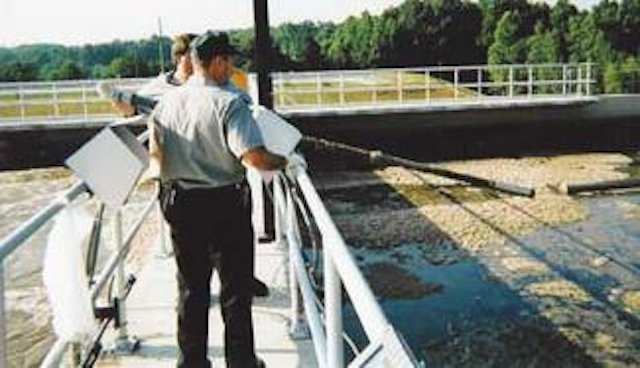 Operators maintaining the Loganville, GA, SBR wastewater system use an on-line Hach LDO dissolved oxygen probe that eliminates electrodes and membranes — resulting in 'wipe-clean' maintenance and the reliable readings necessary to guide the SBR process.
Click here to enlarge image
The facility received the award, in part, because it experienced no violations of permitted levels of BOD, TSS, ammonia, total phosphorus, and chlorine residual during 2003. According to Plant Superintendent Chris Yancey, the award also is based on consistent use of standard methods and quality control in the facility laboratory as well as thorough equipment and facility maintenance by technicians and the three staff operators. All QC and maintenance is documented thoroughly.
"We have to show we keep up with maintenance – mostly preventative – whether it's daily, weekly, monthly, or seasonal," he said.
For many WWTPs, operating in reaction mode leaves little time for the preventative effort Yancey described, much less journaling those tasks for the record.
New Technology
The Big Flat Creek Water Quality Control Facility has found success using sequencing batch reactor (SBR) technology, applied for decades as an industrial pre-treatment technology yet just building a fan base among municipalities.
The SBR system is well suited for the Loganville plant, which receives a relatively consistent domestic sewage load. Rated at 2.0 mgd, it includes two 1-mgd basins, each completing sequential phases for idle, static fill, mixed (pumped) fill, aerated fill, reaction, settle with waste to digest, and decant. A complete SBR cycle takes 3 1/2 to 4 hours, and each SBR basin usually runs four cycles a day, together treating an average 700,000 gallons daily.
Since the facility went on line, a continuous-reading dissolved oxygen (DO) sensor in each tank sends real-time readings to the plant programmable logic controller (PLC) for air blower control. This on-line aeration control is particularly vital for the SBR basin, in which sequential biological environments must support different types of microorganisms during different phases of the process. Closely controlled sequential aerobic digestion and nitrification/denitrification phases reduce BOD, convert solids, and remove nutrients for compliant discharge to the receiving Big Flat Creek.
The real-time DO readings also are responsible for blower cutback when the temperature drops or loading decreases due to storm inflow. Such blower control can eliminate large amounts of wasted energy.
"But the DO probe maintenance was unreal," said Dean Shirley, Wastewater Operator III.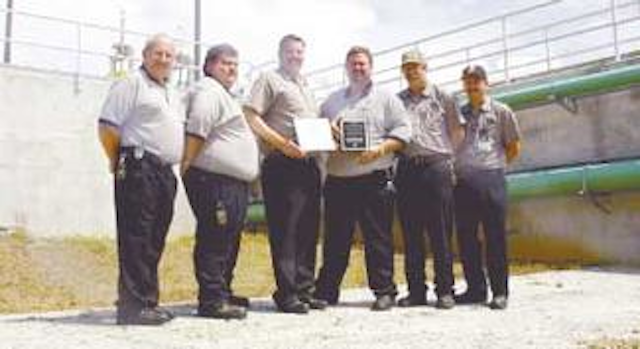 The operating personnel and management of the Big Flat Creek Water Quality Control Facility display the GW&PCA award that recognizes their plant's efficient and compliant wastewater treatment. (Photo courtesy of the Walton Tribune, Monroe, GA.)
Click here to enlarge image
The DO probes originally used required cleaning at least once a week, each probe consuming nearly half a day of operator time to remove grit buildup, resurface the electrodes and grindstone, and recalibrate the probe. While each on-line probe was out of service, he said, another operator was making manual DO readings every 15 minutes during the 1 1/2 hour aeration phase of each SBR cycle.
In mid 2003, however, the facility installed new DO probes (Hach LDO®, Hach Company) that apply luminescence technology, a method that eliminates the electrodes, electrolyte, and membranes that had been plaguing the Loganville operators.
"With the new probes, it's – maybe – a five-minute process to wipe them clean," Shirley said.
With much less maintenance, the on-line probes are a perfect match for the SBR system that targets hands-off operation. The old probes were relegated to the plant outpost to monitor final discharge, he said.
Results
"Our operators started finding more time for preventative maintenance such as tank cleaning, facility housekeeping, water testing for process control, and the associated documentation," said Yancey.
One improvement led to another. The proactive efforts spawned by the initial O&M reduction has, in fact, allowed the facility to accommodate about 30% more throughput over the last year, Yancey said.
He added that the new DO technology is paying for itself, too.
"We've found the new LDO probes that stay cleaner are consistently reading slightly lower than the traditional DO probes we had been using in the tanks. We have a better indication of what's really happening in the system. Based on that, we've adjusted the blowers to run about 20% less. We're saving significantly, not only on maintenance but also on blower operation. Even with increased load, we've been able to reduce our budget compared to last year."
With cost-reduction rewards topped off by state recognition, this small Georgia wastewater facility has demonstrated that one improvement does lead to another – a good mantra for any-sized operation.