Drinking Water Security: Examining Market Growth, Divers, Restraints
The tragic events of 9/11 have forced the government, regulatory bodies and the public to look at natural and physical resource protection in a new light.
Dec 1st, 2004
By Usha Srinivasan
The tragic events of 9/11 have forced the government, regulatory bodies and the public to look at natural and physical resource protection in a new light. Water makes up a third of the world and has always been a precious commodity, with concerns about water protection ranging from marine and coastal lines and surface water sources to freshwater and groundwater resources. Many Federal agencies are involved in protecting these water sources but the EPA is the designated lead agency for protection of water supply systems as per the Presidential Directive 63.
The U.S. has some of the most extensive and complex water and wastewater systems and infrastructure in the world. There are over 165,000 public drinking water supply systems, 18,146 publicly owned wastewater treatment facilities and 75,000 dams and reservoirs. The EPA is not only concerned about the above mentioned infrastructure but also the estimated 1 million miles of drinking water distribution lines and 800,000 miles of buried wastewater collection lines, all vulnerable to a breach by physical, chemical and/or biological threats.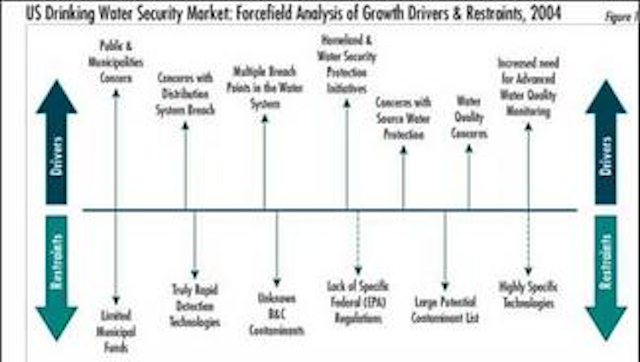 Click here to enlarge image
In the past two years however, a tremendous amount of work by federal and state agencies, municipalities and the private sector has gone into vulnerability assessment, and creation of appropriate compliances to meet the regulatory standards is ongoing. In comparison to other forms of infrastructure protection, water systems have some very unique facets, the most prominent being that there are multiple points at which a breach of security may occur such as at the source water point, in a pumping station, through fire hydrants, at the distribution system, reservoirs etc. To meet the complex needs of this industry, products, technologies and companies have sprung up to cater to this market.
Market Growth Drivers, Restraints
Figure 1 shows the pertinent market drivers and restraints of this market, which influence the positive or negative growth development. The size of the arrows indicates the relative size and impact of each factor. The dotted lines suggest a weakening importance of a particular force. Looking at the overall shape of this graphic, the balance is clearly in favor of the market drivers. The drivers of this market are quite obvious but it is also pertinent to understand the restraints of this market, which will determine the success of the market participants.
This forcefield analysis also illustrates where there are opposing trends. For example, although municipalities are highly concerned with protecting every aspect of their water supply system, the monies available through federal and state funds to accomplish this is limited. Municipalities are under increased pressure to update and upgrade various systems at their plants, not only security systems, but also technologies to improve water quality standards and reduce contaminant levels in wastewater effluents.
President George W. Bush recently signed the 2005 Homeland Security Appropriations Act, providing $28.9 billion in net discretionary spending for the Department of Homeland Security (DHS) in an effort to boost port and boarder security, as well as strengthen the prevention of water contamination risks.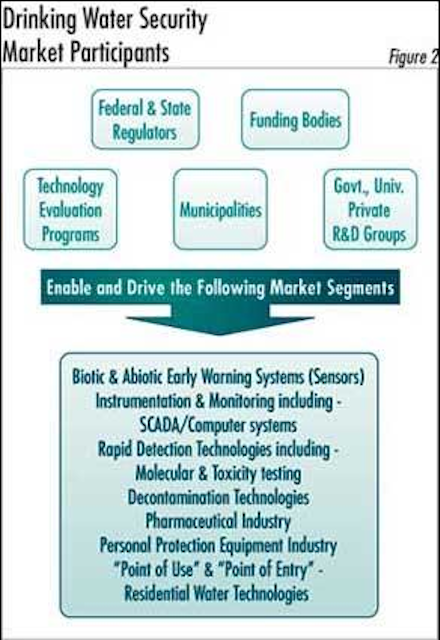 Click here to enlarge image
This money will help by adding new resources to patrol the borders, and there is also vital money for better security of chemical facilities and nuclear plants, water treatment plants, bridges, subways and tunnels. Even with this new money, considering the multiple needs of the municipalities, the amount that may actually be available for implementing the much-needed monitoring technology is questionable. The majority of the focus has been on the physical security of the plants but more recently the public and private sector alike have been looking into understanding the general water parameters that could serve as an indicator for some intentional or unintentional contamination.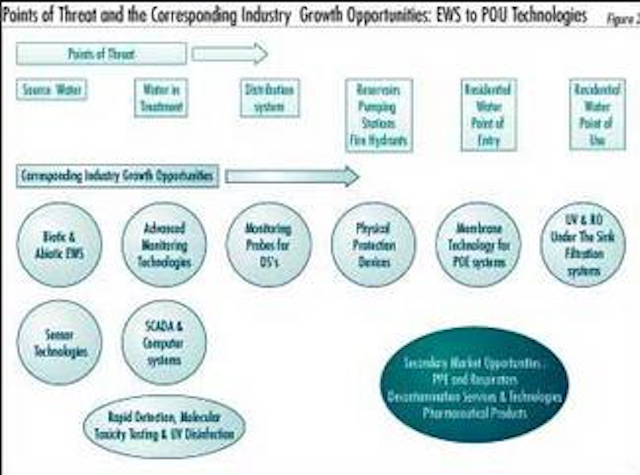 Click here to enlarge image
Existing water quality monitoring systems mostly involve laboratory testing with the exception of some larger systems, and this method does not allow for early detection of any potential contaminants in water. There is an increasing need for advanced on-line multi-parameter monitoring systems at the plant and the distribution system to not only understand the baseline measurements of a system's water but to enable recognition of anomalies when they occur.
EPA's Cincinnati Office of Water is currently undergoing large scale studies to understand the dynamics and changes that may occur in the general baseline parameters of water such as the pH, TOC, temperature, ORP, conductivity, turbidity, residual chlorine, etc., when some specific contaminates are introduced. Given that municipalities need to maintain a higher quality of output water, the implementation of advanced monitoring systems will address both water quality and threat issues.
Although there is a published list of biological and chemical threats, and companies are spending an enormous amount of money in R&D to match that list, the fear of the unknown is always looming in the background.
The implementation of the attack and the composition of the threat agent may not always be complex and municipalities should be able to anticipate and act appropriately to such threats. The response time and accuracy of rapid detection technologies are critical to a municipality's ability to implement shut-down, response and decontamination strategies. There is no room for "false negatives" and definitely no "false positives".
The EPA's Environmental Technology Verification program is actively involved in verifying many such technologies. Of the 30 technologies evaluated by the Advanced Monitoring Systems Center, 14 are specific to water security issues; in 2003 it evaluated six cyanide detection and eight rapid toxicity technologies.
Emerging Markets, Technologies, Acquisitions
Figure 2 lists the federal and state agencies and private bodies that have influenced the growth of various market segments and industries -- from sensor technologies for "Early Warning Systems" to "Personal Protection Equipment" to deal with decontamination of the site in case of a chemical or biological attack.
In understanding the entire water cycle from surface water drawn for treatment to "point of use" at a home, there are several points where there may be a breach in security and potential contamination of the water may occur. Figure 3 shows the parallel growth of certain industries and markets based on the need arising at every stage in which the potable water is processed and delivered to the home.
Companies have dedicated special funds for R&D of specific technologies applicable to these markets and some have even realigned existing products to meet current needs. For example, Hach has created a specific division dedicated to aligning existing technologies and newer technologies to meet the current water quality measurement needs.
The water industry has also seen increased mergers and acquisitions in the past year. The three main divisions that any company is most likely to benefit from include, water & wastewater treatment equipment & technologies, security systems and capital financing capabilities. The two giants in this industry with these capabilities and more are GE and Siemens. Their additional industry strengths in healthcare, pharmaceutical, automation and monitoring etc. only enhance their market position.
Although there may be some dominant industry participants, the market is still conducive to new entrants with viable technologies and solutions. For once "Brand Recognition" may not be as important as the "Product capability and accuracy". The name of the game is accurate, fast and cost effective and is fair game no matter what the size of the company or it's product offerings.
About the Author:
Dr. Usha Srinivasan is the Industry Manager for the North American Environmental Group of Frost & Sullivan. She has a Ph.D. in Environmental Microbiology and a B.Sc. in Microbiology. Srinivasan manages a team of expert analysts working in US, Canada and Asia in varied environmental sectors including water, wastewater, waste management, remediation and personal protection equipment markets.