PRODUCTS & SERVICES — SLUDGE DEWATERING & PROCESSING
Biothane has developed Shear Enhanced Anaerobic Digestion (SEAD) technology for the digestion of sludge and other biodegradable solid wastes and slurries.
Jun 1st, 2004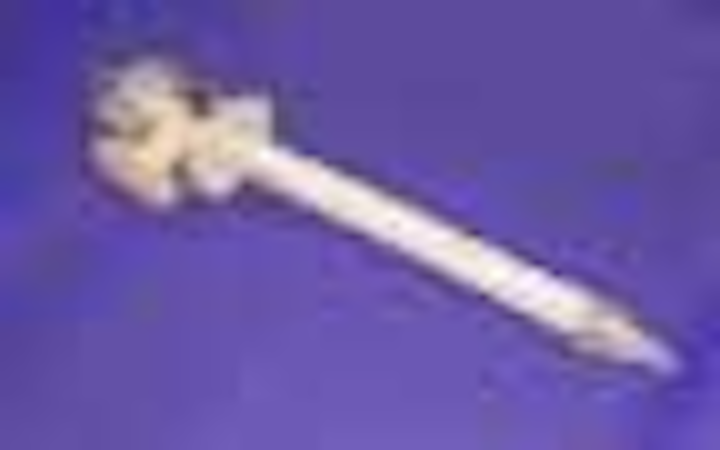 Anaerobic digestion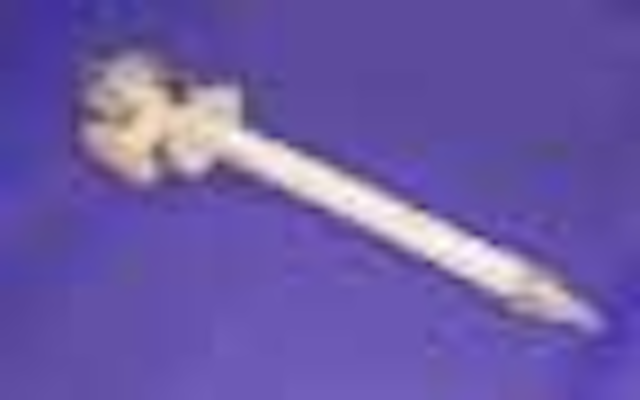 Click here to enlarge image
Biothane has developed Shear Enhanced Anaerobic Digestion (SEAD) technology for the digestion of sludge and other biodegradable solid wastes and slurries. The SEAD reactor typically operates in a once through mode when treating sludge or slurry with total solids content of 4 percent or greater. The substrate is mixed by circulating a large flow of mixed liquor from the bottom of the reactor via one or more high-shear nozzles at the top of the reactor downward into one or more draft tubes.
Biothane Corp.
Camden, NJ
Tel: 856-541-3500
Web: www.biothane.com
Biosolids odor control
Altivia now offers VX-456, a new proprietary liquid mixed-oxidant applied to biosolids to control odor causing sulfides and related malodors as well as prevent the biological generation of sulfides. The mixed-oxidant does not form chlorinated organics, and forms environmentally friendly by-products.
Altivia Corp.
Houston, TX
Tel: 866-258-4842
Web: www.altivia.com
Pressure transmitter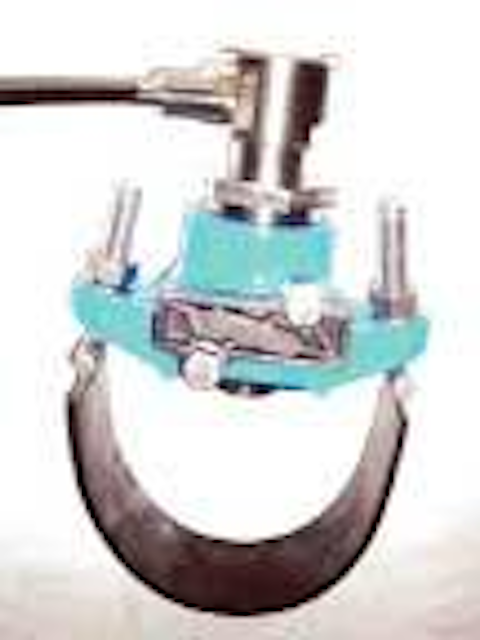 Click here to enlarge image
GE Druck, a unit of GE Infrastructure Sensing, has introduced the LPX 7380-SE flush diaphragm sludge pressure transmitter, designed for use in sludge pumping lines to monitor discharge pressure. The flush diaphragm is constructed of abrasion-resistant Inconel X750 and is five times thicker than conventional devices. The transmitter is available in various full-scale ranges from 20 in. H2O to 500 psi and can be ranged 4:1. It also is available in a variety of configurations including PMC Fitting, Flange-mounting, Triclamp Fitting, and Saddle-mount. Standard accuracy is ±0.5%FS with ±0.25%FS available.
GE Druck
Fairfield, CT
Tel: 203-746-0400
Filter press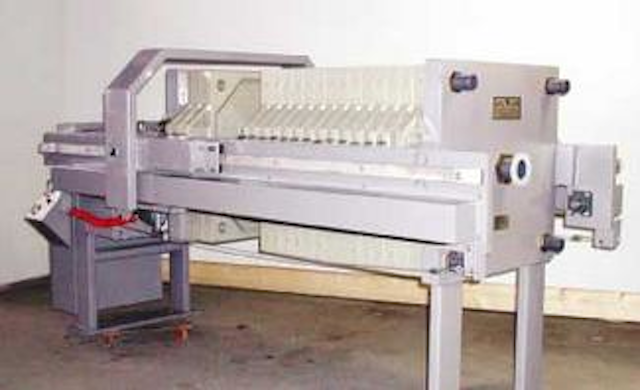 Click here to enlarge image
The new ErtelAlsop EA Series filter press incorporates all the features of the company's stainless steel presses, at a lower cost. The new presses include full thickness and height, tee-slotted, steel sidebars with stainless wear strips. Slide heads ride on full size roller and bearing assemblies. Skid shoes and pads are not used on any EA Series press.
ErtelAlsop
Kingston, NY
Tel: 800-553-7835M
Web: www.ertelalsop.com
Level detection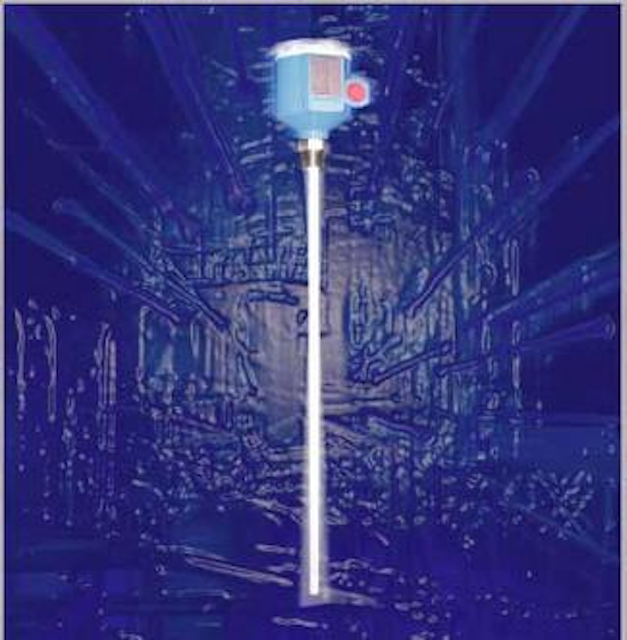 Click here to enlarge image
K-TEK has announced the release of the KCAP300™ and KCAP400™, RF (Radio Frequency) capacitance switches for level detection in a wide variety of challenging applications, from low dielectric bulk solids to sticky slurries. The one-step, external calibration process means there is no need to remove covers and violate equipment ratings; each unit is truly explosion-proof.
K-TEK
Prairieville, LA
Tel: 800-735-5835
Web: www.ktekcorp.com
Dewatering aids
A new family of structurally engineered sludge dewatering aids specifically designed to improve the performance of centrifuges used in municipal wastewater treatment has been launched GE Infrastructure Water & Process Technologies. The varying biological characteristics of different municipal sludges make them particularly difficult to dewater effectively. By increasing the efficiency of centrifuge operations in removing water from solids, GE Muni shear-resistant polymers can save on cake transportation and disposal costs, reduce fuel costs when cake is incinerated, and minimize runoff.
GE Infrastructure Water & Process Tech.
Trevose, PA
Tel: 888-898-6766
Web: www.gewater.com
Hydraulic submersible pumps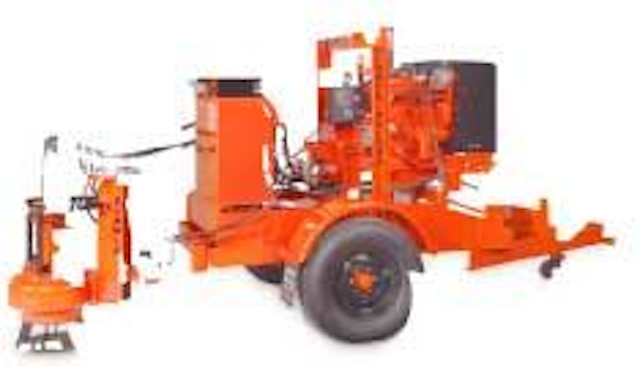 Click here to enlarge image
A new hydraulic driven submersible pump from Godwin Pumps, the Heidra 150VSG, handles thick, solids laden liquids with solids up to 5'' in diameter. A remote actuated "slurry gate" enables the pump to be used as a mixer in applications where sludges are so thick they are initially unpumpable.
Godwin Pumps
Bridgeport, NJ
Tel: 856-467-3636
Web: www.godwinpumps.com
Sludge pumps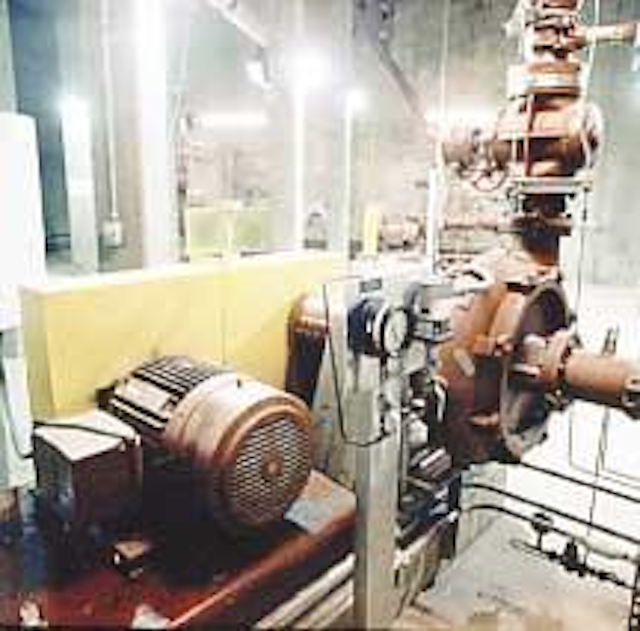 Click here to enlarge image
Morris 6100CT cup-type recessed impeller pumps are designed to handle sludge and grit in municipal applications. The pumps feature fully machined register-fit castings, confined O-ring interfaces, heavy-duty bearing frame, hardened hook-type shaft sleeve, positive liquid sealing between impeller and sleeve, replaceable rear liner and suction cover, high-chrome iron construction and a reversible casing design.
Morris Pumps
Aurora, IL
Tel: 630-236-6900
Web: www.morrispumps.com
Progressing cavity pumps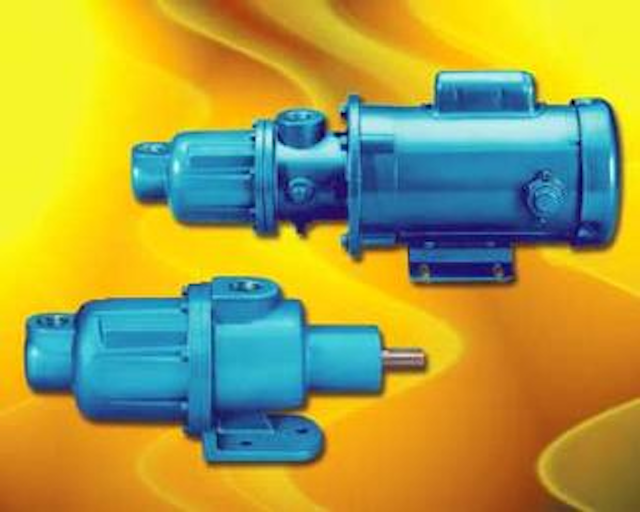 Click here to enlarge image
Moyno® 500 progressing cavity pumps are positive displacement, general utility pumps that can handle a variety of applications from clean, clear liquids to viscous, abrasive and corrosive fluids. They are ideal for water sampling, as well as pumping chemical slurries. Models are available for use as sump clean out. Over 70 models are available in a variety of construction materials with many different options, allowing customization to specific plant and OEM needs.
Moyno, Inc.
Springfield, OH
Tel: 877-486-6966
Web: www.moyno.com
Dewatering systems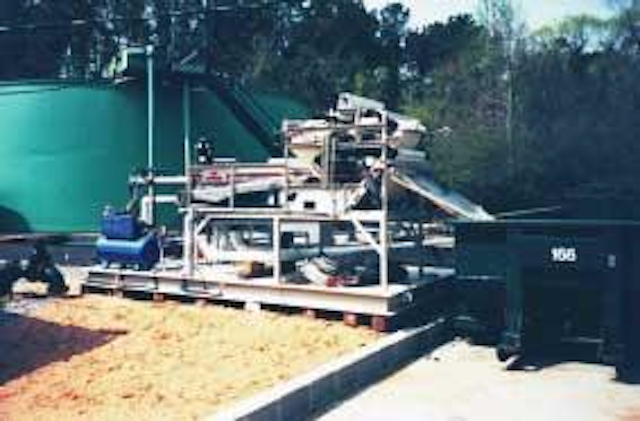 Click here to enlarge image
Phoenix Process Equipment offers a series of compact belt filter presses and gravity belt thickeners specifically designed for smaller municipal wastewater plants. When supplied as skid mounted systems, they include all necessary pumps, controls, polymer dosing systems, and require only four external connections, thus greatly simplifying installation.
Phoenix Process Equipment Co.
Louisville, KY
Tel: 502-499-6198
Web: www.dewater.com
Sludge pumps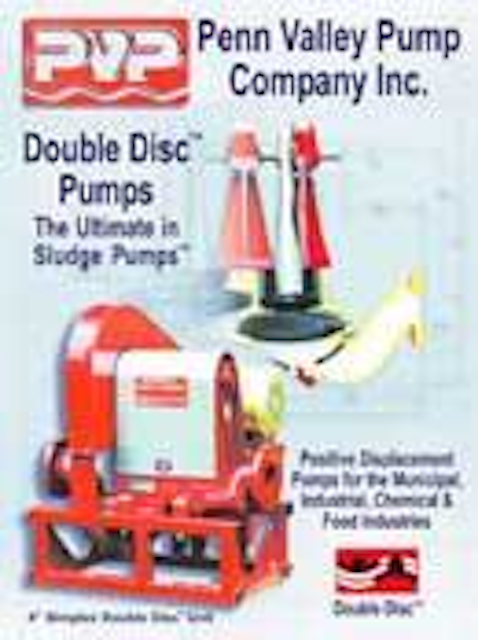 Click here to enlarge image
The Double Disc™ pump from Penn Valley can be used for variety of sludge and slurry handling applications including but not limited to belt press feed, centrifuge feed, thickener feed, thickened sludge transfer, primary sludge, scum, septage, lime slurry, etc. Based on a Free Diaphragm™ technology, the pump uses an "induced flow" principle of operation whereby the discs perform the duties of both diaphragm and valve, providing a double acting, non-clogging pumping action.
Penn Valley Pump Co., Inc.
Warrington, PA
Tel: 215-343-8750
Web: www.pennvalleypump.com
Belt press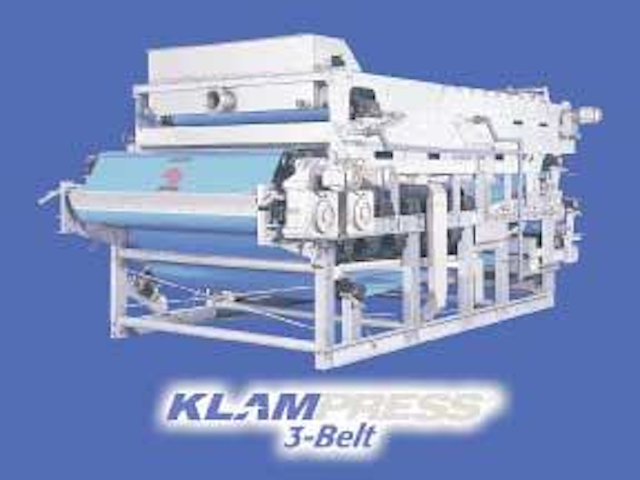 Click here to enlarge image
The Ashbrook Simon-Hartley Klampress® is now available in a three-belt configuration that increases throughput volumes and increases dewatering and thickening capabilities. The 3-Belt press provides the addition of an independent gravity deck, and gives operators the option of: operation in the gravity belt thickener (GBT) mode or operation in the belt filter press (BFP) mode — independently.
Ashbrook Simon-Hartley
Houston, TX
Tel: 800-362-9041
Web: www.ashbrookcorp.com
Open hopper pump

Click here to enlarge image
seepex has developed a new type of open hopper pump to transport extremely viscous products and dewatered sludge cake. The BTH pump can transport materials up to three million cPs and municipal wastewater sludge with over 50% solids. It has been used on mineral slurry cakes from plate-and-frame filter presses with over 80% solids and waste sludge up to 45% consistency. It can also be used to mix CaO with biosolids to meet EPA land application requirements.
seepex, Inc.
Enon, OH
Tel: 800-695-3659
Web: www.seepex.com
Sludge blanket detection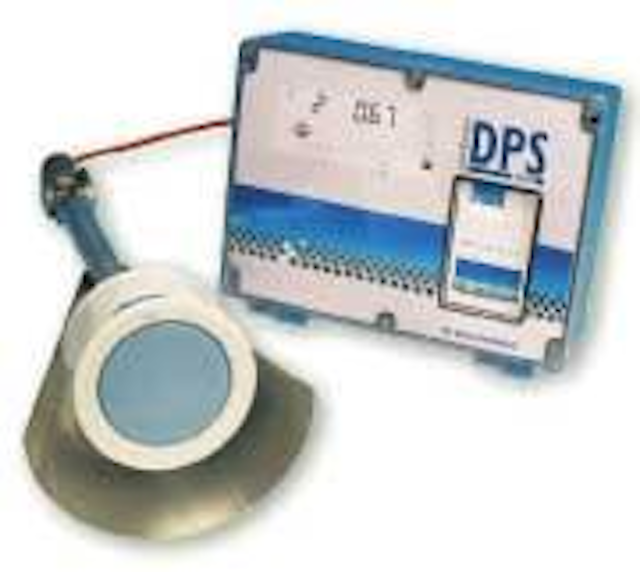 Click here to enlarge image
The Siemens InterRanger DPS 300 is a microprocessor-based sludge blanket detection system for use in up to two water and/or wastewater primary clarifiers. It uses one or two Echomax® non-contacting XCT-12 transducers and echo processing to continuously monitor the sludge blanket level. Communications via RS-232/RS-485 or bi-polar current loop, and isolated mA outputs, provide the capability for integration with centralized control systems.
Siemens Energy & Automation, Inc.
Spring House PA
Tel: 215-646-7400
Web: www.siemens.com
Dewatering systems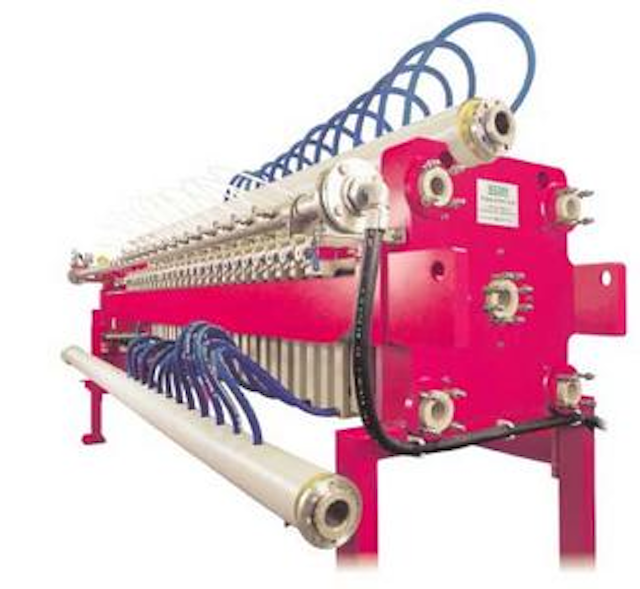 Click here to enlarge image
The Filtration Division of Netzsch offers a mechanical dewatering system and thermal drying device, combined into one compact unit for drying all types of slurries. The cake drying device is constructed with Polypropylene membrane filter plates which can be retrofitted for existing presses.
Netzsch Inc.
Exton, PA
Tel: 610-363-8010
Web: www.netzschusa.com
Sludge degritting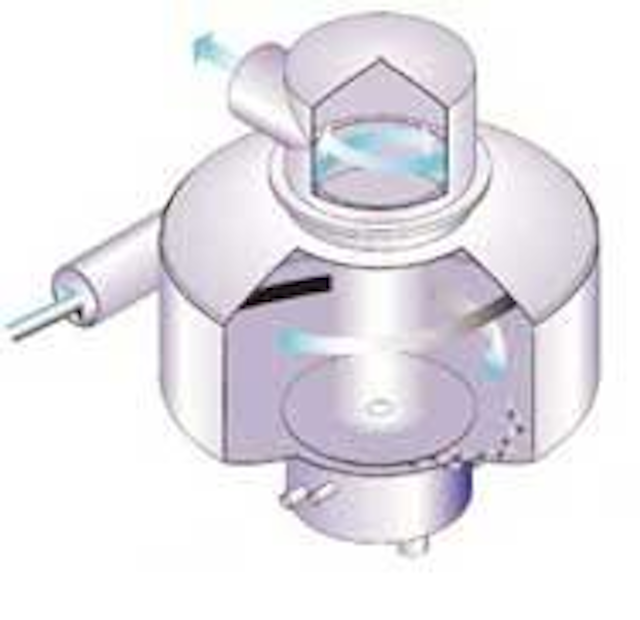 Click here to enlarge image
Eutek Systems' Slurrycup™ solids separation system uses a combination of an open free vortex and the boundary layer effect to capture, classify, and remove fine grit, abrasives, sediment, sugar sand, snail shells, and high density fixed solids from grit slurries or sludge. Standard designs will achieve 95% removal of all grit including particles as small as 50 micron (270 mesh) on sludge as dense as 1.5% Total Suspended Solids.
Eutek Systems, Inc.
Hillsboro, OR
Tel: 503-601-0850
Web: www.eutek.com
Gravity separators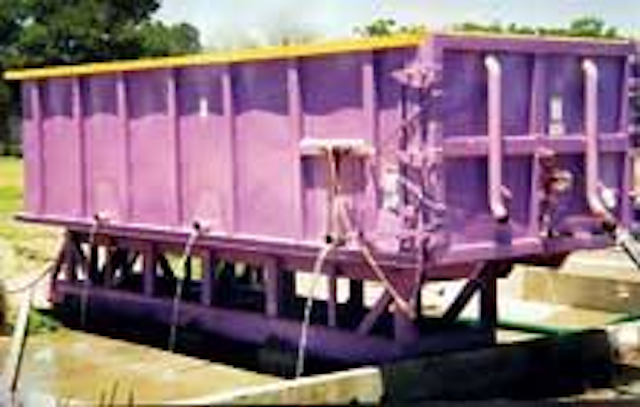 Click here to enlarge image
SMART offers a line of gravity separators – more commonly known as a Sludge Dewatering Box. Digested sludge is pumped through an in-line static mixer where it is blended with polymer. From there, the sludge/polymer mixture continues into the Sludge Dewatering Box. The same pump is used since mixing occurs on the fly and in-line. Once in the dewatering box, solids are dewatered in a predetermined period of time. In a properly designed box, 60–70 percent of free water should have drained within a matter of minutes if flow rate, polymer and filter media are properly mated during the design phase. In many applications, solids will reach a dryness of 10-15 percent within 18–24 hours. Once dried to the operator's satisfaction, the dewatering unit is picked up by a standard Roll-on-Roll-off truck and taken to the local beneficial use site, landfill or compost facility. An option to the Roll-on/Roll-off Dewatering box is the trailer mounted self dumping unit and stationary self-dumping unit.
Sludge Management and Reuse Technologies, LP
San Antonio, TX
Tel: 800-899-1802
Web: www.smartdewatering.com
Sludge pump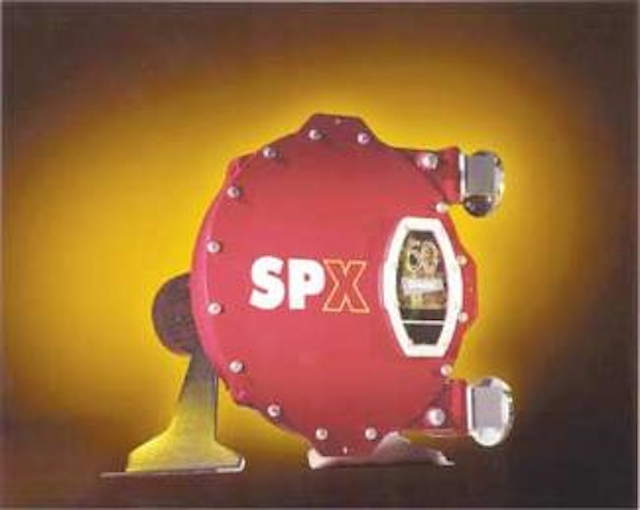 Click here to enlarge image
Watson-Marlow Bredel offers the SPX50 pump, which is suitable for feeding primary or thickened sludge to digesters or filter presses. The pump offers continuous operation, the ability to handle abrasive sludge and ease of integration into control monitoring and alarm systems. Advanced hose technology enables the pump to handle corrosive chemicals dependably for a long period of time.
Watson-Marlow Bredel Pumps
Wilmington, MA
Tel: 800-282-8823
Web: www.wmbpumps.com
Polymer blending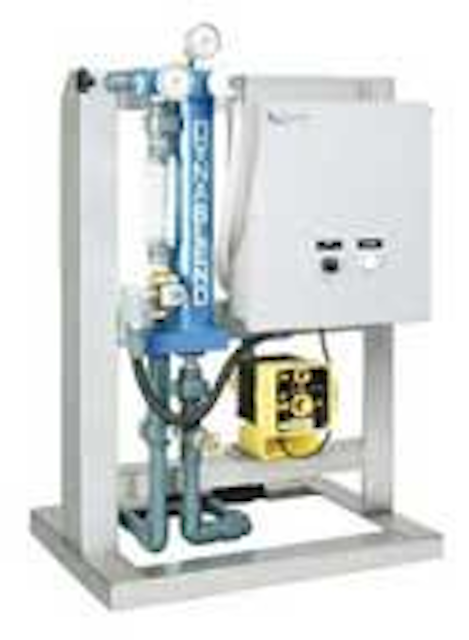 Click here to enlarge image
Fluid Dynamics has introduced the new dynaBlend™ B series polymer blending and activation system. The series uses a non-mechanical, high-energy polymer activation technology. The systems are compact and yet offer a wide range of standard control package to meet most any need.
Fluid Dynamics, Inc.
Rockford, IL
Tel: 815-654-2501
Web: www.fluiddynamicsinc.net
Dewatering system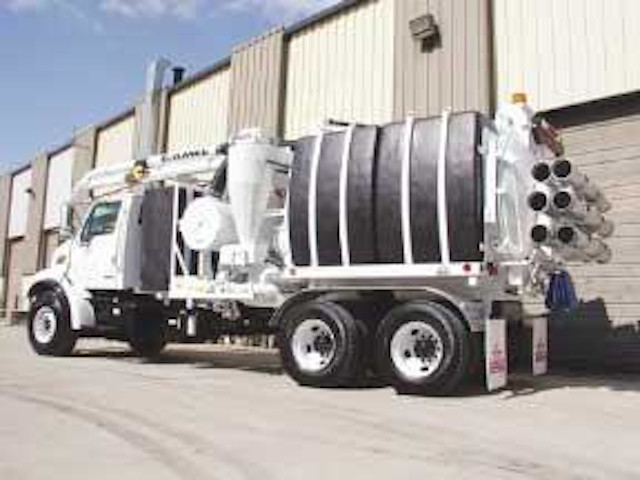 Click here to enlarge image
Super Products has added the Super Pak Dewatering system to its Camel line of Sewer and Catch Basin Cleaners. Super Pak allows the operator to compress the payload inside the debris body using the Camel's patented pusher plate to squeeze water out of the payload allowing the operator to take a dry load to the dumpsite, which saves money on disposal costs. It also increases productivity and saves time by removing the excess liquids; the unit can stay on the job three times longer and reduces the trips to the dumpsite. This option can also be retrofitted to most existing Camels with pusher plates.
Super Products Corp.
New Berlin, WI
Tel: 800-837-9711
Web: www.superproductscorp.com
Sludge level, turbidity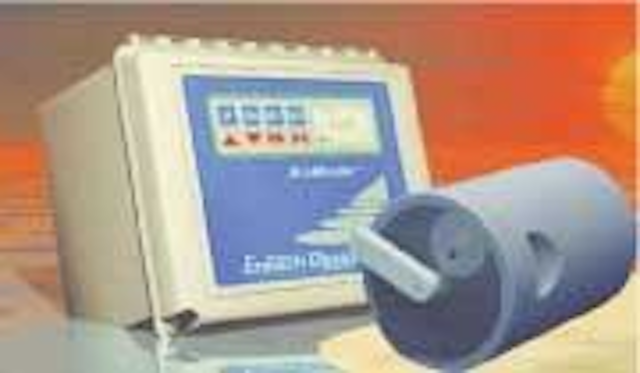 Click here to enlarge image
BinMinder 9300-ETS, available from Entech Design, combines ultrasonic sludge level and 90º scattered light turbidity measurements in a dual sensor analyzer. Sludge level measurement in clarifiers and thickeners supports operator efforts to maximize underflow density while minimizing solids discharge in the process effluent. Effluent turbidity assists operators with chemical application and provides early indication of process upset that could lead to avoidable reg
Entech Design, Inc.
Denton, TX
Tel: 940-898-1173
Web: www.blanketlevel.com
Sludge dewatering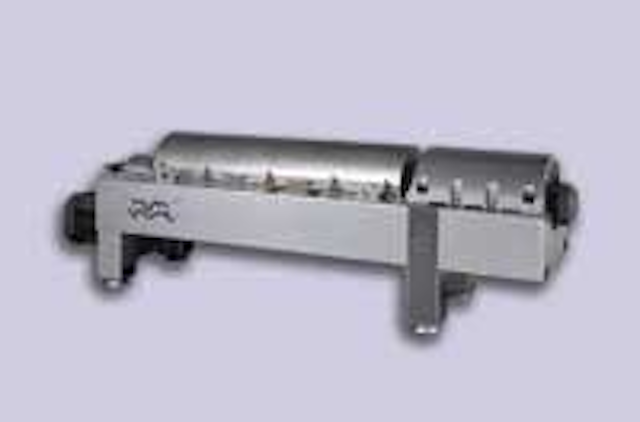 Click here to enlarge image
Alfa Laval's new generation of Smart Decanters, the ALDEC G2, transport and treat up to 30% higher volume of sludge, at the same time providing cleaner centrate, with minimum polymer consumption and higher cake dryness. The decanter's performance is due to internal improvements based on the company's experience in fluid dynamics and separation technology. Sludge is fed into the decanter without destroying the polymer.
Alfa Laval Inc.
Richmond, VA
Tel: 804-236-1342
Web: www.alfalaval.us
SRT control system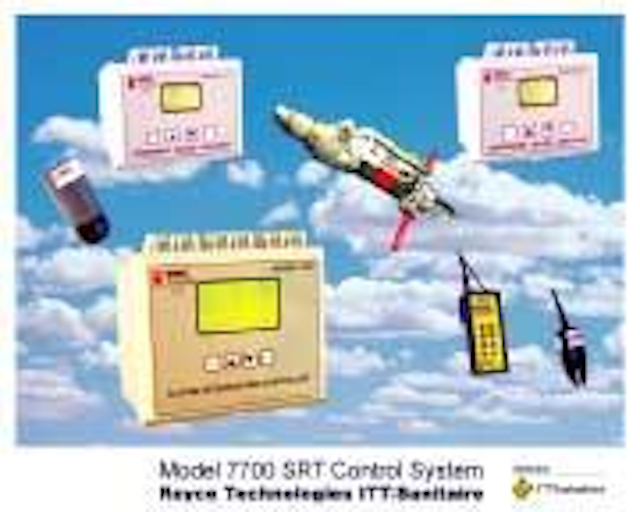 Click here to enlarge image
The Royce Model 7700 continuous Sludge Retention Time (SRT) Control System is designed as a complete package to continuously monitor both aeration basin solids and the concentration of wasted solids. It provides a feedback control signal for automatic or manual control of the wasting rate for SRT. The system has proven, in actual field installations, to stabilize the operation of the biological nutrient removal process.
Royce Technologies
New Orleans, LA
Tel: 800-347-3505
Centrifuge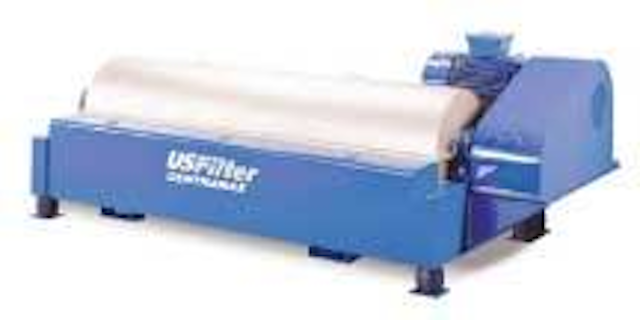 Click here to enlarge image
USFilter has introduced a new name for its horizontal decanter centrifuge used for dewatering or thickening municipal or industrial sludge. Formerly called J-Spin, the centrifuge's new name, Centramax™, was chosen to better reflect the operating performance of these machines that result in maximum cake solids and maximum capture efficiency. The centrifuge features sintered tungsten carbide tiles to reduce wear and a efficient back drive system that reduces energy consumption and provides maximum control.
USFilter
Holland, MI
Tel: 800-245-3006
Web: www.usfilter.com
Sludge pump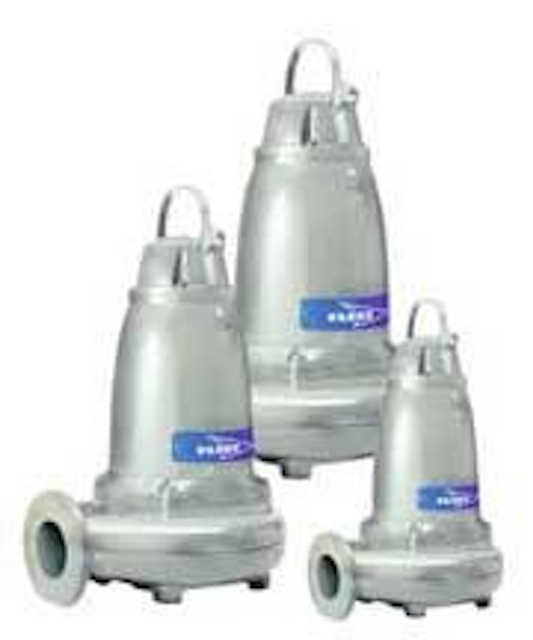 Click here to enlarge image
A new series of pumps introduced by ITT Flygt Corp. feature an innovative hydraulic design that ensures efficient pumping even in fluids with high solids and fibrous content. The company's new N-Pumps employ an open-type self cleaning impeller. In operation, each leading edge of the rotating impeller passes across a sharp stationary relief-groove. This dynamic action ensures that rags, stringy materials and solids are sheared, cleaned from the impeller and pumped away.
ITT Flygt Corp.
Trumbull, CT
Tel: 203-846-2051
Container filters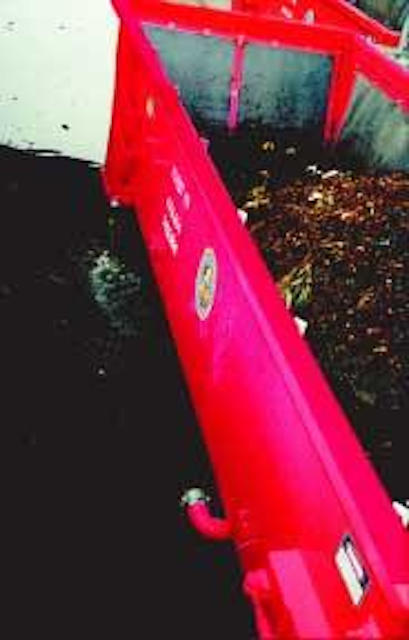 Click here to enlarge image
Flo Trend's Container Filter is a patented, one-step method for separating and dewatering sludge, slurries and waste streams. Various applications include dewatering grit and bar screenings; street and storm lift station waste; as well as wastewater treatment plant waste streams. The simple design of the filter consists of the following three components: the container, porous support plates and a filter media.
Flo Trend Systems
Houston, TX
Tel: 713-699-0152
Web: www.flotrend.com
Agitators, mixers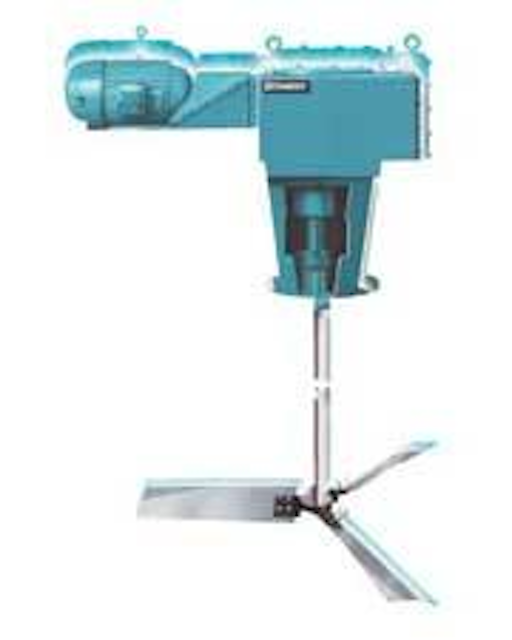 Click here to enlarge image
Chemineer's HT Turbine Agitator is capable of handling virtually any process including sludge, scum and anaerobic digester mixing applications. Its GT Turbine Agitator is suitable for applications such as flocculation, carbon slurry and lime slurry mixing up to 600,000 gallons. The company's Q·E·Dplus™ Mixer is designed to perform in polymer mixing applications, while its DT Top-Entering Mixer incorporates 50-plus years of mixer technology in a modular design.
Chemineer, Inc.
Dayton, OH
Tel: 937-454-3200
Web: www.chemineer.com
Sludge mixing gun

Click here to enlarge image
Litzler Environmental will display a working scale model of the patented HR-5000 mixing gun. The gun is used in anaerobic digesters for municipal wastewater treatment plants. The company's mixing guns are patented with a gas bubble generator mounted to the stackpipe for maximum mixing. A gas supply line is attached to an external compressor that releases gas under pressure into the interior chamber.
Litzler Environmental, Inc.
Cleveland, OH
Tel: 216-267-8020
Web: www.litzlerenvironmental.com
Biosolids treatment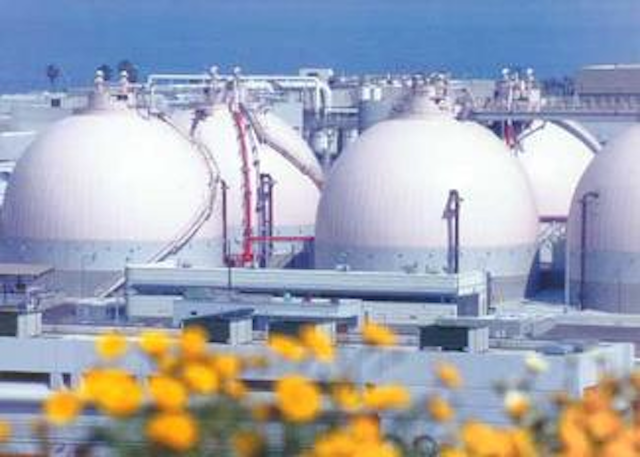 Click here to enlarge image
CB&I will feature its biosolids treatment products. This will include the company's Egg Shaped Digesters (ESD) for the reduction and stabilization of wastewater solids, and AeroTherm 2-Stage digestion for USEPA-certified Class A biosolids. CB&I's ESDs include patented and proprietary features such as jet pump mixing and internal discharge.
CB&I
Plainfield, IL
Tel: 815-439-4015
Web: www.CBIepc.com
Dewatering device
The Phase Separator from Spectrum Environmental is a patented dewatering device. The unit's design minimizes treatment and handling of material before and after dewatering. Solids are retained in the unit and are ready to be transported. Standard units are available in 25 cu yd.; vacuum roll-offs, 20-30 cu.yd.; roll-off containers, 2-4 cu.yd. self-dumping hoppers; and 6-10 cu. yd lugger boxes.
Spectrum Environmental Inc.
Houston TX
Tel: 800-806-1016
Thermal dryer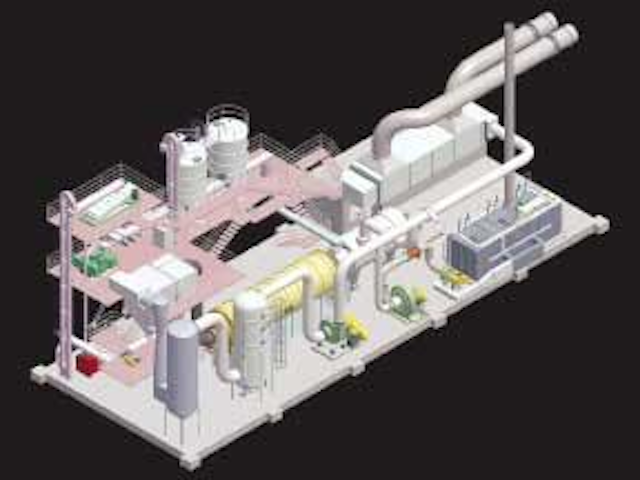 Click here to enlarge image
The Convective Thermal Dryer™ (CTD) from USFilter Dewatering Systems produces Class A biosolids in the form of 1-4 millimeter spherical pellets. The drying process exceeds U.S. EPA's 40 CFR Part 503 Class A Regulation as a Process to Further Reduce Pathogens (PFRP).
USFilter Dewatering Systems
Tel: 616-772-9011
Web: www.usfilter.com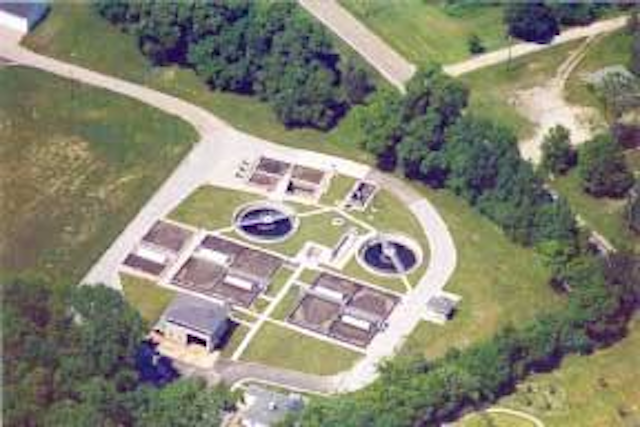 Click here to enlarge image
Solids reduction system
The new Cannibal™ solids reduction process from USFilter Envirex Products will significantly reduce or eliminate the amount of biosolids produced by current wastewater treatment systems and can reduce capital and operating costs. Biosolids destruction is accomplished through an interchange between the activated sludge process and the Cannibal side stream bioreactor.
USFilter Envirex
Tel: 262-521-8408
Web: www.usfilter.com
Conveying systems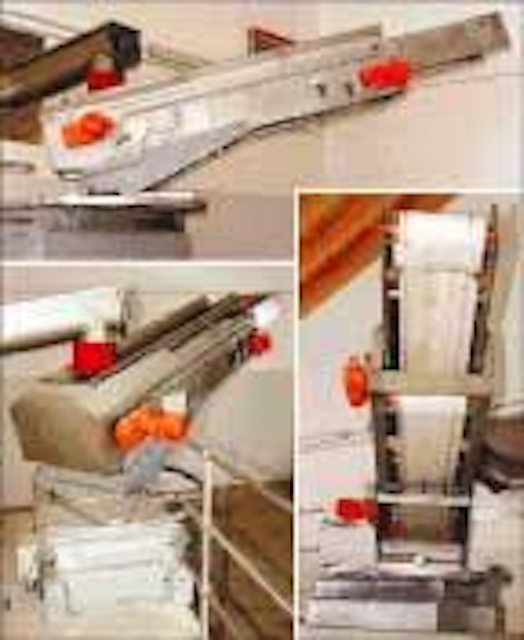 Click here to enlarge image
Serpentix manufactures a patented conveyor with an articulating discharge end that evenly distributes sludges and screenings over a 12 foot arc. Recently, the company entered into an agreement with Puratek Anlagentechnik GmbH to exclusively distribute in North America a troughed belt conveyor that telescopes out to extend over a process area or to evenly load a truck or a hopper.
Serpentix Conveyor Corp.
Westminster, CO
Tel: 303-430-8427
Web: www.serpentix.com