Water District Optimizes Chlorination Operations
When the Hicksville Water District in Nassau County, NY, began chlorinating its water supply three years ago, sodium hypochlorite solution feed proved inconsistent ...
Oct 1st, 2004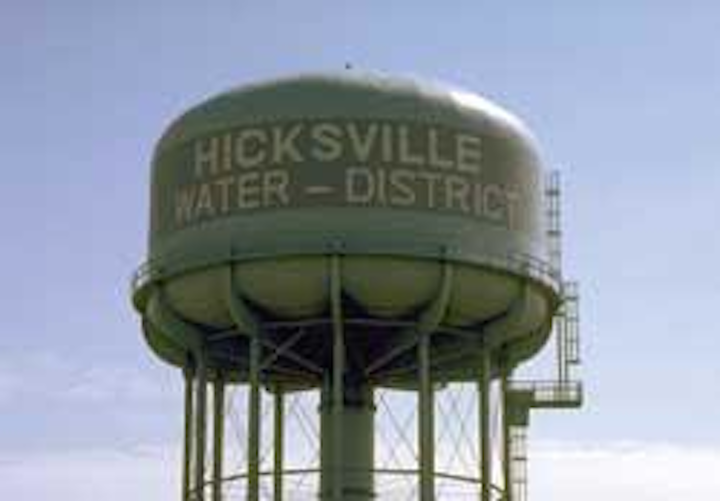 by William Schuckmann
When the Hicksville Water District in Nassau County, NY, began chlorinating its water supply three years ago, sodium hypochlorite solution feed proved inconsistent and troublesome. Only with the adoption of calcium hypochlorite briquette feed systems did chlorination operations become predictable for this Long Island water utility.
The district began chlorinating the community's water supply as a precautionary measure after routine monitoring revealed two positive samples for coliform bacteria in the distribution system.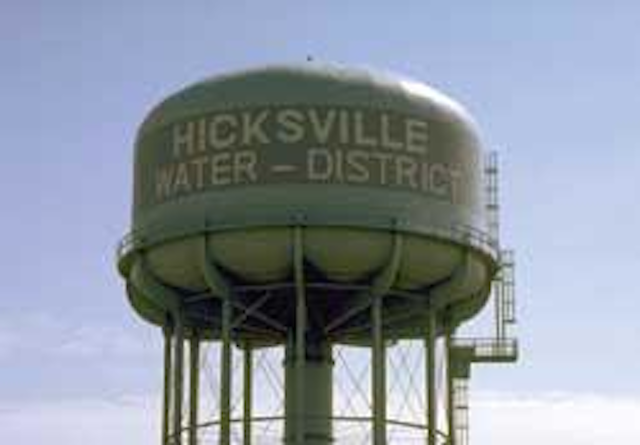 Click here to enlarge image
When the mandate for chlorination came, all 10 of the district's well sites were already equipped with sodium hypochlorite (NaOCl) storage and feed systems, installed as back-up protection in case of such an event. After chlorination operations had been underway for only a short time, however, district management began searching for an alternative approach.
The district ultimately elected to switch to calcium hypochlorite using solid briquettes in "spray technology" feed systems.
Maintaining Chlorine Residual
The Hicksville Water District receives its water from 15 wells at 10 plant sites and provides water services for nearly 48,000 people. Its service area encompasses seven square miles, 15,464 total connections and 169 miles of mains. In addition to chlorination, water treatment includes pH adjustment as well as air stripping at five sites for volatile organic compounds (VOC) removal.
When the district began 24/7 chlorination operations, using the well sites' existing sodium hypochlorite systems, operators found it difficult to maintain consistent chlorine residual in flows entering the distribution system. Although the Nassau County Department of Health initially specified a target residual of 1.5 mg/L, the actual chlorine residual readings at the Hicksville facilities often varied widely. And when the mandated chlorine residual target was later reduced to 0.5 mg/L, feed rates still had to be maintained high to ensure that the minimum residual requirement was being met.
Although effective in performing its disinfection task, commercial NaOCl in a 15 percent solution is subject to degradation and byproduct formation based on time, temperature and other factors, and these inherent deficiencies were hampering the district's efforts to maintain consistent chlorine residuals in its distribution system.
Alternative Disinfection
District management to begin searching for an alternative approach. The goal was to identify a system that would bring consistency to chlorine residuals entering the district's distribution system as well as provide better efficiencies in bulk storage and manpower.
As part of its on-going investigation, Hicksville Water District management visited the nearby Plainview Water District, which had recently completed a two-year pilot study of the use of calcium hypochlorite as an alternative disinfection method.
The Plainview study monitored the consistency of maintaining a 0.6 mg/l chlorine residual entering the distribution system using calcium hypochlorite briquettes in a spray technology feed system, compared to residuals produced by the district's existing sodium hypochlorite feed systems. During the two-year study, Constant Chlor® Plus calcium hypochlorite briquettes and feed systems from Arch Chemicals maintained a significantly more consistent chlorine residual, with chlorine residual in the district's desired core range (0.5 to 0.7 mg/L) occurring 91.1 percent of the time, compared to a composite frequency rate of only 70.8 percent using sodium hypochlorite.
After reviewing results of the two-year Plainview study plus first-hand observation of the district's new calcium hypochlorite feed systems in operation, Hicksville elected to replace its sodium hypochlorite systems with Constant Chlor® Plus systems. The full conversion to calcium hypochlorite was completed in approximately nine months, with a number of installations made in conjunction with scheduled plant rehabilitations. A total of 11 calcium hypochlorite spray technology feed systems were installed at the district's 10 well houses.
The solid calcium hypochlorite briquettes contain a minimum of 65 percent available chlorine (AVCl) by weight, along with an inhibitor to reduce the potential for carbonate scale associated with the alkalinity component of water.
At each well site, the briquettes are loaded into the feed unit's 100-lb. hopper, supply water is injected into the chlorinator through a level/timer controlled solenoid valve and is sprayed upward into the bed of briquettes. A short intermittent spray cycle produces an approximate 1.0 percent available chlorine solution, which is stored in the lower 60-gallon solution tank. There, the total volume is slowly and continuously mixed, further enhancing concentration consistency.
The chlorinator is turned on simultaneously when water flow is turned on to the distribution system. Operators set the desired feed rate, which is adjusted, if needed, based on scheduled chlorine residual test results.
Results
The calcium hypochlorite spray feeders have operated continuously since startup with only minimum maintenance required. Since switching to the calcium hypochlorite chlorinators in 2003, the Hicksville Water District has routinely maintained solution consistency within 0.1 to 0.2 ppm at all of its well sites, a significant improvement over its former sodium hypochlorite systems. Due to the consistency of the chemical solution concentration, operator dosage adjustment is now minimal. Taste and odor complaints have dropped off considerably since the adoption of calcium hypochlorite feed, due to the improved chlorine residual consistency.
Another benefit found by district personnel in using calcium hypochlorite is in chemical delivery and storage. Calcium hypochlorite briquettes have up to a 2-year shelf life. The briquettes are shipped to the district in 50 lb. containers. Each well site is permitted to store up to 200 lbs. of briquettes at one time, and the district stores the bulk of its inventory at two off-site storage garages. Because chlorine solution of less than 1.0 percent is not subject to the state's chemical bulk storage rule, secondary containment is not required at any of the well sites.
Cost Considerations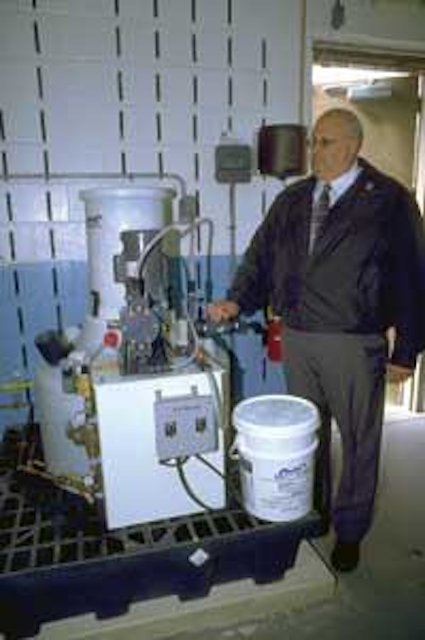 Hicksville Superintendent William Schuckmann examines a Constant Chlor® Plus calcium hypochlorite briquettes and feed system from Arch Chemicals.
Click here to enlarge image
Although calcium hypochlorite costs more than the equivalent amount of sodium hypochlorite on an available chlorine basis, the district has found that a number of factors, including better stability of the chlorine solution and less chemical overfeeding because of better residual consistency, has brought valuable efficiencies to chlorination operations. These factors, combined with less manhour requirements for feed rate adjustment and overseeing chemical deliveries has proved the switch to calcium hypochlorite to be good economic sense for the district.
Using calcium hypochlorite feed has also eliminated the potential for personnel exposure to injury using the former high solution sodium hypochlorite under a pressurized system. Safety training and proper chemical handling remains important to the district for dealing with calcium hypochlorite in solid form but, because on its low chemical solution strength, the use of calcium hypochlorite has greatly improved safety for district personnel.
About the Author:
William Schuckmann is the Superintendent of the Hicksville Water District, Hicksville, NY.