NEW PRODUCTS
The Washington State Department of Ecology recently approved a stormwater treatment technology that uses Storm-Klear™
Oct 1st, 2004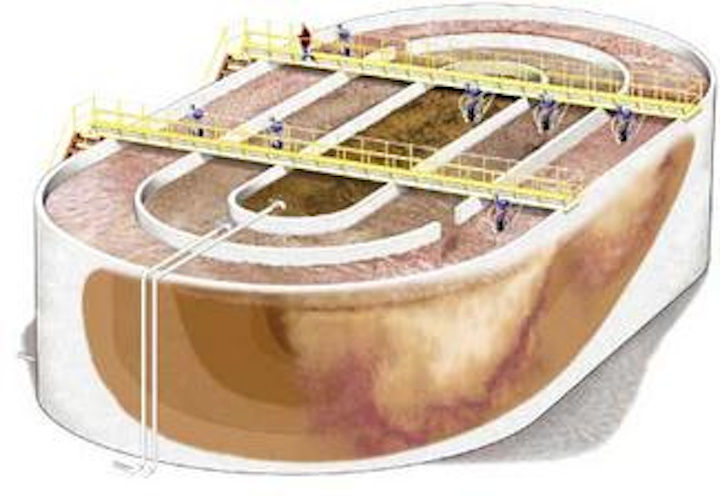 Stormwater treatment
The Washington State Department of Ecology recently approved a stormwater treatment technology that uses Storm-Klear™ water clarification products to address heavy stormwater runoff on construction and industrial sites, and in other settings. Storm-Klear with sand filtration is the first technology to pass Ecology's stringent new environmental regulations for stormwater runoff. Manufactured by Vanson HaloSource, the product is a natural chitosan-based biopolymer made from crustacean shells.
Vanson HaloSource
Redmond, WA
Tel: 425-974-1931
Web: www.vanson.com
Refrigerated sampler
Teledyne Isco's new Avalanche™ is a multi-bottle, sequential/composite water sampler featuring the company's transportable refrigeration system and a multifunction controller. Its design provides easy transport, quick setup, and on-site cooling – without reliance on ice or utility power. An optional Mobility Kit with pneumatic tires lets users wheel the sampler over rough terrain to remote sampling sites. It is ideal as a stormwater sampler as well as for TMDL, watershed monitoring, pretreatment compliance, and other mobile sampling applications.
Teledyne Isco Inc.
Lincoln, NE
Tel: 800-228-4373
Web: www.isco.com
Aeration system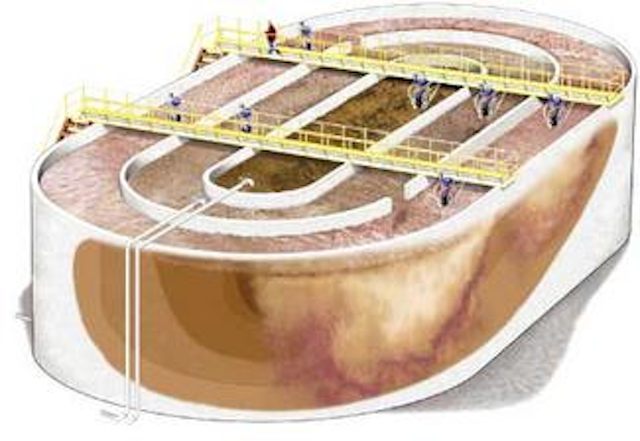 Click here to enlarge image
By making the Tri-Oval™ System from 10 to 30 feet deep, Aeration Industries can shrink the footprint to only 30 to 50% of a conventional ditch. The new design is made possible because the company's surface mounted Aire-O2 Triton® process aerator/mixer creates horizontal, circular flow patterns while driving fine bubble aeration and mixing as deep as 30 feet. The aerator/mixer improves oxygen transfer and mixing, and offers the process benefit of biological nutrient removal (BNR) in a single unit.
Aeration Industries International Inc.
Chaska, MN
Tel: 800-328-8287
Web: www.aireo2.com
Hydrant pressure recorder
Click here to enlarge image
Telog Instruments has updated its hydrant pressure recorder with a new measurement range to satisfy the increasing significance of capturing negative pressure events in water distribution systems. The new measurement range, –15 to +200 PSI, enables users of the HPR-31 to record and store negative pressure events as they occur. The regulator installs on a standard 2 1/2'' hydrant nozzle of a common fire hydrant.
Telog Instruments
Victor, NY
Tel: 585-742-3000
Web: www.telog.com
Storm drain markers
Click here to enlarge image
Almetek Industries, a manufacturer of storm drain markers, signs and ID marking systems, has added two new metal storm drain marker finishes, the natural prismatic finish and the prismatic finish with baked enamel color. The prismatic spin finish, available in 16-gauge natural stainless steel and brass, offers a high gloss polish finish on a durable 3-D embossed marker. The baked enamel colors, offered in conjunction with the prismatic spin finish on stainless steel or brass, provide a color contrast background for higher visibility.
Almetek Industries Inc.
Hackettstown, NJ
Tel: 908-850-9700
Web: www.almetek.com
UF membranes
Evolving from the Koch Membrane System 8'' ultrafiltration cartridge design, the new PMPW-10™ cartridge from KMS has a 10'' diameter, contains 60% more membrane area and provides 60% more product water. Each 10'' cartridge houses thousands of hollow fibers made from polysulfone, a membrane material that has been in use in municipal plants for more than a decade. The 10'' cartridge can reduce system floor space requirements by 50% and lower building costs significantly on a per gallon basis.
Koch Membrane Systems
Wilmington, MA
Tel: 800-343-0499
Web: www.kochmembrane.com
Pest control
Strike Ultra from Zoëcon Professional Products, a division of Wellmark International, has received EPA approval for expanded label claims. The product can now be applied over a shorter time interval during the low flow period to target key pests. Its formulation features Methoprene, an insect growth regulator which prevents future generations of flies without disrupting a plant's operations. Precision Control Technology (800-920-1001) is the exclusive national distributor for the Strike product line.
Wellmark International
Schaumburg, IL
Tel: 847-330-5368
Web: www.wellmarkinternational.com
Isolator ring
The Onyx Isolator Ring is designed to provide accurate pressure measurements on slurries, abrasives, and hard-to-handle materials. The ring is vacuum-filled at the factory with high-viscosity silicone fluid; then permanently sealed with the company's new "Module-Seal". There is no fill port anywhere on the assembly: gauges, switches, and transmitters are supplied separately, are prefilled with the company's special fitting attached. Users have the option of selecting any combination of isolator ring and gauge and simply snapping them together.
Onyx Valve
Cinnaminson, NJ
Tel: 856-829-2888
Web: www.onyxvalve.com
Non-corrosive diaphragm valve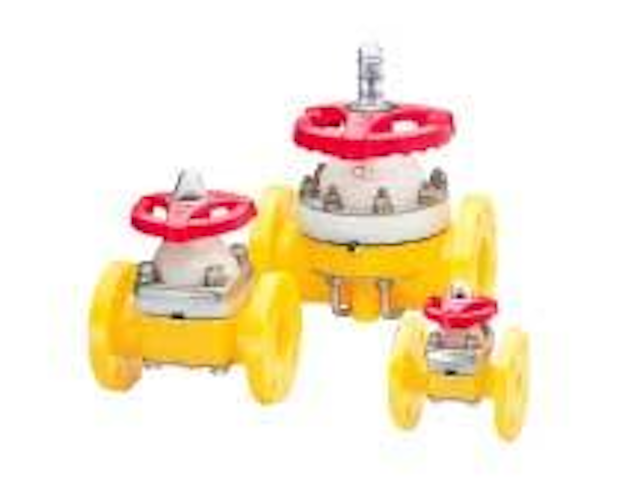 Click here to enlarge image
Asahi/America has developed a new thermoplastic corrosion-resistant diaphragm valve for aggressive brine service applications. Constructed of EL-PVDF and EL-PTFE for the purpose of preventing blisters and stress cracks, the EL-Diaphragm valves performed excellent in laboratory and long-term field tests. The Asahi PVDF gas barrier (supplied as a standard feature) prevents permeation of chlorinated gases as well. The diaphragm and compressor inserts are made of palladium titanium to prevent environmental stress cracks and extend valve life to at least twice that of conventional valves in certain applications.
Asahi/America Inc.
Malden, MA
Tel: 877-242-7244
Web: www.asahi-america.com
Multifunction hybrid flowmeter
System 1010N provides accurate, non-intrusive mass and volumetric flow measurement in full pipes. Simple to install as no pipes are cut or operations interrupted, the flowmeter is field programmable for two modes of operation: Wide-Beam™ Transit-Time or Reflexor (Fast Fourier Transform Doppler) for quick adaptation to changing conditions. Transit-Time operation is the preferred mode for relatively homogeneous liquids in 1/4'' – 360'' pipes, with an accuracy of up to 1/2% of flow.
Controlotron Corp.
Hauppauge, NY
Tel: 800-275-8479, x235
Web: www.controlotron.com
Enhanced web controller
Click here to enlarge image
Control Technology Corp., a manufacturer of automation controllers that integrate motion control, I/O, user interfaces and enterprise connectivity, has added the Model 5200 to its Blue Fusion™ line of web enabled automation controllers. This model features numerous enhancements, including: Built-in web server enables users to securely monitor, control and upgrade processes via Internet access; multi-unit expansion racks enable users to control larger applications with up to 192 I/O points and up to six axes of motion; bidirectional email support to modify operation of the controller and send alerts or production data via email messages.
Control Technology Corp.
Hopkinton, MA
Tel: 508-435-9595
Web: www.ctc-control.com
Wireless monitoring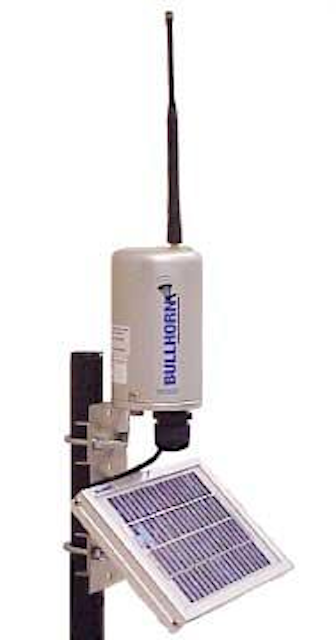 Click here to enlarge image
Bullhorn® Wireless Remote Monitoring, available from American Innovations, is an inexpensive means of monitoring water and wastewater related remote equipment with wireless technology. The system can monitor wells, pumps, lift stations, storage tanks, effluent overflow, pressure, pH, temperature, flow meters and collect scheduled reads (like meter reads). Its instant notifications by fax, page and/or email inform users immediately when the status of a piece of equipment has reached a pre-programmed alarm situation.
American Innovations
Austin, TX
Tel: 800-229-3404
Web: www.aimonitoring.com
Telcordia qualified optics
Tyco Electronics, a business segment of Tyco International Ltd., announces that its Singlemode LC Connectors and Jumpers are qualified to Telcordia GR-326, Issue 3; Service Life-Part A, using standard match-cladding fiber. Attenuation averaged less than 0.07 dB at all four wavelengths and transmission with applied load results never exceeded 0.2 dB. Complete testing performed at ITSNA, an independent testing, inspection and certification lab.
Tyco Electronics
Harrisburg, PA
Tel: 717-986-5421
Web: www.tycoelectronics.com/fiberoptics
Fiber optic ring module
A new Fiber Optic Self-Healing Ring Module, designed for decreased downtime in dual-channel ControlNet networks, has been introduced by Weed Instrument. The 2C32 EOTec Dual-Channel Self-Healing Ring Module improves the operation of fiber optic rings on ControlNet's redundant A and B communication channels. DIN Rail-mounted on each "node" of a fiber optic ring network, the module allows fiber media redundancy by detecting and redirecting data to a secondary fiber path when a break in the fiber (on either A or B channel) occurs between itself and an adjacent node.
Weed Instrument Co.
Round Rock, TX
Tel: 512-434-2850
Web: www.weedinstrument.com
Water test kit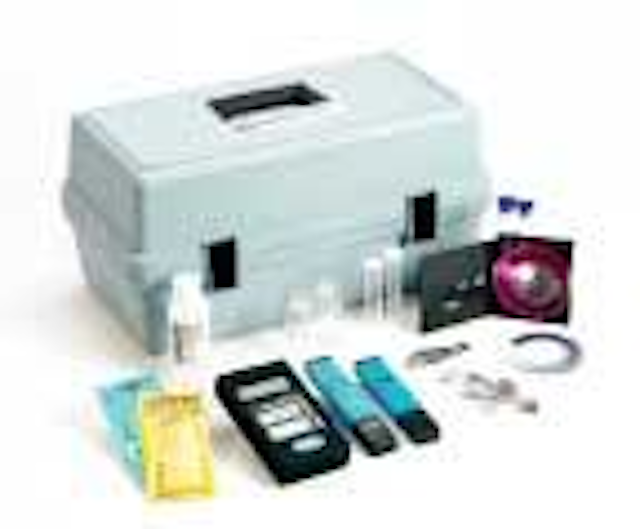 Click here to enlarge image
The new Emergency Response Tool Kit from Hach Homeland Security Technologies models USEPA recommendations for water contamination assessment by combining a pocket-sized radiation detector with economical on-site tests for free chlorine, cyanide, pH and conductivity. With this core field kit, operating attendants can react quickly to suspected or threatened water contamination, any time and at any point of the distribution network.
Hach Co.
Loveland, CO
Tel: 800-604-3493
Web: www.hach.com
SDI meter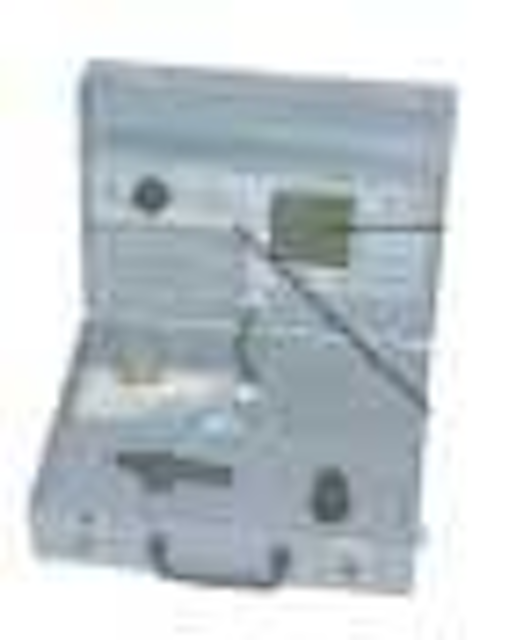 Click here to enlarge image
TAKA Corp. has released its Deluxe DigiSDI™, an automatic portable meter to measure the Silt Density Index for RO/NF/UF and MF membrane systems. Special to this meter are the digital flow and pressure sensors, onboard RT clock for test result date/time stamping and the Real-Time graph of %P VS Time.
TAKA Corp.
Amherst, MA
Tel: 413-256-6818
Web: www.digisdi.com
Wireless data modems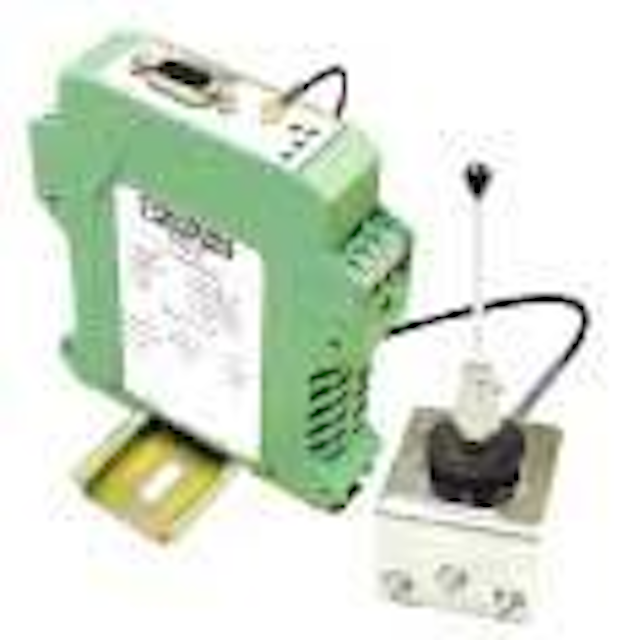 Click here to enlarge image
The new Rad-Data series of wireless modems from Phoenix Contact are designed to move RS-232, RS-422 and RS-485 serial data in industrial applications. The series is an interoperable line of DIN-rail mount, license-free ISM band frequency-hopping radios. Class I, Div 2 approved, these radios perform across wide temperature ranges and accept a broad range of DC power voltages. Each transceiver is a master, slave and store-and-forward repeater/slave all in one.
Phoenix Contact Inc.
Harrisburg, PA
Tel: 800-322-3225
Web: www.phoenixcon.com
Reporting software
Thermo Electron has developed a new software package for environmental reporting, EnviroLab™ Forms. Designed to complement the company's Finnigan™ DSQ GC/MS family of single quadrupole mass spectrometers, the software gives environmental laboratories a choice of 10 reporting formats. Specifically written for the EPA methods performed on Finnigan GC/MS systems, the software is a new, layered application that can be applied to data from Xcalibur® 1.3 and above.
Thermo Electron Corp.
Austin, TX
Tel: 800-532-4752
Web: www.thermo.com
CIS software
Innoprise Software has announced the release of new Customer Information System (CIS) software. Innoprise CIS is the first package in a suite of fully integrated enterprise software solutions being developed by the company to meet the evolving business needs of utilities and local government agencies. The first such solution that's based on a Java™ 2 Platform, Enterprise Edition (J2EE™) service-oriented architecture and a multi-tiered Internet-native architecture, the software offers enterprises the ability to unify customer and financial data and business processes across all departments, divisions and systems.
Innoprise Software Inc.
Orlando, FL
Tel: 407-277-0176
Web: www.innoprise.com
Perchlorate removal
Rohm and Haas has introduced Amberlite® PWA2 ion exchange resin, which is specifically designed for the selective removal of perchlorate from drinking water. According to the EPA, perchlorate has been detected in water supplies across the United States, and can interfere with iodide uptake into the thyroid gland. In many typical municipal well contamination cases, the new resin has been shown to be a cost effective technology solution to manage perchlorate contamination concerns.
Rohm and Haas Co.
Philadelphia, PA
Tel: 800-742-6237
Web: www.amberedge.com
Tractor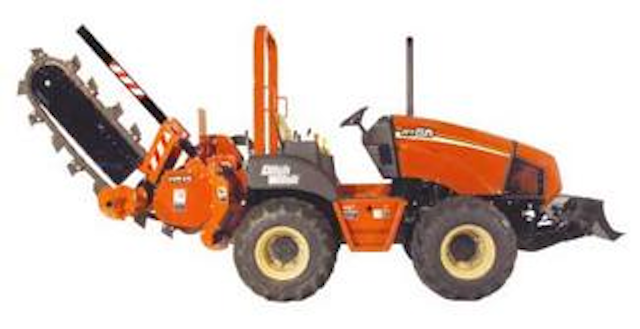 Click here to enlarge image
The Ditch Witch® organization is ready to roll out its latest tractor: the Ditch Witch® RT55. The most compact of the company's RT series, the RT55 bridges the gap between mid-size and compact equipment. It features an integrated front cast weight that reduces counterweight requirements and helps provide superior balance when running attachments.
Charles Machine Works
Perry, OK
Tel: 800-654-6481
Web: www.ditchwitch.com
Low energy desalination
Dow Chemical subsidiary FilmTec Corp. introduces the Filmtec™ SW30XLE-400i element, an RO membrane with the lowest energy requirement in the industry to deliver the lowest total cost of water across a range of seawater desalination applications. This unit delivers the highest actual active area of any seawater RO membrane and sets a new benchmark in the trade-off between high rejection and low energy use.
Dow Chemical/FilmTec Corp.
Midland, MI
Tel: 800-447-4369
Web: www.filmtec.com
Scrubber packing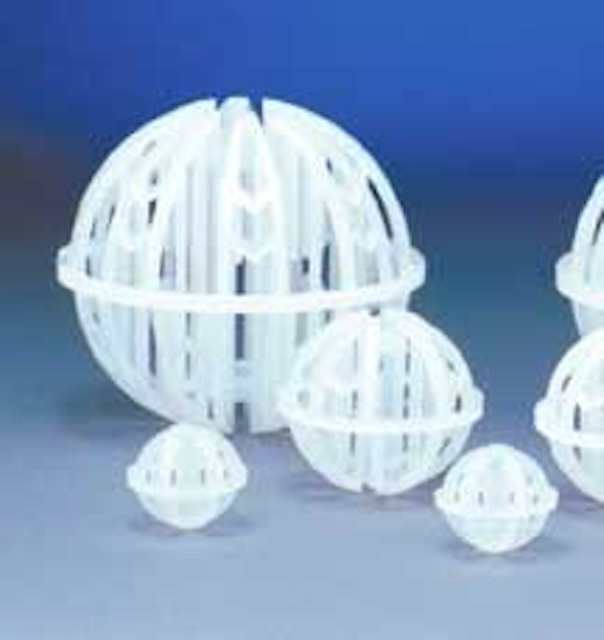 Click here to enlarge image
Jaeger Tri-Packs® are hollow, spherical packings constructed of a network of ribs, struts, and drip rods. Their geometry provides the optimum balance between open area and surface area – offering efficiency for all types of scrubbing and stripping applications and achieving high mass transfer rates. Available in four nominal sizes, 1'', 1 1/4'', 2'' and 3 1/2'', and in numerous thermoplastic resin choices, there is a size and material available for numerous applications.
Jaeger Products Inc.
Houston, TX
Tel: 800-678-0345
Web: www.jaeger.com
Luminescent DO meters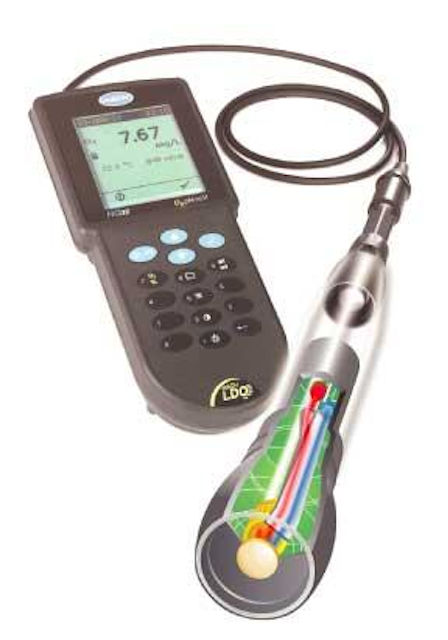 Click here to enlarge image
Hach introduces the new Portable Hach LDO™ HQ10 Dissolved Oxygen Meter and HQ20 Dissolved Oxygen/ pH/mV Meter. Both systems apply a unique sensor material that luminesces more quickly to an internal stimulating light-emitting diode (LED) when oxygen is present. This breakthrough methodology eliminates deteriorating electrodes, membranes and electrolyte solutions of traditional polarographic or galvanic sensor systems.
Hach Co.
Loveland, CO
Tel: 800-227-4224
Web: www.hach.com
Check valves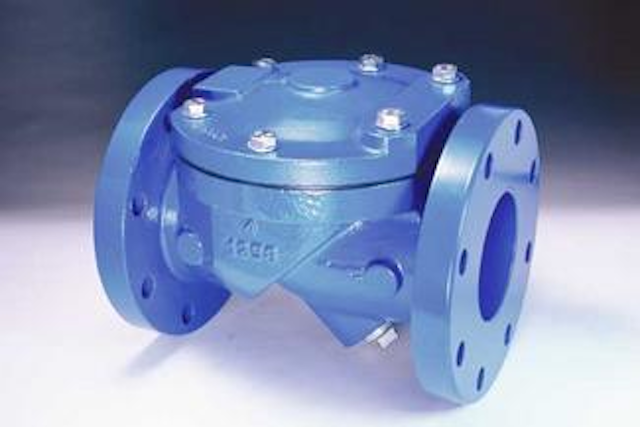 Click here to enlarge image
Danfoss Flomatic has introduced the latest addition to its Flo-Flex™ family of rubber disc swing check valves. The flange to flange lay length of the new Model 745 is according to ANSI/AWWA C508-01. The swing check valve features a 45° seat with a steel/ductile iron valve reinforced rubber disc. The ductile iron 125# flanged body is fusion epoxy coated and can be used as pipe line cleanout. The new heavy duty valve is offered with an optional backflow device (Model 745BF), valve disc position indicator (Model 745PI) and valve proximity switch (Model 745PS).
Danfoss Flomatic Corp.
Glens Falls, NY
Tel: 800-833-2040
Web: www.danfossflomatic.com
DO sensor
The Model 499ADO sensor, available from Emerson Process Management, is designed for the continuous determination of dissolved oxygen in water in the range 0 to 20 ppm. The membrane-covered amperometric sensor can be installed in aeration basins and pipes. The sensor consists of a gas-permeable membrane stretched tightly over a gold cathode. A silver anode and an electrolyte solution complete the internal circuit. The Model 499ADO features automatic compensation for changes in membrane permeability with temperature and automatic pressure equalization to maintain correct membrane tension.
Emerson Process Management
Irvine, CA
Tel: 800-854-8257
Web: www.raihome.com
Flowmeters
Krohne has introduced its new Optiflux family of electromagnetic flowmeters. The family consists of nine flowmeter models covering a wide range of applications in the water and wastewater, chemical, pulp and paper, and pharmaceutical industries. All models feature unique 3 x 100% diagnostics: 100% Application Diagnostics, 100% Accuracy Diagnostics, and 100% Instrument Diagnostics.
Krohne Inc.
Peabody, MA
Tel: 800-356-9464
Web: www.krohne.com
Water monitoring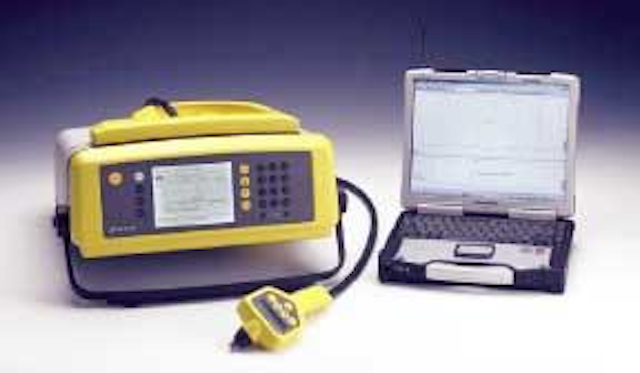 Click here to enlarge image
The Hapsite Smart Chemical Identification System, available from Inficon, is a field-portable gas chromatograph/mass spectrometer (GC/MS) designed for on-scene detection, identification and quantitation of toxic industrial chemicals (TICs) and chemical warfare agents (CWAs) at parts per trillion (ppt) levels during field operation. It is a totally self-contained system with pre-programmed methods and 32-bit architecture for more versatile data processing.
Inficon
East Syracuse, NY
Tel: 315-434-1100
Web: www.inficon.com
Propeller meter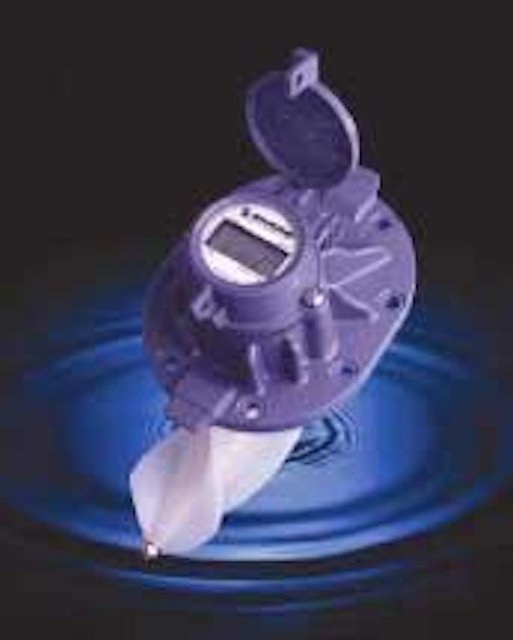 Click here to enlarge image
The FM104/184 MainLine electronic propeller meter from Sparling features fewer moving parts for longer life and reduced maintenance costs. The meter's battery powered electronic rate/totalizer senses the propeller rotation via a magnetic pickup sensor located in the gearbox and translates these pulses to rate and total flow. The electronics are completely isolated from the flow stream in a NEMA 4X enclosure. A photoelectric cell activates the display when the cover is opened.
Sparling Instruments Inc.
El Monte, CA
Tel: 626-444-0571
Web: www.sparlinginstruments.com
Insertion flow meter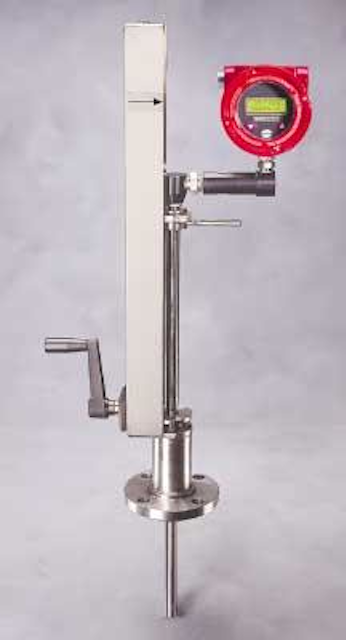 Click here to enlarge image
Sierra Instruments' Model 640S Wastewater Insertion Flow Meter is an economical solution for monitoring mass flow of air in wastewater treatment plants. The meter can withstand extreme outdoor conditions, provide direct mass flow measurement with a single pipe penetration, interface with distributed control systems, measure a wide range of flows, and minimize pressure drops. It is typically used in aeration flow monitoring and digester gas flow measurement applications.
Sierra Instruments Inc.
Monterey, CA
Tel: 800-866-0200
Web: www.sierrainstruments.com
Filter underdrains
Orthos Liquid Systems specializes in providing Filter Nozzles/Strainers and Resin Traps for filter underdrain systems. The company offers a range of nozzle types, slot sizes, air scour tubes and flow characteristics for the following filter underdrains/filter bottoms: False Plate; Pipe Header/Lateral; Monolithic Concrete; and Ion – Exchange. Materials of construction include polypropylene, glass reinforced polypropylene, kynar and stainless steel.
Orthos Liquid Systems Inc.
Bluffton, SC
Tel: 843-987-7200
Web: www.orthosnozzles.com
Odor control
Novozymes has introduced OdorCap™ to combat odors in wastewater treatment and collection systems. The product is formulated with specialized bacterial strains and capable of oxidizing sulfides, mercaptans, and volatile organic acids including volatile fatty acids (VFA). It can eliminate these odors in aerobic or anoxic environments. The product is offered in 1 pound water soluble SoluPaks™. It is offered by select distributors and directly through Novozymes.
Novozymes Biologicals Inc.
Salem, VA
Tel: 800-859-2972
Web: www.novozymes.com
Stormwater treatment
Stormwater Management has announced the addition of a small footprint stormwater treatment system to its line of high-flow screening devices. The CatchBasin StormScreen™, configured as a single catch basin, is a solution for trash and gross debris removal from stormwater runoff. Depending on the water quality and storm, each unit can treat up to 2.5 acres of runoff. Preconfigured units are delivered to the site and fit readily into existing catch basins. This design saves on installation costs and preserves land for other uses. The new system contains the same screen cartridge with surface-cleaning function as the company's StormScreen®. The screen is integrated into the catch basin and can be maintained without entry.
Stormwater Management Inc.
Portland, OR
Tel: 800-548-4667
Web: www.stormwaterinc.com
Mixer flange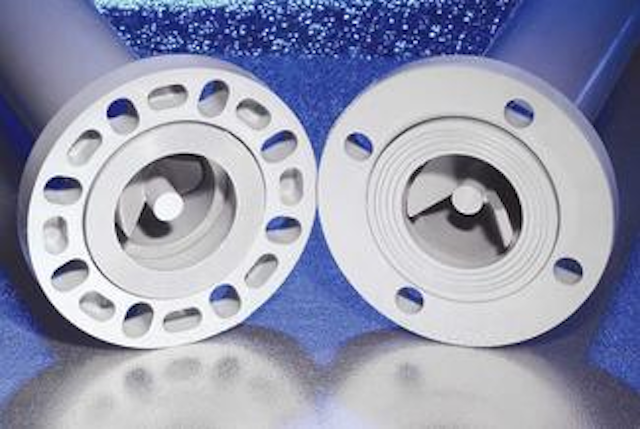 Click here to enlarge image
TAH Industries has introduced its new Multi-Bolt Flange™, designed for its T-Series line of static mixers. The flange is designed to install into metric systems and will allow customers to connect a wider range of flanges without the need for a transition or conversion flange. The flange will continue to connect to the standard ANSI 150'' pattern, as well as the PN10 and PN16 Table D&E patterns to facilitate a smoother installation in metric systems, and is available in 2'' thru 8'' diameters, and both PVC and CPVC materials.
TAH Ind. Inc.
Robbinsville, NJ
Tel: 609-259-9222
Web: www.tah.com