New Product Combines Functions of Analyzer, PLC
The AquaLynx® Model 350 LX series of water treatment monitoring and control units is the latest evolution in the RODI Systems' AquaLynx® product line.
May 1st, 2004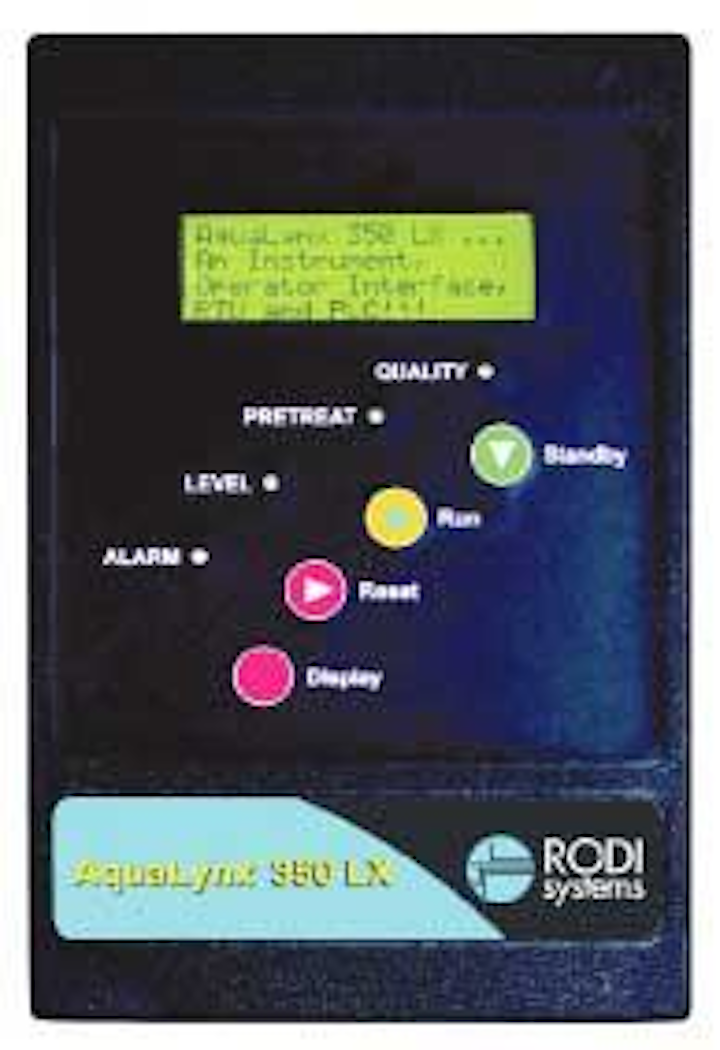 The AquaLynx® Model 350 LX series of water treatment monitoring and control units is the latest evolution in the RODI Systems' AquaLynx® product line. This unique device (U.S. Patents 6,556,930 and 6,609,070) provides the functions of an instrument, PLC, operator interface, and RTU in one package.
The device may be equipped with conductivity, pH, ORP, and flow inputs and is suitable for a multitude of water treatment applications, including reverse osmosis, neutralization systems, lift stations, distribution systems, and filtration systems.
Hardware
The Model 350 LX products are available in a number of input and output (I/O) configurations. A typical version might have six relay outputs, six discrete inputs, two sinking pulse flow inputs, two 4-20 mA analog inputs, and up to three pH, ORP, or conductivity inputs (or any combination of the three). The operator interface includes a four line by 20 character LCD with backlight and a polycarbonate membrane keypad with four tactile keys and four LED indicator lights.
All versions of the Model 350 LX are equipped with a machined aluminum bezel and are designed to be panel-mounted in a NEMA 4 or 4X enclosure. Various I/O expansion modules are available to expand the input and output capabilities. The expansion modules are designed to be mounted on standard 35 mm DIN rail inside the enclosure housing the unit.
Programming
Many monitoring products are described as being "fully programmable" but this often means that relay outputs only have adjustable high and low setpoints, time delays, and deadbands. The Model 350 LX products may be programmed in ladder logic like a programmable logic controller (PLC). A PC-compatible ladder logic editor is supplied with each LX unit allowing the user to create custom logic programs for virtually any application.
The units can be programmed by anyone with a cursory knowledge of ladder logic programming. The programming tools and documentation provided by RODI Systems are backed with technical support.
Communication
Serial communication capabilities (RS-232, RS-422, RS-485, and Ethernet) allow the Model 350 LX products to be used standalone, interfaced with a PLC, networked to one another, or used as an RTU in a large SCADA system or automation network.
They may be equipped with the following network drivers:
• Modbus RTU
• Allen-Bradley DR1
• OptoMux
• BACnet
• Modus TCP
• Ethernet / IP
Certain Model 350 LX versions equipped with two serial ports may be used for protocol conversion (serial gateway) as well as for providing monitoring and control functions.
Applications
The diverse functions of the AquaLynx® Model 350 LX make it a suitable for a number of applications. Here are just some of the suitable applications:
Click here to enlarge image
Local Monitoring and Control – Situations requiring local logic control on a small number of I/O points along with analytical inputs, such as pH, ORP, or conductivity, have historically been addressed by combining a number of discrete meters or analyzers along with a small PLC or RTU. With the Model 350 LX, ladder logic programming, analytical measurement, and serial communication may all be accomplished with a single device. This makes the units a great choice for both SCADA applications and skid-mounted process equipment.
Legacy Protocol Conversion – Older SCADA systems may have legacy hardware that does not use the same serial protocol as a new SCADA upgrade. The communication capabilities of the Model 350 LX products allows them to convert the protocol from the existing legacy hardware to that used by a more modern SCADA system (such as OptoMux to Modbus TCP or Modbus RTU to Ethernet/IP). Furthermore, their programming and analytical capabilities can be used to upgrade the capabilities of the legacy field hardware.
Building Automation - The communication capabilities of the Model 350 LX make it compatible with a number of protocols used in building automation (such as Modbus and BACnet). This makes them a logical choice for monitoring and controlling water quality related processes in large buildings and building complexes.