New Products
The newest line of Apollo® bronze ball valves from Conbraco features a 2'' copper tube extension specifically designed for faster installation using the Ridgid® Viega no-solder ProPress™ crimping system.
Mar 1st, 2004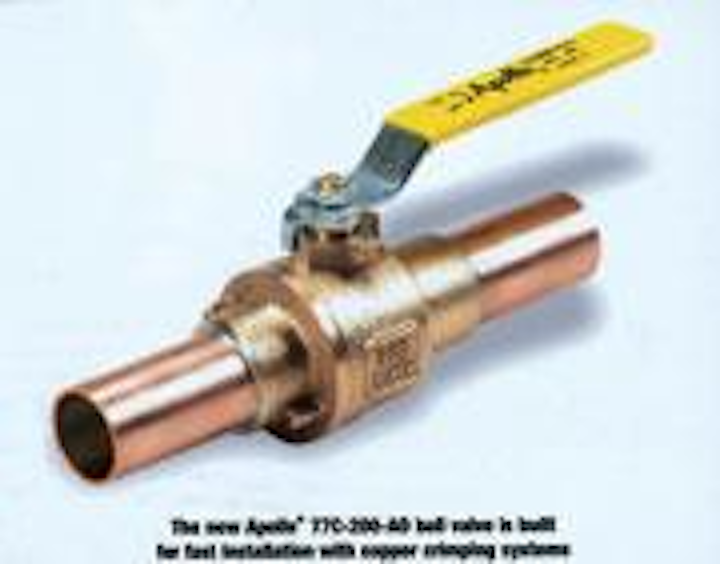 Ball valves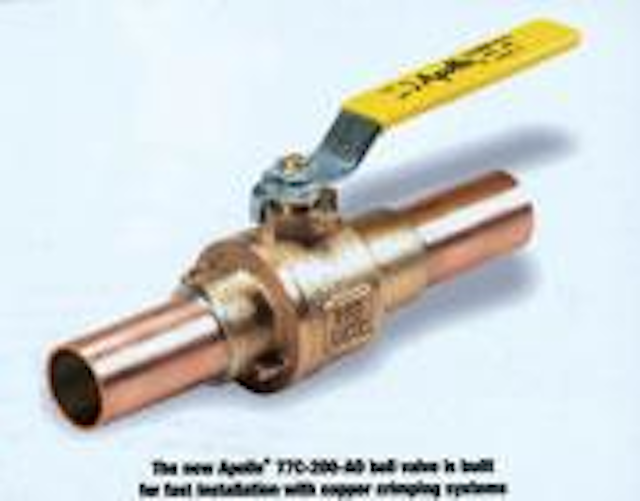 Click here to enlarge image
The newest line of Apollo® bronze ball valves from Conbraco features a 2'' copper tube extension specifically designed for faster installation using the Ridgid® Viega no-solder ProPress™ crimping system. All MSS SP-110 compliant, the new Apollo Series 77C-200-AO full-port valves come in six sizes from 1/2'' to 2''. The valves are equipped with solid machined, chromium-plated balls and offer an all-cast bronze body, cast end caps and a blow-out proof stem design.
Conbraco Industries
Matthews, NC
Tel: 704-841-6000
Web: www.conbraco.com
Denitrification
F.B. Leopold recently introduced its elimi-NITE™ Denitrification System for removing nitrogen in wastewater effluent. In addition, employing deep bed, mono-media filters, the system can simultaneously remove suspended solids. The gravity, downflow, packed-bed denitrification system is an attached growth, microbiological process which removes nitrate-nitrogen achieving levels below 1 mg/liter. Physically, it is identical to a deep-bed downflow sand filter with Leopold® Type S® Dual Parallel Lateral Underdrain and silica media or a filter bed engineered to specific effluent requirements.
F.B. Leopold Co. Inc.
Zelienople, PA
Tel: 724-452-6300
Web: www.FBLeopold.com
Monitoring probe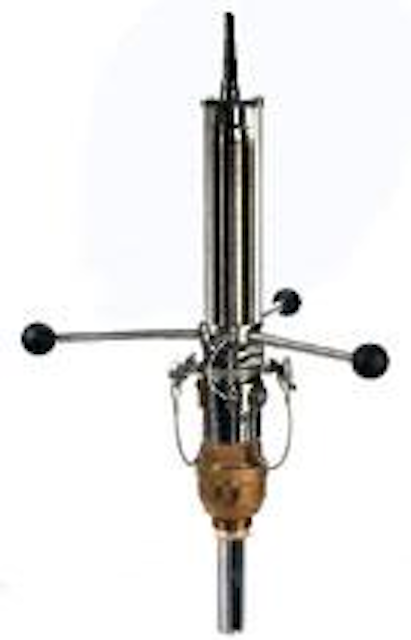 Click here to enlarge image
Hach has introduced the new PipeSonde In-Pipe Probe, a sonde-type, multi-parameter system applying established technology to long-term monitoring of finished water in distribution mains. As such, it complements the company's Water Distribution Monitoring Panel (WDMP) and extends the distribution network surveillance strategy of any water system. Field-proven Hydrolab® technology continuously measures pH, conductivity, turbidity, temperature, ORP, dissolved oxygen (DO) and line pressure, and digital output in several protocols seams with typical data communication systems.
Hach Co.
Loveland, CO
Tel: 800-227-4224
Web: www.hach.com
Alum skid system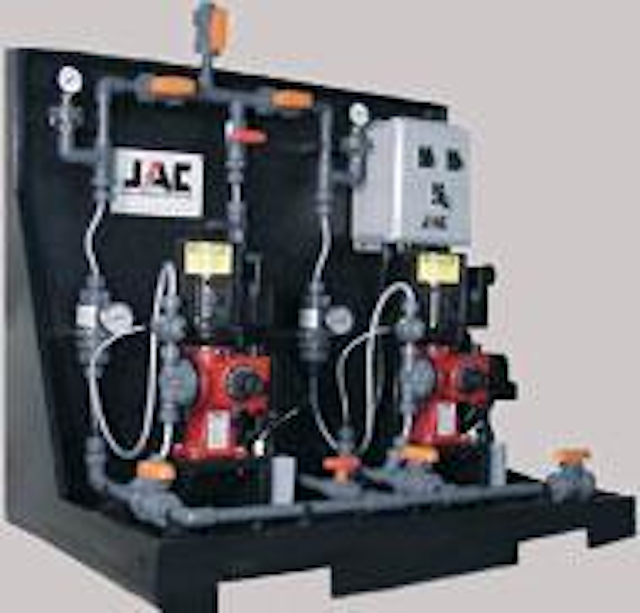 Click here to enlarge image
Jesco America offers a skid system to pump alum into wastewater to aid in coagulation. The system includes a MEMDOS (Mechanically Actuated Metering Pump), inline pulsation dampener; Pentabloc: 5-function valve; polyethylene skid assembly and control panel.
Lutz-JESCO America Corp.
Rochester, NY
Tel: 800-554-2762
Web: www.jescoamerica.com
Agitator gearbox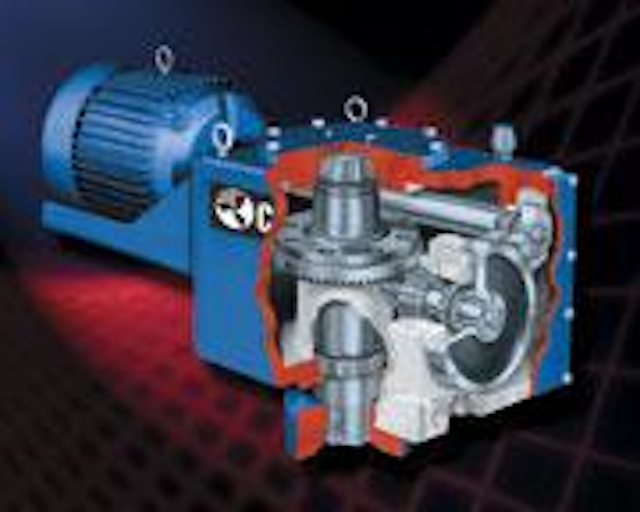 Click here to enlarge image
Chemineer is now offering a refurbished agitator gearbox program. This new program is designed to enhance performance, extend service life and reduce downtime for agitators. Regardless of the original brand, the company can provide a refurbished gearbox to replace units that are requiring frequent maintenance, experiencing extensive downtime or are worn out. All refurbished gearboxes meet the same standards as new gearboxes.
Chemineer, Inc.
Dayton, OH
Tel: 937-454-3200
Web: www.chemineer.com
Stormwater retention tanks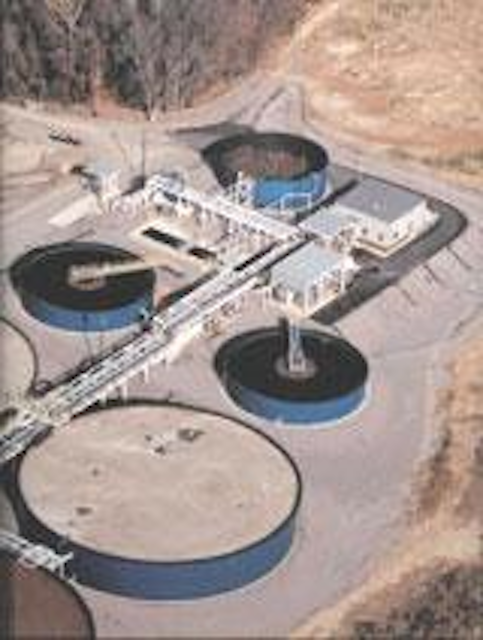 Click here to enlarge image
Special tanks can be custom-fabricated to retain and treat stormwater, which has become an increasing concern at locations with overloaded storm sewers or ponds. Steel tanks take less room than a lagoon or pond. The tanks are designed and fabricated to the customer's specifications at the manufacturer's plant and then carried by truck to the customer site.
Fisher Tank Co.
Chester, PA
Tel: 610-494-7200
Web: www.fishertank.com
Self-priming pumps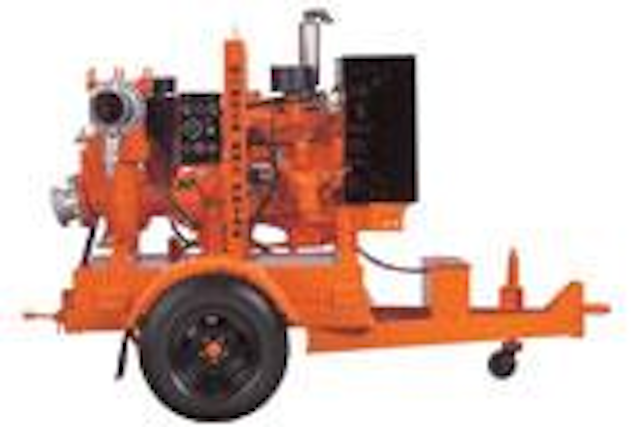 Click here to enlarge image
The Godwin Dri-Prime® is an automatic self-priming centrifugal pumpset available in sizes from 2'' to 16''. With maximum flows to 10,000 gpm, heads to 600' and solids handling to 5'' in diameter, the pump is capable of handling sewage, storm water, industrial sludges, oil, and mine/quarry dewatering.
Godwin Pumps
Bridgeport, NJ
Tel: 856-467-3636
Web: www.godwinpumps.com
H2S removal
Q2 Technologies offers programs for H2S removal. The company's Enviro-Scrub® is a liquid product that scavenges H2S. The scavenged product is soluble, environmentally friendly and helps to reduce corrosion associated with H2S. It can be applied in wastewater collection pipe lines, gas scrubbers, sludge holding tanks, belt filter presses and centrifuges.
Q2 Technologies
Montgomery, TX
Tel: 936-588-2242
Web: www.q2technologies.com
Stormwater detention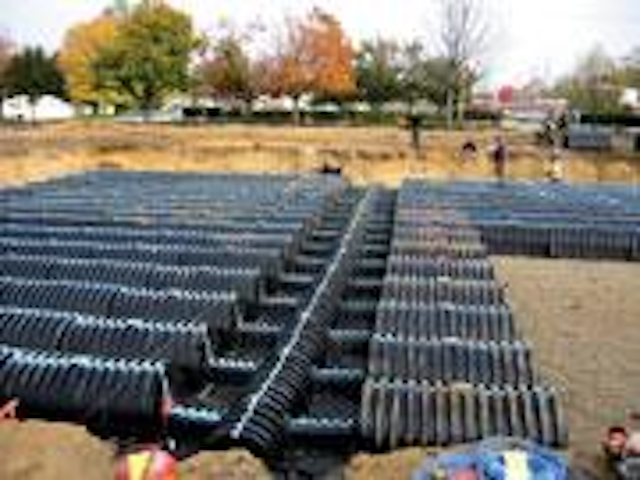 Click here to enlarge image
Cultec Inc., a plastic chamber manufacturer, offers a complete subsurface stormwater management system consisting of filtration, conveyance, storage and infiltration, all from its own product line. The HVLV™ Header System conveys a high volume of water at a low velocity. It is designed to be a replacement for conventional header and feed pipes and can be installed in less than half the time. No couplings are needed and no haunching required.
Cultec Inc.
Brookfield, CT
Tel: 800-428-5832
Web: www.cultec.com
Grit pumps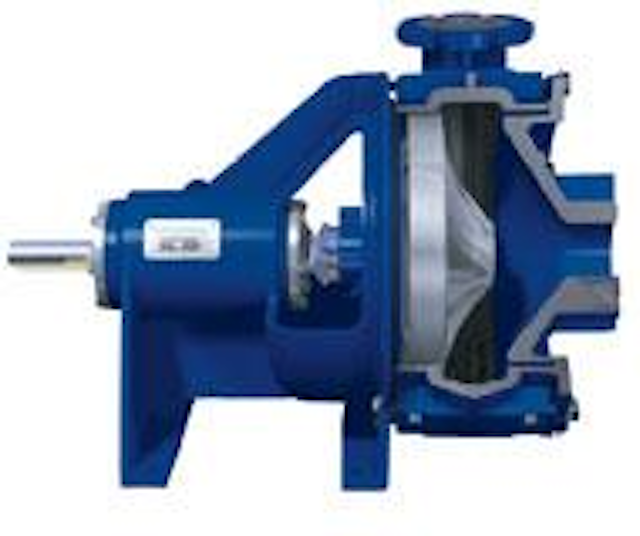 Click here to enlarge image
Fairbanks Morse Pump has introduced the 4600 Series Vortex and C Chop™ Chopper pump lines, which are ideally suited for grit applications with higher concentrations of solids and sludge. These hard metal vortex pumps handle flows from 50-3000 gpm, and heads to 200 feet using a fully recessed impeller. With the company's interchangeable and backward-compatible Chopper Pump retrofit, operators can upgrade their Vortex pump, or replace it with a C Chop™ unit. The C Chop™ modifies pumps from an open, straight-through passage to a chopping and slicing action, with significant efficiency improvements.
Fairbanks Morse Pump
Kansas City, KS
Tel: 913-371-5000
Lift stations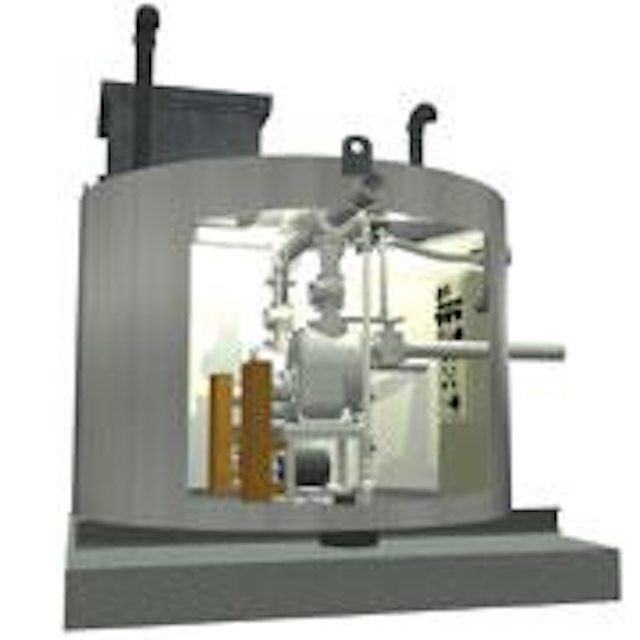 Click here to enlarge image
Gorman-Rupp now offers a pre-engineered packaged lift station in a 304L Stainless Steel enclosure. The station can be customized in various configurations and sizes with any number of pump combinations. The base incorporates C channel construction welded to a stainless steel plate. The Super T Series® pump offering is similar to that used in existing Gorman-Rupp packaged stations.
Gorman-Rupp Co.
Mansfield, OH
Tel: 419-755-1011
Web: www.gormanrupp.com
Oil/water separators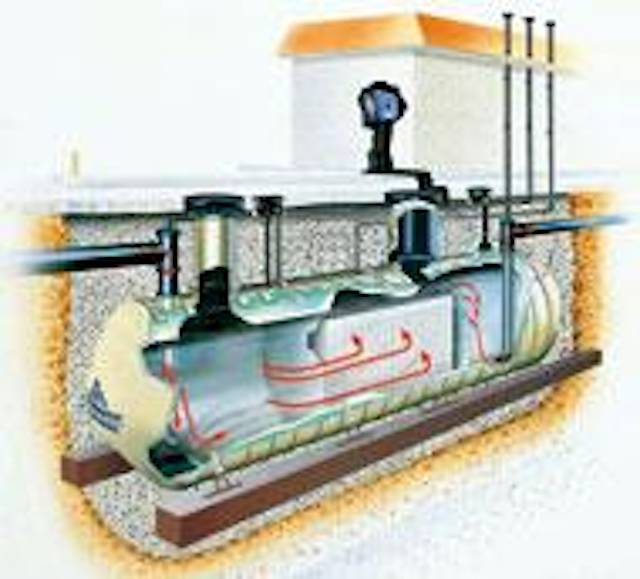 Click here to enlarge image
Containment Solutions manufactures a line of fiberglass and steel, aboveground and underground Oil/Water Separators. The company's separators feature advanced coalescer technology – designed to separate free oils and grease and settleable solids from stormwater runoff, washdown, hydrocarbon spills, and maintenance applications. CSI single or double wall separators are designed and constructed to meet current API/UL standards and federal, state and local regulations with flow rates up to 4,000 gpm.
Containment Solutions Inc.
Conroe, TX
Tel: 936-756-773
Web: www.containmentsolutions.com.
Modular tanks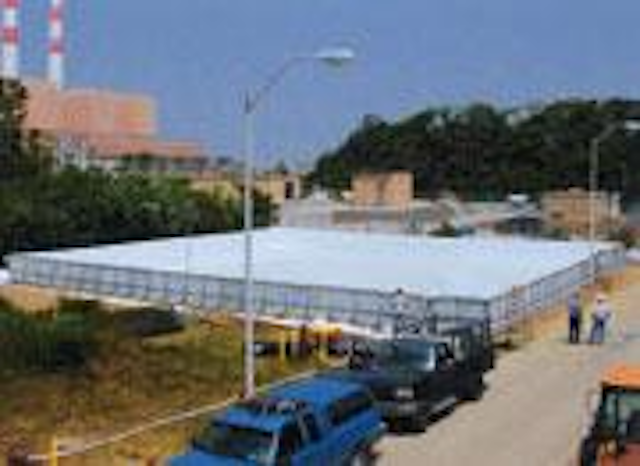 Click here to enlarge image
EconoTanks from ModuTank, available for rent or purchase, require less installation space and ground preparation than do similar containment systems of comparable volume. Handling from 2000 to a million-plus gallons, the modular tanks are bolted together from galvanized panels for free-standing or anchored installation. A full range of membrane liners assures compatibility with all wastewater and stormwater applications.
ModuTank Inc.
Long Island City, NY
Tel: 718-392-1112
Web: www.modutank.com
Pulsation dampener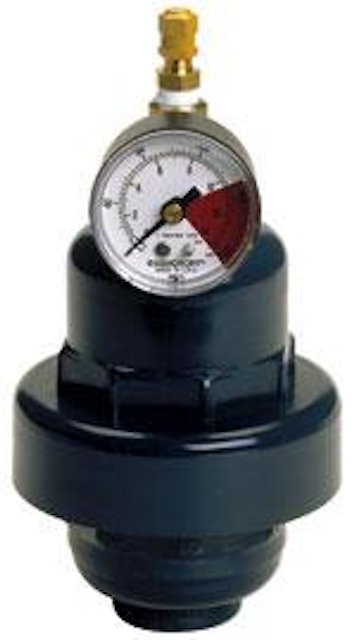 Click here to enlarge image
The Revolution pulsation dampener from Blacoh Fluid Control features threaded housings that screw together – eliminating the need for metal fasteners that are subject to the damaging effects of corrosive environments. The dampener is available in PVC construction, with a PVC bladder for complete chemical compatibility with many corrosive chemicals, including sodium hypochlorite.
Blacoh Fluid Control
Riverside, CA
Tel: 800-603-7867
Web: www.blacoh.com
Sulfide ion detector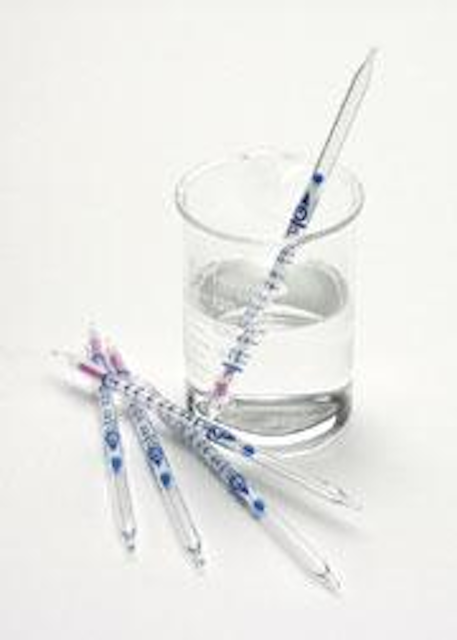 Click here to enlarge image
Nextteq has introduced the Gastec Sulfide Ion in Liquid Detector Tube No. 211. This detector tube provides an accurate and easy method for detecting hydrogen sulfide levels in water and wastewater. With a broad detection range and simple sampling procedure, ion detector tube can be used in the field. The direct-reading liquid detector tubes produce a quantitative color-stain that quickly pinpoints problem areas in just 2-3 minutes. The only equipment required for testing sulfides includes the detector tube and a clean container. Technical training is not necessary to perform tests accurately.
Nextteq Inc.
Tampa, FL
Tel: 813-249-5888
Consumer water meter
H20 Watch has introduced a consumer point-of-use water meter designed to encourage water conservation. The WaterWatch™ water meter measures consumption and graphically display the number of gallons used. The meters are made of high impact UV-resistant ABS plastic, self-lubricating moving gears and stainless steel metal parts. The meters have been thoroughly tested against excessive pressure, temperature and abuse.
H2O Watch, Inc.
Los Angeles, CA
Tel: 310-472-3915
Web: www.h2owatch.net
Grinders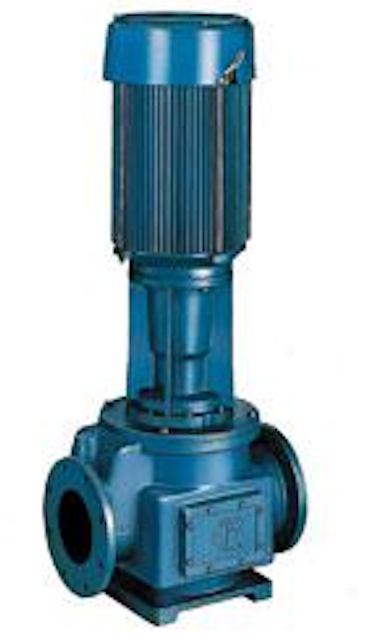 Click here to enlarge image
The Moyno® Pipeliner™ Grinder is a high-capacity solids reduction unit which provides a solution to the problems of large solids in suspension and inconsistent particle size in a wide range of applications. The unique design characteristics of the grinder's cutters minimize the chance of jamming and eliminate the need for expensive reversing controls. In addition, it features an exclusive Quick-Change Cartridge Assembly for easier maintenance. The cartridge assembly can be removed and replaced in just minutes with standard tools and no piping disconnections.
Moyno, Inc.
Springfield, OH
Tel: 877-486-6966
Web: www.moyno.com
Mixers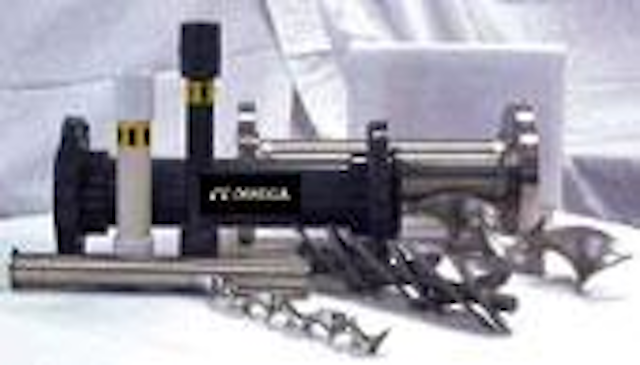 Click here to enlarge image
Omega® FMX7200 Series mixers are designed for efficient turbulent-flow mixing at low pressure drop. They are ideal for admixing water/wastewater treatment chemicals, polymer dilution, and other low-viscosity applications. Mixing elements consist of a series of polypropylene baffles and are mounted in a PVC housing with FNPT ends. CPVC and clear PVC housings are available. The mixers also are ideal for two-phase (gas-liquid) mixing and blending of gases.
Omega Engineering Inc.
Stamford, CT
Tel: 203-359-1660
Web: www.omega.com
Communication system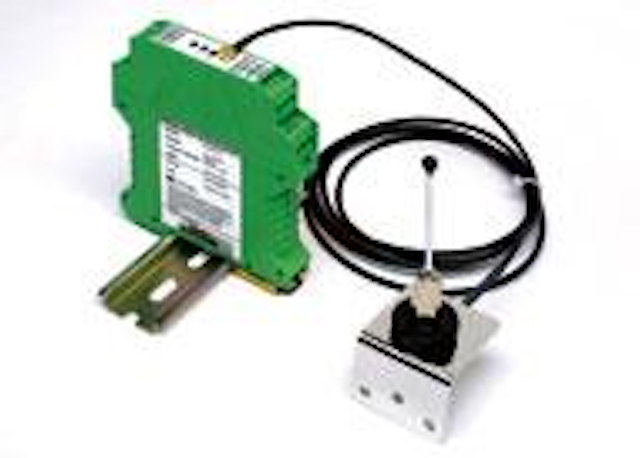 Click here to enlarge image
Phoenix Contact now offers the RAD-ISM, an integrated radio and I/O module designed to eliminate cable and conduit for analog and digital signals in harsh industrial environments. This wireless module uses spread spectrum frequency hopping techniques to guarantee a license-free, interference-free link between remote devices and the control room. Phoenix Contact Inc.
Harrisburg, PA
Tel: 800-322-3225
Web: www.phoenixcon.com
Valve acutator modules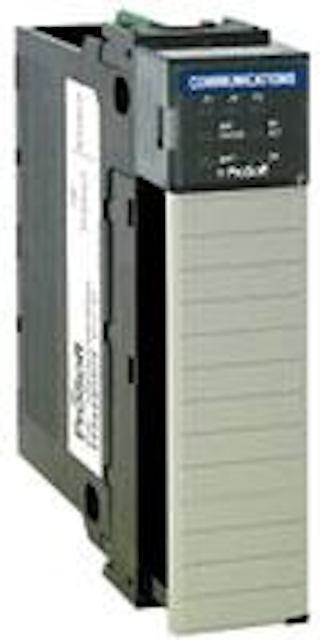 Click here to enlarge image
ProSoft Technology now offers the Limitorque Valve Actuator Master Modules (LTQ) for Allen-Bradley's 1771, 1746 and ControlLogix platforms. The LTQ modules allow Allen-Bradley processors to interface with Limitorque protocol compatible devices. These single slot solutions communicate directly over the backplane with the respective Allen-Bradley processors.
ProSoft Technology, Inc.
Bakersfield, CA
Tel: 661-716-5100
Web: www.prosoft-technology.com
Filter system
Click here to enlarge image
Reclaim Filters and Systems has added a new product to its line of Self-Cleaning Filter Systems. The new system features on-board ozone to disinfect, remove pollutants and eliminate unwanted color and odor. A self-contained ozone recirculation system automatically circulates ozonated water throughout water storage tanks keeping them fresh.
Reclaim Filters and Systems
Raleigh, NC
Tel: 919-528-1787
Web: www.waterreclaim.com
Centrifugal pump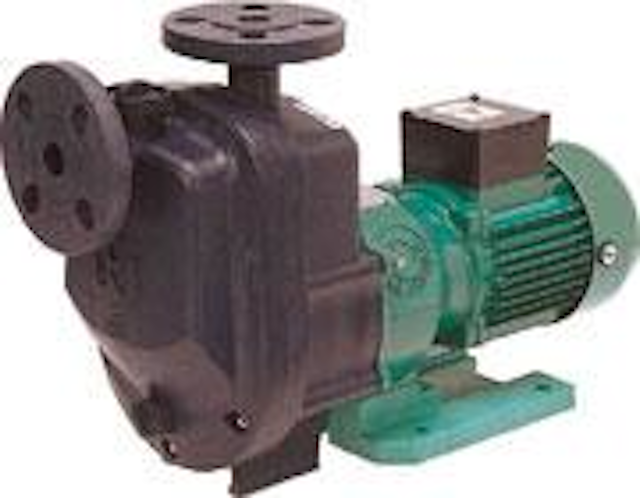 Click here to enlarge image
World Chemical's GV Series self-priming seal-less and valve-less mag-drive corrosion resistant centrifugal pumps are used for continuous duty with wastewater, strong acids, bases and other harsh chemicals. These pumps are constructed with engineered thermoplastics, polypropylene, Kynar or ETFE. A self-priming air release design provides fast suction lifts to 17 feet eliminating the need for a foot valve.
Seal-less Solutions L.L.C.
Exton, PA
Tel: 717-626-9694
UV disinfection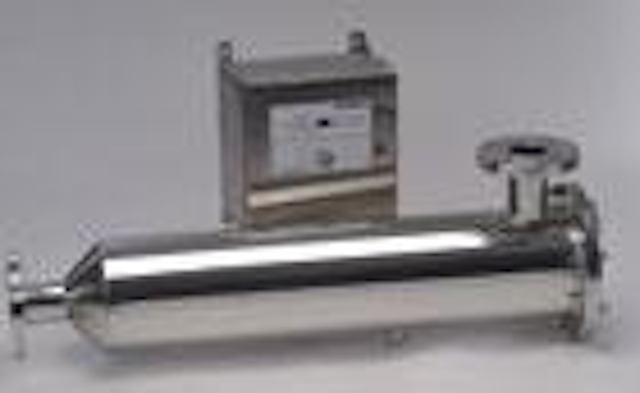 Click here to enlarge image
Wedeco Ultraviolet Technologies has released a new line of UV systems specifically designed for OEMs and End Users that have stringent water purification requirements. The CHI Series, with flow rates from 10 gpm through 200 gpm (through 3500 gpm 2nd Qtr. 2004), offers a wealth of standard and optional features. The UV vessels can be mounted vertically or horizontally and are made from 316L stainless steel, are electro polished inside and out and rated for 150 psi max pressure. They have ANSI raised-face inlet/outlet flanges and are equipped with FDA approved Viton® o-rings.
Wedeco UV Technologies
Charlotte, NC
Tel: 704-409-9711
Web: www.WEDECO.us
Packaged wastewater treatment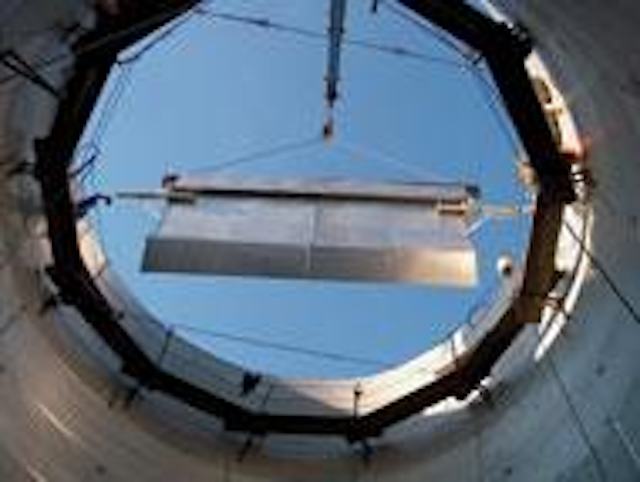 Click here to enlarge image
Biothane offers the ultra high rate Biobed® Package System for the treatment of high strength organic wastewaters in a small footprint. At the heart of the system is the company's patented Expanded Granular Sludge Bed (EGSB) technology, trademarked Biobed®, which has proven effective in providing significant reduction of organic contaminants in anaerobic process applications worldwide.
Biothane Corporation
Camden, NJ
Tel: 856-541-3500
Web: www.biothane.com
Butterfly valve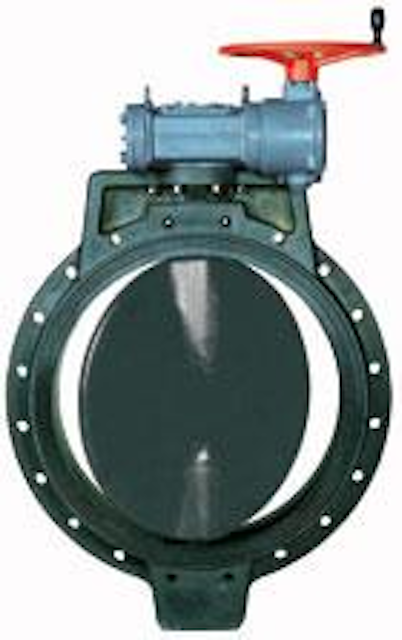 Click here to enlarge image
Asahi/America has introduced its Giant PDCPD Butterfly Valve, which is ideal for a range of applications, including wastewater treatment. The valve features a molded, lined body with full seat design, eliminating the need for additional gaskets and providing a bubble tight seal. The valve's spherical shape disc reduces breakaway and sealing torque for long cycle life, and its wafer style body minimizes space restrictions. Comprised of polydicyclopenthadiene (PDCPD), the valve's body and disc are the only parts that come in contact with media.
Asahi/America, Inc.
Malden, MA
Tel: 781-321-5409
Web: www.asahi-america.com
Anti-seize compound
Assured Flow's Hydra-Eze is a premium, synthetic, food grade, non-drying anti-seize compound formulated with a balanced blend of Teflon® and other lubricating solids, homogenized into a non-melting grease carrier. The compound is engineered to provide a leak-proof seal for the life of the connection while at the same time maintaining its anti-seize capabilities, allowing disassembly without thread damage. This product is also excellent for threaded meter connections.
Assured Flow Sales Inc.
Sarasota, FL
Tel: 800-388-0678
Web: www.gradelok.com
AMR coating system
Parylene is a vapor deposited, conformal, protective coating that protects against moisture, corrosion, chemicals and electrical charge. Its barrier properties are suited for the unique challenges facing water AMRs like condensation and corrosion, according to officials at Specialty Coating Systems. The coating also is used to protect components from harsh environments in numerous other challenging industries including military, aerospace.
Specialty Coating Systems
Indianapolis, IN
Tel: 800-356-8260
Web: www.scscookson.com