Effluent-Only Sewers Offer Alternative to Traditional Systems
Everyone in the wastewater industry is familiar with the challenges faced by small communities that need to upgrade aging infrastructure and failing septic systems or simply meet demands for new development.
Aug 1st, 2012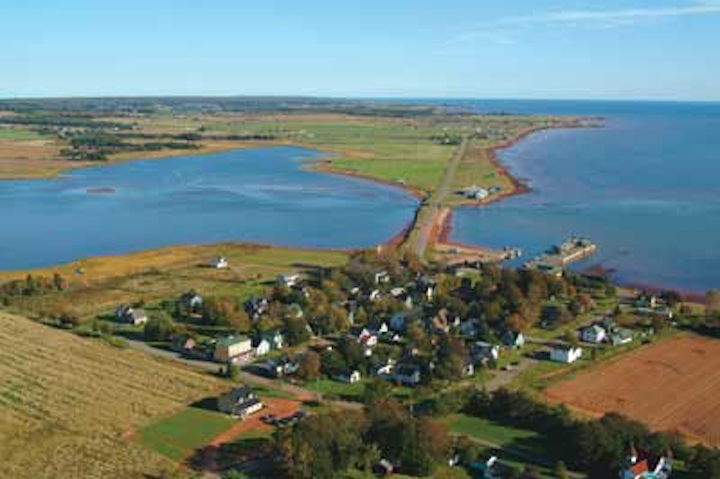 By Grant Denn
Everyone in the wastewater industry is familiar with the challenges faced by small communities that need to upgrade aging infrastructure and failing septic systems or simply meet demands for new development. These communities typically lack the population base and/or median incomes to support a conventional sewer solution. Meanwhile, permit limits for wastewater discharges continue to tighten.
Over the past 30 years, the technology for "effluent-only sewers" has been optimized, and these systems are spreading widely. When good quality equipment is used and when systems are properly installed and operated, they are watertight, discharge no untreated sewage, use little power, and provide passive, natural primary treatment in each resident's on-lot tank, reducing downstream treatment costs.
How an Effluent Sewer Works
With an effluent sewer, every lot in a community or subdivision includes a watertight on-lot tank for collecting household wastewater. If the tank is properly sized and tested and proven to be watertight, solids will settle out in the tank and anaerobic processes will consume most of the solids. Consequently, tank pump-outs are infrequent, typically just once every 11 years or more.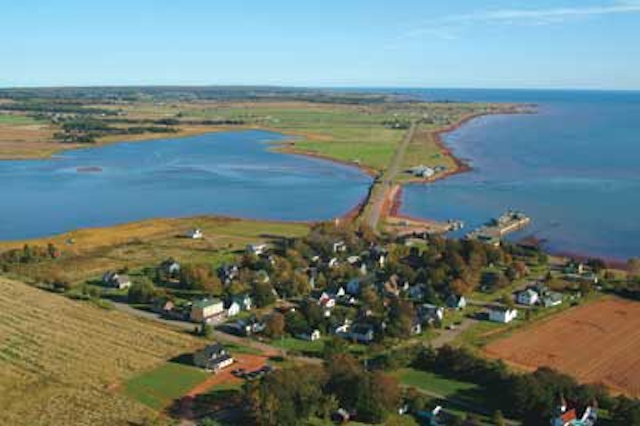 Victoria, Prince Edward Island, installed an effluent sewer system followed by an attached growth treatment system in 2008 to serve 63 connections. Project costs (including installation of low-flow toilets at every home) totaled about $2 million, and property owners pay about $43/month/EDU. Photo by Ron Garnett, AirScapes.ca.
The liquid effluent remains in the tank for just a couple of days. Then it is filtered and conveyed from the tank by pump or gravity through small diameter collection lines to the next step in the treatment process. Sites from which the effluent flows by pump are called Septic Tank Effluent Pump (STEP) connections. Sites from which the effluent flows by gravity are called Septic Tank Effluent Gravity (STEG) connections. In some communities, both types can exist on the same network.
Because only clarified liquid effluent is pumped and the pumping is intermittent, small, lightweight pumps (typically one-half horsepower) are used, costing the homeowner less than a dollar a month for electricity.
The effluent collection lines are typically 2-4 inches in diameter and can be shallowly buried — below frost depth, like water distribution lines — following the contour of the land. Installation can be done by directional drilling, further reducing the impact on the community and the environment during installation.
Typically, no lift stations are needed; and the watertight effluent sewer system does not require manholes, just cleanouts. This significantly reduces costs, while also eliminating infiltration or exfiltration.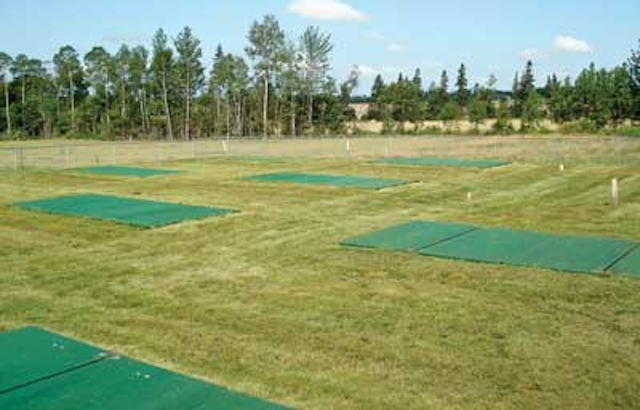 The Victoria treatment system includes 10 modular, recirculating textile filter treatment vessels, buried below grade. During the summer tourist season, all 10 vessels are used, and the effluent is recycled for drip irrigation. Photo courtesy of Orenco Systems®.
No minimum velocities are required either; so, if a community anticipates growth, it can upsize mainlines for little cost. On-lot equipment — which represents up to 85% of total collection costs — is not required until a connection is made to the system. Consequently, current users do not subsidize future users, and mandatory connections (to fund upfront infrastructure costs) are not necessary.
Treatment Options
Effluent sewers can be connected into a regional gravity sewer and the filtered effluent can then be discharged to traditional activated sludge treatment plants, lagoons, etc. For example, The Village of Corrales, N.M, effluent sewer system is tying into the City of Albuquerque's collection and treatment system.
But most effluent sewers are part of a satellite or decentralized cluster system in which further treatment is performed near the wastewater source, often by a packed bed treatment system, which is a nonsubmerged, attached growth process. This is a passive process that distributes wastewater over a treatment media, such as gravel or textile.
Gravel packed bed filters, however, require a large footprint, and as vacant land becomes increasingly scarce, many communities are looking for more compact options. For example, Orenco manufactures a lightweight and compact packed bed treatment system that uses an engineered textile for the treatment media. Because of its large surface area, void space, and water-holding capacity, textile makes it possible to have a compact treatment footprint that is one-tenth that of a gravel bed.
Effluent Sewer Management
The utility management model works best for effluent sewers, to ensure consistent and professional operation. For example, South Alabama Utilities manages 3,500 connections. According to Mobile-area developer Steve Brewer, "We get nothing but positive reactions from our home buyers. As far as they're concerned, they have a centralized sewer system. If they have a problem, they pick up the phone and call South Alabama Utilities."
Smaller communities typically contract with a part-time operator for operation and maintenance. Because effluent sewer systems use lightweight components, a part-time operator with a pick-up truck and a small supply of parts can literally manage hundreds of systems.
Telemetry controls reduce O&M time even more. For example, a part-time operator takes care of the 63 connections and packed bed treatment system installed by Victoria, Prince Edward Island, Canada. The effluent sewer system there solved a 20-year wastewater problem and subsequently won the Federation of Canadian Municipalities' 2011 "Sustainable Community Award."
About the Author: Grant Denn earned his Engineering degree from Oregon State University in 1986 and has more than 25 years of sales and engineering experience at Orenco Systems®, a manufacturer of decentralized wastewater systems and winner of the Water Environment & Technology's "2011 Innovative Technology Award" and Frost & Sullivan's 2012 "Technology Innovation Award."
Editor's note: For information on the life-cycle costs of effluent sewers, Orenco's Asset Management department offers a 4-page Technology Fact Sheet: Orenco Effluent Sewer Systems: Operational Cost On-lot Components (NFS-EFS-OM-1). The document can be found in the technical resource library at www.orenco.com