Dewatering Technology Features Simplified Design
In an industry where environmental concerns are a priority, many wastewater treatment plant operators are upgrading their dewatering systems to adhere to stringent biosolids processing regulations.
Jun 1st, 2010
In an industry where environmental concerns are a priority, many wastewater treatment plant operators are upgrading their dewatering systems to adhere to stringent biosolids processing regulations. This is particularly difficult in an economy where municipal budgets are hurting and government funding has decreased.
With this in mind, Prime Solution Inc. has designed a dewatering technology that has a smaller footprint and offers the potential of lower energy consumption than many traditional systems.
The company's Prime Rotary Fan Press was designed using fundamental physics: use friction and pressure to force water out through the path of least resistance. When sludge enters the feeding channel, a pump moves the sludge through two rotating circular parallel stainless steel filter screens. As the flocculated sludge compresses against the wedge wire screens, filtrate drains away causing the sludge to form into a cake.
The dewatering process intensifies as the cake advances toward the tapered outlet where a pneumatic restriction plate controls pressure at the outlet. The compression from the restriction plate combined with backpressure from incoming sludge and the frictional force of the slow moving filter screens condenses the cake to release additional filtrate.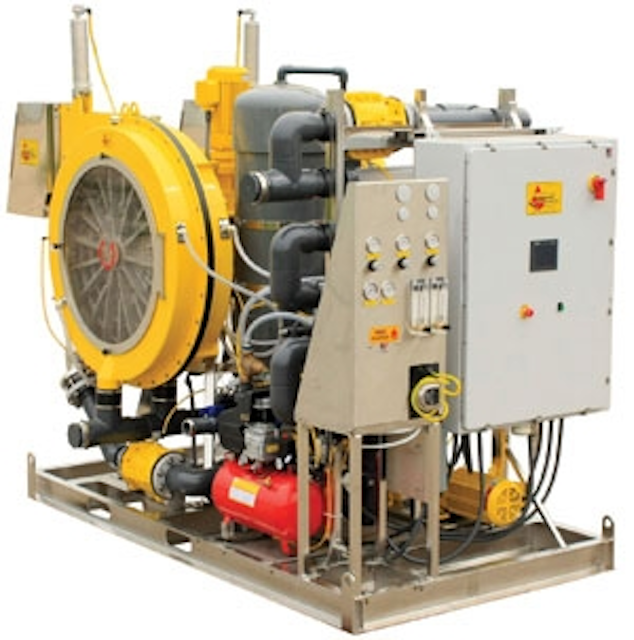 Dual Channel Prime Rotary Fan Press on Skid System
The new press typically produces cake solids ranging from 18-26% for anaerobically digested biosolids, 15-20% for aerobically digested biosolids and 20-32% for mixed primary and secondary sludges.
While other systems can attain similar drying numbers, the innovation offer by this new dewatering technology is in its simplicity. The fan press has over 90% less parts when compared to technologies such as the belt press. Fewer mechanical parts combined with a slow rotational speed significantly reduces system maintenance. A revolution of one to two rotations per minute reduces noise, vibration and shear. This minimizes wear on parts and reduces energy consumption.
Joe Dendel, creator of the Rotary Fan Press, said the system requires 15-20% less electricity than a belt press and about 90% less electricity than a centrifuge. Depending on the model and size of the press, total horsepower ranges from .75 hp to 13 hp.
Since energy consumption is one of the largest components of a WWTP's carbon footprint, the new press can be considered a green dewatering alternative due to its reduced energy usage. It is listed as an EPA approved dewatering technology in the 2009 EPA Standards and Practices.
Screen Design
The key technology of the fan press is the filter screen. The screen is comprised of two stainless steel pieces to create a quarter inch thick slotted wedge wire design. This creates a more open filter area that ranks among the highest throughputs per channel when compared to other dewatering systems.
The screen's design also reduces blockage and the need for continuous cleaning. The self-cleaning feature is typically used once or twice daily. When compared to the belt press, the rotary fan press uses approximately one-fifth the amount of washwater for cleaning.
Integration
The fan press models are available to handle flows up to 130 gpm and can produce nearly 2,000 pounds of dry sludge per hour. Four sizes are available with the option of having one or two dewatering channels. Prime Solution will be introducing a four-channel system in late 2010.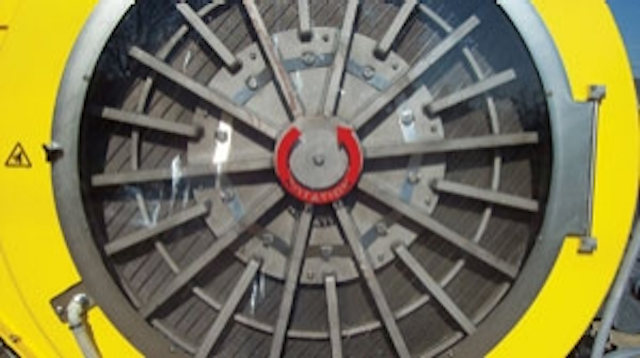 The Prime Rotary Fan Press wedge wire screen is designed to reduces blockage and increases dewatering efficiency.
The footprint of the press ranges from 40 to 70 square feet. The compact design can be integrated into existing water treatment systems, it can replace other technologies or it can be incorporated into a plant upgrade. This helps to reduce installation costs since structural renovations to the facility are not required to accommodate the system.
Case Study
Virginia's Front Royal Wastewater Treatment Plant was using a belt filter press that averaged 13% solids. It did not meet the 20% solids mandatory for land application or landfill requirements. As a result, $400,000 was spent annually to transport the sludge from the facility.
In 2007, Prime Solution installed a fan press at the Front Royal Plant. Pilot tests achieved 23-24% dry solids that could be land applied. One year after installation, plant operator Tim Fristoe said hauling costs were reduced by $220,000 and the press had paid for itself.
For more information on Prime Solution and its dewatering systems, visit www.psirotary.com. WW
More WaterWorld Current Issue Articles
More WaterWorld Archives Issue Articles