Diving into Data: Moving Toward Smart Metering for Water
The once-robust United States water supply is facing troubled times.
Aug 1st, 2010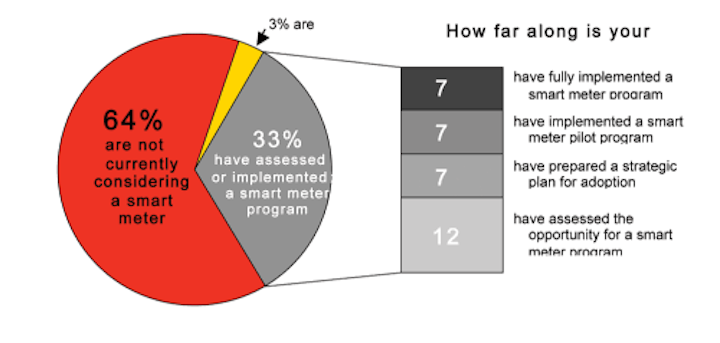 By Guerry Waters
The once-robust United States water supply is facing troubled times. At least 36 states are projecting water shortages between now and 2013. Communities face difficult choices when trying to attract new companies that bring with them both new jobs and requirements for more water. And citizens, alarmed about rising water bills and falling property values, are beginning to lash out at existing water-intensive industries–from golf courses to power plants.
Water conservation is the first line of defense against shortages. And increasingly, water utilities are demonstrating their commitment to conservation by moving their distribution systems toward smart metering.
Today, the utility industry associates smart metering terminology primarily with electric utilities. But electric utilities are not the only ones facing aging infrastructures, sustainability challenges, and customer demands for better service. Water utilities, too, can better address these challenges through cohesive and coherent smart metering initiatives that use advanced technologies to deliver new conservation programs.
Oracle recently surveyed more than 300 water utility managers in the U.S. and Canada to examine their perception of, and future plans for, smart meter technology, including benefits and potential obstacles. The survey also questioned 1,200 water consumers to examine their perceptions of their water use, motivations for conservation, and what they feel they need from their water utilities moving forward.
Smart Metering Survey
Oracle's study "Testing the Water: Smart Metering for Water Utilities" found that water utility managers are committed to promoting water conservation and believe smart meter technology adoption is critical for the industry. Of these managers, 62 percent cite enabling early leak detection as the number one benefit associated with smart meter technologies for water utilities. Other benefits cited include supplying customers with the tools to monitor/reduce their water use, providing more accurate water rates, curbing overall water demand, and improving the ability to conduct preventative maintenance. Further, 83 percent of water utilities who have completed a cost-benefit analysis support the adoption of smart meter technology.
However, water utilities are only in the early stages of smart metering development. Only one in three water utility organizations surveyed is currently considering or implementing such programs, while the other two-thirds have not yet considered smart metering.
Why are they holding back? Many water utility managers see the potential in smart metering for water; but when asked to select the most significant roadblocks, they cited the potential lack of cost recovery or measurable return on investment (46 percent), up-front utility expenses (42 percent), up-front customer expenses (23 percent), and lack of customer interest (14 percent). Clearly, water utilities need greater confidence that their investment will pay off-for both their businesses and their customers–before they move forward.
Consumers Reaction
The "Testing the Water" survey also found that consumers definitely care about water conservation issues and their own personal water consumption. Seventy-six percent are worried about the need to conserve water in their communities, and 67 percent are concerned about their household water costs. Interestingly, both U.S. and Canadian consumers are more concerned with water conservation than with water costs.
Further, consumers are motivated to act. Oracle found that 69 percent of North American water consumers are willing and able to reduce their personal water use. When asked how much water they believe they could realistically save each day, respondents provided an average answer of 16 percent–a potential savings of 1.4 trillion gallons each year.
Two-thirds of water consumers have taken steps in the past 12 months alone to lower their home's water use. These respondents cite water conservation as the top reason for their action. When asked what would most induce them to reduce personal water use, consumers cite a water utility incentive/rebate for reduced use (67 percent) as the top factor. In other words, incentives would enhance personal motivation.
Water utilities clearly recognize their consumers' interests. Seventy-three percent of water utility managers say they actively promote water conservation. One utility manager elaborated, "We put out public information for customers about conservation tips, and we vary our rate - the more you use, the more it costs."
Despite their commitment to conservation, water utility managers are not doing as well as they think; consumers want more information. In the survey, Oracle asked water consumers and water utility managers to grade their utility on its ability to provide detailed, useful information on consumer water use. Fifty-nine percent of water utility mangers believe they do an "outstanding job." However, only 29 percent of water utility consumers believe their water utility does an "outstanding job"- a clear disconnect.
The majority of water consumers believe access to online consumption data would encourage them to reduce their water use. Seventy-seven percent said they would definitely or possibly access and review information if they had a free online tool that enabled them to access detailed consumption and cost data on demand. The majority of this group (71 percent) believes having access to this data would encourage them to lower their water use.
Takeaways
What can we conclude from this survey? Clearly, both consumers and water utility managers see the potential to save water, and both groups see value in technology that can better inform and motivate behavior change. Both groups see the need for utilities to take a lead role in providing both the technology and the resulting information.
To that end, most utilities will want to ensure that their long-term sustainability plans include technologies that enhance metering accuracy and efficiency, enable them to provide more and better information to consumers, and ultimately improve customer satisfaction.
Fortunately, water utilities interested in taking the smart metering "plunge" are not alone. Utilities in particularly dry regions are more than willing to share their experiences so that others can more easily:
Identify best practices.
Build detailed business cases to support smart metering implementations.
Examine the infrastructure improvements that can enhance technology success.
Partner with their customers in their efforts to reduce water consumption.
Promote water conservation and develop rebate programs to encourage consumers to reduce excess water use.
There is no single answer to the question of water sustainability. Maintaining adequate water supplies will require actions from every stakeholder including customers, governments, environmental groups, regulators, and utilities themselves. Communication and comprehensive consumer education will be critical to success.
Clearly, smart metering can play an important role in support of that process. By helping customers better understand and curb their water use, by identifying leaks, and by underpinning new rate and regulatory programs, smart metering can help utilities respond to long-term community water needs. WW
---
About the Author: Guerry Waters, Vice President of Industry Strategy, joined the Oracle Utilities Global Business Unit (previously SPL WorldGroup) in 2000. Previous positions include Vice President of Energy Information Strategy at META Group (now Gartner) and CTO and Director of Technology Strategy and Engineering at Southern Company. He focuses on IT strategies that help utilities meet their goals amidst changing customer demands, regulations, and market structures.
More WaterWorld Current Issue Articles
More WaterWorld Archives Issue Articles