Hydroxyl-Ion Fogging System Helps Solve Odor Issues
The recent flood of mortgage foreclosures has had an impact on just about every sector of our society, including the sewer system.
Aug 1st, 2010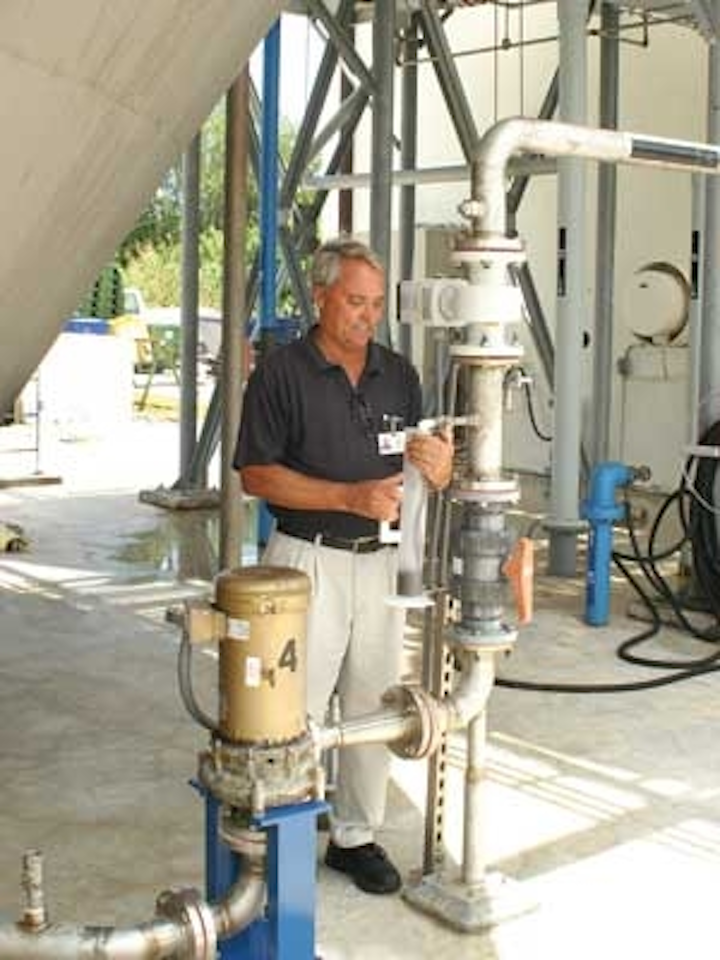 The recent flood of mortgage foreclosures has had an impact on just about every sector of our society, including the sewer system. In Maricopa, AZ, a rapidly growing residential community before the recession hit, decreased wastewater flows due to foreclosures led to anaerobic conditions and a buildup of hydrogen sulfide in a large lift station. Global Water Resources, a private-sector provider of water and wastewater services and operator of the Maricopa system, tried several hydrogen sulfide control technologies before selecting a hydroxyl-ion fogging system to solve the issue.
"We've seen dramatic improvement there," said Scott Thomas, Global's Utilities Operations Manager at Maricopa. "For three years we have employed multiple technologies to resolve the issues of hydrogen sulfide, but none was cost effective or sustainable."
The fogging system, supplied by Vapex Environmental Technologies of Oveido, FL, was installed and became operational this past January. Thomas says the technology has reduced hydrogen sulfide concentration inside the wet well from nearly 1,000 parts per million to negligible readings.
Background
Prior to the recession, Maricopa had been part of one of the fastest growing metropolitan areas in the United States. Located south of Phoenix, the community grew from a population of 1,050 in 2000 to about 37,000 currently.
Since 2003, Global Water Resources has owned and operated the water, wastewater, and recycled water services in the community, as well as infused capital for infrastructure growth. The company has similar arrangements with multiple communities across Arizona.
"Global provided the capital for development of the sewer system, which consists of 190 miles of pipelines, seven lift stations, and construction of both the water and wastewater treatment facilities," Thomas said.
A Vapex O-Mega V-1500 ion-fogging system is helping control odors at a 2 mgd lift station in Maricopa, AZ.
The wastewater plant is designed for expansion to 9 mgd. Currently about 2.2 mgd flow through four 750,000-gallon capacity sequencing batch reactor (SBR) tanks, before passing through tertiary filters and ultraviolet light disinfection channels. The recycled water fills area lakes and irrigation ponds, and is reused as water for landscaping, city parks, and recreational fields. To date, Global has supplied over 2 billion gallons of water for reuse in the community.
But it was a 2 mgd capacity lift station in the Rancho El Dorado residential section of town that was demanding the most attention. As a result of the high vacancy rates due to foreclosures, wastewater flows slowed and caused anaerobic conditions and increased hydrogen sulfide buildup within the lift station. The hydrogen sulfide was also causing corrosion that threatened to prematurely damage the wet well and its internals.
"It's the second largest lift station in our system," Thomas said. "We tried a number of capital solutions – carbon and other media – but while these had positive effects, they all needed to be changed out frequently. They were power hungry and required close supervision by our staff. They were simply not sustainable."
Eventually, the Global team pilot-tested an O-Mega V-800 hydroxyl-ion fogging unit with the Vapex demonstration trailer. O-Mega systems generate a hydroxyl-ion fog that is injected into the odorous space through a special atomizing nozzle. The nozzle generates water particles that average five micron in size. They are dispersed throughout the entire wet well and react with the odorous compounds. Unlike a scrubber system, there is no need to withdraw odorous air from the structure and pass it through a separate odor control scrubbing process. The reacted mist simply condenses back into the water stream. No hazardous chemicals are purchased, handled or stored. The fogging systems are compact, and feature relatively low capital, operating, and maintenance costs.
The outcome was positive, Thomas reports, and a larger V-1500 system was placed at the lift station and set up for permanent operation after three months of trial.
"The results were almost immediate," he said. And in the months since startup, he reports the O-Mega unit has required very little in the way of maintenance.
"It's a straight-forward technology; all you need is a source for potable water and a 30A power connection. Most lift stations are likely to have both," he said. "It's really a plug and play application."
Thomas also likes the fogging system's impact on the longer term issue of corrosion.
"The fog breaks down the biofilm we used to get on the walls of the wet well and on the other surfaces in the lift station. Over time that can lead to corrosion and expensive replacement.
"But now, when you open the hatch and the fog clears, all you see are clean walls and cables and metal surfaces." WW
More WaterWorld Current Issue Articles
More WaterWorld Archives Issue Articles