PRODUCTS & SERVICES FILTRATION
Pall AriaTM MF and UF membrane systems remove particulate, microbiological pathogens, inorganics, and organics...
Nov 1st, 2007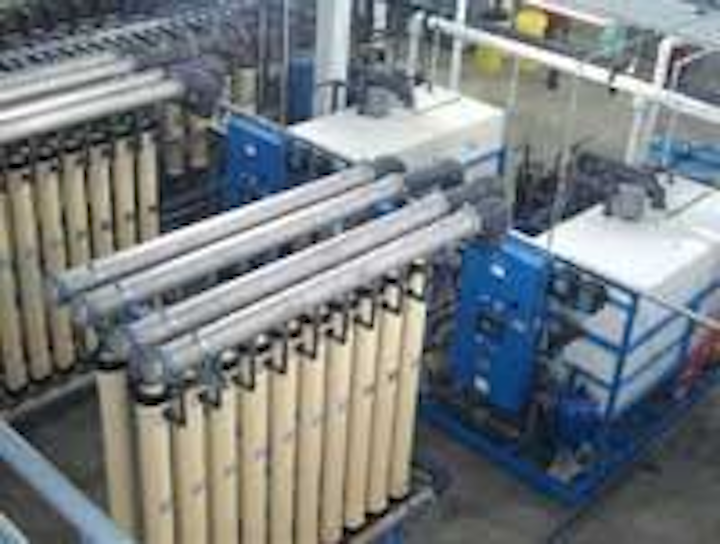 Membrane systems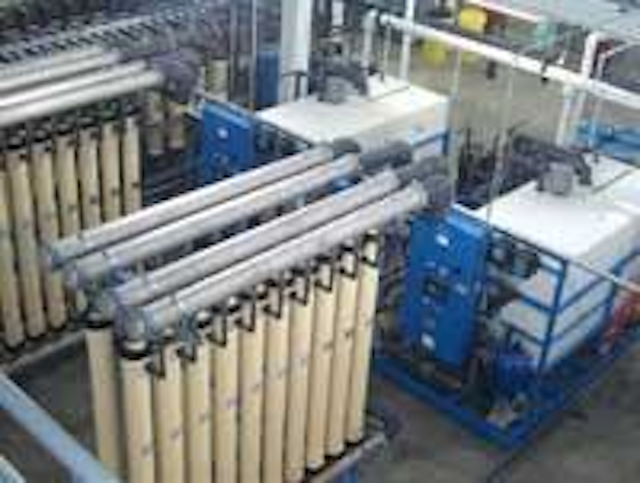 Click here to enlarge image
Pall AriaTM MF and UF membrane systems remove particulate, microbiological pathogens, inorganics, and organics from groundwater, surface water, seawater, and wastewater. Over 300 Pall membrane systems worldwide produce pure water for drinking, irrigation, industrial reuse and other applications. The company's Aria systems feature some of the toughest membranes in the industry.
Pall Corp.
Port Washington, NY
Tel: 888-428-5597
Web: www.pall.com/water
Ion exchange resins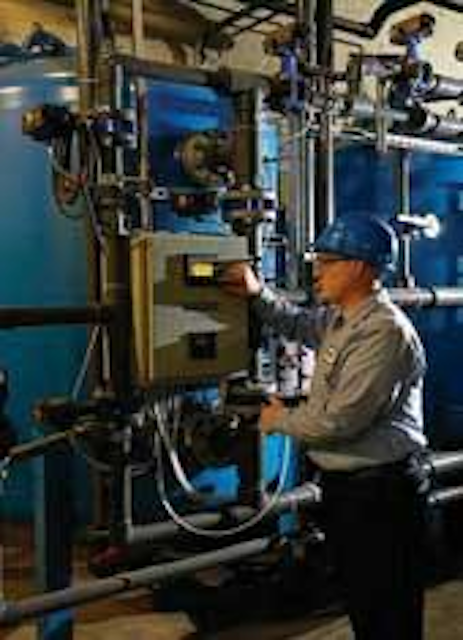 Click here to enlarge image
The Purolite SST family of softening resins is based on Shallow Shell Technology (SST), enabling efficient and rapid ion exchange. SST resins allow for a more complete regeneration and provide higher, more efficient utilization of the regenerant. The result is a family of resins with improved regenerant efficiency, lower leakage, and reduced rinse water requirements.
Purolite Co.
Bala Cynwyd, PA
Tel: 610-668-9090
Web: www.purolite.com
Filter media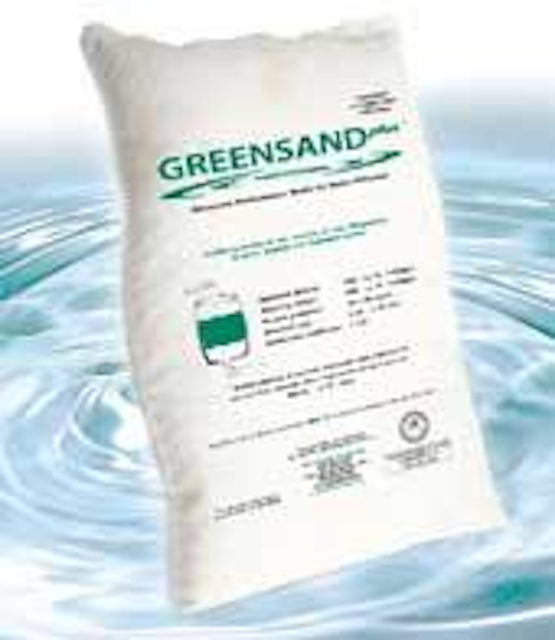 Click here to enlarge image
GreensandPlus from the Inversand Co. is an exact substitute for Manganese Greensand. It is resistant to attrition from high differential pressure and works well in water low in silica, dissolved solids and total hardness as well as in water over 70 degrees F without any degradation. No potassium permanganate is required, and users may use their oxidant of choice.
Inversand Co.
Clayton, NJ
Tel: 856-881-2345
Web: www.inversand.com
Filter backwashing valves
Cla-Val electronic metering valves equipped with KO anti-cavitation trim are designed for use in filter backwashing systems. The valves can handle the pressure and can perform the backwashing function without external metering or control components, greatly reducing space requirements and installation/maintenance costs. This multi-functional control valve can provide both low-rate and high-rate wash, flow metering and totalizing, hydraulic pressure override, and can interface with SCADA systems.
Cla-Val
Newport Beach, CA
Tel: 800-942-6326
Web: www.cla-val.com
Stormwater filtration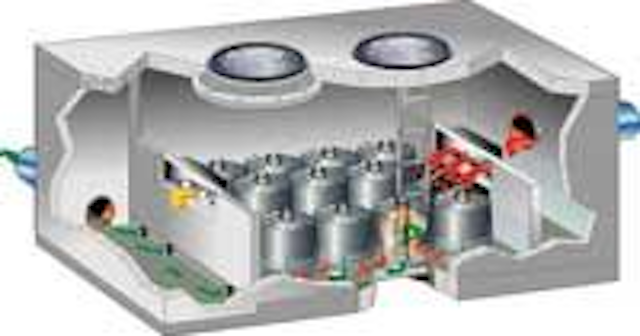 Click here to enlarge image
Designed to meet stringent regulatory requirements, the Stormwater Management StormFilter® from Contech Stormwater Solutions targets a full range of pollutants in urban runoff, including TSS, soluble heavy metals, oil and grease, and total nutrients. Its patented, surface-cleaning system prevents surface blinding, which extends the cartridge life cycle.
Contech Stormwater Solutions
Tel: 800-925-5240
Web: www.contechstormwater.com
Filter bags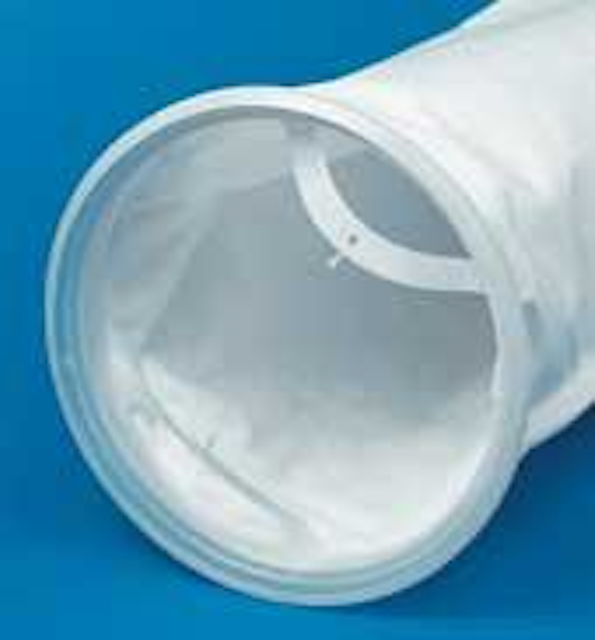 Click here to enlarge image
Eaton's LofClearTM Series 100 Filter Bags have been designed to make high efficiency filtration viable in applications where only standard filter bags are currently being used due to cost constraints. The bag's three-layer construction design provides an alternative to more expensive filter bags used in absolute, high efficiency filtration applications.
Eaton Filtration LLC
Elizabeth, NJ
Tel: 908-787-1000
Web: www.eaton.com
Pressure transmitters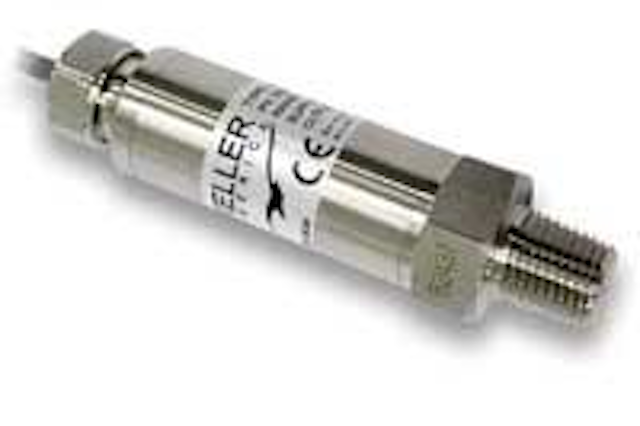 Click here to enlarge image
Keller America offers a line of pressure transmitters suited for measuring the pressure across filters, including the PreciselineTM and affordable ValuelineTM. The Preciseline has an analog output that can be adjusted via the integral RS485 interface. The Valueline is available at a price to suit tight budgets.
Keller America Inc.
Newport News, VA
Tel: 877-253-5537
Web: www.kelleramerica.com
Membrane filtration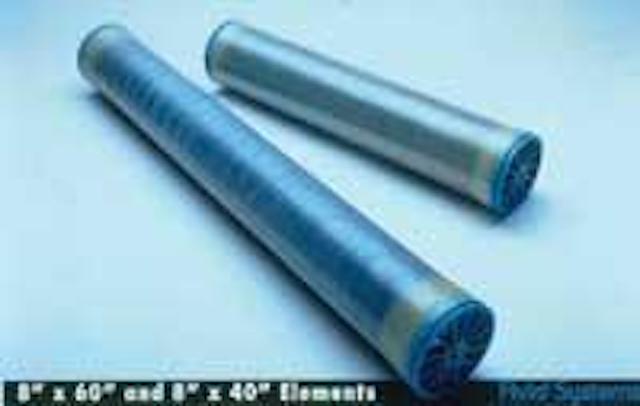 Click here to enlarge image
Koch Membrane Systems offers its Fluid Systems® ROGA® line of cellulose acetate membranes. The membranes are a widely deployed solution in treating industrial and municipal wastewater where greater fouling resistance is key. The versatile membranes offer a combination of smooth surface morphology, neutral charge and chlorine tolerance.
Koch Membrane Systems Inc.
Wilmington, MA
Tel: 978-694-7000
Web: www.kochmembrane.com
Disc filter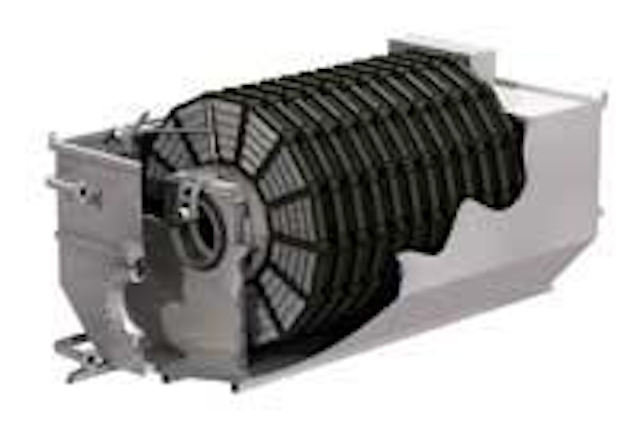 Click here to enlarge image
The Forty-XTM disc filter from Siemens Water Technologies uses a woven polyester pleated filter panel design that captures 40% more solids on each panel than traditional woven media flat panel designs. In addition to its micron-rated media barrier, the disc filter provides a simple spray mechanism that releases solids from the media. Ideal for tertiary filtration, municipal and industrial reuse/recovery, product recovery, process water filtration, and conventional filter retrofit applications, the filter reduces or eliminates downtime associated with high-pressure media cleaning, resulting in fewer redundant systems and reduced tank drainage.
Siemens Water Technologies
Edwardsville, KS
Tel: 913-422-7600
Web: www.siemens.com/water
Drinking water treatment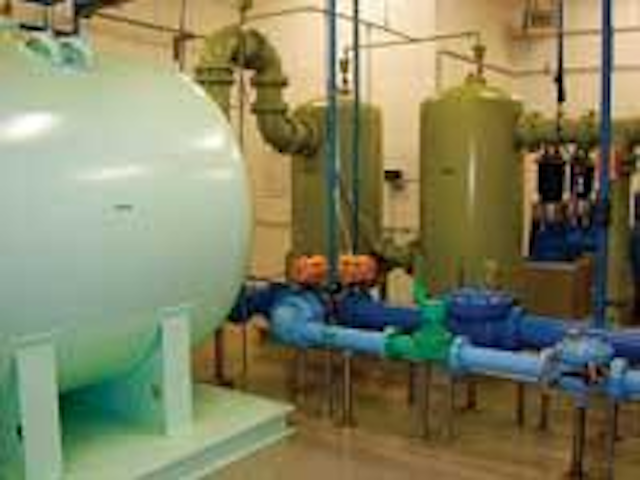 Click here to enlarge image
Filtronics Electromedia I® is designed to remove arsenic, iron, manganese and other metals from drinking water. The company's custom designed EM-I systems have a small footprint, are designed with the capability of expansion, and include an option for reclaiming up to 99.9% of the backwash water. They use substantially less chemicals than are generally required for treatment, and produce no hazardous waste, while still producing potable water most often significantly cleaner and purer than required by stringent EPA regulations.
Filtronics Inc.
Anaheim, CA Tel: 714-630-5040 Web: www.filtronics.com
Pilot MBR system

Click here to enlarge image
N.A. Water Systems, a Veolia Water Solutions & Technologies company, has launched a mobile, pilot-scale wastewater treatment unit for its NEOSEPTM immersed membrane bioreactor (MBR) technology. The pilot-scale system is self-contained on a 48 foot truck trailer that can be transported to any site to test the effectiveness of the technology on the specific wastewater characteristics. NEOSEPTM technology combines advanced biological treatment using activated sludge with immersed flat-sheet membrane filtration to produce an exceptional treated water quality.
N.A. Water Systems
Pittsburgh, PA
Tel: 412-809-6712
Filtration, denitrification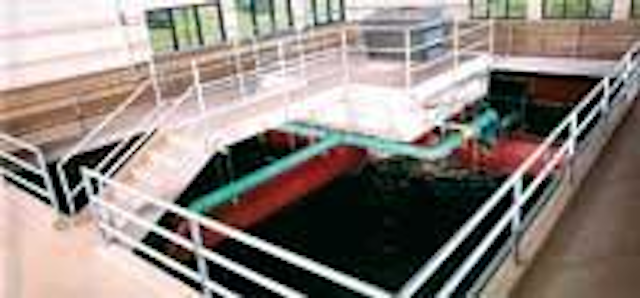 Click here to enlarge image
Siemens Water Technologies has introduced the CenTROL® filter system with denitrification enhancement, allowing municipalities to reduce nitrogen in wastewater to levels suitable for discharge into receiving water bodies. Denitrification is accomplished by modifying the filter media and backwash troughs and adding a carbon feed system. The type of filter media selected depends on the plant's operating conditions and effluent water quality requirements.
Siemens Water Technologies
Lowell, MA
Tel: 978-614-7198
Web: www.siemens.com/water
Cloth media filters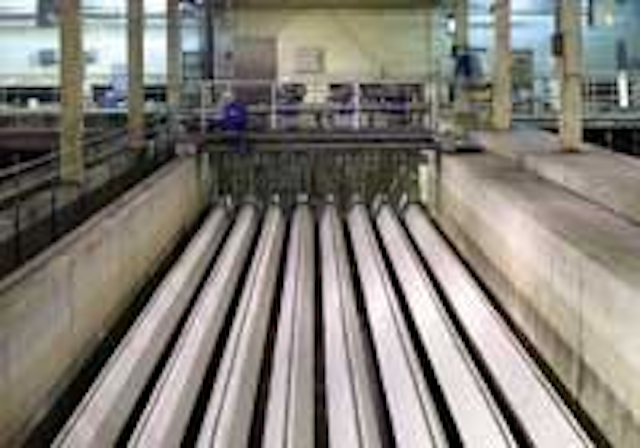 Click here to enlarge image
Aqua-Aerobic Systems has introduced the latest addition to its line of cloth media filter systems - the AquaDiamond®. The unique shape and design of this filter allows user to take advantage of the inherent characteristics of cloth media technology with the added benefit of treating three times the flow capacity of a traveling bridge filter with an equivalent footprint. This makes the system ideal for new plant construction or retrofitting existing sand filters.
Aqua-Aerobic Systems Inc.
Rockford, IL
Tel: 815-654-2501
Web: www.aqua-aerobic.com
On-site disinfection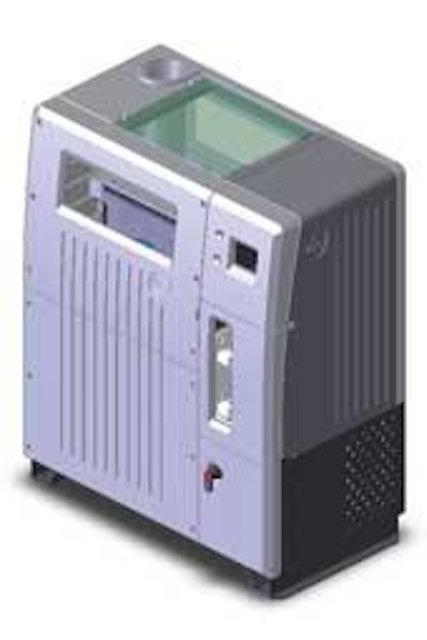 Click here to enlarge image
Miox's new RIO Series on-site generator simply needs salt, water and power to produce fresh disinfectant on demand for potable and wastewater treatment. No hazardous chemicals are involved. On-site generation is a solution for disinfection needs, improved regulatory compliance and low impact development. The RIO series equipment has a solid, modular, industrial design with a high density polyethylene (HDPE) enclosure and aluminum frame.
Miox Corp.
Albuquerque, NM Tel: 888-646-9426 Web: www.miox.com
Self-cleaning filters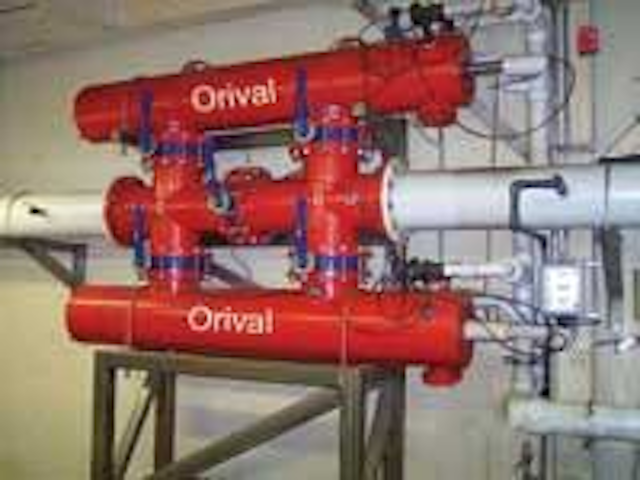 Click here to enlarge image
Orival offers the ORG series of automatic self-cleaning filters. The filters use as little as two gallons of water per cleaning cycle with models available from 10 gpm to 1,320 gpm per filter body. Filtration degrees are available from 3,000 microns down to 10 microns, making the filters perfect for pretreatment to all types of membrane systems.
Orival Inc.
Englewood, NJ
Tel: 800-567-9767
Web: www.orival.com
Membrane treatment systems
Doosan Hydro Technology provides custom engineered water and wastewater treatment systems with its primary area of expertise in reverse osmosis and membrane treatment. The company has successfully completed countless municipal RO & NF projects in addition to its backlog of water reclamation, wastewater and industrial treatment systems. The company can provide turnkey or EPC services for seawater and brackish RO plants ranging in size from 1 to 50 mgd.
Doosan Hydro Technology
Tampa, FL
Tel: 813-549-0182
Web: www.doosanhydro.com
Coagulants, flocculants
Injection of RoQuest® filter aid to the feedwater of a conventional multimedia filter (MMF) can improve water quality and result in decreased RO cleaning frequencies. MMF applications alone have a typical particle removal efficiency of just 30% - 60% with minimal turbidity reduction. By injecting the coagulant from Avista Technologies, users can increase particle removal efficiency to more than 90% and obtain a dramatic reduction in turbidity.
Avista Technologies Inc.
San Marcos, CA
Tel: 760-744-0536
Web: www.avistatech.com
Ultrafiltration modules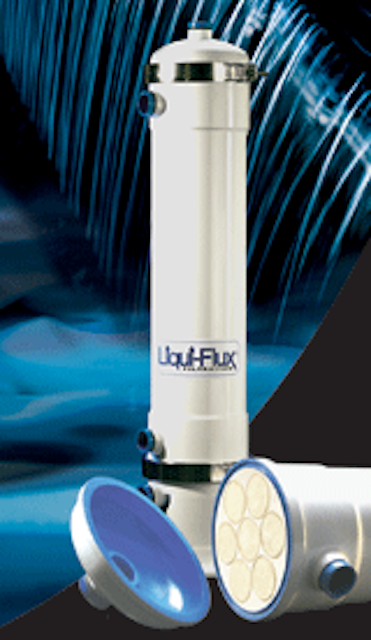 Click here to enlarge image
Liqui-Flux® Membrane Modules offered by Membrana use hydrophilic and hydrophobic microporous membranes to produce cross-flow and dead-end liquid microfiltration and ultrafiltration devices. The company's process water and industrial filtration products remove suspended solids, bacteria and viruses from various solutions. The UF modules used in water applications contain modified PES hollow fiber membrane to provide one of the highest surface areas of any capillary filter on the market today.
Membrana Inc.
Charlotte, NC
Tel: 704-587-8406
Web: www.membrana.com
Wastewater filtration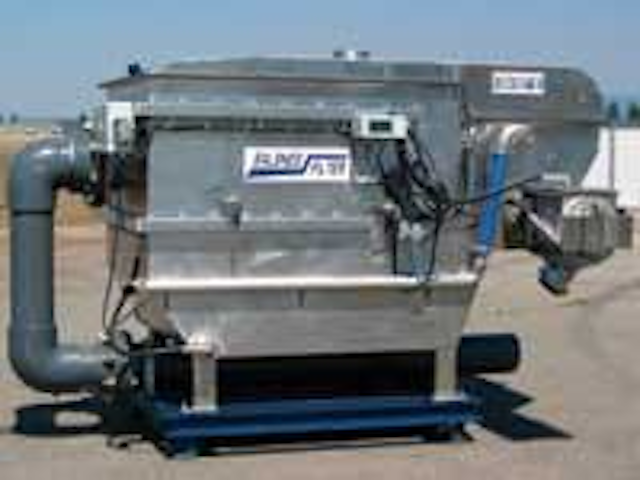 Click here to enlarge image
Blue Water Technologies has begun marketing the Salsnes Filter system. New to the U.S., it is a primary wastewater treatment technology manufactured in Norway. The filter is a continuous primary fine screening system that offers an alternative to primary clarifiers and removes over 30% BOD and 40 - 70% TSS. The filter system has a very small footprint, allowing for simplified installation and operation.
Blue Water Technologies Inc.
Coeur d'Alene, ID
Tel: 888-710-2583
Web: www.blueh2o.net
Stormwater filter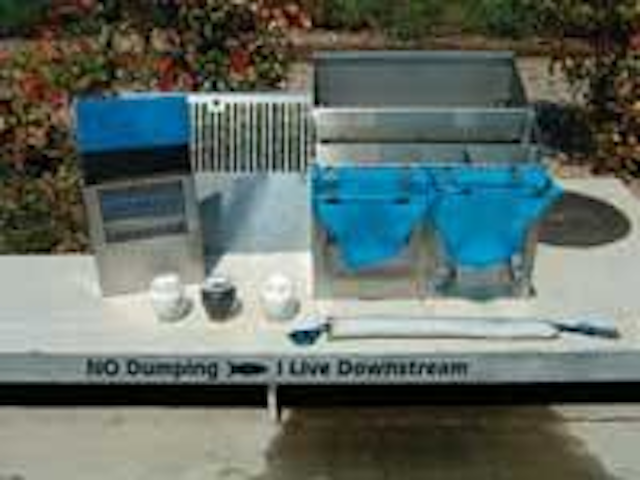 Click here to enlarge image
The ClearWater BMP stormwater filter offers an advancement over traditional sidewalk curb inlet filtration technology. The patent-pending, stainless steel filter train design allows stormwater flows to be screened, triple settled, and then filtered, all within the confines of an existing concrete curb inlet drain box. The design significantly reduces concentrations of trash, sediment, hydrocarbons, metals, and nutrients.
Clear Water Solutions
Vista, CA
Tel: 800-758-8817
Web: www.clearwaterbmp.com
Disk filtration system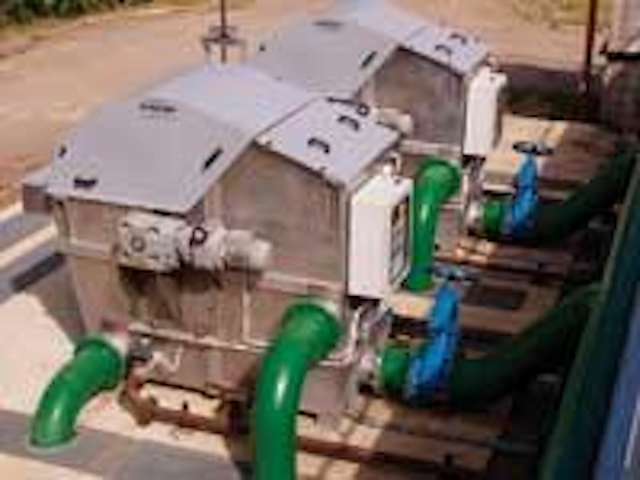 Click here to enlarge image
The Ultrascreen® Microfilter system from Nova Water Technologies uses the patented concept of "dynamic-tangential filtration," an innovative approach to applying disk filters for tertiary treatment. The system can take secondary clarifier overflows up to 20 ppm suspended solids and produce filtrates with less than 5 ppm/2 NTU. This is made possible by disks that continuously rotate, filtration that occurs at angles less than 90o and the accumulation of a biological layer on the woven stainless mesh media. Standard sizes can handle from 150 gpm to over 10 mgd. System benefits include finer filtration with larger openings, no cloths to replace, higher capacity with smaller footprint, longer life with low maintenance, variable speed and flexible operation.
Nova Water Technologies
Parkland, FL Tel: 954-753-9498 Web: www.novawt.com
Transportable filtration system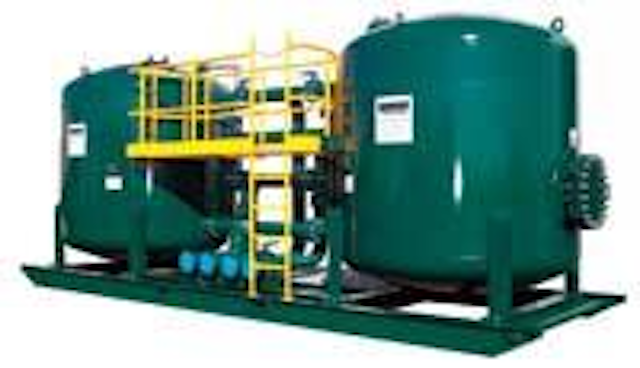 Click here to enlarge image
BakerCorp has introduced a new 10K Specialty Media System that is compact in size and does not require special permits for transport and delivery. The system features dual 10K vessels, containing up to 10,000 lbs (10K) of media per vessel, an integrated lead-lag pipe rack with backwash capability and a safety work platform. The equipment can be delivered to a site and quickly unloaded job-ready. The dual-vessel system can perform in series or in parallel, running at a flow rate up to 1,200 GPM.
BakerCorp
Seal Beach, CA
Tel: 800-635-7349
Web: www.bakercorp.com
Cloth media filter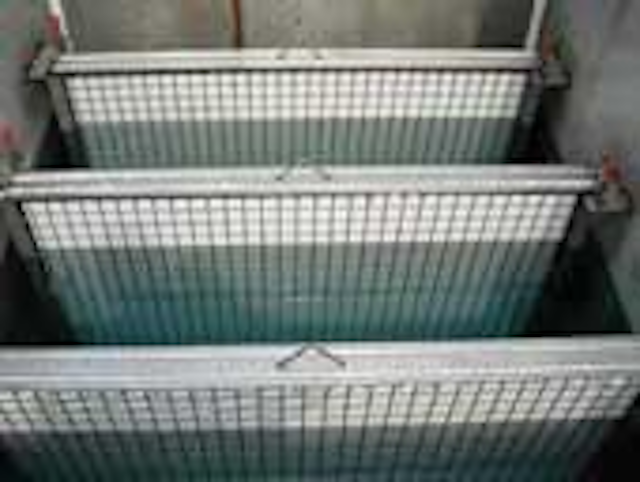 Click here to enlarge image
The Muni-Disk® cloth media wastewater filter manufactured by Municipal Filtration Co. combines patented gravity flow hydraulics and unique cloth media technology to eliminate pumps, drive motors, chain gears, backwash/sludge manifolds, and other complicated mechanical wear items, resulting in a simple, yet effective tertiary treatment system. The systems use a combination of differential head and a series of simple open-close pneumatic valves to provide wastewater filtration and backwash flow control.
Municipal Filtration Co.
Madison, WI
Tel: 608-240-8987
Web: www.municipalfilter.com
Self-cleaning filters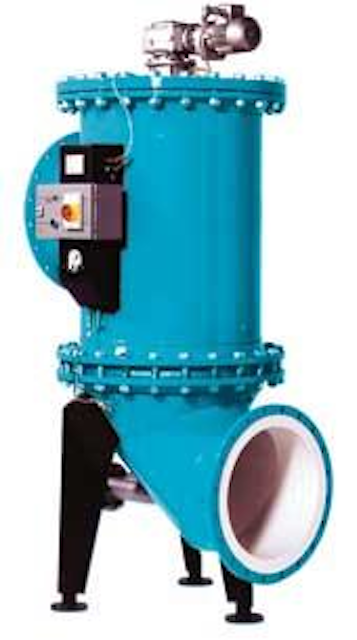 Click here to enlarge image
Schroeder Industries offers the SC automatic self-cleaning filter. The SC line is used to remove solid contamination from process fluids and to protect the integrity of high grade components that depend on low-viscosity water or water-based lubricants. The filter is ideal for applications where fluid flow cannot be interrupted and must be maintained at an acceptable cleanliness level.
Schroeder Industries
Leetsdale, PA Tel: 724-318-1100 Web: www.schroederindustries.com
Filtration, disinfection system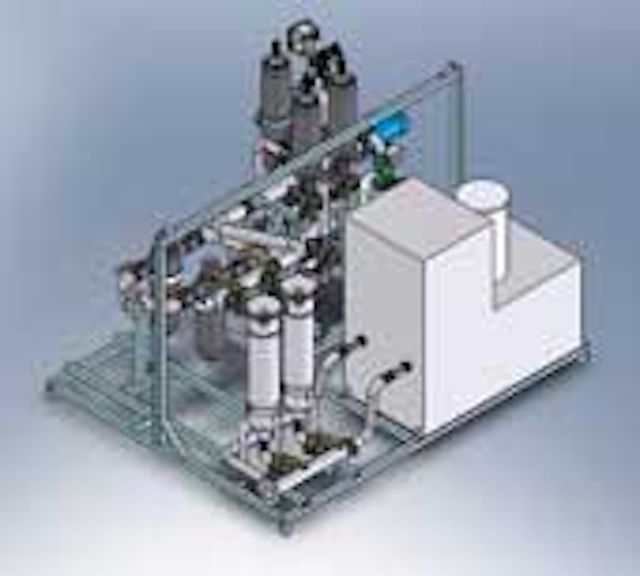 Click here to enlarge image
Miller-Leaman offers the automatic, self-cleaning Turbo-Disc Filter and Water Disinfection Systems. The system filters unwanted particulate and other contaminants from river water, well water, and other water sources. The modularly designed systems also incorporate other filter technologies downstream of the automatic Turbo-Disc Filter (i.e. bag filters and cartridge filters). Ultraviolet light disinfection can be included in the system to remove waterborne pathogens.
Miller-Leaman Inc.
Daytona Beach, FL Tel: 800-881-0320 Web: www.millerleaman.com
Continuous backwash filter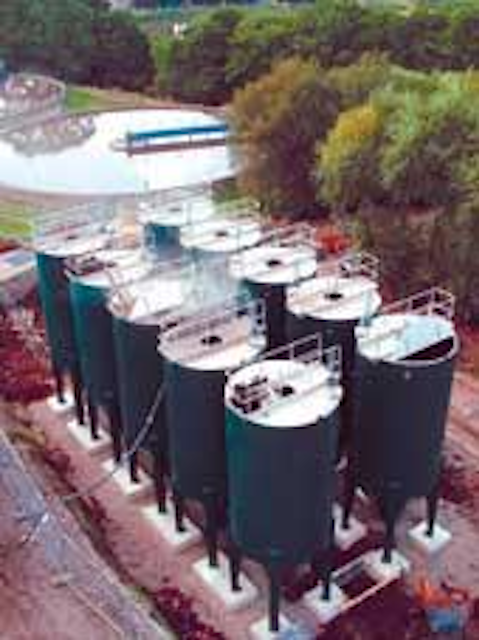 Click here to enlarge image
The AstrasandTM continuous backwash filter was developed for physical-chemical and/or biological treatment of different types of water, such as process, waste, surface, cooling and ground water. Working as a continuous process, the filter bed is cleaned during the filtration operation to eliminate interruptions. The technology can be used for many types of applications: biological nitrification/denitrification and polishing of municipal and industrial wastewater, filtration of flocculated contaminants in surface water, washwater treatment in fresh and process water production, biological sidestream filtration of cooling water, and biofiltration for BOD and removal of heavy metals.
Siemens Water Technologies
Thomasville, GA
Tel: 229-227-8741
Web: www.siemens.com/water
Stormwater filtration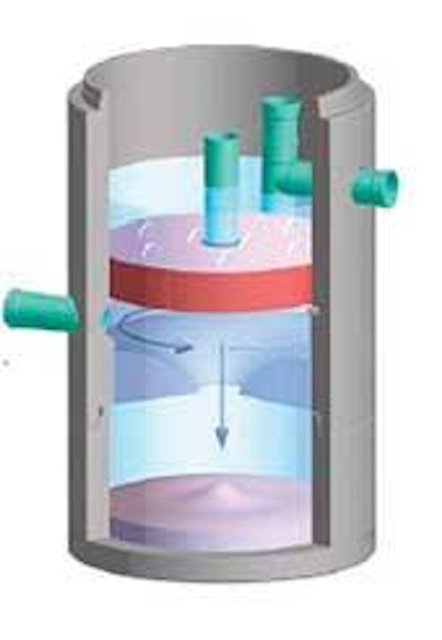 Click here to enlarge image
Surface water runoff contains significant concentrations of heavy metals, nutrients and sediment. Current regulations demand advanced technology to treat complex water conditions with minimal maintenance and cost. By using various physical and chemical processes, the ecoStorm® plus Stormwater Filtration System effectively removes both solids and dissolved substances, including heavy metals (zinc, copper, lead, cadmium, chromium, nickel); hydrocarbons (mineral oils, polycyclic aromatic hydrocarbons); and nutrients such as phosphorous and nitrates.
Royal Environmental Systems Inc.
Stacy, MN
Tel: 651-462-2130
Web: www.royalenterprises.net