NEW PRODUCTS
The launch of CitectSCADA V7.0 introduces a new architecture designed to provide companies of all sizes with agile control over both engineering and runtime operations to significantly improve performance.
Sep 1st, 2007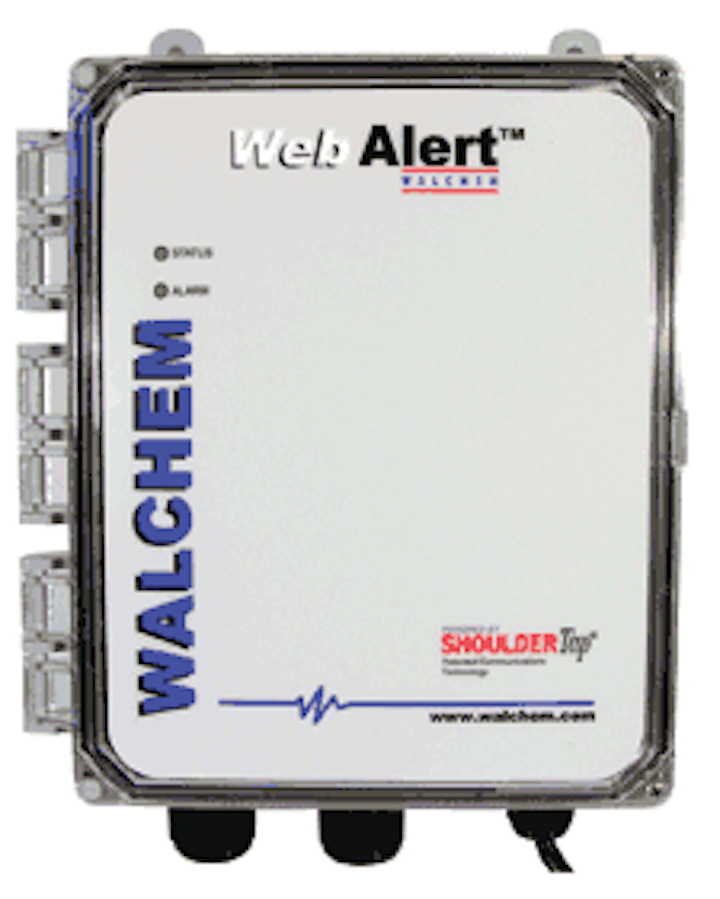 Control system
The launch of CitectSCADA V7.0 introduces a new architecture designed to provide companies of all sizes with agile control over both engineering and runtime operations to significantly improve performance. The new architecture also offers the latest advanced clustering technology to help safeguard plant reliability and rapid change deployment as well as a number of enhancements to help increase security and maximize engineering productivity.
Citect
Alpharetta, GA
Tel: 770-521-7511
Web: www.citect.com
Remote monitoring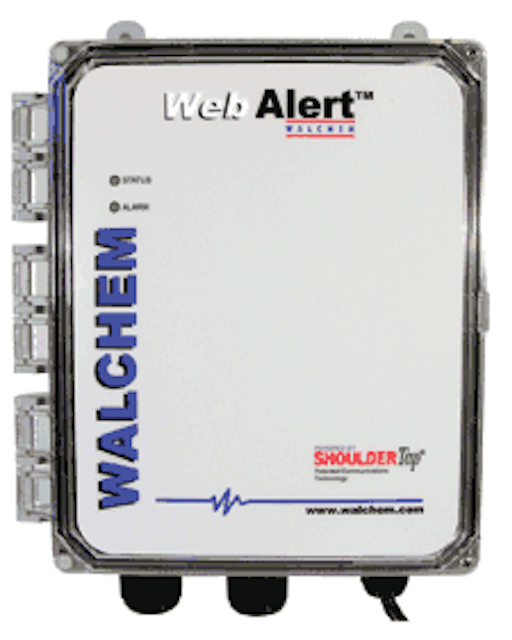 Click here to enlarge image
Walchem's new WA500 WebAlert® is a Web-based remote monitoring and data logging package. It can be used for remote chemical inventory management, environmental remediation and wastewater treatment. The system monitors and datalogs analog and digital inputs from virtually any installed device, and notifies on-site and remote personnel of any system abnormalities.
Walchem Corp.
Holliston, MA
Tel: 508-429-1110
Web: www.walchemgroup.com
Axial, mixed flow pumps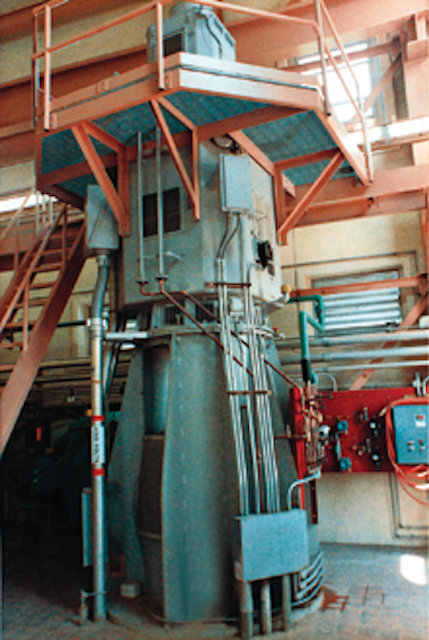 Click here to enlarge image
Patterson's Axial and Mixed Flow Pumps efficiently move large volumes of water, continuously and fast. The heavy-duty pumps deliver high capacity at low to medium heads in a wide variety of water and wastewater applications.
Patterson Pump Co.
Toccoa, GA
Tel: 706-866-2101
Web: www.pattersonpumps.com
Filter housings
Eaton's SidelineTM Bag Filter Housings, manufactured from investment castings, feature a bead-blasted finish. This finish, along with the housing's minimum 2 weld design, makes it easy to completely clean the wetted interior surfaces of the housing - especially important in batch process applications. The housings come with a standard eye-bolt closure on the cover and a choice of 2" or 3" ANSI flanged piping connections on the larger 01 and 02 sizes, and 1½" NPT threaded connections on the smaller 03 and 04 sizes.
Eaton Filtration LLC
Elizabeth, NJ
Tel: 800-859-9212
Web: www.filtration.eaton.com
SCADA security software
Industrial Defender has released version 3.0 of its risk mitigation technology suite for the real-time process control and SCADA environment. Enhanced features include support for Cisco and Secure Computing firewalls, intrusion detection for power substations and increased product scalability to better address the specific needs of this specialized industrial environment.
Industrial Defender Inc.
Mansfield, MA
Tel: 508-337-0300
Web: www.industrialdefender.com
Top-entering agitators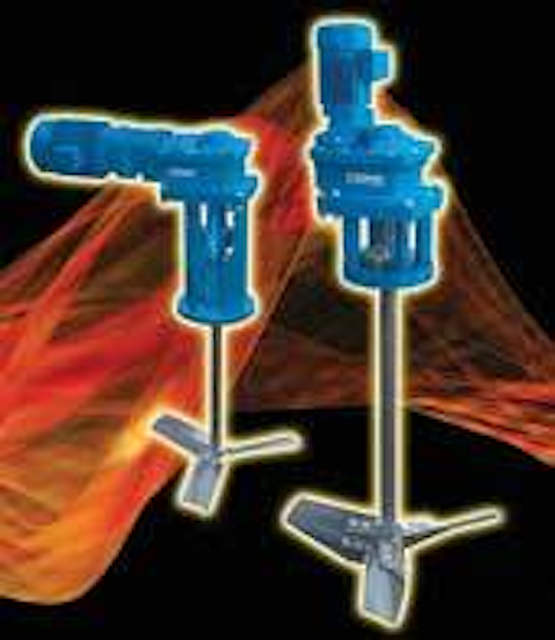 Click here to enlarge image
Chemineer has launched a new line of top-entering agitators designated the Model 20 HT/GT. The agitators feature a new, high-efficiency gearbox designed specifically for agitator service. Models are available in right angle and parallel shaft configurations to meet specific application requirements. The agitators combine the benefits of the Chemineer HT and GT agitators into a modular design package that reduces the number of replacement parts that need to be carried in inventory by the customer.
Chemineer Inc.
Dayton, OH
Tel: 937-454-3200
Web: www.chemineer.com
Chlorine measurement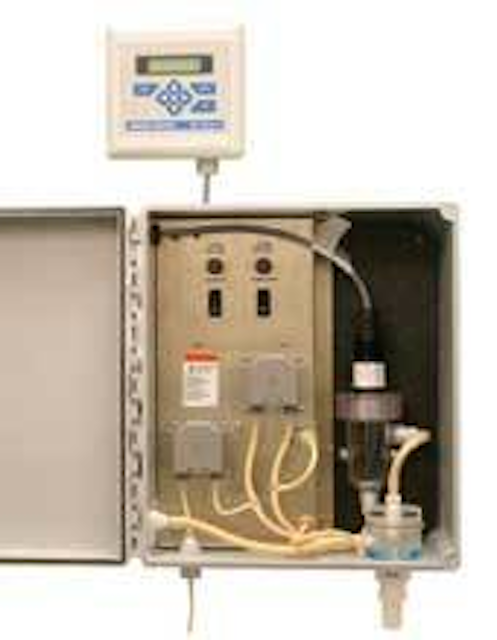 Click here to enlarge image
The Rosemount Analytical Model TCL from Emerson Process Management, a complete system for measuring total chlorine in water and wastewater applications, uses white distilled vinegar and potassium iodide as reagents. The system requires reagent change every two months. It also uses the smallest sample (less than 6 gal per day), saving water and reducing the need for drainage.
Emerson Process Management, Rosemount Analytical Inc., Liquid Division
Irvine, CA
Tel: 800-854-8257
Web: www.raihome.com
Industrial radios
ProSoft Technology's Industrial Hotspot Radios provide wireless real-time access across distances up to 20 miles for the most demanding industrial applications. The RLX-IH Wireless Communication device creates an alternative to running cable. The 2.4 GHz radio is ideal for PDA/laptop connectivity and supports high-speed applications such as Voice/IP, video over Ethernet, or Security cameras.
ProSoft Technology Inc.
Bakersfield, CA
Tel: 661-716-5257
Web: www.radiolinx.com
Video surveillance
PureTech System Inc., a manufacturer of wide-area video surveillance solutions, has integrated its PureActiv Solution with the AXIS 232D+ Network Camera made by Axis Communications. The combination of the two systems provides for a fully digital security solution whereby viewing of video and camera control can be accomplished anywhere on the client's network, including an access-controlled web interface. Additionally, the two-way communication features of the camera allow the PureActiv system to provide the user with geographical-based camera control, whereby simply clicking on a geographical feature of the client's facility will automatically redirect the camera to that exact location.
PureTech Systems Inc.
Phoenix, AZ
Tel: 602-424-9842
Web: www.puretechsystems.com
Pressure measurement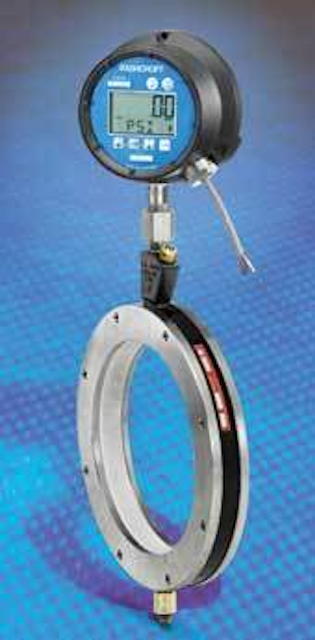 Click here to enlarge image
The Ashcroft® multi-function instrument features the Type 2274 digital gauge with highly visible, local pressure indication; one or two SPDT switches; a 4-20 mA output signal; min/max feature; and a weatherproof case to IP65. The unit is mounted on an Ashcroft® Type 80 flow-through isolation ring that incorporates a built-in needle valve to dampen pulsation and allows the process to be locked out for safe removal of the instrument for recalibration. The assembly takes up less space, has fewer leak paths and is less costly than buying individual instruments with these features.
Ashcroft Inc.
Tel: 800-328-8258
Web: www.ashcroft.com
Bird repeller BroadBand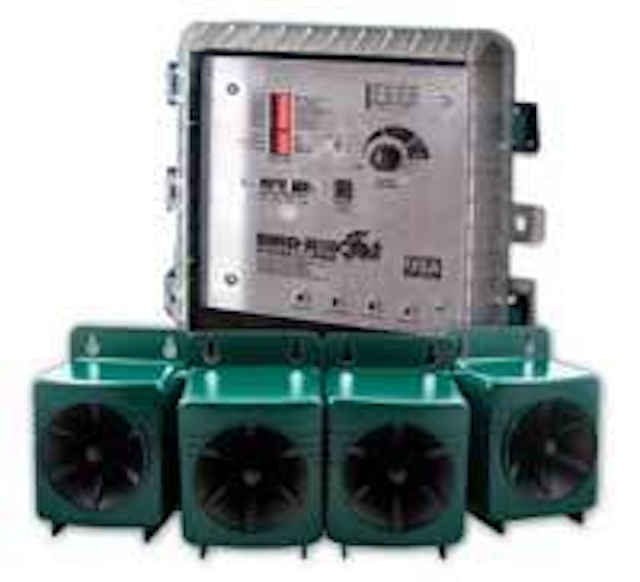 Click here to enlarge image
PRO targets pest birds with an unrelenting combination of four different sound types: 1) distress cries to indicate danger to pigeons, starlings, gulls and more, 2) predator cries, like falcons and hawks, to add realism, 3) general harassments for an all-bird defense, and 4) ultrasonic waves to guard day and night. The system is the first to combine all four technologies on one machine. Sound waves move from speaker to speaker for a constant, menacing defense. This sound attack forces birds to leave for good, yet it's harmless to the birds and the environment. "Surround sound" directional speakers are separate from the control box to offer greatest all-around flexibility.
Bird-X Inc.
Chicago, IL
Tel: 800-662-5021
Web: www.bird-x.com
Temperature/process indicator
Click here to enlarge image
Love Controls, a Division of Dwyer Instruments, has introduced the new Series TID Temperature/Process Indicator. The affordable series allows the user to monitor temperature or a process value. Temperature ranges are available from -58 to 302oF using one of the company's PTC or NTC thermistors. Process values can be displayed from -999 to 999 counts using a 4-20 mA signal from one of its various transmitters. The process indicator has an adjustable span and zero on the 4-20 mA models. The Series TID is available in red, green or blue display.
Love Controls
Michigan City, IN
Tel: 800-872-9141
Web: www.dwyer-inst.com
Camera inspection system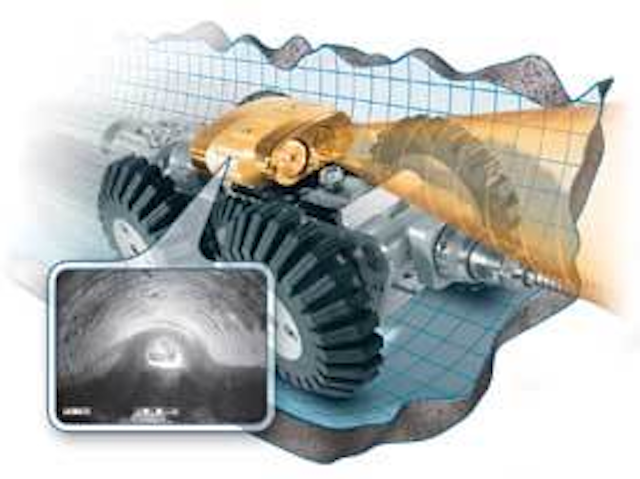 Click here to enlarge image
The new BackEyeTM auxiliary camera from Envirosight lets a Rovver operator see behind the crawler in order to steer around obstacles and prevent cable tangles during reverse travel. The accessory also includes three forward-facing narrow-beam LED lamps to improve forward viewing. It is available as a retrofit for existing 125/225 crawlers, and as an option for new 125/225 crawlers.
Envirosight LLC
Randolph, NJ
Tel: 732-541-2971
Web: www.envirosight.com
Gas detector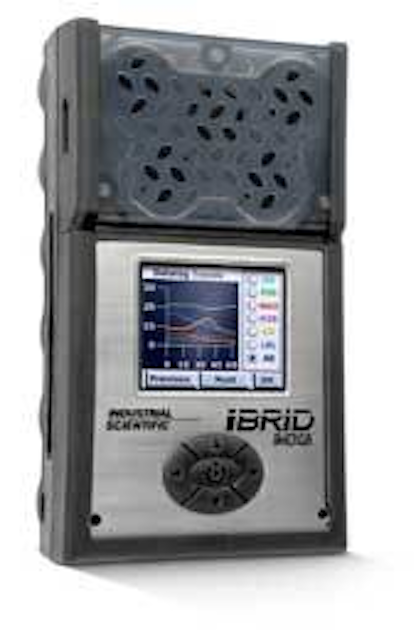 Click here to enlarge image
Industrial Scientific has launched the MX6 iBridTM, the first gas monitor to feature a full-color LCD display screen. The monitor is designed to detect from one to six gases including oxygen, combustible gases and up to four toxic gases. The color display improves safety with clear readings in low-light, bright-light or anywhere in between. The display also supports on-board graphing and a menu-driven PEG (Portable Embedded GUI) operating system that allows the user to step through instrument functions with an intuitive menu and the instrument's five-way navigation button.
Industrial Scientific Corp.
Oakdale, PA
Tel: 800-338-3287
Web: www.indsci.com
Line locator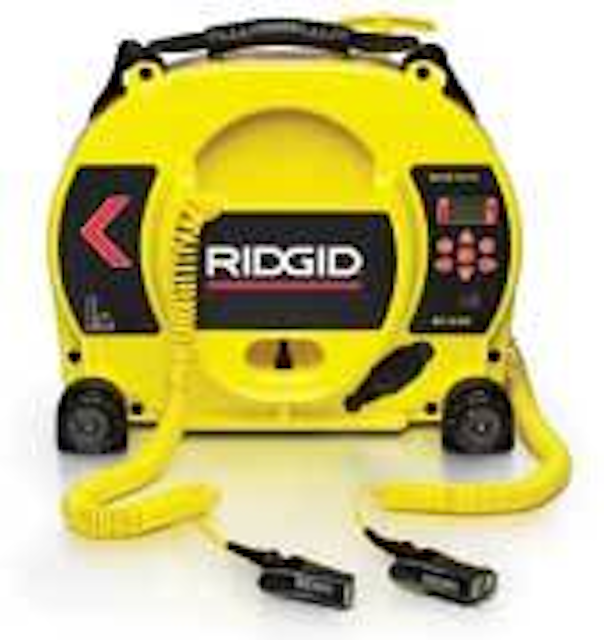 Click here to enlarge image
To meet growing market demands for a transmitter that induces a stronger signal onto a utility line at a lower frequency, Ridge Tool is introducing its Ridgid® SeekTech® ST-33Q transmitter. The new super induction transmitter is designed to be used with the company's locators, which are used to trace underground pipe, cable and other metallic lines. When used in induction mode, the ST-33Q induces at 8 kHz and 33 kHz.
Ridge Tool Co.
Elyria, OH
Tel: 800-769-7743
pH recording system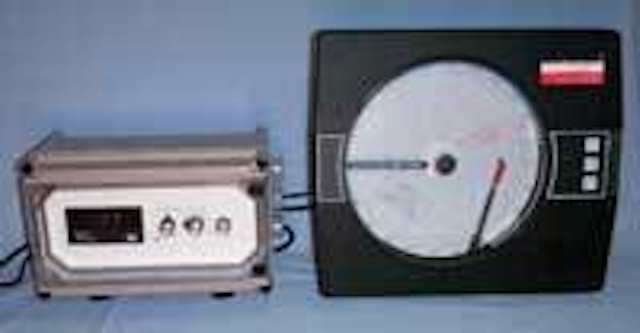 Click here to enlarge image
Analytical Measurements can provide a complete pH Recording System to monitor the pH of wastewater discharges from industrial, municipal, chemical, metal finishing and other sources. The system consists of the Model D-1 Digital pH Indicator and a Circular Chart Recorder. The system comes completely tested with instruments, interconnecting wiring, pH probe, and buffer solutions. Both units are mounted in splash proof enclosures suitable for wall mounting in wet environments.
Analytical Measurements
Tel: 800-635-5580
Web: www.analyticalmeasurements.com
Power drive, adapter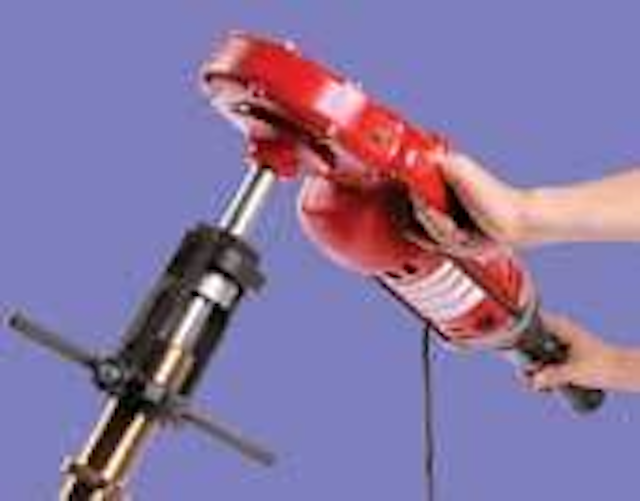 Click here to enlarge image
Reed offers the 700PD electric power drive to power tapping and drilling machines. Use the power drive 13/16" adapter (TMPDA) to fit the boring bar on popular drilling and tapping machines. The adapter fits Reed's TM and DM series machines, Mueller B100/B101, and other machines with the same 13/16" square drive. The 700PD and adapter together cost less than buying air units. The 700PD is approved for United States and CSA Canada standards.
Reed Manufacturing Co.
Erie, PA
Tel: 800-666-3691 Web: www.reedmfgco.com
Pressure transducer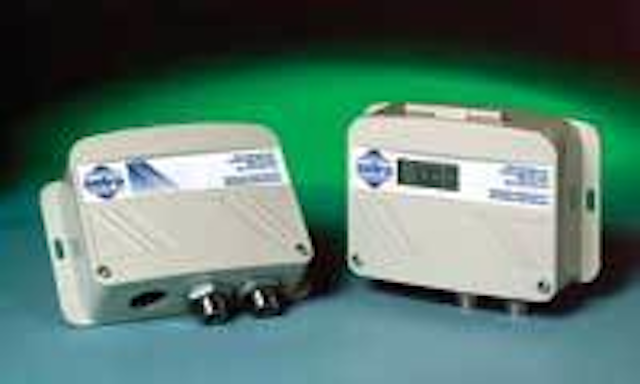 Click here to enlarge image
Setra Systems has introduced the Model 231 Multi-Sense® wet-to-wet, differential pressure transducer. It is ideal for users who need to monitor control pump differential pressures and flow measurement of gasses or liquids. The all-inclusive design reduces inventory and installation costs by providing the user with field selectable features such as switch-selectable pressure ranges, selectable analog outputs that include true two-wire 4-20 mA output, 3-wire 0-5 vDC, 0-10 vDC, and 1-5 vDC output, and unidirectional and bidirectional ranging of span, all in one unit.
Setra Systems Inc.
Boxborough, MA Tel: 800-257-3872 Web: www.setra.com
Packing fiber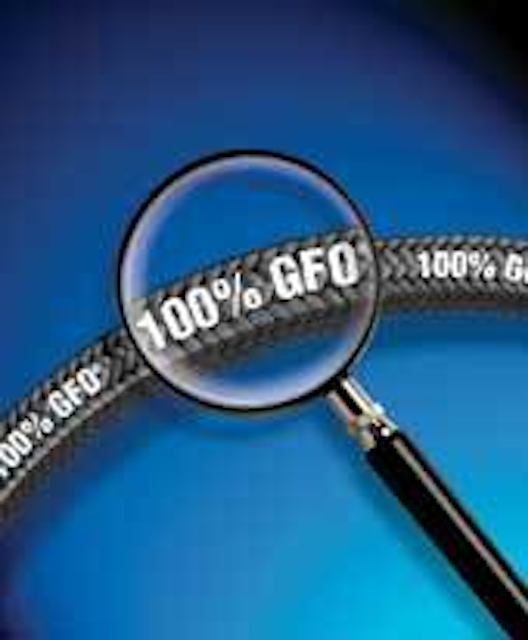 Click here to enlarge image
GoreTM GFO® packing fiber is a high-performance composite material designed specifically for use as a compression packing for sealing shafts on high-speed pumps, mixers, agitators, and any other equipment with rotating or reciprocating shafts. The packing fiber doesn't get hard or brittle, thus minimizing shaft wear. Its excellent lubricity and high thermal conductivity keep it cool-running, even after extended periods of continuous use.
W. L. Gore & Associates Inc.
Elkton, MD
Tel: 800-654-4229 Web: www.gore.com/sealants
Submersible level transducer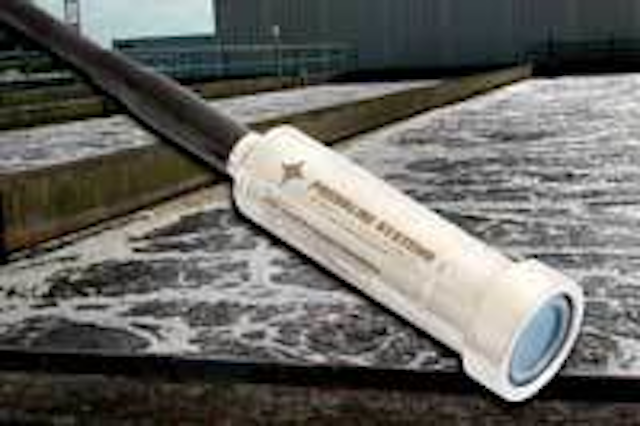 Click here to enlarge image
Pressure Systems, manufacturer of KPSITM Level and Pressure Transducers, has introduced an enhanced KPSI Series 705 submersible level transducer with static accuracy of ± 0.25% FSO. This new specification is now standard for the series and is offered without a price increase over the earlier model. The series is available in custom level ranges from 6-115 ft H2O and has analog outputs of 4-20 mA or 0-5 VDC. Its standard housing construction is 316 stainless steel, with titanium available as an option.
Pressure Systems
Hampton, VA
Tel: 800-328-3665
Web: www.pressuresystems.com
Radar level transmitter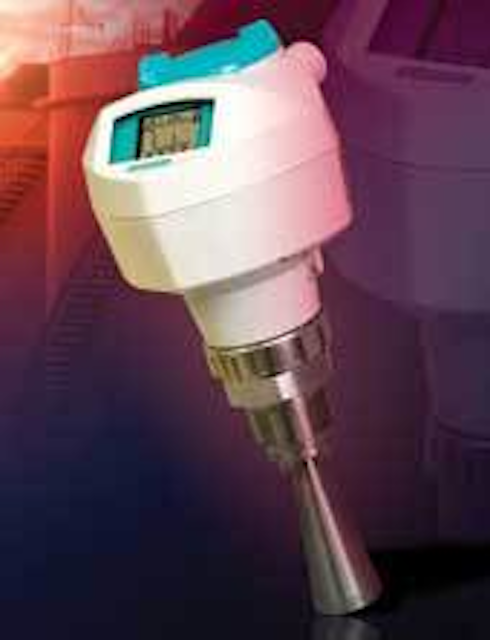 Click here to enlarge image
Siemens Energy & Automation has released the SITRANS LR 250 Radar Level transmitter with new "Process Intelligence" advanced signal processing. This plug-and-play, compact, 25 GHz 2-wire device can be used to measure a variety of liquid and slurry level applications. Designed for measurements up to 66 feet, the new transmitter is well suited for use in corrosive atmospheres. The compact radar horn antenna (from 1½" to 4" in diameter) allows for installation in smaller openings, and the narrow, high frequency beam ensures minimal interference from vessel walls. A high frequency, narrow transmission pulse means the complete vessel capacity can be measured.
Siemens Energy & Automation Inc.
Atlanta, GA
Tel: 215-646-7400
Web: www.sea.siemens.com
Ultrasonic level transmitters
Emerson Process Management has expanded its range of level measurement instrumentation with the introduction of the Rosemount 3100 Series Ultrasonic level transmitters. The transmitters are ideally suited for monitoring liquid level in tanks and open air applications where long maintenance intervals are a key requisite. The non-contact sensor is made from an inert material offering corrosion resistance and low maintenance requirements. The integral or remote mounted temperature sensor enables automatic corrections where temperature changes in the tank free space could otherwise result in an inaccurate reading.
Emerson Process Management
Chanhassen, MI
Tel: 512-832-3162
Web: www.emersonprocess.com