The City of Delphos - Raising the Bar on MBR Systems
The City of Delphos evaluated several treatment options, including an oxidation ditch, when considering how to upgrade its aging trickling filter facility.
Sep 1st, 2007
The City of Delphos evaluated several treatment options, including an oxidation ditch, when considering how to upgrade its aging trickling filter facility. Some of the factors considered in the decision making process included current and future permit compliance issues, fluctuating loading conditions, and treatment capacity. The city selected an Enviroquip MBR System using Kubota submerged membrane equipment.
Clean, unccovered MBR basins awaiting initial flows
Click here to enlarge image
At times treating more flow than any other MBR system in the world, the Delphos plant is the second largest MBR plant in the US in terms of rated capacity. Since startup in September 2006, the plant has already been put through its paces and demonstrated its capability to reliably meet permit limits.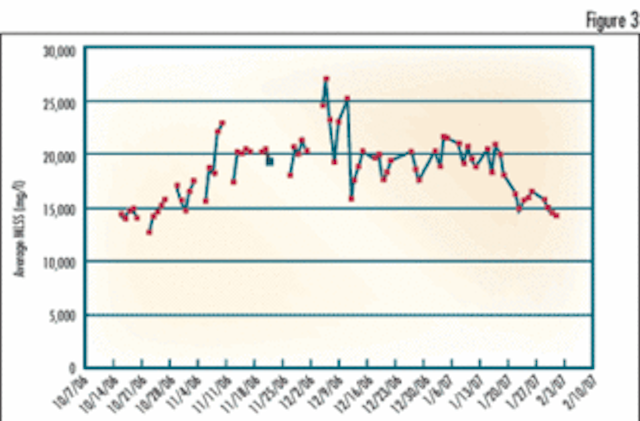 Average MLSS in MBR Basins
Click here to enlarge image
Delphos has a sewer system that is 70% combined and 30% separate. This means that 70% of the sewers collect storm water as well as domestic and industrial waste (food processing and laundering). As a result, the new MBR system had to be designed to handle a wide range of waste and hydraulic loading.
"Our decision to use this technology for our wastewater treatment was based on the need to have a system which could easily adapt to considerable fluctuations in our plant intake depending on industrial activity and Midwestern thunderstorms, which can often deposit several inches or rain in a short period of time on our relatively flat terrain," said Delphos City Council President Robert Ulm. "We also needed technology which could more than adequately deal with the demands of our partially combined storm and sanitary sewer system and the plethora of environmental waterway protection regulations. Our community was facing the reality of reoccurring EPA violation fines and faced the prospect of continued regulation violations without a major plant upgrade."
Using the concept of biohydraulics, the MBR system was designed to exceed biological treatment objectives over the range of expected operating conditions. Designed using the Storm MasterTM configuration, the plant is also equipped with the SymBio® technology, which helps to promote simultaneous nitrification and denitrification (SNdN) in the supplemental aeration zone. Operating at low DO in SNdN mode can reduce operating costs and ensure optimum biological process performance.
The Delphos WWTP is comprised of five independent process trains that each include one anoxic zone, one SNdN zone, and one MBR basin. In each MBR basin, there are 26 double-deck Kubota submerged membrane units (SMU).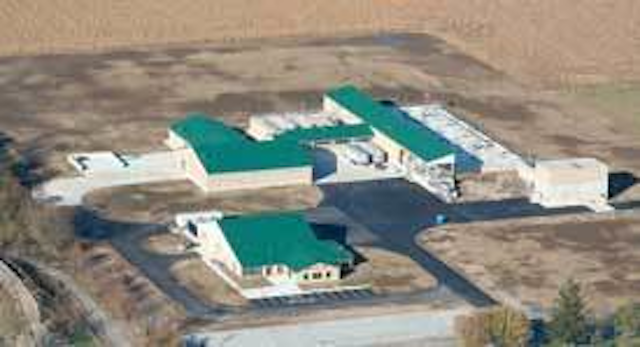 Delphos Ohio WWTP 6.0 MGD Installation
Click here to enlarge image
The Storm Master design is an important feature of the Delphos WWTP because it further reduces overall plant operating costs by putting offline membrane capacity to beneficial use. For example, during extremely low flows, one of the five process trains is used to treat incoming wastewater while another is used to digest and thicken solids to 3% before further treatment. As flows increase, the plant computer automatically brings all trains online to treat peak flows.
System Flexibility
Using Kubota SMUs, Enviroquip designed the MBR system to handle average daily flows of 3.83 mgd and peak daily flows up to 12 mgd. However, employing the Storm Master design, the company actually automated the plant to handle flows ranging from 300 gpm to a maximum net capacity of 12 mgd. As a result, the effective turndown ratio of the plant is 28:1. The plant has already experienced minimum recorded flows of ~400 gpm and peak flows of ~8,000 gpm (during periods of high rainfall).

Click here to enlarge image
Unlike many MBR plants that are significantly under loaded (design capacity in anticipation of future flows), the Delphos WWTP has already treated sustained flows in excess of 10 mgd. In addition, these flows were handled at mixed liquor suspended solids (MLSS) concentrations averaging 20,000 mg/L, with a maximum concentration of >25,000 mg/L in one reactor during startup.
Effluent data collected since startup has already demonstrated the ability of the plant to easily meet permit limits over a range of influent loading conditions. In addition, measured mercury levels have dropped to non-detectable amounts (<0.5 mg/L), most likely through adsorption onto wasted solids.
With a total installed cost of approximately $31 million (including digestion, solids handling, and UV), and a construction time of less than two years, the Delphos WWTP has set the bar for new large MBR facilities in the US and around the world. More importantly, the competitive cost and proven capabilities of the system to produce reuse quality effluent over a broad range of loading conditions demonstrates the ability of MBR systems to be competitive and reliable options to conventional technologies.
"This new facility puts the city ahead of most other communities in terms of new regulations that we know are coming down from the EPA," said Safety Service Director Greg Berquist. "Luckily we were on the front end of the wave with the EPA."