Company to Exhibit Recycle, Reuse Technologies
The recycling and reuse of treated industrial or municipal wastewater plays an important role in integrated resource management.
Sep 1st, 2007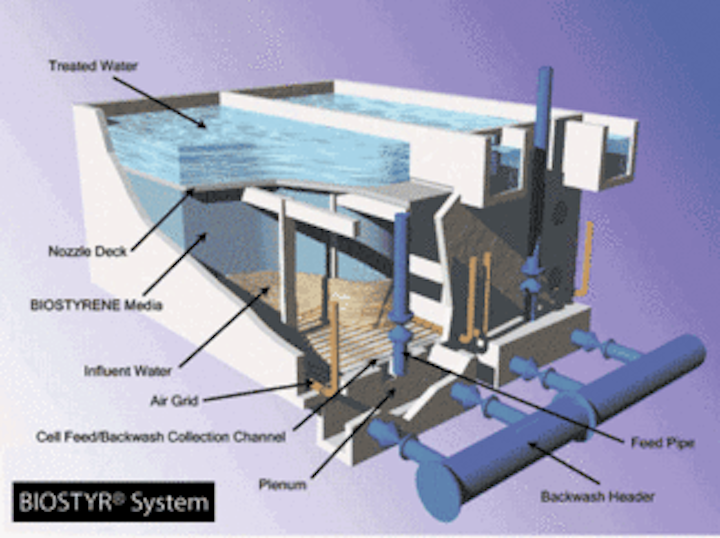 The recycling and reuse of treated industrial or municipal wastewater plays an important role in integrated resource management. If demand is to be satisfied in a sustainable manner, it is crucial to manage existing resources efficiently and find alternative resources. Treated wastewater can be used to satisfy a variety of industrial, commercial and agricultural needs.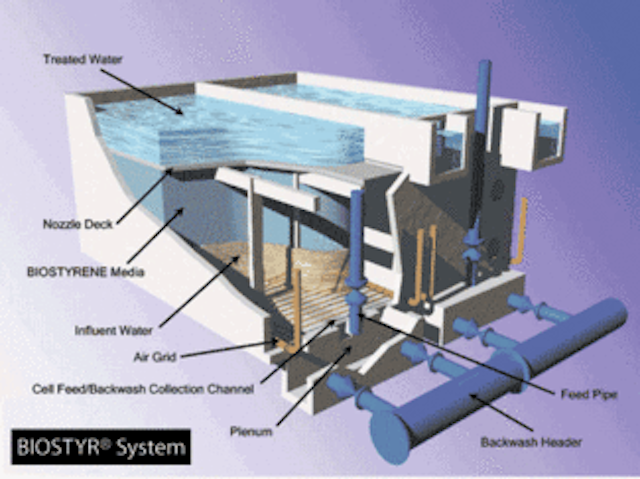 Click here to enlarge image
Veolia Water Solutions & Technologies (VWS), a subsidiary of Veolia Water, offers a variety of wastewater treatment processes suitable for water reuse applications. Its technologies include the ACTIFLO® Clarifier, BIOSTYR® Biological Aerated Filter (BAF) and NEOSEPTM MBR processes. These processes will be on display at WEFTEC '07.
Clarification
Actiflo® is designed for ballasted coagulation/flocculation and lamella settling. It is a compact clarifier that operates with microsand (ActisandTM) as a seed for floc formation. The microsand's surface area enhances flocculation and the sand also acts as a ballast or weight to aid in rapid settlement. The system has a very high rate settling process with low footprint, and is recommended for surface water clarification, industrial process water production, wastewater treatment, and storm flow water settlement.
The process can be used for both surface and ground water where improved performance and/or capital cost reduction is desired. It is suited to the treatment of rapidly fluctuating water sources, low temperature water (1°C), and reservoir water with very low turbidity. The process displays consistent removal of turbidity, color, total organic carbon (TOC) - algae, particle count, pathogens, cryptosporidium, plus oxidized iron, manganese and arsenic. It can also be used for the recovery of backwash water from rapid gravity filters, thus reducing water loss and running costs.
Actiflo® can be used in most municipal applications, including water reuse for crop irrigation or aquifer recharge, in combination with Veolia's Discfilter and UV disinfection (Actidisc PlusTM). The product is an ideal solution for the recycling of process water and pre-treatment of boiler feed or cooling tower make-up water.
Case Study
Delta Diablo Sanitation District Recycled Water Facility
I. Kruger Inc. (Kruger), a business unit of VWS, has installed the Actiflo clarifier in a variety of applications. One such application is the Delta Diablo Sanitation District (DDSD) Recycled Water Facility. The DDSD is the largest industrial recycled water facility in the state of California with a maximum daily demand of 12.44 mgd and an average daily use of 6.34 mgd. The Recycled Water Facility (RWF) was designed and built to supply up to 8,600 acre feet per year of tertiary treated recycled water to two separate power facilities and approximately 20 acres of parks and landscaped areas for an estimated term of 30 years. Plans for expansion of the facility up to 12.8 mgd on an average daily basis are being investigated.
The RWF processes secondary treated wastewater from the cities of Antioch and Pittsburg through the Actiflo process and automatic-backwash filters prior to a disinfection step. Treated water is used at the 550 MW Los Medanos Energy Center for cooling tower make-up and process water make-up. The water is also used at the 880 MW Delta Energy Center for cooling tower make-up and by the City of Pittsburg, CA, and the DDSD for irrigation.
The treated water meets stringent California Title 22 standards for disinfected tertiary water, as required for cooling water and irrigation use. The RWF project was recognized by the National Association of Clean Water Agencies and awarded the 2001 National Environment Achievement (NEA) Award for Research and Technology and the 2001 NEA Award for Public Service.
The Actiflo process has operated without incident since its inception in 2001. While other components of the wastewater treatment plant are being evaluated for expansion, the Actiflo process can easily handle an increase of flow up to 21 mgd.
Biological Aerated Filter
Marketed in the U.S. through its business unit Kruger, VWS has developed a Biological Aerated Filter (BAF) technology called Biostyr®. The process combines biological treatment, clarification, and filtration into one compact system. It is an ideal process for plants where the footprint is limited, close proximity to neighborhoods is a concern, and expansion is desired. With its ability to meet today's stringent effluent limits, the process provides carbon removal, secondary nitrification, tertiary nitrification, and post-denitrification. It is used in water reuse applications such as non-potable water for cooling towers and turf irrigation.
Denver Water Reuse Plant
Biostyr has been implemented by Kruger at the Denver Water Reuse Plant in Commerce City, CO. Within a limited footprint, the process continually meets the required stringent effluent limits. The system is designed for tertiary nitrification required to meet an ammonia limit of 1.0 mg/L (30-day average). In addition, it is designed for an average daily flow rate from 5.1-11.9 mgd, depending on the season, with a peak of 30 mgd. The Denver Water plant started up in the spring of 2004. The plant serves several industrial and irrigation users, such as parks and golf courses.
As the Denver Water plant adds customers to its service, the Biostyr process will be expanded to a capacity of 45 mgd peak flow.
Membrane Bioreactor
The company's NeosepTM membrane bioreactor (MBR) is dedicated to the biological treatment of both municipal and industrial effluents. It was developed to offer a combination of aerobic biological treatment using activated sludge and immersed membrane filtration.
The compact system can product water fully compliant with standards for swimming areas, water reuse for irrigation and industrial applications. It is recommended for wastewater treatment plants that require reuse quality effluent, have limited real estate to build on or need to increase capacity of an existing facility.
The process can operate using high concentrations of biomass (8 to 15 g SS/l). It uses an aeration tank and a membrane system with the membranes grouped into modules. The modules may be directly immersed in the aerated tank or in a separate basin.
After pre-treatment (e.g. 2-3 mm screening), raw water flows into the activated sludge process, where oxidation of BOD and ammonia takes place. Depending on the process scheme, denitrification and phosphorus uptake will occur as well. Membrane filtration then separates the purified water from the activated sludge: the treated water is drawn off using a low-pressure pump or by flowing through the membranes via gravity. The excess sludge is directly removed from the biological tank for dewatering.
By replacing the conventional clarification stage, membrane separation does away with the limitations surrounding sludge settling. As a result, the treatment line is greatly simplified and the treatment performance optimized.
Maintaining filtration performance is key to the process; this is based on different automated functions: membrane relaxation and quarterly chemical cleaning.
Editor's note: VWS and its business units Kruger, John Meunier and N.A. Water Systems will feature their newest technologies at WEFTEC in San Diego.