PRODUCT SHOWCASE
Used to precisely locate structures such as manholes, the Wireless GPS Mapping Stick, available from Cues, collects sub-meter accurate GPS coordinates...
Jun 1st, 2007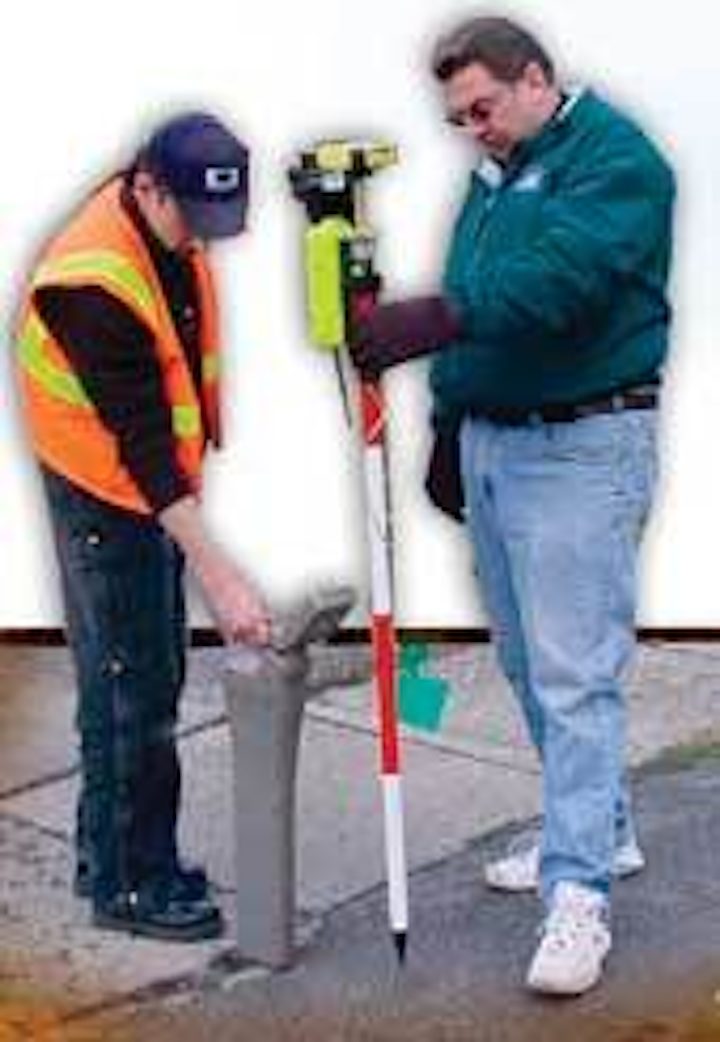 Wireless GPS mapping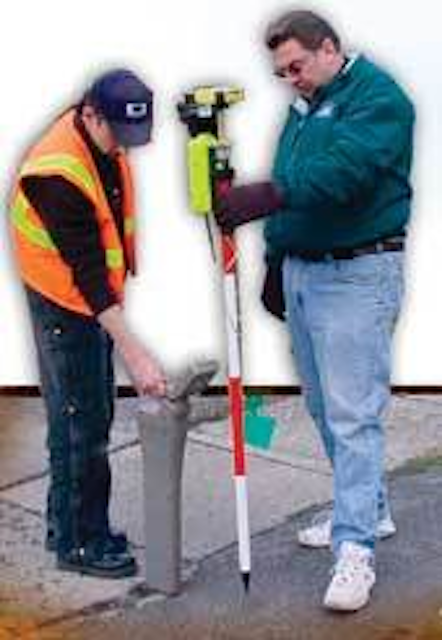 Click here to enlarge image
Used to precisely locate structures such as manholes, the Wireless GPS Mapping Stick, available from Cues, collects sub-meter accurate GPS coordinates and transmits them seamlessly into Granite XP inspection software from a distance of up to 1500 feet. Tracing the path of lines can also be precisely recorded and updated into GIS maps to present detailed infrastructure layers as well as linear references. The GPS data is easily associated to the specific asset identified in the field and then updated into GIS. Field crews can immediately see the captured locations appear in the map, including line traces, to verify their work. This tool, when combined with a sonde locator, can provide the coordinates and line traces for Lateral Service Connections.
Cues
Orlando, FL
Tel: 800-327-7791 Web: www.cuesinc.com
RO system

Click here to enlarge image
Siemens Water Technologies has introduced the VantageTM M80 Series Reverse Osmosis and Nanofiltration systems. The product line is designed with the municipal client in mind. Available in 12 standard factory-assembled configurations with permeate flows from 30 gpm to 700 gpm per skid, the systems can be provided with nanofiltration, brackish water, or energy-efficient low pressure reverse osmosis membranes. They come complete with cartridge pre-filter with stainless housing, booster pump, ASME code-stamped FRP pressure vessels, membrane elements, automatic valves, instrumentation and controls, all mounted on an epoxy coated steel frame. The systems are "ready-to-run" once simple utility connections and membrane loading are completed.
Siemens Water Technologies
Waukesha, WI
Tel: 262-547-0141
Web: www.siemens.com/water
Enclosures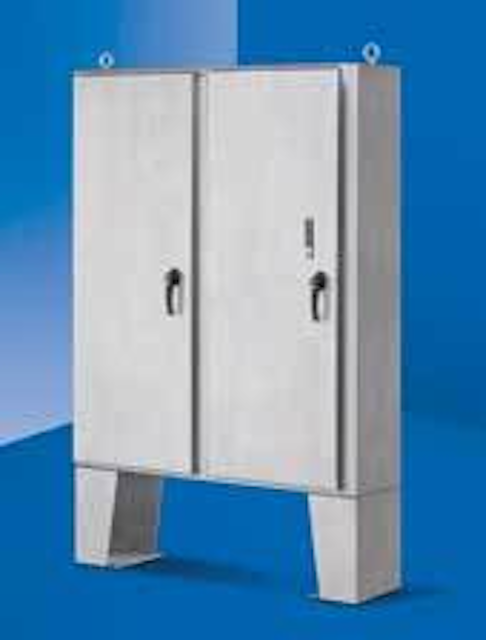 Click here to enlarge image
Rittal Corp. has expanded its line of floor-mount enclosures, which now includes versions in carbon steel and Type 304 and 316 stainless steel. Available with a flange-mount disconnect option, the enclosures meet UL/NEMA type 4/4X, 12, 13 and 3R protection ratings. The carbon steel floor-mount enclosures are designed for indoor use to protect electrical and electronic equipment against splashing water, seepage of water, falling or hose-directed water and external condensation. The stainless steel floor-mount enclosures are designed for indoor and outdoor use to protect equipment against line dust, dirt, light splashing water, seepage of water, corrosive liquids, falling or hose-directed water and external condensation. UL and cUL listed, the carbon and stainless steel enclosures feature continuously welded seams.
Rittal Corp.
Springfield, OH
Tel: 800-477-4000
Web: www.rittal-corp.com
Mechanical joint outlet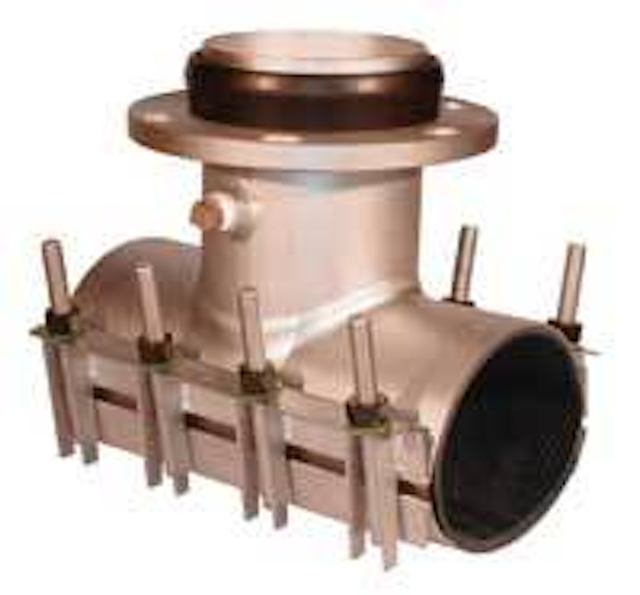 Click here to enlarge image
Ford Meter Box's optional mechanical joint outlet eliminates alignment problems during a tap with a face-to-face design, and is available in sizes 4" through 12". The company's all-stainless-steel tapping sleeve, FTSAS, allows "size on size" taps 14" through 24" and is available for pipe up to 36".
Ford Meter Box
Wabash, IN
Tel: 260-563-3171
Web: www.fordmeterbox.com
Multi-bag filter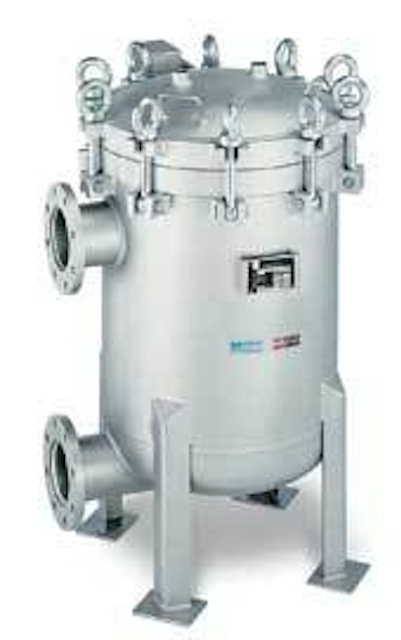 Click here to enlarge image
The MaxilineTM MBF HE Multi-Bag Filter from Eaton, with up to 24 individual filter bags, has been designed to handle system flow rates up to 4500 gpm. The filter works with the company's Size 02 Filter bags, rated from 1 micron all the way up to 800 microns, as well as most standard, 7" x 32" size 02 bags. The filter has a cover that opens with a spring-balance assist to give the cover a weightless feel. A tangential outlet is also available to reduce the overall height of the filter so the operator can access the filter bags without the use of a step stool or platform. The filters come standard with a unique 3-point bag hold-down or bayonet fittings to ensure an excellent seal between each filter bag and the housing body and help prevent by-pass. For applications with lower flow rates, filter models are available in sizes that accept from 3 to 22 filter bags. The filters are available in either carbon steel or stainless steel with flanged end connections in 3" to 14" sizes.
Eaton Filtration LLC
Elizabeth, NJ
Tel: 908-787-1000
Web: www.filtration.eaton.com
Doppler current meter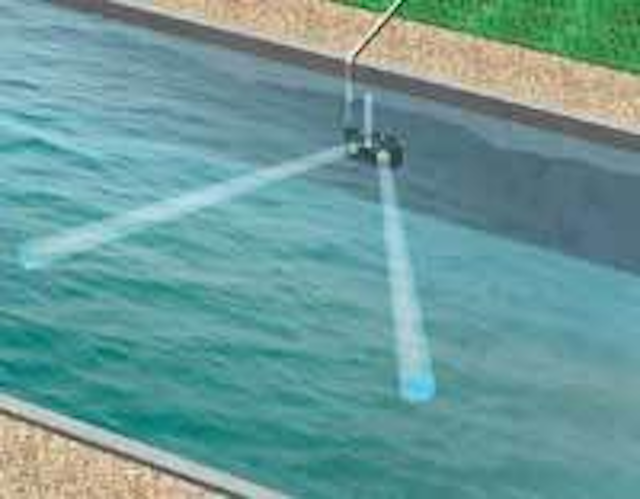 Click here to enlarge image
SonTek/YSI has released three new versions of its Argonaut-SL current and profiling systems - the SL3000, SL1500 and the SL500. Now smaller, sleeker and even powerful, the SL series allows customers to measure water velocity in bodies of water previously considered "immeasurable", including shallower water and narrower channels. Users can calculate discharge with FlowPack velocity indexing software, which is now a standard feature. Designed for side mounting on bridges, canal walls, riverbanks, or other vertical structures, the SL's low profile housing simplifies installation.
SonTek/YSI
San Diego, CA
Tel: 858-546-8327
Web: www.sontek.com
Dosing pumps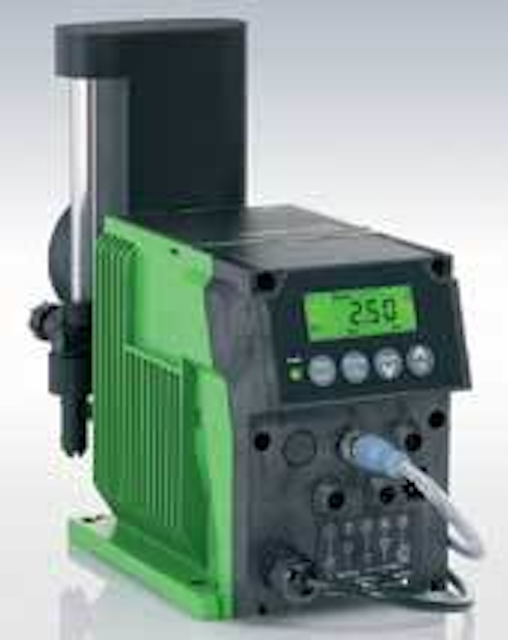 Click here to enlarge image
Grundfos' Digital DosingTM DDI Plus 3 pump range combines precision with a digital user interface that allows users to set the dosing feed rate they want directly on the pump, without complicated calculations beforehand. By using a full stroke length (100%) through its entire adjustable range and a degassing chamber on the pump head, the DDI does not sacrifice accuracy at low feed rates and eliminates potential disruptive factors such as gas buildup. It is designed to solve sodium hypochlorite gas locking problems in low capacity applications. Users can verify its accuracy using the calibration column supplied on the pump head. By precise variable speed control of the DDI's stepper motor, users can slow down the feed rate to continuously deliver 1/100 the pump's capacity without sacrificing accuracy or stroke frequency control.
Grundfos
Marietta, GA
Tel: 770-956-7996
Web: www.grundfos.com/us/dosing
HDPE pipe fusion
Click here to enlarge image
McElroy has introduced its newest HDPE pipe fusion machine, the TracStar 630. Above ground or in the ditch, the new machine is designed to simplify large diameter butt fusion. It is specifically designed for in-ditch close quarter work. The carriage has four jaws with a removable 3-jaw carriage and top loading heater and facer to maximize functionality within limited space. It is mounted on independently controlled, self-propelled tracks and features a wireless remote driving control. The machine will fuse 8" - 24" pipe and fittings and is hydraulically powered to assist all fusion functions including the operation of the jaws, pipe lifts, heater and facer. The operator can drive the unit to the next fusion staging area, then pull two pins to lower the carriage into the ditch for the fusion procedure.
McElroy Manufacturing Inc.
Tulsa, OK
Tel: 918-836-8611
Web: www.mcelroy.com