PRODUCTS & SERVICES: MEMBRANE TREATMENT
ZeeWeed 1000 ultrafiltration membranes from GE Water & Process Technologies are suited for drinking water treatment, pretreatment for reverse osmosis membranes, and tertiary treatment of secondary effluent.
Jun 1st, 2007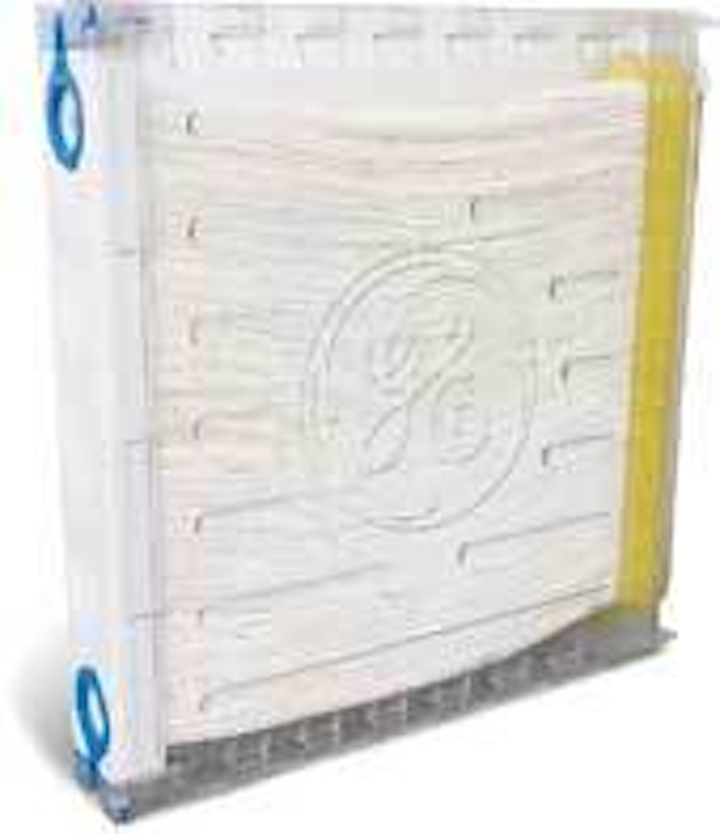 Ultrafiltration membranes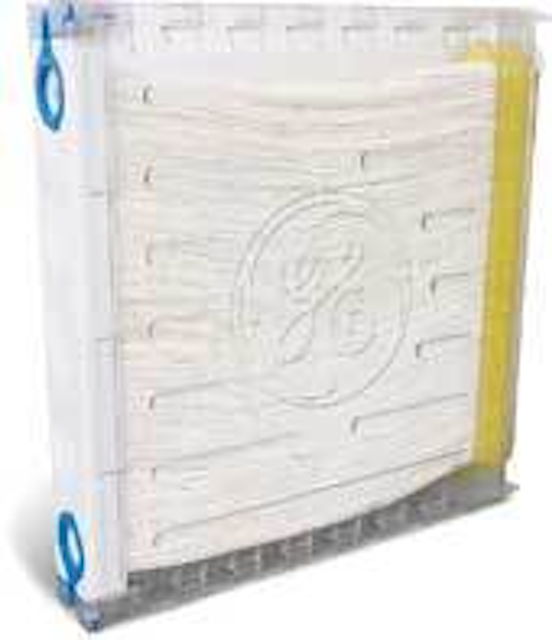 Click here to enlarge image
ZeeWeed 1000 ultrafiltration membranes from GE Water & Process Technologies are suited for drinking water treatment, pretreatment for reverse osmosis membranes, and tertiary treatment of secondary effluent. The membranes provide a physical barrier against virtually all suspended solids including turbidity, Giardia, Cryptosporidium, and other pathogens. The latest generation features a substantial increase in filtration surface area, greater operating flux, and a new operating strategy that enhances solids tolerance.
GE Water & Process Technologies
Web: www.ge.com/water
Tel: 905-465-3030
Membrane bioreactor
The Aqua-Aerobic® MBR process uses a time-managed, sequential aeration process to promote biological nutrient removal within a simplified unit process. The integration of Puron® submerged membranes, manufactured by Koch Membrane Systems, provides direct filtration of high-level MLSS. In comparison to conventional membrane bioreactor technologies, the process offers advantages by addressing equalization, nitrification and denitrification within a single reactor while minimizing power costs through reduced energy needed for mixing, pumping and aeration.
Aqua-Aerobic Systems Inc.
Rockford, IL
Tel: 815-639-4456
Web: www.aqua-aerobic.com/aquaMBR.asp
Membrane bioreactor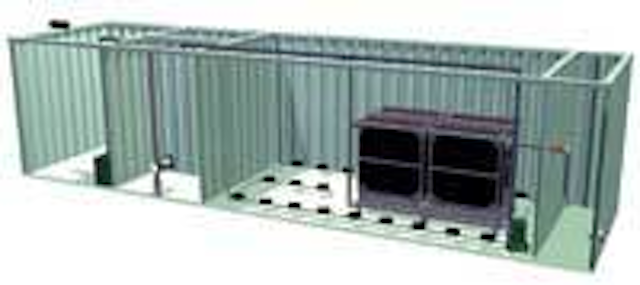 Click here to enlarge image
Titan MBRTM marries the wastewater treatment engineering expertise of Smith & Loveless with Flat-Plate Membranes. Submerged in the aeration section of the MBR tank, the S&L Flat-Plate Membrane - rated at the microfiltration level - maintains high permeability and flux rates even at peak-day rates. Because the system employs air scouring to prevent fouling, it does not require back-pulsing or the associated equipment and chemical costs typical of other systems. Because of its robust support, Flat-Plate units also experience less wear and tear than hollow-fiber types and can easily be cleaned in place.
Smith & Loveless
Lenexa, KS
Tel: 913-888-5201
Web: www.smithandloveless.com
Mobile water treatment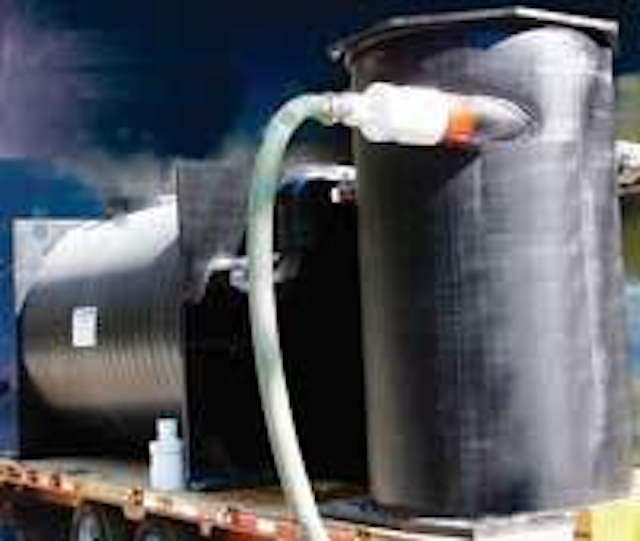 Click here to enlarge image
AquaShield's Go-FilterTM mobile water treatment system uses a patented swirl concentrator technology for the removal of sediment, free oil and floating debris. The swirl concentrators are coupled with the company's patented Aqua-FilterTM filtration unit for further refining and enhancing of stormwater quality prior to discharge. The mobile filter uses a variety of filter media to target contaminants of concern. Nutrients (phosphates) and heavy metals (zinc) are removed during the final filtering process.
AquaShield Inc.
Chattanooga, TN
Tel: 888-344-9044
Web: www.aquashieldinc.com
Cloth media filter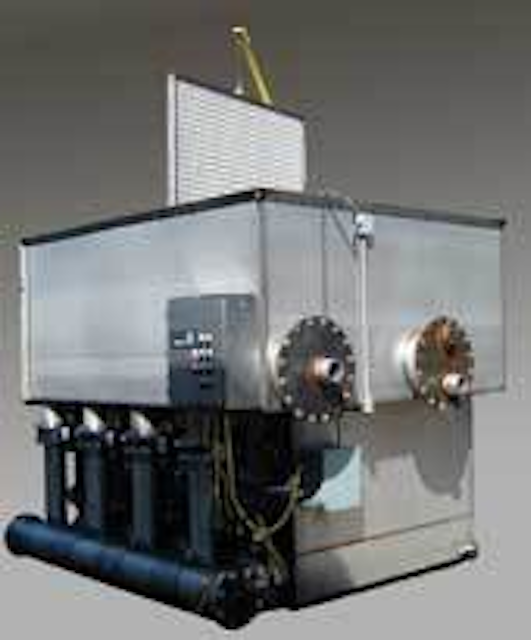 Click here to enlarge image
The Muni-Disk® cloth media wastewater filter manufactured by Municipal Filtration Co. combines patented gravity flow hydraulics and unique cloth media technology to eliminate pumps, drive motors, chain gears, backwash/sludge manifolds, and other complicated mechanical wear items, resulting in a simple yet effective tertiary treatment system. The system uses a combination of differential head and a series of open-close pneumatic valves to provide wastewater filtration and backwash flow control in a compact package.
Municipal Filtration Co.
Madison, WI Tel: 608-240-8987 Web: www.municipalfilter.com
MBR systems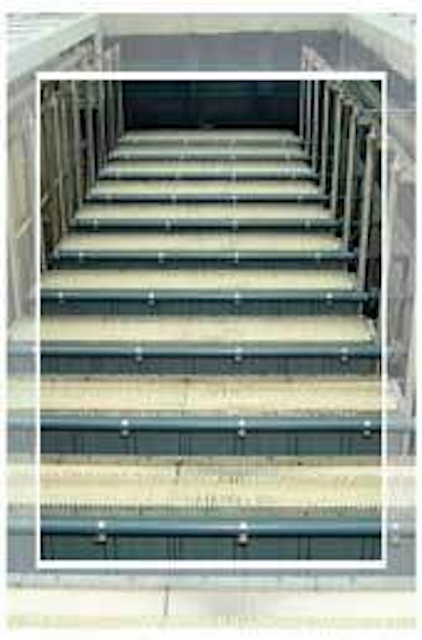 Click here to enlarge image
As a provider of complete wastewater treatment plants since 1966, Enviroquip understands that systems, not just components, must be easy to operate and reliable. This is why the company have partnered with the Kubota Corp. to offer a robust and operator-friendly submerged membrane unit. It is also the reason why the company provides complete MBR systems and not just membrane equipment.
Enviroquip, A Div. of EIMCO Water Technologies
Austin, TX
Tel: 512-834-6000 Web: www.enviroquip.com
Wastewater Treatment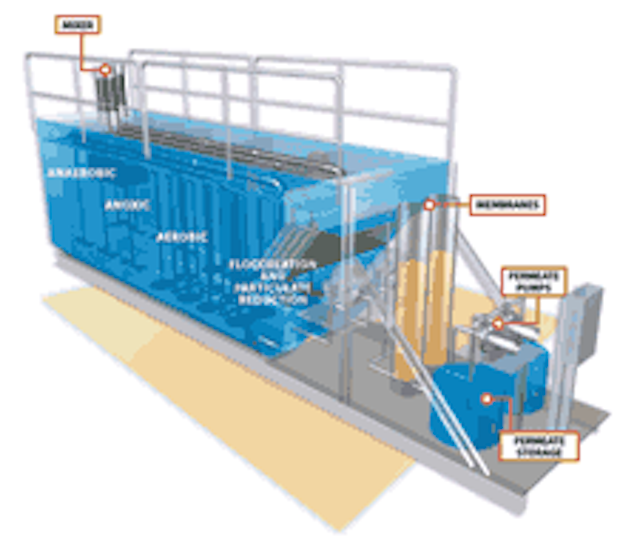 Click here to enlarge image
IMASTM Technology, available from Ashbrook Simon-Hartley, provides membrane quality effluent while minimizing capital and operating costs. The Integrated Membrane Activated Sludge process meets even the toughest effluent requirements, uniquely optimizing the individual performance of the biological and membrane filtration unit processes. The technology's reduced membrane fouling environment features substantial reductions in energy consumption, prescreening requirements and membrane area compared to other wastewater membrane processes.
Ashbrook Simon-Hartley
Houston, TX
Tel: 800-362-9041
Web: www.as-h.com
Membrane filtration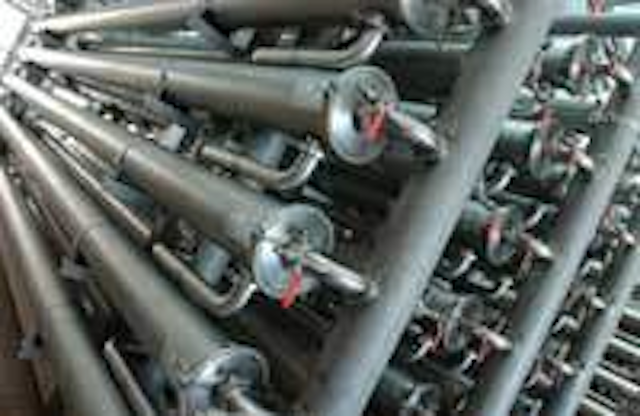 Click here to enlarge image
Quality requirements for potable water are becoming increasingly stringent throughout the world. The allowable levels for turbidity and microbiology are being lowered and new limits are being established for viruses and chlorine resistant organisms, such as cryptosporidium and giardia cysts. Kruger Inc. and Veolia Water Solutions and Technologies continually address these challenges by offering enhanced conventional and multi-barrier systems such as membrane systems. The Norit UF membrane system will remove turbidity, bacteria and viruses. The Norit X-Flow UF membrane produces water that meets the highest standards for turbidity and microbiology. The XIGATM membranes are installed in horizontal membrane housings and meet 4 log virus removal with low energy consumption.
I. Kruger Inc.
Cary, NC
Web: www.krugerusa.com
RO systems
Pre-engineered, packaged reverse osmosis systems from KMS use 18-inch-diameter MegaMagnum® membrane elements, the world's largest spiral wound reverse osmosis elements, to reduce the cost, footprint and installation time of municipal water treatment systems. The systems require half of the floor space of racks containing 8" membrane elements, and use 80 percent fewer connections and O-rings, thereby increasing reliability. Standard systems are available in flows to 2 mgd.
Koch Membrane Systems Inc.
Wilmington, MA
Tel: 888-677-5624
Web: www.kochmembrane.com
Resins, membranes
Dow Liquid Separations offers DowexTM ion exchange resins and FilmtecTM reverse osmosis (RO) and nanofiltration (NF) elements. Dowex ion exchange resins offer solutions for trace contaminant removal, including nitrate, perchlorate, uranium, radium, organics, chrome and emerging contaminants. In 2005, Dow Liquid Separations launched AdsorbsiaTM GTOTM titanium-based arsenic removal media, offering improved performance and cost advantages in arsenic removal.
Dow Chemical Co., Liquid Separations
Midland, MI
Tel: 800-447-4369
Web: www.dowex.com
Filtration systems
MWH has formed a national water practice, comprised of the company's water industry experts, to assist its clients as they face water issues. These experts develop innovative solutions focused on sustainability principles that meet their clients' needs. MWH is currently conducting an international review of desalination research and development with the goal of improving the energy efficiency, reliability and cost of the desalination facilities. For more information on the research, visit www.desalinationresearch.net.
MWH
Saddle Brook, NJ
Tel: 201-291-44428
Web: www.mwhglobal.com
Membrane filtration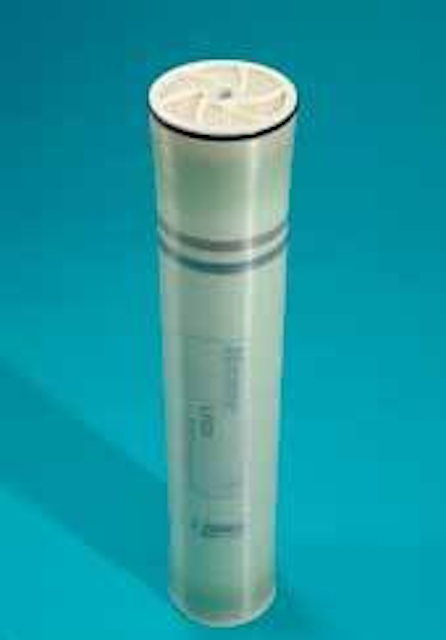 Click here to enlarge image
Hydranauticss Low Fouling Composite LFC3-LD (Low Differential pressure) membrane is designed with a thicker brine spacer, lowering the Delta P, meeting the increased demand for lower fouling membranes that require less frequent cleaning - while maintaining a high permeate flow. It can provide 11,000 gallons per day of flow at 99.7% nominal salt rejection. The membrane is well suited for the treatment of difficult feed waters for numerous municipal and industrial applications.
Hydranautics Inc.
Oceanside, CA
Tel: 800-272-7873
Web: www.membranes.com
Band screen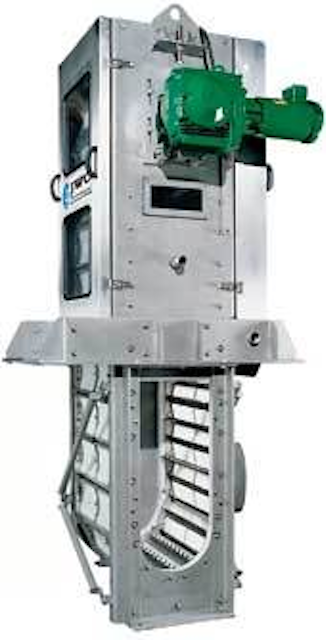 Click here to enlarge image
JWC Environmental's Bandscreen MonsterTM, part of the Monster Separation SystemTM, screens wastewater to remove problem solids and provide protection for membrane bioreactors (MBRs). The unique inside-out flow pattern captures solids on the inside loop of the screen to prevent solids from bypassing, and the rotating perforated panels with 2mm openings lift unwanted solids out of the channel to prevent them from clogging MBRs.
JWC Environmental
Costa Mesa, CA Tel: 800-331-2277 Web: www.JWCE.com
Screening equipment
Hydro-Dyne Engineering offers a line of screening equipment ranging from 1 mm to 3" openings and 100 gpm to 100 mgd flows. The company's Hydro-Flo Screen is specifically designed to protect sensitive equipment such as membranes while its versatile Triden Screens are installed in a number of municipal and industrial processes. The company also offers the Filter Stepper Screen, Washing Compactor, and Screw Conveyors.
Hydro-Dyne Engineering
Clearwater, FL
Tel: 727-532-0777
Web: www.hydro-dyne.com
Membrane water treatment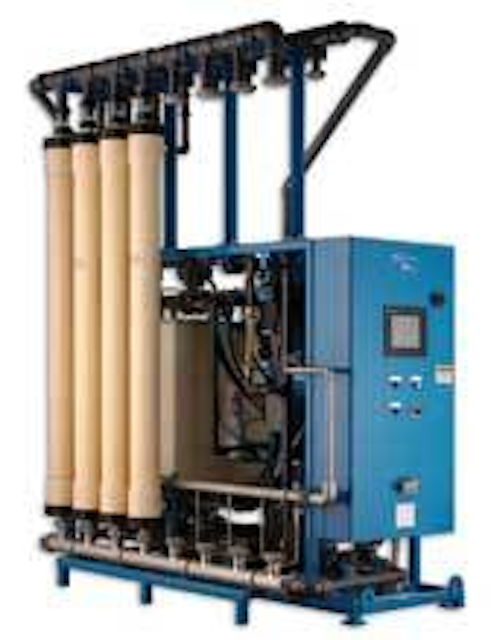 Click here to enlarge image
Pall's membrane MF and UF water treatment systems remove particulate, microbiological pathogens, inorganics, and organics from groundwater, surface water, seawater, and wastewater. Its AriaTM systems produce pure water for drinking, irrigation, industrial reuse and many other applications. The packaged and pre-engineered Aria AP system is easy to install and operate. Integrated into a system, it can reduce maintenance, power, chemical and waste disposal costs.
Pall Corp.
Port Washington, NY
Tel: 888-428-5597
Web: www.pall.com/water