SCADA System Makes CSO Incidents a Thing of the Past
Charleston, WV, sometimes experiences combined sewer overflow (CSO) events.
Oct 1st, 2007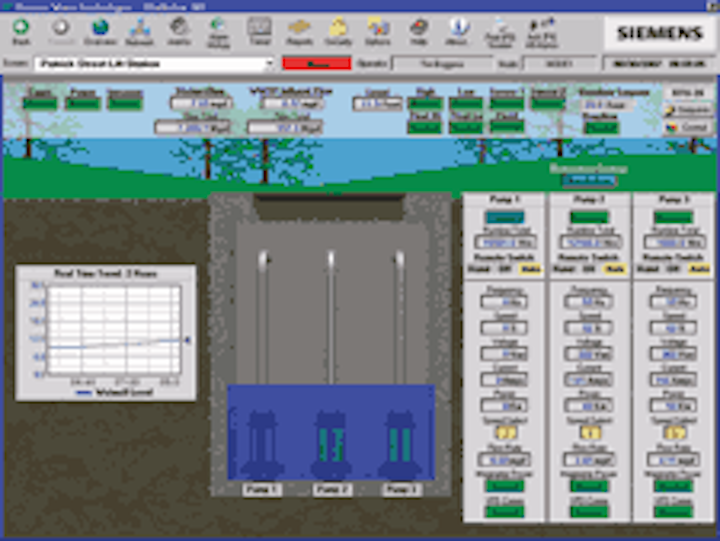 by Howard Hassig, Randy Clark, Todd Holtz, and Debbie Huddleston
Charleston, WV, sometimes experiences combined sewer overflow (CSO) events. As a result, personnel at the Charleston Sanitary Board (CSB) needed a reliable means of monitoring the wet well level and pump/alarm status of over 70 lift stations that span more than 33 square miles.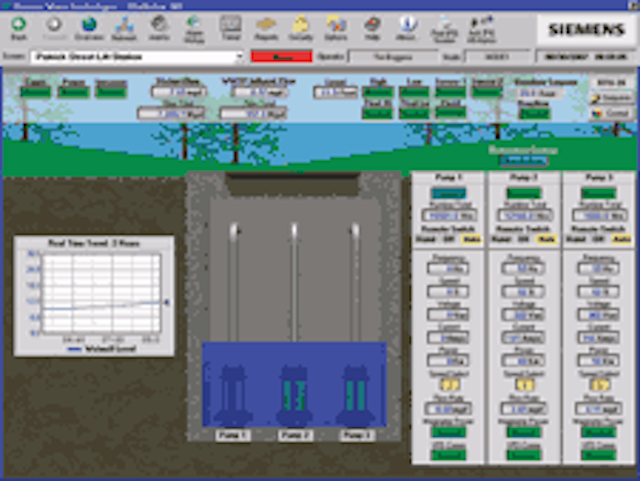 St. Patrick Lift Station screen showing three pump controls.
Click here to enlarge image
The city's former radio telemetry system used to monitor status and level alarms for 25% of the system. As the telemetry system had not functioned for years, CSB operators had to visit stations every morning and afternoon, which was very time-consuming. Customers living near the remotest lift stations had to notify operators when an incident occurred, as the old system only triggered local alarm lights and did not have dialup notification.
The city needed a reliable telemetry system that could prevent station overflows, monitor licensed CSO events, improve preventative maintenance, and provide quicker reaction times to station alarms.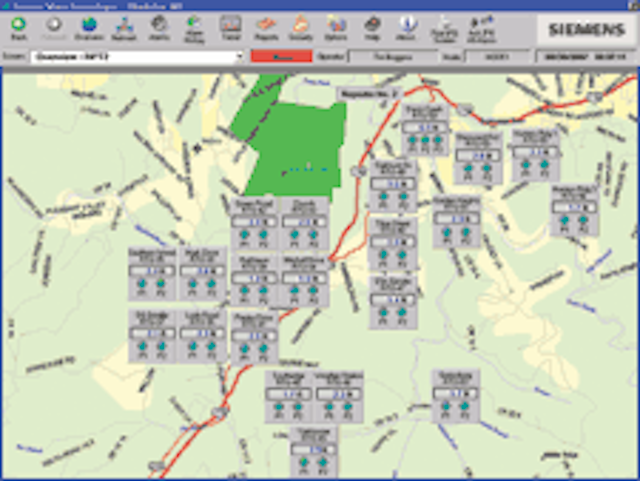 SCADA screen showing the location and pump run status of the stations reporting to Repeater 2.
Click here to enlarge image
Charleston first evaluated level control, installing programmable logic controllers (PLCs) from Siemens Water Technologies and another manufacturer in the same station. Siemens' unit worked well, while the other manufacturer's failed.
The city then looked at the telemetry/SCADA portion of the project. The neighboring city of Dunbar had a lift station SCADA system from Siemens in operation. As Dunbar is not a permitted CSO city, it had to completely eliminate overflows. Dunbar has been able to do so with real-time wet well level monitoring, alarm notification, and more. After spending a few days with Dunbar Sanitary Board's general manager, CSB personnel decided to specify Siemens' products.
In 2002, CSB contacted the C.I. Thornburg Co. (CITCO) of Huntington, WV, for solutions to the city's telemetry problems. CITCO, which is a Siemens Water Technologies manufacturer's representative, recommended a SCADA system consisting of PLCs, loop-powered submersible level transducers/transmitters, and open-architecture logic controllers.
New System
Charleston's new SCADA system provides control and monitoring of sewage lift stations and the local WWTP's incoming flow. Each lift station has D620i PLCs and A1000i transducers. The duplex constant speed stations contain C800 lift station flow software. There are also roughly five triplex stations and a couple of variable speed duplex stations.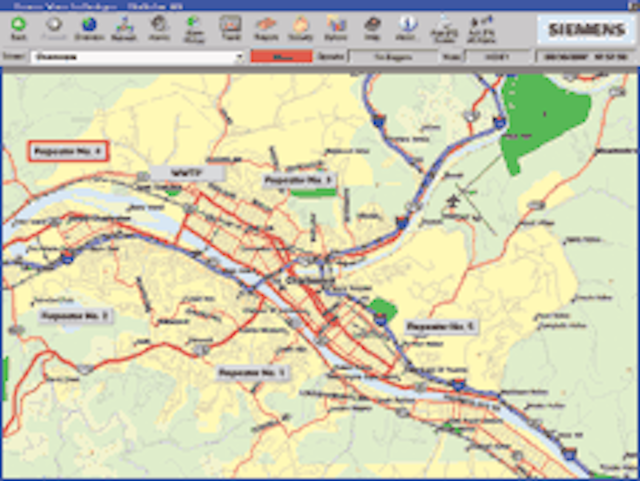 Charleston overview screen showing where the repeater stations are located.
Click here to enlarge image
The Patrick Street remote telemetry unit (RTU) serves as the main station. This RTU is a triplex with variable frequency drives (VFDs) and an LC3000 logic controller. The controller has custom programming to limit the flow to the WWTP until Phase II of the plant construction is completed this winter.
Five system repeaters communicate to five model LC3000 PLC unit repeaters. The repeaters contain a VHF radio that polls each of the lift stations in its area on a separate frequency. The PLC unit repeaters communicate instantly via wireless Ethernet network to the WWTP master telemetry unit and to two networked PCs, located at the CSB office. Radio telemetry lift station data is transmitted from over 70 stations to the WWTP over very rugged topography, with an update time of less than 1.5 minutes.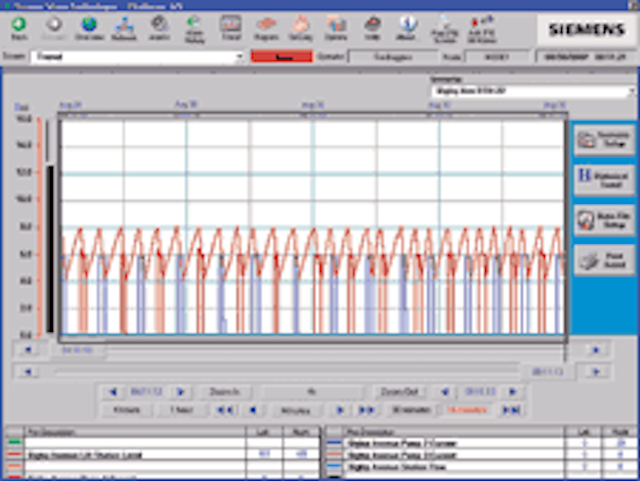 Bigley Street Lift Station historical trend data
Click here to enlarge image
The operator at the WWTP PCs can monitor each station's wet well level, as well as pump status, alarms, and flows. The operator can also set pump station on-off and alarm setpoints from the PC and transmit out to the station RTUs. Invensys Systems' SCADAlarmTM alarm and event-notification software notifies operators of station alarms after hours. When this occurs, the on-call operator can connect to the WWTP PC via TCP/IP remote control software connection to see if the alarm in question justifies a "call out."
Steady CSO Compliance
Constantly driving to and from the various lift stations is now a thing of the past. Charleston's new SCADA system allows pump maintenance personnel to be proactive and prevent possible pump station problems through real-time monitoring of station history, alarms and status. Closer monitoring of lift stations has helped prevent overflows due to pump failures and intrusion.
CSOs can also now be monitored in detail with calculated flows and durations. Where previously compliance department personnel had to guess which station was in overflow based on rainfall amounts in certain areas, the Siemens system's real-time monitoring can pinpoint which CSO-permitted lift station is affected. Personnel can travel to the correct site and collect the necessary samples at the time the station actually begins to overflow.
The new SCADA system also allows for future expansion. The city plans to eventually add 30 more CSO stations to the system. These are not lift stations but rather designated CSOs on the Kanawha and Elk Rivers.
About the Authors
Howard Hassig is pump department superintendent for the Charleston Sanitary Board. He can be reached at hhassig@csbwv.com. Randy Clark, PE, is vice president of engineered products at The C.I. Thornburg Co. in Huntington, WV. He can be reached at randy.clark@cithornburg.com. Todd Holtz is the central region sales manager for control systems products at Siemens Water Technologies in St. Paul, MN. He can be reached at todd.holtz@siemens.com. Debbie Huddleston is a project manager for control systems products at Siemens Water Technologies in St. Paul. She can be reached at debra.huddleston@siemens.com.