NEW PRODUCTS
Severn Trent Services has received a patent for its technology related to a method for removing silica from water treatment adsorption media.
Apr 1st, 2007
Silica removal
Severn Trent Services has received a patent for its technology related to a method for removing silica from water treatment adsorption media. The novel method solves the problem of silica interference of arsenic and other contaminant treatment adsorption media. The system consists of a scrub solution composed of NSF-approved products and can significantly increase the adsorptive capacity of media beds that have been contaminated by silica.
Severn Trent Services
Fort Washington, PA
Web: www.severntrentservices.com
Phosphate analyzer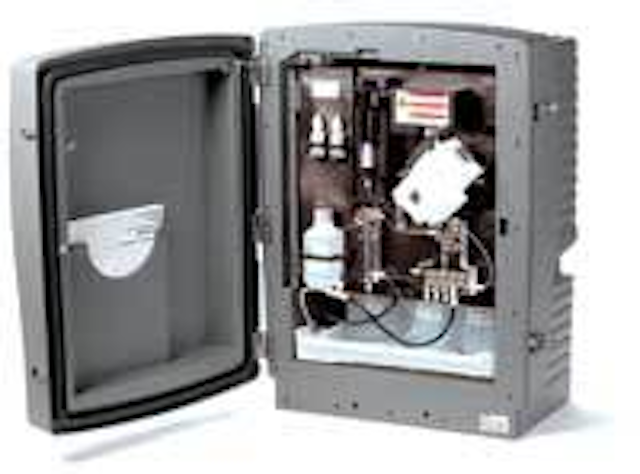 Click here to enlarge image
Hach Company announces the new PhosphaxTM sc Phosphate Analyzer with detection limits as low as 0.05 mg/L and as high as 50 mg/L phosphate. Quick response is vital for optimal operation and the analyzer offers a response time of only 5 minutes, including sample preparation and the ability to choose the measurement interval. The housing is weatherproof and lockable so that the analyzer can be installed right at the basin, even in the toughest climates.
Hach Co.
Loveland, CO
Tel: 800-227-4224
Web: www.hach.com
Shell cutter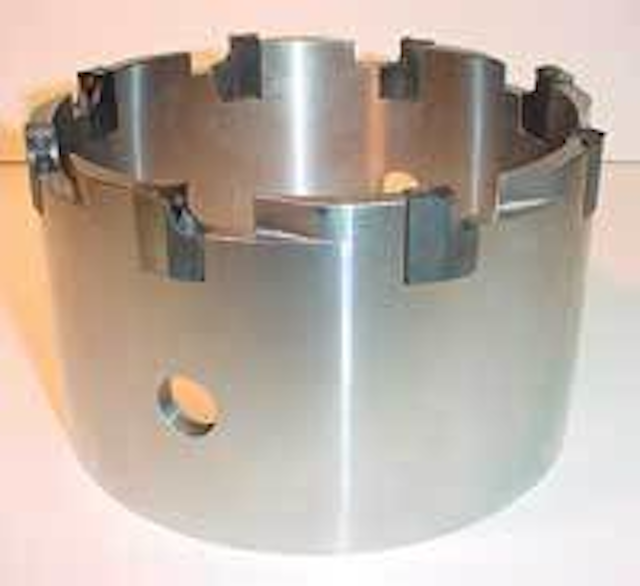 Click here to enlarge image
Badger Manufacturing offers a shell cutter body whose teeth could be replaced in the field. In less than five minutes, all teeth can be replaced, restoring the cutter to like new condition. Using ceramic carbide tips, the teeth cut up to 18 times longer than any other carbide tipped shell cutter available. The cutters come with a lifetime warranty on the body. Designed to work with all hot tapping machines, they cut through cast iron, concrete, steel, and cement-lined pipes.
Badger Manufacturing
Bend, OR
Tel: 541-948-1608
Web: www.shellcutter.com
Wet weather practice
MWH has formed a national wet weather practice, comprised of the company's water industry experts, to help clients as they face wet weather issues. These experts team with the company's local offices to develop innovative solutions focused on sustainability principals that meet the clients' needs. The practice combines global expertise from Europe and Asia with local experience throughout the US. The goal is to do more with less - to develop proven technical and political solutions that clients can afford while meeting regulatory requirements.
MWH
Walnut Creek, CA
Tel: 925-975-3497
Web: www.mwhglobal.com
Ethernet diagnostic software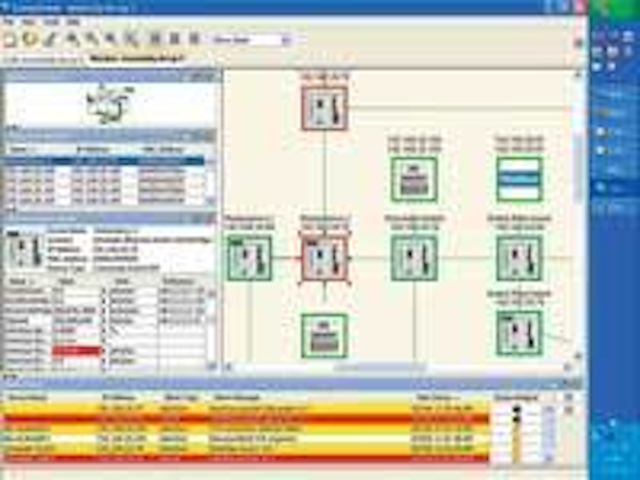 Click here to enlarge image
Schneider Electric has released the Telemecanique® brand ConneXviewTM industrial Ethernet diagnostic software, offering customers industrial network management. The software combines the power of IT-based network management programs with the web-based power and control technology of Schneider Electric's Transparent Ready® communications platform to provide a tool specifically designed to map, monitor and troubleshoot industrial Ethernet networks.
Schneider Electric
Palatine, IL
Tel: 800-392-8781
Web: www.us.telemecanique.com
Ultrasonic flowmeter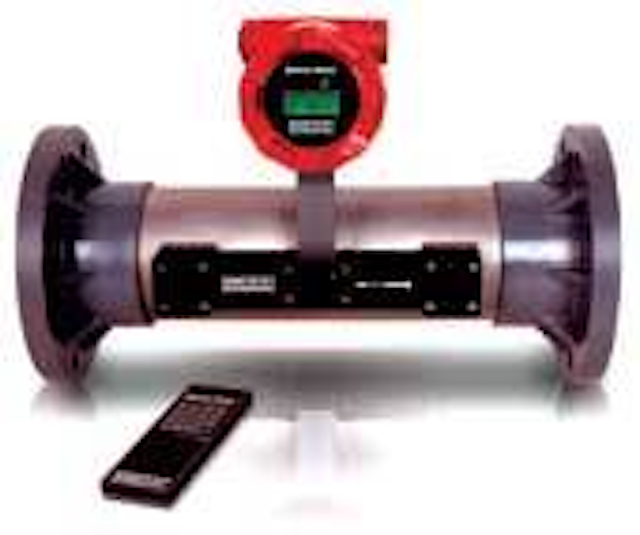 Click here to enlarge image
Sierra's Innova-Sonic® In-Line is a Digital Correlation Transit-Time Ultrasonic flowmeter. It uses the company's PicoFlightTM measurement technology, which offers an order-of-magnitude improvement in transit-time measurement technology, offering much greater resolution and improved low flow detection. The instrument is designed primarily as an alternative or replacement for magnetic flowmeter applications.
Sierra Instruments Inc.
Monterey, CA
Tel: 800-866-0200
Web: www.sierrainstruments.com
Pump station cleaning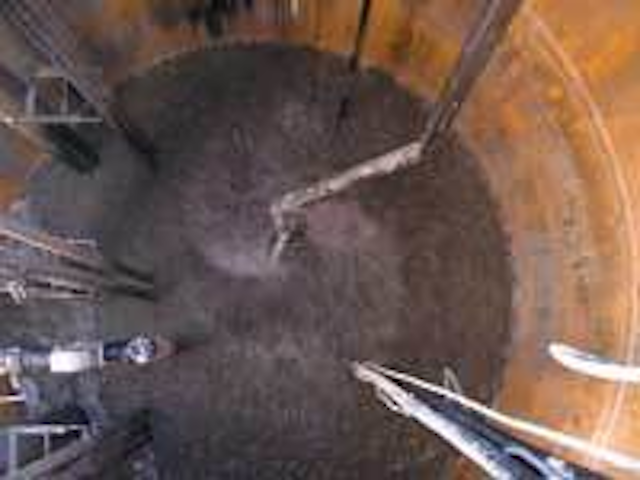 Click here to enlarge image
Anue USA has developed a cleaning system that uses wastewater from a wet well to automate the cleaning of pump stations. The patented technology is a self cleansing piece of machinery that features a unique rotating apparatus with deflectors used to target well walls and components, eliminating the build up of grease, fats and oils.
Anue USA Corp.
Clermont, FL
Tel: 1800-599-7159
Web: www.anuewellwashers.com
Flexible pipe loop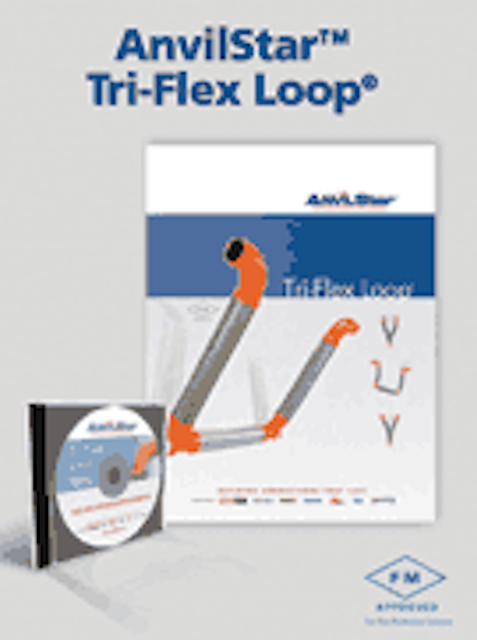 Click here to enlarge image
AnvilStarTM, a division of Anvil® International, offers the new flexible Tri-Flex Loop® fire protection product. The pipe loop simultaneously absorbs and compensates for pipe movements in six degrees of freedom (three coordinate axes, plus rotation about those axes simultaneously). The system helps protect building fire protection systems from thermal or seismic shifts.
Anvil International
Portsmouth, NH
Tel: 603-422-8000
Web: www.anvilintl.com
Double containment piping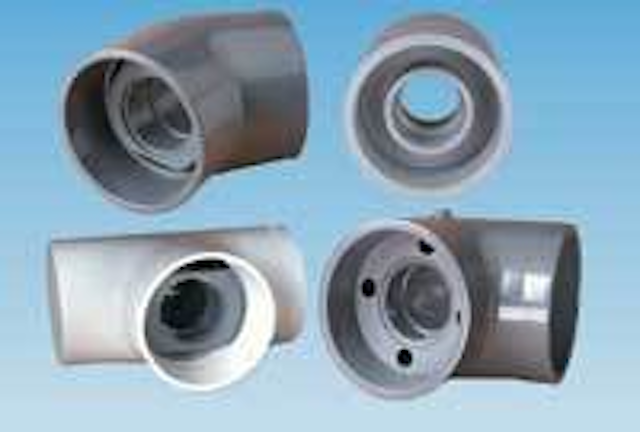 Click here to enlarge image
Pro-LockTM systems by Asahi/America can provide a double containment piping system for a wide variety of applications, including sodium hypochlorite. The system consists of two separate pipes (carrier and containment) constructed of PVC and CPVC. At the heart of all the company's systems is the patented Dogbone® fitting. This unique fitting locks the inner pipe to the outer pipe for proper stress control. The Dogbone allows for proper termination from double wall to single wall while maintaining system pressure rating.
Asahi/America Inc.
Malden, MA
Tel: 877-242-7244.
Web: www.asahi-america.com
Access door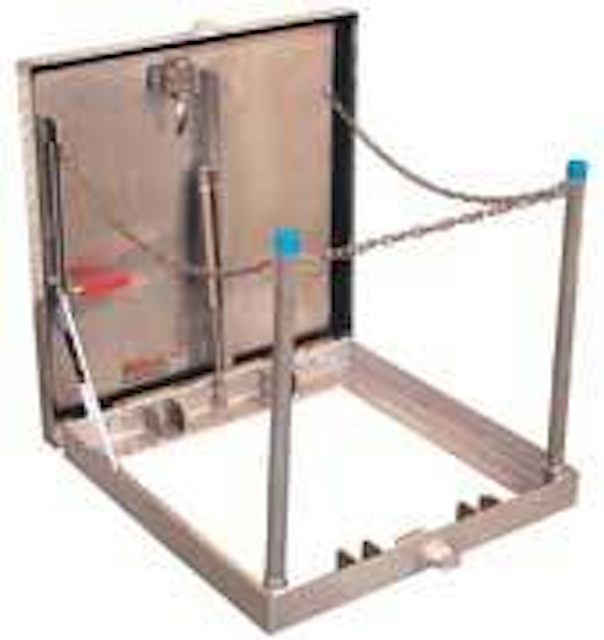 Click here to enlarge image
Bilco's Type SM Surface Mount Access Door provides a solution for access to underground vaults that do not require the use of a flush-mounted door. Constructed of aluminum and equipped with heavy-duty stainless steel hardware, the door features a concealed internal mounting flange. The doors' overlapping cover design is fully-gasketed to shed water and prevent debris from entering the areaway, making it ideally suited for water treatment, reservoir and other industrial and municipal applications where the infiltration of contaminants is a concern.
Bilco Inc.
Tel: 203-934-6363
Web: www.bilco.com
Digital batch controller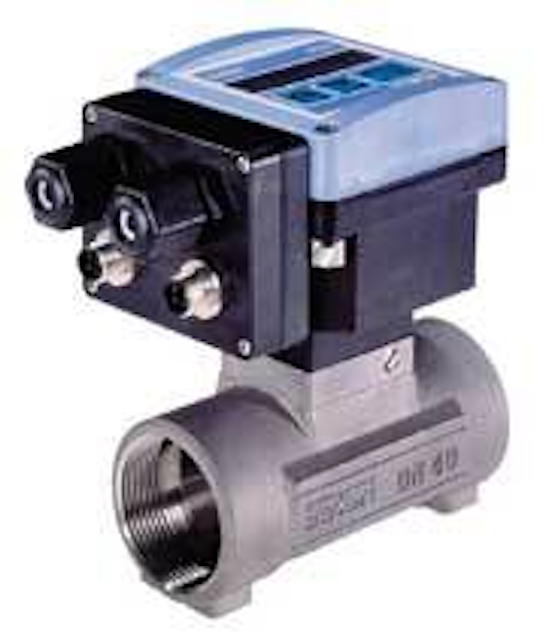 Click here to enlarge image
The Burkert Type 8035 Controller offers digital batch control and is designed for both neutral and aggressive solid-free liquids. With its quarter-turn lock-fitting system and sizes ranging from ½" to 2", the batch meter features a local flow display with seven pre-programmable batch points, two totalizers, overrun correction plus two dosing modes (manual or remote).
Burkert Fluid Control
Irvine, CA
Tel: 949-223-3100
Web: www.burkert-usa.com
Process pumps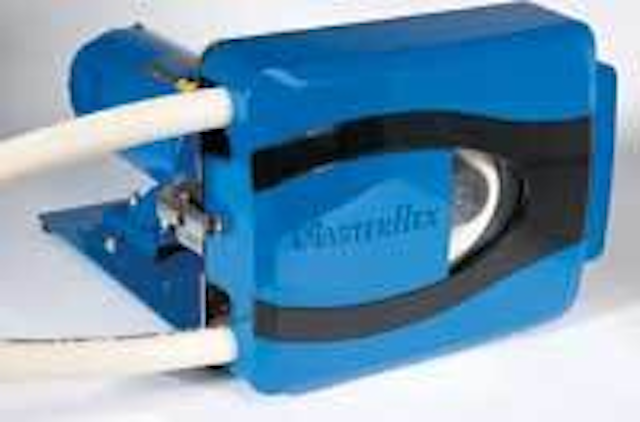 Click here to enlarge image
Cole-Parmer has introduced the new and improved line of Masterflex® B/T® process pumps featuring a redesigned, intuitive loading system for simplified tubing changes. At the heart of the redesign is a new occlusion mechanism that slides the tubing bed out of the way, and a retention mechanism that grips the tubing while loading. An easy-clasp closure provides one-handed opening and locks closed without the use of tools.
Cole-Parmer Instrument Co.
Vernon Hills, IL
Tel: 800-323-4340
Web: www.coleparmer.com/2332
Gas detection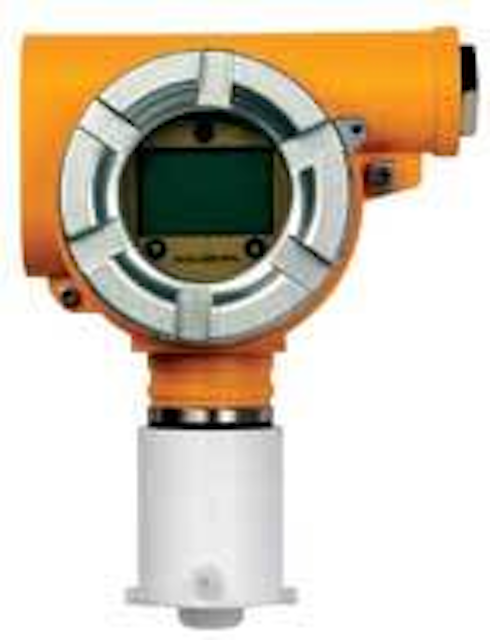 Click here to enlarge image
Honeywell Analytics has introduced the Series 3000 XPIS (Explosion Proof, Intrinsically Safe) gas detection system. It uses existing two-wire systems to monitor for toxic and oxygen gas hazards in wastewater plants and other municipal facilities. The device's Intrinsic Safety (IS) and Explosion Proof hazardous area approval allows the series to be wired alongside other field wiring without IS certification. This removes the need for cable segregation as required by IS certified detectors.
Honeywell Analytics
Palatine, IL
Tel: 800-538-0363
Web: www.honeywellanalytics.com
Explosion proof motors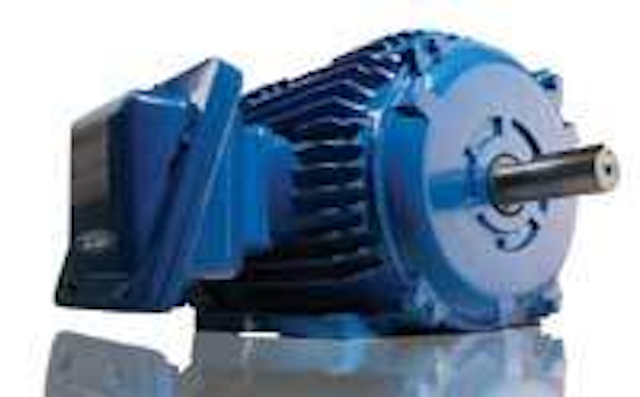 Click here to enlarge image
Elektrim Motors has launched a new line of Elektrimax Explosion Proof NEMA motors. The UL and CSA listed, EPACT certified, dual rated Class I, Division I Group C and D and Class II, Division 1, Group E, F and G explosion proof motor will be available from 1-300 hp in 2, 4 and 6 pole versions.
Elektrim Motors
Schaumburg, IL
Tel: 847-524-1074
Web: www.elektrimmotors.com
Check valves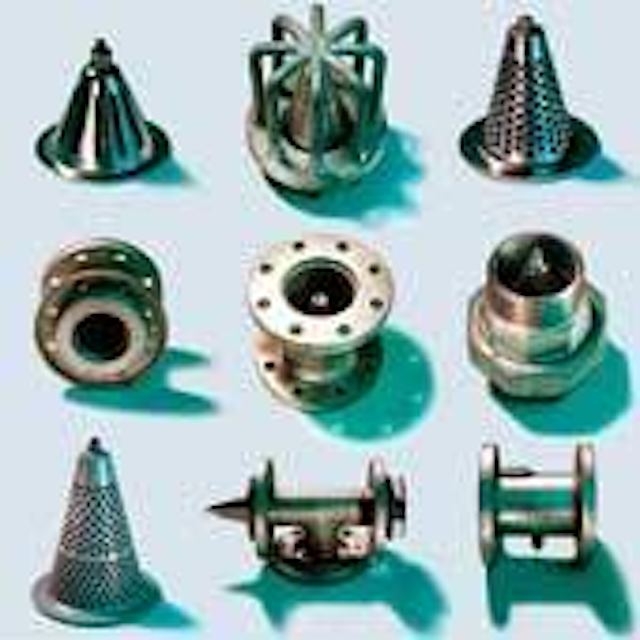 Click here to enlarge image
Lasso Technik has announced the immediate availability of the patented Stop-Silent ® Check Valve Series to the U.S. market. The valve features a unique cone design that assures tight shut-off to prevent backflow of liquid or gaseous media. This design also eliminates water hammer and associated problems of noise and wear, resulting in quiet, noise-free operation. Offered with a choice of several diaphragm materials and mounting styles to meet varying application requirements, the valve is suitable for use in a wide range of applications including water distribution and water treatment.
Lasso Technik Inc.
Tel: 714-717-5271
Web: www.stopsilent.com
Magmeter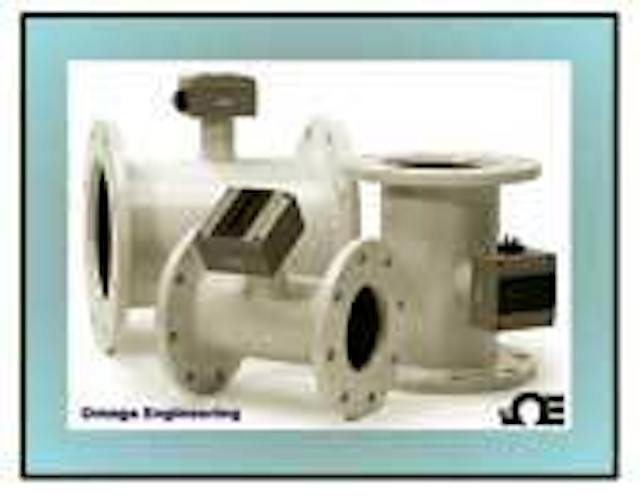 Click here to enlarge image
Omega's newest Magmeter, the FMG 1000 Series, is comprised of flanged electromagnetic flowmeters that come in 4, 6, 8, or 10" sizes, making them perfect for municipal or industrial water/wastewater applications where propeller meters have typically been used. With no moving parts and electrodes which are designed to discourage fouling, maintenance is minimal. The meter is suitable for applications where debris or sand impede propeller meters, such as slurries or wastewater; it also works for storm water applications and chemical processing needs.
Omega Engineering
Stamford, CT
Tel: 203-359-1660
Web: www.omega.com
Alarm software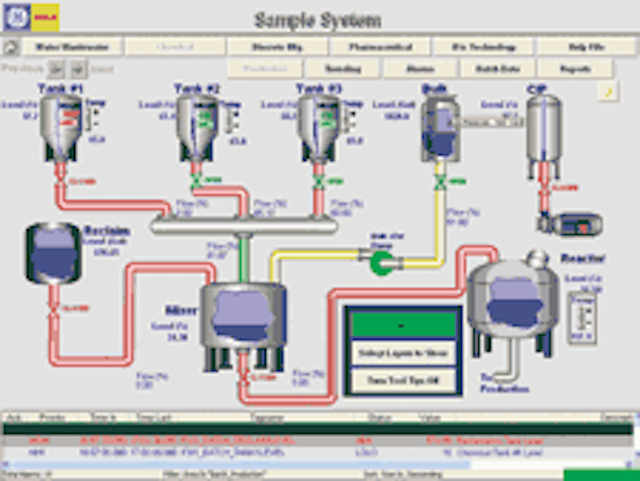 Click here to enlarge image
GE Fanuc Automation has introduced an email notification product called Alarm and Event Express. This add-on utility, for the company's Proficy HMI/SCADA iFIX product, will selectively distribute various system alarm and event messages via email to remote users. It is a free option to GE Fanuc customers with current support contracts and will integrate with a variety of the company's HMI/SCADA products and versions.
GE Fanuc Automation
Web: www.gefanuc.com
Ultrasonic flowmeter
Click here to enlarge image
Krohne has introduce its new Optisonic 6300 clamp-on ultrasonic flowmeter. The new meter features improved measurement accuracy, ATEX Approval, an extended temperature range and the ability to handle smaller line sizes. One new feature is the integrated display, which allows signal quality to be shown in real-time during the calibration of the signal transducer. The meter can be installed without special tools.
Krohne Inc.
Tel: 800-356-9464
Web: www.krohne.com/northamerica
Remote monitor
The Sensaphone 800, a new remote monitor and alarm notification system, is equipped with enhanced features that include customizable voice messaging, programmable relay output, and a phone line seizure feature. It replaces the Sensaphone 1108, one of the company's most popular products, and is being sold at the same price. The 800 model is a standalone remote monitor and alarm notification system requiring no monthly fees.
Sensaphone
Aston, PA
Tel: 877-373-2700 Web: www.sensaphone.com
Flow transmitter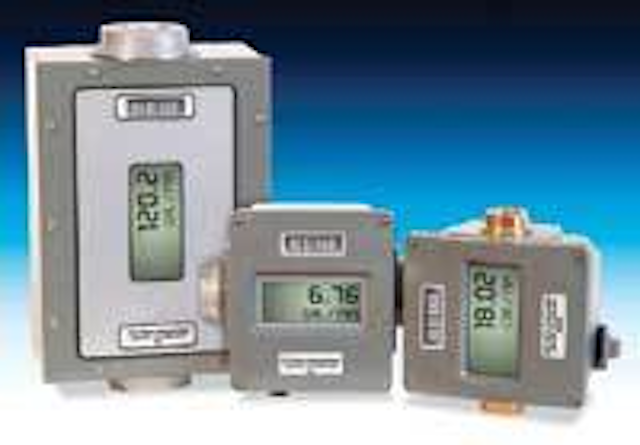 Click here to enlarge image
Hedland recently received a US Patent on its MR Flow Transmitter. The new design avoids consuming too much power by activating only portions of the Anisotropic Magnetoresistive (AMR) array electronics in a systematic way. This invention is recognized for its individuality in the industry. The unit can also calculate and display the total accumulated flow. Analog outputs of 4-20mA current loop, 0-5 vDC and 0-10 vDC are provided.
Hedland
Racine, WI
Tel: 800-433-5263
Web: www.hedland.com