PRODUCTS & SERVICES: WASTEWATER TREATMENT
The RegalTM gas chlorinator is used all over the world to disinfect and purify municipal drinking water and wastewater, industrial wastewater, and more.
Apr 1st, 2007
Gas chlorinator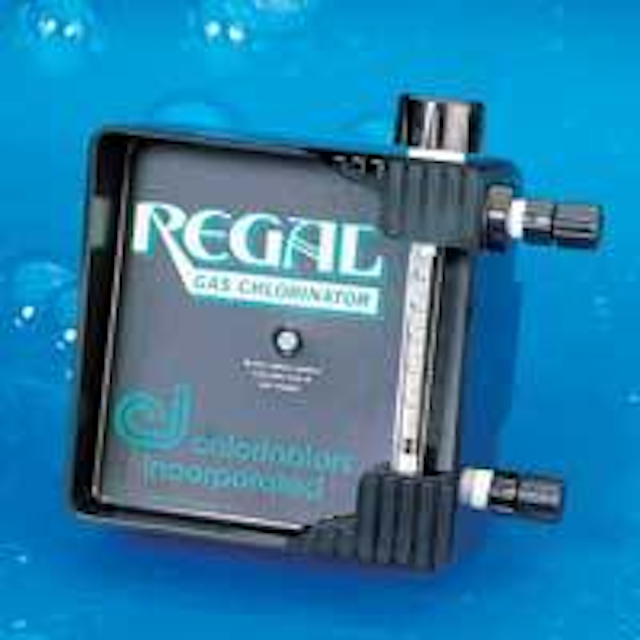 Click here to enlarge image
The RegalTM gas chlorinator is used all over the world to disinfect and purify municipal drinking water and wastewater, industrial wastewater, and more. The chlorinator provides a consistent chlorine residual, eliminating a lot of guesswork. It has a safe simple design. The all-vacuum system virtually eliminates the possibility of gas leaks. The unit is directly mounted with the strongest yoke in industry. In addition, it has a tough and resilient diaphragm and is made with corrosion-resistant materials.
Chlorinators Inc.
Stuart, FL
Tel: 772-288-4854
Web: www.regalchlorinators.com
Decanting centrifuge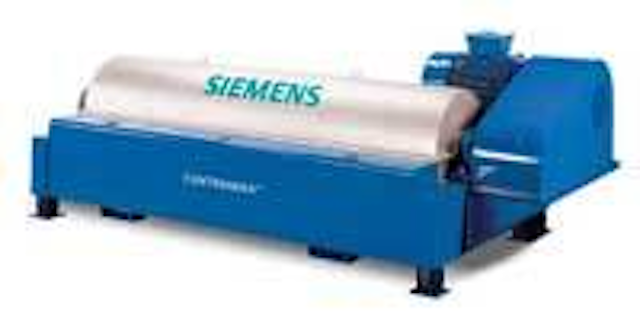 Click here to enlarge image
Siemens Water Technologies offers a state-of-the-art horizontal decanting centrifuge. The CentramaxTM centrifuge provides a solution for dewatering and thickening biosolids continuously. The automatic centrifuge control system, ACCS, allows the operator to "fine tune" the high g-force centrifuge system. The centrifuge is a recent addition to the dewatering technologies available from Siemens. The company's laboratory can provide a complete analysis of a utilities dewatering requirements, selecting the best dewatering/separation technology to fit specific needs.
Siemens Water Technologies
Holland, MI
Tel: 800-245-3006
Web: www.siemens.com/water
Engineering services
As a provider of design, construction, and operation services, Earth Tech's professionals routinely select, design and optimize both conventional and advanced wastewater treatment technologies for municipal clients. The company is recognized for its work in Biological Nutrient Removal (BNR) process applications worldwide as well as other wastewater technologies including membranes, UV disinfection, biosolids treatment and reuse and the modeling and mitigation of odors.
Earth Tech, Inc.
Tel: 800-913-7993
Web: www.earthtech.com
Centrifugal DAF pumps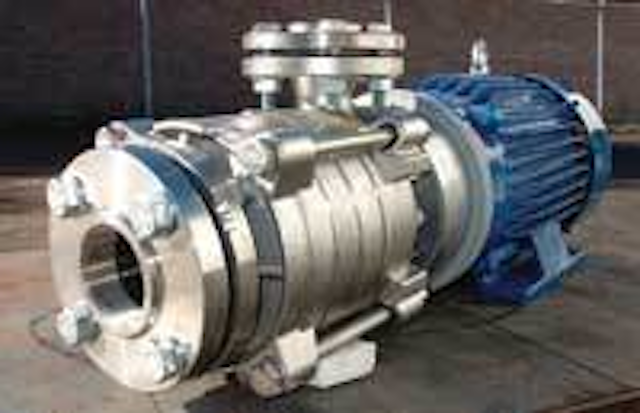 Click here to enlarge image
The EDUR Centrifugal DAF Pumps, available from Shanley Pump & Equipment, are designed for dissolved air flotation applications or systems requiring gas charging of liquids. They provide an efficient air saturation system for waste activated sludge thickening and can be integrated into many OEM DAF units. The pumps produce ultra-fine micro-bubbles less then 30 microns in diameter. This can help reduce costs over previous DAF systems.
Shanley Pump & Equipment Inc.
Arlington Heights, IL
Tel: 847-439-9200
Web: www.shanleypump.com
Respirometry testing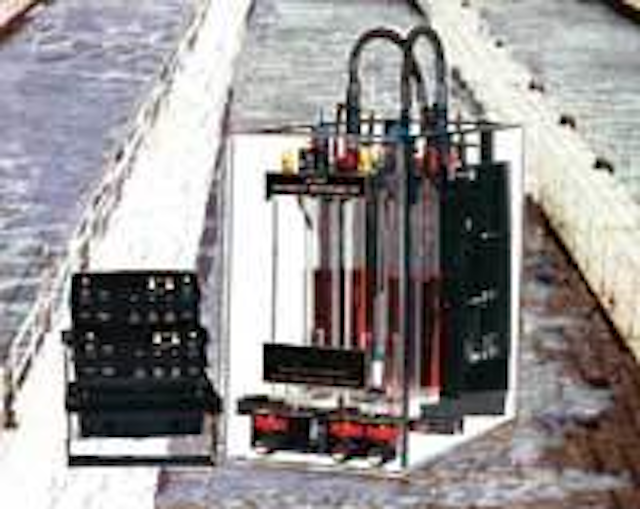 Click here to enlarge image
The source or sources of toxic or poorly treatable plant influents can be found, usually in less than 30 days, by renting an Arthur respirometer and performing 30-minute toxicity and treatability tests on suspect sources. The rental charge is $75 per day. The test results are graphically displayed, so they can be easily explained to the guilty discharger or, as has happened in the past, to a judge or jury. The respirometer does an excellent job of replicating the biological and physical characteristics of a full scale plant, thus the test results are believable.
Respirometry Plus LLC
Tel: 800-328-7518
Web: www.respirometryplus.com
Nutrient analysis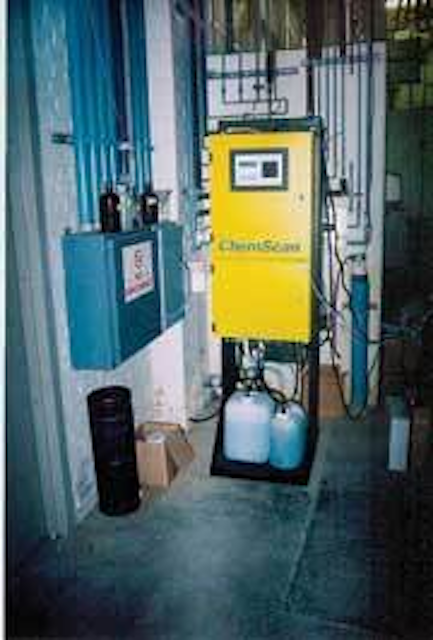 Click here to enlarge image
ChemScan Process Analyzers offer several systems for on-line nutrient analysis in wastewater applications. One analyzer can detect multiple nutrients, such as nitrate and ortho-phosphorous in de-nitrification filter applications. No sample filtration is required if solids are below 150 ppm and turbidity is under 50 NTU. Accessories are available for mixed liquor applications with high solids and turbidity.
Applied Spectrometry Associates Inc.
Waukesha, WI
Tel: 262-717-9500
Web: www.chemscan.com
Blower package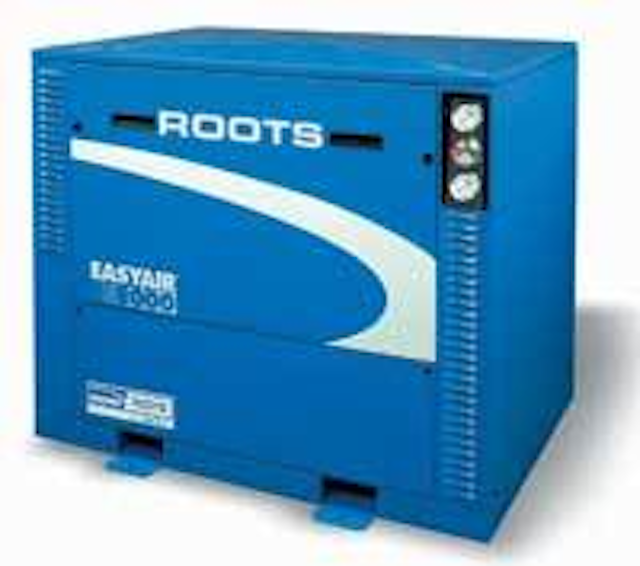 Click here to enlarge image
A new factory-engineered blower package, designed to operate 8,000 hours or more between scheduled maintenance, has been introduced by Dresser Roots. Its EasyAirTM8000 is a compact, pre-assembled, skid-mounted blower unit with all piping, valves, and instrumentation in place. Produced for both vacuum and pressure applications, the new package features a powder-coated noise enclosure for durability and quiet operation plus easy access for service/maintenance.
Dresser Roots
Houston, TX
Tel: 877-363-7668
Web: www.rootsblower.com
MBR technologies
Siemens Water Technologies has introduced a new membrane bioreactor (MBR) technology that integrates an expansive portfolio of biological processes with membrane filtration. This new, small footprint, integrated system combines Memcor® membrane operating system units with Envirex® biological technologies such as the Orbal® and VLR® systems, aerated anoxic process and Cannibal® solids reduction process to provide a full line of membrane bioreactor (MBR) processes.
Siemens Water Technologies
Waukesha, WI
Tel: 262-547-0141
Screenings conditioner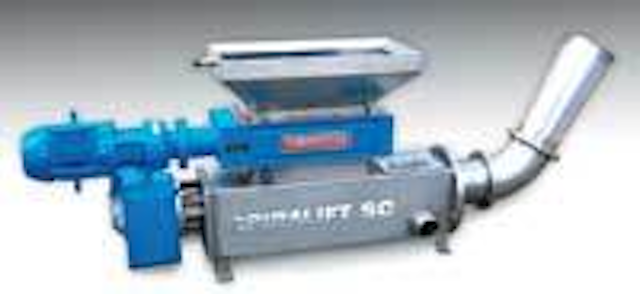 Click here to enlarge image
The Spiralift SC8500 Screenings Conditioner is the newest addition to Franklin Miller's line of screw screening devices. The SC offers the same washing performance as the larger SC1600 but with a lower headroom profile for smaller applications and installation in tight plant locations. The unit takes screenings discharged from a bar screen and washes, grinds, compacts, de-waters, and discharges them into a container for disposal.
Franklin Miller Inc.
Livingston, NJ
Tel: 973-535-9200
Web: www.franklinmiller.com
E. coli test method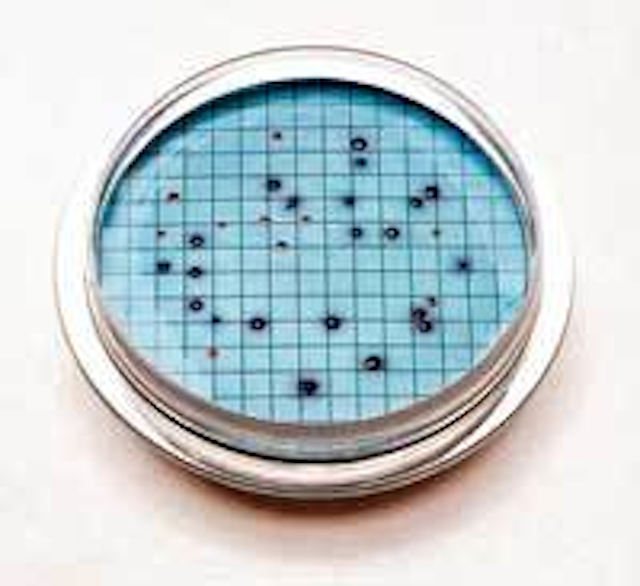 Click here to enlarge image
The Hach m-ColiBlue24® analytical method has received pre-publication approval from the United States Environmental Protection Agency for monitoring of Esherichia coli (E. coli) in wastewater. In addition to the recent pre-publication approval, the system is also EPA approved for monitoring of E. coli and total coliforms in Drinking Water and Ambient (Recreational) Waters.
Hach Co.
Loveland, CO
Tel: 800-227-4224
Web: www.hach.com
Aeration system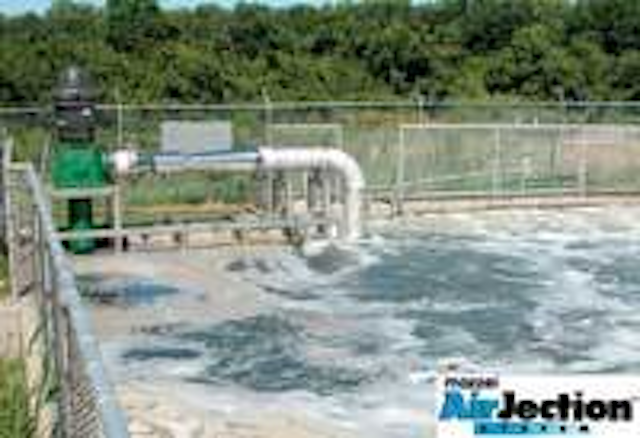 Click here to enlarge image
Mazzei's AirJection® Aeration System uses patented technology to provide the efficient transfer of oxygen into wastewater basins. The system features a low speed pump with corrosion resistant 316 stainless steel air injectors at the basin surface, and subsurface, non-fouling, basin mixing nozzles. The process aspirates air and provides small bubble mixing at the same time without the use of a blower.
Mazzei Injector Corp.
Bakersfield, CA
Tel: 661-363-6500
Web: www.mazzei.net
MBR system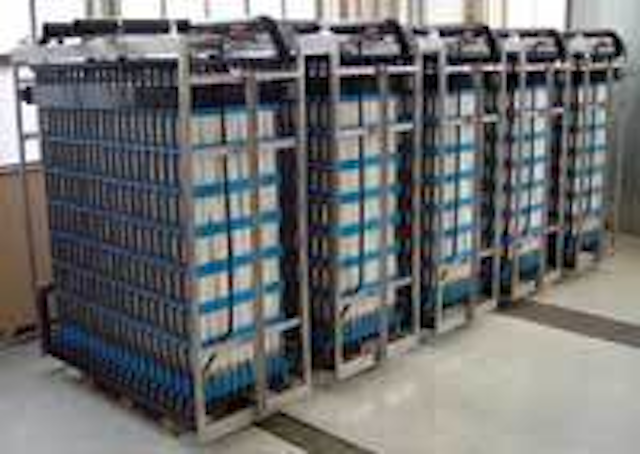 Click here to enlarge image
Koch Membrane Systems (KMS) offers the PuronTM submerged membrane modules for membrane bioreactor (MBR) treatment of municipal and industrial wastewater. These technologically advanced membrane modules remove solids and meet stringent effluent requirements, while using less space than conventional alternatives. The Puron aeration system from KMS ensures optimal solids management, high flow rate and reliable operation, while using up to 50 percent less energy than other MBR systems.
Koch Membrane Systems Inc.
Wilmington, MA Tel: 888-677-5624 Web: www.kochmembrane.com
Energy recovery system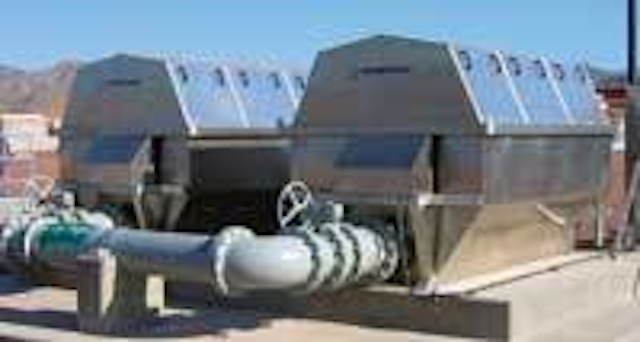 Click here to enlarge image
I. Kruger Inc. specializes in providing high-efficiency, small footprint processes for water and wastewater treatment including the BioCon® Energy Recovery System (ERS) which allows wastewater treatment plants to capture the energy value from dried biosolids. Its Hydrotech Discfilter system is Title 22 Approved, compact, and features simplified controls and O&M. With its space-saving design, it is a solution for tertiary treatment, water reuse and process water filtration.
I. Kruger Inc.
Cary, NC
Tel: 919-677-8310 Web: www.krugerusa.com
Phosphorus removal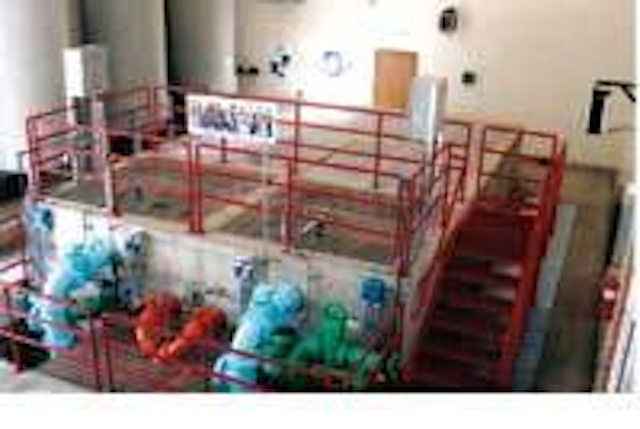 Click here to enlarge image
The Blue PROTM process removes phosphorus from wastewater streams to meet the most stringent permit limits. Typical applications are tertiary treatment for phosphorus removal and wastewater facilities that desire Class A Reuse water. The process works on both high and low influent concentrations of phosphorus. Blue Water Technologies operates a wastewater research facility with access to 1 mgd daily of domestic effluent for continual product optimization. The company offers mobile skid units starting at 10,000 gallons per day. Budgetary estimates are available for any flow rate.
Blue Water Technologies
Hayden, ID
Tel: 888-710-2583
Web: www.blueh2o.net
WWTP simulator
Hydromantis specializes in the development and application of software products for environmental engineers in the water and wastewater industry. Its flagship program, GPS-X, is a dynamic WWTP simulator and is used to improve plant performance. The company provides custom operator interfaces to allow access to WWTP models. This is ideal for training and for plant operations staff to evaluate alternative control strategies, including altering RAW or WAS rates, taking tanks out of service, and investigating new treatment technologies, to mention a few. GPS-X is ideal for BNR and hybrid system evaluations.
Hydromantis Inc.
Hamilton, Ontario
Tel: 905-522-0012
Web: www.hydromantis.com
Sludge level detector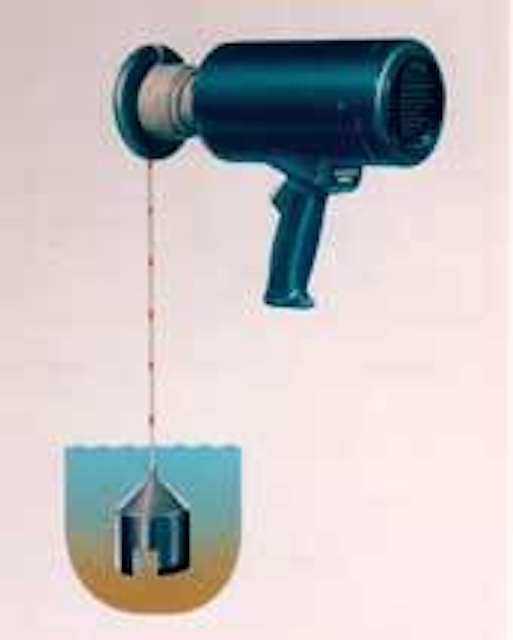 Click here to enlarge image
The hand held Sludge Gun® from Markland can be used to find sludge levels in lagoons, ponds, clarifiers, septic tanks or any other process where there is a sludge/liquid interface. The design is portable, rugged and weather proof. Sensitivity is adjustable for thick or thin sludges.
Markland Specialty Engineering Ltd.
Toronto, Ontario
Tel: 416-244-4980
Web: www.sludgecontrols.com
Sewage grinders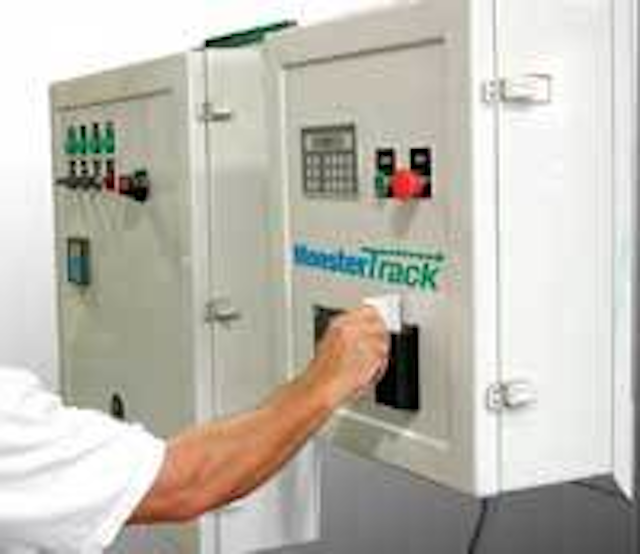 Click here to enlarge image
The MonsterCare service program from JWC is designed to help municipal utility customers maintain their Muffin Monster® sewage grinders. The program provides coverage for cutters, reducers, shafts, bearings, seals and many other components inside the grinder, and even includes coverage for standard shipping. When the time comes, grinders are repaired by factory professionals at the nearest JWC facility, and are repaired using genuine Monster parts to ensure the unit operates at peak efficiency.
JWC Environmental
Costa Mesa, CA
Tel: 800-331-2277
Web: www.jwce.com
Blower control system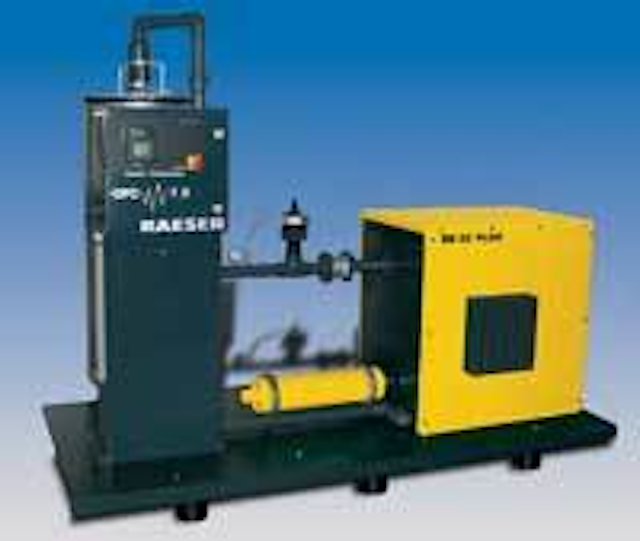 Click here to enlarge image
Kaeser's new Omega Frequency Control for positive-displacement blower packages continuously adjusts the blower speed - precisely matching blower delivery to the actual process flow demand. OFC units also offer enhanced controls through a variety of signal inputs, outputs and a Profibus connection. The controllers can be used with a variety of process followers such as vacuum transducers, pressure transducers, and dissolved oxygen sensors.
Kaeser Compressors Inc.
Tel: 800-777-7873
Web: www.kaeser.com/omega
MBR system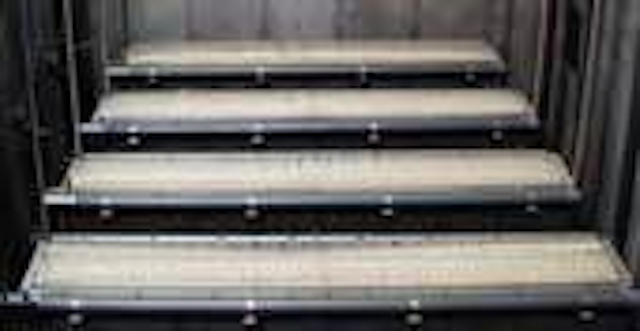 Click here to enlarge image
Enviroquip, a division of Eimco Water Technologies, was the preferred supplier for the membrane bioreactor (MBR) system used in the Oregon Health and Science University's River Campus One building that is expected to achieve LEED (Leadership in Energy and Environmental Design) Platinum status. If the project achieves this rating, it will be the largest LEED Platinum certified building in the United States.
Enviroquip, a Div of Eimco Water Technologies
Austin, TX
Tel: 512-834-6000
Web: www.enviroquip.com
Filtration system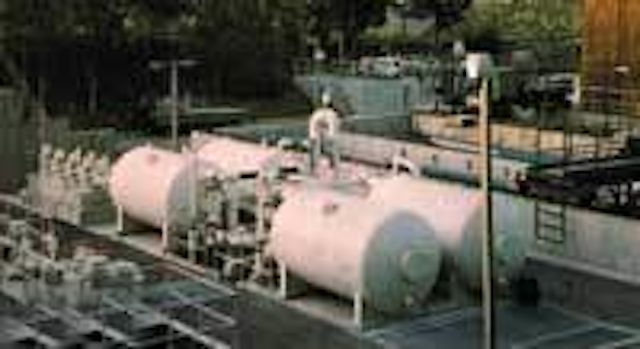 Click here to enlarge image
Filtronics Electromedia® IV wastewater treatment system is formulated for the filtration of secondary sewage effluent waters containing suspended and settleable solids in the order of 50 ppm. When filtered with EM-IV the result is filtrate qualities of less than 5 ppm suspended solids as measured on a one micron millipore paper. No alum or polymer is required as a filter aid.
Filtronics, Inc.
Anaheim, CA
Tel: 714-630-5040
Web: www.filtronics.com
Oxidation ditch system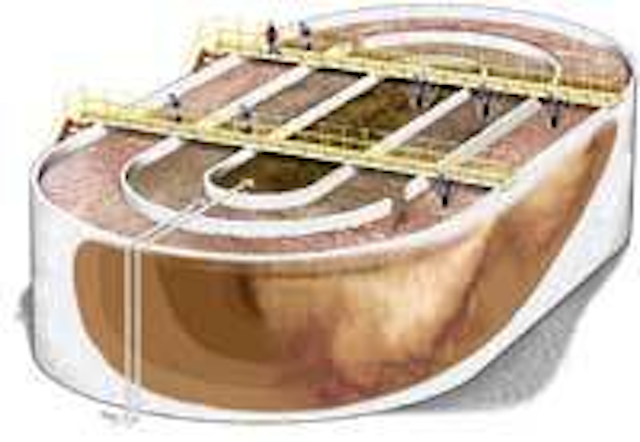 Click here to enlarge image
The Tri-Oval® System from Aeration Industries provides control of the activated sludge process. The system's dual-function Aire-O2 Triton® aerator/mixers drive fine bubble aeration and complete mixing to 33 feet deep. The footprint can be shrunk to only 30-50% of a conventional ditch area. Independently adjustable aerator/mixers provide improved process control allowing for full biological nutrient removal of nitrogen and phosphorus.
Aeration Industries International Inc.
Minneapolis, MN
Tel: 800-328-8287
Web: www.aireo2.com
Mixing equipment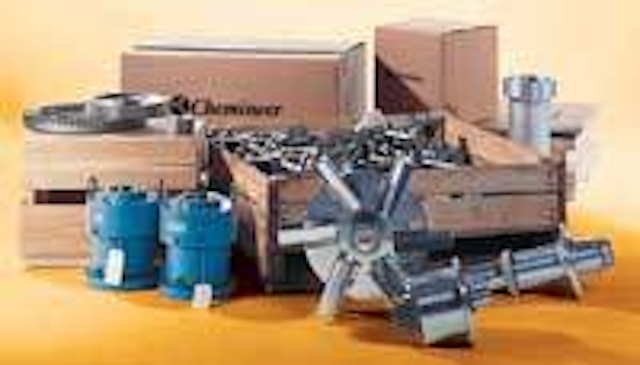 Click here to enlarge image
Chemineer offers an aftermarket program designed to extend the service life of mixing equipment. The program includes an extensive inventory of critical parts readily available for emergency shipping within 24 hours to minimize downtime, and a trained team of field engineers and aftermarket specialists available 24/7. A web-based Parts Online program provides access to thousands of replacements parts for increased accuracy and speed of selection and order entry.
Chemineer Inc.
Tel: 800-643-0641
Dayton, OH
Web: www.chemineer.com
Denitrification system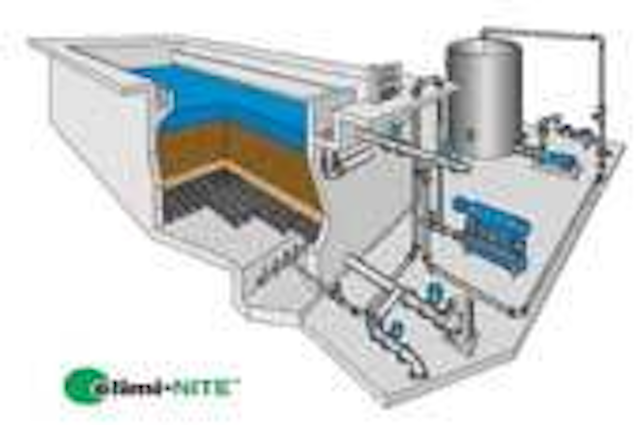 Click here to enlarge image
The Leopold elimi-NITETM Denitrification System uses the advantages of deep bed, mono-media filters to remove nitrogen and suspended solids in wastewater effluent. The gravity, downflow, packed-bed denitrification system is an attached growth, microbiological process which removes nitrate-nitrogen, achieving levels below 1 mg/liter. Physically, it is identical to a deep-bed downflow sand filter with Leopold® Type S® Dual Parallel Lateral Underdrain and silica media.
F.B. Leopold Co., ITT Water Treatment
Zelienople, PA
Tel: 724-452-6300
Web: www.fbleopold.com
Wastewater treatment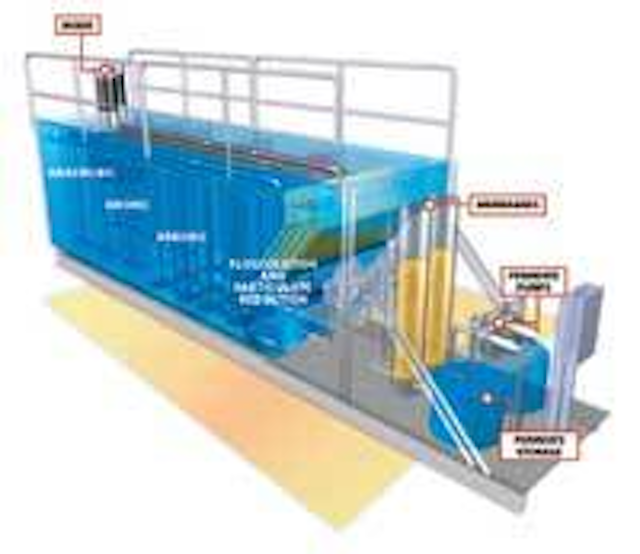 Click here to enlarge image
IMASTM (Integrated Membrane Activated Sludge), available from Ashbrook Simon-Hartley, has met the compliance criteria set forth by the State of California for water recycling under the Title 22 standard. A recent study at the Eastern Municipal Water District's Perris facility confirmed the technology's ability to meet these strict water quality criteria. The technology provides membrane quality effluent, while minimizing capital and operating costs by individually optimizing the performance of the biological and membrane filtration unit processes.
Ashbrook Simon-Hartley
Houston, TX
Tel: 800-362-9041
Web: www.as-h.com
Blower package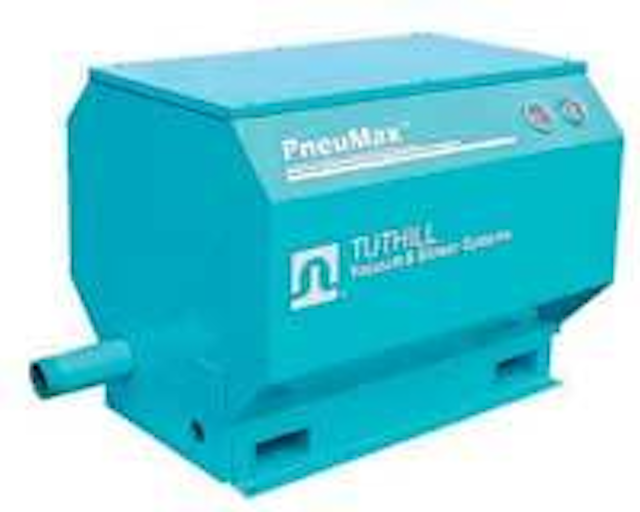 Click here to enlarge image
Tuthill Vacuum & Blower Systems' PneuMax line of low-noise rotary blower packages, including the new model 6008 Competitor® blower, are perfect for wastewater aeration. The new model increases the flow capacity of the company's PneuMax line of low-noise blower packages to the 800 CFM range, with operating pressures to 15 PSIG or vacuum levels to 16" Hg.
Tuthill Vacuum & Blower Systems
Tel: 800-825-6937
Web: http://vacuum.tuthill.com
Jet aeration system
MTS/Mass Transfer Systems designs and manufactures the MTS jet aeration and the Multi-AspiratorTM submersible aspirator products for industrial and municipal water and wastewater treatment. The company specializes in design, manufacture, installation and start-up of aeration systems for biological wastewater treatment processes for both new and existing basins, including a variety of industrial mixing applications as well as submersible self-aspirating aerators.
Mass Transfer Systems
Walpole, MA
Tel: 508-660-9150
Web: www.mtsjets.com
Membrane bioreactor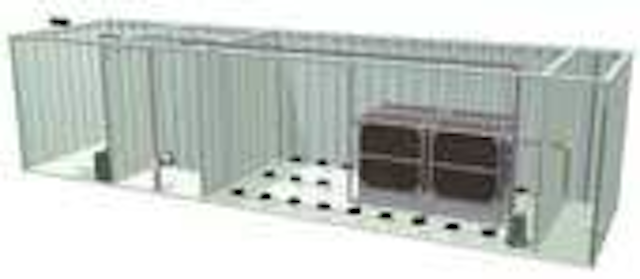 Click here to enlarge image
Titan MBRTM marries the wastewater treatment engineering expertise of Smith & Loveless with Flat-Plate Membranes. Submerged in the aeration section of the MBR tank, the S&L Flat-Plate Membrane - rated at the microfiltration level - maintains high permeability and flux rates even at peak-day rates. Because the system employs air scouring to prevent fouling, it does not require back-pulsing or the associated equipment and chemical costs typical of other systems.
Smith & Loveless
Lenexa, KS
Tel: 913-888-5201
Web: www.smithandloveless.com
Optical DO sensor
Click here to enlarge image
WTW has introduced the new FDO 700 IQ Dissolved Oxygen Sensor, the next generation of optical D.O. sensing technology. The sensor eliminates constraints and inherent weakness associated with first generation optical sensors and requires less maintenance. The sensor features Intelligent Membrane Technology (IQMC) - each membrane is individually calibrated, all data is stored within a memory chip permanently affixed to the membrane and transmitted when connected to the sensor.
WTW
Woburn, MA Tel: 800-645-5999 Web: www.wtw.com
Batch reactor system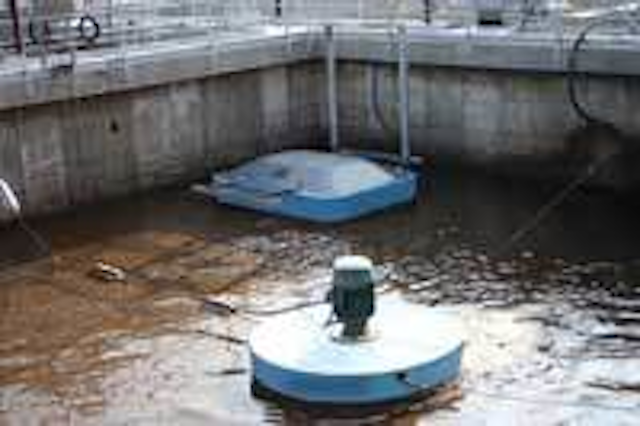 Click here to enlarge image
Aqua-Aerobic Systems has introduced the AquaExcelTM batch reactor system which incorporates the benefits of the AquaSBR® system with advancements in effluent decanting, and process monitoring and control. The new system incorporates the AquaEnsure® decanter, an effluent withdrawal system. It also features the IntelliPROTM process management control system.
Aqua-Aerobic Systems Inc.
Rockford, IL Tel: 815-654-2501 Web: www.aqua-aerobic.com
DO analyzers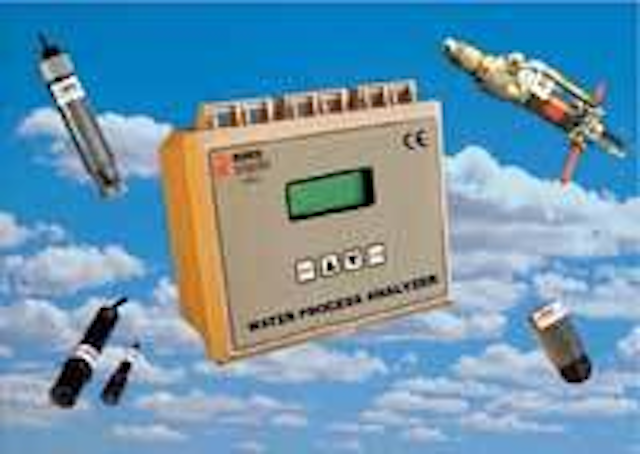 Click here to enlarge image
The Royce Series 8000 continuous Dissolved Oxygen/Suspended Solids Analyzers combine Royce technologies in a family of multi-channel and multi-parameter instruments. These analyzers and their appropriate sensors reduce per-point monitoring costs while providing reliability. They are available in both multi parameter single channel and multi-parameter dual channel versions for both DO & TSS monitors and controllers. The analyzers can be used to monitor and/or control aeration basins. The DO channels can use any Royce DO sensor including the Model 96 Electro-Chemical Self-Cleaning sensor.
Royce Technologies/ITT Industries
Charlotte, NC
Tel: 800-347-3505
Process monitor, control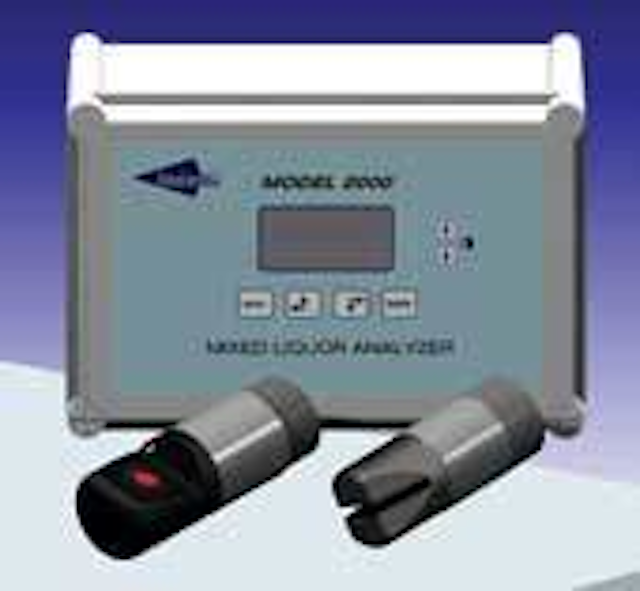 Click here to enlarge image
Dissolved oxygen and suspended solids are two of the most important controllable parameters in any biological reactor. Stabilizing these two parameters will reduce operation costs and enhance process performance. Insite Instrumentation Group's Model 2000 will make both of these crucial measurements. The dissolved oxygen sensor is an optical design that eliminates the need for replaceable membranes, sensor caps, cartridges, and fill solutions. The system does not require initial calibration. It uses the fluorescence properties of a rare earth element to detect dissolved oxygen.
Insite IG
Slidell, LA
Tel: 985-639-0006
Web: www.insiteig.com