Using Low-Pressure Membranes to Achieve Surface Water Treatment Rule Compliance
The City of Healdsburg owns and operates a municipal water system in Sonoma County, CA, that serves a population of approximately 12,000.
May 1st, 2007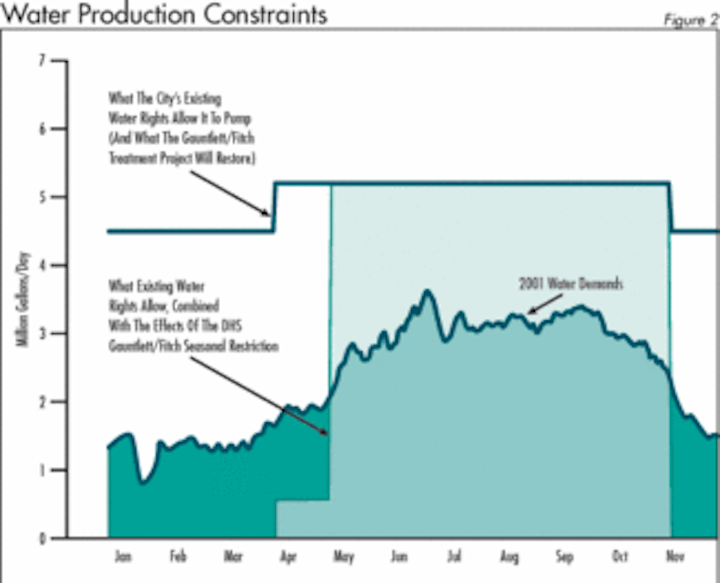 by Sunny Yoshitomi, Craig Olson and Kevin Kennedy
The City of Healdsburg owns and operates a municipal water system in Sonoma County, CA, that serves a population of approximately 12,000. Potable water is supplied by the Dry Creek, Fitch and Gauntlett well fields, each with four or five active wells. The Fitch and Gauntlett well fields are located along the Russian River and account for more than two-thirds of Healdsburg's total raw water supply. Raw water from the fields is categorized as groundwater under the direct influence of surface water.
Total production capacity of the three well fields exceeds 6 million gallons per day (mgd). Peak day demands are typically on the order of 4.5 mgd. Prior to 2005, no treatment other than aquifer filtration and chemical addition (chlorine, ortho-phosphate and fluoride) was provided.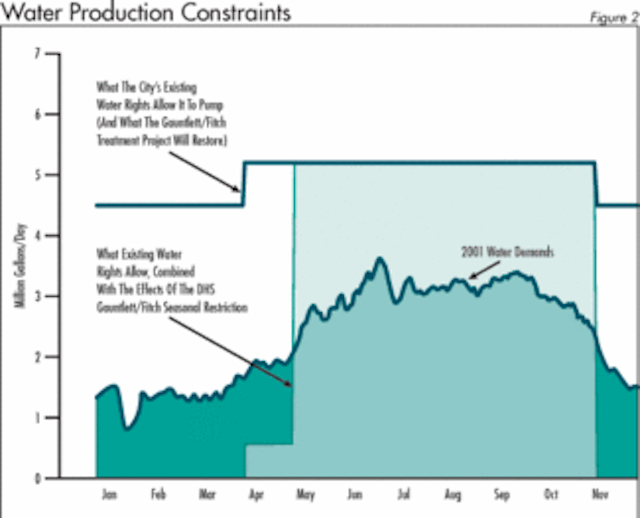 Click here to enlarge image
In June 1999, the California Department of Health Services (DHS) reissued Healdsburg's Domestic Water Supply Permit, which included seasonal restriction on use of the Fitch and Gauntlett well fields. DHS determined these sources failed to consistently and reliably produce water that met turbidity performance standards during times of high river flow. The city was subject to several boil-water notices prior to commissioning of the Dry Creek well field because of turbidity spikes during storm events.
After commissioning the Dry Creek well field, water produced from two of its highest producing wells was found to contain high levels of manganese (greater than 0.3 mg/L). This was problematic since DHS was expected to change manganese from a secondary to primary standard, which would eventually necessitate manganese treatment at the Dry Creek well field.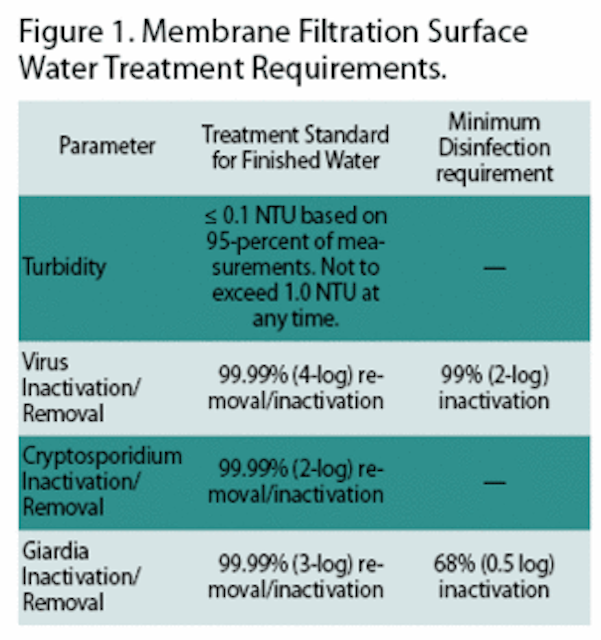 Click here to enlarge image
To address the water quality challenges, the city decided to adopt a multi-barrier water treatment system. Membrane filtration was the only technology considered for this application since it provides a reliable physical barrier against pathogens compared to conventional coagulation/filtration technologies.
Pilot Testing
City staff and HDR conducted a membrane pilot study to evaluate direct membrane filtration using groundwater from the Fitch well fields. Pilot study objectives were to demonstrate compliance for this specific source-water application, establish design and operating criteria for full-scale application, demonstrate the use of oxidants for iron and manganese removal, facilitate regulatory approval and provide the opportunity for operators to become familiar with the technology. Pilot testing occurred over a three-month period between late February and May 2002. Four low-pressure membrane filters, three positive-pressure-driven and one vacuum-driven, were piloted.
Pilot testing results demonstrated the following:
All four membranes tested were effective in treating source groundwater to achieve the greater than 2.0 log removal of Giardia and Cryptosporidium.
Sodium hypochlorite and potassium permanganate addition allowed for effective removal of iron and manganese.
Groundwater quality allowed for operation at higher than normal fluxes for three of the four manufacturers.
Selected Systems
HDR recommended that the city proceed with design of a full-scale 2.6 mgd facility that could be expanded to 4.9 mgd by adding additional membrane skids. A new low-pressure membrane, Continuous Microfiltration-Low Pressure (CMF-L), supplied by US Filter/Memcor (now Siemens Water Technologies), was selected based on bid results.
Completed Project
Total construction cost for the new facility was approximately $3.7 million. At the time of completion, only 13 facilities in the United States used CMF-L membranes in various planning, design, construction and operating stages. Healdsburg's facility has been in operation since October 2005 and has the largest capacity among the 13 facilities.
To date, two membrane chemical clean-in-place (CIP) cycles have been conducted to restore transmembrane pressure (TMP) to acceptable levels by removing accumulated scale and organic material from the membrane fibers. The CIP cycle can be automatically requested by each skid, but is normally initiated manually by a city operator. CIP cleaning uses sulfuric acid and sodium hypochlorite solutions, which are recirculated in a closed loop through the membrane modules.
Compared with standard US Filter/Memcor or similar membranes, advantages of CMF-L membranes include higher capacity, lower average TMP at comparable water production rates, lower backwash pressure and less frequent chemical cleaning requirements. Operating data indicates that CMF-L membranes reduce energy and chemical costs by approximately 15 percent compared to CMF or other similar membranes.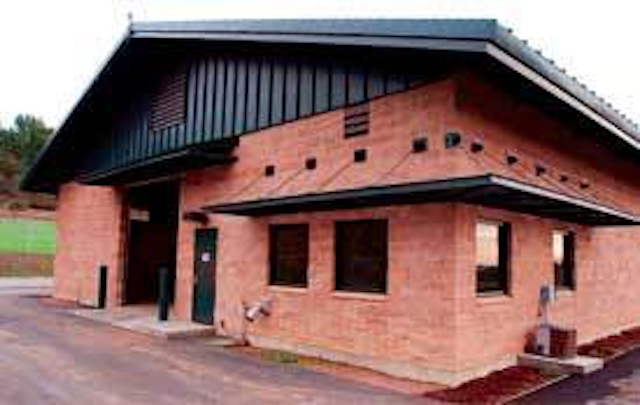 Click here to enlarge image
The Gauntlett well field is the only well site connected to the CMF-L treatment plant. The Fitch well field will be connected to the treatment plant as part of the Phase II effort, tentatively scheduled for 2008. In the interim, the Fitch well field will continue seasonal operation.
Water produced at the Gauntlett well field is injected with chlorine, sodium fluoride and ortho/polyphosphate solution prior to entering the Gauntlett Reservoir. From the reservoir, feed water flows through the microfiltration treatment plant and finished water flows to the Panorama Reservoir. Chlorination, fluoridation and corrosion control/sequestration treatment is now housed and dosed next to the Gauntlett Reservoir. However, the city plans to move this equipment and the dosing point to the microfiltration treatment plant.
The microfiltration treatment plant consists of three CMF-L pressure skids, which use a polyvinylidene fluoride hollow fiber with outside-in flow. Each membrane skid has 105 membrane modules. Each module contains approximately 9,600 hollow-fiber filtration membranes. The three units provide a combined capacity of 2.6 mgd at an average flux of 34.6 gallons per square foot per day (gfd) with all three skids in service. CMF-L has been credited with a 4-log removal credit of Giardia and Cryptosporidium cysts, and a 1.5-log removal credit for viruses, with a maximum flux of 52 gfd and maximum TMP of 22 psi. The facility is capable of producing the full 2.6 mgd with two of the three skids in service at a flux of 52 gfd. Because the CMF-L technology is an approved alternative treatment technology, year-round operation of the microfiltration treatment plant is permitted, subject to the compliance provisions specified in the permit.
All equipment is housed within a new building situated above the Panorama Reservoir. Water flows by gravity from the 700,000 gallon Gauntlett Reservoir, which serves as a dedicated raw water storage reservoir. The treatment train includes two Amiad 500 micron prefiltration strainers, which primarily provide membrane protection.
Acknowledgments
The authors would like to thank Paul Delphos, HDR Norfolk, for the contributions and insight he provided during the preliminary design, pilot testing and final design efforts.
About the Authors:
Sunny Yoshitomi is a water/wastewater engineer, Craig Olson is the Sacramento section manager for water and Kevin Kennedy is the section manager for water management and planning, all with HDR. All three are based in HDR's Folsom, CA, office. They can be reached via e-mail at sunny.yoshitomi@hdrinc.com, craig.olson@hdrinc.com or kevin.kennedy@hdrinc.com.