Packaged Membrane Filtration System Provides Optimum Solution For Historic Resort
With the installation of a new submerged packaged membrane filtration system to treat spring water, Virginia's Homestead Water Co.
May 1st, 2007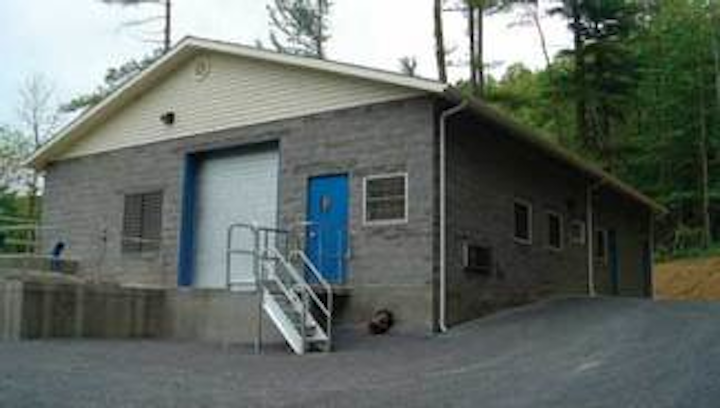 by Lisa Sorgini
With the installation of a new submerged packaged membrane filtration system to treat spring water, Virginia's Homestead Water Co. now has a robust system and an important pathogen barrier in place to protect public health while providing cost effective water treatment for the nation's oldest destination resort.
Chlorination had long been the only treatment necessary for the spring water that serves The Homestead, a popular resort in the Allegheny Mountains of southwestern Virginia. However, after the EPA determined that the springs are under the influence of surface water, treatment requirements became more stringent and the resort's private water company needed to find a filtration system that would meet the new requirements. In addition, the new system would need to be both cost effective and easy to operate.
After careful evaluation, the company's consulting engineer recommended a treatment system that included a submerged membrane filtration system in a pre-engineered configuration. The flexible packaged system became fully operational on May 1, 2006. Today, the plant is providing the resort with high quality drinking water in a much smaller footprint than would be required for conventional treatment.
Overview
The Homestead, America's oldest destination resort, is located approximately 170 miles west of Richmond, VA. The resort began providing guest accommodations in 1766, and today features 486 guestrooms, 88 suites, a large conference center, a spa featuring hot springs mineral baths, three championship golf courses, 10 ski slopes, an Olympic-size skating rink and many other amenities. Homestead Water Company, the private company established to serve the resort, also supplies water to about 420 additional area customers.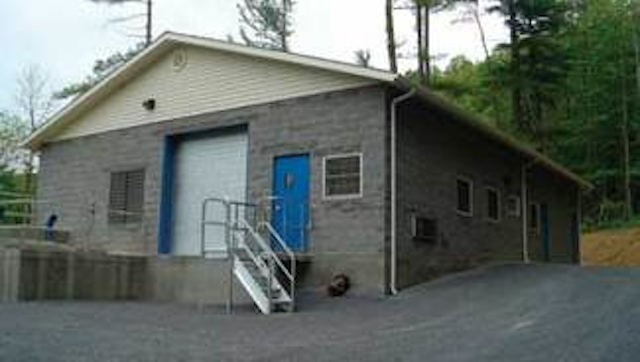 The packaged Memcor XS units are compact enough to fit into a small facility that also houses a SCADA system, feed water strainers and chemical systems.
Click here to enlarge image
The private water system is fed from springs on nearby Warm Springs Mountain. Water flows by gravity from all the springs except for one, where it is pumped to an 80,000-gallon reservoir and then gravity fed to the system. Combined, the water system delivers an average of 0.9 mgd and the resort typically uses about two-thirds of this volume. The water has a relatively consistent temperature of 55°F, and low turbidity ranging from less than 1.0 NTU to 2.0 NTU.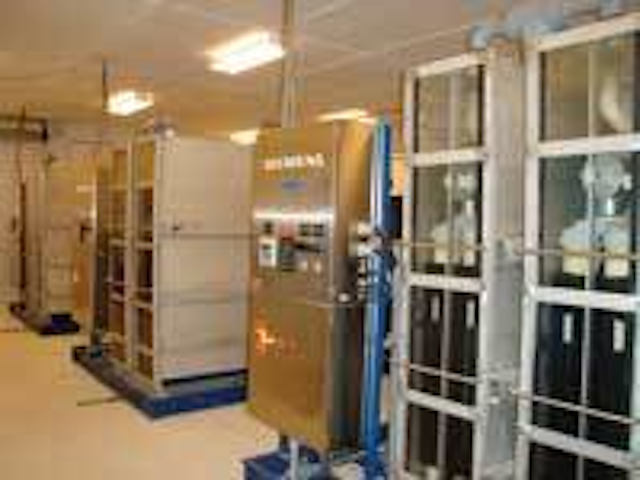 The filtration system at Homestead consists of three submerged packaged membrane units, each containing 48 oxidant-tolerant membrane modules.
Click here to enlarge image
When water company officials recognized the need for filtration to provide a barrier against pathogens and bacteria to meet the requirements of the Surface Water Treatment Rule (SWTR), they hired consulting engineers Mattern & Craig of Roanoke, VA. After studying various treatment alternatives, the consulting engineers recommended low-pressure membrane filtration, as this technology is now a widely accepted alternative to media filtration and meets the requirements of LT2SWTR. Also, ongoing developments in membrane technology have reduced capital and operating costs, thus allowing smaller communities to benefit from advanced water treatment systems. Although the installed cost of membranes is very comparable to that of granular media filters, membranes provide the advantage of an absolute barrier against Cryptosporidium, Giardia and bacteria.
"Because of our high quality source water, it was determined that a membrane system would also allow us to treat our water to meet the necessary standards without the need for any chemical or mechanical pretreatment," said Roger Waldeck, vice president of engineering for The Homestead. "This would not only reduce chemical costs, but also help simplify operations and maintenance, which was a very important consideration because we did not want to add staff."
Packaged System
Following a comprehensive evaluation, the consulting engineer recommended the Memcor® XS submerged packaged membrane filtration system. This pre-engineered, skidded system from Siemens Water Technologies is pre-wired, pre-piped and factory tested before shipment.
The filtration system consists of three submerged packaged membrane units, each containing 48 oxidant-tolerant membrane modules. The serviceable membrane module contains thousands of hollow fibers surrounded by a protective plastic screen and potted at both ends. Each unit will produce 200-400 gpm, for a total capacity of 1.3 mgd. A vacuum, using suction pumps, is applied to draw water through the membrane fibers. Any particle larger than 0.04 micron - the pore size of the Memcor fiber - is retained on the membrane surface.
The 48 membrane modules in each unit are arranged in groups of four, or clovers. Six clovers comprise a rack, for a total of 24 modules on each of two independent racks. Filtrate and process air manifolds are connected to each rack. A dedicated filtrate suction pump is used for each unit to draw the feed water to the hollow fiber membranes, capturing all solids larger than 0.04 micron and collected filtrate on the inside, or lumen, of each fiber. Filtrate flows through the lumen of the hollow fibers, is collected at the top of each module and flows into the filtrate manifold, and is then sent to the clearwell.
The overall water treatment process includes a pre-strainer, 1.3-mgd membrane system, disinfection, office laboratory and lavatory contained within a 30 ft. X 44 ft. X 11 ft. block building. Additional facilities include a 72,000-gallon clearwell, high-service pumps and chlorine feed system.
"Everything is housed either in or underneath the building," Waldeck said. "Underneath it is our clearwell, which has a series of baffles so that our filtered water receives the proper chlorine contact time. Following chlorination, the finished water flows out of the clearwell and is pumped to a finished water reservoir that feeds our distribution system."
Reliable Performance
Since its start-up in May 2006, The Homestead Water Company's new membrane filtration plant has performed as anticipated and has consistently maintained turbidity of less than 0.025 NTU, well below the plant's permitted upper limit.
"We run all three membrane units 24 hours a day, seven days a week," Waldeck said. "Many places shut down their filters after their reservoirs become full, but our water use is so high we never shut down. We have run the plant as high as 1.4 mgd with no problems, but that was only for a short period after start-up when some of our tie-ins still needed to be cut off and changed out; we were actually recirculating some of our own water at that point. We ran the system pretty hard at first, but once we disconnected these lines, we were able to drop down to 0.9 mgd."
The new system has achieved long clean-in-place (CIP) intervals and high recoveries, and because it has operated for more than six months with little increase in transmembrane pressure (TMP), it has not needed frequent chemical cleanings.
Low Maintenance
The Memcor XS system is fully automated. Membrane integrity testing is performed automatically every 24 hours, and the Homestead system has never failed an integrity test. The system is also self-cleaning. A low-pressure air scour and liquid backwash removes the solids build-up on the membrane surface at regular, operator-adjustable intervals. The Homestead facility has set automatic backwash to run after every 11,000 gallons of water filtered.
Waldeck said the new plant is a low maintenance facility.
"Periodically, a chemical cleaning procedure (clean-in-place) is used to restore membrane performance, and this has been done just a few times. It's scheduled to be performed after about 1,500 hours of operation. We have more hours logged than that, but we haven't seen any increase in our TMP. Our current pressure decay readings are in the range of 0.06 to 0.09 psi/min (greater than 4.5 log-removal), which is very good."
Each membrane rack assembly can be pulled horizontally from the cell, providing ground-level access for service and significantly reducing ceiling height requirements (the minimum ceiling height is nine feet), compared to other systems of comparable capacity. Because each module weighs less than 15 lbs, only one plant operator is required to service them, and no overhead crane or lifting facilities are required.
An especially beneficial feature for the water company has been the new plant's SCADA system, which allows the automatically controlled plant to be monitored from remote locations.
"The SCADA system saves us from having to have someone at the plant around the clock," Waldeck said. "It gives us a complete picture of the plant in real time, and it's pretty simple to run. Both my operators also have computers in their homes and they log onto the system and check the operation of the plant at night. Plus, the hotel has the SCADA system on a computer in the hotel maintenance area, and hotel maintenance personnel make sure there are no alarms and that the plant is running smoothly during our third shift (11:00 pm to 7:00 am)."
Operating costs for the new membrane filtration system are low because it treats the resort's water without the need for chemical or mechanical pretreatment, and manpower requirements are relatively small.
"We knew our power costs would be higher with the new system because it's hard to beat the economy we had when we ran a complete gravity system all the way into the resort," Waldeck said. "However, we cut our chlorine usage in half once we started using the membranes."
Conclusion
By implementing the Memcor XS submerged packaged membrane filtration system, Homestead Water Company now has a cost effective, reliable filtration system to protect public health and meet SWTR requirements. The water company is also benefiting from the plant's local control system, ensuring that operating procedures for filtration, backwash, CIP and integrity testing are correctly carried out.
"It fits what we had in mind," Waldeck said. "We were initially concerned about the manpower requirements for a new facility. We wanted a system that would meet our treatment needs, but we didn't want to increase our manpower, and we haven't."
He adds, "The system is relatively easy to operate, plus our water is much clearer. The difference was like night and day when we first started up the new plant and took our first sample. The water just sparkles."
About the Author
Lisa Sorgini is the global brand manager of the Memcor product line within Siemens Water Technologies. Ms. Sorgini has worked in low-pressure membrane filtration since 1998, as both a design engineer and product specialist. She is a graduate of Worcester Polytechnic Institute in Worcester, Massachusetts, USA, where she received her degree in civil/environmental engineering. Ms. Sorgini currently serves as a member of the school's civil engineering advisory board, assisting in the development of curriculum for advanced alternative technologies, including membrane filtration. She can be reached at 508-849-4612 or at lisa.sorgini@siemens.com.