Mobile Computing Requires PCs "Ruggedized" for Working Environment
Advancements in wireless technology and software solutions are making more efficient field automation and collaboration widely accessible...
May 1st, 2007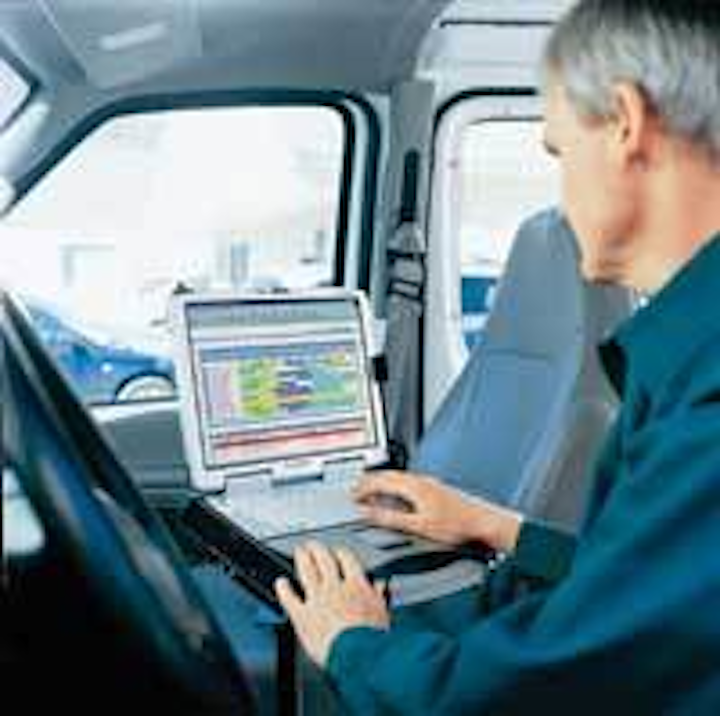 by Rick Elliott
Advancements in wireless technology and software solutions are making more efficient field automation and collaboration widely accessible to public and private water and wastewater organizations, and utilities are beginning to adopt the latest mobile computing solutions to streamline operations and improve customer service.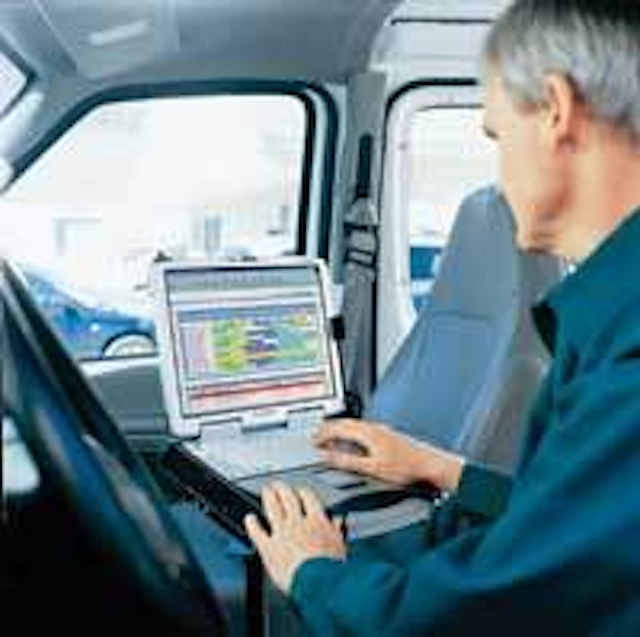 A field technician uses a Toughbook CF-29 to receive work orders in real-time from the cab of his truck.
Click here to enlarge image
There's a great deal to consider when looking to automate business processes - everything from software providers, implementation partners and internal training. This article will attempt to provide some guidance on a critical point where it all comes together: the device in a field tech's hand.
Mobility Requires Durability
There is no one size fits all computing solution and the temptation to standardize on a single device, while great, is typically not the right way to go. The end-user, the application, the use environment and requirements for data access can impact the form factor - the type of machine - and the kinds of wireless technology deployed.
Many organizations have learned the hard way that technologies built for the office and those built for the road are not created equal. As a result, rugged and semi-rugged notebook solutions are increasingly viewed as important to the success of mobile operations.
According to an October 2005 report by Venture Development Corporation, an average of 4% of rugged mobile computers used in harsh environments fail per year, while standard notebooks in similar environments fail at a rate of 36%. This is not surprising when you consider that industry estimates for business notebook failures - in non-extreme conditions - range from 15% to 23% per year.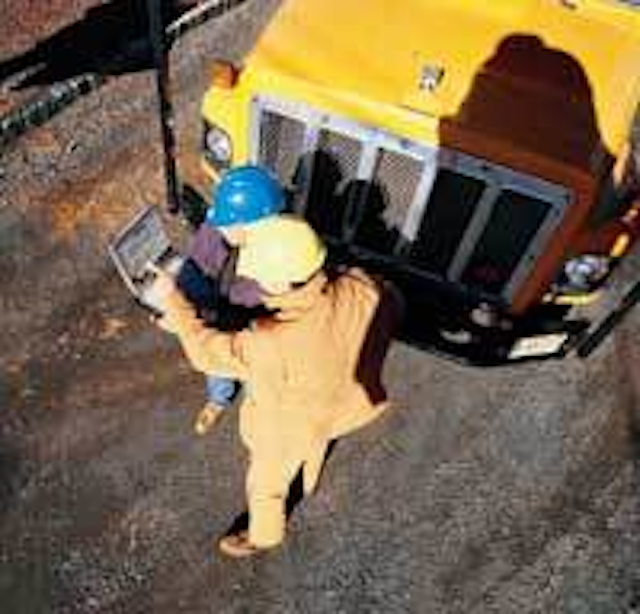 Two field technicians access critical maintenance and repair instructions from the field using a fully-rugged laptop computer.
Click here to enlarge image
Designed with features such as magnesium alloy cases, shock-mounted hard drives, long battery life and daylight-readable screens, "ruggedized" notebooks are engineered to withstand the most extreme conditions encountered by mobile workers. However, before diving headlong into the evaluation process, it's important to fully understand what makes a notebook "rugged."
What to Consider
There are a number of key considerations when evaluating vendor claims regarding durability and ruggedness.
Military Specification Testing: Because rugged computing got its start in military applications, there are specific criteria manufacturers must meet in order to call their products "rugged." The MIL-SPEC or MIL-STD-810F standard was developed to certify that devices can perform in a mission-critical military environment. For notebooks, relevant tests include vibration, moisture, extremes in temperature, drops, shocks and dust - all potential hazards a mobile notebook user might face.
Ingress Protection (IP) Ratings: Ingress Protection or IP ratings are done to provide guidance on the levels of exposure to liquid and dust that devices can withstand. Typically, in order to be called a rugged computer, devices should achieve an IP rating of 54, which is roughly the equivalent of being able to work in a steady rain or sandy environment.
Screen Brightness and Battery Life: Direct - and indirect - sunlight can make it very difficult to see notebook screens and so this is another key consideration. Screen brightness is measured in nits. A standard notebook designed for indoor use is likely to have a display rated at about 250-300 nits. Rugged notebooks destined for outdoor or in-vehicle use should have displays with upwards of 450 nits; however, keep in mind it is critical to achieve a balance between brightness or daylight-readability and the battery life you think you'll need between charges. A super-bright notebook with a 2-hour battery will likely not be an acceptable solution. That said, due to significant engineering advances, there are now notebooks that can offer up to 1,000 nit displays without compromising battery life.
Embedded Wireless: There are many wireless options available today to keep field workers productive outside the office. Wi-Fi technology or "hot spots" and mobile broadband solutions from cellular carriers can keep workers connected. GPS technology can support mapping, routing and other location-based services. Bluetooth technology can be used to support wireless printing, scanners or wirelessly attached test equipment.
The most reliable mobile computing devices are engineered to include integrated, or embedded, antennae, which typically provide higher performance. They are also designed into the machine from the beginning and, therefore, are subject to the same kinds of testing as the notebook itself.
Non-integrated wireless devices, such as add-on PC Cards, introduce a potential point of failure, reduce the user's ability to effectively manage battery life and even increase the risks of loss or theft. As a result, embedded solutions are generally preferred in field environments and rugged computer manufacturers are typically well-versed in integrating multiple technologies within a single device (see "Choosing the Right Wireless Solution" for more information about wireless options).
The reality is that most organizations use a variety of wireless technologies to promote success: Wi-Fi may be used in the yard, mobile broadband for remote connectivity and GPS to support GIS applications and asset tracking. Make sure your providers communicate clearly their approach to integrating multiple wireless technologies as part of a proposed solution.
Total Cost of Ownership (TCO): While it is tempting to make buying decisions based on price alone, these perceived savings can easily balloon to thousands of dollars in ownership costs due to lost productivity, the need for replacement parts, and labor resulting from unreliable solutions. Each time a user experiences a hardware failure, their organization's TCO rises.
Rugged and semi-rugged solutions are typically sold at a premium and it is widely held that this more than pays off through reduced TCO and operational improvements. TCO is especially significant in mobile deployments because of the higher risk of failure.
Making the decision to embrace computer technology is based on an expectation that solutions will work whenever and wherever needed. Therefore, it is also always wise to consider the quality and length of warranty programs, technical support and service packages. Factoring in the potential cost of downtime is a key way to justify investing up-front for purpose-built mobile computing solutions.
Making the Choice
When evaluating field automation projects, be very clear with your potential vendors and solution providers about your needs, and don't be afraid to hold their feet to the fire about why they think their solution is better. Closely evaluate their adherence to the standards noted above, understand and compare internal testing procedures and ongoing support plans. Finally, be sure to seek out third party references from customers or other industry insiders.
As with any business expense, the question of whether rugged computers are right for your utility is based on many considerations. Ultimately, the goal of any technology implementation should be to ensure that workers are given the right tools to help them be more effective in support of streamlined operations and improved customer service.
About the Author:
Rick Elliott is national manager of utilities, energy and communications industries at Panasonic Computer Solutions Company, manufacturer of Panasonic Toughbook mobile computers. He can be reached by e-mail at Richard_Elliott@us.panasonic.com.
---

Choosing the Right Wireless Solution
A wide variety of wireless technologies exist to provide utilities the means to effectively automate business processes. It is critical to map your wireless strategy with the end-user - and the environment they will likely be working in - in mind.
• Local Area Wireless, also known as wireless LAN, Wi-Fi or 802.11, is most commonly used on location at an office or specific, long-term job site. This technology can be easily and cost-effectively deployed with an off-the-shelf "access point" and can deliver data speeds ranging from 1.5 megabits per second (mbps) to 15 mbps. The cost to implement is fairly low, and the speed is more than suitable for sharing data, but the range of this technology is currently limited to within approximately 150 feet of the access point. Utilities often deploy Wi-Fi solutions to upload data when trucks re-enter the yard at shift's end.
• Wide Area Wireless, also known as Wide Area Networks (WAN) or mobile broadband, is becoming a more pervasive technology and best for use in more remote locations where the likelihood of finding a "hot spot" is limited. Designed to provide broader network access, these data services are available in most cellular voice areas. Previous industry standards, such as 1xRTT, GSM and GPRS (General Packet Radio Services), delivered speeds of 15 kilobits per second (kbps) to 40 kbps. Most wireless carriers, including Sprint, Verizon, Alltel and Cingular, now offer "next generation wireless" on EV-DO or EDGE/UMTS/HSDPA networks that are capable of delivering data speeds from 70 to 700 kbps. Some have achieved speeds of up to 2.0 mbps. Cost to implement is reasonably low, but currently most carriers charge a monthly fee in the $60 range.
• Specialized wireless services, such as the Global Positioning System (GPS) and Bluetooth, have fairly specific uses. In addition to helping navigate to the next job site, GPS can be integrated into field-automation applications to increase the efficiency of teams and allow supervisors to coordinate trucks just by looking at a map. Bluetooth is used to connect two devices that are within very close proximity of one another (less than one foot). In this way, a Bluetooth equipped notebook computer can connect with testing equipment, scanners or printers.