PRODUCTS & SERVICES: STORMWATER MANAGEMENT
The ClearWater BMP stormwater filter offers an advancement in sidewalk curb inlet filtration technology.
May 1st, 2007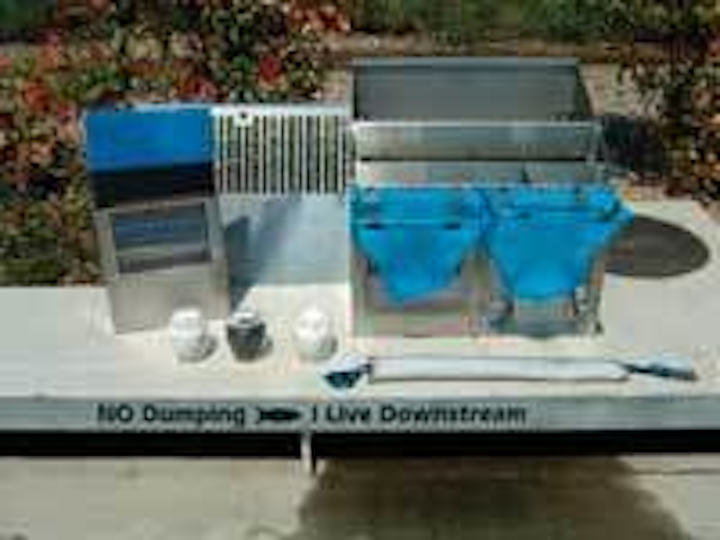 Stormwater filter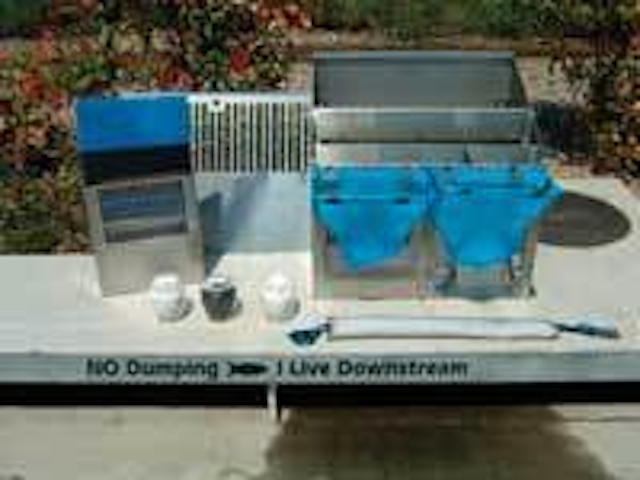 Click here to enlarge image
The ClearWater BMP stormwater filter offers an advancement in sidewalk curb inlet filtration technology. The patented, stainless steel filter train design allows stormwater flows to be screened, triple settled, and then filtered, all within the confines of an existing concrete curb inlet drain box. This design significantly reduces concentrations of trash, sediment, hydrocarbons, metals, and nutrients.
Clearwater Solutions Inc.
Vista, CA
Tel: 800-758-8817
Web: www.clearwaterbmp.com
Sampling system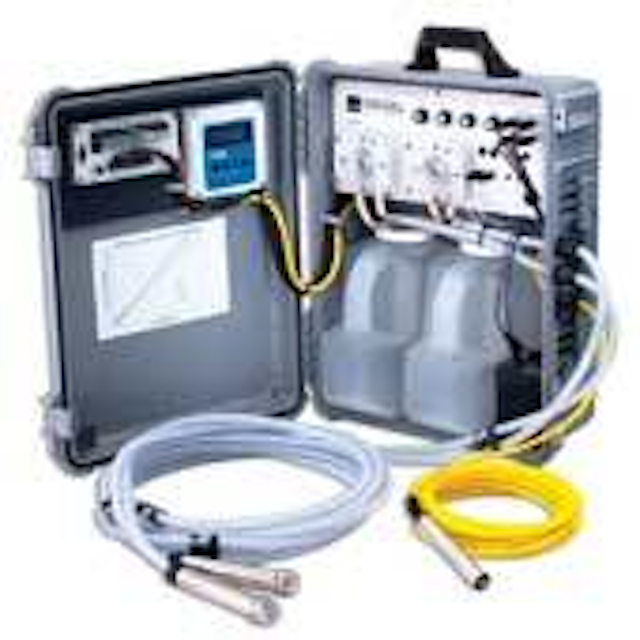 Click here to enlarge image
Global Water's Water Quality Sampling System includes a lightweight triggered-composite water sampler, a water quality process controller with dual output relays, and a data recorder that is Windows compatible. This compact package is portable for field installation and fully customizable to meet specific monitoring needs. The Water Quality Controller has two independent relays, one triggering the water quality sampler and the other for controlling all types of external devices including alarms, mixers, pumps, control valves, floodgates and telemetry systems.
Global Water Instrumentation
Gold River, CA
Tel: 800-876-1172
Web: www.globalw.com
Modeling software
XP Software now offers two-dimensional (2D) modeling, a major enhancement to its flagship product xpswmm. Engineers can now use embedded digital terrain modeling (DTM), and a proven 2D hydrodynamic modeling engine with the software's traditional 1D modeling in a single environment. It allows the modeler to evaluate the extent of urban and rural flooding in a visually appealing way that even non-technical observers can appreciate.
XP Software
Portland, OR
Tel: 888-554-5022
Web: www.xpsoftware.com
Stream bank protection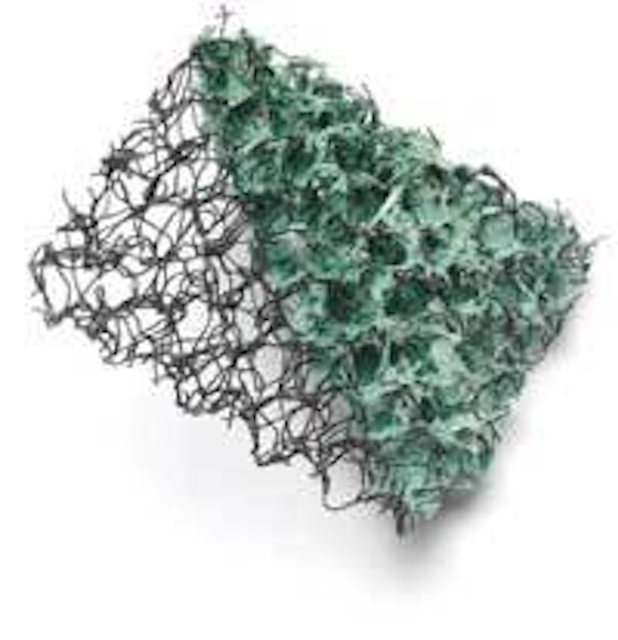 Click here to enlarge image
The new GreenArmorTM System, available from Profile Products, is an alternative to rock rip-rap and concrete for protecting slopes and channels. By combining Enkamat® Turf Reinforcement Mat (TRM) with Flexterra® Flexible Growth Medium (FGM), the system protects against elevated levels of hydraulic lift and shear forces on slopes and in channels while encouraging fast turf establishment and long-term root reinforcement.
Profile Products LLC
Buffalo Grove, IL
Tel: 800-508-8681
Web: www.profileproducts.com
Rainfall data logging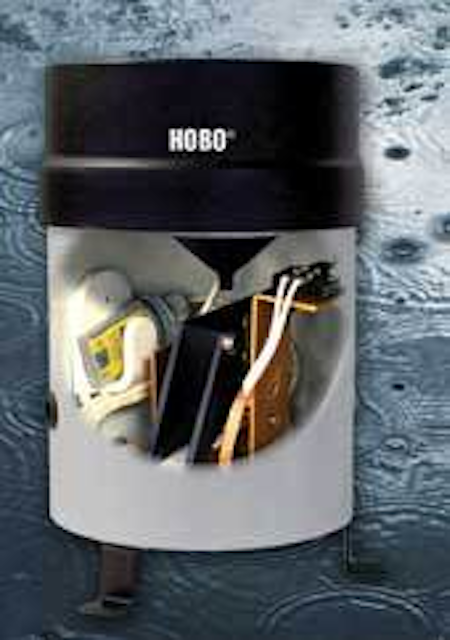 Click here to enlarge image
Onset Computer Corp. has introduced the Hobo® RG3, a new rainfall data logging system that combines a data logging rain gauge with a built-in data logger. The system enables stormwater managers and others to record rainfall data right out of the box without having to purchase and integrate multiple components. It records data with each tip of the rain gauge bucket − ideal in situations where peak rainfall rates need to be determined − and an internal temperature sensor enables the logger to be used in a solar radiation shield to measure temperature.
Onset Computer Corp.
Bourne, MA
Tel: 800-564-4377
Web: www.onsetcomp.com/hobo
Stormwater treatment
BaySaver Technologies has launched a new and improved website. The company has implemented a more user-friendly layout with expanded product descriptions for its two flagship products: BaySeparator and BayFilter. The site features clearer navigation, more focused content, and a cleaner user interface for enhanced usability.
BaySaver Technologies Inc.
Mount Airy, MD
Tel: 800-229-7283
Web: www.baysaver.com
Stormwater detention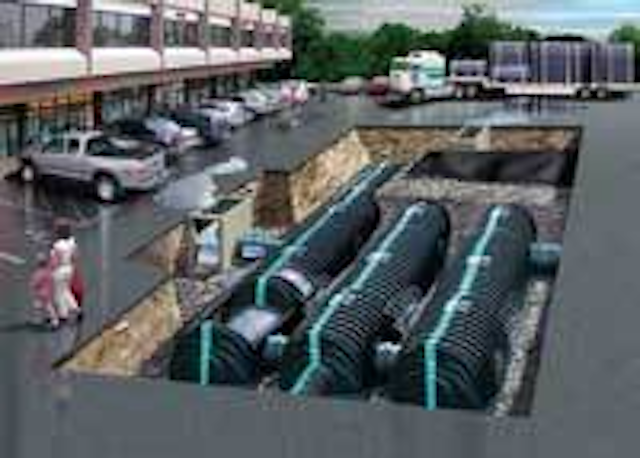 Click here to enlarge image
Cultec's new Recharger® V8TM stormwater detention/retention chambers are designed to increase the water storage capabilities of underground stormwater systems. With a capacity of more than 25% greater than other models, the system's chambers can be used for retention, detention, recharging, or controlling the flow of on-site stormwater run-off.
Cultec Inc.
Brookfield, CT
Tel: 800-428-5832
Web: www.cultec.com
Stormwater engineering
Boyle Engineering has extensive experience helping communities across the country solve a variety of stormwater issues. From a simple review of municipal stormwater management practices to the development and implementation of stormwater utilities, the company's experience encompasses the full spectrum of stormwater services.
Boyle Engineering Corp.
Orlando, FL
Tel: 407-513-8270
Web: www.boyleengineering.com
Stormwater management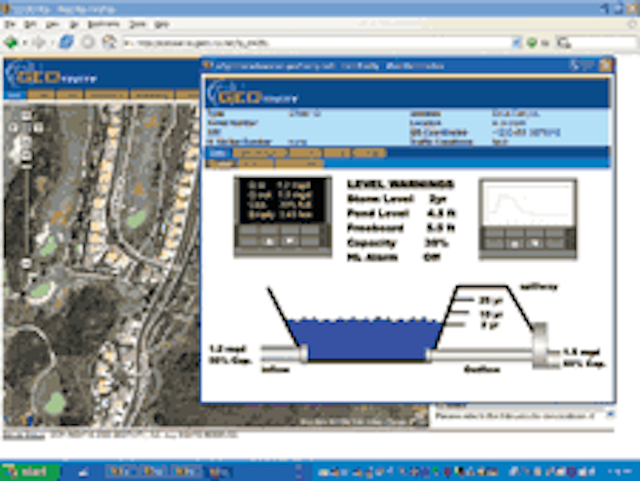 Click here to enlarge image
GEOtivity's goal is to provide urban centers with proactive stormwater management tools that allow preventative action to be taken before the storm has even arrived. To this end, the company has developed its Virtual Rain Gauges. The gauges combine live weather surveillance radar data with site rain gauges to produce predictions of storm events.
GEOtivity
Kelowna, BC, Canada
Tel: 866-722-3261
Web: www.geotivity.net
Stormwater storage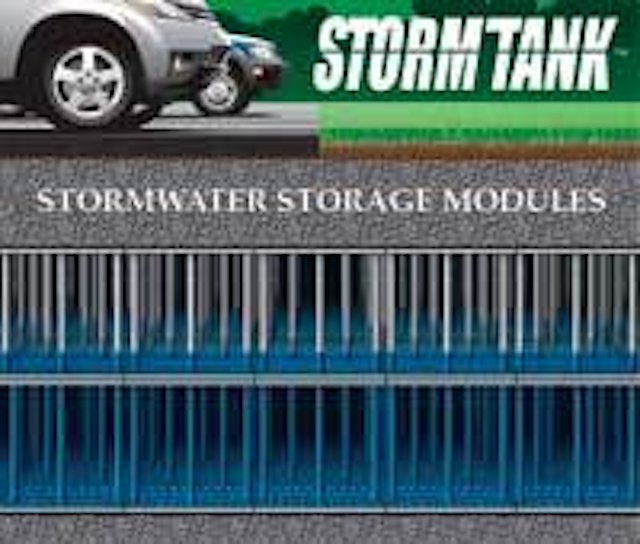 Click here to enlarge image
Brentwood's new StormTankTM Stormwater Storage Modules are an alternative to crushed stone, concrete structures, or pipe chambers for sub-surface stormwater detention or infiltration basins. They offer the largest void space of any underground stormwater storage units currently on the market (97%), and are load rated for use under parking lots, athletic fields, parks, etc. The entire system is built on-site from 18" wide x 36" long top/bottom panels and side panels made of lightweight polypropylene and 2 3/8" diameter PVC columns (18" to 36" lengths).
Brentwood Industries
Reading, PA
Tel: 610-236-1113
Web: https://www.brentwoodprocess.com
Stormwater trash removal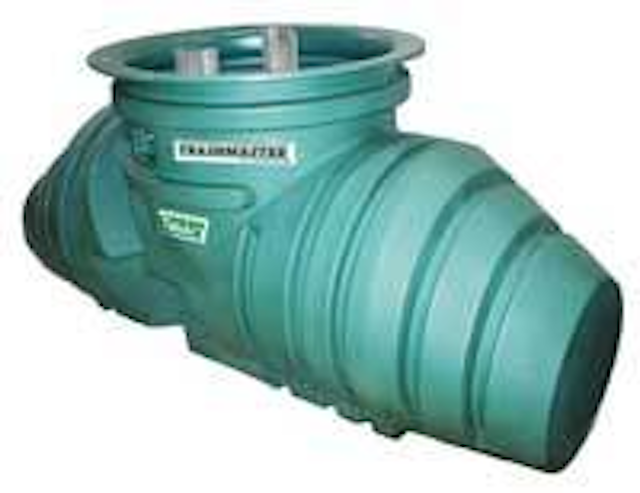 Click here to enlarge image
The ChannelGuardTM System from Fresh Creek Technologies is an extension of the company's Netting TrashTrap® product line. It is an engineered solution to capture trash and debris in large concrete drainage and discharge channels. The system spans the channel and collects water-borne trash in disposable nets. The company also offers the TrashMasterTM Net Capture System for low-flow applications.
Fresh Creek Technologies Inc.
Cedar Grove, NJ
Tel: 800-741-9486
Web: www.freshcreek.com
Stormwater treatment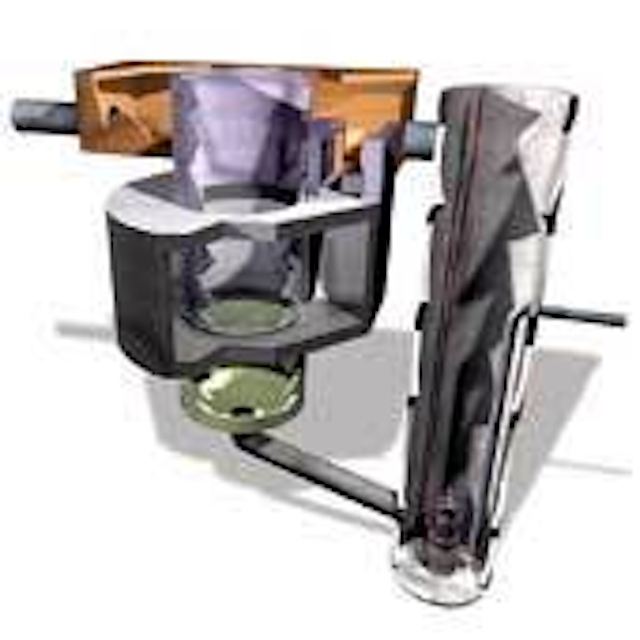 Click here to enlarge image
The CDS Technologies SanSep system reduces the impact of excess wet weather sanitary flow by removing 100% of floatable and neutrally buoyant materials and associated pollutants, and returning them directly to the interceptor sewer, downstream of the overflow point. It treats to design flow capacity without releasing contaminants even in overflow events. Contaminant reductions are typically >80% TSS, >45% BOD, >61% COD, >41% TN, and >75% TP. Continuous Deflective Separation technology allows solids screening without blocking. A strong flow of fluid is maintained across the face of the screen, producing a "washing" effect that keeps solids moving while the fluid passes through the screen.
CDS Technologies Inc.
Winter Park, FL
Tel: 800-848-9955
Web: www.cdstech.com
Catch basin filter
The EnviroSafeTM Modular Stormwater Catch Basin Filter System, available from Transpo Industries, can be used to help meet EPA NPDES-II for MS4s. This lighter filter cartridge offers an even higher filtered flow rate (110 gpm) and improved antimicrobial ability. The system can be retrofitted for most existing flat-grate or combination curb-grated stormwater catch basins. The cartridge's filter targets a broad range of pollutants such as sediment, oils, metals, organics and bacteria. The new filter uses Mycelx-treated foam, a media highly effective at trapping oils and grease. In addition, the new cartridge employs even more of the Aegis® antimicrobial shield to counter mold and bacterial growth.
Transpo Industries, Inc.
New Rochelle, NY
Tel: 800-321-7870
Web: www.transpo.com/envirosafe.htm
Vortex separator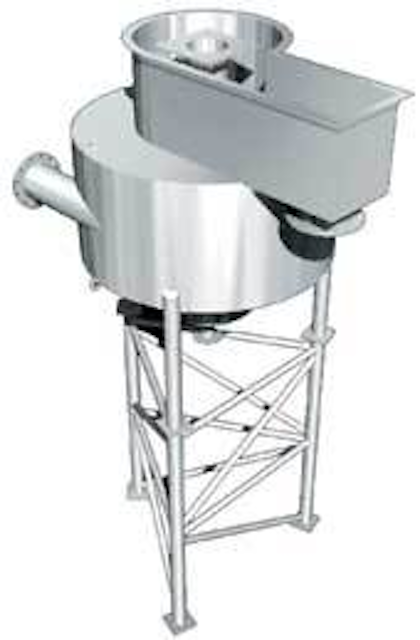 Click here to enlarge image
The Grit King energy-free vortex separator from Hydro International operates on the principle of dynamic separation. Flow is introduced tangentially, generating rotary flow. Flow spirals around and down the perimeter, then inward and upward in a continuing spiraling motion. A single centrally located discharge at the top of the vessel forces fluid to follow a long path before it is released, providing sufficient time for even finer grit to settle.
Hydro International
Portland, ME
Tel: 207-756-6200
Web: www.hydro-international.biz
Sewer, water modeling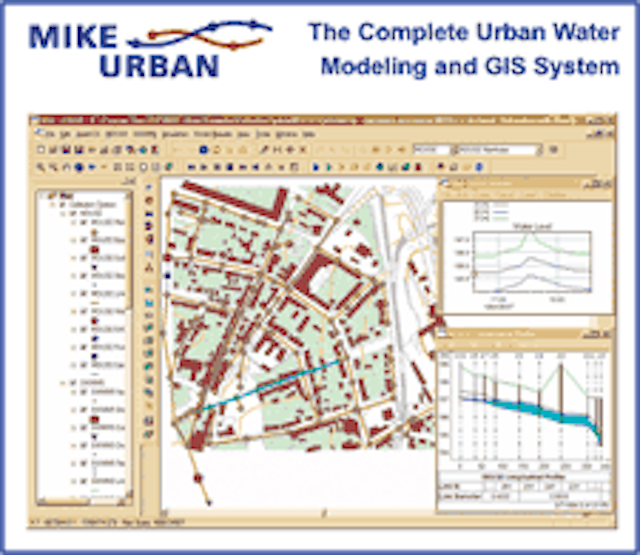 Click here to enlarge image
Mike Urban combines DHI's 20 years experience in water modeling with ESRI's GIS technology. The result is a complete urban water modeling and GIS system. The software allows users to consolidate all of their urban water modeling activities in one integrated system for wastewater collection systems, stormwater drainage systems, and water distribution systems. The system allows for stormwater and sanitary sewer modeling using SWMM5 or MOUSE, and water distribution modeling using EPANET; features GIS functionality powered by ESRI's ArcObjectsTM components; and allows for network and catchment data storage and management using ESRI's ArcGISTM Geodatabase technology.
DHI Water & Environment
Newtown, PA
Tel: 519-650-4545
Web: www.dhigroup.com/Software/Urban/MIKEURBAN.aspx
Flood forecasting software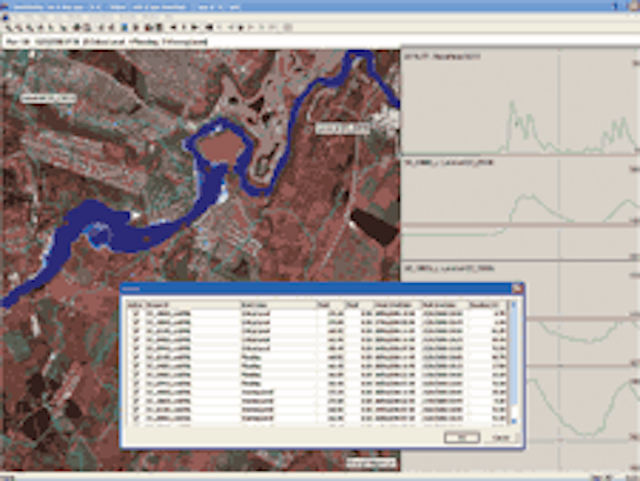 Click here to enlarge image
Wallingford Software has released FloodWorks v6.0, its real-time flood forecasting and warning software solution. The modular software package enables real-time simulation and forecasting of extreme hydrological and hydraulic conditions within river basins, drainage systems and the coastal zone. One of the key new features is Multiple Status Objects, which gives users control over the mode of an operational FloodWorks server, enabling the software to switch to a higher state of alert when certain combinations of events are triggered such as heavy rainfall and high river levels in certain locations. It also provides users with as many status objects as they need to help monitor system events. New model algorithms include a rating equation to convert between river levels and flows, and the new Simple Runoff Model.
Wallingford Software
Fort Worth, TX
Tel: 817-370-2425
Web: www.wallingfordsoftware.com
Wet wells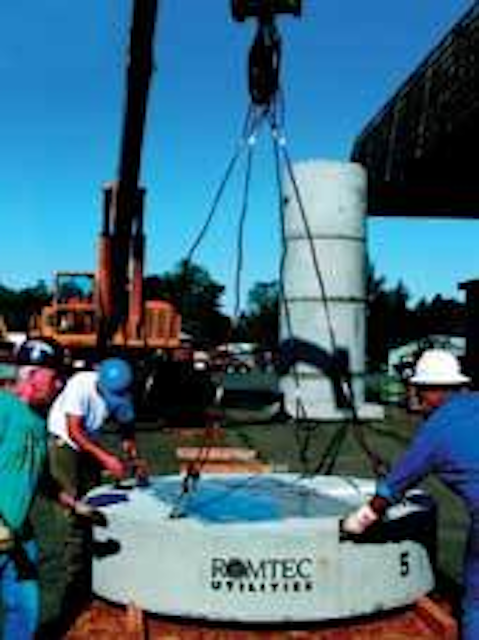 Click here to enlarge image
Romtec Utilities has expanded the wastewater and stormwater capacity of its pre-engineered, package submersible lift stations. The new 8-foot-diameter precast concrete wet wells offer greater capacity for stormwater or wastewater. The new well size also accommodates both duplex and triplex pump systems for design flexibility. The larger well size and three-pump configuration offer wastewater and stormwater managers a cost-efficient way to handle their current needs while planning for future events at the same time. The new size also makes it easier to site a well in places where deep excavation is impractical, since it can offer the same capacity as a deeper 6-foot-diameter well, but in a shallower design. The company's 8-foot and 6-foot wet wells are available to 30 feet deep.
Romtec Utilities
Roseburg, OR
Tel: 541-496-9678
Web: www.romtecutilities.com
Flow monitoring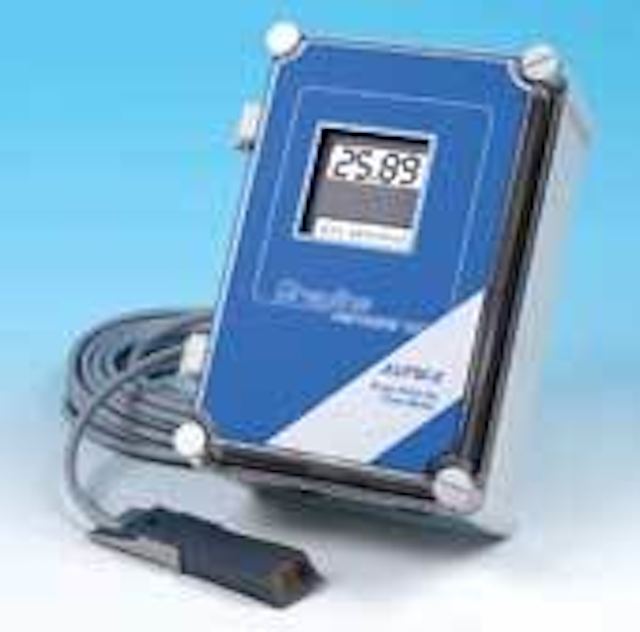 Click here to enlarge image
Greyline offers new flowmeters designed for municipal stormwater, combined effluent, raw sewage and irrigation water. The company's new AVFM-II uses a submerged ultrasonic sensor to continuously measure both velocity and level in a channel. The sensor is resistant to fouling and corrosion. It can be configured with the standard submerged velocity/level sensor, or with submerged velocity and a separate non-contacting ultrasonic level sensor.
Greyline Instruments Inc.
Massena, NY
Tel: 888-473-9546
Web: www.greyline.com