PRODUCTS & SERVICES: SCADA
The Sensaphone® 1800 protects water and wastewater treatment facilities by monitoring all equipment and environmental conditions...
Jan 1st, 2007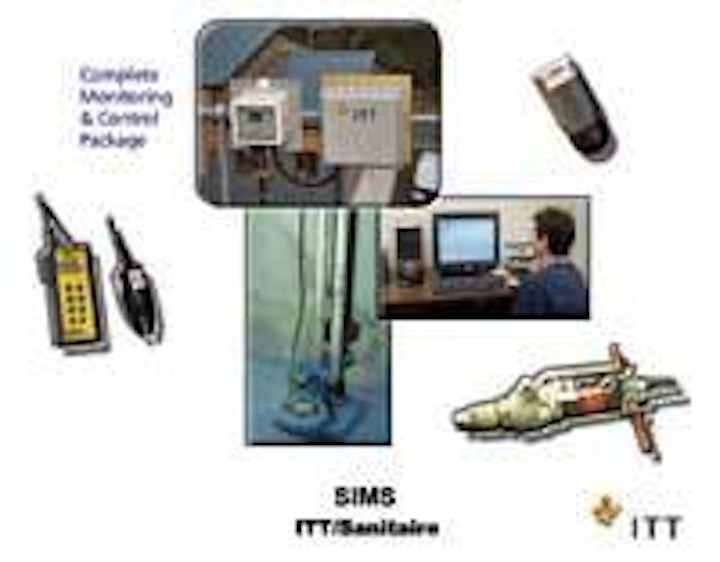 Facility monitoring
The Sensaphone® 1800 protects water and wastewater treatment facilities by monitoring all equipment and environmental conditions within the facility: flow meters, water levels, timers, temperature, power failure, and alarms. Its enhanced features include the ability to sense and issue alarms on ultra-low temperatures down to -85 degrees Celsius. When the system detects a problem, it automatically issues an alarm so action can be taken to avoid damage to a facility.
Sensaphone
Aston, PA
Tel: 877-373-2700
Web: www.sensaphone.com
Solids management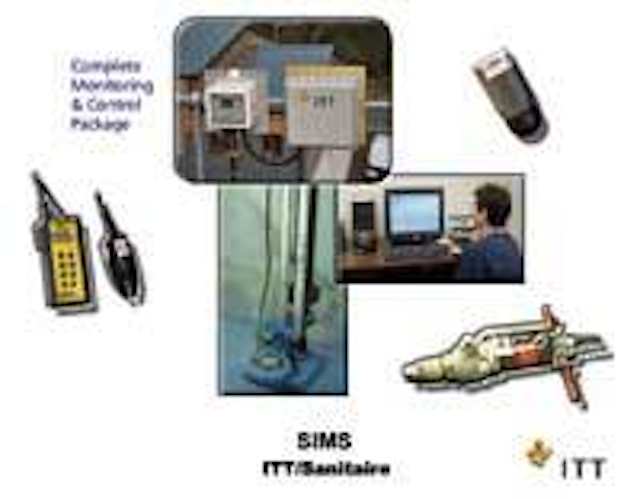 Click here to enlarge image
Sanitaire has launched a new Solids Inventory Management System (SIMS) solution for municipal wastewater treatment applications. The ABJ SIMS is a complete package designed to control solids retention time (SRT) in Sequencing Reactors. It continuously monitors both aeration basin and waste solids, to give a feedback control signal for automatic or manual control of the wasting rate necessary to achieve a selected SRT.
Sanitaire, a Div. of ITT Industries
Brown Deer, WI
Tel: 610-857-9189
Web: www.itt.com
Electromagnetic flow transmitter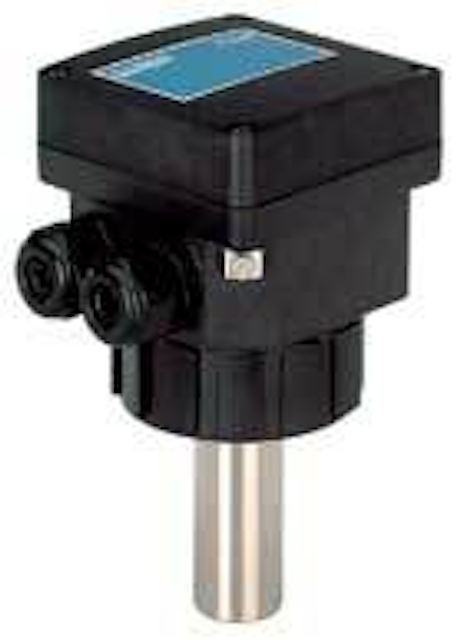 Click here to enlarge image
The Burkert Type 8041 Electromagnetic Flow Transmitter is designed to operate as a transmitter and/or On/Off control. Able to function at high temperatures/pressures and compatible with pipe diameters from ½" to 16", the solid-state sensor Type 8041 finds use in applications that include wastewater treatment and flow control of drinking water. Accommodating liquids with a conductivity > 20 μS/cm, the Type 8041 features a -4°F to 302°F medium temperature range and 233 psi maximum fluid pressure capability (with a brass or stainless steel fitting).
Burkert Fluid Control Systems
Irvine, CA
Tel: 949-223-3100
Web: www.burkert-usa.com
Arc flash protection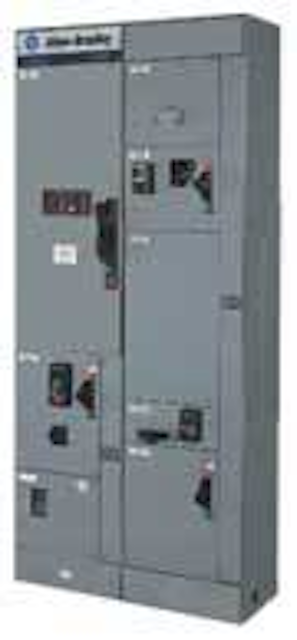 Click here to enlarge image
The new Allen-Bradley Centerline 2100 motor control center (MCC) ArcShield option helps reduce arc flash hazards while providing users with increased protection against internal electrical arcs. This version of the MCC from Rockwell Automation provides arc flash protection in a low-voltage MCC (up to 600 volts). The system features a reinforced enclosure and special arc-containment door latches that, when properly latched, allow safe internal pressure relief and help keep the doors from unlatching during an arcing fault.
Rockwell Automation
Bloomington, MN
Tel: 800-223-5354
Web: www.rockwellautomation.com
Pressure gauge, transducer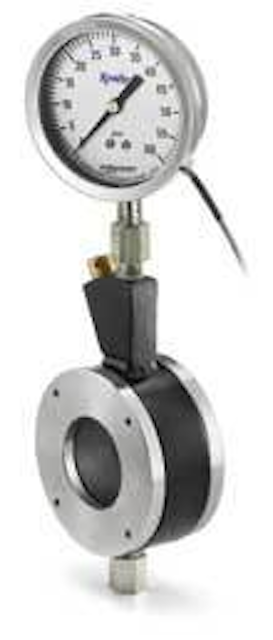 Click here to enlarge image
The new Ashcroft® XmitrTM combines the advantages of the company's PowerFlexTM pressure gauge with patented transducer technology to create a single, dual-function instrument. Serving as "2 instruments in 1", the type X1009 provides traditional transducer features including 4-20 mA and voltage outputs, CE ratings, and 1% BFSL accuracy with electronic temperature compensation from -20°C to 85°C.
Ashcroft Inc.
Stratford, CT
Tel: 800-328-8258
Web: www.ashcroft.com
Remote monitoring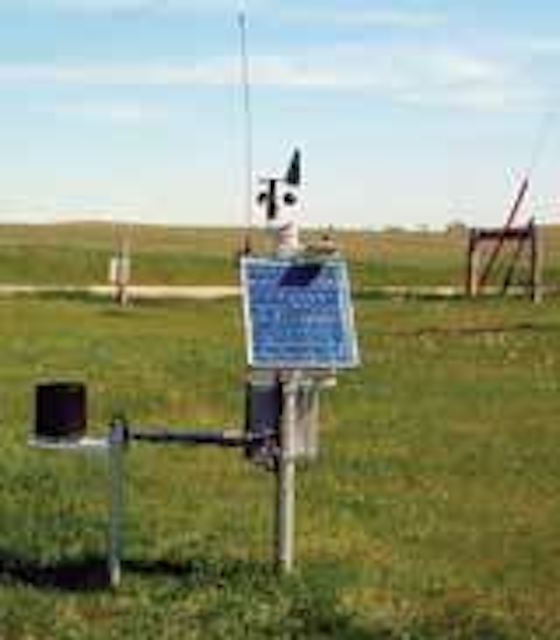 Click here to enlarge image
Automata has introduced the Mini-SatTM Field Station, providing remote monitoring and control from anywhere in the world. Satellite direct transmission produces communication between the remote field station and the Internet for unlimited networking capability. It can be centrally located in the field, at a pump station, or at a water level monitoring site.
Automata Inc.
Nevada City, CA
Tel: 800-994-0380
Web: www.automata-inc.com
Wireless monitoring
Zlinx wireless remote I/Os from B&B Electronics are an easy-to-install answer to reach even the most remote sensors. Users simply install a pair of Zlinx I/O nodes and their remote analog and digital sensor values are replicated on the local node, integrating seamlessly with an existing control system, with no software changes. Or, they can use the Wireless Modbus mode to wirelessly connect many sensors to a system. The wireless I/O maps directly into a Modbus table, making it an easy fit to any PLC, HMI or PC based control system running Labview or other popular automation software.
B&B Electronics
Ottawa, IL
Tel: 800-346-3119
Web: www.bb-elec.com
Radio modem
Click here to enlarge image
The BSRU100DTM is a high performance long-range radio modem transceiver with a 10 Watt power output. Available from KP Electronics, this advanced synthesized unit is ideal for wireless VHF and UHF narrow-band telemetry data applications.
KP Electronics Inc.
North Wales, PA
Tel: 888-542-7460
Web: www.kpelectronics.com
Monitoring package upgrade
Control Microsystems has released its SCADAPackTM Upgrade Kit, a high performance hardware and software package that provides an immediate upgrade path for 16-bit SCADAPack RTU/PLCs to 32-bit performance. The kit features a 32-bit RISC processor, expanded 8 MB memory, and additional communication ports. Optional source level debugging software for C/C++ applications is also available. The total package installs in minutes in the field or factory, boosts performance by up to 100 times, and adds I/O capacity for thousands of analog and digital I/O.
Control Microsystems
Ottawa, ON
Tel: 888-267-2232
Web: www.contromicrosystems.com
Pump protection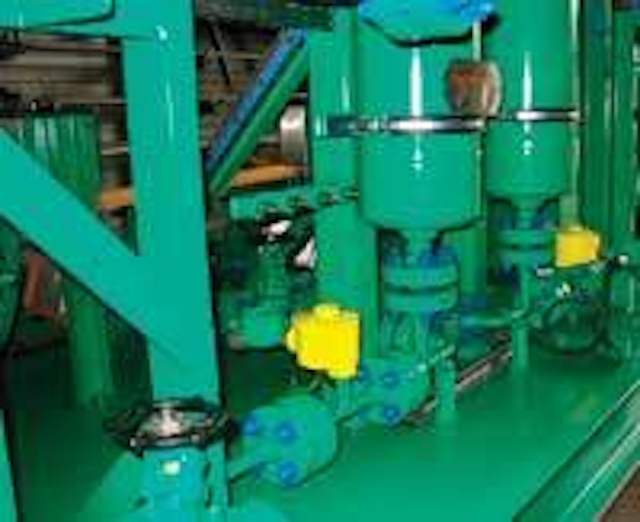 Click here to enlarge image
The FlexSwitch® FLT Pump Protection Flow Switch from Fluid Components International (FCI) improves process control by adding an extra margin-of-safety, which keeps pumps running longer and more reliably with less frequent maintenance over an expanded lifetime to reduce total operational costs. The Flow/Level/Temperature (FLT) switch monitors the flow and temperature of liquids, gases, slurries, coolants and more. It is ideal for wet/dry detection in protecting pumps, where sudden, unexpected reductions in media flow rates may leave pumps vulnerable to over-heating conditions that can result in bearing or seal damage.
Fluid Components International
San Marcos, CA
Tel: 800-854-1993
Web: www.fluidcomponents.com
Automation packages
Click here to enlarge image
GE Fanuc Automation, a unit of GE Industrial, has announced a set of Municipal Water Packages that combines ProficyTM HMI/SCADA - iFIX®, Historian and Portal products together in a variety of sizes. The Proficy HMI/SCADA - iFIX offers scan based operation ideally suited to applications requiring consistent performance and known response times.
GE Fanuc Automation Corp.
Charlottesville, VA
Tel: 800-433-2682
Web: www.gefanuc.com
Drive controller
Philadelphia Gear has introduced the new Mark VII controller, the newest in a series of electronic controllers developed for the company's Synchrotorque brand of variable speed and soft-start hydroviscous drives. The controller requires no software programming and features advanced modular electronic components for ease of maintenance and accessibility. Damaged modular components can be isolated, diagnosed and replaced on a 'plug-and-play' basis.
Philadelphia Gear
King of Prussia, PA Tel: 800-766-5120 Web: www.philagear.com
Process control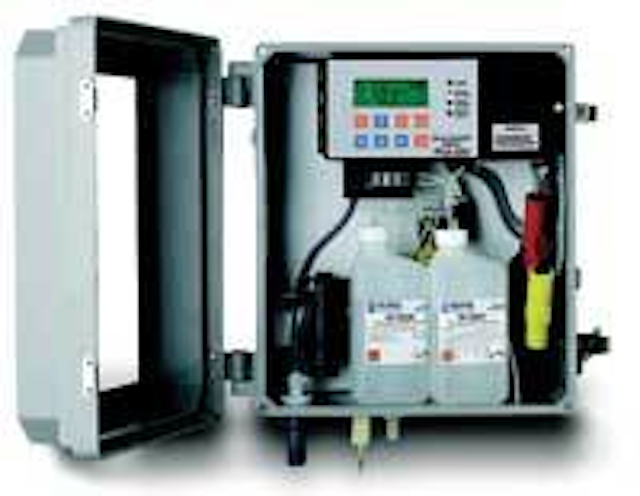 Click here to enlarge image
Hanna's PCA 300 series instruments can be used to analyze and control pH, ORP, temperature and chlorine in drinking water or wastewater applications. These microprocessor-based process instruments can continuously monitor a sample stream for Free Chlorine or Total Chlorine content in the 0 to 7 mg/L range with 0.01 resolutions. The principle operation is based upon an adaptation of the EPA recommended DPD 33.05 method.
Hanna Instruments, USA
Woonsocket, RI Tel: 800-426-6287 Web: www.hannainst.com
Pump control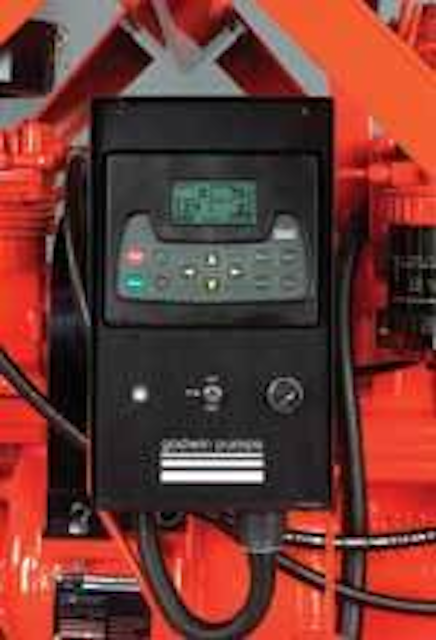 Click here to enlarge image
Godwin Pumps has introduced the PrimeGuard Controller. Standard on all Tier II electronic diesel engines and optional on non-electronic diesel engines and pump models including the Godwin Dri-Prime® CD80M, CD100M, CD150M, CD200M and HL80M, the controller allows users to vary pump and motor speed based on a set level or flow, using pressure transducers or standard floats.
Godwin Pumps
Bridgeport, NJ
Tel: 856-467-3636
Web: www.godwinpumps.com
EC/TDS meter

Click here to enlarge image
HM Digital's COM-100 is designed to provide measurements for electrical conductivity (EC), total dissolved solids (TDS) and temperature. Ideal for municipal drinking water or wastewater applications, it measures in μS or ppm and is auto-ranging to 9990 μS. The resolution is 0.1, 1 or 10, with an accuracy of ±2% of the reading.
HM Digital, Inc.
Culver City, CA
Tel: 800-383-2777
Web: www.hmdigital.com
Flow meters

Click here to enlarge image
Racine's RWL wafer-style liquid flow meters now include updated electronics and an onboard display for improved performance and ease of use. The meters also include programmable software, 10-point linearization, and diagnostic tools, all easily accessible through the external keypad. The vortex meters contain the smallest strut in the industry, producing accurate flow measurements with extremely low pressure drop. These meters are suitable for most low viscosity liquids, available as a loop-powered device with 4-20 mA output, and fit pipe sizes from 1" to 3". They may be configured for 3-wire frequency pulse output as well.
Racine Federated Inc.
Racine, WI
Tel: 888-572-2463
Web: www.racinevortex.com
HMI software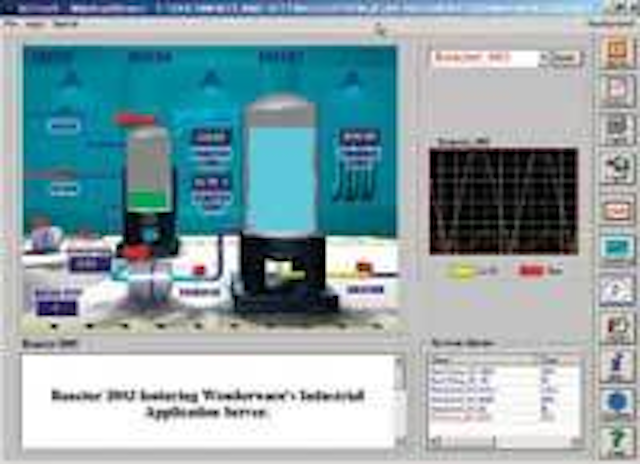 Click here to enlarge image
Wonderware, a business unit of Invensys Systems, has released a new version of its InTouch human-machine interface (HMI) software. Version 9.5 includes several new features that enable an increase in both operational capabilities and engineering productivity. New operational capabilities support intelligent alarm techniques, dynamic operator guidance, runtime language switching and virtually unlimited scalability to handle the smallest to the largest of applications. New engineering productivity capabilities significantly decrease the cost and time associated with the creation, modification, deployment and maintenance of applications. Users will benefit from enhancements to SmartSymbol change propagation, pan-and-zoom capabilities in development and one-click I/O backup configuration.
Wonderware
Lake Forest, CA
Web: www.wonderware.com
Automation controller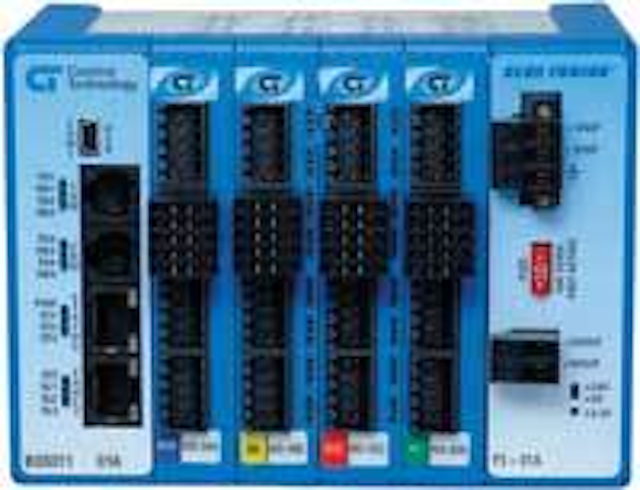 Click here to enlarge image
Control Technology Corp. has added the Model 5300 to its Blue FusionTM line of web enabled automation controllers. It supports the company's patented web server technology, enabling users to securely monitor and control process variables over intranets or the Internet using a standard web browser. By using CTC's webHMI software customers can create graphical HMI projects that can be hosted on the 5300's web server giving any browser-based device interactive HMI functionality. The series' fully modular architecture lets the user optimize the controller configuration for each application.
Control Technology Corp.
Hopkinton, MA
Tel: 888-818-2600
Web: www.ctc-control.com
Humidity logging thermometer
The Micro Humidity logging thermometer from Teletemp can record up to 10,922 date and time-stamped temperature and 10,922 humidity measurements and download the results to a personal computer. Using the WindowsTM based software and an interface cable users may set up and custom configure the logger, print or display recorded information in graph or table form, save to disk or export to a spreadsheet program. Data can be downloaded without interrupting the recording function.
Teletemp
Fullerton, CA
Tel: 800-321-5160
Web: www.telatemp.com
Industrial computers
Panasonic Computer Solutions and Cingular Wireless have introduced the Panasonic Toughbook CF-29, the first Toughbook with Cingular's 3G BroadbandConnect service built-in. Using the laptop, field technicians and mobile professionals in the utilities industry can wirelessly access critical information at broadband speeds when in UMTS/HSDPA-based BroadbandConnect coverage areas. The laptop provides seamless, high-speed EDGE network coverage outside of those areas. UMTS/HSDPA is the global standard and natural 3G evolutionary path for GSM (Global System for Mobile Communication) providers with UMTS services already offered by 95 commercial networks in 45 countries, and an additional 67 networks in deployment, planned or licensed.
Panasonic Computer Solutions Co.
Tel: 800-662-3537
Web: www.panasonic.com/toughbook
SCADA system
Emerson Process Management has introduced the ControlWave ExpressPAC, an integrated pre-engineered package solution that combines the new ControlWave Express RTU with a variety of options commonly required in SCADA applications. The package offers ControlWave technology in a value-priced, space efficient package suitable for small I/O point applications such as water pump, tank, well and reservoir control, wastewater lift station and storm water monitoring. It is prepackaged in an enclosure with common battery, display and communications options, eliminating the need for in-house panel and packaging design and fabrication. The package maximizes communication with three serial communication ports and one optional 10/100 Mb Ethernet I/P port using widely accepted networks such as TCP/IP open Modbus, serial Modbus, DF1, DNP3 and HART. Bristol BSAP protocol is a standard feature.
Bristol Inc.,
a Div. of Emerson Process Management
Watertown, CT
Web: www.controlwave.com
Drive unit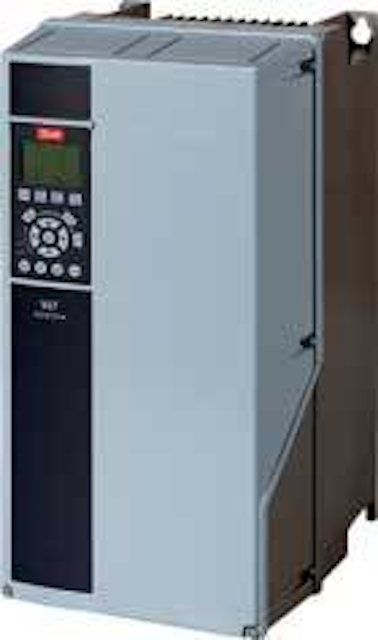 Click here to enlarge image
Danfoss Water & Wastewater's VLT® AQUA Drive is now available in a NEMA/UL Type 4X (IP66) enclosure. The enclosure is rated for indoor or outdoor use and protects personnel against incidental contact with enclosed equipment while protecting the drive from falling dirt, rain, sleet, snow, ice, windblown dust, splashing water, hose-direct water, and corrosion. Available power sizes in the NEMA/UL Type 4X enclosure include 5-60 HP in 230 vAC and 10-125 HP in 480 and 600 vAC.
Danfoss Water & Wastewater
Milwaukee, WI Tel: 800-621-8806 Web: www.namc.danfoss.com
Operator interface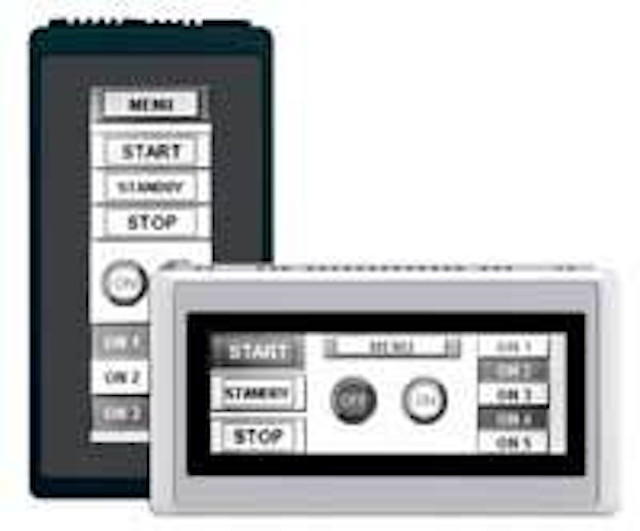 Click here to enlarge image
IDEC Corporation has introduced a new addition to its family of operator interfaces: the 4.6" HG1F monochrome touchscreen. Panels that previously relied on multiple pushbuttons, indicators and meters can now be updated with one simple HMI. This super-bright, STN monochrome LCD with analog resistive-touch overlay has a resolution of 300 x 100 pixels, providing more screen real estate for data and operations.
IDEC Corp.
Sunnyvale, CA
Tel: 800-262-4332
Web: www.idec.com/usa
Turbidimeter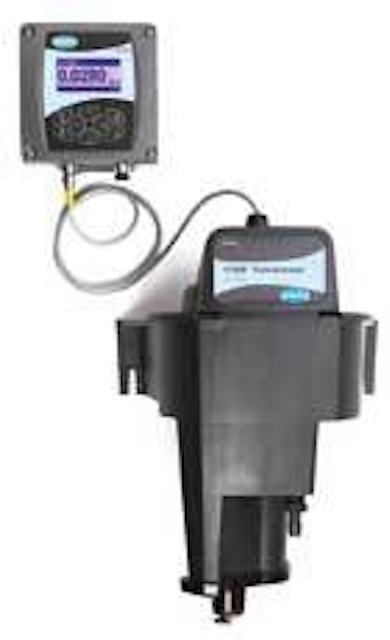 Click here to enlarge image
Hach's 1720E Low Range Process Turbidimeter provides the sensitivity, stability and flexibility necessary to continuously track the low levels of turbidity found in high-quality filtered water. Equipped with the new dual-input digital sc100 controller, the 1720E is easy to calibrate and operate, and requires very little maintenance. With an optional network card the turbidimeter communicates via Lonworks directly with existing 1720D AquaTrend systems.
Hach Inc.
Loveland, CO
Tel: 800-227-4224
Web: www.hach.com
Extended range ZigBee
MaxStream® now offers the XBee XTenderTM wireless bridge that extends the range of ZigBeeTM and 802.15.4 networks up to 40 miles. Because the ZigBee and 802.15.4 standards focus on low-cost, low-power wireless monitoring and controlling of electronic devices, ZigBee modems typically must be located within 100-300 feet to communicate.
MaxStream
Lindon, UT
Tel: 866-765-9885
Web: www.maxstream.net
Emergency valve closing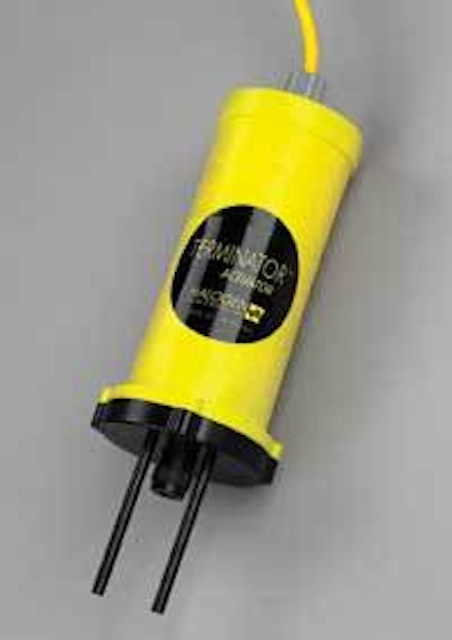 Click here to enlarge image
Halogen Valve Systems' Terminator ActuatorTM closes 150 lb. toxic gas cylinder valves in three seconds when activated from remote sensors and switches. This fire code approved microprocessor controlled system has a self-contained battery that guarantees operation of the motorized closing mechanism during a power failure.
Halogen Valve Systems
Irvine, CA
Tel: 877-476-4222
Web: www.halogenvalve.com
Pump control system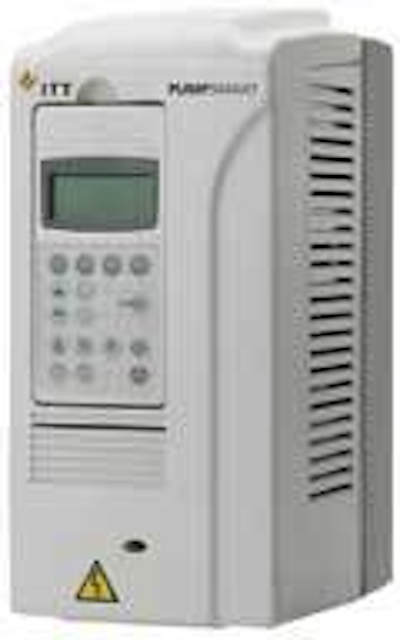 Click here to enlarge image
ITT Monitoring & Control has introduced Version 5.0 for the PumpSmart PS200. The update includes SMARTFLOW and Advanced Pump Protection, among other upgrades. SMARTFLOW is a proprietary sensorless flow measurement function which can calculate the flow of a centrifugal pump within ±5% of the pump rated flow without the need for any external instrumentation. This function mathematically models the pump power curve with only four points of CDS pump performance curve data: BEP flow, BEP power, shut off power and rated speed.
ITT Monitoring & Control
Seneca Falls, NY
Tel: 315-568-7874
Web: www.ittmc.com
Variable compressor drive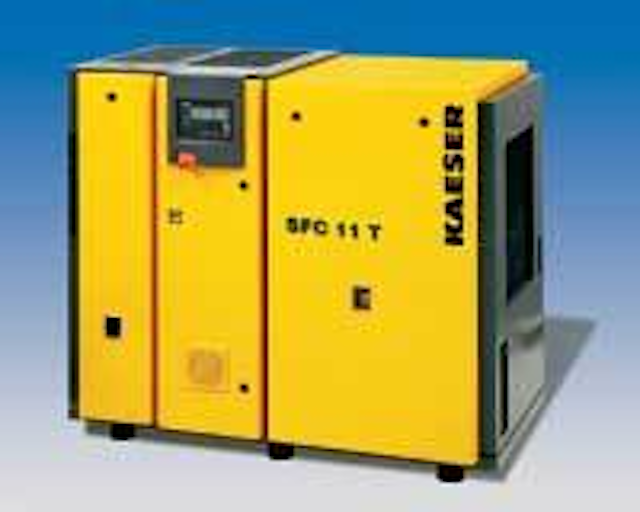 Click here to enlarge image
Kaeser Compressors has expanded its line of Sigma Frequency Control compressors. The new SFC 11 rotary screw compressor combines the proprietary Sigma Profile airend, Sigma Control Basic system and state-of-the-art drive technology to offer 17 to 75 scfm in pressures to 217 psig. The compressor features a space-saving cabinet and split-cooling air flow design for easier ducting and extremely low noise levels.
Kaeser Compressors Inc.br>Tel: 800-777-7873
>Web: www.kaeser.com
Communication module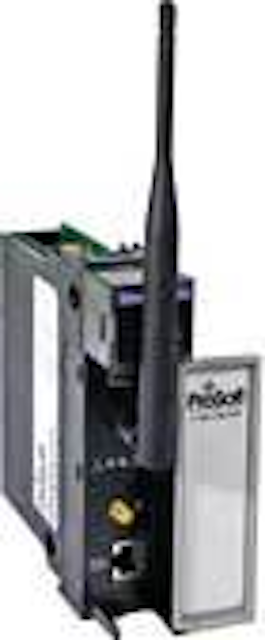 Click here to enlarge image
ProSoft Technology's new inRAx Wireless Ethernet/IP Communication Module (MVI56-WA-EIP) acts as a wireless bridge, enabling remote connectivity between a ControlLogix processor and 802.11 wireless devices including: PCs, Laptops, radio modems such as the RadioLinx Industrial HotspotTM, and other MVI56-WA-EIP modules. The MVI56-WA-EIP module allows programming over the backplane and acts as a server to RSLinx, allowing for multiple programs such as RSLogix5000 and/or RSView products to communicate simultaneously with the processor.
ProSoft Technology Inc.
Bakersfield, CA
Web: www.prosoft-technology.com
Enclosures, junction boxes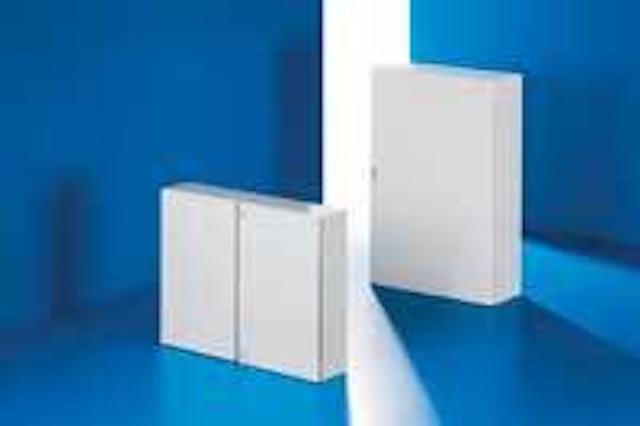 Click here to enlarge image
Rittal Corp. is announcing a new line of wall-mount enclosures and junction box enclosures. These enclosures are designed to accommodate a variety of applications and are ideal for harsh environments. Various sizes are available through the company's XPress quick delivery, assemble-to-order program. Offering NEMA Type 12, 3R, 4 and 4X protection, the enclosures can be used in the most rugged environments. Available in both flange and non-flange mount versions, the enclosures also feature mounting panels, a left-hand hinged door with screwdriver insert and pre-installed cable entry panels.
Rittal Corp.
Springfield, OH
Tel: 800-477-4000
Web: www.rittal-corp.com