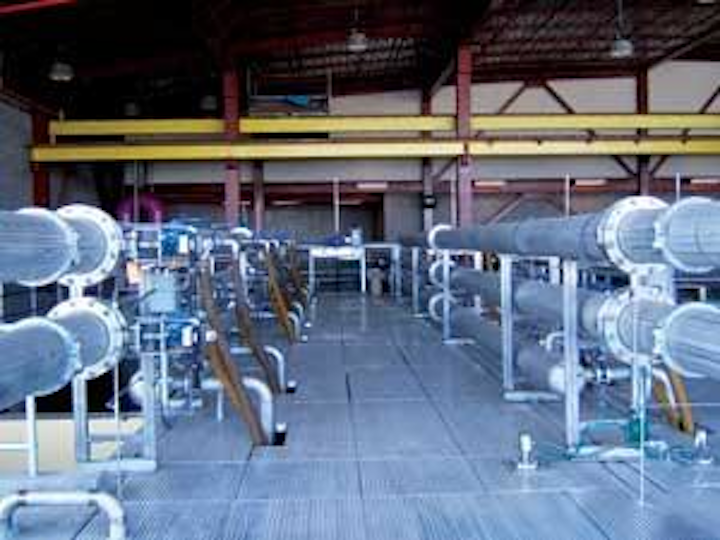 City Celebrates Opening of MBR Facility
The City of Peoria, AZ, recently celebrated the opening of its Butler Water Reclamation Facility (WRF). This $110 million facility, the largest capital improvement initiative in Peoria's history, incorporates advanced Membrane Bioreactor (MBR) technology. It will allow the city to reclaim its wastewater as a renewable water supply via aquifer recharge and secures future water resources needed for city growth.
Previously, Peoria handled water treatment jointly with the neighboring town of Tolleson.
Black & Veatch, an engineering, consulting and construction company, worked with the city on the project.
Stephen Bontrager, Utilities Director for the city of Peoria, said sustainability was the driving factor for the facility.
"We carefully evaluated our options for long-term wastewater treatment in combination with the city's need for sustainable water planning," Bontrager said. "Water is a precious resource; therefore, we easily concluded that building our own wastewater treatment to retain water credits was necessary to sustain the city's economic development."
The facility design blends with the surrounding area, with much of the plant built below ground level and bordered on all sides by a landscaped buffer. In addition, it consists of low-profile compact structures that are architecturally compatible with their surroundings. The city also has started design work for a park on adjacent property. Another key feature is the enclosure of all major process units to confine odors in combination with a state-of-the-art odor control technology.
"MBR technology was selected for the facility because it provides a high-quality effluent in combination with a much smaller area footprint than other conventional technologies. The technology was central to gaining public acceptance," said Cindy Wallis-Lage, Chief of Global Water Technology for Black & Veatch's global water business.
In its first phase, the facility has the ability to treat 10 mgd of reclaimed water for artificial aquifer recharge. By recharging the aquifer, the city earns water credits, which means that Peoria can extract the equivalent amount of water from the aquifer to meet future water needs. With the simple addition of several membrane cassettes, the facility will ultimately treat 13 mgd.
Florida Group Studies Regional Desalination Project
The Coquina Coast Alternative Water Supply Project Seawater Desalination Committee has selected an engineering team to conduct an alternatives evaluation and prepare preliminary design documents for a desalination facility on the Northeastern coast of Florida.
The team will evaluate the alternatives of a land or a ship-based facility, site selection, permitting, preliminary design and pilot testing. Members of the team include the engineering firm Sinclair Knight Merz (SKM), its global alliance partner Malcolm Pirnie Inc., and Veolia Water.
As part of an effort to address future water demands in the region known as the Coquina Coast, the committee which comprises 11 cities, counties and other municipal entities, endorsed an agreement to develop a regional water supply plan.
Upon completion of that Plan in 2007, it was determined that seawater desalination would be the most feasible alternative water supply project to pursue.
This multi-year, multi-million dollar project has worldwide implications and could forever change the way future water supplies are developed in the State of Florida and across the United States.
SKM Water & Environment General Manager, Geoff Linke said the desalination project follows the firm's successful participation in the Gold Coast and Sydney Desalination projects.
"Over the past couple of years on the Gold Coast and Sydney desalination projects we have developed leading edge skills in the planning and successful delivery of these significant alternative water supply projects," Linke said.
"The global market is now recognizing these skills, and we are delighted to bring them to the US market," he said.
More recently, SKM is on teams shortlisted to prepare tender responses for the proposed Melbourne and Adelaide Desalination Plants.
Contract Awarded for GAC Filter Project
Hungerford & Terry has been selected to design and build five 12-foot diameter by 40-foot horizontal, multi-cell granulated activated carbon filters with a 3,000 cubic foot bed of GAC per filter. This contract is reported to be $2.3 million. The filters will be used for pretreatment to a membrane system that will treat 15 mgd for the residents and businesses in the Santa Fe, NM, city and county.
For this project, the City of Santa Fe and its surrounding areas are adding approximately 8,730 acre feet of surface per year in order to reduce their dependence on groundwater wells. The purpose of this project is to divert water from the Rio Grande River and deliver it underground to the water treatment plant. The project is expected to be completed in 2011.
Ultrafiltration Systems Receives California Water Recycling Certification
Dow Water Solutions' Ultrafiltration system has been certified as an acceptable filtration technology in compliance with the California Water Recycling Criteria (California Code of Regulations, Title 22).
California Water Recycling Criteria recognizes membrane filtration as an acceptable filtration technology provided prescribed performance requirements are reliably met. Performance criteria through testing must demonstrate the filtered wastewater not exceed 0.2 Nephelometric turbidity units (NTU) more than five percent of the time within a 24-hour period and 0.5 NTU at any time.
"As a world leader dedicated to providing innovative water solutions, we understand the importance of standards for water recycling," said Bob Krueger, commercial development manager for Dow Water Solutions in the Americas. "This certification confirms the high quality of DOW Ultrafiltration, and we are pleased to receive the recognition from the State of California."
Dow's 0.03 µm hollow fiber membrane technology was also approved as a compliant filtration technology under the California Surface Water Treatment Rule (SWTR), as well as the federal Long Term 1 and Long Term 2 Enhanced Surface Water Treatment Rules (LT1ESWTR, LT2ESWTR) earlier this year.
U.S. Market for Membrane Technologies Continues to Grow
According to a new technical market research report, Membrane Technologies For Liquid and Gas Separations (MST041D) from BCC Research, the U.S. market for membrane modules used in liquid and gas separations is expected to be worth $2.3 billion in 2008. This will increase to $3.3 billion in 2013, for a compound annual growth rate (CAGR) of 7.8%.
The market is broken down into conventional liquid separations and other separations. Conventional liquid separations have the largest share of the market, worth an estimated $2.1 billion in 2008. This should reach $3.0 billion in 2013, for a CAGR of 7.7%.
Other separations have the second largest market share and are expected to generate $235.0 million in 2008 and $351.0 million in 2013, for a CAGR of 8.4%.
According to data from the International Monetary Fund, U.S. gross domestic product (GDP) fell to well below the global average of 4.9% to 2.2%. At year's end, GDP for 2008 is expected to reflect an even lower growth rate of 1.5%, which will improve only slightly in 2009. In contrast, growth of the U.S. market for filtration products, in general, has remained considerably higher, averaging from 7% to 9%. The membrane sector has been one of the fastest growing, surpassing even 9% for some applications.
Primary drivers for membrane sales include consumer demand for higher quality products, increased regulatory pressures, deteriorating natural resources and the need for environmental and economic sustainability.
The U.S consumes approximately 40% of all the membrane modules produced worldwide. Conventional liquid separations including reverse osmosis, nanofiltration, ultrafiltration, microfiltration and electrochemical processes such as electrodialysis, account for 91% of U.S. demand, while other separations such as gas separations, pervaporation and some novel processes make up the remaining 9%.
For more information or to purchase the report, visit www.bccresearch.com. —m
Parker Acquires Manufacturer of Water Filtration, RO Equipment
Parker Hannifin Corp. has acquired Aqua Pro Inc., a manufacturer of reverse osmosis ("RO") filtration systems for military, commercial and pleasure marine applications. Aqua Pro sales for fiscal 2008 were $33.0 million.
The acquisition is expected to be accretive to earnings within its first year following acquisition and its results will be reported as a component of Parker's Industrial North America segment. Terms of the acquisition were not disclosed.
With manufacturing centers in Gardena and San Fernando, California, Aqua Pro does business as Village Marine Tec and Offshore Marine Laboratories. Sales and service locations are located in California, Florida, Hawaii, Virginia, and Washington. The company sells to Original Equipment Manufacturers including boat and ship builders, independent distributors, U.S. military branches and end users. Aqua Pro's product line includes RO systems for military on-board submarines, and land applications as well as offshore oil rigs, work boats, fishing vessels, and pleasure boats.
"Aqua Pro is recognized as the leader in on-board marine reverse osmosis products and their innovative, engineered systems are currently in use on the most advanced Navy ships and premier motor yachts," said Peter Popoff, President of the Parker Filtration Group. "Expansion of the current business as well as additional applications in aerospace, biosciences, and industrial filtration will complement Parker's existing products in growth markets. The water filtration and purification systems enable Parker to respond to one of the greatest challenges facing mankind, available potable water. The Aqua Pro product line will contribute to the sales growth of Parker Filtration's global operations including our Racor Division and their widelyaccepted marine filtration systems."
"For over 30 years, Aqua Pro has been dedicated to advancing the technology of reverse osmosis water filtration. We are pleased that our state-of-the-art systems and products will now serve broader markets on a global scale," said Robert Kershaw, Sr., President and CEO of Aqua Pro.
Dow UF Modules Awarded NSF Certification
Dow Water Solutions has announced that its Dow™ Ultrafiltration modules have been tested and certified by NSF International under NSF/ANSI Standard 61.
NSF/ANSI 61 - Drinking Water System Components is a nationally recognized health effects standard for all devices, components and materials which contact drinking water to ensure that these products do not contribute contaminants or impurities to the water that could cause adverse health effects. The DOW Ultrafiltration 2660, 2680, 2860 and 2880 modules are certified by NSF for use in drinking water installations.
"This certification is the latest example of Dow's commitment to help deliver acceptable, safe, and high quality drinking water," said Bob Krueger, commercial development manager for Dow Water Solutions in the Americas. "NSF 61 certification supports our delivery of world class ultrafiltration products to all water market segments. This certification allows us to respond to the growing demand for drinking water knowing that DOW Ultrafiltration treated water is safe for consumption."